Week 63 - Rough crossings and foul smells
Bad weather, rough crossings and foul smells. Adventures in Greece cruising the Mediterranean on our boat Matilda.
Bad weather, rough crossings and foul smells. Adventures in Greece cruising the Mediterranean on our boat Matilda.
When your home is on the water, an obsession with following the weather is understandable. You gain a greater appreciation for the interconnectedness of systems, looking to the weather further afield to gain any insight as to what's likely to happen in the coming days. This week has been dominated by the medicane (Mediterranean cyclone) that formed down near Sicily and caused a years' worth of rain to be dumped within a day.
For us here in Greece, this means that the Aegean (the sea between mainland Greece and Turkey) has been acting as a kind of freeway for the North winds, with the cold air being sucked down into the low to feed the medicane. While we've experienced nothing like Sicily, it has been decidedly unpleasant on the waters around the Saronic gulf at the moment and most people we know out here have been finding somewhere to hole up and hunker down waiting for it to pass.
For once, we decided not to run back to Porto Heli! In fact Aegina has been a great port to shelter from the northerly winds. It can be a little noisy on the main road, but overall it's quite calm inside the harbour (except for when the ferries come and go) and overall there are good services, shops and restaurants to explore. One of those services is a boat yard.
We've been considering where to haul out for a while — our original plan was at Lavrio, but as we cruise around we realised it wouldn't really suit us. Kanonis Boat Yard on Aegina had been very pro-active reaching out to live aboards like us in the port and sharing contact details. On Monday they came by with their head mechanic (a Brit, who has worked in Florida and is now here in Greece) and we had a great talk about the work we need to do. Our friends Markus and Isa are also hauling out at the same yard so we decided we're going to do the same. It's much more convenient for us to get to from Athens on the ferry and Aegina is a lovely town. The mechanic also helped us get the diesel heater up and running — turns out we were doing the right thing, but we just aren't patient enough! We've now put our winter quilt on the bed and with the diesel heater aboard we are snug aboard Matilda in the cooler temperatures.
While waiting on the weather, there's always some boat maintenance to fill in the time as well. When Siung was with us, he'd been using the guest head shower and we noticed two things. One it stank — every time the water ran down the drain it was a putrid smell, and two, the front bilge pump was triggering every time the shower ran. The way the showers drain is that the water gravity feeds into a "sump" (literally a box down in the bilge) and then there's a float switch (a switch activated by rising water) that triggers a pump to empty the sump over the side. It was pretty clear that something wasn't working right here — the water was either not going to the sump or it was overflowing it. Either way it was ending up in the bilge for the bilge pumps to trigger.
I had to pull up the floor in the engine room to access the sump and the bilge and we were hit by an overwhelming odour — grey water from the shower doesn't smell pleasant when it's been sitting for a bit and gets disturbed. Sure enough when I went into the sump (also incredibly disgusting), it seems that the float switch had stopped working, so the water was overflowing and ending up in the bilge. The sump was full of water and the bilge also had a lot of grey water in it too.
It was an easy enough fix and the first fix where I've had to really jury rig something to make it work properly. The spare float switch we had on hand didn't quite fit properly, but a pair of pliers and some snapped plastic solved that and we have a working shower sump again!
We also decided to remove the carpet tiles from the kitchen which were stained and frankly a little smelly! We've now got the original exposed wood everywhere except in the main cabin. With the tiles up, it also made it easier to manage the inevitable drips from defrosting the fridge which Karina did on Wednesday while I went to Athens for a bit of a side adventure.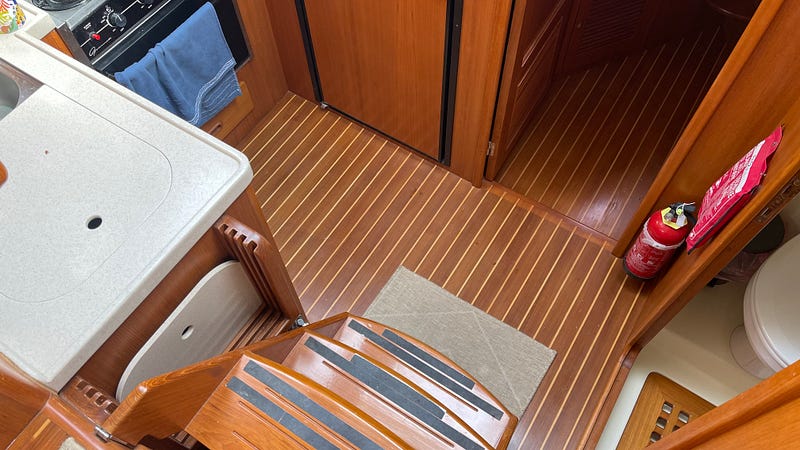 A fellow Australian currently in the Caribbean had asked online if someone in Greece would be willing to check out a boat he wanted to buy — literally conduct a video tour and inspect it with him over a call. Given we continued to be holed up out of the wind, it seemed like a fun thing to do so I caught the ferry to Athens and a taxi to Alimos for the afternoon.
Between the two of us on the video and with the skipper we conducted a pretty thorough inspection — I've picked up a thing or two now after several boat inspections, two survey reports and owning my own boat, and the guy on the video call also knew what he wanted to see. It was an interesting diversion and it was fun kicking the tires on someone else's boat for a change!
While I was in Athens I also got the chance to do a bit of shopping and we replaced the dock lines with some heavier ones as the old ones were starting to get quite worn.
By Thursday the weather had eased a little, but was still blowing quite strongly. I think a month ago we would have just stayed put, but we decided to head for Agistri which was a short hour away. We knew that the boat could handle it, the question was, could we!
One of the delights sitting safely on the dock is what our friend Isa calls "Harbour Cinema" — watching the coming and goings and drama of the various boats. In Aegina the feature act is definitely getting your anchor hooked up on someone else's chain. We suspected this would have happened to us as the boat next door pulled in and dropped it's anchor out in front of our boat, so there was a good chance our chain was underneath theres. No worries, I told them it might happen and as we pulled out, sure enough, their chain was across ours. Fortunately the water was clear enough that I could see the anchor and I was able to direct Karina to reverse us in such a way that we could easily get free— the people watching from their boat were so impressed that we even scored a round of applause!
Once free of the chains and the harbour, we had a very rough crossing — lots of banging and things falling over that hasn't happened before, mostly because the bulk of the crossing was side on to the direction of the waves. While we didn't "enjoy it", we handled it fine and it was nice to be at a new island.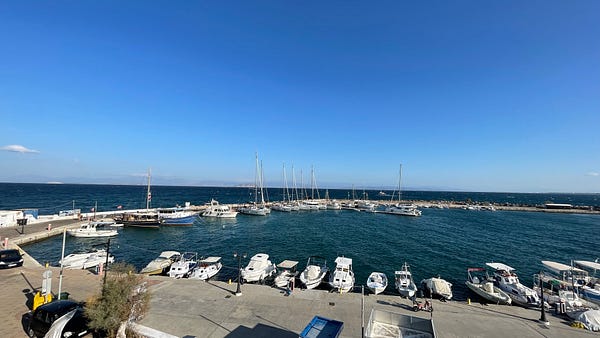 Unfortunately unlike Aegina, the port at Agistri, while safe, is NOT sheltered from the northerly winds at all. Although the breakwater sheltered us from the waves, there was also a lot of reflected swell (waves bouncing off the shore or structures on the shore entering the harbour around the breakwater) coming in. We docked easily enough despite the challenging conditions and the boat handled everything well, but it wasn't the most comfortable place to be.
The other challenge was that the dock curved where we ended up stopping, and from the passerelle (the gang plank) to the edge of the dock was a roughly 50cm gap you had to step over. It was occasionally a challenge as it moved up and down, back and forth to take that step over the water!
Aside from the weather, we enjoyed Agistri — it has a reputation as a party island in the summer, but in the winter it's very subdued. We saw a lot of hotels and more swimming pools than we've seen anywhere before, but a lot of them were empty.
We tried to rent scooters, but apparently my license is clearly only for a car and they said no, so we ended up with ebikes instead. They did a good job, making it relatively easy for us to ride around the island and visit all the beaches and the main villages. It's a beautiful island with a lot of pine trees and some peaceful beaches tucked away in secluded bays.
After two days on Agistri we were ready to move. We'd been watching the weather (along with everyone else we've been talking to!) and with the medicane starting to wind down, the winds in the Aegean which form a "wall" between here and the Cyclades are also dropping from Monday.
We really want to start to explore some of the Cyclades which is the region with some of the most famous Greek Islands (Mykonos, Santorini, Naxos, Paros and Milos to name a few), so this next week is a great opportunity to safely get a feel for it and work out where to go when the winds there are bad (which they inevitably are frequently).
In order to maximise our time though, we needed to reposition — if we stayed in Agistri to wait out the good weather, or even Aegina, it would probably take two days to get there (unless we wanted to do a really big 7–8 hour crossing which we don't), so we made the call Saturday morning to make what would be our most challenging crossing to date across the Saronic Gulf back to Athens.
To be clear (mostly for the parents) at no stage were we taking a big risk here — the weather conditions are still well within the capabilities of Matilda, but the question is — are they within our capabilities? We knew it was going to be rough, that there would be a lot of movement and sea-sickness was a real concern.
So we put in place a plan, we'd head off to the north of Aegina, if we didn't like the conditions, we could simply turn around and go back to Aegina harbour, but if we felt OK, we'd keep on. We also decided to not eat lunch before we headed off to help with seasickness. It turns out we did fine. We both felt a little queasy at some points, but there were no real issues. A couple of times the swell was big enough that we had to change direction (to cut across rather than keep on a straight line with it on our beam), but eventually we made it across the gulf. It also helped that the shipping lane was fairly quiet (we didn't see any ferries which probably helped).
We had several anchorages in mind, the first (Vouliagmeni) was sheltered from the wind with a couple of boats there, but we didn't like the swell. We headed around to Varkiza (where we had a terrible night on our first trip by ourselves) and it was even worse. The wind was howling between the mountains and funnelling over the bay so it wasn't in fact sheltered from the north at all. There were many windsurfers out, which became a sign that it was too windy for us to anchor. We abandoned it and pushed an hour further on down the coast to Ag. Niklaus.
This one proved to be a winner! It's a quiet little bay (at the moment), tucked right back in and sheltered from both winds and swells from most directions. In another of those coincidences that seem to happen enough that they shouldn't really be called coincidences anymore, as I anchored, I was messaged on Facebook from a local Greek trawler captain who I befriended back in July or August from a live aboard group and he welcomed us to his local bay. He's in a trawler on a mooring ball behind us at the moment and the hope is to catch up for a drink or coffee sometime today.
The progress this week has really been about gaining more understanding on various conditions. We're starting to feel more confidence in our abilities and those of the boat — we are not quite ready to run perhaps, but also, we're willing to take some bigger steps now. It's very reassuring to know that if we need to, we can handle a wider range of conditions. I think we also recognise however that what's OK for us, is not always great for guests — if we had people aboard we would have been making different decisions, but for us, these slightly bigger seas and winds don't hold the same fear for us they did back in July when we were huddled in Lavrion.
We're going to stay anchored up here in Ag. Niklaus, enjoy a peaceful day at anchor and hope for some rain to wash the salt off the boat! In the mean time we can enjoy watching the local kids out sailing, there must be regatta on here at the moment as there are literally over 100 Optimas sailing around the harbour. With calmer weather forecast tomorrow, we'll cross back into the Cyclades and begin to explore there for a few weeks.
Want to see where we are now? Check us out on NoForeignLand https://www.noforeignland.com/boat/matilda
Until next time,
Tim & Karina