Week 72 - New Years with Ella and Inge
2021 comes to a close with Ella and Inge visiting in Athens… Adventures in Greece cruising the Mediterranean on our boat Matilda.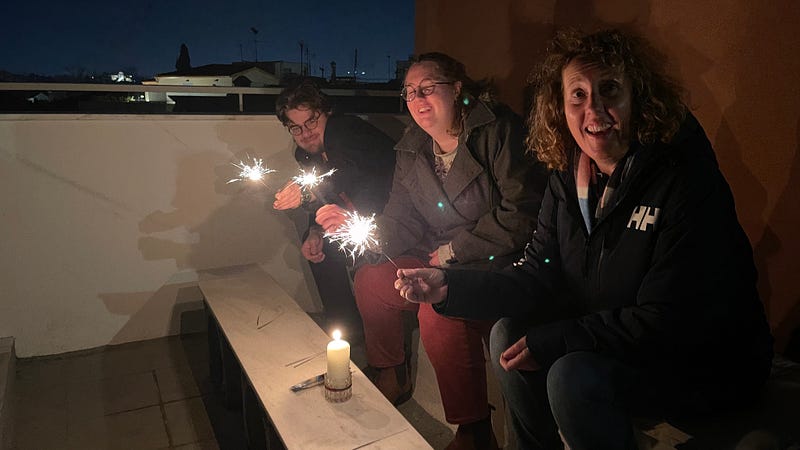 2021 comes to a close with Ella and Inge visiting in Athens… Adventures in Greece cruising the Mediterranean on our boat Matilda.
2021 started slow with an interminable lockdown and a never ending boat purchase process, then once we moved aboard and started cruising, moved into light speed and finished all too soon. It seems a little unfair really! On balance, it felt like the year was around 12 months, but the first 6 felt like it dragged for 12 months while the last 6 seemed to take about 12 minutes. This last week has flown by.
Sunday we flew back from Egypt to Athens. I've got to say Egypt has some of the strictest airport security I've ever come across — we went through 3 separate screens to get onto our plane in Luxor (entering the airport, entering the secured terminal area and then entering the gate) and another two in Cairo (one coming off the Luxor flight to enter the terminal and another entering the gate). They not only screened but physically opened the bags as well for anything vaguely suspicious.
A lot of Egyptians we met have a wicked sense of humour and will dead pan a joke about anything, then delight in your confusion — the security screening guard was no exception when he challenged Karina on a lipstick that he thought might look a bit like a bullet with a huge smile at her denials. It's a thankless job, you have to find your fun somewhere.
Security checks out of the way, we arrived back in Athens smoothly and it was great to feel that sense of coming home. Although it won't be home forever, it definitely feels like where we belong for now. The flight was unremarkable with the small exception that I think we're both still blown away by the idea that in the space of a couple of hours you can move entire countries and cultures. As Australians, this still feels foreign to us — I think Europeans don't really appreciate how lucky they are that experiencing a radically different culture is achievable with a few hours effort and low cost (I think our tickets to Egypt were only 120 Euros).
Back in Athens, it was straight into the "grind" of catching up with chores. Skin cancer screenings (both clear) — important because of our childhoods growing up in Australia in the 70s and of course the fact that we now spend a lot of our year outside on a boat. Then Monday evening, our COVID booster shots.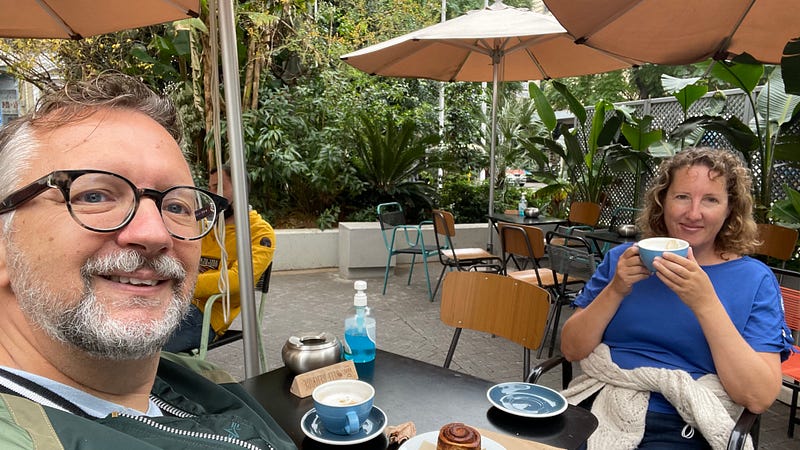 Tuesday we took it easy, just in case of any reactions (nothing aside from a sore arm). Wednesday a big walk around the city, including coffee and a cinnamon roll at our favourite coffee store. Thursday preparing for our daughter Ella and her boyfriend Inge to arrive — a bit of planning, some preparation and then I headed into the city to spend some Christmas money on a set of microphones for a podcast I'm planning in the New Year. Although things are slow with regards to the boat at the moment, they are still moving forward — we ordered and arranged delivery of some new mattresses for the master cabin and a new mattress topper for the guest cabin.
The other thing that happened Thursday was we received notice that due to the changes in Germany due to Omicron, the boat show we were planning to go to in Dusseldorf has been cancelled. Given the main reason for going to Germany was to visit the show, we decided it would be more prudent with all to instead just stay here in Greece. We've delayed our flights and cancelled our accommodation. Hopefully Omicron is the beginning of the end game with COVID and I'm sure we're all hoping 2022 will settle back into some sort of normal soon.
Which brings us to Friday — New Years Eve. Ella came back from the US to spend Christmas in Norway with Inge and his family and we were really excited that they were both coming to take some time with us here for New Years.
To make the most of their visit, we decided to rent a couple of apartments with Live In Athens (who we rented from for most of the year) at their location in Plaka. This is perfect for first time tourists because it's right in the heart of Athens and the roof top also has a view of the Acropolis where we could enjoy watching the fireworks together. We're still keeping the place in Petralona (which we're renting monthly) so just packed some basic things back into bags again and walked over to the new apartment Friday morning. Karina stayed to do some shopping for food and I headed out to the airport to meet them.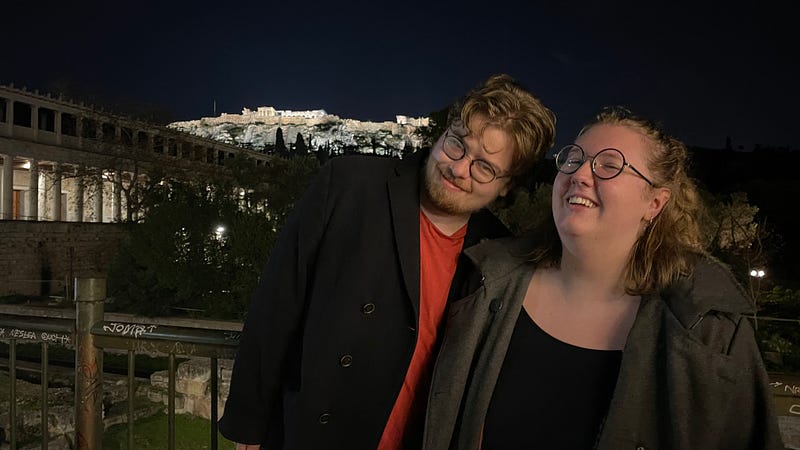 It's been lovely to see Ella and Inge again. With the way our lives are all spread out and the lockdowns it's been far too infrequent. We fortunately did catch up with them in August in Edinburgh, but it's also fun to show them where we are living and what it's like here in Athens — we love this city and are enjoying sharing it with them.
Meanwhile Jasper is still back in Australia, but the hope is that we can all get together in May in the US for Ella's graduation — hopefully things settle enough by then that this is possible. For now, Jasper has had a great Christmas and New Years Eve in Hervey Bay with my side of the family and by all accounts has enjoyed the time with his cousins which we're very happy to hear.
The New Years Eve celebrations were relatively low key but good fun. We enjoyed a walk to take in the lights of Athens, dinner at one of our favourite restaurants in Psyri and then back to the apartment to watch some TV together while we waited for midnight. Just before midnight we headed up to the rooftop and lit a few sparklers then enjoyed the fireworks show (which was MUCH closer to our roof top than we expected), then off to bed for a good nights sleep and a sleep in.
Unfortunately (timing wise) all the attractions were closed on New Years Day, so all we could do was walk to take in the sights, but we weren't able to visit anything major (like the Acropolis for example). That will be this morning (Sunday) instead, and then we're hiring a car to drive to Delphi this afternoon. The week ahead is going to be continuing to show Ella and Inge some of the things we love here in Greece and enjoying each others company — it's a great way to start the new year.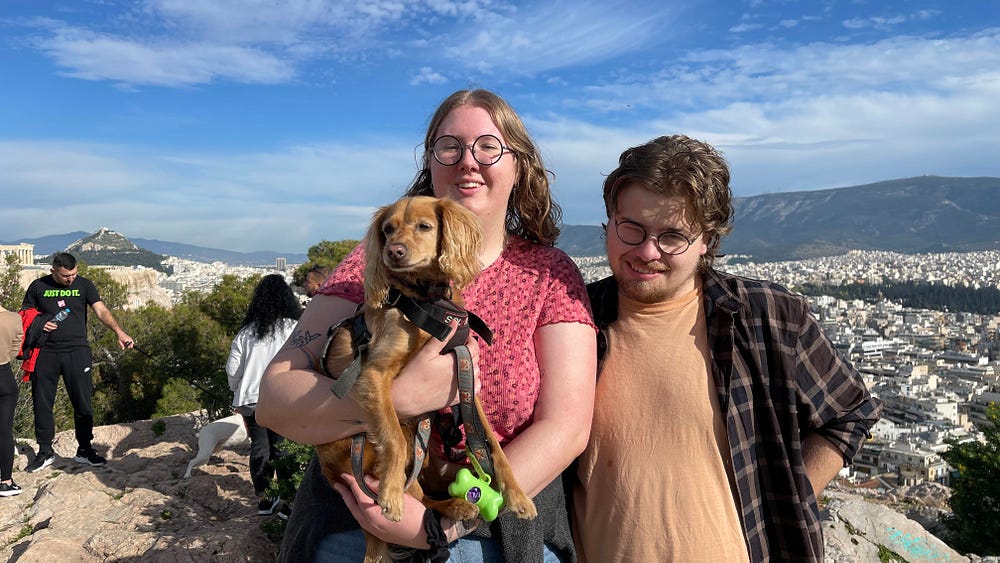 Until next time,
Tim and Karina.