Week 76 - Snow in Athens!
Snow in Athens! Podcasts and coffee tours. Adventures in Greece cruising the Mediterranean on our boat Matilda.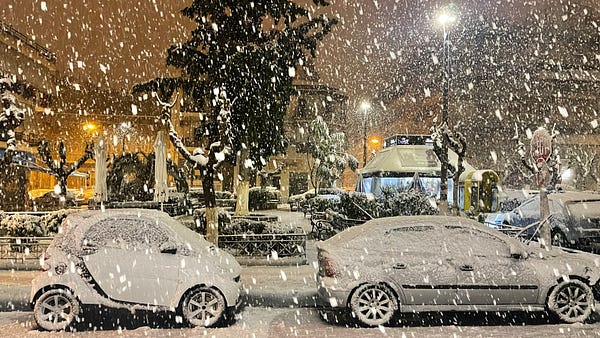 Snow in Athens! Adventures in Greece cruising the Mediterranean on our boat Matilda.
After teasing us as I was writing last weeks' blog, the snow which had started, promptly stopped. It didn't really start again until Monday, when it dumped a lot! Enough to shut down the city.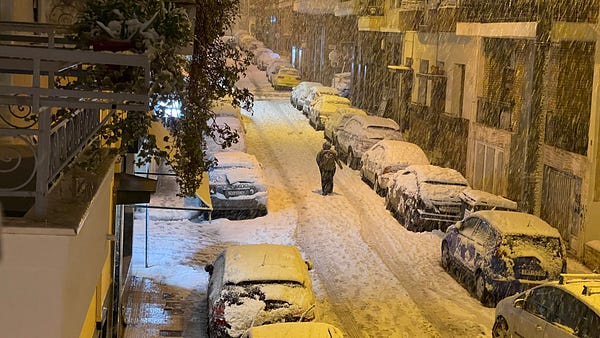 As you might expect, Athens as a city doesn't really cope that well with snow. The government declared a public holiday on Monday which extended into Tuesday and even Wednesday for some parts of the city. With the roads blocked and dangerous, everything came to a halt. The main ring road in Athens had so much snow that people were abandoning their cars and they had to get the army in to clear it — it even forced the resignation of the CEO of the toll road company. Both Karina and I are a little bemused as to exactly what he did wrong, but I suspect it was perhaps not shutting the operations down soon enough.
ATMs had no cash, the supermarkets ran out of fresh food and no regular stores were open. We didn't notice this last year, but then we remembered that of course we were in lockdown so nothing was open anyway! It took until Thursday for things to really get back to normal, even Wednesday there were huge queues at the banks after they reopened.
As you can imagine, we spent most of Monday and Tuesday holed up inside our apartment, enjoying the snow and venturing outside only for brief walks.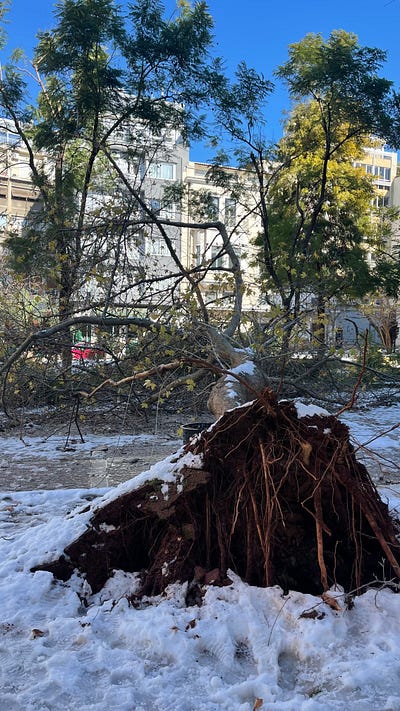 With Omicron cases receding here it's easy to start to "forget" about the pandemic. Yes, we still wear masks outside, but that's become so normalised now you forget the why. It's just something you do. But every now and then you do get a reminder of the impact it's had in strange ways. One of those was an email on Tuesday telling me a letter had arrived at the place we stayed last year. Turns out that it was a birthday card sent to me from Australia for my birthday LAST YEAR that took 11 months to be delivered.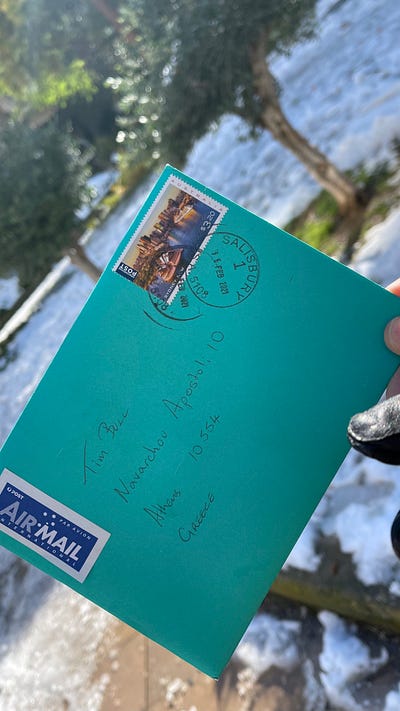 Collecting that gave us the excuse we needed to venture out of the apartment and we wandered through the streets, now covered with ice and snow, inspecting the damage. A lot of trees lost branches and we saw one that had toppled over at the national cathedral.
I recorded a new podcast, this time with our friend Erik and another episode with another nomadic retiree Chris. Erik's episode is up now https://anchor.fm/footloose and I expect to edit Chris's this week. I'll also be chatting this morning with our friend Hannah.
Karina has been spending a lot of time planning out our next few moves. We're getting itchy feet sitting here and while it seems Omicron might be on the back foot now, we are still more comfortable remaining in Greece for now. We've decided to do a 2 week campervan trip on Crete in February.
She's also been starting on the logistics of our trip to the US in May for Ella's graduation. We're planning to visit San Francisco and catch up with friends, spend a week in Portland and then visit Chicago before flying back home to Greece. Of course this also involves working out what happens with Matilda while we are away, which means thinking about where we can leave her, how to get there, when we need to start to do that and so forth.
Yesterday I ran another coffee tour, for the first time with tourists who just booked it off Airbnb without knowing me. Everyone seemed to enjoy it and have a good time — the main guest owned a cafe in Germany and was excited about seeing good third-wave coffee places in Athens. It may be a very niche market, but it does exist!
This week we're back to Aegina to check on Matilda and also Tara (Markus and Isa's boat), meeting with our designer and the builder on the remodel, Karina gets another tattoo and I'm sure other things will come up, they always do!
It's definitely the quiet period of the year for us travel wise with little to report, but that will change soon.
Until next time,
Tim & Karina