Week 81 - Crete part 3
Continuing our adventures driving around Crete in a camper van
Continuing our adventures driving around Crete in a camper van
After two weeks of driving around Crete in a campervan, it's time to talk about the roads. If you are intending to do a driving holiday in Crete, it's definitely worth considering this when you go. With small roads and a lack of parking, it was challenging for us in what was definitely the off-season. I imagine that during the busy season, there are considerable traffic jams to contend with.
One thing that we noticed as we moved around was at popular places, there would be car parks that stretched out from some attractions for a huge distance. If you visited Matala for example in summer, there's a car park in the next village over and a 2 km long walk way setup along the side of the road for you to walk into the beach.
Most of the small villages, especially as you get into the mountains, are still laid out on the original footprint which was setup for donkey carts, which turns out to be exactly the width of our van — enough to (almost literally) scrape through with a few centimetres each side. The locals are used to it, which is good and bad — generally they are very patient with traffic jams or two vehicles meeting in the middle of town, it happens all the time and they just contentedly wait. At the same time, they drive like maniacs, relying on their reactions to jam on the brakes around a blind corner if there happens to be a van coming the other way (which 99% of the time there isn't thankfully).
This is not to say that the roads are bad. They aren't at all. The roads in Crete are generally very well maintained and at this time of the year, there is a lot of activity to upgrade and improve them. In fact in many places, there are larger roads put in that bypass the small villages to make it easier to get around.
Unfortunately, you can't trust the road signs.
On several occasions, we found that the arrows on signs had been crudely repainted. When we were heading to Elefonissi beach for example, the arrow pointed us left into the village. We turned off the lovely two lane main road, to crawl through a one lane village, only to rejoin the main road. Apparently slow traffic and long traffic jams are great for tourism.
Driving somewhere was also often a mystery. We passed one sign that said 7 KMs to go, about 5 KMs later, we passed a second sign that said we had 6KMs to go, then 1 KM later, we had only 500 meters left. We frequently had to stop and check the maps to make sure we were heading in the right direction.
The geography of Crete also makes it spectacular, if tough, to get around. There's a huge mountain range dividing the island that's got spectacular gorges cutting through. It was common to experience something like a newly paved two lane road in one direction, dropping to a one lane road, to an unpaved road, then a traffic light to pass through a tunnel that was one car wide.
We eventually left all the mountain driving behind and headed back to the north of Crete towards our starting point in Heraklion. We spent another night at Rethymno because we really enjoyed it the previous week and the weather was nicer, then we headed to Heraklion.
Heraklion is the capital of Crete and is an interesting place — it's laid out on the footprint of a venetian fortress, but is a modern small city in all other respects. The streets are paved and mostly pedestrian in the centre and there's not a lot of tourist infrastructure, it's a more modern shopping centre.
We visited Knossos Palace, which is the mythical home of the minotaur. It's a very popular site to visit and frankly a little odd. It was excavated by Evans around the early 1900's and he made several questionable decisions — largely to reconstruct parts to show what he THOUGHT it looked like. Much of which is now wrong, but for the "average" tourist it's popular because it feels more complete, yet the reality now is that they can't remove Evan's additions and they are even having to spend money to maintain it because it was relatively poor quality construction.
It is interesting to see some of the walls with the frescos, but a visit to the Heraklion Archeological Museum (one of the best we've visited actually), shows that Evan's reinterpretation of the frescos involved a lot of artistic license at best.
On the last day we visited the venetian fortress at Heraklion which I really enjoyed — it's remarkably intact and had some interesting exhibits about ship wrecks inside. We were allowed to take Rosie in with us which was a nice change, although we had to carry her, which didn't bother her in the least.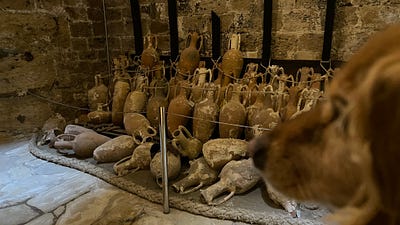 After the fortress we drove up to a plateau and visited the cave which is the mythological brith place of Zeus. It was actually above the snow line and was a particularly beautiful location.
Finally Thursday night we returned the campervan and headed back to the ferry from Crete to Athens. It was a much easier journey this time, knowing more about how it all works. One thing that's mildly interesting is you can check in three hours before the ferry leaves. With heavy bags we boarded at 6PM, and chilled out in our cabin before venturing out for a dinner on board and then back to bed as the ferry headed off on it's overnight journey.
Friday arrived and we landed in Athens, then walked around to catch the ferry to Aegina where we are now based, officially "waiting on the boat". We had requested that it be ready for March 1st, but the best guess at the moment is there's still another two weeks until it's finished — hopefully by March 18th. The delay at the moment is the air conditioner which has been ordered and some parts have arrived but other pieces are delayed in transit.
It's great to see the progress that's been made on fixing all sorts of things — both big and small. The windscreen wipers I attempted to fix are now actually working, the broken rollers have been replaced on the captains door, the new water tanks are in and working and the water maker is almost completed. With the new water filters fitted and food grade tanks, we were able to finally drink water from the boat for the first time in the kitchen which was an exciting moment. We also met with a manufacturer to make custom measurements for new blinds on the inside of the boat. All in all, it's coming together well. We can't wait to be back on board.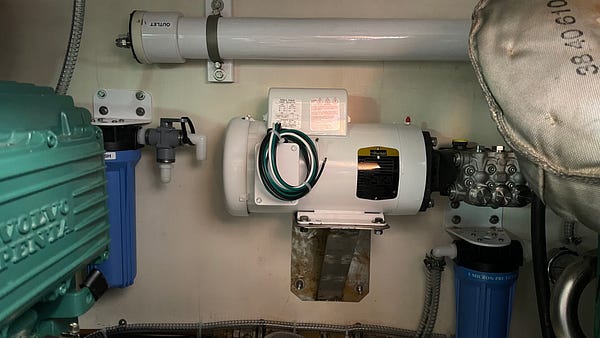 With fuel going up, we decided to bite the bullet and refuel Matilda now, 1,000 litres and 1,600 Euros later, we have full tanks again and can travel up to 1,000 nautical miles before we need to worry about refuelling.
For now though, it's nice to have a bit of room again and we're settled in and enjoying Aegina while we wait on the last steps before relaunching. We've found a lovely apartment right in the centre of town on the harbour so it's almost like being on the boat anyway, but without the movement! We're jealously watching all the other boats come and go!
Until next time
Tim & Karina