Week 86 - Shakedown in Aegina
Shaking down in Aegina, getting everything shipshape and a few test cruises
Shaking down in Aegina, cruising the Mediterranean on our boat Matilda.
We'd always intended to spend the first few weeks "shaking down" the boat, it is after all "what you do", but we hadn't really realised just how important it would be! There's so many things to remember and skills to refresh that you need a period of time to get everything ship-shape again before setting off on that bigger adventure.
Sometimes it's the small things — like spending 10 minutes trying to hook up to the power and getting increasingly frustrated that it wouldn't work, only to realise that I was pushing the button to enable the water for Tap 1, not the power for Outlet 1. Or it's trying to dock and Karina confusing the up and down on the anchor and continue pulling us further away while I call for more chain.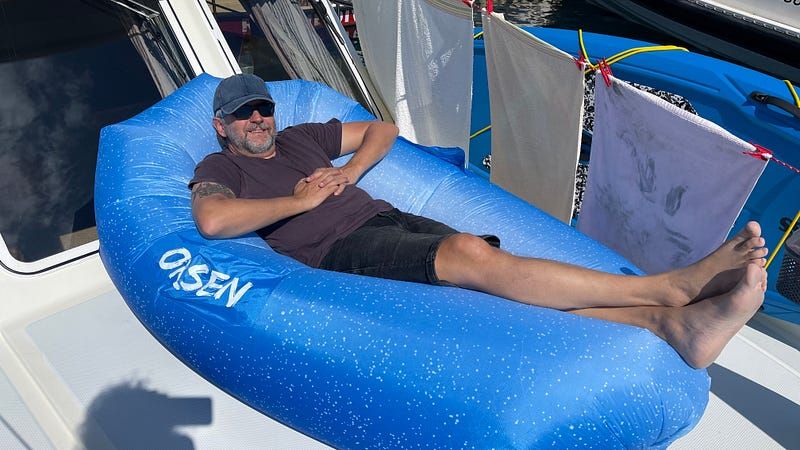 Other times it's bigger, more major items. Another major upgrade is done, with a cruise to Poros to meet Kottaras Marine who fitted our new marine radio. After what's now about 11 months, we're almost done with the change over to the new MMSI for the boat! (Short recap — MMSI is a unique ID for your ship issued by the flag country, it took a very long time to get this sorted, then we couldn't get the radio updated with the new MMSI so had to replace it instead which has now happened). All that's left is to file the paperwork with the authorities to document the new systems now using our MMSI and let the insurance know the work is finally completed.
Or it's continuing to sort through the cupboards and throwing out another 2 cubic metres of stuff that we'd originally kept "just in case", but now after a full season on the water realise we don't need.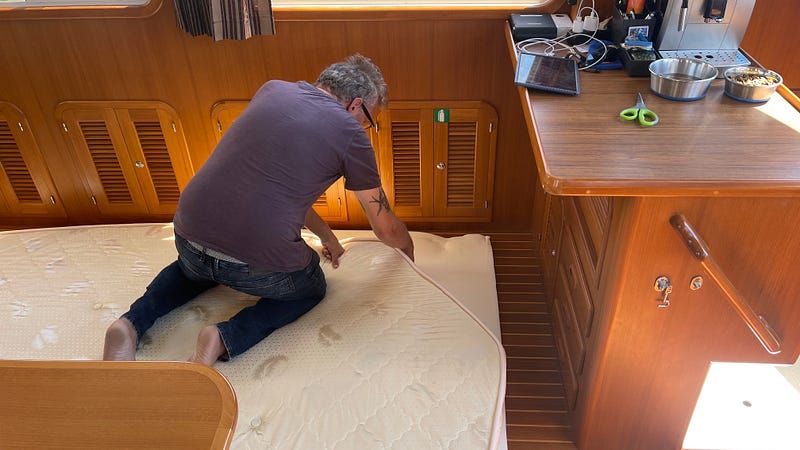 We visited Athens a couple of times during the week, once to visit the apartment and meet up with some fellow travellers I met online and the other time to hand over the coffee tour to Camille who is going to run it over summer.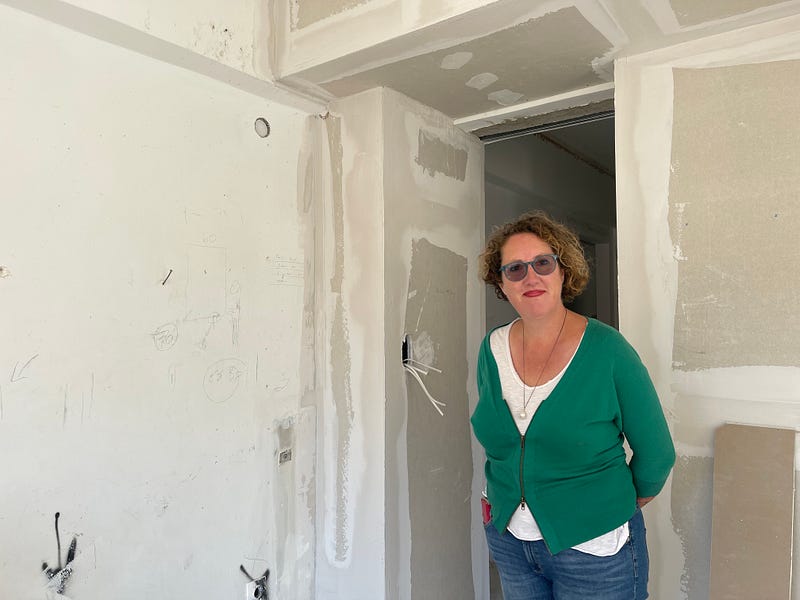 After a few days in Aegina, we headed to Poros, a nice little "shake down" cruise of a few hours for us to make sure everything was working and to get the radio fitted. The boat really is in great shape and with one minor exception is working perfectly (the minor exception being the black water tank sensor, which is the bane of boats everywhere — they work for a few weeks and then "clog up", requiring constant cleaning, which for obvious reasons, most people tend not to do, just "knowing" you've got x days before needing to empty is preferable to dealing with that).
The weather is on the cusp of summer now. When we are on the water it's typically cool, you need a jacket but the moment you land, it feels warm and T-Shirts and occasionally even shorts are the order of the day.
While in Poros, we met with Shane, a final year university student who's working with refugees in Athens. He approached us on Couchers.org and we invited him to come join us on the boat for a couple of days. It's always fun sharing the boat and meeting new people, but it's also another excuse to continue the shake-down. Do we have everything setup for guests? Now we've moved most of the food into the guest cupboard as a pantry, does that work properly?
On Saturday we cruised back to Aegina, this time stopping off at the port of Methana, somewhere we've only ever bypassed on our way to and from Poros. It has poor reviews which are perhaps somewhat unjustified — the port itself is clean and pleasant enough, not particularly romantic or quaint, just functional. There's just nothing to "do" there. Its claim to fame is the hot springs which as best we could tell have stopped running. We walked up to the north end of the bay where there is a small church and we could see a dried up spring that probably had hot water in the past. Then we went to the south end where there are famous sulphur baths that the reviews claim smell like rotten eggs. There was strangely coloured water and an impressive old bath house, but no smell and no hot water there either.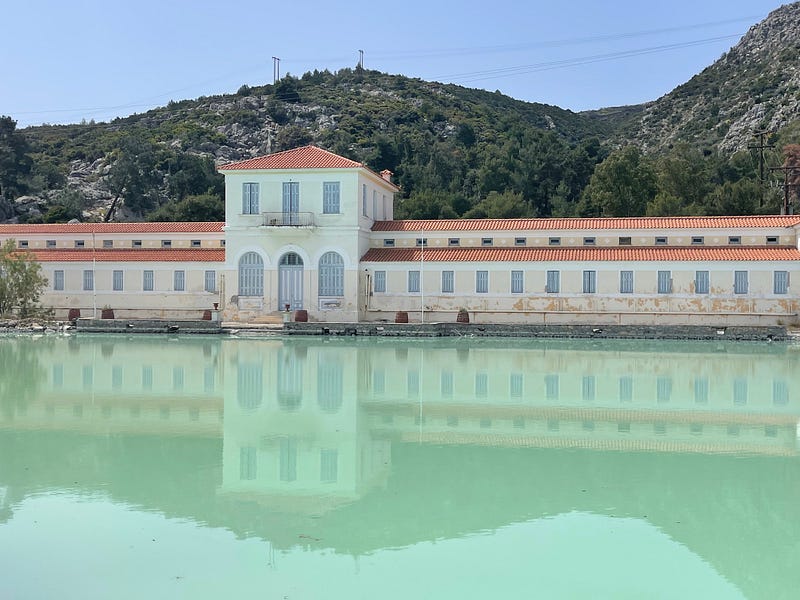 We also stopped back at Moni Island to visit the peacocks (didn't see the deer this time), Shane went swimming (too cold for Karina and I — 18C) and then we headed back up to Aegina.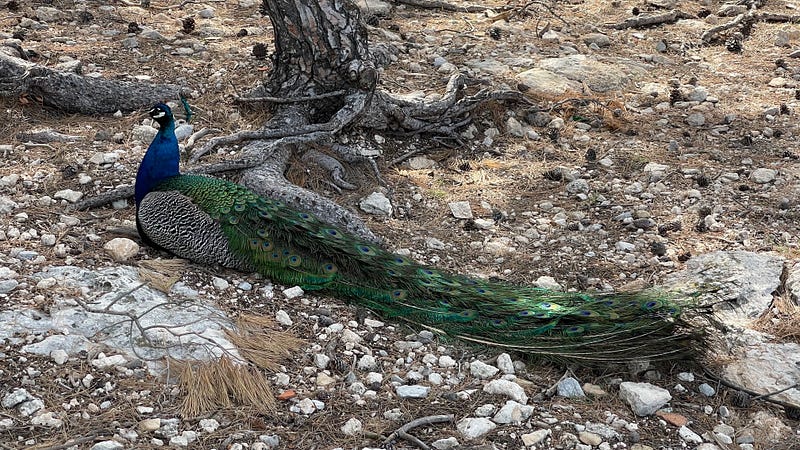 It's the first time we've arrived here that we struggled to find a spot. We were quite late — later than normal and the harbour was packed. Eventually we found one spot in a different place from where we normally go and we were probably about the only boat that would fit in it as the water was very shallow.
At about 1AM in the morning, we woke to hear a scraping / vibrating sound under the boat that would sound intermittently. Eventually I figured out that the rudder was just touching on a rock underneath. No damage done and we are fine here while it's calm (I slipped the lines and eased us out another 50 cm from the dock which gave us the room we needed and quietened it all down), but given we want to stay for the week until next Sunday we'll be resetting the anchor today to move sideways and find some more depth (not much here — it's fairly shallow on this side of the dock). We definitely want to stay in this location though, it's a little further to walk around into town but it's also MUCH quieter which is nice.
Our friends Marcus and Isa are now back on the water too, so we met them for dinner on Sunday, along with Shane and another German man, Ingo that we'd met here earlier in the week. It's one of the most enjoyable parts of this lifestyle for us, the socialising and enjoying great company with likeminded friends.
This week is basically us "hunkering down", knocking off the boat jobs list and enjoying the Easter Celebrations (both our Easter and Orthodox Easter next weekend). We have a group of friends coming to the boat next Sunday and we want to have a good spot here to meet them, so we're going to continue be wall huggers for the week as the amount of boat traffic coming in and out of the port is crazy!
Want to see where we are now? Check us out on NoForeignLand https://www.noforeignland.com/boat/matilda
Until next time,
Tim & Karina