Week 88 - Greek Easter on a boat
Boat parties and exploring more of the Saronic while we cruise the Mediterranean on our boat Matilda.
Boat parties and exploring more of the Saronic while we cruise the Mediterranean on our boat Matilda.
While it's been frustrating to be "stuck" in the Saronic — pragmatically stuck here by the delays with the new air conditioner and the need to leave the boat somewhere safe when we go to the US in May — it's also been fun as it's enabled us to spend more time with friends as the trip from Athens to Aegina is a short one and it makes meeting up for the day very practical.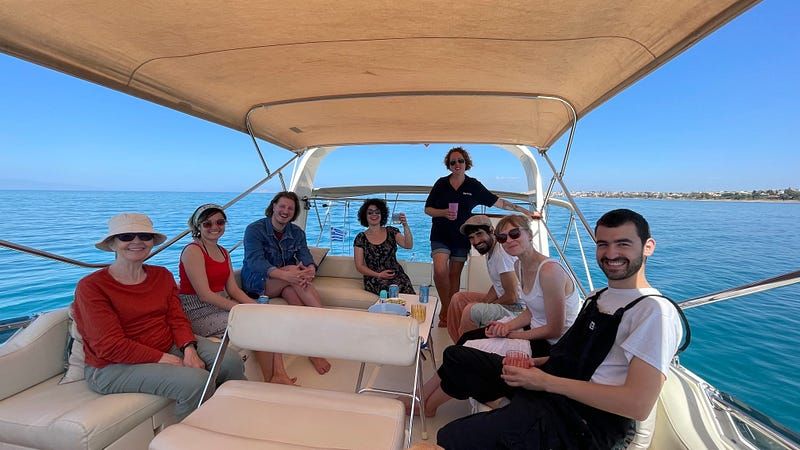 Sunday was a fantastic day and one I'd been looking forward to for quite some time, which was hosting all the teachers from the Habibi Center on Matilda. They caught the ferry out in the morning and then we headed off to Moni Island for the day where we anchored out and swum, ate, drank and did a walk ashore as well before heading back to Aegina in time for them to explore the town and then catch the ferry home.
Matilda handled it well. It's the most people we've had aboard and although I don't think you'd want many more, she handles nine comfortably. It made no difference I could tell to the handling at all (she's rated to carry twelve people FWIW) and there are enough zones that everyone was able to spread out. It also turns out that nine people can sit easily (if a little crowded) up on the fly bridge while we were under way too.
We had all the toys out and people enjoyed the air bag chairs, the stand up paddle board and the snorkelling masks. Most of us went swimming and for the first swim of the season for me, it was warmer than I expected. Yes, the water is very fresh, but if you can hang in there for a few minutes, it's quite bearable, especially as it gets warmer outside.
One of the benefits of spending more time in a port like Aegina is getting to know people (or knowing people who know people). This proved to be very useful because Markus had introduced me to the charter operators on the private pier and they said we were welcome to a spot there if the port was full. Sunday night (and Sunday night on Easter), the port was very full and it was great to come in, thread our way through the boats circling for a spot and just pull up to an empty slot with a friend to greet us.
That familiarity has other benefits as well. Karina has to get regular blood tests and in the past we've always gone back to Athens to make it happen, but she decided to find a local place here on Aegina which turned out to not only be easier and faster but significantly cheaper too. A big time saver.
Our friend Michael, who we spent a lot of time with in Athens during lockdown, introduced us to a couple of Australians who wanted to come and visit Aegina, so we arranged to meet Gila and Jacqui on Wednesday. We had a great time with them and it's exciting to think that we should start to meet fellow Aussies again now they are let out of the country. Look out world, the Aussies are coming! There's always that moment when you're chatting to an Australian when you "remember" that in many ways it is a different form of English — we hadn't heard anyone use the word "knackered" casually in conversation for a very long time!
After a very extended time in Aegina though, it was time to head off. We said farewell to Markus and Isa who are making their own moves and we set off for the nearby island of Agistri to anchor out. It was a lovely, peaceful anchorage and we really enjoyed getting away from it all again to be by ourselves on the water.
Thursday we headed across the gulf up to Salamina, which is the closest island to Athens and often overlooked. On our cruise over there we saw four sea turtles, two large ones and two babies the size of the palm of your hand.
Salamina is full of holiday houses for Athenians and not much that's "remarkable", but it does have some pleasant enough beaches and anchorages and the water is clear and clean despite its proximity to some big industrial areas.
Friday we cruised right into the harbour to have a quick look, then turned around and cruised right out again and around to the South of the island. The winds are finally starting to "behave" and settle into a more normal pattern of mostly coming from the North and we anchored on the South side to hide out from the stronger gusts.
Both Karina and I were fine and we are getting much more confident in Matilda and her abilities — I no longer worry about the anchor dragging at all (when I know that I anchored securely in sand in 3M of water and have 40+M of chain out), it's more getting used to the noise of the wind and the water pushing the boat around. Rosie on the other hand seemed less thrilled with it than us and was very quiet for the day, then eventually threw up so I suspect she was feeling a bit seasick!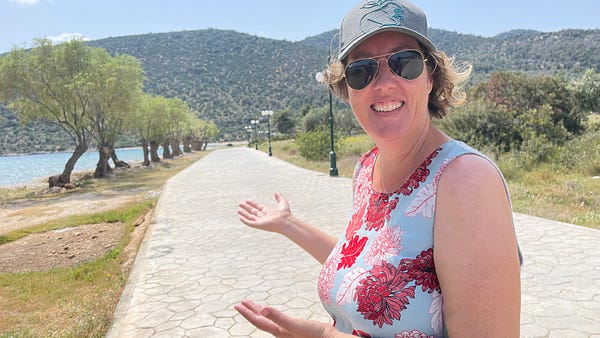 Saturday we headed back across the Saronic Gulf to the small Peloponnese port of Korphos. The deal here is that you can anchor next to the taverna, but you have to eat there. Fortunately the food was great and we enjoyed our meal there, despite the fact that the owner did pull every trick in the book to try generate some extra cash (bonus bread, water and a plate of fries that were all in fact extra charges).
Today we're going to stay and relax here as it's a lovely little port and the weather is very calm. Then back to Aegina tomorrow and clean the boat before we collect a couple of guests for an overnight cruise on Tuesday. Wednesday we'll be back in Aegina and at that point we'll probably hang out there until we take the boat out of the water on Saturday, ready for our journey to the US the following week.
Want to see where we are now? Check us out on NoForeignLand https://www.noforeignland.com/boat/matilda
Until next time,
Tim & Karina