Week 9 - Nafplion and boat viewing
Adventures in Greece as we pursue the dream of buying a boat and cruising the Mediterranean.
Adventures in Greece as we pursue the dream of buying a boat and cruising the Mediterranean.
It's been another action packed week, dominated by viewing boats and dealing with the fallout from my lost phone.
On Monday we headed to Flisvos, (the "Super Yacht" marina) to view a Sunseeker Manhattan 68. With a full open back, it wasn't the right boat for us, but it was definitely stunning and had lots of room downstairs. At 68 feet it's also far too big, but I guess sometimes you have to see things that are wrong to work out exactly what's right for us.
While we were there, our broker generously offered me his old iPhone to use while I wait to order a new one (my phone was stolen a week ago). Long story though, he can't remember the Apple ID he's used with that phone and so it's this weird semi working hybrid of a phone, my iMessages is broken and lots of things don't work — I do have internet, maps, Instagram, WhatsApp and a browser however so that's something. It's lead to some frustration when messages people send via iMessage seem to get lost, but overall, it's a great interim solution. Of course, just to make things even more frustrating, you can't order the new iPhones in Greece yet so I'm going to have to continue to wait on that!
In addition to pick pockets, another scam we've seen is the buskers in the mall. There are of course some very talented musicians, but there's a particular type of busker which is really more a beggar — they play these mouth organs, blowing randomly, with literally zero musical talent. What they do is set a clear plastic container with coins in it, about a meter and a half in front of them and so that people walking down the mall will end up kicking the coins over as they are hard to see. Much embarrassment ensues as the person kicking the coins feels really bad, they'll pick them all up and inevitably tip the busker as well, who then puts most of the money back in their pocket and places the coins strategically in the path of the next sucker.
We've been enjoying a meet up group called "Indie Horizons Travel Club" and on Wednesday we attended their Mexican Food Wars event. It's been great to meet other like minded travellers as well as plenty of people who are living here in Athens but like getting out to the events too.
There's always plenty of activity downtown, but lately they seem to be shooting a film in our neighborhood, so on several occasions we've come across unexpected scenes like a drag dance party in the center of the mall, a shop they did up recently which we realised after was just a set and other random closed streets and events happening. Adds to the fun of trying to get around!
On Thursday we hired a car for a few days which has been really convenient but also showed just how hard it is to drive in Athens! There's more one way streets than Sydney and it feels impossible to get from point A to B at times. We're so used to Google Maps being incredibly accurate in the US, that it's been a shock to find that here in Greece it's definitely not as reliable. The roads are usually fine, but for locating shops and specific locations it can be hit or miss.
With the car, we were able to get down to Sunion to view the Temple of Poseidon which is set on a cape at the top of the hill with amazing sea views. Then on to Lavrion in the afternoon to view three more boats.
Finally on Friday, we headed to the Peloponnese to a small village called Kilada to view another boat, a Sealine C48 which seems promising. Because we had the car, we took the opportunity to bring the dog with us. On the one hand it was a big mistake — she cried when we tied her up outside the boat to view it and of course we couldn't go into any historical sites. On the other hand, she was a very willing walking companion and loved getting out, running on the beach and exploring the towns with us. Friday night we headed to Nafplion and stayed there.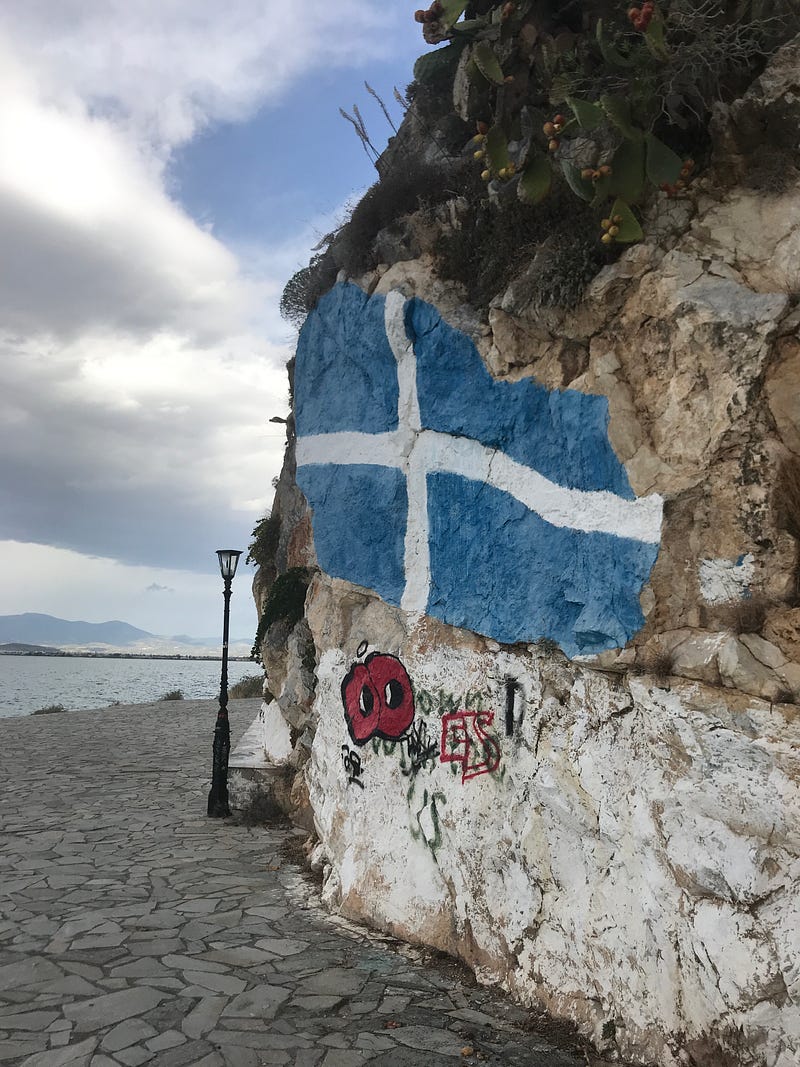 It was a really beautiful town and you can tell from the stores that it's basically a tourist getaway for wealthy Athenians. What I found fascinating is the layers of history that are present here in this part of the world — Australia so often feels to be split largely before and after white settlement, but Greece has waves of ancient history, invasions, occupations, and competing occupations as well as revolutions and civil wars, all layered on top of each other making every building this complex web of "well it was this, then they destroyed this bit, but they rebuilt that, then this mob made it a hospital, and now it's part of a hotel". Inevitably at some point either the Venetians or the Germans appear to be responsible for blowing things up and general mayhem and destruction.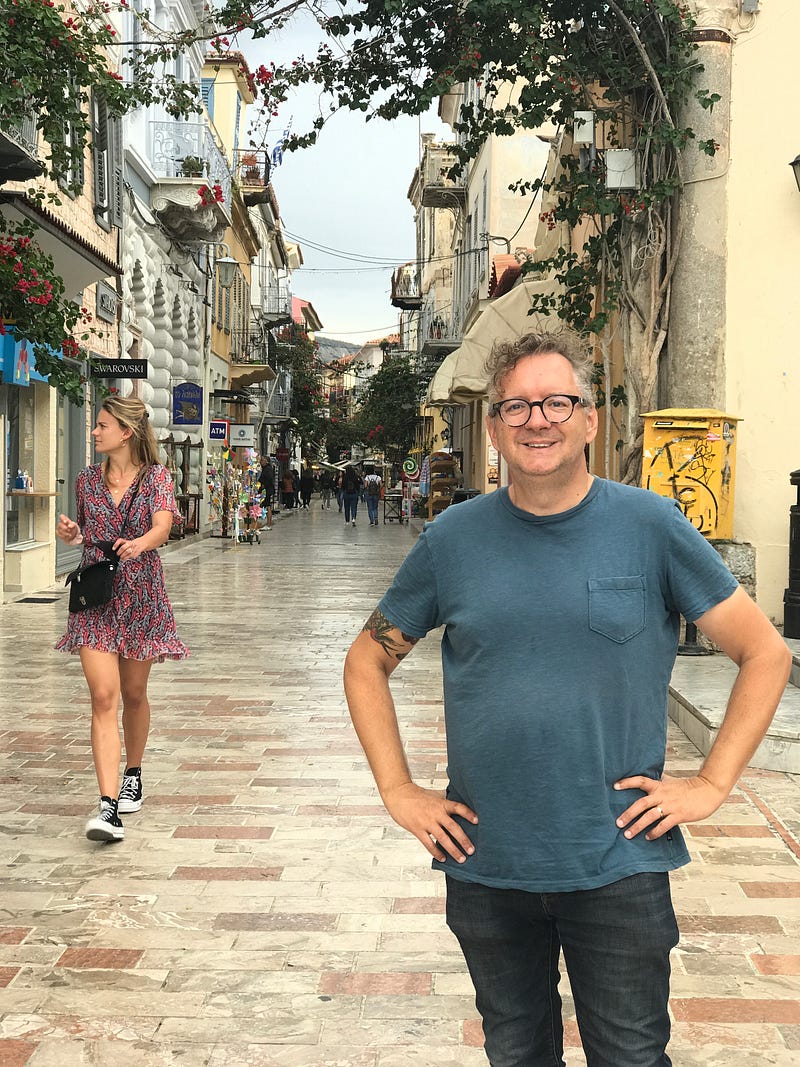 Finally on Saturday, we thoroughly explored most places we could walk to in Nafplion and decided that we'd definitely like to return again, then headed home to Athens. On the way we stopped to see the Corinth Canal, which is very dramatic and interesting to see. Like everything here, it's more than just "that canal" they dug to allow ships to pass through, it was first proposed in the 7th Century BCE, commenced construction in the 1st Century CE then the idea was revived in 1830, with construction eventually being completed around 1890. Although it's primarily a tourist attraction, it's quite stunning and worth a visit — we definitely want to take our boat through it when we have it!
Until next time!
Tim & Karina