Week 93 - Shake down to Epidavros
Epidavros with Matt and Avic, now ready to leave Aegina to cruise the Mediterranean on our boat Matilda.
Epidavros with Matt and Avic, now ready to leave Aegina to cruise the Mediterranean on our boat Matilda.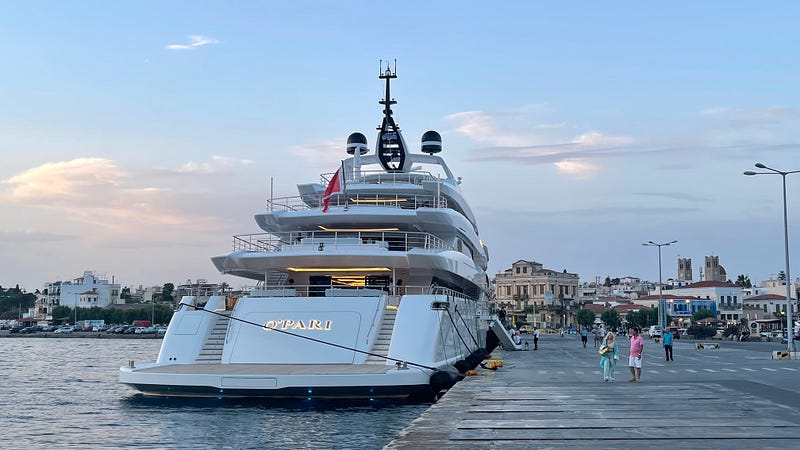 After 12 months and many steps along the way, the actual act of collecting my drivers license proved uneventful. I walked into KEP, no queue and the woman behind the counter handed me my drivers license (after consulting briefly with a colleague on where it's located). And that's it! I'm now legal to drive (and more importantly rent cars outside of Greece) for the next 15 years. Ultimately slightly disappointing after all the time I've waited, I was vaguely expecting a fan fare and a bottle of champagne or something!
We were in Athens not just for the drivers license, but also to meet with our lawyer and a notary to sort out a power of attorney document for each other (or what they call a proxy here). Having done the will (what happens if one of us dies) this is the next logical step (what happens and who can do what if one of us is mentally incapacitated in some way). It was a long, boring and tedious process sitting in the notary's office for almost three hours. The interesting part is that they charge the document based on the length — so most of the process consisted of them asking "do you want this clause", "do you need this power" because every new thing we agreed to made the document longer and therefore the cost higher. It seems a strange way to charge to me! The proxy powers are all quite specific too — it's not just "Tim can manage Karina's business affairs", it's specifically "Tim can transfer Karina's share of the apartment to the kids, Tim can sell Karina's share of the apartment, Tim can sell the whole apartment, Tim can sell the boat etc. etc.".
On Wednesday we met Matt and Avic, fellow nomads who we invited to join us on Matilda for an overnight cruise. It's always fun sharing time with new guests and it was a great last "shake down" cruise for us before we head off on our big "around the Peloponnese trip".
With the warm weather, we cruised across to Agistri, stopped there for lunch and a swim, then headed further across to Epidavros on the Peloponnese. It's a lovely little harbour, although the water wasn't quite as clear as Agistri and it has beautiful sunrises. Most importantly it was lovely and calm, which is always good for nice nights sleep.
Thursday morning we took a taxi to the Epidavros Theatre, explored the ruins and then came back to the boat around lunchtime as the winds were picking up. We cruised back to Aegina, which was a little rougher than the previous day — it seemed best to skip the swim and head into harbour, unfortunately at this time of the year the charters are now in full swing and Thursday is the busiest night of the week in Aegina. The port was full and so we had to stop at the anchorage just outside with 21 other boats! The most we've ever seen at anchor here.
On Friday I tendered Karina in to the port for a haircut while I enjoyed a coffee on board Alter Ego, a boat cruised by two Australians, Kieren and Julie who we met briefly earlier in the week. It's been lovely seeing Australians around again, generally we always find an immediate connection and speaking with them always feels "different" somehow. It's hard to explain, but despite our long time away from Australia, speaking with fellow Aussies always just feels more natural in a way that talking even with other native English speakers doesn't.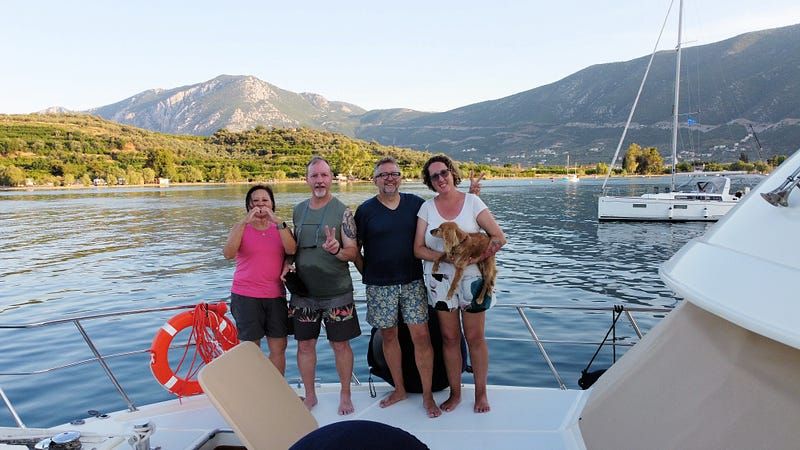 We watched eagerly as all the boats cleared out to head back to Athens and we relocated to get a spot tied up so that Lucas could come and complete the air conditioning installation. Finally, the suppliers in Athens had sent the correct panel and we could have the installation completed! It proved to be straightforward and we now have a working air conditioner. After it was completed, I spent a few hours playing around with the ducts (and the baffles inside the T-Junctions) to balance the airflow into the cabins and last night we slept with it on properly for the first time.
Still, there's always one more thing to fix. Avic had a shower in the guest cabin and the shower sump wasn't pumping properly — the second time this has happened, so Saturday I spent a few hours underneath the boat in the bilges pulling out the sump and replacing the float switch. I'd done this before and I'm not sure if I didn't fix the wires properly last time or if it just failed — the float switch seemed to test OK with the multi meter, but didn't work in situ, so a new float switch it was.
It's kind of peaceful down in the bilge, aside from the smell (which generally it doesn't — it only smells at the moment because of the shower water which was accumulating there), it's cool, you can hear the boat propellors and bot thrusters coming and going and there's always the mental challenge and satisfaction of completing a useful job.
What's good is that we have most of the spares we need here on board now — as a general rule we have at least one of everything we should need. It's great because if I need a new float switch, I have it here, can get the job done and then it's just replacing it rather than being interrupted by the need for parts, which is also something that will get harder to source as we travel further.
So here we are, Sunday morning and it's our last night in Aegina for a while! Siung and his partner are joining us this afternoon and then tomorrow we head off towards Monemvasia and the south of the Peloponnese. For the next week it's still "charted" water for us, but ones we haven't visited in about 7 to 8 months now, after Monemvasia though, it will largely all be new to us both.
It feels like the season is finally starting "for real".
Until next time,
Tim & Karina