Week 94 - The journey begins
The big journey begins! Leaving Aegina to cruise to the Ioanian with Siung and Joan. Exploring the Mediterranean on our boat Matilda.
The big journey begins! Leaving Aegina to cruise to the Ioanian with Siung and Joan. Exploring the Mediterranean on our boat Matilda.
It's been a week for catching up with "new" old friends. There's something about shared time together, especially on a boat where you are in close quarters and there's lots of adventure that brings you close to people.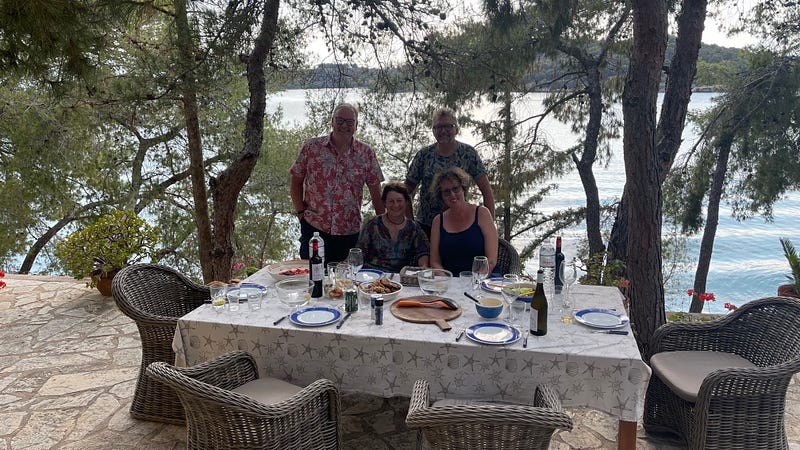 We started the week in Aegina, washing down the boat and making the last of our preparations to leave the port. A full water tank. Check. Batteries charged. Check. Last minute supplies from the marine store. Check. Food for four nights. Check. We were ready to go.
Siung and his partner Joan arrived on the ferry and it was great to welcome them aboard. It's wonderful having a repeat guest as they already know how things work, although of course on Matilda, not everything stays the same either!
We stayed aboard on Sunday night, and as is now "tradition" with Siung, we dragged him off to dinner with some fellow Australian sailors we'd met — Kieran and Julie. Between nautical conversation and Aussie slang, it was a challenging first conversation for them both, but we enjoyed it all the same.
Monday morning by 10AM we headed off, leaving Aegina for the last time this season. It felt different. Even though we've been travelling around on Matilda, there's something inspiring about casting off the lines for the last time and waving goodbye to somewhere that's very much begun to feel like home.
The wind prediction apps were all showing great conditions ahead and so we decided to spend our first night at anchor on Dhokos Island, one of our favourite "remote" island anchorages close to Athens.
The weather has been very hot and humid this last week and on that Monday night, there was huge thunderstorms that built up. Another valuable lesson refreshed — while the weather apps are good at predicting the regular, they can't predict the unpredictable, and thunderstorms are very unpredictable.
Fortunately a few lessons from the past have already been learnt and served us well. The weather is what it is — don't trust the apps. We saw the thunderstorms and the lightening show approaching, so we made the call to prepare the boat (put away the bimini, cover up everything, bring things inside etc.). The second lesson is (as Kieran puts it) "Anchor chain in the locker is wasted chain". We always put out as much chain as the position and other boats allow.
When the winds and the rain hit, we had strong winds gusting up to 25 (and maybe very briefly occasionally 30) knots or almost 50km/h winds. At that point, the boat is always starting to stretch on the anchor chain, but with 50 meters out and fairly shallow depth we held well. It did mean I kept an anchor watch until the storm had passed.
There was about 20 other boats spread around, and unfortunately most of the rest of them were NOT that well prepared. With the storm arriving chaos ensued and there were boat drifting everywhere (fortunately away from the shore) and about half of them had to pull up their anchor and motor around until things died down and they could reset. Weather aside, it was a pleasant stop over and we loved swimming off the back of the boat in crystal clear water.
Tuesday we headed into Ermioni, a very short cruise of under 1 hour, but we wanted Siung and Joan to experience the isle of Hydra — and the best way to get there (in our opinion) is a water taxi from Ermioni. We came in early, dropped lots of chain and secured nicely to the dock and went off for a walk to check the ferry timetable.
When we came back to the boat, chaos was ensuing around Matilda — there was three or four men holding a stern line, a man on the bow moving fenders and the boat was being push sideways towards the dock in the wind. While we were gone, another boat leaving had pulled up our anchor and we had come adrift. To be fair, that probably means that we had dropped our anchor over theirs, it's always challenging in windy conditions and it's also possible that they had dropped their anchor far to one side. It happens.
Karina and I had to jump on the boat, start the motors and cast off. It was a tense few moments, but we escaped without damage. Drifting sideways, it seems our anchor caught another boat's chain and we had to carefully manoeuvre to escape. They were concerned, standing up on the bow shouting at us "If you lift our anchor, we won't be happy". Frankly that's a sign of inexperience — everyone hooks chains all the time, it's one of the realities of boating in Greece and tying stern to. Knowing how to deal with it is a skill just as important as steering the boat. It's going to happen.
Once we were free, we shouted at Siung, and Joan (who we'd had to leave back on shore with Rosie) to go and catch the ferry while we docked again. Rosie was handed to a passerby (she wasn't THAT thrilled about seeing us on the water without her!) and then we made a few attempts in the strong winds before we successfully managed to dock up again.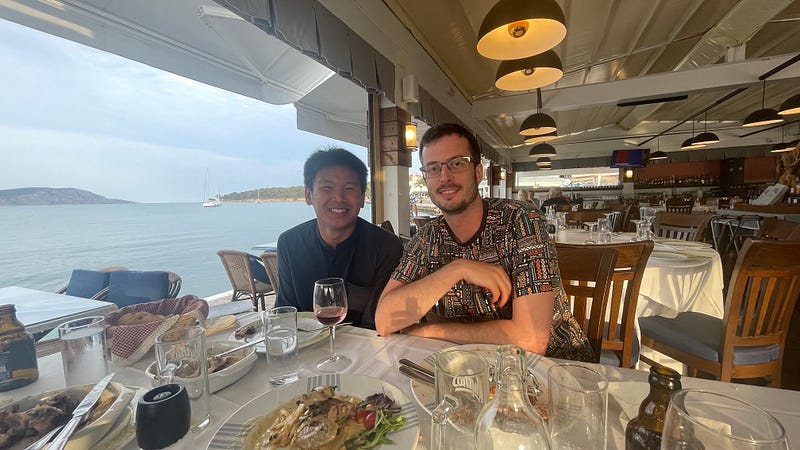 We were reflecting afterwards and although Ermioni is one of our favourite ports, it's also the port where we've personally either experienced or seen damage to boats. Despite it's natural beauty, it's just not really that safe…
As always we were checking the weather, thunderstorms the feature of the week, were rolling in most afternoons about 15.00–16.00 and bring rain and winds with them. In particular Friday was looking very severe — so severe the storm system had a name "Genesis".
What do you do when you're around the Argolic Gulf and a storm is coming? The same thing we do every time! Run to Porto Cheli. It meant that our plan to take Siung and Joan to Monemvasia was interrupted, but that's very much boat life. We'd roll with a different plan instead.
We'd been intending to head there for Wednesday night anyway as we were meeting Mark and Elizabeth who were back from the UK for a few weeks break by the sea (we met them last year and they joined me on my sailing adventure to Kefalonia). We considered actually tying up stern to at the dock at their villa, but after a couple of run ins the last two nights with the weather and anchoring plus the thunderstorm warning, I decided that we'd just do the "safe" thing and anchor in the bay with lots of chain.
A quick ride in Tilly the tender and we managed to use the swimming dock for that instead. We had a wonderful time together, enjoying the view over the entrance to Porto Cheli, watching the various boats come and go, drinking wine and sharing a very tasty meal together. We all chipped in with various tasks and the evening went very quickly. As a good Aussie, I was in charge of the prawns on the barbie.
Thursday we slept in and took our time before relocating from the anchorage to the Porto Heli Marina. We chose the Marina over the town dock because we wanted to be able to leave Matilda safely the next morning to drive Siung and Joan to Nafplio. A good excuse to try my new Greek drivers license!
On Thursday evening we hosted Mark and Elizabeth on Matilda this time, Joan made gazpacho soup, Karina made salads and sausages, and they bought a delightful orange cake for dessert.
Friday morning it was pick up the car, drive to Nafplio, which was as delightful as always. One thing we've noticed is that a lot of places feel livelier now, the benefits of both going more during the season and also post-COVID.
Then it was farewell to Siung and Joan who were fantastic guests and back to Porto Cheli to meet Maya and Roy who were in the area for her birthday weekend. It was a lot of fun after all the talking to finally get to show them both around the boat and we enjoyed drinks before they headed off for the evening and we collapsed into bed — finally partied out for the week!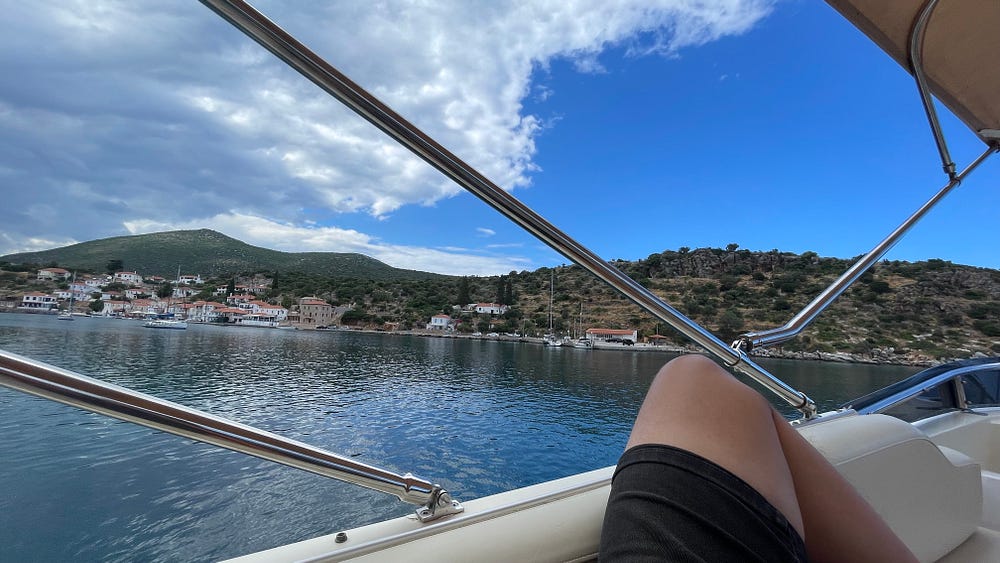 Saturday morning it was just the two of us again and with the weather improved, we headed off to Geraka, a small cove north of Monemvasia for our longest crossing of the season so far.
Memory is a funny thing — we've actually enjoyed most of the places we've been back to, rediscovering them, meeting a few people we know, sharing our them with others. But Geraka was a little bit of a disappointment! Firstly we'd forgotten that it had NO INTERNET. It's one of the few ports in Greece like this, but even worse it was infested with jellyfish, so dense that there was no way you could swim in them.
All of that meant that this morning, instead of relaxing there as we'd planned, we decided instead to take advantage of the fantastic weather and do another long crossing, this time to Kythira which is off the south eastern tip of the Peloponnese. It's taken almost six month of the year to do it, but finally we've crossed a milestone and we're in new waters to us for the first time in a long time.
We're excited for the next few weeks as we slowly dodge the weather (which to be honest looks like it's behaving this week) and make our way up to Elafonissis, then Gythion, down and around the next cape to Kalamata and then beyond!
Want to see where we are now? Check us out on NoForeignLand https://www.noforeignland.com/boat/matilda
Until next time,
Tim & Karina