Week 95 - Made it to the Med!
Kythira and actually reaching the Mediterranean on our boat Matilda.
Kythira and actually reaching the Mediterranean on our boat Matilda.
It's a funny little thing really, while we are in the "Mediterranean", technically we haven't actually been in the Mediterranean Sea. We've cruised the Aegean Sea, the Mirtoo Sea and even touched the Ionian Sea earlier this week, but until we got to the south of Kythira this week, we'd yet to 'technically' cruise on the Mediterranean. There was something very satisfying about being able to say we've done that now.
Kythira is stunning. One of my favourite Greek Islands. It's south of the Peloponnese, hanging out in the Mediterranean and given its location, relatively "undiscovered" as far as tourism goes. Of course tourists are everywhere in Greece, but on Kythira, it's mostly Greek tourists. Your average visitor who hits up the Acropolis, Santorini and then maybe Naxos or Paros is never reaching here. There's only a couple of ferries from Piraeus a week during the high season, otherwise you have to fly or drive five hours to the bottom of the Peloponnese and take a ferry from a small town there.
Historically it's a mixed bag like much of Greece. In ancient times there's evidence of the Minoans, the Phoenicians, the Spartans and then in Medieval times it was ruled by the Venetians, was a pirate base for Barbary pirates in the 1700's, occupied by the Russians, the Ottomans, the French and eventually the British. In 1859 the British ceded the islands to King George I of Greece — brother in law to the Prince of Wales.
Why was it so lovely? It felt remote and wild, the landscape was interesting, the castle was impressive and the waters were crystal clear.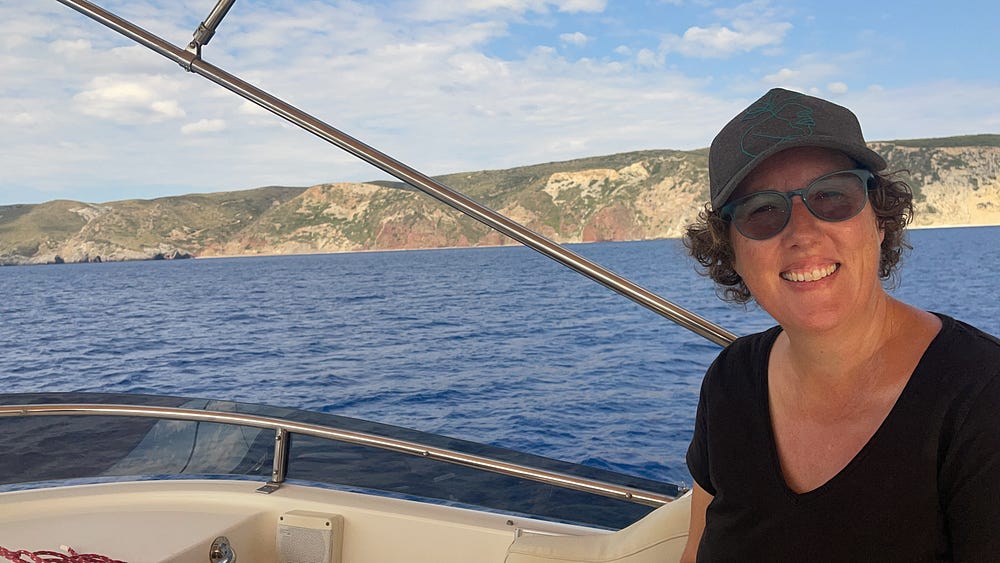 We started on the top end of the island and then after one night anchored off the beach there, then cruised south to Kypsali, which was historically the main port until they relocated it to the north end of the island.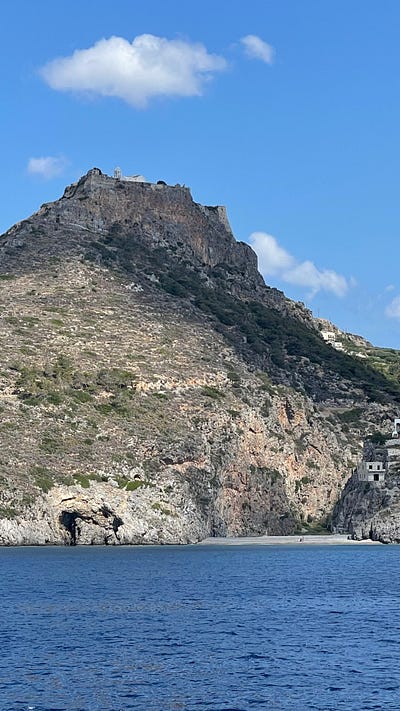 Our first night we saw a Finnish boat near by that we'd seen before on NoForeignLand and we message them to say hi. When we reached Kypsali we met up for a drink and introduced ourselves to Tuula and Pekka on their boat Relax. They've been cruising for a few years and love this part of Greece, so had lots of tips and information to share. We enjoyed a dinner together and shared the car we hired to go shopping.
Another thing that's interesting about this season, our second year on Matilda, is how the way in which travel is changing. It's a combination of things — better facilities (a water maker), more comfort with anchoring and perhaps also more remote ports, but whereas last season our goal was to tie up at a dock, this season we are doing far less of it and increasingly enjoying anchoring out. In fact it's been a full week now since Matilda has been docked. The water maker, and investment in water filters and new tanks, really is the game changer here — we start it up underway and after a few hours, we've topped off the tanks at really no effort to us. The only thing tying us to land now is the need for diesel, something which is thankfully not frequent given the prices.
On Thursday we hired a car and drove to visit some waterfalls and a remote beach. The island is full of deserted and abandoned villages — it used to have a population of around 15,000 but now it's less than 2,500 year round according to a local. They rely heavily on the tourist season of 2–3 months to generate their income, a fact that was reflected in the car hire price. I mentioned to the rental man that I paid only 40 Euros for the same car in Porto Heli just 3 days before, so 65 seemed a bit steep. To which he responded, "they rent year round, I have to make all my money in these 3 months". Fair enough.
The town with the waterfalls was small, but very pretty. We ate lunch at a taverna under one of the biggest plane trees I've ever seen. It was one of those magical moments that makes you appreciate how fortunate we are to travel and experience these things. It's really now these small moments that make us go "Wow". We love visiting ruins as much as the next person, but it's generally these special moments of sitting somewhere stunning to eat that we remember more in the long run.
After Kythira we headed north, intending to stop at the southern tip of Elafonisis, but the wind was too strong to make it comfortable and frankly, there were far too many boats crowded into the anchorage, so we headed up to the north end of the island to try escape. It was an exciting moment as we trusted the charts (and followed the car ferry) across a sand bank where the depth got down to 1.8M (we draw 1.2M), but we made it fine. Unfortunately while the wind in this second location was much better, the swell was really annoying so we decided to keep going. It was a big day, but we were rewarded with a peaceful nights' sleep.
Previously we'd thought of heading to Gythio, but researching the port and others reviews made us feel it wasn't worth it. Of course there's always the weather to think of too — if we didn't make it around Cape Tenaro in the next few days, we'd be stuck up in this gulf for a bit. And frankly there's not much to do here! One of the joys of getting away from tourists is feeling remote, but there's also a reality that if it's worth visiting, there will generally be tourists there.
Instead we cut straight across to Porto Kagio to overnight ready to round the cape the next morning (Saturday). The last time I was in Porto Kagio was with Mark, Elizabeth and Ian on the sailing boat and there were huge waves and a big storm, so it was a pleasure to experience it in more peaceful conditions. It was still a little windy, but no swell which made it fine.
On Saturday morning we left early, rounded the cape and on our back north, swung in to see the "Gate of Hades". This is a cave into the side of the cliff that in ancient Greek mythology was the entrance to Hades. We couldn't get too close and there's no where near to anchor, you really need a kayak to see it properly.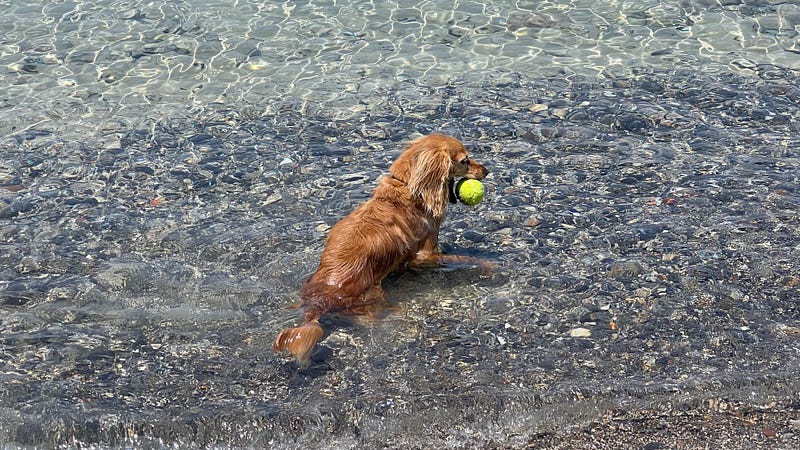 Finally Saturday afternoon we popped into Limenia Bay, just north of the town of Aereopoli where war was declared by the Maniots against the Ottomans to start the Greek War of Independence on March 17th 1821. After a fairly peaceful night at anchor here, we're off to visit Aeropoli today and then we'll head up to Kalamata.
The rest of our week will be making our way around the final peninsula on the Peloponnese, to reach the town of Katakolo by next Sunday where we will meet with Camille and Matthew who'll join us for a few days.
https://www.noforeignland.com/boat/matilda
Until next time,
Tim & Karina