Week 96 - Areopoli, the city of war
Kalamata to Katakolo, we've rounded the Peloponnese on our boat Matilda.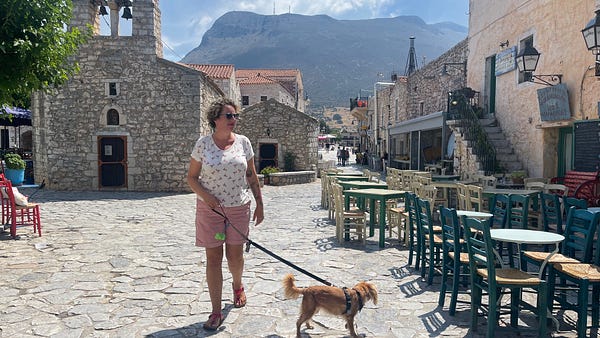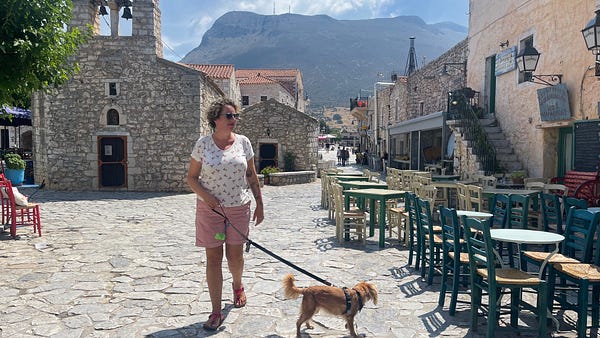 Kalamata to Katakolo, we've rounded the Peloponnese on our boat Matilda.
We started our Sunday morning by visiting Areopoli, a small town above the hills where we were anchored. Previously called Tsimova, it was renamed to "The City of Ares" the ancient Greek God of War, in celebration of its role in the Greek War for Independence, as it was here that it all began.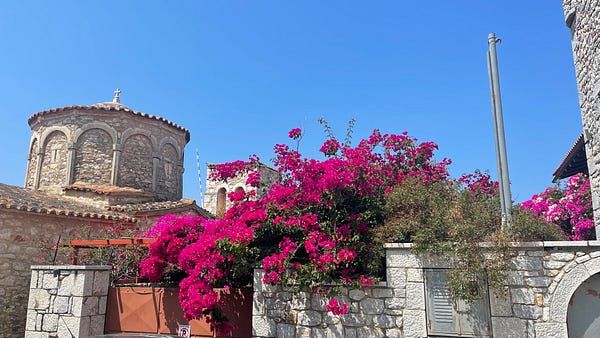 The Maniots, the Greek people who inhabit the Mani Peninsula are fiercely independent and still claim to be descended from the ancient Spartans. It's also one of the few regions of Greece that was never subdued by the Ottomans, instead they were recognised as a semi autonomous state and instead paid tribute (which they apparently did only once over a few hundred years).
It's fascinating how all these threads of Greek history intertwine, despite instigating the revolution, the man who started it all Petrobey Mavromichalis never agreed with Ioannis Kapodistras who was the leader of the new Greek senate. Kapodistras wanted to centralise administration in Athens, while Mavromichalis wanted to keep the decentralised, family run system of power that existed at the time. It was settled in the most "familial" of Maniot of ways, with Mavromichalis' brother assassinating Kaspodistras.
Now, Aeropolis is a very quaint little town with an interesting architectural style. Many of the homes are mini-castles or fortresses and indeed this goes back to the deep family feuds that were prevalent where you needed to lock yourself away for a bit until things cooled down. Instead today, they are trendy mini-hotels and Airbnb's and the town is full of Greeks visiting the spiritual home of their independence.
The weather has been full of warning about thunderstorms and on Sunday afternoon as we cruised north to Kalamata, we really got to experience it. There was lightning striking around us in the distance as we navigated the bay, trying to stay out of the way of the big thunderheads that rolled down bringing huge gusts of wind. It went from 5 knots, to 35 knots in the space of a minute or so, enough to force us off the flybridge and down into the cabin to continue the journey. Wind isn't really a major problem for us — inside it's cosy and Matilda is a tank, the issue is the bimini on the fly bridge, it's really not suitable for more than 15 knots of wind and we were caught out with it up. There is a danger the canvas could rip or the stainless steel framing getting bent or ripping off. In the end it was OK and the strong winds died as we headed out to open water away from the storm and we were able to pop it down and then charge forward.
It was a relief to enter the very calm, if unattractive, port of Kalamata that evening. After everything raging outside, it was a delight to have the wind suddenly drop to virtually nothing and the harbour be dead flat despite the large swell outside.
We've been to Kalamata before and it was interesting to visit it a second time. Every time we mention it to friends, they say they loved it, but we've always thought it was, well, a bit of shit-hole. We were determined this time to work out just what the fuss is about. I'm pleased to say that our opinion has taken a big 180 and we now love it! The "trick" is that unlike MOST places in Greece where all the activity is centred around the port, in Kalamata, the main town is all around the old castle, which is on a hill a couple of kilometres inland. If you walk along the old railway linear park, you reach a delightful town centre which is also a substantial shopping district. Sometimes first impressions don't count.
Monday and Tuesday were us basically resting up, catching up on boat chores and enjoying Kalamata. The winds were very strong on Tuesday, so it was a great place to "hide out" and wait on them to clear so we could move around the next and final peninsula of the Peloponnese.
Another important job on the list was to refuel. Kalamata is supposedly a little cheaper than other locations and we figured it was worth topping off. It's been a while since we refuelled (back in February) and let's just say that the price has gone up a little bit since then. This is no surprise to anyone that drives, but we don't have a car and so let's just say we had some sticker shock! It was 2.16 a litre for diesel, so 840 litres, or 1800 Euros later we were ready to cruise again (that's only a half tank too — we actually hold around 1,800 litres). For the record, we're paying around $3.26AUD a litre, 1.86 GBP a litre or $8.63 USD a gallon.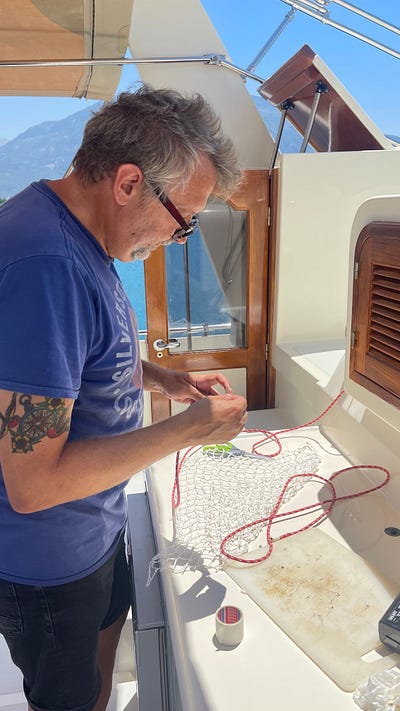 On Wednesday we headed to Koroni and enjoyed wandering around yet another delightful Greek village with a Venetian castle overlooking it. This is one of the "two eyes of Venice", the imposing castles at Koroni and Methoni (more on that in a moment) that guarded the bottom of the Messenian Peninsula and easy access to the east and Arabia.
Unfortunately, the swell turned and we had a very unpleasant night there on anchor, probably the second worst to date. We now have a lot more confidence in our anchor and anchoring technique, so we weren't particularly worried about moving at all, but it was the constant noise and movement from the waves rolling in that prevented quality sleep. As soon as it was light we hauled up and headed off to Methoni.
The castle at Methoni is perhaps one of the most impressive remaining in Greece. In part this is because it was still active and being used up until the end of the Greek War of Independence. For a period of time, there was a hold out of Ottoman Turks who were still remaining in the castle up until 1833 (after the end of the Greek War of Independence) until they were ousted (or liberated depending on how you look at it — surrendering to the Greeks wasn't necessarily a very safe option) by the French who were part of the various European Armies supporting the Greeks against the Ottomans. The French then tore down most of the buildings inside the castle walls, primarily to prevent the spread of disease and built the new town outside.
Methoni also had a fairly rolly anchorage, with swell pushing in from the exposed sea around the point. From here it's "next stop Africa" and there's not much to prevent the larger swells building up. We knew about it however and were prepared — consensus seems to be you just have to tolerate it to take advantage of what is otherwise great protection from the wind with good holding if you want to enjoy the town.
There was one last adventure in store for us however before we got to rest that night. After exploring the castle in the early evening, when the sun is going down and the temperatures are more bearable, then a wonderful dinner in the square, we walked back to the dinghy dock ready to head home to Matilda. As we approached I thought it was strange that I couldn't see Tilly the tender… she was missing!
After a brief heart in mouth moment that she'd perhaps been stolen, we fortunately we spotted her very quickly — about 300 meters off shore drifting away out into the bay. There'd been a lot of wind and some swell at the dock and we obviously hadn't secured it properly. After a brief pause, where the tender continued to drift further away, there was nothing for it. Strip down to my jocks and dive in — a brief few hundred metre swim for the evening. At the last moment, someone on another boat noticed the tender drifting by and hopped into theirs to catch Tilly, which was also very helpful. As our friend Phillip said, there's people who've lost their dinghy and people who are going to, now we know which group we are in!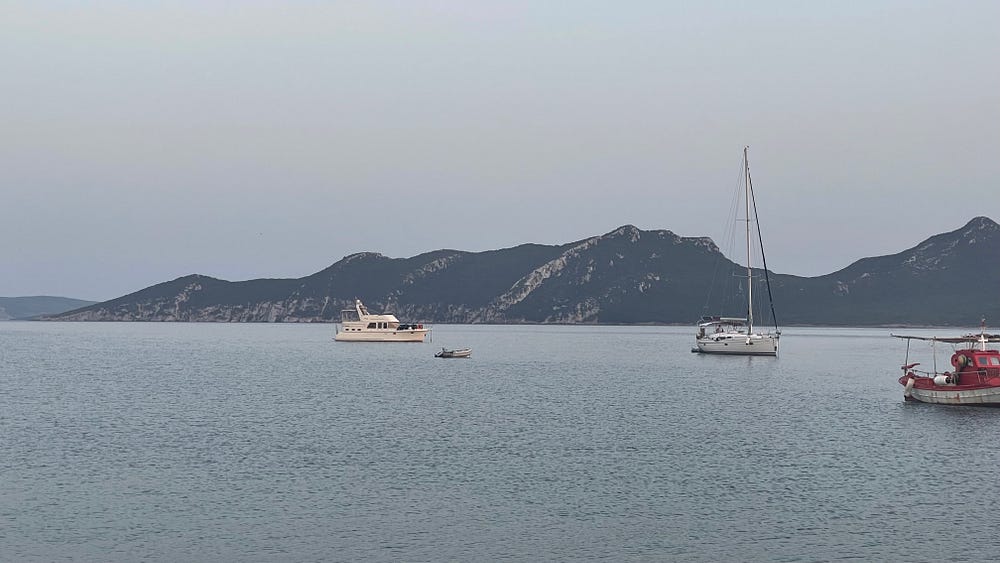 The next morning we set off again and just like that after two weeks of travelling, we'd rounded the final peninsula and were heading north up the east coast of the Peloponnese. It's a journey that we could have spent more time on but we had a deadline to be in Katakolo by this Sunday to meet Camille and Matthew. It was very worthwhile, there's a lot to discover about Greece and that southern coast is scenic and full of relatively untouched gems.
On Friday night we stayed at Kyparissia, which has little of note to remark on other than it's a very safe and well sheltered harbour (always worthy of note if you're travelling by boat!). There were lots of turtles in the harbour, at one point I counted four visible at the same time. One fun thing was meeting a couple we'd met briefly twice before. It's funny how you keep crossing paths with people. We met Mario and Alejandro on their boat "Mr Blue" back on Aegina as we were launching Matilda at Kanonis Boatyard. A month later we bumped into them on Poros and they headed off to the Dodecanese and Turkey. Now, two months later, they are heading back around towards Tunisia and we met them in Kyparissia. This time we had a chance to get to know them a bit better, enjoying a meal and walk together with their dog Cacau.
We've been light on breakdowns the last few weeks and Matilda wasn't going to disappoint this week. As we pulled into Kyparissia, I noticed the water maker had stopped working — when I checked it the next morning, one of the wires had melted on the back. Maybe the sea filter had clogged and the pump overheated? Luckily pulling into Kolokonon there was a yacht mechanic who helped us dock and was chatting to the boat next door. When he was done, I asked him to take a look — turns out that the ground wire had worked loose (maybe from some of the vibrations and storms). It was a quick fix to replace and re-secure it as well as tightening the other connections and we're back in business. Every new system we add to the boat does create new things to learn with how to operate and how to maintain. We're very happy it's fixed again though, the water maker is an absolute game changer for us in terms of how we use the boat and we wouldn't be without it in the future.
Despite the heat, generally at anchor the boat stays fairly cool — you're away from the heat sinks of the concrete ports and town, the boat turns into the wind, so you almost always have a through breeze and you can always take a quick dip to cool off if needed. So it was a test last night here in Katakolo to actually use the air conditioner for only the second time! It worked well and we had a very peaceful nights sleep. It's the first time we've tried to run it all night standalone of the batteries and we got 12 hours of AC with no issues and still plenty of battery power for the morning, although at some stage today we will have to run the generator to recharge things (which normally we only have to do every second or third day).
Katakolo as a port is quite different from other locations. We're now heading back into prime tourist location and there are HUGE cruise ships here that empty people into the town to catch the train, taxi or bus to Ancient Olympia which is about 30 minutes away.
Well that's the week. Today it's a bit of maintenance and cleaning ready for our guests arriving tonight, then off to Zakynthos Island and the Turtle Sanctuary for a day. Once we drop Camille and Matthew back at Katakolo, we'll be off to start exploring the Ionian Islands for ourselves and start slowly working our way north eventually to Corfu.
Want to see where we are, or check where we've been? Check us out on NoForeignLand https://www.noforeignland.com/boat/matilda
Until next time,
Tim & Karina