Week 97 - Zakynthos & Kefalonia
Zakynthos and Kefalonia, exploring the Southern Ionian in our boat Matilda. Matthew and Camille come to visit.
Zakynthos and Kefalonia, exploring the Southern Ionian in our boat Matilda.
One week in and although we've only seen Zakynthos and Kefalonia we are loving the Ionian Islands. They really do feel like a very different part of Greece. It's a combination of things. The food is slightly different — yes, there's a Greek Salad or maybe a Dhakos Salad under a different name (Kefalonian Rusk Salad), but there's other things that you don't get in the rest of Greece either. Like Kefalonian Meat Pie or REALLY good pizza. Geographically the islands are much greener and generally shallower around the outside with more beaches, more gulfs to explore and more places to anchor. Of course with their proximity to Italy, they have a more Italian influence — on shore in Kefalonia, we get spoken to in Italian now as often as English. And of course, there's the tourists!
We've thought at times that Aegina and the Saronic Islands around Athens are very touristy, but oh boy, were we wrong. It's not that they AREN'T touristy, it's just that the tourists are… different. Typically the islands we've visited have had a lot of Greek tourists and generally everyone that's there is an "independent traveller" of some sort. They've had to make some arrangement on their own to get from A to B. Kythnos, Kea, Aegina etc. just aren't on the package tour route.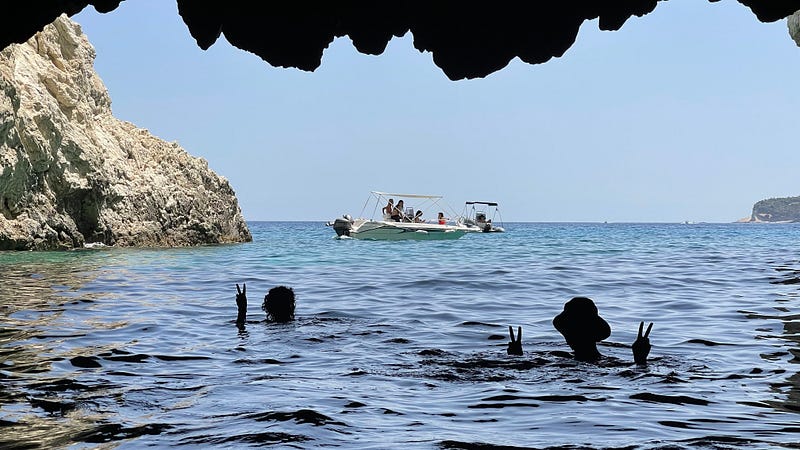 Both Kefalonia and Zakynthos have airports and even as early as April, you can fly directly from the UK, Germany or other locations and land directly on the Island. Zakynthos in particular has a party vibe — it's known as "Zante" (the old Italian name) in the UK, and it's FULL of young Brits out exploring, partying, getting loud and getting drunk. The coastal areas have large resorts overlooking some quite stunning beaches and clear blue seas, it's easy to understand why it's popular.
Because the seas are relatively safe with a vast number of safe coves and "hidden" beaches, the boat rental market in Zakynthos is huge. Everywhere we went there was swarms of small speed boats racing around driven by drunk tourists. In the evenings, they have "Party Boats" — large ships that cruise the island, coming in and out of the bays and changing the vibe from peaceful contemplation of the sunset to instant "doof doof" nightclub. Or on one occasion, the sound of a couple of hundred drunken Brits screaming out (singing?) "God save the queen". To be fair, it's not just Brits that are here, both Islands have their share of visitors from Italy, Sweden, Germany, France — all across Europe.
Despite all this, we're really not that negative on it. It's fun to experience something different and while all the small boats zipping around are annoying, in the case of Matilda, the rule of tonnage wins — they stay well clear of us when we are moving around, even if they do zip too close when we're at anchor.
By dusk, they are all back on land pouring into the night clubs and we get some stunning locations to ourselves. We also don't mind getting up early too, so while they are hung over and recovering, we've explored places that we can get to with Matilda.
It's not just the young-un's either. The cruise ships through Katakolo, where we started our week, are massive. In the couple of days we were in and out of there we saw at least six different ones, all with a capacity of between 2,500–3,500 guests. That makes a big difference to the economy of a small town and Katakolo exists purely for the cruise ships — in fact most of the shops only open while they are there and close the minute they depart!
On Sunday evening Camille and Matthew drove from Athens to join us for a couple of days. We stayed in Katakolo that evening then on Monday headed to Zakynthos to the National Turtle Sanctuary. While we didn't see any turtles that time, we did enjoy the clear waters and exploring the caves of "turtle island" along with a myriad of small day boats.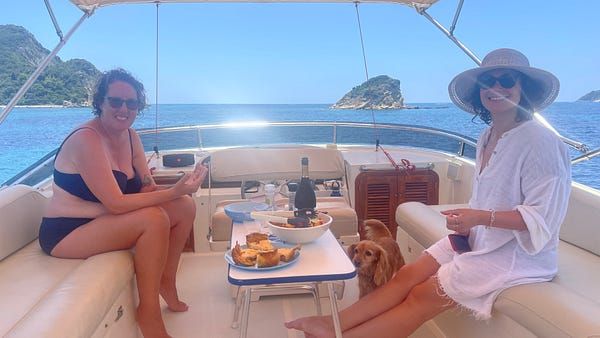 Of course, the boats left soon enough and we had a peaceful evening anchored in lovely water beneath some white cliffs and swam, paddle boarded and relaxed. We love having friends aboard, I feel like we get to experience some amazing places and it's always great to share them with others.
After a day it was back to Katakolo so they could continue their holiday, then some boat maintenance (of course) for us. The shower sump (which had broken twice before) stopped working again and so I spent a couple of hours replacing that. There's some issue here I need to get to the bottom of, it's not realistic to replace the float switch every few weeks at 30 euros a pop.
Then it was back to Zakynthos, but this time we headed to the North side. We found a lovely sheltered beach to anchor out at. Just us and 100 people on shore slowly baking like lobsters. The weather has been getting a lot warmer, the water is generally around 27–28C now and the last couple of days have been 38C on land. Being able to pop in and go swimming when we like really helps.
Navagio (or Shipwreck) Beach is one of the highlights of Zakynthos and has been voted the best beach in the world in 2019, so we really wanted to visit this. As it's on the Eastern side of the island, it's very exposed and of course it's also a very popular tourist destination, so we moved to a small cove just around the tip of the island that was sheltered and then got up with the sunrise to go there early.
We arrived and there was already four other boats in the bay, all liveaboards/cruisers. When we made it to the beach it was just us and one other family on shore, so we really got to enjoy the sights in peaceful seclusion. The water of the bay is famously blue, a side effect of the sulphur from the white cliffs that surround it. Then it was back to Matilda for breakfast as 9AM approached.
The earliest tours leave port at around 8AM — 8.30AM so as soon as 9AM ticks over, the boats start arriving. At first it was the small day boats, then the smaller 15–20 person tour boats. By 9.30 there was already 100+ people on the beach. We left before the big 50 person plus boats started coming in, but typically by midday there are 400–500 people on the shore and the bay is chaos.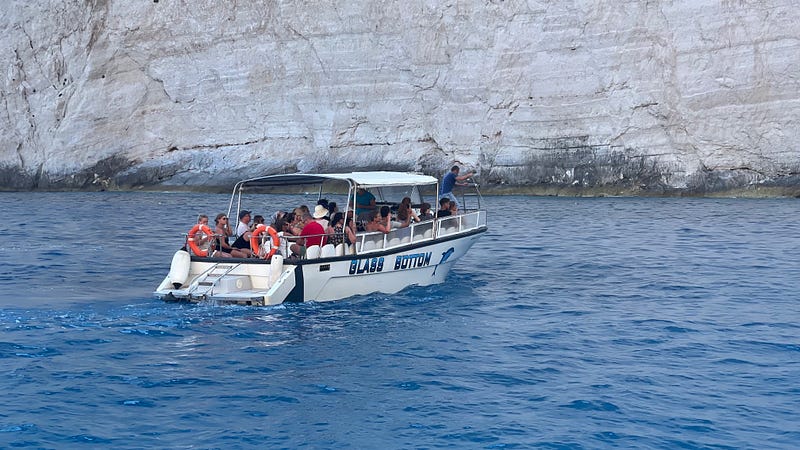 A final thought on Zakynthos and Shipwreck Beach in particular. It's been here that we really came face to face with that "Instagram Culture". I don't mind taking photos at all, in fact I quite enjoy it! But while we do pose for shots every now and then, it's all basically candid photography — we snap a few and move on. The Instagram Culture is something else! One couple clearly arrived early so they could have the beach to themselves (smart). They swam to shore with a dry bag and the young lady CHANGED OUTFITS on shore for multiple different looks. She posed in about 15 different ways all for that one "right shot". We see the similar behaviour on the day boats — groups of people up the front, they snap a bunch of photos, then huddle together and discuss the pictures, then run back to the front of the boat to snap the same shot again and again. They'll keep this up for 10 minutes. You do you, but it does seem to damage the experience of a place if you're so obsessed with trying to capture the perfect memory, not actually looking around and actually remembering stuff. Old man rant over.
While we did dock in Katakolo, it doesn't have any facilities or super markets, so it's been nearly two weeks (Kalamata) since we've had a chance to restock the boat — it was getting time to head to port again and get some chores done as well resupplying the food and drinks. It's fantastic that we can be so independent now, with the watermaker and generator, we now haven't plugged into shore power or water since Aegina — well over a month. As long as we run the watermaker for a couple of hours underway, we have endless water on board and between the solar and the generator, we also never run out of power. Food (and alcohol) however, we do need to go shopping for occasionally!
It is also fun to mix it up too. Lazing on the boat and swimming is fine, but we enjoy exploring the towns and ports and eating out occasionally as well. Argostolion on Kefalonia fits the bill nicely! We spent our first night on Kefalonia at another overnight anchorage with stunning cliffs and clear waters (as well as spotting the first sting ray we've seen in Greece), but then it was off to the big city.
Argostolion is very much a tourist town, but not a PARTY town (big difference), there's lots of supermarkets, fruit and veg shops and meat stores as well as a safe harbour. In fact we've enjoyed it so much we think we'll stay an extra day!
This week will be continuing to explore Kefalonia with the goal of finding a safe harbour to avoid some bad weather coming in on Friday — we'll most likely hunker down for three days and wait out the strong winds, although the associated temperature drop is going to be very welcome!
Beyond that, we're looking forward to a larger base with a marina (most likely Lefkada) in a few weeks. As you can see we've been putting in a few miles and there's several jobs to take care of now building up — the water outlet from the port engine leaks, the new Air Conditioner isn't draining well enough, the starboard battery is showing low voltages again (something that happened at the end of last season, hasn't for a bit but started occurring again a few days ago), the macerator pump in our toilet seems to be failing and probably needs replacing. None of this is critical or urgent, but it's all things that we need to take care of soon. Boat work never ends!
Want to see where we are, or check where we've been? Check us out on NoForeignLand https://www.noforeignland.com/boat/matilda
Until next time,
Tim & Karina