Year 2 (Week 104) - Edinburgh to Athens and COVID
Well that went quickly… Edinburgh to Athens to back on the boat, COVID and now two years in Greece!
Well that went quickly… Edinburgh to Athens to back on the boat, COVID and now two years in Greece!
After the last few weeks through Germany and a seemingly endless series of photos to update you all with, it feels this week was a lot quieter which is timely as it's our second annual update!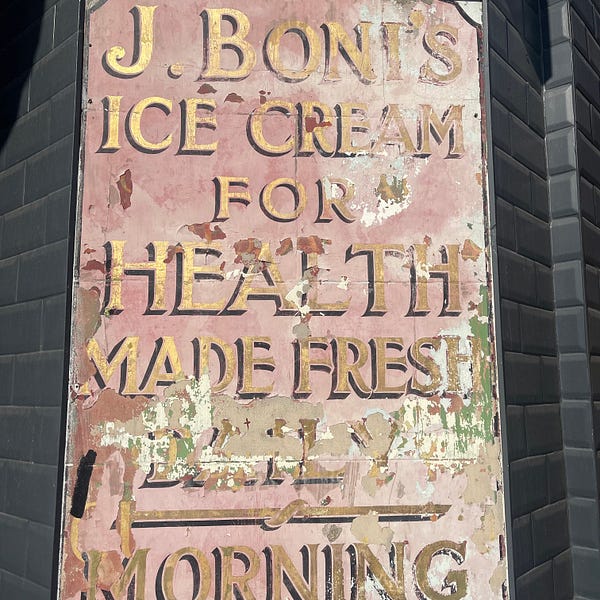 We enjoyed the last few days in Edinburgh with Inge and Ella and as well as spending a lot of time with them we also managed to meet up with our friend Michael who was there visiting from Athens. By Monday though, we were definitely feeling ready to get back to Matilda and get back on the water.
The flight from Edinburgh was straight forward enough, we've lucked out all the times we've flown — with the horror stories of delays, security lines and luggage issues we didn't experience any of it. In fact we had the shortest security lines ever!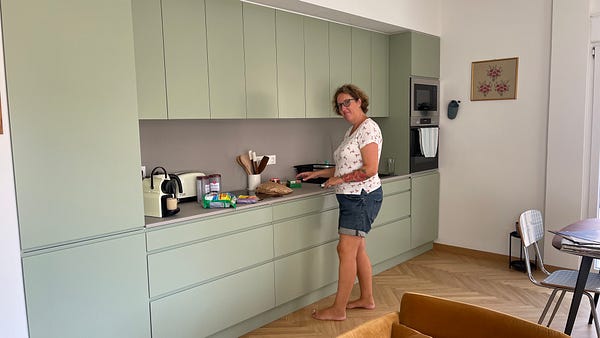 The BIG news is that our apartment in Athens is now 99% ready. It's not quite ready to be listed yet, but it is now complete enough for us to stay, so we were very excited after landing on Tuesday morning to be able to catch the metro in to "our place" in the centre of town. I'll talk more about the process and recap it in a future post after it's really complete (which is now mostly about tidying up a punch list, taking some professional shots and getting the listing up), but I have added a couple of teaser shots here. Overall we're really happy with it and we LOVE the record player (bluetooth, what a fun combination of old and new technology).
After recuperating after an overnight flight in Athens on Tuesday, buying some essential supplies (like coffee) and exploring the apartment in detail, we headed back to Lefkada on the bus. A new experience for us, the inter-city bus network is very well developed and is a very common way to move around the country here. The buses are modern, air conditioned, clean and a very comfortable way to travel.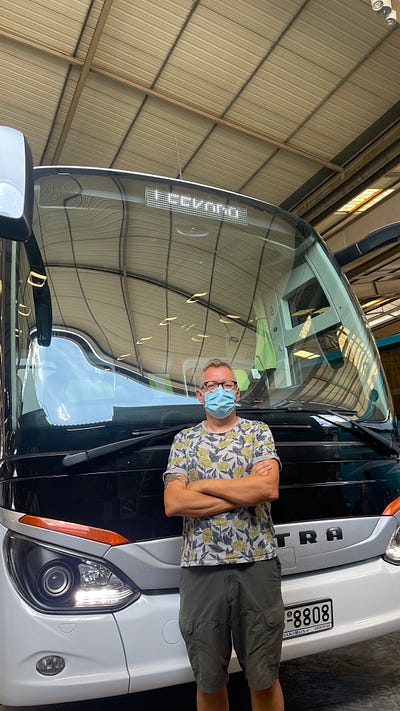 Matilda was in great shape, having survived a storm while we were away (preparation, extra lines, put everything away is always the right policy if you're leaving for a few days) and had been cleaned awaiting our arrival. Several small maintenance tasks had been attended to and she's in great shape for the remainder of the cruising season (it feels weird to say that, but the reality is we've crossed the half way mark of the year and we're counting DOWN now to the end…).
One of the first things arriving on the boat was investigating the coughs, sore throats and muscle aches we'd developed on our way back from Athens. At first we just assumed a reaction to the overnight flight, but a quick self-test and it seems that after avoiding it for two years, we've finally caught COVID. So it's self-isolation on the boat for us now. Fortunately (most likely because of all the vaccines), it seems both our cases are very mild — neither of us ended up bed ridden at all and by Thursday we were back swimming and just enjoying some peace and quiet away from everything. Today we're both almost fully recovered, slight coughs but no other symptoms at all. Ella and Inge thankfully avoided it too — they caught it a few weeks back, so probably already had the same variant which is running rampant through the UK at the moment.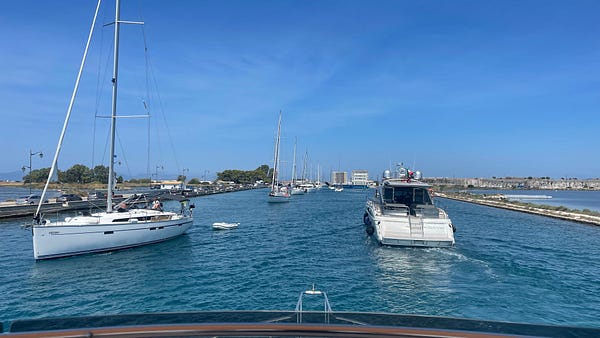 Well that's the update, so here's the update! Yes, we've managed to keep this adventure going for two whole years now, exploring Greece by boat. It's fair to say we've learnt a lot and that we're better, more competent sailors now than we were when we set out. If there's one theme for the last year on the boat, it's also been learning to slow down — I think we're (slowly) getting better at accepting the pace of things and trying not to do everything in a hurry. As with last time (Week 52) I'll try to recap each month and what happened with a photo.
August 2021
We finally achieved our captains licenses allowing us to pilot Matilda by ourselves and set off with Camille and Yorgos for two nights away. We flew to Edinburgh as fires were above the hills in Lavrion to visit Ella and Inge. It was the first time we'd seen her for 18 months. Then when we returned to Athens, we finally set off on our adventures!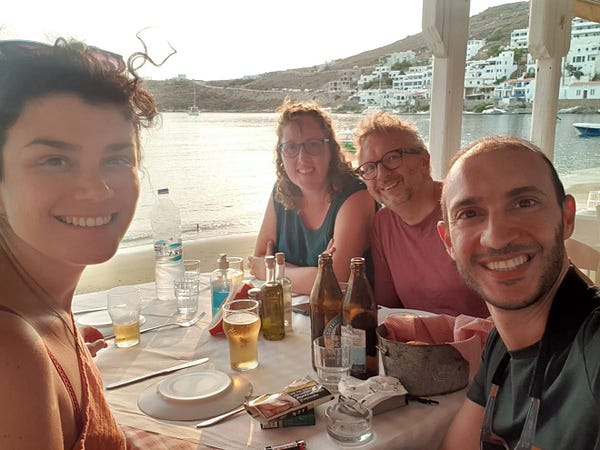 September 2021
Despite big plans of exploring widely, boat life had a different reality planned. At this point I proposed the title of the blog should be "and then something broke…" We spend most of the month in and around the Argolic gulf, in and out of Porto Cheli and Ermioni for various repairs, avoiding storms and generally going in circles! It was at this point we discovered that the freshwater tanks leaked, badly.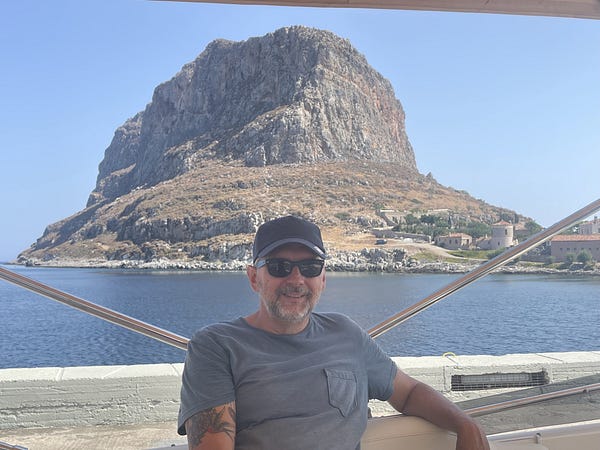 October 2021
Still in and around the Argolic Gulf, now for new electronics. A trip to Athens. We met Markus and Isa, Mark and Elizabeth and then later that month Siung, all for the first time. Julia and Ivan, a couple who wanted to try boat life joined us for a few days. We visited Trish and John in Corinth and finally we're happy that Matilda is "shaken down" enough we can set off into the Cyclades.
November 2021
We learn why people don't typically cruise Greece at this time of year as the weather gets colder, everything starts to close down and the storms get more unpredictable. We end up fogged in in a once in 30 year fog event, hide from the winds on Milos, caught in huge waves near Naxos and are forced into our first night crossing. We met Philipp and Klim — both young men solo sailing the Mediterranean, spent time on the boat with Erik and then Hannah before heading back to Aegina to end the season.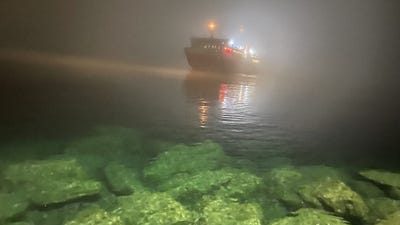 December 2021
Haul out in Aegina, we stay with Markus and Isa, then move back into Athens and then travel to Egypt for Christmas. We experience a ridiculous Airbnb, scammers galore and a lot of ancient culture. Ella and Inge come to visit us in Athens for New Years Eve.
January 2022
After lots of contractual delays, our new apartment gets emptied in prep for demolition, which is immediately delayed again. We take Ella and Inge to Delphi and Aegina. We eat at a very fancy degustation restaurant with Sotiris and his wife Laura. Our planned trip to Germany for the largest boat show in Europe gets shut down by Omicron which cancels events everywhere again. We're wintering in a small apartment in Petralona and starting to go a bit stir crazy, so I set up a coffee tour experience on Airbnb. It snows in Athens.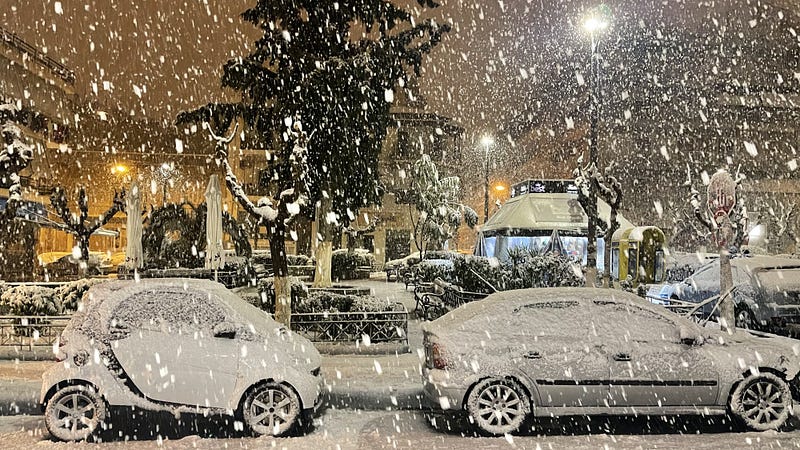 February 2022
A blog about nothing, definitely into the "killing time" part of waiting for the boat. The apartment finally gets demolished ready for the rebuild. We get new tattoos and then spend 2 weeks in an RV on Crete and then when we return, switch things up for the island life and relocate ourselves to Aegina. Of course there are delays in parts for the boat and the anticipated launch date of March 1st is not going to happen.
March 2022
Killing time on Aegina, running coffee tours, meeting new friends, birthdays and generally just relaxing. Things progress slowly with the boat upgrades. Created several podcasts, travelled back and forward to Athens for progress on the apartment and did lots of basic maintenance work on the boat.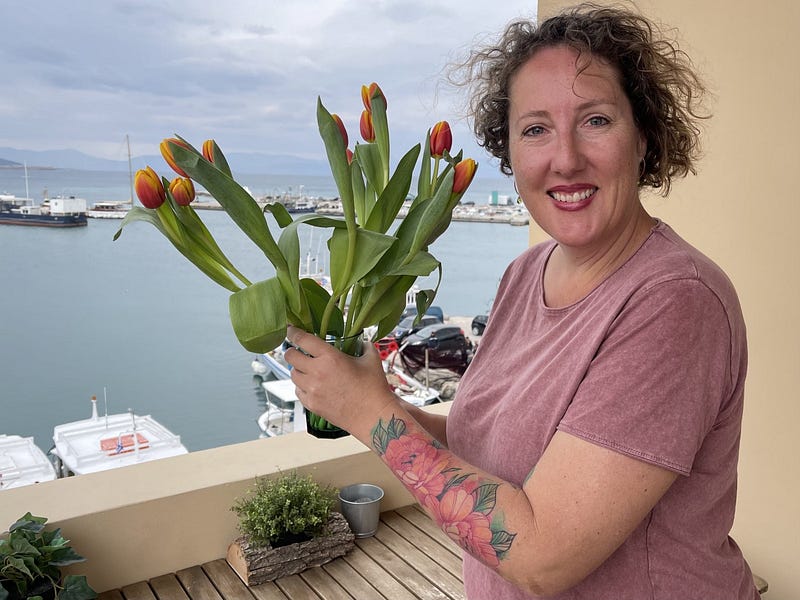 April 2022
A big adventure, I sail off around the Peloponnese to deliver a yacht with Mark, Elizabeth and Ian. It's an epic tale of things going wrong, but when I return we launch Matilda and we're finally back on the water! We do a few shakedown cruises, get a new VHF Radio, meet Shane, Ingo and host the teachers from the Habibi Center for a day out where we celebrate Greek Easter too. We spend time with Markus and Isa and enjoy exploring Aegina.
May 2022
Ahhh, did I say we put the boat back into the water? We take Matilda out again while we travel to the US for Ella's graduation! We see Jasper again for the first time in two years (thanks COVID) and catch up with old friends as well as enjoying a wonderful time in Chicago. We meet some fellow nomads for lunch and toured Lincoln Park with JJ and David. When we return, the new air conditioner has finally been fitted and we're back in the water ready to start the season "for real". I finally get my Greek drivers license.
June 2022
Matilda is back in the water and we do a last shake down cruise in the Saronic Gulf with Matt and Avic. With the Corinth Canal continuing to be closed, we head off around the Peloponnese. Siung and Joan join us for a week, we meet up with Mark & Elizabeth again in Porto Cheli and make our way to Kythira, then up to Kalamata and finally to Katakalo — we've rounded the Peloponnese. Camille and Matthew join us for a couple of nights and we cruise to Zakynthos and back.
July 2022
We explore the Ionian Islands, see dolphins and travel through Zakynthos, Kefalonia, Ithaca, Astakos, Kalamos, Meganissi and then finally end up in Lefkada marina. Along the way we met Keven and Kerry and then had a big run in the dreaded "charter fleet" before tangling a shore line into our props. A few things start to break (macerator pump for the black water tank stops working, engine sea water return springs a leak, new AC not draining properly), so it's timely to have this taken care of in Lefkada while we head off to Germany then Scotland for a break from the heat!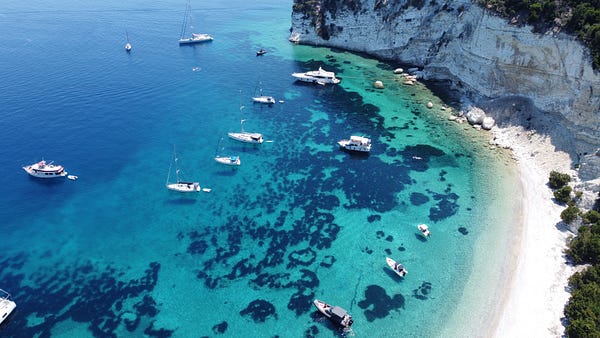 There you go! The last 12 months in review. I think looking back what's interesting to me is that we've spent less time on the boat than I thought — there's a lot of waiting for the boat and not a lot of being on the boat!
Not that we haven't spent time on the boat, far from it! We've covered 850 nautical miles so far in 2022, visited twelve islands and three seas, with approximately 100 nights afloat.
We're in much better shape than we were at this time last year with a lot more confidence, improvements and knowledge. It's also fun to do things that you can't do with the boat (like fly to Germany and explore Munich), although we see a lot of great waterways we'd like to explore by boat in some places too.
I guess in summary, we're still excited, still happy, still loving the journey and we've learnt to slow down a little and take it in (although perhaps it doesn't seem that way!). I'm also amazed at really, how social our life is. In micro at times it often feels like just Karina and I, but when you zoom out, we do see and interact with a lot of people, the boat is great as a point to make that happen.
The next twelve months are going to be exciting, with the apartment bringing in a bit of income, we're leaving Greek waters for the first time in the next week or so (heading to Albania and then Montenegro), we'll have a proper "home base" to use in Athens, we'll be staying on the boat over winter in Lefkada and then next season Italy and Croatia to look forward to.
Two years in, there's no regrets, we're looking forward to ending our COVID isolation though and getting back amongst it again!
Want to see where we are, or check where we've been? Check us out on NoForeignLand https://www.noforeignland.com/boat/matilda
Until next time,
Tim & Karina