Reflections on start-up life: Week 28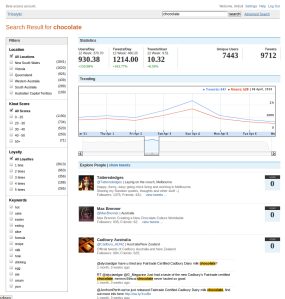 The new beta is still not quite fully operational, still a couple of minor issues that should be resolved today.
We are feeling the pain of not having a proper development environment anymore — the challenge (as I've said many times in Twitter) is that doing something once is NOT the same as doing it one million times. What's fast with one million rows may no longer be optimal with 50 million and growing. To once more quote Terry Pratchett, "1 in a million chances occur 9 times out of 10". Our ideal development environment would be a couple of extra servers with enough disk space to have meaningful data sets on them (which is not what we have on Alex's MacBook!).
I've included a screen shot of the new beta anyway, showing a search for people talking about chocolate. It's zoomed in over the Easter weekend and you can see how the volume of people talking about chocolate and the number of their tweets almost doubled at this time.
We've integrated the Klout scores as well so now we can see not only who was the most relevant at a particular time, but also how influential they are on Twitter in general. You'll see the people in the middle all have a 0 score which means that Klout hasn't indexed them yet, but on the left, in the Klout Score drill down, you can see there are plenty of highly influential (50+) people talking about chocolate.
We've continued to meet with investors. Alex had another "dumb dentist" experience with a Chinese investor, which I helpfully told him we'd henceforth refer to as the 哑牙医 affair. I since found out that this translates more literally to "Doctor who cannot speak". Every meeting is progress — we are leaping the hurdles as we find them and tackling the new ones as they come. I met with an investor here in Melbourne as well and that went very well — a lot of my week and weekend has been spent updating our financial projections. We will see where it goes from here.
In terms of goals achieved this last week, I did manage to get the inbound marketing site commissioned, so that's underway. I'm looking forward to seeing the early mockups — we are really keen to get a strong visual identity now to brand and align what we are doing.
Highlights
Working with the new beta — real time data is fun
Good investor meetings — I've said it before, but every-time we meet with investors we learn a lot. If you're not doing it, you should.
Another successful client meeting which should turn into a sale with this new beta
Lowlights
Not quite getting the beta out the door, but it was a pretty minor low. There was plenty to keep us busy anyway.
Goal this week
First sales — get some money in the door from the people who've committed to this beta once it's out.
Lots of "outbound" marketing when the new beta is properly up.