Reflections on Start-Up life: Week 40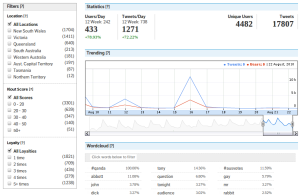 The awesome news this week is that we have released the new version of Tribalytic!
It's been a hard road and has involved Alex re-writing the engine almost from the ground up. We've got a new database, new index structures, large amounts of codes re-written into C++ (much faster than Python), changes in the way content is handled in memory and so forth to deliver the performance increase we are after.
We're now around 100x faster and most queries are essentially sub-second. This is a critical step — we can now immediately deliver more business benefit by tracking more users, but also we can start on the new road map features. We should move a lot faster now with more frequent releases as well.
The other change is we've significantly improved the way in which we manage the related keywords which are one the key ways you get into understanding the related topics of conversation. From 15 keywords we now show 52 (why the strange number? So the 3 columns have the same number in them). We've also added in the volumes of these keywords and we've changed the algorithm to identify them in a way we believe is more useful.
There'll be more updates on this shortly on our Tribalytic blog, but back to the start-up world.
The reflection this week is around differentiation. It's timely as we move forwards into the new features we can now enable.
In the last few weeks the interesting thing that's happened is we are now much more strongly able to articulate what we are not. It's lead to much more focussed an engaging conversations. If you don't know what you're not, it's hard to articulate to people what you are.
Knowing what you're not means you can also stop wasting time trying to target to people when you aren't their appropriate solution.
I wonder if this is the problem with the election in Australia (hung parliament) both parties spent so much time trying to be everything to everyone that at the end, no-one could make a choice.
Knowing what you're not and what your brand really stands for is powerful.
Highlights
Shipping the new release.
Developing and testing our new strategy model and getting good feedback.
Sharing thoughts with Guaruav and
Lessons Learnt
A simple reflection on the power of differentiation.
Getting a firmer and clearer view of the market and how underdeveloped it is here in Australia for what we are doing — lots of opportunity, but short term challenges.
Goal — Customers
Publicise the new release
Currently sitting in a workshop right now that I'm talking at shortly
Planning meetings for some more workshops
Goal — Engineering
Stabilise
Planning for new features