Regent street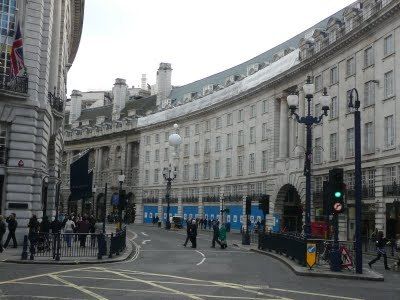 Today we headed into the city centre to go shopping on Regents Street, a grand old part of London's central shopping district.  It's full of "flag-ship" stores and some surprisingly good prices too (depending on which flag-ship store it is!).  Window displays are almost always a work of art and worth the cruising by just to see in themselves, it's one area that Melbourne just can't compare. Of course, we had a mission — Hamleys! The largest Toy Store in London, more on that in a minute.The Christmas decorations are also out and quite stunning, although suitably restrained in many ways.
Hamleys was unbelievably busy — the photo below doesn't quite do justice to the crowds milling around inside, but I kid you not, the escalators had a stream of people like this in both directions the entire time we were there.
The kids enjoyed it and got a toy each (Microscope for Jasper and Under-Water molding sand for Ella), and we also received a VERY long list of things they would like for Christmas and in Jaspers case, his birthday as well.
Ella found a friend while we were there — actually this kind of OTT (over the top) display is one thing that Hamley's is famous for. If you want an amusing browse, check out the Wow lines at Hamley's online website (follow the link) and see.For a mere 28,000 pounds (yes that is 28 THOUSAND), your spoilt child could be playing in a Pirate Ship like this in their back-yard. For those not familiar with the conversion rate, that's slightly over $60,000 Australian, even with the great exchange rate, or about a weeks salary for a Football (Soccer) player here.