Richmond Park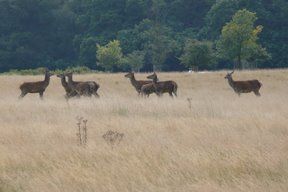 Today (Sunday) Karina went shopping up and down the Richmond high street, while I took the kids to explore Richmond Park.  I really enjoyed it — extremely large, rambling heath and woods right in greater London.  It was so good, I went back again later in the afternoon to explore in a different direction.
The deer roaming in the park.
Ella in the playground with the park in background.
Jasper in the playground. He loves the roundabout, but only likes to go on them by himself, so he'll wait for as much as 10 – 15 minutes for all the other kids to get off, then play by himself. If anyone else jumps on, he's likely to jump straight off again. By the end of the play he was getting better at sharing (I think he realised that the times he had it to himself were very limited!).
As we walked back from the park, we went along Richmond Hill and saw this great view over the Thames. I love the similarity of all the Melbourne place names to these London ones — you can see how Richmond Hill in Melbourne got it's name, I imagine in the past it was a hill with a similar sweeping view down to the Yarra.