Snow in Boston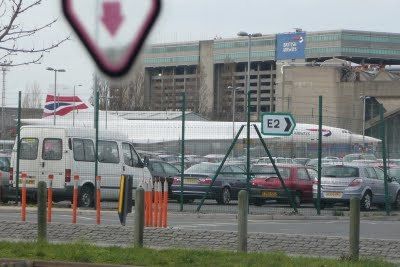 I've just returned from a very brief two day work trip to Boston.  I left Monday afternoon from London, arrived Monday evening in Boston, then spent Tuesday and Wednesday in meetings, left Wednesday night and arrived back in London this morning at 5.00AM. On the way out to the airport, I saw the Concorde for the first time, parked outside BA near Terminal 4.  It's a lot smaller than I thought.
Unfortunately with my schedule I didn't get to see anything of Boston which I'm told is a great city to visit, but I did get to see snow.  As I told several people, snow just makes me feel happy and like I'm on holiday.  It's terribly unappreciated in Boston (which is north of New York) and pretty much has the stuff all winter — I kept pointing out that in Australia we pay to see it, they are lucky they just get it for free. For some reason they didn't see it that way!This is the view outside of IBMs office for much of winter.
We were fortunate while we were there (from my perspective) that it actually snowed as well, so of course those of us for whom snow is a bit special had to all go outside and get photos taken. The blurriness in the middle is a snowflake that landed on the camera lens!
It snowed most of the afternoon and around about an inch fell which covered the cars pretty well! I got to drive in my first snow storm, it was falling quickly enough that on the freeways, the lane marker lines were all covered with snow, with just sets of tire tracks down the middle of each lane. The journey back to the hotel was a lot slower than the way out, but as we headed back towards Boston, it soon turned to sleet then rain and we made it to the hotel safe and sound.
It's these little experiences which make travel for work fun and exciting, even if you do only get to go somewhere for a couple of days.