Stump holes: Week Two, Wednesday 10th August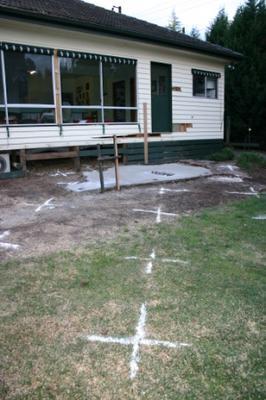 The set out process went smoothly although a few minor issues were revealed. We moved the deck a metre and a half because it felt more asthetic. Partly this was due to us deleting the deck linking down the side of the house to save cost during the tender process. Other issues were that the corner of the deck was around 100mm to high — a small amount, but building regulations kick in so we would have required a rail, which meant more cost. A step was designed into the deck to fix this issue.
The photo above is the last time the yard looks like a back yard! The lime marks out where the stump holes go.
The stump holes after they have been drilled, now feeling more like a building site. Because we are on landfill (according to test drills) the holes were required to be 450mm wide and 1 metre deep. BIG stump holes! The great news is that beneath the land fill we bottomed out on bedrock, so every hole hits bedrock, even the back where they went down 1.5 metres to find it. Sensational — as James the builder tells us, our deck and extension won't be moving anywhere.