Teething problems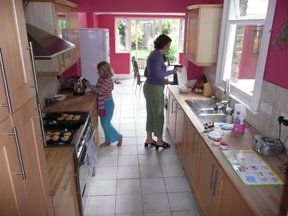 Well we are in the new house, but there are a few teething issues.  Some major, some minor.  It's an old house, so I guess you have to put up with some idiocincracies, but coming from a newly renovated place it is a shock.Probably the most frustrating problem at the moment is the washing machine.  It's a front loader and we just cannot figure it out.  We put our clothes in there three days ago (I'm not kidding) and despite verious cycles and options we can't get the front door open again.  My limited understanding of front loaders is that the cycle needs to complete, but we just can't figure it out.The other issue is that there is no broadband.  I'm currently negotiating with PwC as to what the definition of "serviced" actually means.  We've been away for only a couple of weeks now, and already (from the previous apartment) broadband is essential to keep in touch.  Anyway, now I've had some time this weekend at home, I managed to find a neighbour with an unsecured connection and we are leaching off that at the moment so we can at least keep in touch.Even beyond contact, broadband is essential for things like grocery shopping — there are excellent supermarkets on-line and delivery is cheap and reliable, it's essential when you don't have a car.Oh well, hopefully in the next couple of weeks all these things will be sorted.  The house is quite comfortable otherwise, a few more prints etc. on the walls and it might start to feel like home.
The Kitchen
Jasper playing on the stairs.
View from the second floor over the neighbourhood backyards!