The penultimate day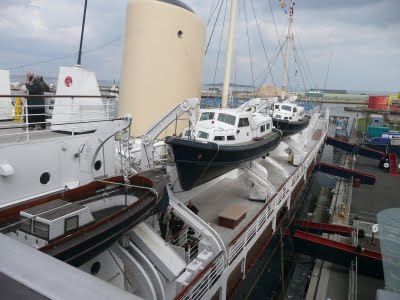 The penultimate day and again, the recurring question, what to do?  Who'd of thought that Scotland had so much to offer.  More decisions were in order.  Although we can't leave these things completely to the kids (whose preference is to stay in the van and watch TV), it was clear the thought of seeing the Royal Yacht Britannia was more appealing than Scone castle.It was a short trip down the motorway, over the Forth of Firth bridge and into Leith to the Ocean Terminal Shopping Centre where Britannia is now berthed since being de-commissioned.
BritanniaIt was nice to enjoy a bit of civilisation and we browsed the shops before heading onto the yacht.  This was a real high light of the various museums etc. we've seen.  It's well preserved and gives an authentic feel to life on the Royal Yacht.  Jasper in particular was fascinated and listened to all 28 snippets of audio commentary on the provided speaker handsets, then proceeded to tell us about the things he (and we) had just heard.
Jasper listening to the audio commentaryOne thing that I found interesting is that the Queen and Prince Phillip never seem to replace anything!  It was de-commissioned around 1997 and since it's launch in 1954, the chairs, couches, beds and even the telephones were still original.
Jasper enjoying a beer in one of the officers messes, note the Fosters in the backgroundFor the rest of the afternoon, it was again left to the kids who decided that a playground was required so we headed into the centre of Edinburgh to enjoy the Princes Gardens with the castle looming in the background.By now we were all tired and so it was back to the van back towards Glasgow, ready for tomorrow when we have to return the van and whatever caravan park we could find on the way.