To visit the Queen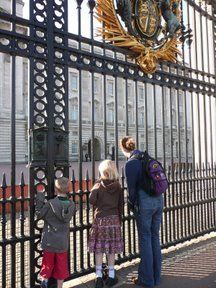 On Sunday I decided I'd had enough of being in the house and we set out to do an excursion again.  We caught the train to Victoria Station then walked around to Buckingham Palace.  The kids enjoyed seeing where the Queen lives, although they were a bit sorry we couldn't see her.
Anyone at home?
Jasper on the Queen Victoria MonumentWe then walked around through the park to Harrods and had a look at the very expensive clothes — $150 for a polo shirt for a 5 year old??  Harrods is garish and over the top but it is a lot of fun at the same time, even the kids "got it" that it was different from a normal shop.  There were live opera singers up and down the escalators, staff everywhere, the toy shop was fantastic and Jasper just ran wide eyed from one thing to another as they were all out and on display and the kids were encouraged to touch.
On the way through the park, the kids were impressed that horses get their own "pedestrian" crossing lights.
The shop windows are all full of very ornate window displays.
Outside of Harrods.
The $12 Milkshake!