Travel, travel and more travel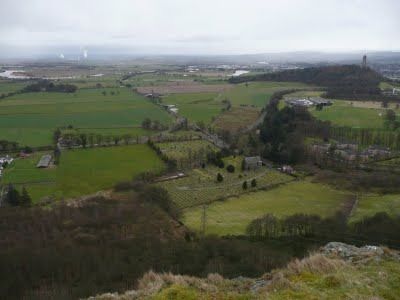 Monday 7th April 2008 Given that one thing this campervan doesn't have is a computer and internet, all these blog entries are being composed by hand to type in later. I plan to write daily using pen and paper, a technique I call 'personal logging' or 'plogging' for short. I think I'm onto something new.This morning we got up early to head to Scotland for our 7 day holiday. We got cheap airfares through RyanAir (10 pound each way), but had to leave from London Stansted airport 1 hour and 30 mins from home, and a 50 pound cab fare. We woke Ella early and she immediately complained of being sick. There has been a bug going around at school so this seemed likely. The vomit in the taxi, the shakes coming off the plane and more vomit on the train confirmed it!Fortunately, a campervan is a great holiday for sick kids. once we finally got to Glasgow and into the van, we immediately bundled the kids into bed while we set about getting ready, and then set off.We drove up the motorway to Stirling to a campsite called Witches Craig just next to the William Wallace monument and nestled in the foothills of the Ochil hills. The scenery is stunning, a word I think I'll use a lot here in Scotland and I had to traipse up to the top of the mountain, about 500m up.
View from the top.The view, the fresh air and the exercise was good for the soul. At the top of the hill, nestled in a small valley was the ruins of an old crofters sottage, you could see immediatly why the peace and quiet would appeal.
A crofter (think shepherd) cottage, now as ruins.I strolled back down the hill and returned to the family and the heated comfort of the campervan. We have a table for 6, shower, toilet, kitchen, fridge and even a double bed in the back of a Ford Transit van. It feels as luxurious as it sounds and it's such a great feeling having everything with you. Kids need the loo….pull over! Hungry?… let's cook!So for day one it was taxi, plane, train, private car, campervan and a hike. Not a bad lot of travelling!
Ella resting while Tim was hiking.