Trip to Warwick - Day Two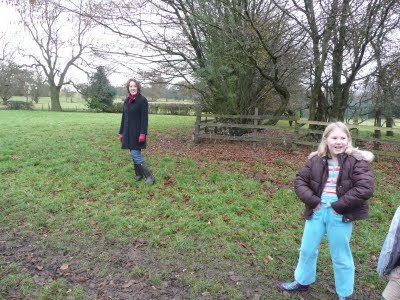 On Sunday in Ullenhall, we had our traditional pancakes for breakfast then went for a walk through the fields around the village.  Public footpaths are actually rights of way through fields, so you need good boots as it can be quite muddy.  Jasper was thrilled to learn that the big brown things on the ground were cow pats and spent the rest of the walk stomping in them the whole way.It was very peaceful, with very few cars, and lots of people on horseback travelling the small lanes.  In fact the only noise we could regularly hear was shot guns in the distance from someone skeet shooting.
We walked to the old chapel, which is about 1/2 a mile across the fields away from Ullenhall today. The village history says that during the outbreak of the black plague in 1665, Ullenhall was impacted and the villagers abandoned the town to move half a mile down the road — the chapel, which is still used today during summer, is the only remaining building.
The old chapel with Annabel and Miles at the front.
A tile dating from medieval times in the chapel.
Jasper and his stick.After the walk, we headed home to the Pigdons for a traditional English roast lunch with yorkshire pudding (which the kids loved) and then around 2pm, it was time to head off to the train. We arrived back in London around 5pm, tired but having had a great weekend.