Trunk.ly update — what an awesome afternoon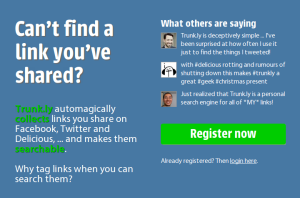 It's been a fairly insane afternoon — with the rumor that Delicious is going to be shut down, everyone was talking about links. If only we knew someone who had a link service… oh, wait! That would be us.
We poked a few ants nest to stir up some interest and when were getting over 100 new people registering interest per hour, we decided that we needed to be more aggressive and open things up even further, so we moved to open beta.
SEOmoz started the wave with a great blog post about 6 new tools every SEO should check out and then seeding comments on several blogs drove more traffic. Strike while the iron is hot!
There's no design yet, we haven't finished the features and it's incredibly unpolished — but we took the leap, and it's been opened out to for everyone to try it out.
We even managed to get a new homepage with a bit of social proof.