Typhoon Lagoon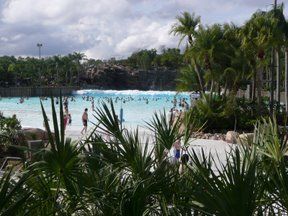 This is one of the Disney water parks, so we saved this for a warm day. You can swim with sharks, snorkel with tropical fish, surf on the man-made 6 foot waves, choose from about 10 water slides and sunbathe on the lounges. We spent a whole day here while Tim was working. You stay in your bathers all day and shove all your belongings in a locker, keeping just the key on an elastic bracelet. So much better than walking around all day with a backpack full of stuff!We headed to the wave pool, as warm as a bath, with a hige wave generated every 5mins or so. Jasper scraped the skin off his elbows and feet within minutes as the waves dragged him over the non-slip bottom of the pool!
The wave was very powerfulAfter a visit to the First Aid station we headed to the kids section (Ketchakidee creek) and they sprayed water cannons from a pirate ship, jumped through the waterfall and rode on the mini waterslides. Ella was a bit young for that, so instead headed for the waterslides where you sit on rubber tyres. She even dragged me along to do it with her.Our favourite ride was the circular swimming pool that surrounded the park. You could sit on rubber rings or simply along with the current. It was very relaxing, floating by tropical gardens, with the occasional spray from waterfalls or water cannons along the banks. It served as a transport system for getting to different areas within the park, as there were 6 stops along the way to dock your inflatable and climb out.
Jasper's lunch was served in a plastic bucket with a spade, so we spent the afternoon building a sand volcano. Actually, the kids built the thing while I sun-bathed. It was very hard getting them to leave this park, as Ella had started to enjoy the wave pool (it was a bit scary at first).