Visitors from the west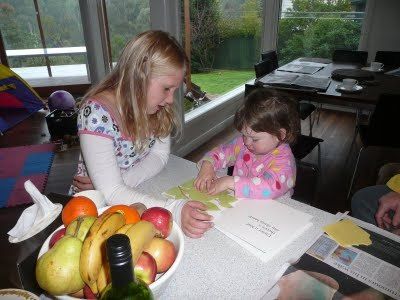 Over this weekend just gone, Tiff, Steve and not-so-baby Jade came to visit us in Melbourne along with my Mum, Julie.It was great to see them all and meet Jade for the first time. The cold Melbourne weather was a shock for all of them though.
Ella and Jade reading.
Jade loved all the books.
Molly was happy with the company and enjoyed following Jade around.
Jade loved the trampoline and even Auntie Tiff had a go.
Jade stole her Mum's (Tiff) slippers – which is only fair because Tiff borrowed them from Ella.
The cousins together watching Bananas in Pajamas. Jade's favourite show.
On Sunday we went down to Geelong. Nan was pleased that Ella hasn't grown taller than her yet, but it's getting pretty close!
Ella, Nan and Jasper. Below is a very similar photo from almost exactly a year ago.
Finally, here is Grandma and Ella cooking together.