Week 109 - New name, new destinations
A new name and moving forwards to new destinations.
Moving forwards to new destinations.
After a little thought, we've decided to retire "Peripéteies in Greece" as the name of these weekly missives. The main reason is because we're increasingly venturing further afield and no longer just exploring Greece. So instead, we're now "Waltzing Matilda".
Of course we're not always aboard Matilda either, but the meaning behind the Australian folk song "Waltzing Matilda" means to explore with your worldly possessions carried with you. It's the reason behind the name Matilda for our boat and it fits our nomadic lifestyle when we're not aboard. So there you have it.
EDITORS NOTE 21/4/23: Since writing the above, I've revisited again (29 weeks later) and reverted to 'Instatiably Curious' as the overall brand for collecting all my writings together. Matilda continues as the tag to pull all this stuff together however and I'm retrofitting it all for a new site.
This week the weather has begun to cool and winter is starting to approach. You can tell it in a lot of different ways, we wore jeans for the first time in months, there was the first snowfall of the season on Mount Olympus in Greece and the weather forecasts have gone to shit.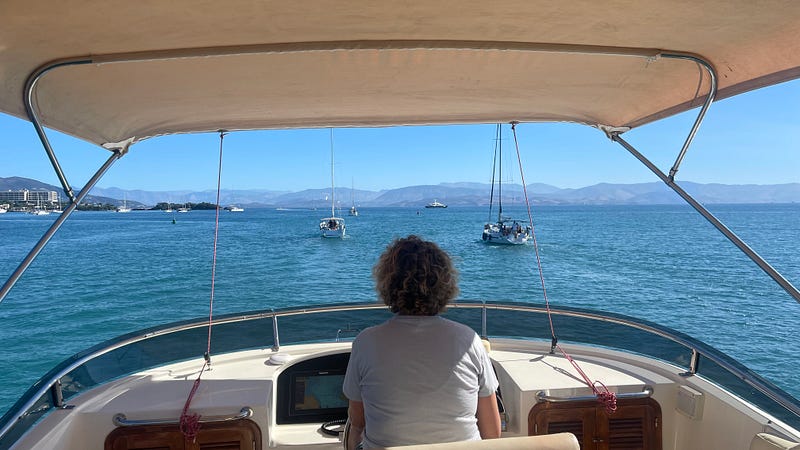 If you remember last week there was a potential medicane brewing on Saturday, by Tuesday there was no wind forecast at all for Saturday and it was a very calm and serene day (we even wore shorts again). Thursday afternoon the forecast for this weekend was for severe winds from the south which led us to where we are at the moment — enjoying Orikum Marina hiding out from the wind which is yet to eventuate (although it should come in strong overnight). It's what makes cruising at this time of the year tricky, you really can't predict anything beyond a couple of days and the forecasts can be severely wrong. Fortunately for us to date it's always been from bad to better, but the fear is we get caught in a good forecast that goes bad.
Monday morning we were still in Corfu but we had a lovely weather window to cross to Sarandë which we were keen to do so we could get back to Albania and cruise on further North. We're getting better (and luckier) at the check-in/check-out process, the last time we checked in, we noticed a boat side tied outside the port so we asked how that could happen. Turns out it's as simple as hailing on Channel 13 for "Corfu Traffic" and asking permission to enter the port. If there's room and it's not too busy, they'll allow you in the busy port to side tie outside the port authority building which saves a significant travel time from the closest anchorage. Combine that with timing the ferries correctly (so the passport control isn't inundated) we were done inside an hour.
Checking back into Albania was even easier. "Just bring your passports to shore". Which I did. Then 30 seconds later. "You're done." As they had all our paperwork from last time, they had already processed us as we were arriving and just needed to physically see the passports to complete it.
Sailing yacht Joy, with Chuck and Kim was heading off towards Greece the next morning, so we enjoyed a farewell dinner with them while also getting to meet Carol and Peter aboard their catamaran Cape, a couple of Australians from Port Macquarie. Such is the boating life, you meet people, wave hello and wave goodbye again as you head off then hope to cross paths again in the future.
Tuesday was a day of relaxing and shopping on shore. We were advised by our agent in Sarandë that we should get a "Boat Stamp" — literally a stamp with the key information for the boat on it as a lot of places in the Balkans like a good stamp on documents, just to make it feel official. So we purchased one that you fill the letters in yourself and I spent an hour or so putting that together. I also dropped two tiny number 8 stamps, so we're on the lookout for two fat ladies on the floor.
Wednesday the weather was coming in from the South again and still not clear enough for us to head North, so we decided to hire a car and get off the boat for the day. We had a delightful time driving around some more of southern Albania which is very scenic.
The first place we visited was Butrint which is a UNESCO heritage site and one we enjoyed more than we expected. It's got a rich, layered history and is unique both because of it's natural surroundings in a national park by a lagoon and the fact that Greek, Roman, Byzantine, Venetian and Ottoman ruins all exist side by side rather than just built over the top of each other. Also for us, they allowed Rosie in, so it was enjoyable strolling with her around the park.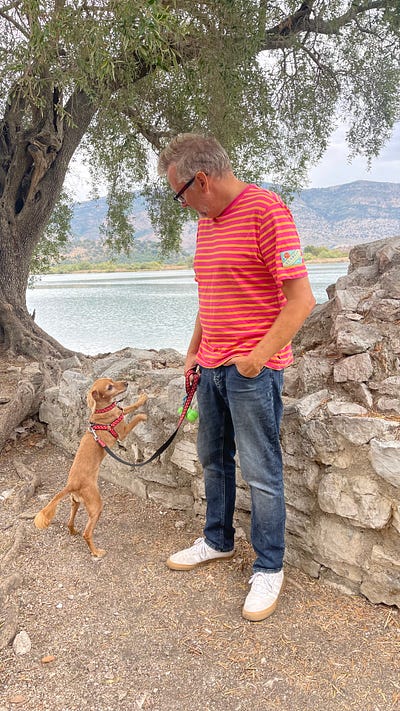 After Butrint, we visited Ksamil again, this time from the land and then headed inland to explore until we eventually reached the small village of Finiq. Finiq is on top of a dramatic rock that rises from the valley floor between two mountain ranges and is only lightly excavated. The views however make the visit worthwhile and we got to explore more of the ubiquitous Albanian bunkers. It's clear that the bunkers took precedence over historical sites and it's a little sad, but also fascinating seeing them scattered through the ruins.
We've been learning a lot more about Albania and it really is a very fascinating and enjoyable country with an interesting history. Under Hoxha at the end of World War II, it started out initially as a Soviet Satellite State, but quickly severed relations with pretty much everybody. During the 70's it was effectively like "North Korea" and had severed relationships with the USSR, China, Yugoslavia, Greece, NATO… pretty much everybody!
While it was very progressive in some ways, it was very backwards in others. Education was apparently good, but as no one was allowed to own cars, roads were not developed. The bunkers were a part of Hoxha vision for Albania to defend itself from… well everyone really… and in the event of war, he'd trained the entire population from as young as 12 to take to the bunkers to defend every inch of Albanian soil.
They are not as "random" as they first seem — apparently they were laid out in concentric circles, first as small 1–2 person bunkers, then linked to a command bunker with 3–4 bunkers joined together that would be in communication with a higher commander. In Tirana, the capital, there is about 50 concentric circles of bunkers surrounding the city.
The program of bunkerization sucked resources from the already poor country and of course now, they are to hard to remove, so they remain in all sorts of weird places — some painted, most abandoned, some just poking up in the middle of a car park where they have levelled around it and paved up to the edge.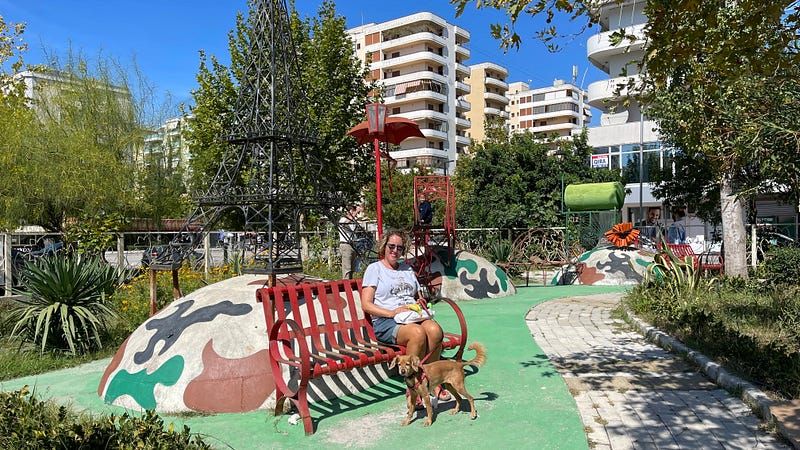 Thursday morning finally saw us with the weather window we needed to continue northwards and we set off early in the morning to cruise up the coast to Himarë. We really enjoyed the town, yet another with a newly created boardwalk along the coast. We had a poke around the historic old town and castle with its spectacular views over the coast. We met a New Zealand lady Alex and her English partner Richard on shore at a bar, so invited them back to Matilda to watch the sunset which was fun.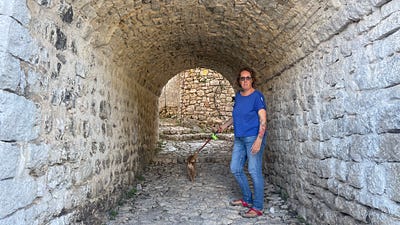 Early on Friday we headed North again on one of the longer passages we've done now, a six hour cruise up the coast to Vlorë. The coastline is very steep and different from what we've come to experience in Greece. For probably four of the six hours, there was not a single sign of civilisation, no boats, no paths, no towns, no ports. Just us and a very intimidating coast line.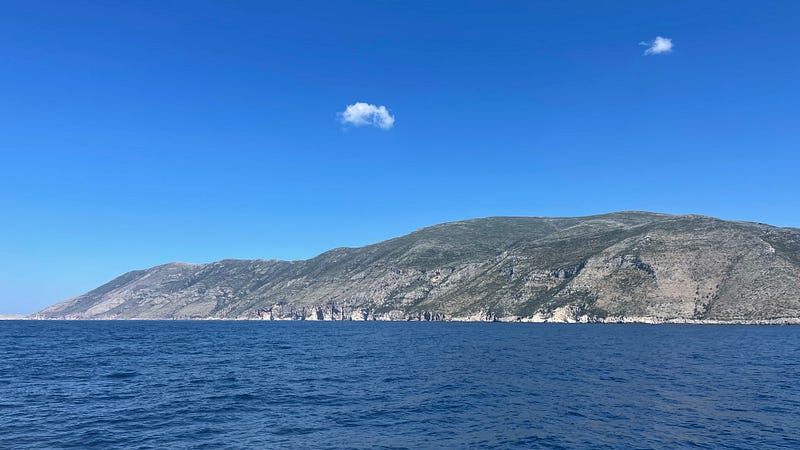 Arriving in Vlorë we found another Australian couple, Jaynee and David aboard their boat Adventurous. We'd previously met them briefly in Sarandë, this time we were able to catch up properly, enjoy a chat and share dinner on board. It's funny now when we meet people, especially here in Albania where it's a lot quieter and there are fewer cruisers. A lot of the conversation is "oh, do you know Lemonade?", "Yes! We met them in…" The cruising world is a small one and as we get more experienced continues to feel smaller. It's definitely one of the pleasures however, life aboard is not as isolating as you might think.
Vlorë has really surprised us as another town in Albania with a lot of funding being spent on modernising it. There are new boulevards, new cycle paths and endless cafes. Yet as you walk a block or two off the main street, it quickly feels poor and run down. It's great to see the investment that's being made for the future however — we really feel Albania has a lot going for it and I'm sure with the improving facilities, more (higher value) tourists will come to explore. Currently it's still very much the backpacker circuit from what we can tell.
Another observation about Albania this week has been that copyright and trademark laws seem to not be enforced here. A fun game has been spotting logos on local Albanian stores and identifying where it's been "borrowed" from. One of the most amusing to us is a local supermarket chain which is using the logo from Woolworths, a supermarket chain in Australia!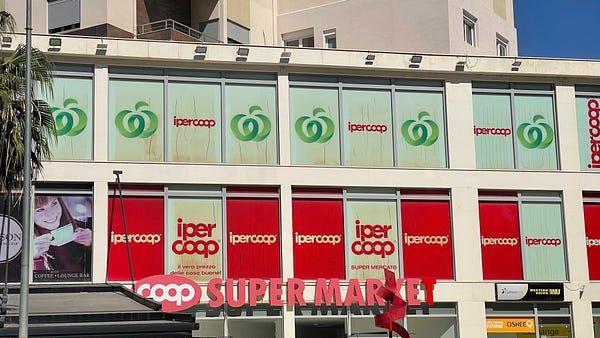 Finally, in non travel related news, our Athens apartment is now completed and listed on Airbnb! It's already received it's first two bookings after a day online so we're hopeful things go well from here. If you're interested, you can check it out on Airbnb, along with the 61 photos here https://bit.ly/thenestathens
Want to see where we are, or check where we've been? Check us out on NoForeignLand https://www.noforeignland.com/boat/matilda
Until next time.
Tim & Karina