Week 110 - Farewell Albania
Orikum Marina, Durres, Tirana and crossing to Bar, Montenegro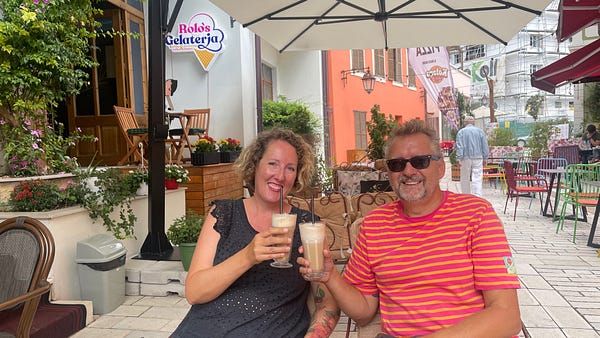 Orikum Marina, Durres, Tirana and crossing to Bar, Montenegro
This week has been all about making distance. Long crossings interspersed with waiting on the weather and packing in a tourist activities while we do.
On Sunday morning we left Vlorë and headed south for an hour to Orikum Marina which has the distinction of being the only proper marina in the whole of Albania (the couple of other marinas are just commercial ports). While we enjoyed Vlorë, like most harbours in Albania, it's poorly sheltered, particularly from strong southerlies which were predicted.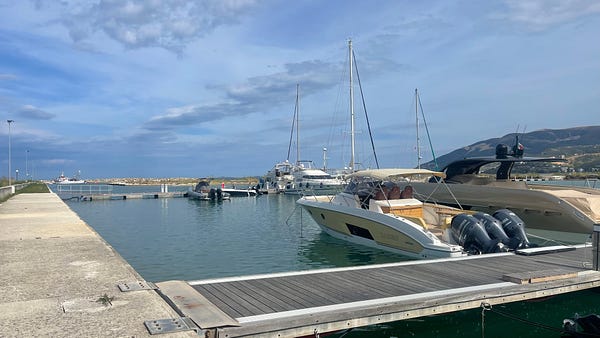 Orikum Marina is very… aspirational. You know what sort of marina it wants to be from all the posters around the place. Super yachts docked and glistening piers, smiling happy (white) people with sun hats clinking glasses in restaurants, stylish rooms overlooking the mega yachts. At the moment though, it's got a way to go.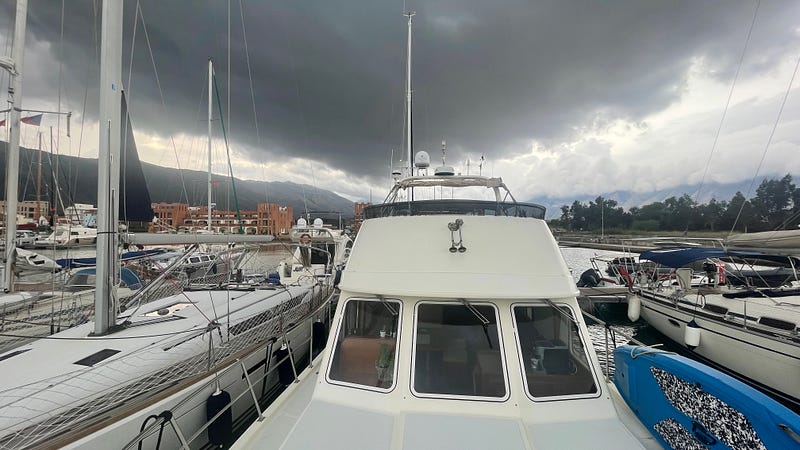 To be fair as a marina — a functional place to tie your boat and protect from the weather — it's excellent. It has new piers, power, water and it's very well sheltered (in fact the best sheltered place in Albania) and the staff are friendly and helpful. All great fundamentals to get right. But as you walk around the buildings, it's all under construction, the roads are mud, their are potholes everywhere, rusting building equipment and the location is extremely isolated. The nearest town, Orikum is a 15 minute walk along a major road with no footpath and has limited services when you do get there. All the money pouring into Albania to upgrade boulevards and cities isn't reaching Orikum yet.
We met an English / Irish couple, Grant and Karen and enjoyed a beer with them on Sunday night, then on Monday we took the day "off" — hanging out on the boat, doing a few chores but also catching up on sleep after the rolly nights at anchorages elsewhere in Albania. Monday was also the worst of the forecast weather so it seemed prudent to remain with Matilda, aside from a lot of blustering, it was fine. The marina did lose power in the storm, but the joy of a boat is big banks of batteries so we didn't even notice.
On Tuesday we hired a car and travelled with Grant and Karen back into Vlorë to visit the old town (underwhelming and took all of five minutes but we had a nice coffee together), then we hunted down a supermarket. I think we've mentioned before that supermarkets in Albania are hit and miss as to what they stock and this trip was no exception. We had to visit three or four locations to find everything we needed. This included four different butchers before we found somewhere that stocked chicken. By the end however we had perfected our "bawk-bawk" wing-flapping-chicken impersonation.
As in Greece, car rental is a matter of "here's the amount of fuel, bring it back like this". In Vlorë it was even more specific — the gauge says 73 Kms to empty, bring it back saying at least 73!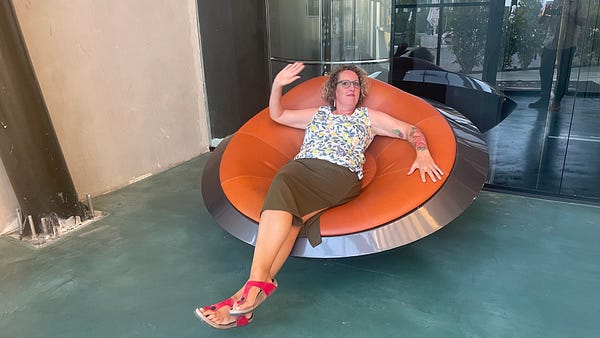 Erik and Gaya have been staying and working in Vlorë for the last month and we went to catch up with them for dinner. We decided to hit the "Marina Bay Resort and Casino" and very fancy place with a spectacular view and a small casino. As Karina hadn't bought her ID, we weren't able to enter the casino (some regulatory requirement), but we did enjoy a great dinner together overlooking the sea.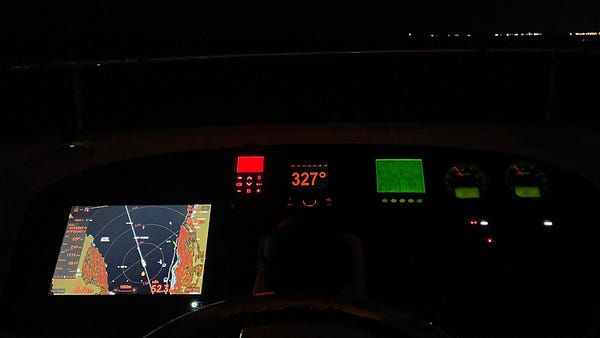 On Wednesday we headed off on our longest crossing to date, 10 hours to Durres. As with most of Albania, there's just not many spots with any shelter along the coast, so the long haul it is.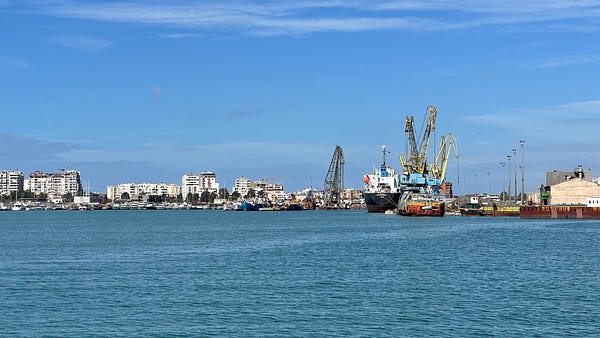 Durres is a commercial port on the ruins of an old Greek / Roman / Byzantine / Venetian city and the marina (the only sheltered place) is right down one end of the port. We found Durres to be a disappointment, the surroundings were a wasteland, it took 15–30 minutes to actually get OUT of the port to the town and the town itself was much more run down and full of beggars than the other parts of Albania that we had visited. There are some more modernised parts and again, a lot of money being spent to do it up. But outside that small tourist core, it's not very pleasant.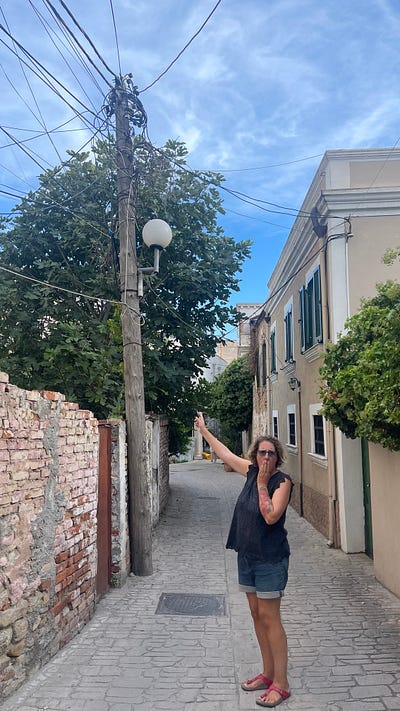 We spent Thursday mostly on the boat recovering from what was a reasonably challenging crossing the day before with some rough conditions and then on Friday we hired a car to visit Tirana, the capital.
Tirana was delight! It's busy, bustling and full of life. I hadn't really thought about it, but it made me realise I hadn't particular seen any "young people" (early 20's) in Sarandë or Vlorë, because they are all working in Tirana. Tirana feels youthful and optimistic. There's a lot of modern buildings going in, some very interesting museums and historical displays and overall a lot of fun. I think it's a place we could happily spend a week or two.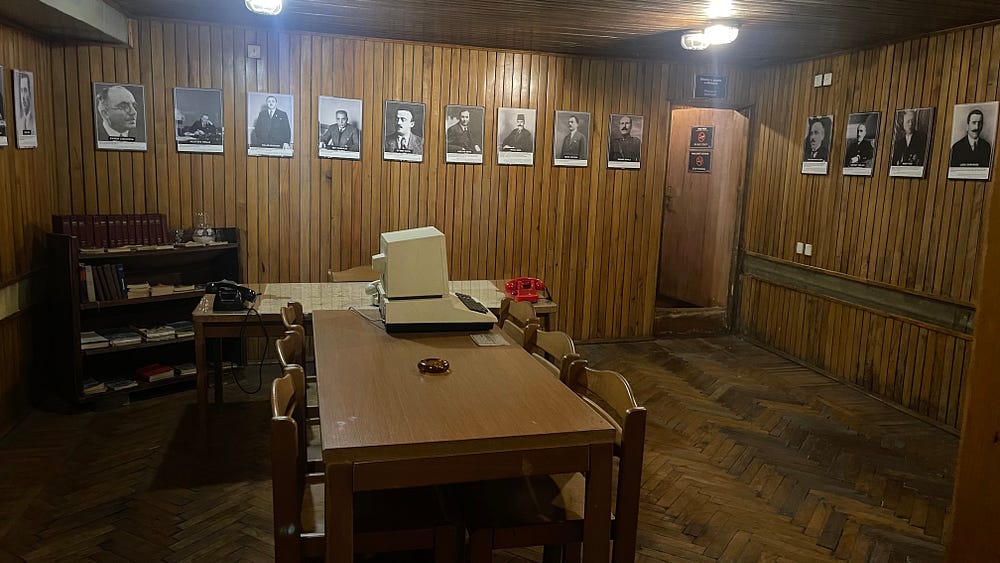 Although we haven't been able to verify it, one thing we read online is that Albania has more cafes per capita than any other country in the world. Walking down any street in Tirana, this is easy to believe. I'm not sure where or when work gets done, but I'd guess a lot of it is conducted over coffee.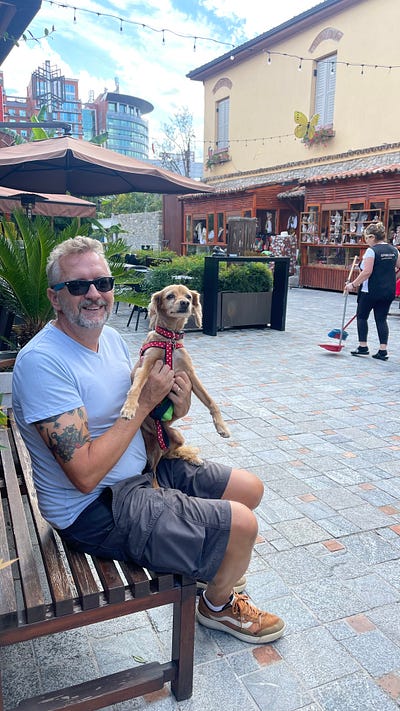 Saturday morning it was farewell to Albania after a full month there which was a surprise in itself, I didn't expect we'd spend so long there. But it was a delight. We've loved Albania, the people and the history and locations. It's a little different from other places we've been and it definitely has a few things going for it, from some lovely beaches and high end resorts, to interesting ancient history, lots of recent history and some great towns and cities. We never even scratched the inland, which others have raved about. The Albanian Alps are supposed to be spectacular and if you're into wilderness and hiking are also well worth visiting. So big thumbs up for Albania.
The crossing to Montenegro went well, a bit rough in one section for a couple of hours, but otherwise straight forward enough. There was a lot of rain and it was interesting watching it approach on the radar.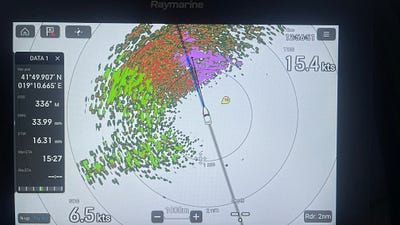 Arriving in Bar, it was off to the "Q" (quarantine) dock for check-in. The Port Police were friendly and helpful and then directed us to the Harbour Master where we had to call a duty officer (as the office was closed) who wasn't quite as friendly, but was very efficiently officious. For the first time we had to provide our credentials to actually operate the boat. I handed over the collection of licenses (Greek Powerboat Skipper, Greek Yacht Sailor, International Proficiency Certificate, American Sail Association Qualifications) and she diligently copied all of them, no questions asked.
A formal piece of paper in hand, then we were back to the Port Police where we gave them a copy and that was it, we are officially now in Montenegro.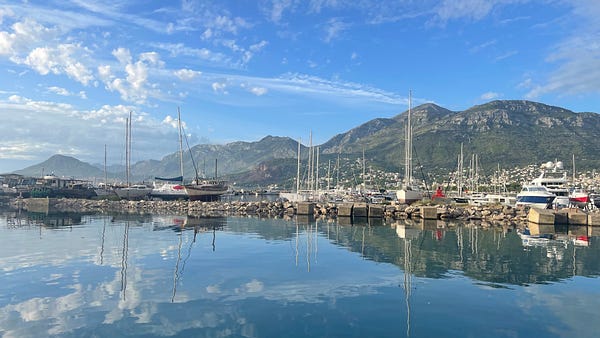 Which is where we are going to be now for the next 7 months!
Yes, our plans have changed again. One of the joys of being nomadic with no fixed plans is that you can change your mind. As we headed north we were starting to dread the thought of what would be nearly 30 hours of travel south again to Corfu. So we decided to look at options in Montenegro — we could always continue with the plan and return to Corfu, but we'd see what options there were.
As we looked into it, we found a marina "Porto Montenegro" which had excellent feedback and has a very active wintering community. If you're going to live on your boat in a marina, a group of like minded people around is important. We reached out and they had one last spot left at their wintering rate (basically two months free), and we now have a committed berth from 1st of October through to the 1st of May.
So this week it's moving from Bar up to the Bay of Kotor, we'll probably check in to the marina at Porto Montenegro just to kick the tires (and we have a paid berth of course), then finish out the season touring the interior of the Bay of Kotor before settling back into Porto Montenegro for winter. Surprisingly we're looking forward to it. The weather is getting more unsettled and moving around is getting more challenging, there's lots of projects and jigsaw puzzles to be completed that benefit from staying in one place for a while.
Until next time
Tim & Karina