Week 111 - Meetups in Montenegro
Socialising our way through Montenegro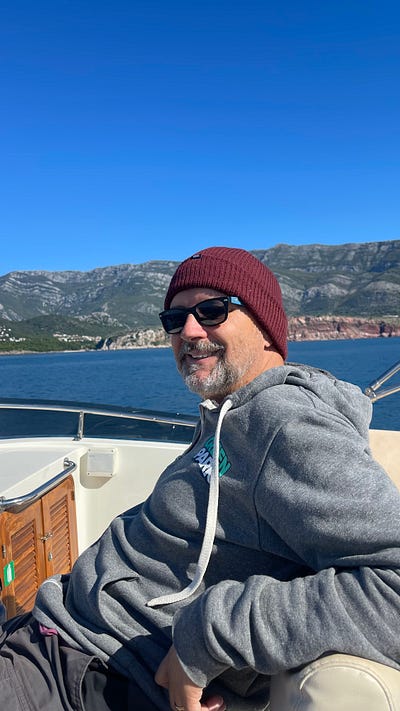 Socialising our way through Montenegro
When we first set off to cruise on Matilda, there were all sorts of concerns. Worries about things that could go wrong. Fears of the unknown. Somewhere in that list there was a concern that the lifestyle would be isolating and we would lose contact with people. Wow did we get that wrong!
Bar in Montengro was a lovely introduction to the country, despite the somewhat confusing name. Try telling someone you want to meet them for a drink at the "Bar Marina bar in Bar". I think the locals enjoy it, there was a tourist boat named "Barbara" (home port Bar).
The overwhelming impression of Montenegro thus far is that it is very clean. The tourist season here might be winding down, but it's definitely not finished with cruise ships aplenty and bus tours (from the cruise ships) driving people around the country.
I'm not sure what the collective name for a large group of speed boats is, but another common sight is (let's go with hordes) of speed boats swarming off a dock while a bus pulls up and then they pull in one after the other to load up and whisk the tourists off for a tour of the bay.
As we were walking along the boulevard in Bar, we saw a couple who were clearly travelling by bike, stop for a photo. One way we meet new people is to offer to take a photo. Often that leads to nothing (other than a couple getting a photo together), occasionally its reciprocated and we get a photo too, but every now and then you meet interesting people and just hit it off.
This was the case with Karl and Bronwyn — it helped that Bronwyn was a New Zealander ("Are you Aussies?") and before you know it we were standing there chatting away and handing over our boat card. They had cycled from the UK to Bulgaria earlier in Summer and were now heading back home again, all by bike. Their next stop was Budva, same as us, so we agreed to try catch up for a drink there.
Back at Matilda, a catamaran pulled in behind us and we got chatting with them and decided to head to the bar-marina-bar for a drink. Sailors are inherently social, it's easy to get to know each other as you always have something in common. Then we had to head back to Matilda again as Grant and Karen who we met in Albania were arriving from Durres and we promised them a meal to welcome them.
We had a great time enjoying their company again and having a "proper" sit down meal on Matilda — most of the time in Summer it's so warm, you eat fairly casually up on the fly bridge, but this time it was cool enough to enjoy eating in the salon around the main table. With the wind picking up and howling outside, it was very cosy and warm indoors.
The wind that night was the strongest we've experienced now, with gusts nearing 40 knots at the dock. We were side tied (alongside the dock) which is not common here and had to place all the fenders on the one side between us and the dock to protect the boat. Being tied up and secure in a marina is the way to go in that sort of weather and we slept well.
Next stop, Budva, about a three hour cruise along the coast. Montenegro is stunning with beautiful clear waters, dramatic cliffs on the coast line and cute towns lining the bays. There's also a lot of modern resort development too on that part of the coast.
We considered anchoring, but decided against it as the reviews were mixed as to whether we'd get fined or not, so off to the marina it was. It proved a wonderful choice as the town of Budva is a lovely little medieval walled city and being able to easily hop off the boat and explore more than made up for the (not too unreasonable) cost.
Karl and Bronwyn were both there and came to join us for dinner aboard Matilda. Their next destination was the same as ours (Porto Montenegro / Tivat), so we asked if they wanted to join us — they were leaving the next day, but we suggested they come stay in the guest cabin, then we'd cruise to Porto Montenegro together on Matilda. It didn't take much convincing and the next morning they arrived to join us for a couple of nights aboard.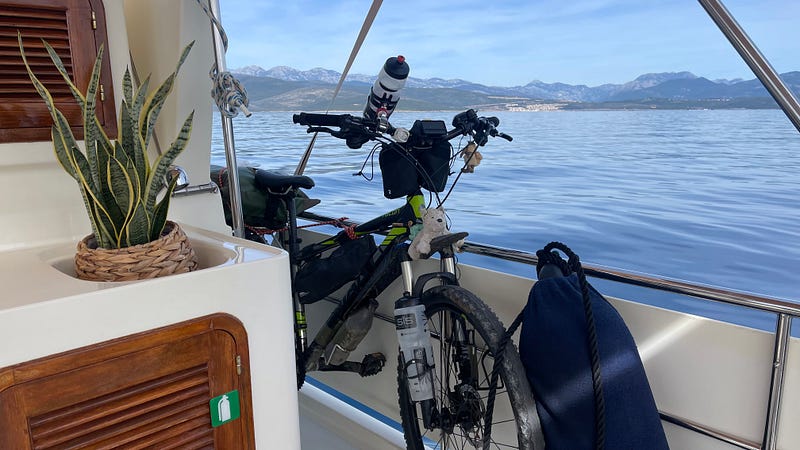 Storing the bikes was an interesting exercise, we definitely didn't want to drop them rolling them across the passerelle. There is plenty of room on the decks, but it does limit the access to the sides, so for a couple of days to get to the bow we had to head down and through the cabin which worked OK.
We did what's probably our last swim for the season in Budva as well. Bronwyn had been to small beach the day before and encouraged us (and Karl) to hop on in. The water was actually really nice — a little fresh, but still 22C. Unfortunately now inside the Bay of Kotor it's even colder and not as clean, so not as enticing!
On Thursday we set off for Porto Montenegro. I think this was one of my favourite cruises of the whole season. The water was flat, we saw dolphins twice and the entrance to the Bay of Kotor with Croatia to the left and Montenegro to the right was spectacular. Old submarine tunnels and small villages are dotted around the bay with steep mountains towering overhead.
Arriving into Porto Montenegro was a little surreal. We've enjoyed both marinas we stayed at so far in Montenegro and this was a step up again. It's strange to think that this luxury resort is actually our home for the next seven months. I'm not used to the local shops being "Balenciaga, Bvlgari and Dior", but I guess we'll just have to adjust. I mentioned last week that Orikum Marina was a bit "aspirational" — Porto Montenegro is the sort of marina that Orikum Marina would like to be when it's done.
When we went to check in, the woman at the counter asked us "What do you think of the marina so far", to which Karina replied "I'm feeling very under-dressed!".
In the couple of days we stayed there, it's not actually that intimidating — there are a lot of other liveaboards (which is why we chose it) and the staff have treated all of us extremely well so far. It was a relief to spot another boat hanging their washing out on the bow, we're not the only ones who air their (clean) laundry for the passers by to see.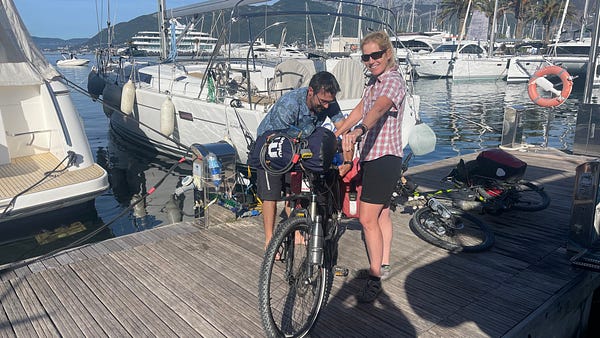 Bronwyn and Karl headed off on Friday morning after a fun two nights aboard to continue their journey back towards the UK. We headed out for more socialising! Porto Montenegro has a very active wintering community and drinks were arranged for Friday to continue to welcome the new arrivals, which included us.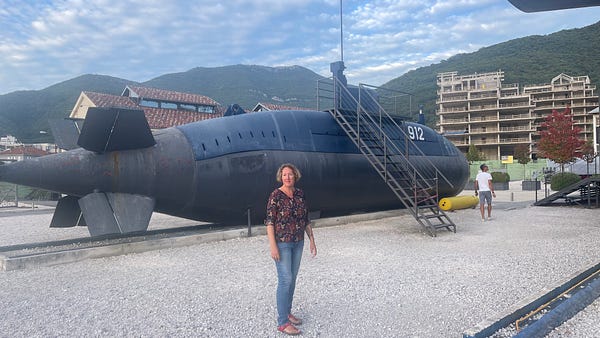 It was great getting to know the new neighbours for the next 6+ months. For the most part, they are all from the UK (so far), but we did meet a lovely couple for the US, Vandy and Eric who have been cruising the South Pacific for the last few years before recently selling their boat to buy a new one and relocate to the Mediterranean.
"Where did you live in the US" they asked us?
"We were in San Francisco".
"Oh, we're from San Francisco too! Whereabouts?"
"Actually, we just tell people that, we were actually living down on the peninsula, in Belmont."
"No way! We were in Belmont too. What street did you live on?" they exclaimed excitedly.
"Hillman Avenue…"
"Get out of here! What number"
Yes, we travelled all around the world to end up in a bar in a port in Montenegro to meet a couple who lived about 10 houses away from us back in the USA. OK, to be fair we only both lived on the street at the same time for about a year — they sold up to move on to their boat just as we were getting established, but I just love these sorts of coincidences.
On Saturday we left Porto Montenegro for a bit to cruise further into the Bay of Kotor and visit the old walled medieval city of Kotor. Wow! We were initially a little underwhelmed coming in, the scale of the city and the surrounding cliffs make everything feel small at a distance. But when we got off the boat and walked around underneath the walls and into the town you could really appreciate the grandeur of it all.
As with other parts of Montenegro, it's still fairly busy with cruise ships coming and going and plenty of tourist activity, although it is apparently quieter than during peak season. That's nice for us as we get to experience things while they are open without the real masses of people around.
Kotor is the largest intact medieval city in Europe which is significant in itself, but then the location is also spectacular too. The Bay of Kotor is a "double bay", very isolated from the sea and surrounded on all sides by towering mountains. We anchored just off the town and waking up this morning was a real "wow" moment, listening to the church bells echo around the mountains.
Aside from the fact we obviously wanted to visit Kotor anyway, the other reason for the visit was our final social event of the week. I'm a member of a "nomad" travel group (basically retired people who spend their time living and travelling overseas) and several of us were all in the area so a meetup was arranged. It's a different vibe from the sailing community, but also an enjoyable one too as we all have travel in common and enjoy learning from others about what to see and where to go.
Finally, we retired back to Matilda after an amazingly busy, social and spectacular week of travel!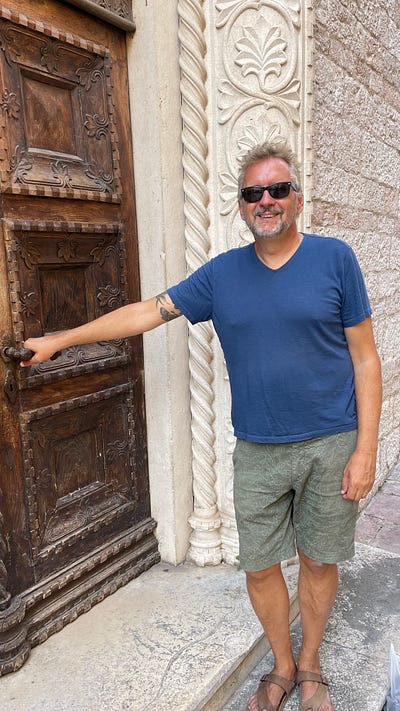 This week, we're going to continue to explore the Bay of Kotor a little further while the weather is good, then head back to Porto Montenegro to settle in and relax ready for winter. The nice thing is that no matter where we are in the Bay here, home port is now only really an hour away so we can always get back to shelter if the weather starts looking bad.
Want to see where we are, or check where we've been? Check us out on NoForeignLand https://www.noforeignland.com/boat/matilda
Until next time
Tim & Karina