Week 114 - Drinking and driving
Exploring Montenegro by car, Garnet winery and cruising to Risan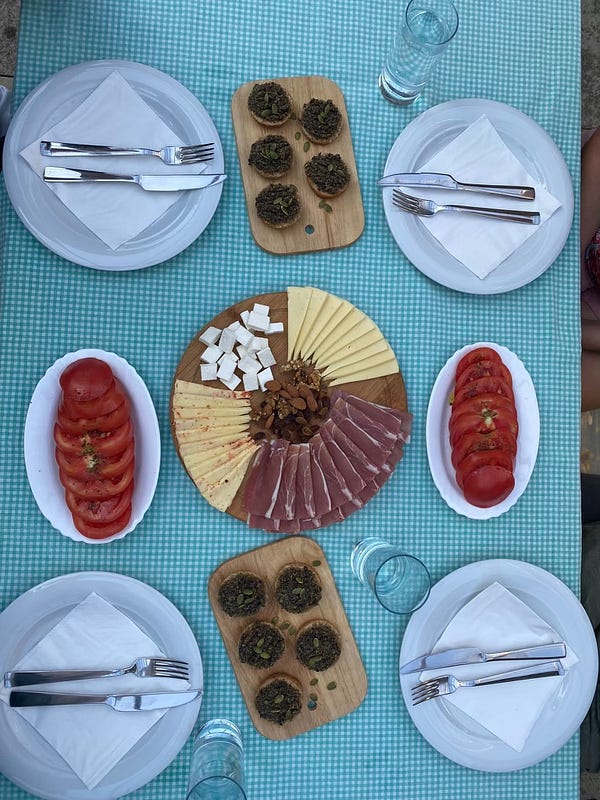 Exploring Montenegro by car, Garnet winery and cruising to Risan
Last Sunday was a huge day. We headed up beyond Podgorica to test drive a Lada Niva. Why look at Lada's you ask? Well, ultimately we're leaning towards a four wheel drive, they are novel and they are supposedly unstoppable. This is apparently not quite the same as "reliable", but they are the "anti-car" to most of what exists today, intended and designed to be repaired by Russians in remote villages with nothing but a screwdriver instead of a mechanic with a computer in a fancy auto shop.
We drove up the valley to the north west of Podgorica to meet a local Macedonian man and see his Lada. I think the fairest description was it was a farm vehicle — it had seen some shit in its life and was beaten up. But, true to form for what I've been reading on Ladas it started first time, it ran smoothly and everything worked.
It's interesting from a design perspective to think about what "simplicity" and "easy to repair" actually means in practice on a car like this. An obvious thing is that every function of the car has a separate switch or stalk — it's on or it's off. No fancy "multi function" stalks like a modern car which do the lights, wipers, indicators etc. all together. Instead it's a stalk for each function. This stalk does indicators, this one does lights on and off, this one does high and low beam etc. The steering wheel feels a little like a Christmas tree. Now, that does make it "simpler" to repair, but it's a little more complex to drive!
I took it for a test drive up the hill, got to the top and then went to turn around. As I tried to put it into reverse, the entire gear lever pulled out. I'm sitting in the car with the gear lever loose in my hand staring at the man next me in the passenger seat. He slaps my wrist, mutters something in Montenegrin at me, then grabs the lever, shoves it back in place, motions pulling up and waves "no" at me. I try again and this time I find reverse. This in my book is the definition of unstoppable — not reliable, I'm no expert but I'm confident the gear lever shouldn't come out like that, but with a simple application of brute force, it's underway again.
After the test drive, we quickly decided this was not the car for us and said thank you then moved on. He's since messaged me a couple of days later "Buy a Lada" so I presume the car is still for sale.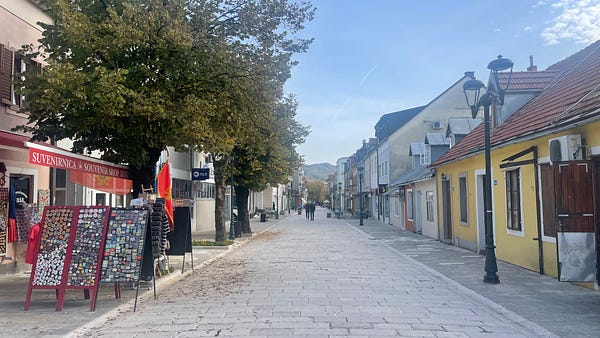 From there, we headed to Cetinje which is the old capital of Montenegro. Apparently the story goes that with the expansion of the Ottoman empire the Montenegrins retreated back into the mountains and Cetinje was established in the 14C. It's a lovely mountain city with lots of historic buildings, some small palaces and old embassies now converted to cafes lining the streets. At the end of WWI, Tito relocated the capital to Podgorica (then Titograd), where there was more room for the expansion of industry. Cetinje still has some administrative functions and the presidential residence is located there.
Driving through the mountains everywhere at the moment is a real treat as the leaves are all starting to turn and the hills, especially higher up, are ablaze with colours, always a treat as Australians who grew up primarily with evergreen gum trees.
On Tuesday it was back into a car again, this time a small van along with 6 others to go and visit a winery in Gotinje near Lake Skada. This was a wonderful experience, although slightly unexpected! We're used to wineries with sweeping entrances through vineyards, big tasting rooms and grand displays.
Instead we drove into a small village, not a vineyard in sight, had to park the car then walk up a track into a mostly abandoned village where the Garnet Winery is located. They make 3,000 bottles of wine a year. Yes, that's not very much at all! We were greeted with amazing views, historic buildings and ruins and a tradition that's hard to beat. The local grape in Montenegro is Vranac, which originates in the Godinje Valley and they know that it was being produced in the village as far back as the 14C. The local family that runs the winery can trace back 14 generations in the village, although they don't know that all of them were winemakers. For €20 we had an amazing spread of food, three full glasses of wine, a shot of Rakija (a grape spirit) and a Cherry Liquer.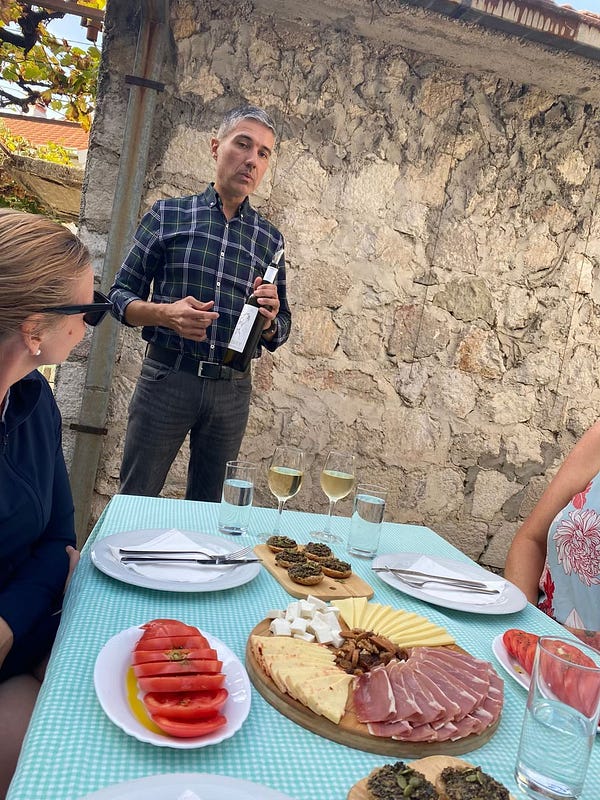 With a car full of very happy and contented people, we then drove back to Budva to visit the historic centre have some cake for dessert and then back home to the marina.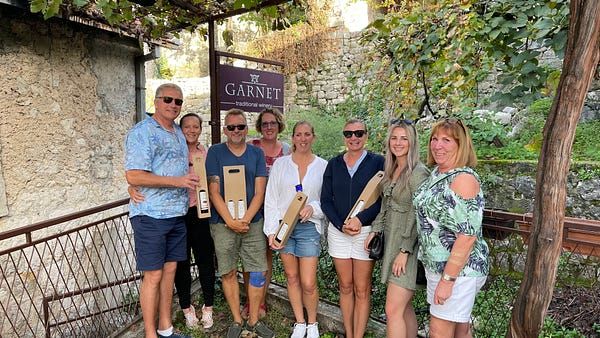 We did a few boat jobs on Wednesday, nothing dramatic, just started on prepping the underside of the bench in the kitchen to reseal it and then got ready to head out for a few days on Thursday with the boat.
Here in Montenegro, you have a cruising permit — ours expires at the end of this month, so we wanted to get a last cruise in before we are more or less settled in to the marina for the winter period. We decided to head to Risan where we visited Sava and Mary, a local couple we met at dinner a few weeks back and then to anchor out at an island south of us.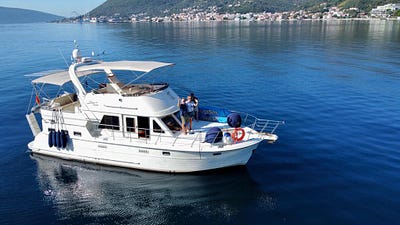 As we headed out, Iain from Intrepid Bear (go follow them on YouTube) came out with us as he'd offered to shoot some drone footage of Matilda underway for us as a thank you for the tour of the Blue Cave and Submarine Pens we did the week before. We travelled back and forth while he flew the drone and ended up with some lovely footage of Matilda underway! Check it out here.
https://www.instagram.com/reel/CkTWjTjJylk/?utm_source=ig_web_copy_link
In Risan we had an amazing tour of the town from Mary who gave us the run down on a lot of the history that you don't really get to know without someone with local knowledge guiding you around. It's actually the oldest settlement in the bay, local word of mouth says it was much bigger but half of it ended up underwater during an earthquake 100's of years ago. It's got a rich Greek and Roman history as well.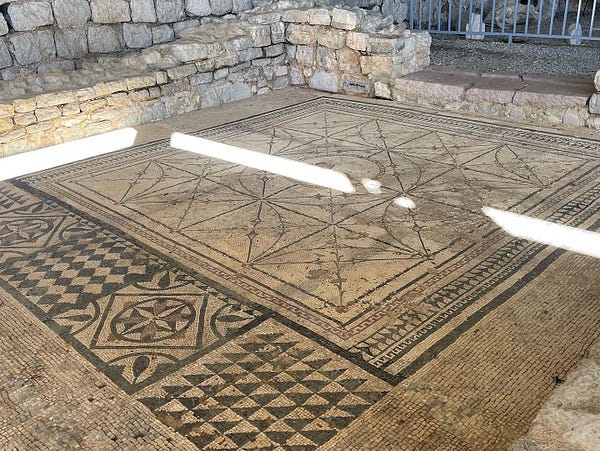 The biggest tourist attraction is the Roman Mosaics — the floors of a Roman Villa from the 2nd century AD. What's fascinating about the mosaics is that sections were known about in the 18C, they were restored and preserved in the 1950's and then two whole new rooms were discovered in 2004! It's amazing to think about how much is probably still around to be found of these ancient locations, underneath existing buildings or farmers fields.
After the mosaics, we enjoyed a very peaceful afternoon sitting out under the grape and kiwi fruit vines at Sava and Mary's house, where we enjoyed chatting about Montenegro and ate lots of delicious cheese, wine, olives and other local produce including some homemade pomegranate juice.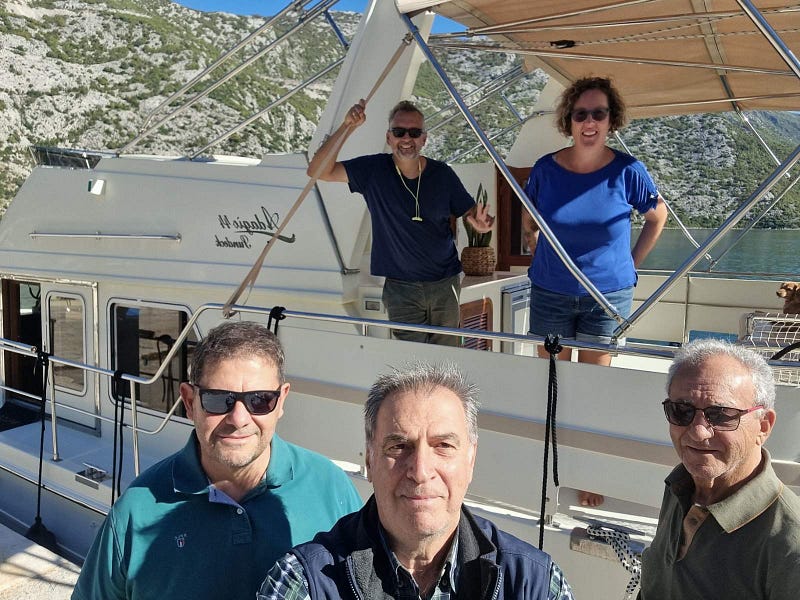 It was a windy night on the Risan town quay, a change from the quiet of the marina. Of course we also had the local teenagers "hanging around" chatting at the end of the quay until after midnight, something that we don't get in the marina at all!
From there it was a cruise south to the islands in the bottom corner of the bay where we met Shawn and Lyn on Yaama, shared a chat and then settled in at anchor for a peaceful night in a sheltered bay. The island is interesting as peeking through the "jungle" you can see the top of old tiki huts. It turns out that until the wars here, it was operated by Club Med as a resort, but is now all abandoned waiting for whatever its next chapter will be.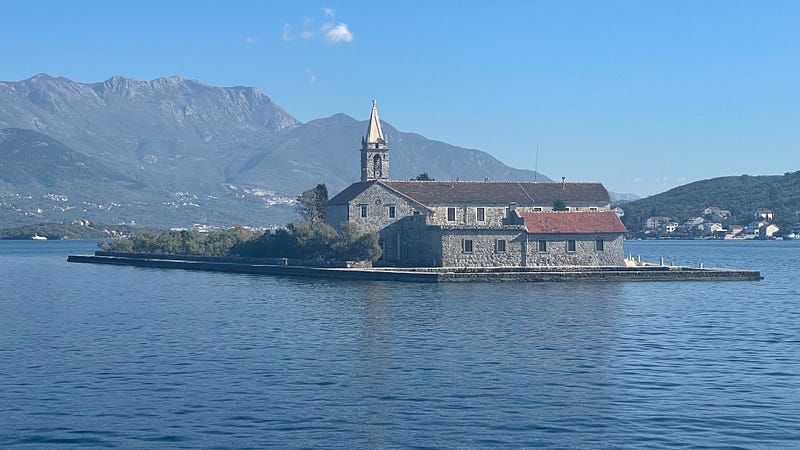 There is some beautiful scenery in the bay, one place we passed is the Lady of Grace monastery — accessible only by boat, it's been in operation since the 14C and still seems to have a caretaker living on it, although I believe the monks have since left.
We returned to the marina on Saturday afternoon and on our way in filled the tanks back up with diesel. 800 litres of fuel isn't cheap, but we're ready to go for next season now and also given we're entering the colder weather and will be sitting here in the berth, it's important to fill the tanks to prevent condensation and water entering the fuel.
Karina has berthed Matilda several times along side, but was yet to dock stern to. This is the last big milestone in terms of operating the boat so she took the opportunity to do it as we returned to our berth. It's not straight forward reversing a 16+ tonne boat into a 5 meter wide slip at all, but she made it look easy and now has that important first time out of the way. It's great that we both have the skills and practice to operate the boat as needed.
Saturday was also our 28th wedding anniversary, so we had dinner out with new friends Nat & Colin, and Iain & Kate at a local taqueria which was good fun. It was nice to eat some different flavours again too. Who would have thought 28 years ago we'd be here together in Montenegro aboard our boat, I don't think that would even have made our top 100 list of things we guessed would happen to us in the future!
Until next time!
Tim & Karina