Week 115 - Podgorica is boring
Podgorica, and is it finally the end of Summer?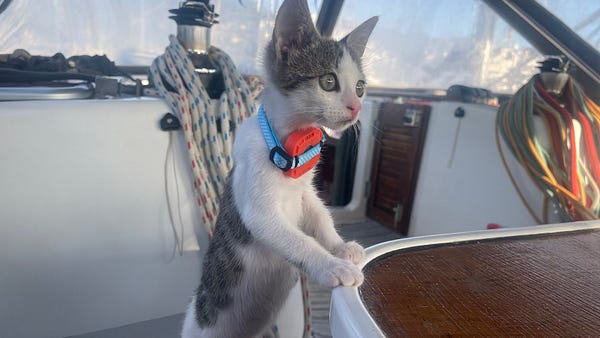 Podgorica, and is it finally the end of Summer?
With the decision made that this is now, finally, the end of the season and Matilda is tucked up tight in her berth, we immediately decided to avoid doing any of the myriad of boat jobs planned to put our feet up and relax.
The challenge is that life here is so social at times, finding a moment to get something done is difficult! It's not that we did nothing, I cleaned the sea strainers, worked the sea cocks and cleaned the water maker. Eric came by and helped me diagnose our solar panels — something that's been bugging me for a while. So we did do some things, just not as much as we could!
Monday we headed out for a walk with Eric and Vandy to hunt for coffee here in Tivat. Karina had found a good cafe, but unfortunately they didn't sell their beans. The challenge is that Montenegro is such a small country that a lot of things are outsourced. The cafe here in the marina claims to roast their own, but on investigation it turns out they actually order the beans roasted from Serbia and the last order was back in June (this is bad if you want fresh roasted beans). Another place in Budva used to roast their own, but during COVID could no longer get the green coffee beans supplied so gave up.
Monday of course was also Halloween, we had a late afternoon tea with Alisha aboard Seaesta Blue (another Australian boat) after delivering their daughter some candy and then enjoyed watching the kids wander around the marina dressed up going door to door at the restaurants.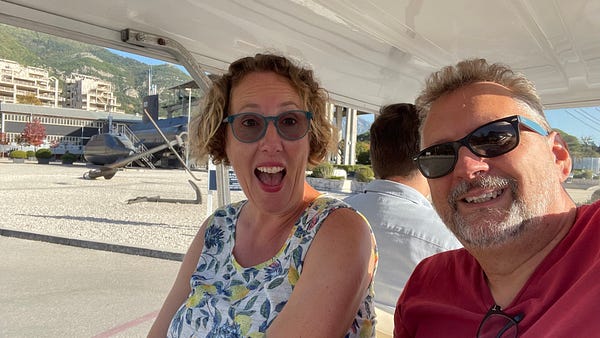 Tuesday morning we visited "Saved by Grace" to head out for the day with Nat and Colin for a bay cruise. After coffee we started to pull in all the lines and then they went to start up the boat but the engine kept shutting off. Colin quickly identified the cause as fuel starvation, but we couldn't work out why! All that had changed was someone had been through the engine room cleaning it and Colin thought they must have switched something off, we just couldn't see what.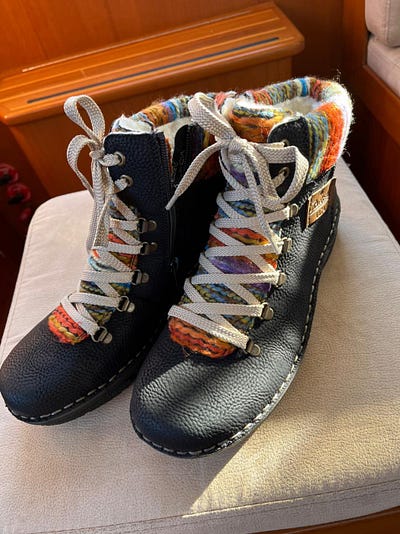 After we left, as they were in the engine room trying to find the problem Nat caught her jacket on a ball lever and lo and behold, that was the one that had accidentally been switched, cutting the fuel line! By that stage we were back on Matilda busy tackling those few jobs we managed to knock off. Karina squeezed in some shopping and managed to find some boots for winter.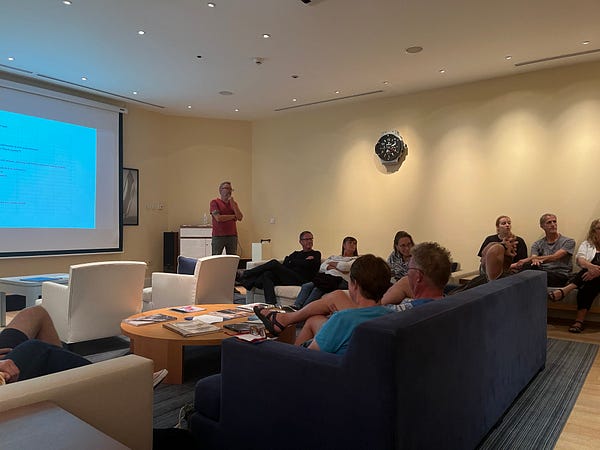 The presentation on Tuesday was "Anchoring in Greece". We decided to organise some regular live aboard learning sessions — presenting to each other about cruising grounds and topics of interest to fill in the winter months and we volunteered to run the first one. It was an interesting feeling presenting to a room of people after all this time, it's such second nature to me that it just felt "right" very quickly.
On Wednesday Shawn and Lyn asked us to visit Podgorica with them and we headed off at 9AM for the drive there. Shawn had found a list of places he wanted to visit and we managed to actually see some of the tourist side of Podgorica. My opinion hasn't changed too much, it's still a boring city, but there's enough to amuse yourself for a day at any rate. Amongst the tourist attractions we visited a music shop to buy new strings for me and a guitar for Shawn and then we found a store that roasted their own coffee, all up a great day!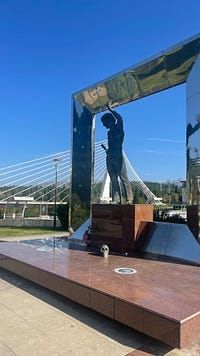 Next up was Thursday and relaxing after a fairly busy few days! Friday was also forecast to get very windy and wet, so we did a bit of prep around the boat tidying things away and stocking up on provisions.
We also finally made a decision with regards to the car. The impending bad weather forced our hand — we realised that the time to do some of the touring we want is NOW before it sets in wet and we can't really afford to wait around too much longer for the residence permit needed to buy something here. Also we are having a lot of difficulties with the language — people who don't speak English generally aren't willing to try communicate via Google Translate and this obviously makes buying and negotiating a lot harder than we expected too. We looked at rentals again and this time we got an offer for "Unlimited KMs" which was what we needed to pull the trigger for this month at least. Which all means we're off to Bulgaria tomorrow!
Thursday night we were back on "Saved By Grace" for margaritas and an amazing Italian bolognaise cooked by Nat. It's wonderful having friends to hang out with, chat to and pass the time.
After weeks of beautiful sunny and warm weather, Friday arrived as a shock. It was cold, grey and then increasingly windy. The marina issued a wind warning and by Friday afternoon all socialising had ceased as we hunkered down in our boats hiding from the rain.
We did get out briefly to visit Judy and Steve on "Fair Isle" — they invited us for cocktails (Aperol Spritz — delicious) and we had a lovely time aboard their boat with the wind howling outside while we enjoyed a delightful platter of nibbles and drinks inside. They both have lead fascinating lives, Judy worked as a news presenter with both the BBC and ITN and Steve as a cameraman / producer with the BBC. They now run a Youtube channel Sailing Fair Isle — give them a subscribe, it helps pay the bills! While the sailing is important, we also learnt a lot about their true passion and efforts to help end Female Genital Mutilation (FGM). Judy recently completed her PhD in using film to target different communities effectively to help end the practice (paraphrasing that a bit!). They both spend time in Africa helping to train local journalists to deliver documentaries which target their own communities with the most effective message for their cultures.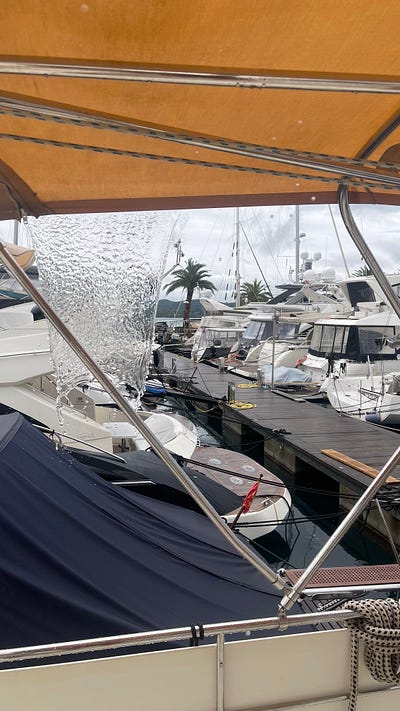 Afterwards back on Matilda, the wind really began to howl and we experienced the strongest winds we've seen yet with over 50 knots here in the marina. Which to be honest, was anti climatic in a good way — we are tied up snug and beyond the noise and rumble of the thunder, the boat barely noticed it. Around the corner in Kotor, they had 80 knot winds, which goes to show the impact of geography.
Saturday was wet all day and we largely did nothing. The highlight was that the leak repairs I'd made mostly worked and the rear door is not leaking much at all now. The low light was that if the rain is heavy enough, new leaks appear (or can be found now the bigger ones are fixed), so there's still some more leak fixing to go!
The rain lifted today so while it's still overcast we can at least get out and explore again. We're also preparing to head out for the week tomorrow now we have the car, so eating up the left overs, cleaning out the perishables, locking up etc to leave Matilda on her own for the week while we drive to explore a bit of Bulgaria!
Until next time,
Tim & Karina