Week 117 - Panic at the pier
Missing the lazy days of summer!
Missing the lazy days of summer!
There's a mild sense of panic that underlies everything at the moment. We have a long list of things that we want to achieve and time is starting to feel like it's slipping away. The rain is starting to settle in for real now so the opportunities to do outside work on the boat are reducing. At the same time, Christmas is looming which means only three weeks left on the boat before we head to Athens and then Norway.
When we get back, it's the New Year and then Germany, which means the next serious opportunity to do things will be February and that's too late from a boat perspective. Why? Well everyone is coming back to their boats and starting to gear up for the new season, so you want to make sure you're ready before then or you won't be able to find the contractors available.
We also want to travel to Croatia and explore while we have the car, which means taking advantage of the nice weather when it arrives… but that's only for another two weeks then the car is returned. I'm starting to long for those lazy summer days where the big decision was should I go swimming or not, or maybe just take another nap.
All in all, since returning from Bulgaria we've been motivated to achieve a lot, it's just not that photographic!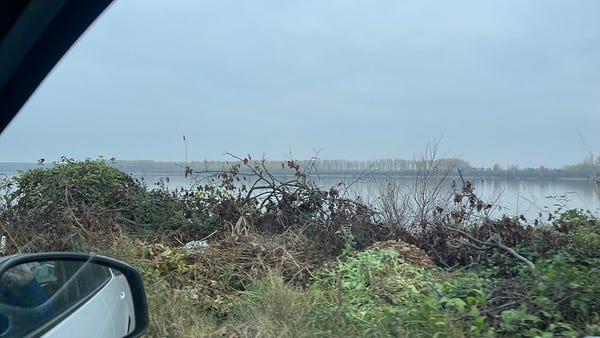 On Sunday and Monday we drove back from Bulgaria which went smoothly — we managed to do most of the driving during the day and we went a slightly different route that avoided some of the bigger mountains. We stopped at a motel in Novi Pazar which was clean and comfortable enough, but in the middle of nowhere so we just huddled in the room and stayed warm while having a bit of a break playing games on our devices.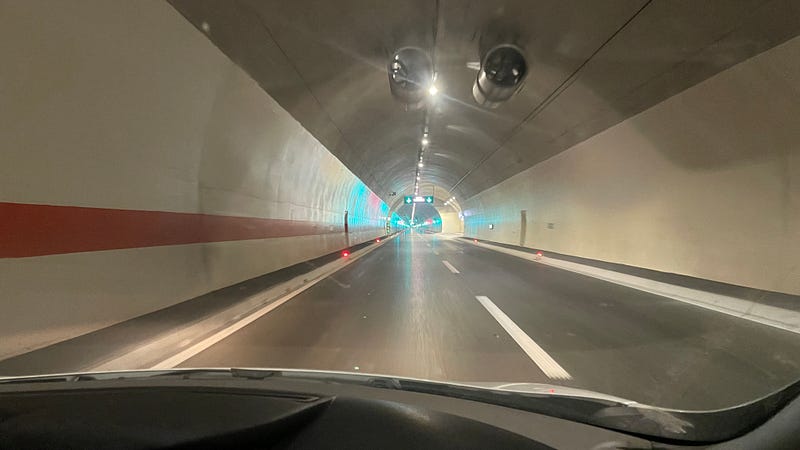 The big decision was should we head for the main border crossing (which was closed last time we tried to come through) or divert back through the hills to the longer, out of the way crossing we used that would add two hours or more to the journey. We asked at the motel and they consulted with a few truck drivers who assured us that the border crossing was open.
As we drove towards it on Monday morning, the road was definitely quiet, but maybe there's just not that many people going to Montenegro? Fortunately we arrived at the crossing and it was open! We were through in a few moments and then drove through a long canyon for about 2 kms to reach the Montenegrin border. That was fine too and before you know it we're back in Montenegro again.
At which point we promptly hit roadworks again and the road was closed. The choice was to detour back through the border and make the crossing at the place we'd chosen to avoid or to just wait — they promised us the road would reopen for traffic at 11.30AM. We chose to wait on the side of the road.
As the time approached, lots of cars from the local village started arriving and then at about 11.25AM (five minutes early) they all just pushed past the security gaurd who threw his arms up in disgust and just started waving us through with a "I'm not paid enough to deal with this" expression on his face.
The next ten kilometres was one of the hairiest yet most entertaining drives we've done. We were literally driving through a heavy machinery construction site, the road completed to various degrees, having to pause for diggers to spin so you could get past the rear of them and fighting with oncoming traffic to squeeze through one way sections. Several tunnels had very recently been blasted out and were still not yet lined at all, driving over hastily dumped gravel on the ground with exposed rock walls. All part of the Balkans experience.
Aside from that little adventure, the rest of the drive was smooth and we made it back to Matilda on Monday afternoon with time to spare.
On Tuesday I headed out with Nat and Colin on their Selene 66 "Saved By Grace". As they had recently purchased it, they still haven't tested all the systems thoroughly themselves and they wanted a hand to launch and test their tender, which I was happy to oblige. We had a lot of fun motoring out, anchoring behind the nearby island, launching the tender and blasting around the bay a bit. Iain and Kate from "Intrepid Bear" came along as well and it was a fun outing.
Wednesday it settled back in with rain again so we huddled inside and completed boat jobs (replacing water filters), which took me to the marina store with Eric, then Wednesday night was curry night, a regular event at the local bar where all the liveaboards gather to socialise.
Thursday I met with the Volvo Penta mechanics to plan the maintenance of the engines. There was a bit of sticker shock associated with this. We're unfortunately still suffering due to the water leak we had in August where sea water was sprayed inside the engine room. While it was supposedly cleaned up, unfortunately some parts on the engine are now corroded and need replacing — the most expensive of these is €500 for a new solenoid that controls the gear selector. Still, this is one of the two major boat jobs left and we have it scheduled in for next week now.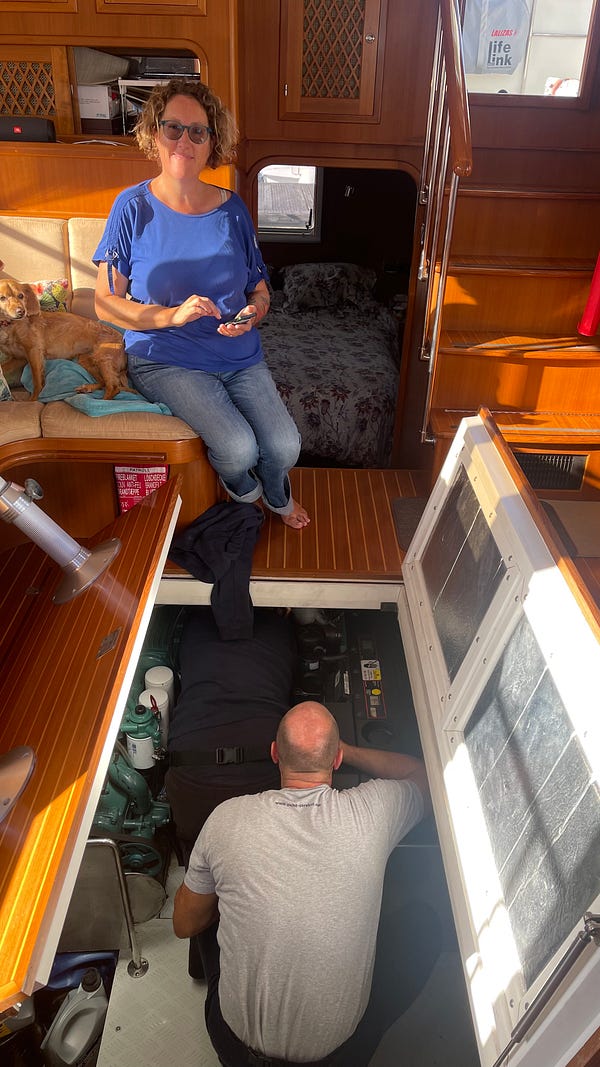 I drove Nat, Colin and Lucy around to Kotor while the weather was good. That same day we also cleaned and stored Tilly the Tender for the winter, she's now zipped up and standing upright on the back deck.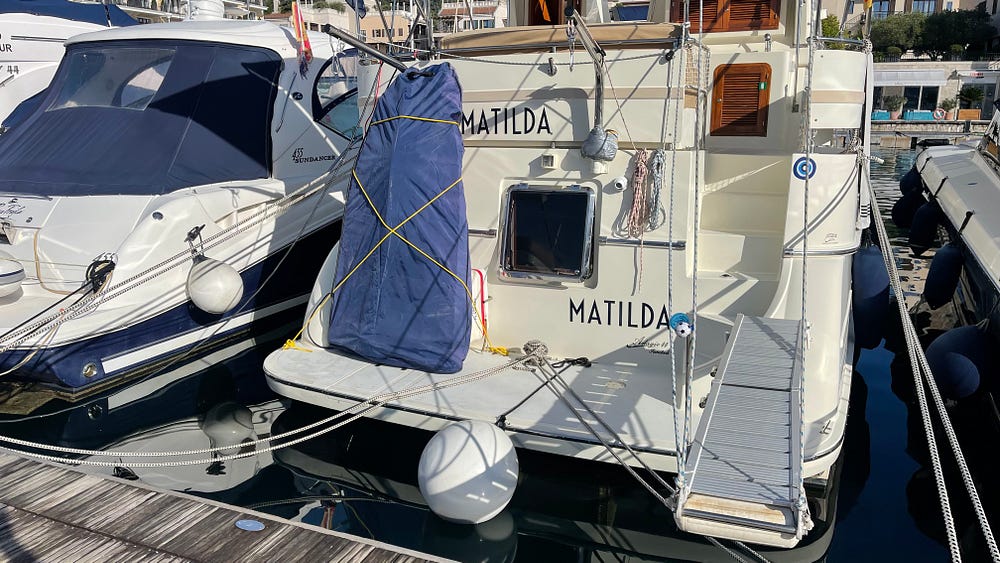 A brief shopping run and then Thursday night was the marina pub quiz night and we had a lot of fun on our team with Vandy and Eric, Shawn and Lyn and Pedro and Sarah. We also won which was good (because I'm competitive) and bad (because the prize was free shots and we've been drinking far too much lately!)
Friday was yet another morning where we had to get up early. This time it was meeting with the boatyard mechanics to discuss if we needed a haul out or not. Typically you haul the boat to do work that can't be done in the water, which is usually a bottom coat of anti-foul. We think we might get away without that for the season as we have several coats on at the moment, but we also found a leak in the packing gland on the rudder that needs repairing. As we were told "You can fix that in the water, it just depends how big your cojones are." Let's just say we'll err on the side of caution…
In the afternoon I took a few people to appointments in the car and then Friday night we met Eric and Vandy for Mexican dinner.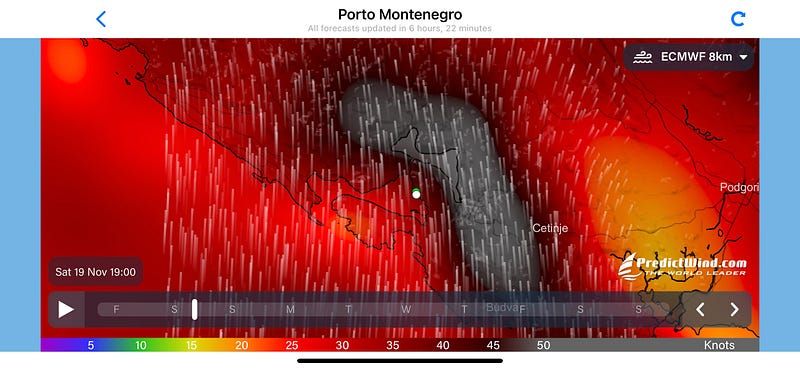 Saturday the rain really settled in again and we spent a lot of the day inside while also trying to track down an annoying leak which is dripping water inside the corner of the boat when it rains. I still haven't found it although last night at 2AM I had some inspiration as to where to look now. At one stage in trying to find it, I was outside on the fly bridge emptying a storage locker to check for water while it was raining hard only to get incredibly frustrated when I couldn't actually fit everything I'd just taken out back in again. I've still got no idea how I had managed to store that spare anchor there the first time!
This coming week it will hopefully be the engine service, then a decision on if we haul out or not for the rudder a decision we'll make once we have the prices and how long we'll need to be out for. With luck, they'll be able to squeeze that in before the 14th of December — or at least lock us in for a slot.
With those last two boat items out of the way Matilda will be mostly ready for the new season, allowing us to get back to spending some more time travelling and exploring again.
Until next time,
Tim & Karina