Week 121 - Breaking things
We break a couple more things, but are overall on the mend and off to Athens.
We break a couple more things, but are overall on the mend and off to Athens.
Unfortunately the answer to "What else can we break?" turned out to be me! I slipped on a ramp in the marina and ended up landing directly on my backside, winding myself and bruising my back. I spent the rest of the day laid up in bed and now a week later I'm OK to get around without painkillers, but it's still sore if I twist too much (or turn over in bed).
Of course this would happen the day we moved back on to the boat in the ship yard, which meant that not only was I struggling with mobility, I had to do so climbing a ladder to get onto the boat. See, it's not all fun and games living on a boat. That aside, it was great being back aboard Matilda, even if it was just in the shipyard.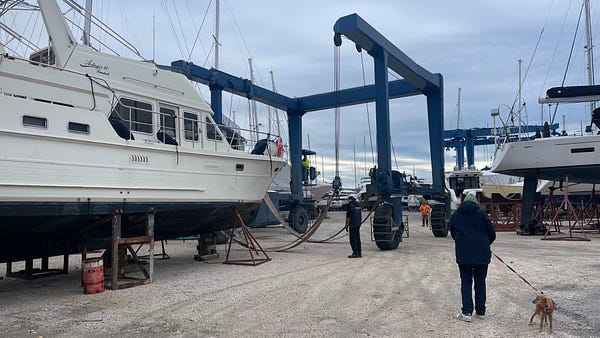 By Tuesday morning everything was completed and we were ready to launch. It went smoothly like everything we've experienced with Navar, the boat was back in the water on schedule with a minimum of fuss. The mechanic came out on the sea trial and after a quick adjustment for the rudder center on the autopilot (it was out a few degrees after pulling the steering mechanism apart) everything was back to normal. Normal means that the compasses all read different directions, so we need to get those aligned again, but that should be a simple job done on the boat next year.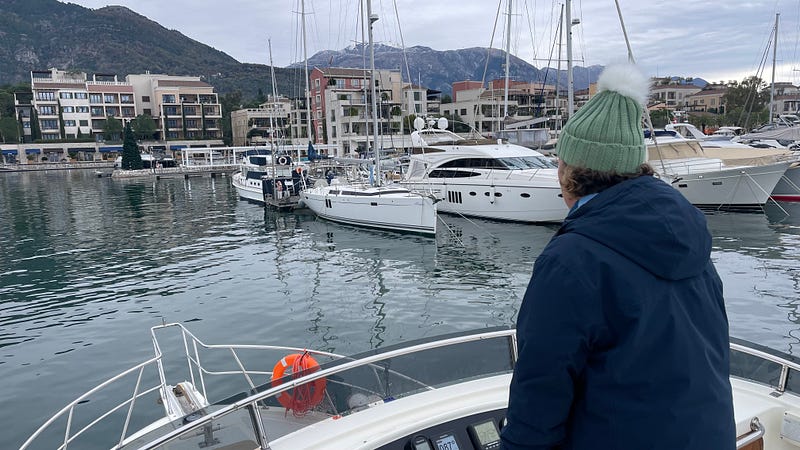 There was also time to break one last thing before we left for Athens too! Once we were tied up back in the marina we checked the water tanks, put the washing machine on and left for a walk. We came back to the constant sound of the water pump trying to re-pressurise the system. Turns out that the water level gauge has stopped working (showing always full) and while we were walking the washing machine completely emptied the tanks and burnt out the freshwater pump. Oh well, a new one in Athens was only €70 and it's an easy replacement I can do myself, so as far as boat repairs go, that's a cheap fix.
Wednesday morning we dropped Rosie off on MV Saved By Grace with Nat, Colin & Lucy — her new home for the next two weeks while we hopped into Rada the Lada and drove off to Podgorica. I think we've mentioned before that Montenegro is both very mountainous and very wet. It was absolutely bucketing down most of the way to Podgorica with the rain sheeting over the car and the road. We were happy to be in a 4WD with some decent clearance. It was so bad that some cars were actually pulling over and waiting it out. Of course others were charging forwards and over taking on blind corners like normal here too. We just trundled along at our 60-80km an hour without missing a beat.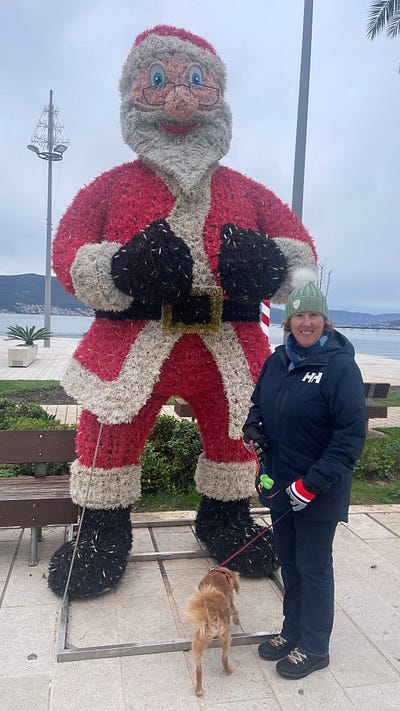 In Podgorica we dropped Rada at the mechanics (yes, we can fix these things no problem 😌 ) and we headed to the airport.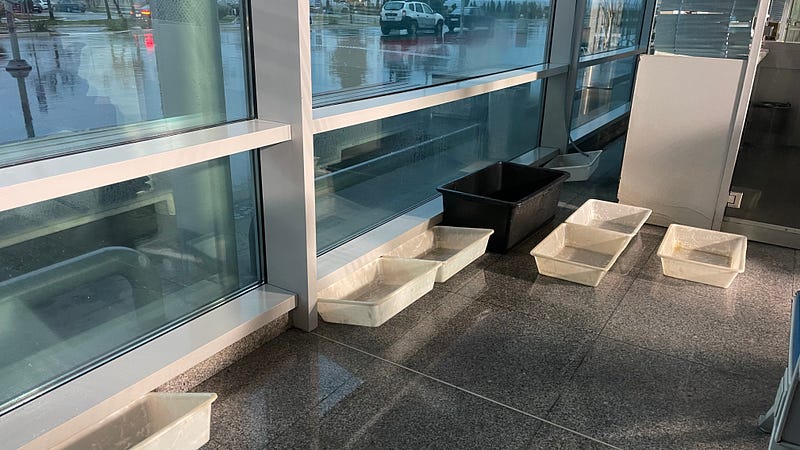 The rain was so heavy that everything in the terminal building was leaking — we almost had to wear our rain jackets inside! After an uneventful journey (apart from a short dash through the rain from the bus to the plane), we arrived into Athens and caught the metro into the city and off to "The Nest", our apartment.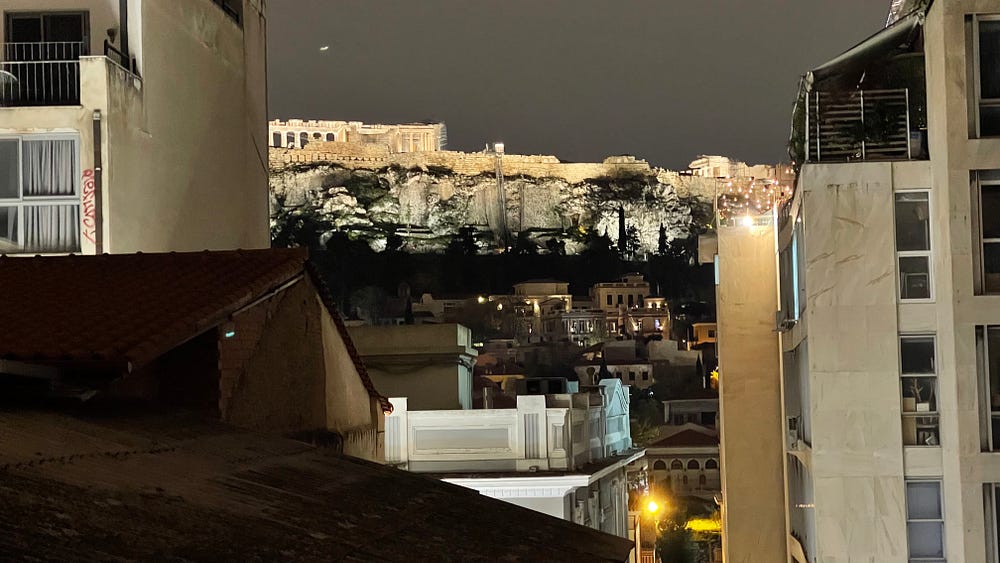 It's been a really interesting feeling coming back to Athens after all this time and in particular, returning to somewhere (the center) that we know so well. It felt like coming home. I don't think we expected that — we knew we'd enjoy Athens again, but I don't think we expected it to just feel so… "right".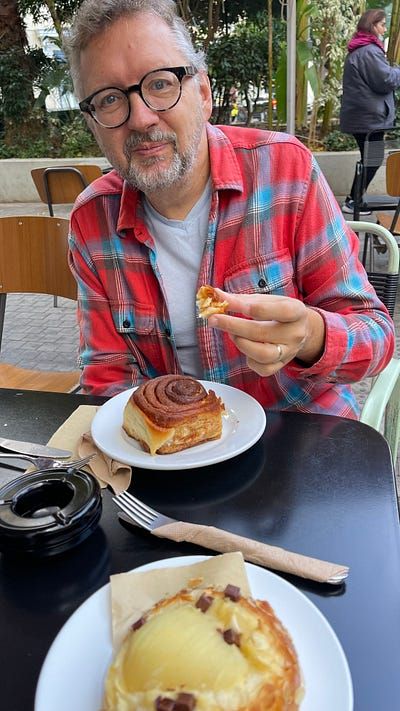 Part of this is that Athens really is a big, cosmopolitan city. Our friend Erik from Lithuania recently described it as "The New York of the Balkans", an expression I'm stealing because it sums it up so well. Hopping off the metro, everything was alive and open. It was warm (almost 18C at 10pm) and everyone was out shopping, eating and just being Athenian and very Greek.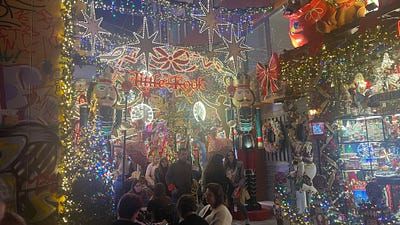 We'd forgotten about the kids running around with their families late at night and the energy of the students here. So many of the places we've visited in the Balkans have lost all their youth to bigger regions with more opportunity, they are all ending up in Athens.
We've spent the last few days here just rediscovering all the things we love. It's not the tourist things (we've not visited a single ruin), it's the cafes, the coffee shops, the asian supermarkets, the central markets and just the ability to find a store that sells anything you need. Or the complete opposite, in Athens a store that sells only one thing — the shops in the back alleys of the central district that just sell different types of packing tape or another that just sells cardboard boxes. If you need it, you can generally find it here.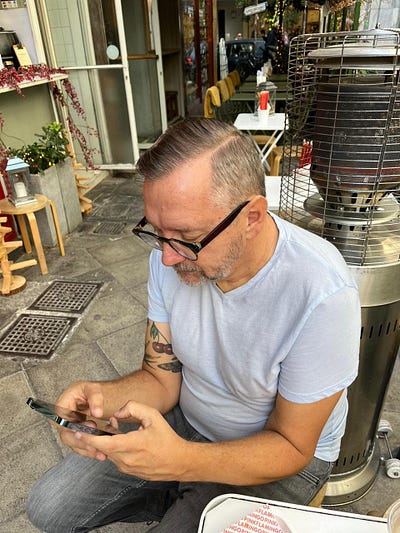 It's also been great catching up with friends. We had coffee with Camille, lunch with Steph, visited Camille's apartment, dinner with Maya and Roy, dinner with Sotiris and Laura and today we'll catch up with Matthew for brunch.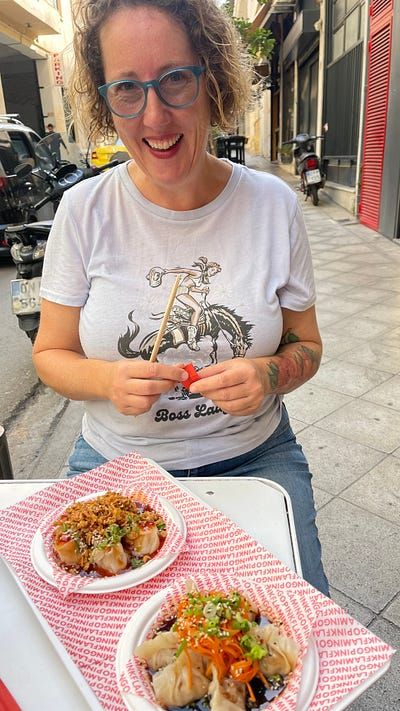 The other pleasure has been finally getting to really enjoy The Nest. We've only been here once before for a couple of nights and we had COVID at that time, so we didn't really get to enjoy it. The plan all along was to build somewhere that we could live if we wanted and now that we've had a longer time here, we know that this is a home base we can return to if we wanted. Athens is very happy place for us to be and The Nest is a really comfortable spot to live.
The Den, the property in Bulgaria also closed this week so we now officially own that too. All in all, a very satisfying week. Monday morning early it's off to Oslo and Norway to catch up with Ella & Inge and to spend Christmas with Inge's family.
Until next time!
Tim & Karina