Week 123 - Xmas in Norway
Holiday adventures in Norway, misplaced baggage, Rada gets some TLC and back to Matilda.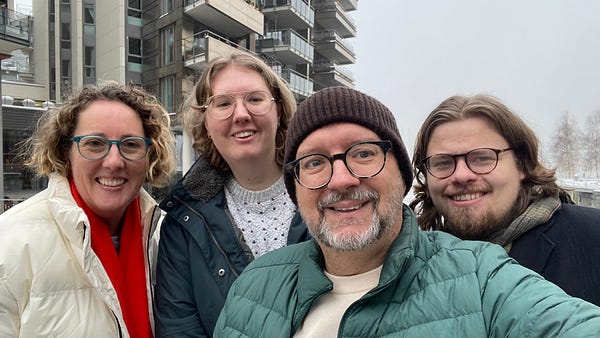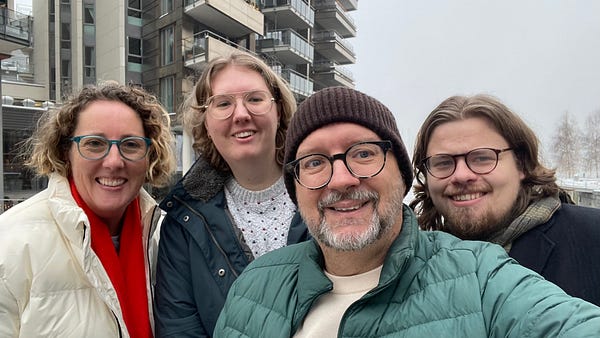 Holiday adventures in Norway, misplaced baggage, Rada gets some TLC and back to Matilda.
Despite some adventures with luggage we had a wonderful time in Norway with Ella, Inge and Inge's family. The whole experience was everything we hoped it might be and more.
Rather than bore everyone with the tale of misplaced luggage, which seems to be an all too familiar problem these days, I've chosen to move most of that rant into a section at the end with some thoughts and lessons. Read it, or skip it as you wish! I'll touch on it only as it's relevant to the story here, just know that that we had three bags with all our winter clothes and Christmas gifts delayed by three days on arrival in Oslo.
Our first impressions of Norway were of a very clean, modern airport that immediately felt Scandinavian. Lots of air and glass, room to move and interesting design. The timing of our landing was excellent too — Ella and Inge arrived on a separate flight from Edinburgh about 30 minutes behind us, so we all met up in the baggage hall and then went to collect the car.
We've been using Keddy, which is the online discount arm of Europcar and we've been really happy with them in the past. This was no exception as we were upgraded into a larger Volvo V60 PHEV (Plug-in Hybrid Electric Vehicle) with AWD which proved very useful given the weather and the roads we were about to experience.
We drove into Oslo during a snow storm (part of the cold weather system disrupting flights, and our luggage, all over Europe) and headed to our Airbnb apartment in the trendy shopping district of Aker Brygge. Without our jackets, it was a cold and chilly 10 minutes getting to the apartment from the car (-6C and snowing), but fortunately we had our winter shoes on, a small blessing as they were too bulky to fit in the bags easily.
Fortunately the apartment was close to H&M and on Tuesday morning we were able to get enough clothes to keep us going and get us out and about to enjoy the sights.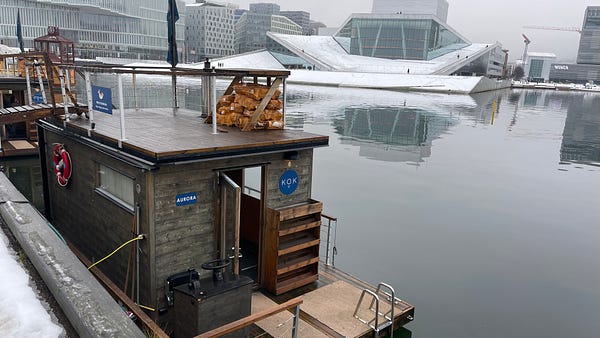 It continued to snow on Tuesday which was a wonderful experience. Snow is still such a rare occurrence for us in our lives that we enjoy it most of the time when we get to see it. It really does feel very properly Christmas'y with the snow falling down.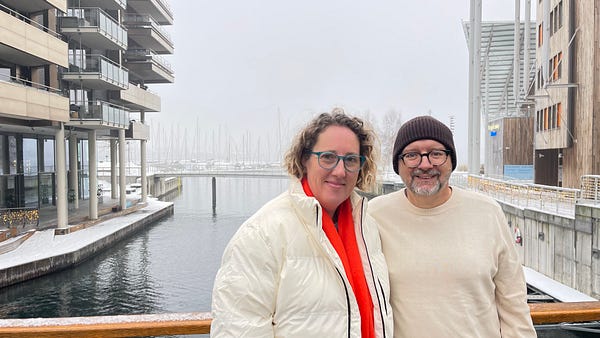 We headed out Frogner Park to visit the Vigeland Sculptures, the world's largest sculpture park and the lifes work of Gustav Vigeland. He created over 200 sculptures of lifelike figures in granite, bronze and wrought iron over 40 years, that were installed in the park between 1940–1949. It was a magical experience walking through the fresh snow, viewing the sculptures and really a big highlight of Oslo. We loved seeing how the snow draped on the sculptures and the frost highlighting the small features.
Other highlights of our time in Oslo were the National Museum (where we enjoyed the mid-century design section and "The Scream" by Munch), another modern sculpture museum which contained a piece by Damien Hirst (a cow cut in half preserved in plastic) and the Resistance Museum at the old Fortress which tracked life in Norway during World War II and the history of the resistance movement here.
As always though, it's the small parts of daily life which caught most of our attention. We are not used to the sheer amount of work that goes into dealing with snow in a place where it happens frequently. As we arrived, there was snow everywhere, but the main paths and roads were already cleared. The next day all the snow had been gathered into large piles and the day after, the crews loaded it all up into trucks and it was taken away. By the fourth day, there was no snow around at all in the shopping district although it was still lying everywhere on any grass.
After a very enjoyable few days and finally reunited with our luggage, a relief as it contained all the Christmas presents, then we headed south to Inge's home village of Kodal, just under two hours south of Oslo.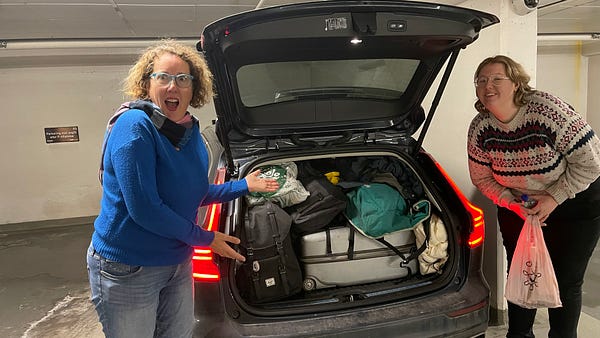 We made good time so decided to stop at Tønsberg to walk along the water there and see the viking ship yard. There's also lots of marinas and town quays which is of course of interest to us, although right now much of the water was covered with ice and there were not many boats around!
Arriving at Inge's parents it was a delight to meet the family. They've all been so caring and welcoming to Ella over the last few years when she hasn't been able to catch up with us due to Covid and we were happy to finally meet them all.
The Christmas traditions are a very strong part of their family Christmas and we were welcomed with open arms to experience it all. We felt very spoilt, every day had a highly planned meal — almost like a unique Christmas meal for five days in a row but we were assured this is normal here! As Inge's brother said when he met us "Welcome to Christmas!"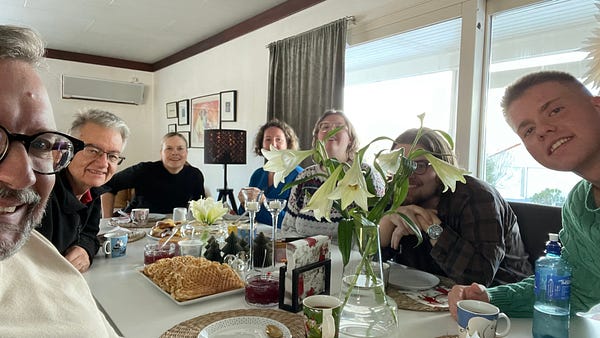 I can't remember the names of every meal we ate, but we enjoyed a meatball soup, lamp ribs (Pinnekjøtt), pickled herring, moose meatballs, sausages and so much more!
In Norway it's the Christmas Eve that's more focussed on the present giving, with Christmas Day a little more like Boxing Day — a chill, relaxed time to enjoy your presents. Karina and Ella decorated the tree, we all danced and sang (well we hummed) traditional Norwegian carols around the tree and then exchanged presents. It was a fun celebration.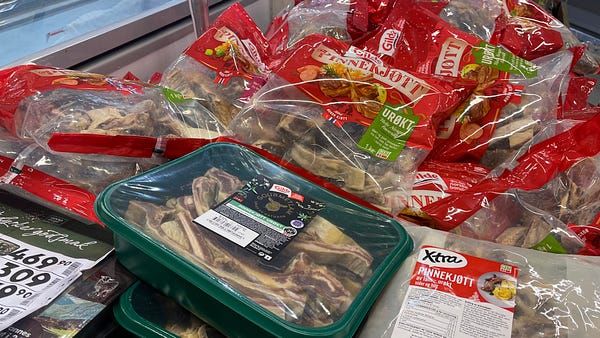 Christmas dinner was especially memorable because as we were all getting to know each other better, chatting about how long we'd been together and so forth, Inge seized the right moment to announce that he and Ella were engaged! They are planning to get married in Summer 2024 in Edinburgh. We're very excited for them both and it was lovely to be able to share the news at the same time with Inge's parents who are equally excited for them.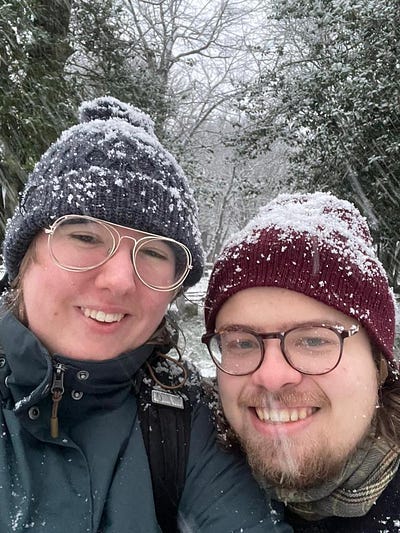 With Christmas and the cold weather we didn't really get out that much, spending most of our time between the cabin we rented and Inge's parents house, but we did go for a drive one afternoon and also got out to see Avatar 2 at the movies in 3D.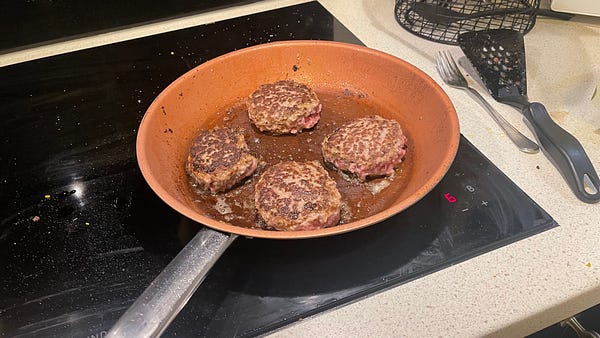 Another highlight for us was the really cold (-18C) day that we experienced — it's the coldest weather that either of us have ever been in and frankly wasn't too bad when we were rugged up (and literally just going between the house, car, house). As always though, the impact of snow and ice was a steep learning curve!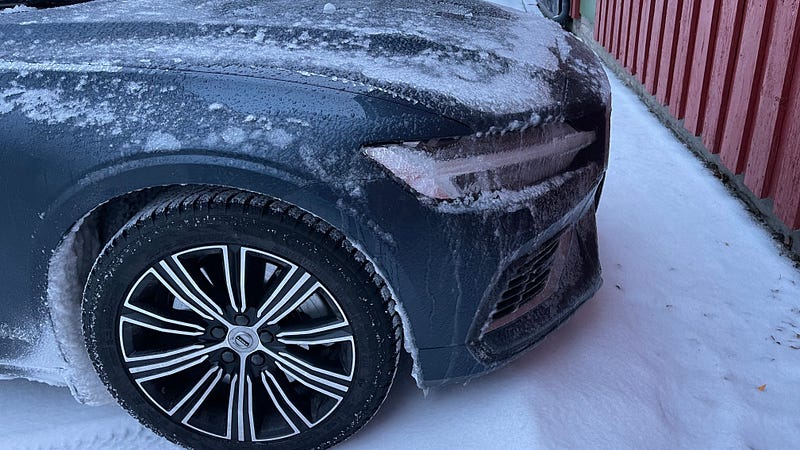 We pride ourselves on always being punctual, but this was a real failure on our part as we constantly underestimated the amount of time taken to travel in the conditions. It takes several minutes to get your gear on, then you have to clean the snow (or chip the ice) off the car, start the car and wait for it to defrost, then drive slower than normal to where you're going, then when you're there take all your clothes off again once you're inside. Oh, and then realise you left something in the car, so you have to gear up to go out again!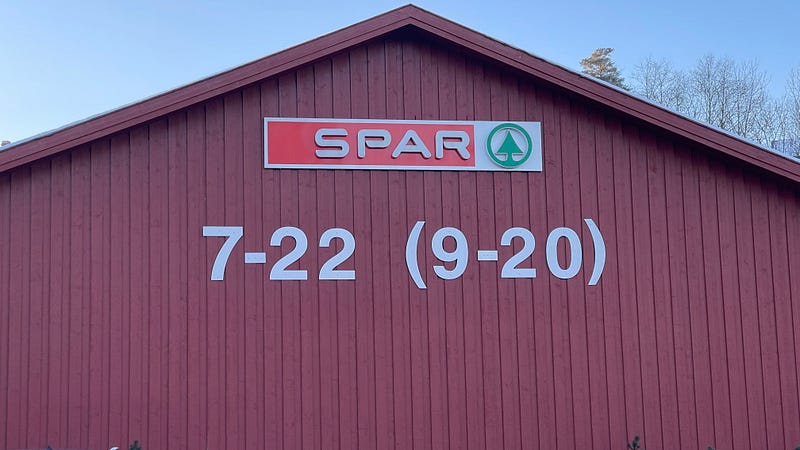 After four wonderful days we headed off early (5AM) back to Oslo Airport and then to Athens where we caught up with Michael for breakfast on Wednesday (and exchanged lost luggage stories) before heading back to Porto Montenegro on Wednesday afteroon.
We landed in Podgorica and rushed to collect Rada (the Lada) before the mechanic closed, fortunately making it with about 15 minutes to spare. There was a substantial amount of work done while we were away — all the bearings throughout the drive train, all the bushings, boots, suspension rubbers etc. replaced. Oil and transmission oil replaced a general service, rear windscreen wiper repaired, leaking petrol tank diagnosed (but not repaired yet). All of this — €335 euros! It's crazy how cheap somethings can be here (I'd already bought most of the parts, but still, it's amazing).
There'll be one more visit to the mechanic after things re-open on the 10th of Jan after holidays to replace the bearings in the rear differential and repair the leaking fuel tank and then Rada the Lada is in great condition for cruising and exploring the Balkans (we can use her now OK, but this will just finish things off nicely).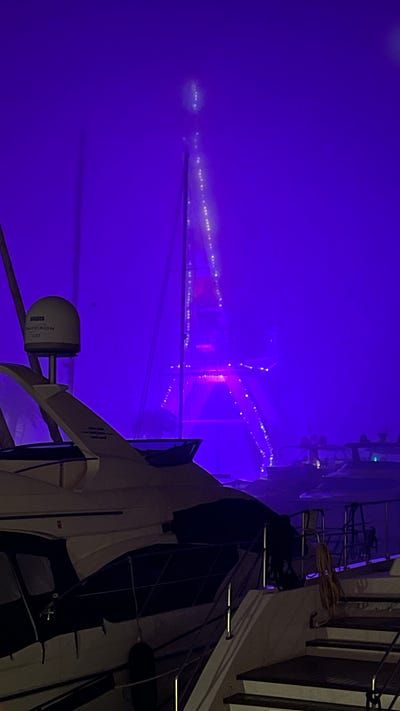 Returning to Porto Montenegro through the heavy fog, we collected Rosie who had clearly had a wonderful time staying with Colin, Nat, & Lucy. She more or less wagged her tail at us and then settled back down, a good sign she was feeling very comfortable.
The Thursday after we arrived was spent running back and forward to Tivat airport to collect our missing bag from a flight that kept getting further delayed (the bag ended up going Oslo — Zurich — Athens — Belgrade — Tivat). We also had to get some shopping in and make sure we're stocked up with food etc. as the holidays here are a serious business — three days off for New Years, then two days and then Orthodox Christmas and more holidays.
Friday I spent a few hours replacing the water pump that was on its way out with the new one I purchased in Athens. This went smoothly enough and it worked OK on Friday evening but when we woke up on Thursday morning it started playing up. After running around panicking that I'd installed it incorrectly we figured out that we'd actually run out of water and emptied the tanks again! A quick top off and everything is working fine. Don't worry though, I think there's something wrong in the system somewhere, it's not all suddenly perfect — we're getting less water out of the tanks than we think we should, so there's got to be some issue to fix later there. Plenty to keep me busy!
Saturday we spent running some last errands and relaxing — I've been enjoying a new game I purchased with my Christmas money and Karina's been making the most of the newly purchased VPN to catch up on shows in the UK and Australia that we can't access here. After the negative temperatures in Norway, it was fun being back in 17C and sunny, walking around in T-Shirts enjoying the fresh air.
And that's it! 2022 has come to close and we're ready now for a big 2023.
The luggage saga
Feel free to skip this section if you're not interested in our baggage woes, I just needed to get a few things off my chest!
There are some fundamental problems with the airline industry at the moment. I'm not going to complain about Lufthansa and then Swiss losing our bags, EVERYONE is losing bags — really what I want to talk about is the process for recovering them.
While there were clearly weather issues when we flew out, it seems that the fundamental problem in most European airports at the moment is staffing. There were times on our flight to Oslo that all you could do is laugh.
We landed an hour late in Frankfurt due to weather, hot footed it to our connecting flight and then were taken down to a bus, only to sit and wait for 15 minutes. When we finally made it to the plane, the Captain announced that all passengers were now on board but that we would be delayed at least 1 hour and 30 in departing because:
There was no one to load bags on to the plane.
There was no one to deice the plane.
Once some one was found to load the baggage, the baggage hoist broke and that further delayed things before the job could be completed. At this point I wasn't feeling confident our bags were going to make it with us, but I didn't realise just HOW bad Frankfurt airport has become. They moved us to a holding area to free the gate where we were further delayed because "we can't find anyone to push the plane back".
Arriving in Oslo, a small number of bags came off the plane and then that was it. All three of our bags were missing.
It's been a long time since we've actually travelled with checked bags — it's normally just carry on, but we had Christmas presents (including liquids) and because we were checking one bag anyway we decided to check our carry ons (because Lufthansa asked due to crowding on the flight).
Anyway. Yup, that sucks. But what really sucks is the recovery process!
I've always assumed that because of the barcodes plastered all over the luggage tags, the airport would know roughly where the bag was, but that doesn't seem to be the case at all. After queuing for 30+ minutes to report it lost we learnt that a) We should have just filled out the claim on line and b) Other than "in Frankfurt — maybe", no one we could talk to had any clue where the bag was.
So we filled out the online form. This was promising, after 12 hours it was updated to show that two of our bags had been found and were on their way. The courier "tried" to deliver them to us (which involved a request on the delivery instructions to call me, which I never received), failed and so returned them to the airport. I drove out that night to pick them up.
The third bag remained missing, but because they'd marked two of our bags as delivered (to the airport), they shut down the online report form so I could no longer track them. This is what really annoys me!
Lufthansa / SAS / Swiss etc… we get it! Weather happens and sometimes bags get delayed (apparently they are very rarely actually lost, they just don't make a connection). What sucks is that the processes and procedures for reuniting us with our bags are terrible — outsourced to the lowest bidder and screwed up. Everything is horribly manual and everything is prone to error.
The online system doesn't even work properly and doesn't support the use case of one bag delivered and the other failed.
There's NO WAY to report issues — not online or via phone if there is a problem. The only number I found for Lufthansa was an online web support number, they gave me a number for baggage in Frankfurt who eventually connected me to Oslo (who weren't manning the line). We tracked the courier company that supposedly delivered our bags who then gave us an email that actually connected to someone that could make changes to our forms.
Returning to Athens I received a text from Swiss before we even landed to tell me that my bag did NOT make the connection. Great! So they know the bag is not here and they've "touched" it, yet I still have to manually create the online report and they have to match it to the tags. Despite the fact they know where it is, why then wait for the report and 12 hours later to forward it on! Why doesn't the link they sent me automatically match that bag to the report I've now created?
The whole thing is a disaster. We were told that over 15,000 bags were delayed in Frankfurt on the Monday we flow through to Oslo and on Wednesday when we collected two of the bags, we learnt that four flights that day had flown in from Frankfurt with NO BAGS AT ALL.
So what did we learn? I think the lessons / tips we have for others:
Forget trying to talk to a human. Save your time and energy and just report on line if possible (which it is at most European airports). The staff are all outsourced contractors and just create the same form you fill in anyway and until the manual matching happens (by the delayed baggage being delivered to a store room and processed by a person), they can't tell you anything about your bags location more than you can already guess.
Apple Air Tags don't stop things getting lost, but they can help save some time. We don't have them and I've been hesitant on the basis that if it's delayed it's delayed, knowing that in the moment doesn't help. Where it could help is in two ways. One is where someone rocked up and only one of their two bags had been matched. They were there to collect one and the Air Tag showed the other in the same store room unprocessed. It's a small advantage, but in that instance they were able to show the staff, grab the bag, get it matched straight away and leave with both. Given there might literally be 100's of bags in the store rooms, they can help you locate them more quickly there too. The second major way they might help — if you KNOW the bag didn't end up on the plane with you, you'd save 30+ minutes of hanging around waiting for a delivery to the carousel that was never coming.
Never ever check your bags! I hate the trend towards carrying everything inside the cabin and oversized cabin luggage, but frankly I'm much more sympathetic to it now. If you're going anywhere near a major European hub like Frankfurt or Munich, avoid checking luggage if at all possible.
When you're travelling to an extreme climate (like Norway where it's significantly below freezing), keep your essential weather gear with you. The biggest issue we faced was not the fear of getting our luggage back — we expected we would, it would just take time, it was the fact we had NOTHING for the weather we were experiencing when we landed. We were able to buy some things to make it OK, but still, three days with inadequate clothing in that climate wasn't ideal.
Know your rights and keep your receipts! If you can be bothered waiting, the airline will give you an overnight kit — this was very useful and appreciated. You can also claim up to $1,500 in expenses — but these might not all be reimbursed, especially if the bag is returned. We've lodged a claim for the things we had to buy at H&M, we'll see how that goes.