Week 129 - A big blow
The storms finally hit big, then got even bigger…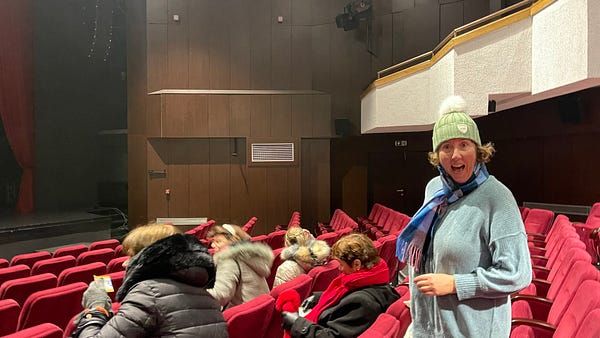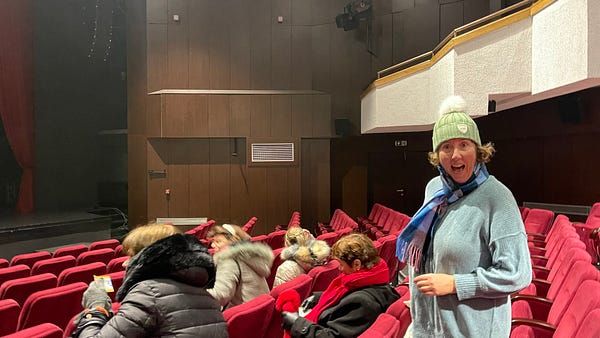 The storms finally hit big, then got even bigger…
That's definitely a week we're pleased to see behind us. After last Saturday night and the drama of the storms, we were hopeful things would ease up on Sunday evening. But unfortunately it wasn't the case. Sunday night things got worse. Frankly it was fairly terrifying and there was even more issues throughout the marina.
We escaped unscathed but after two very sleepless nights everyone in the marina was exhausted and just ready for the wind to ease and to get some sleep. I think everyone agreed that it was by far the most strongest winds that even our most experienced sailors had come across.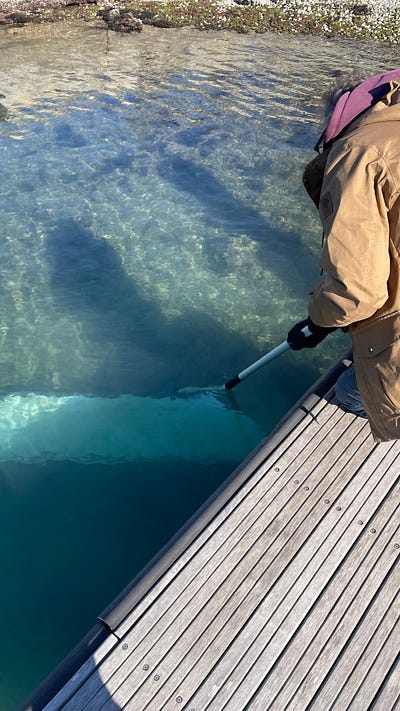 To put the icing on the cake our Webasto diesel heater which keeps the boat warm, decided that this would be the PERFECT time to stop working. And of course, the temperatures plummeted to below zero over night several nights in a row. Nat and Colin lent us their electric oil heater as a backup, so fortunately we're managing to stay on top of things, but it's been a chilly few nights.
Which lead to the Webasto tech coming to visit the boat. It's never a good sign when their first question is "What status lights are flashing?"
To which you answer, "We don't have any" and send a photo of the unit.
"Oh, it's THAT old… hmmm."
Yuri proved to be a very friendly local, with lots of stories to tell and stayed to enjoy a cup of coffee with us after verifying the issue with the heater. Now he's gone off to research it further and will come up with a plan on how to service it soon. In the meantime, we're busy watching the dial on the electric meter spinning madly now the electric heater is running full time!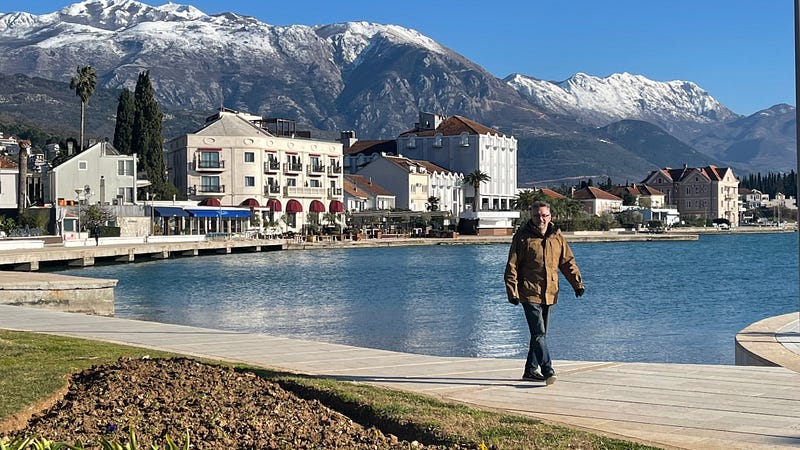 The winds did finally ease a little on Monday afternoon, but ease is a very relative term. They continued to bash the marina for another two days making it miserable to be outside and keeping the marina staff on their toes chasing problems. We heard that the marina's Operations Manager has taken taken up smoking due to the stress of the storms.
Trivial things, like black water pump outs, were pushed off and delayed. By the time we were able to get ours pumped on Thursday, to add to everything else there was a distinct odour inside Matilda too.
And then, like nothing had happened, the wind finished and it was back to the typical sunny days with glassy calm waters inside the marina. Suddenly all the boats which had been battened down were full of activity as maintenance teams reappeared to start the tidy up.
The technical team from Navar came by to pay us a visit and measure up a new bracket for the passarelle. We pulled the rear cabin apart working out how to access the inside of the hull which has some impact on the eventual design. We'll be getting essentially the same design, but a much stronger stainless steel bracket which will be bolted through the hull.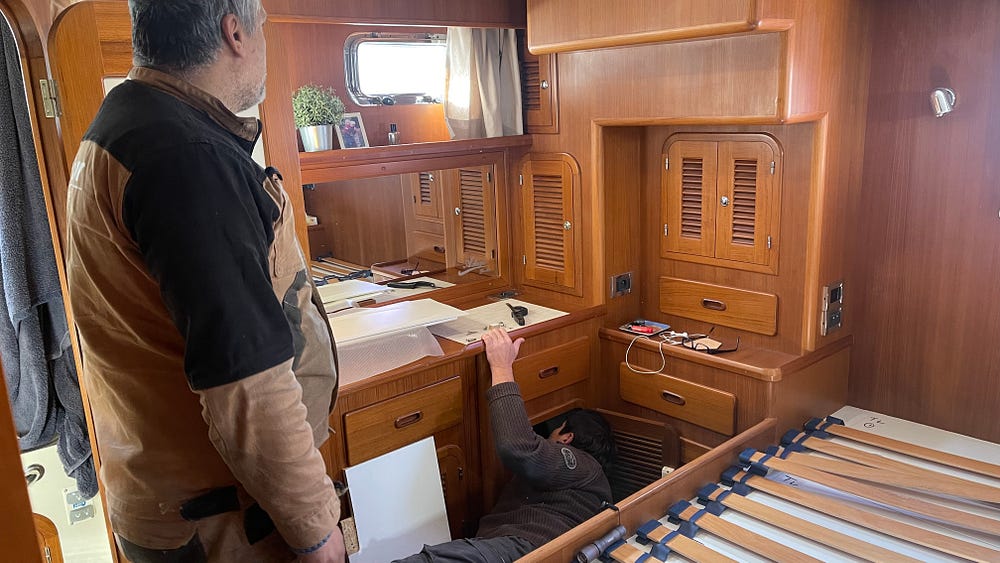 Of course the boat was filthy, inside and out after days hunkering down on the inside and covered with salt from the winds and spray on the outside. Once the weather heated up a little we did a full top to bottom wash of Matilda, including getting into the bilges which were overdue a scrub. A fairly disgusting task to be honest and one that's not quite complete.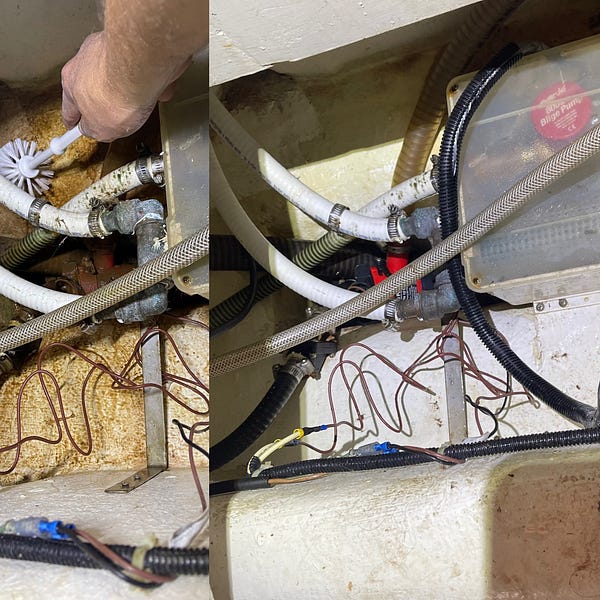 On Wednesday night we went to the local cultural center. Karina has been researching where to see movies here and it turns out that they run latest release ones the first few days of each month. We had no idea what to expect (we vaguely thought we might get a hall with folding chairs and no heating), but we actually found a very comfortable old theatre style hall with good sound and large screen. The locals all knew what's up — they hit the local supermarket and brought in drinks and chips which they loudly consumed during the movie. In a small country like Montenegro, there's no budget to dub the film to the local language, so everything is in the original language, with Montenegrin subtitles. One fun thing was that there was no trailers at all — it started exactly on time at 7PM and went straight into the film.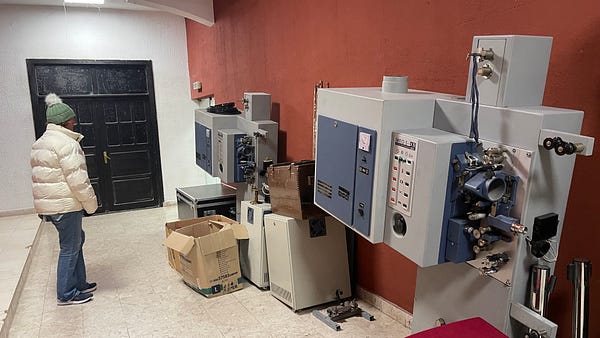 Another interesting bit of local culture is flower giving. We wanted to gift someone flowers when we went to their boat and Karina asked for 10 tulips. The florist looked at her and asked "Is this for a local, or a foreigner?"
"An American" said Karina.
"That's OK then."
In Montenegrin culture it's bad luck to give an even number of flowers, so she wanted to make sure we weren't going to offend anyone. We ended up getting 11, no point in breaking with local tradition.
The women at the marina get together each Thursday for a Ladies Lunch, and Karina has enjoyed getting to know people better, like Catherine and Karon, photo below. Of course it's a small world and Karon is Mother in Law to an ex-colleague called Matt, who we know from Karina's work life back in the early 2000s. Matt and his wife Jo are visiting Port Montenegro this year, and we hope to see them again after 20 years.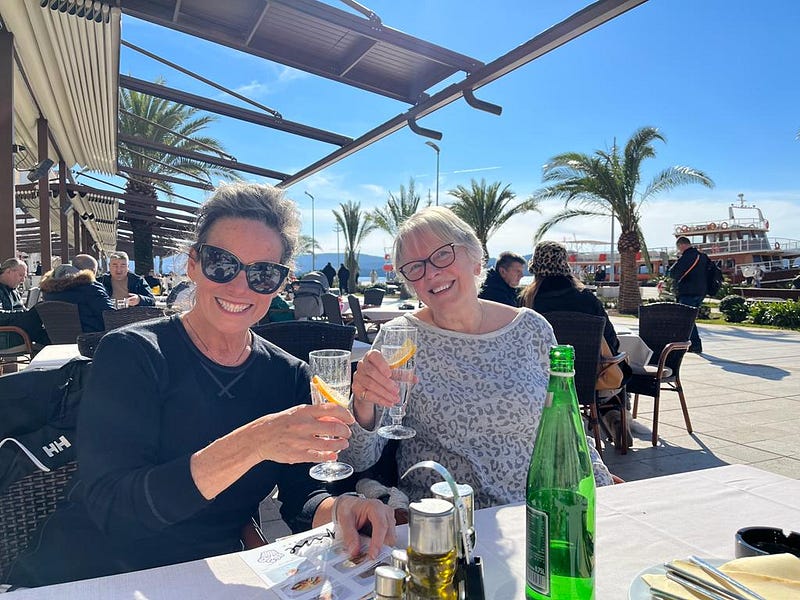 We shared coffee with a few people during the week, but in general we were less active. Like everyone we just wanted to stay in, stay warm and recover after the winds. Friday night however, it was party time!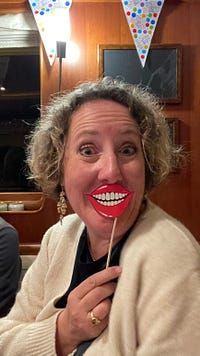 It was Colin's 55th birthday and Nat organised a party with a group of about 10 of us on board Saved By Grace. I think we were all ready to rejoin civilisation and let our hair down. The drinks, the food and the company were a great success. Nat had also organised party games, something we were all a bit unsure of at first, but turned out to be an absolute hoot. I don't think we've laughed so much in years! Even now, our voices are still recovering.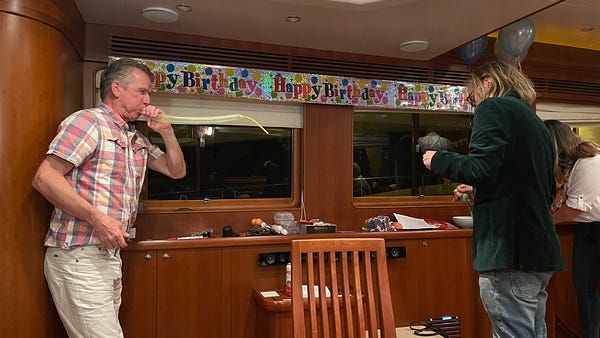 Teams for the games were randomly assigned, but Karina and I ended up together which was probably a bit of an advantage — I'm also not drinking at the moment so I was also the only sober person, another significant advantage when you're doing competitive lego building or picking up M&Ms with a straw! Still, it was a lot of fun winning together and the party was a big success.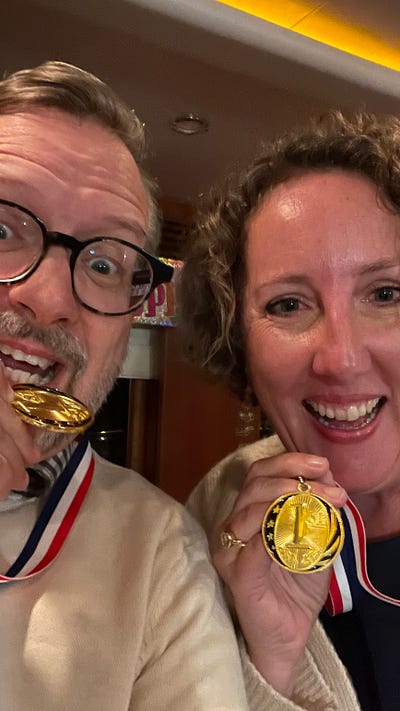 Luckily the winds didn't have any impact on Podgorica and the mechanic was able to finish the work on Rada, ready for me to head up there today to pick her up. With the latest round of fixes (3+ days of work and parts for the grand total of €160!!!) Rada the Lada is driving better than ever and we're now ready to head off on an adventure.
To that end, Karina spent Saturday while I was away collecting the car booking Airbnb's and we'll be heading off Monday on a big road trip. We're heading north west through the mountains of Montenegro to Bosnia and Herzegovina where we'll visit Mostar and Sarajevo, then it's back down to Croatia to Split and back along the coast to Dubrovnik then home again over about 10 days.
Before then it's our turn to host the quiz night Sunday evening, breakfast with Iain and Kate from Intrepid Bear and Peter on Sunday morning and coffee with John and Deborrah on Sunday afternoon. And of course, lots of wonderful, calm, windless days ahead!
Until next time,
Tim & Karina