Week 131 - Chasing waterfalls
It's a lovely place to grow cabbages and to go chasing waterfalls… travelling through Croatia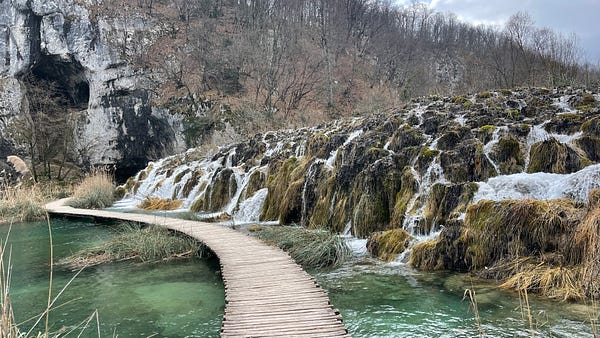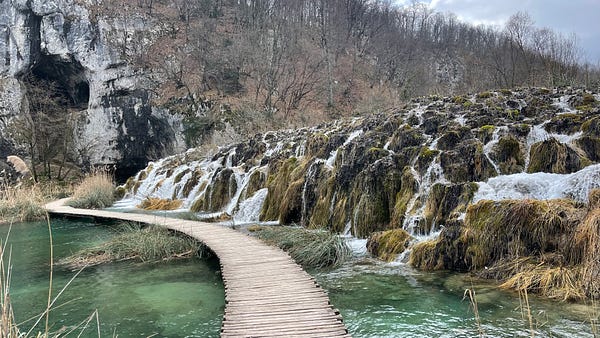 It's a lovely place to grow cabbages and to go chasing waterfalls… travelling through Croatia
One of the lessons this week has been just how cultural travel really is. And I don't mean the culture you're exposed to. The destinations and places you choose to travel to are also driven by culture.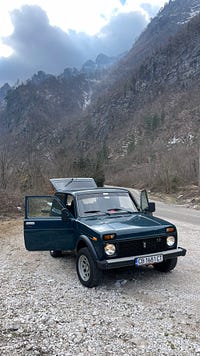 We realised this as we drove up the Dalmatian coast of Croatia when there was an abundance of "Auto Camps" — sites for campervans and the signs were all in Croatian and German. Croatia may have exploded as a destination for English speakers in the last 10 years or so, but it's been a popular destination amongst Germans for much longer than that.
Which makes a lot of sense when you look at Google Maps. The driving distance from Munich to Zadar is only 750km on great roads, or a bit over 8 hours driving time. It's the distance from Melbourne to Adelaide or a bit less than San Francisco to Las Vegas. Why wouldn't you pop down to the Dalmatian coast for crystal clear waters, islands and the Mediterranean for a summer holiday?
It shows in the second language that locals speak too. While more and more locals (especially younger ones) speak English, older locals often have German as their second language, especially in more rural locations. On several occasions I've been told prices in German or when trying to communicate in English been asked "Sprechen zie Deutsch?"
The drive from Sarajevo to Split was fairly straightforward. Up into the snow and mountains, past the ski resorts where we could see people coming down the slopes, then back down the other side again into Croatia where the border crossing to enter was a LOT longer than we're used to. I suspect in part because they are still getting used to their new Schengen processes, and perhaps these are also a bit stricter than what used to happen.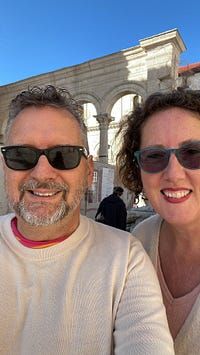 Split was a wonderful city and definitely one I recommend if you come to Croatia. We love places that are unique and Split, while it has a lot of similarities to other Venetian era cities, also has its own vibe going on that makes it special. The biggest contributor to this is the Diocletian Palace, which at first glance is just "yet another" densely packed medieval style old town, but when you scratch the surface is a lot more interesting than that.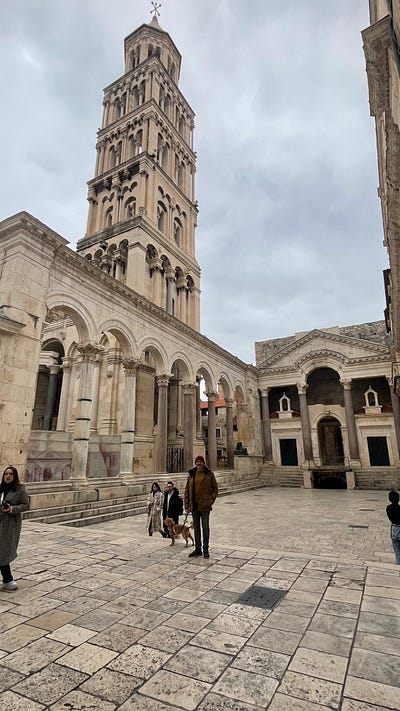 As a rule of thumb, the UNESCO World Heritage list is a pretty good way to work out where to go, we've not been let down yet by one, especially when you do the research on WHY it's been inscribed to the list. What makes Split unique is that the core of the old town inside the walls is actually the remnants of an old Roman palace, built by Diocletian for his retirement in 305AD where he retreated to live out the last of his life and grow cabbages.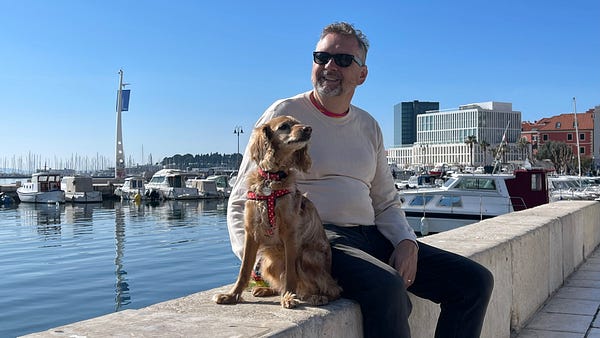 He was so into his cabbages that when asked if he would consider returning to govern the empire replied "If you could show the cabbage that I planted with my own hands to your emperor, he definitely wouldn't dare suggest that I replace the peace and happiness of this place with the storms of a never-satisfied greed."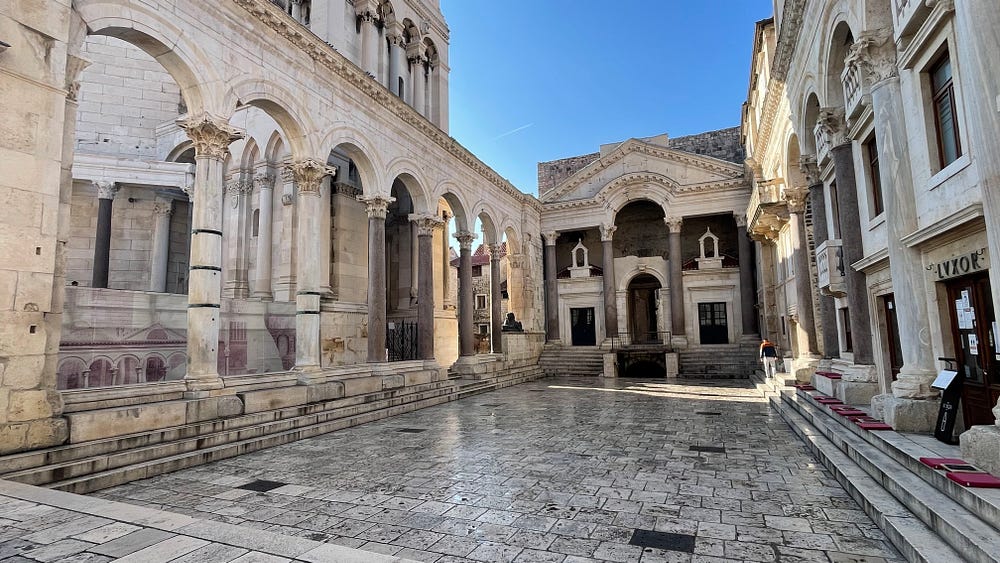 By the 7C, the palace was mostly abandoned, but when the nearby city of Solana was sacked by the Slavs, the people retreated inside the palace city walls to settle there instead. It was developed extensively over the medieval period and while a lot of the spaces (previous parade grounds for example) were filled in with buildings, the core of the palace and it's foundations remained intact although they were turned to other purposes.
By World War II, the palace was virtually lost under the buildings that had spread up around it, but after Split was bombed by the allies the decision was made to tear down a lot of the structures on the outside of the city walls and restore the walls of the palace.
It's a beautiful place to visit and definitely one that rewards a visit in winter time. We find in large cities like this that the only things that are really shut are tourist traps we'd never want to visit anyway, so there's no real disadvantage in terms of access and of course the crowds are greatly reduced. Some bottle neck parts of the city you can walk through in 1 minute with no people take up to 10 minutes in summer with the crowds coming in off the cruise ships.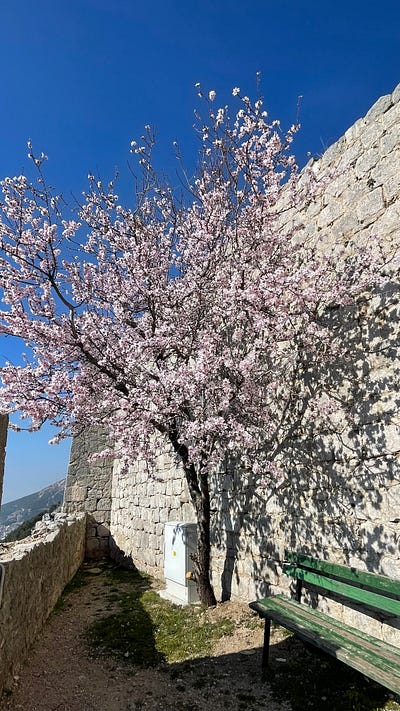 We headed up to the Klis Fortress which has dominated the region for over 2,000 years and been crucial in protecting Split and its interests. It's regained new appreciation as it featured heavily in the Game of Thrones series as the city of Meereen. I'm mixed on the "Game of Thronification" that's occurred throughout Croatia. While I do have an interest in seeing how somewhere like Klis was used in the series and matching what I remember of scenes to locations in the castle, I don't love the paper maché dragons, the endless GoT branded posters and the museums where you can "sit on the original iron throne".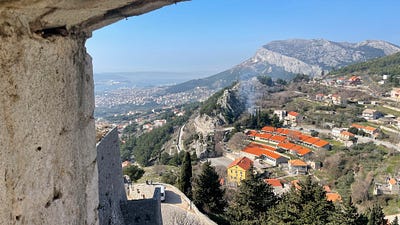 One fun thing about sharing images of the journey during the week has been the suggestion on places to see and things to do. It was suggested that we visit Trogir which we also really enjoyed. It's another small medieval town — a bit more intimate than Split and definitely worth a visit and a walk around.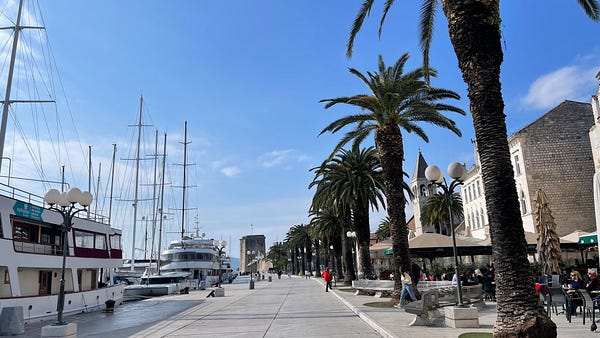 After this, our original plan was to head south back to Montenegro, but we were having so much fun (and Rada the Lada was behaving) so we decided instead to head north to Zadar. The accommodation in Split wasn't amazing, it was a bit dark and cold, so we decided to spoil ourselves at a resort in Zadar for a couple of days.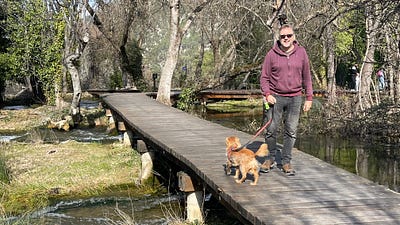 On the way north we stopped at Krka National Park to visit the waterfalls there. They are stunning with an amazing wooden boardwalk that takes you over the waters surrounding the falls. What's also interesting about Krka is it has an industrial heritage too, now mostly in ruins as they restore it to a more natural park, but one of the earliest hydro electric plants was built here, in fact it was the second one in the world to operate starting only three days after Niagara Falls opened.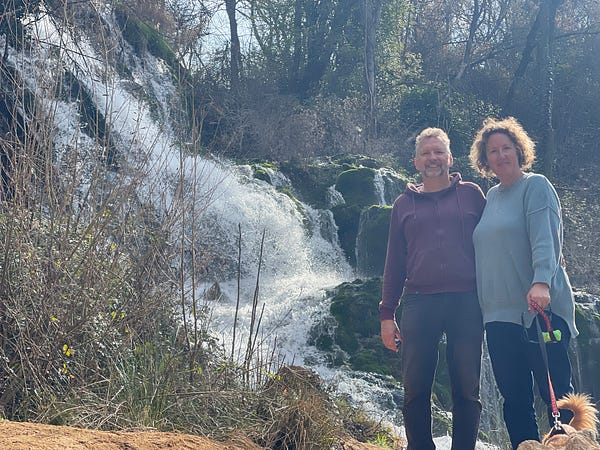 The resort we booked in Split was well worth it. You definitely get what you pay for! It was very comfortable and we literally collapsed and just enjoyed hanging out for a nice 24 hour break.
Having made Zadar and rested up, Plitvice lakes was tantalisingly close — another UNESCO World Heritage site and even more spectacular falls than Krka! So after vacillating on it for a day, we decided to go for it and boy, are we glad that we did.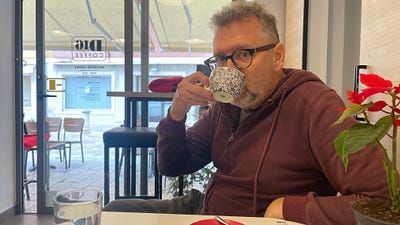 Plitvice lakes is an amazing site to see and the tour of it is very well set up. For the "lower falls" area (the more popular) you catch a scenic bus along one side of the middle lake, a boat ride back on the lake and then a boardwalk around the main falls. It's a lovely loop and a great way to experience it. During summer you have to pre-book tickets as they only allow 500 visitors an hour, but in winter we had no problems just rocking up and buying tickets on the spot. In summer it can take 3–4 hours to complete the loop, but we did it very comfortably in 2.5 without rushing — again, no crowds!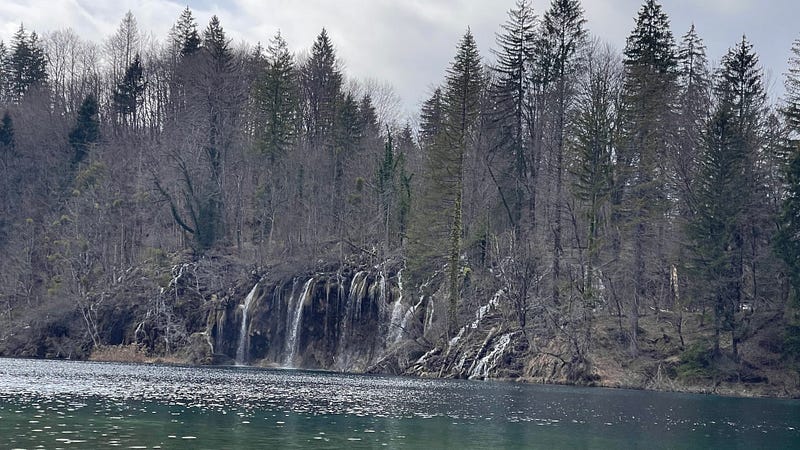 We weren't able to explore the Upper Lakes area as this is closed during winter, but the Lower Lakes are spectacular and well worth seeing. If you had to choose between Krka or Plitvice, I think Plitvice gets the edge — it's more natural and more dramatic, but if you can see both, I definitely would, they are different enough to be worthwhile.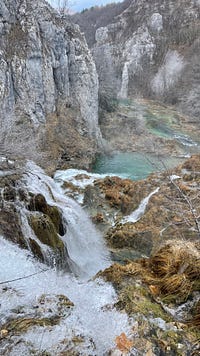 And then it was time to head back to Montenegro! We drove most of Saturday to reach Ploče just near Dubrovnik and we'll head back to Montenegro today. Matilda, our friends and more boat jobs await!
Our overall impressions of Croatia are that it's visually similar to other Balkans countries we've been in, but that economically and socially it's a much more developed country than most others in this region.
The Croatian War of Independence is worth a mention, there's not the same cloying presence of war and unrest that I felt in Sarajevo — while Croatians have their grievances to be sure, the war was shorter here and they overwhelmingly achieved what they wanted. There are of course memorials to the dead and the occasional buildings with mortar scars, but these scarred buildings are now fairly rare. This is a country with money to modernise and move forwards.
Whereas in Bosnia and Herzagovina we felt like there were still a lot of tensions simmering under the surface and as I said, I wouldn't be surprised if it erupted there again at some point, at least in this part of Croatia it just doesn't feel like that's likely at all.
With spring starting to really show itself in terms of the flowers appearing, the weather improving and the sunny days everywhere, we can't wait now for the cruising season to start and to explore the Croatian islands by boat. We don't yet have a specific start date, but we've always said mid-April is when we'll head off, earlier if the weather is good. That's only 7 weeks away!
Until next time,
Tim & Karina