Week 134 - Milan and Bernina Express
Trains, planes and birthdays baby! We explore Milan, mistake a shopping center for the Duomo, Karina has a birthday and we eat more Asian…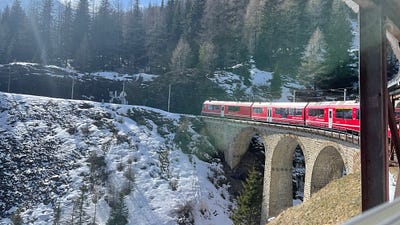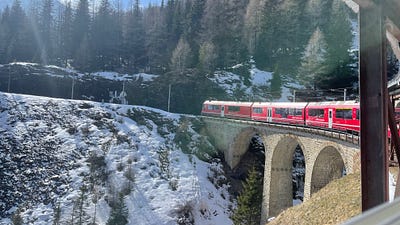 Trains, planes and birthdays baby! We explore Milan, mistake a shopping center for the Duomo, Karina has a birthday and we eat more Asian food than you'd think.
If you've been following for a while you might have realized that Karina and I don't really plan ahead that much. We have a loose set of thoughts on things that we'd like to achieve and a propensity to leap into action when the opportunity arises. When it comes to travel we're a bit like Cat from Red Dwarf "oh, shiny thing!"
Which is why we're here in Chur, Switzerland via Milan.
A couple of weeks back we were on Distraction with Craig and Pandy and they were commenting on how cheap Wizz Air was — roughly €20 from Podgorica to Manchester. That was all it took for us to start thinking about where else we could be going. The marinas great and all, but we're going stir crazy waiting for the weather to improve and there's so much of the world to see!
We'd also been planning ahead to May when Ella and Inge are hopefully coming to visit us on Matilda in Venice. Given they are slightly less enamored with the boating life than us, we were also thinking of things to do on shore. Inge is very interested in public transport and we thought a trip over the Alps by train would be fun. As we researched it though the best one left from close to Milan, a little too far to come from Venice for the day.
As we looked into possible destinations from Podgorica, we saw Milan was one of the available destinations and there you have it. Flights booked, train tickets booked and we're off five days later on an adventure.
But before we get to Wednesday there was plenty more we did too.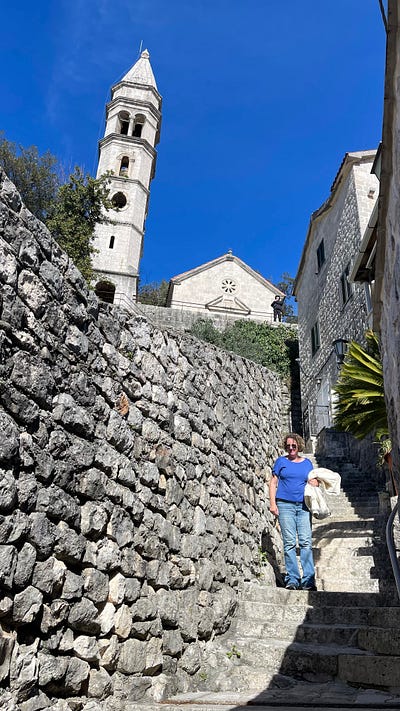 On Sunday we drove over to Perast, a small town opposite the channel between the two bays. We've seen it from the water but not yet made it over there. Given the decision to sell Rada, we decided we should get on with the visiting then!
Perast was surprisingly cute and we enjoyed our walk along the waterfront as well as the waterfalls on the way back home.
Monday we worked on Matilda. We had two jobs we wanted to accomplish. One was sticking down the new velcro for the cushions on the fly bridge. A success! The second was using a heat gun to remove several old decals on Matilda we didn't want anymore — like the boat model which was faded and cracking or the original dealers phone number. That also went smoothly!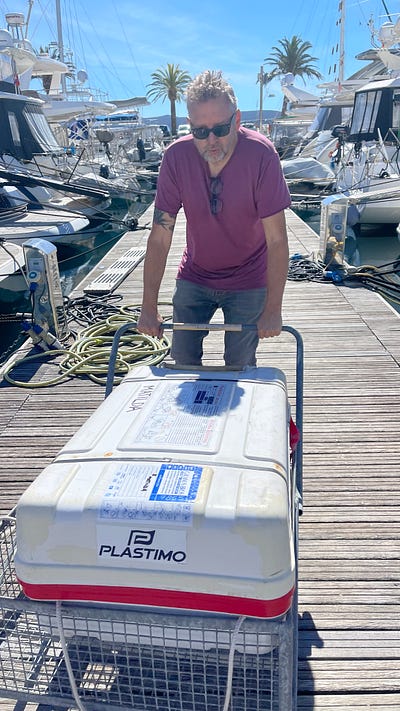 Monday night Karina joined a few friends for drinks and dinner at a restaurant in Budva. While they were off, I collected the guys and we had our own delightful evening in Tivat. From all accounts the ladies chatted about what the men would be up to and predicted it would be mostly about "bloody boats." For the record the men mostly chatted about boats.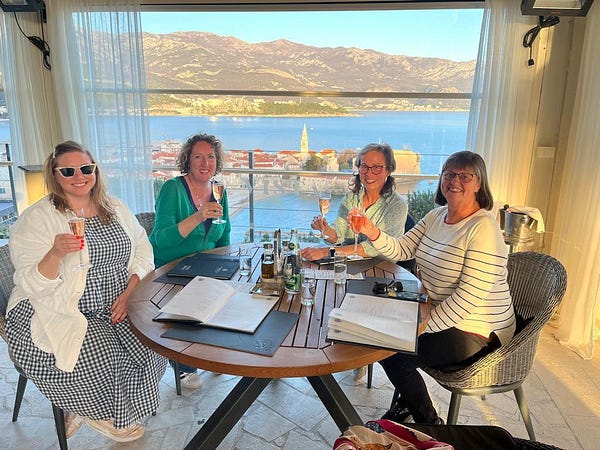 Wednesday we ate left over chocolate cake for breakfast, delivered Rosie to Judith and Phil who are looking after her while we are away and then headed to Podgorica for our flight to Milan. Thankfully for once everything went smoothly and we were in our Airbnb by around 9pm. Dinner time in Italy!
I'm not sure why, but we're finding we do less and less research into a destination now before we arrive. Perhaps it that we travel to so many places nowadays and see a lot. Maybe it's that the cost is so cheap that it doesn't matter if you eke every second out of a day. Which is why we really knew nothing about Milan before we arrived. We'd picked a well priced Airbnb based on a map — not too far from a metro and that was it.
It's a remarkable city and one that I'm sure we will come back to again. It's hopped straight towards the top of our list of the best destinations in Europe.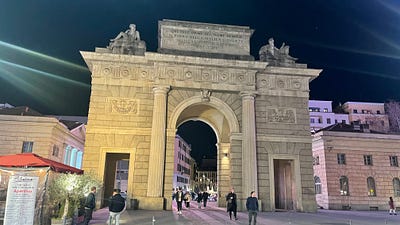 A quick google in the morning on our first night before we set out the next morning and we realized that Leonardo DaVinci had spent 20 years here and that his painting of "The Last Supper" was on a wall of a nunnery near something called the Duomo. Kind of like an original Banksy!
Armed with these essential tourist facts we set off the next day for a delightful morning walk meandering our way through the city streets from Porto Garibaldi where we were based toward the Duomo Piazza.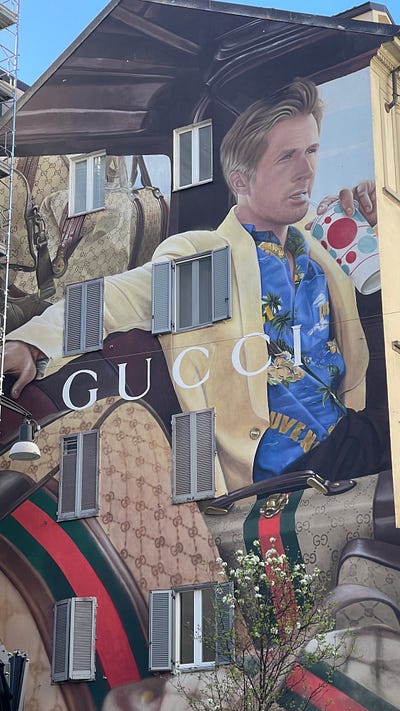 Milan of course is one of the great fashion cities (OK we knew that), but despite our best efforts we were woefully under-dressed. Also sadly slightly over-sized. Everyone on the streets is waif thin and wearing amazing shoes. From barely-out-of-their-teens androgynous models to 70 year old grey haired women with immaculate hairdos rocking a leather jacket, to suave gentlemen with custom leather shoes and bright red socks, the majority of people on the streets look like they've stepped out of a fashion catalogue.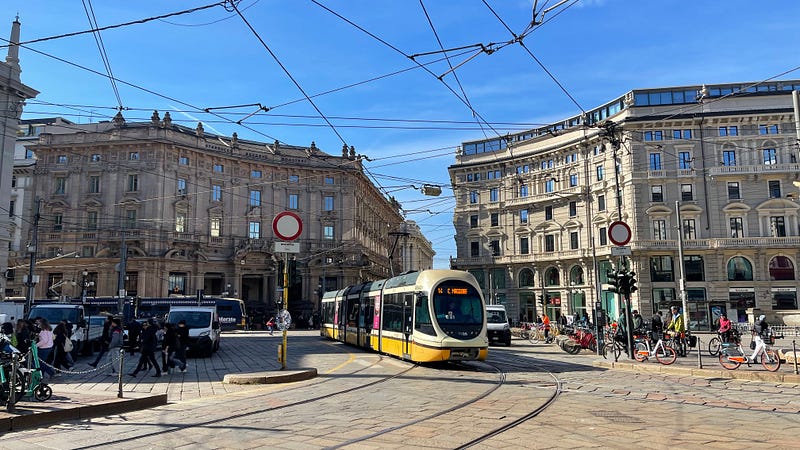 Fortunately we have Matilda to spend all our money on so while we enjoyed window shopping, there was no real temptation to spend money. But oh! The window shopping.
Every second store was photo worthy, clothing carefully displayed with quirky and eye catching props. We felt glamorous just being there.
I think this is one of the things we love about how we travel at the moment. With no real knowledge of what we should do, we can just be. Soak up and absorb the atmosphere and love the moment without worrying about something we "should" be doing. That morning wandering down Corso Garibaldi and past the Quartiere Brera is already one of my favorite memories of traveling together.
It's somewhat embarrassing really, but we knew so little about the Duomo (one of the Top five cathedrals in Europe) that when we turned the corner into a very fancy shopping center I thought we were there. I'd just seen a landmark "Duomo" on Google Maps and with no idea what it was and having entered this amazing building assumed this was it. To be fair, the Galleria Vittorio Emanuele II is iconic and worthy of a visit. If you're familiar with the QVB in Sydney, it's that on steroids. It's also next door to the Duomo.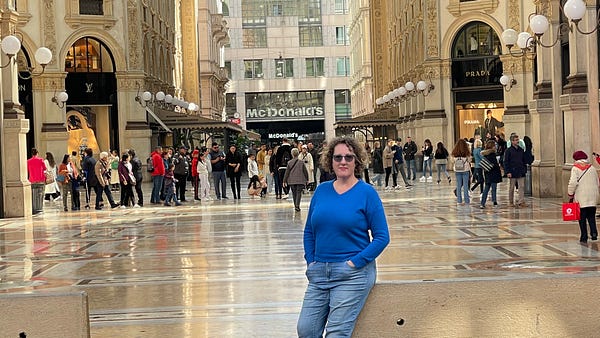 We gawked at the crowds, the window displays, the glass domes, tiled floors and the painted walls as we explored our way through the building. There was a Leonardo museum we popped into for an interesting tour, including a life size, digitally restored display of The Last Supper in a recreation of the nunnery that scratched our itch to see it. A good thing as it turns out as you have to arrange tickets for The Last Supper a long way in advance these days!
Then we spotted it. The Golden Arches gleaming ahead of us. A McDonalds! Something we haven't eaten in more than a year.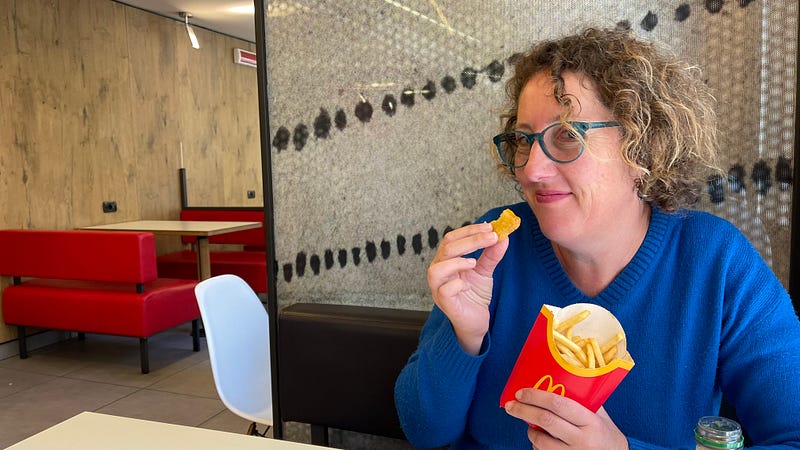 So it was McDonalds for lunch which we both enjoyed and then back into the Galleria to explore the southern end of it which we'd missed.
What an exit! The Duomo is a spectacular cathedral dominating the piazza. It took over six centuries to complete, commencing in 1386 and completed in 1965! Covered in arches and statues, it's a dramatic structure that's one of the must see things when visiting Milan.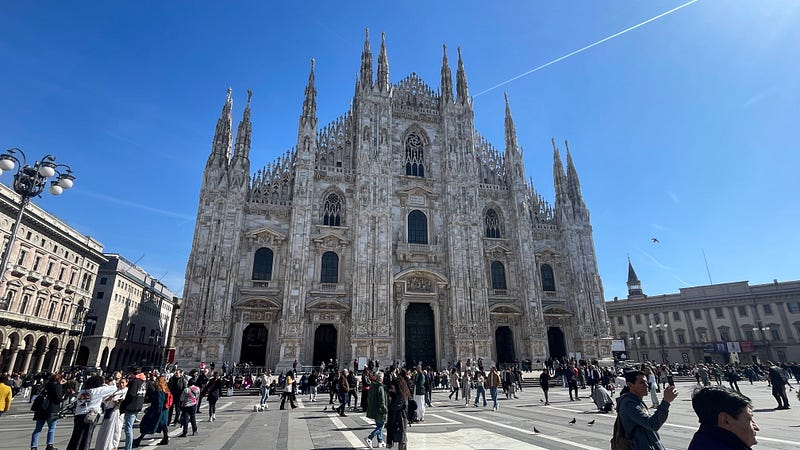 We popped next door to the ticket office, picked up a ticket for the cathedral proper, the roof and the archeological site and in we went.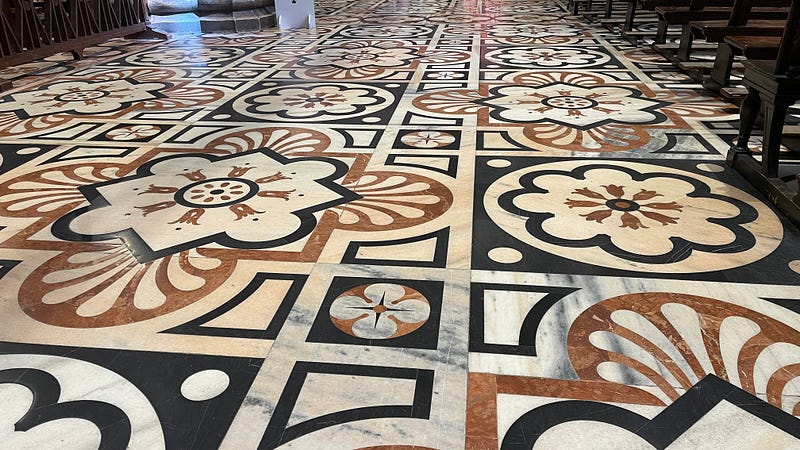 The highlight for me was definitely the roof. While the interior is of course impressive, the unique experience is walking on the roof some 50 or so meters above the city. It's well worth the reward of climbing all the stairs.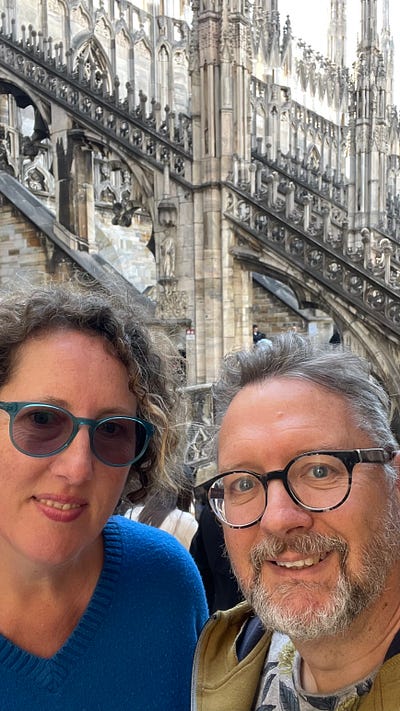 From there we followed our nose up one of the main streets and ended up in front of the Castillo Sforzesco where we enjoyed a well earned gelato in the sun. The Castillo is one of the largest citadel fortifications in Europe and was built in in the 15c on the remnants of an early fortification. It now houses extensive art collections. There's a lovely park at the rear but after all our exploration we decided to head back to the Airbnb for a rest.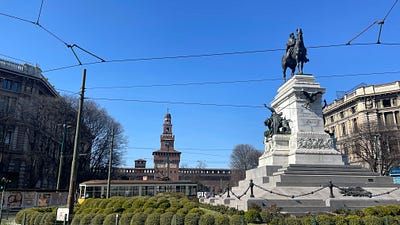 So what do you eat when you're in Milan, Italy? The answer is of course as a tourist — whatever you like! Milan is a real cultural melting pot and has a vast range of cuisine, so we ate really good Chinese food for the first time in years.
If you're Milanese however it has to be sushi or sushi adjacent. We saw countless sushi restaurants, Mexican sushi, Brazilian sushi, poke restaurants. You name it, it felt like in our trendy neighborhood 90% of the places were raw fish related.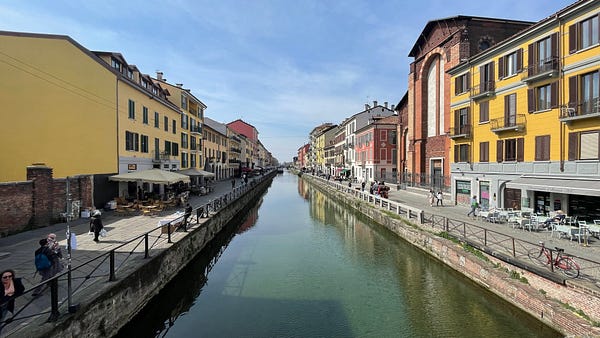 As we'd wandered around we noticed some canals on the map. Never one to miss the opportunity to see some boats and water, we woke up Friday and caught the metro there.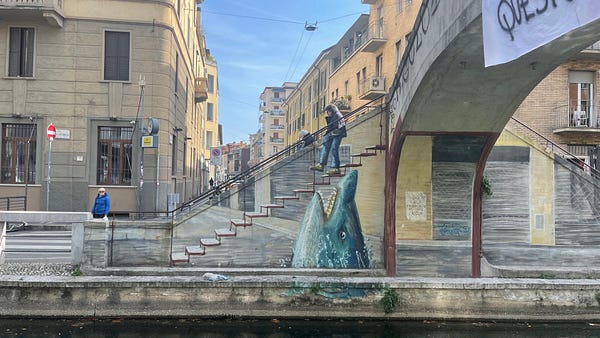 The Navigli area in Milan is a real hipster paradise. Endless bars, cafes and restaurants as well as lots of street art and a grungy urban feel. We felt right at home and enjoyed looking at the markets and shopping.
After reviewing the map, we realized we'd just skirted the corner of the Quartiere Brera, given we enjoyed it so much we headed back to check it out in more detail.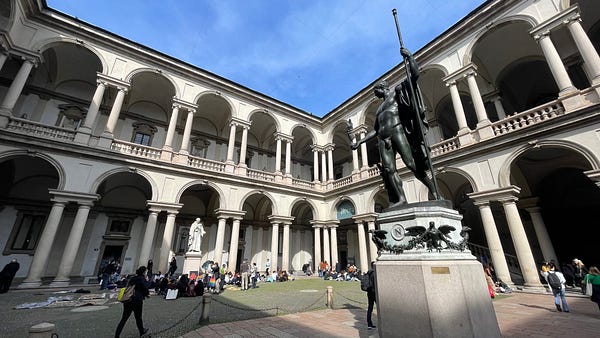 We wandered around, headed into a "Palace" and discovered a botanic garden hidden in the center of the city. Then a brief rest and back to hit the streets.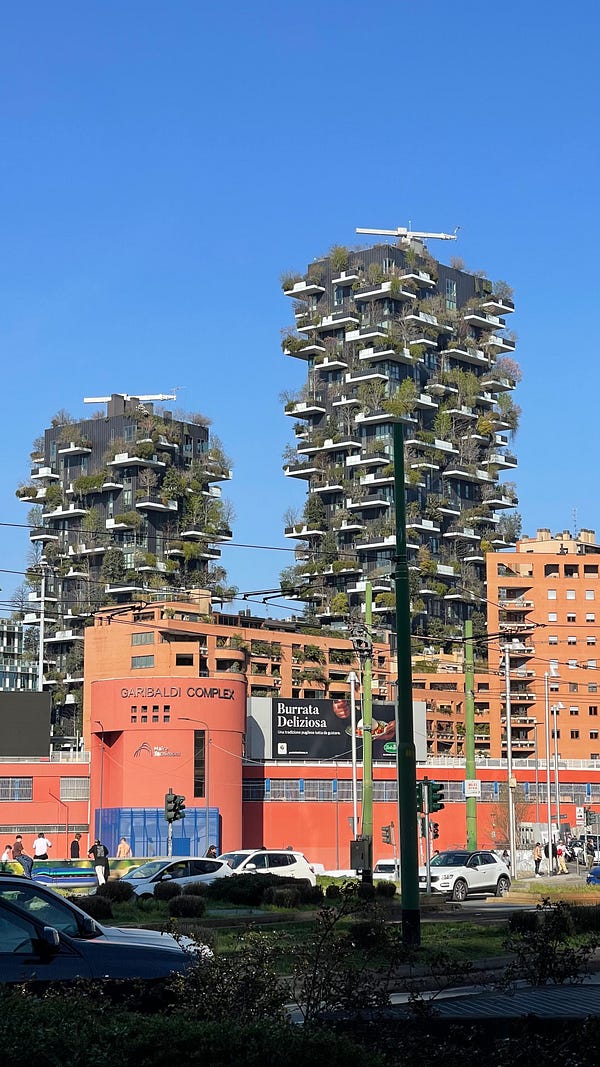 Milan is like an onion, it's got so many nooks and crannies and layers to peel back. There is always more to discover, but we loved what we saw of it and after checking the Top Things To Do, hit most of what we were interested in without over planning too.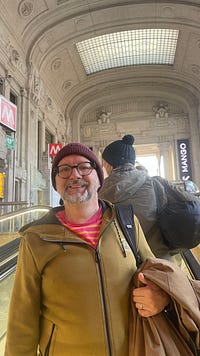 Saturday morning it was Karina's birthday and we were up early to catch the metro to the Central station and from there up the east side of Lake Como and across to Tirano.
This is the reason we really came — to catch the Bernina Express train up through the Swiss Alps to Chur.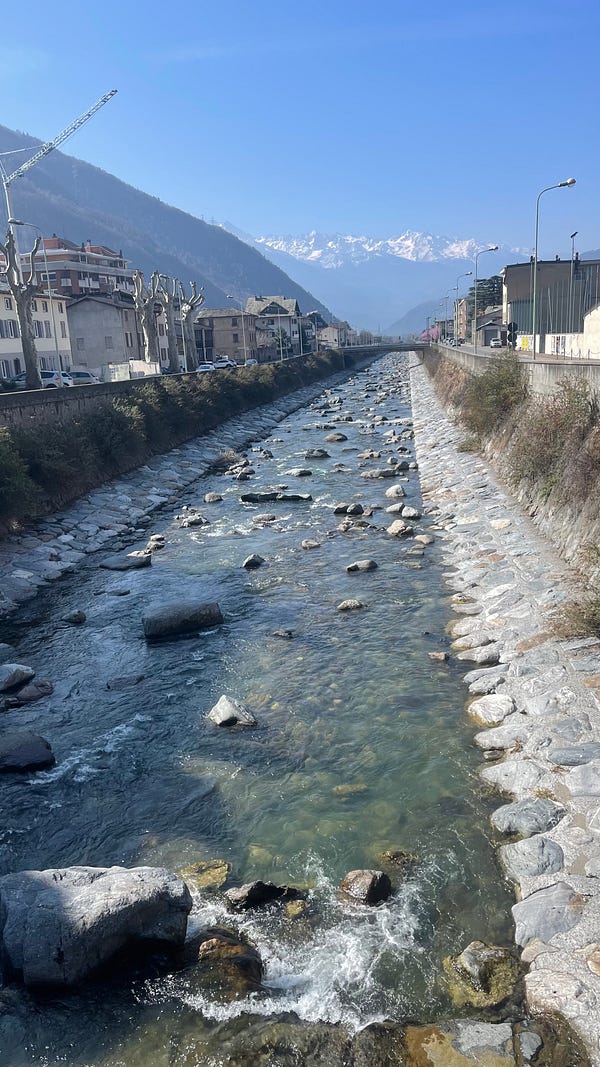 After a pleasant journey to Tirano we took some time to wander through the old town and enjoyed fresh pasta for lunch then because we had flexible tickets, hopped on the next train leaving for St Moritz.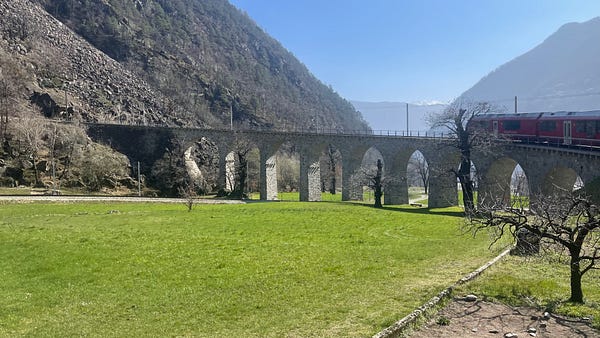 Wow. That's all I can say really. The scenery was stunningly beautiful and we had a fabulous journey up through the alps to arrive in St Moritz. I'll let the pictures do the talking. We had an hour to kill until our connecting train for Chur, so walked up the hill (took the escalators anyway) to see the fancy hotel with all the very expensive cars parked out the front. We gawked at the scenery and then we hustled back on to the train.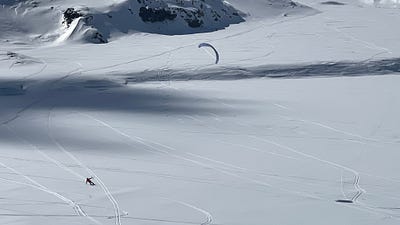 The train line earned UNESCO world heritage status in 2008 and well deserves it. At one point it rises 1,824 meters over 22 kms without exceeding a 7% gradient. It's a marvel of engineering and well worth the trip.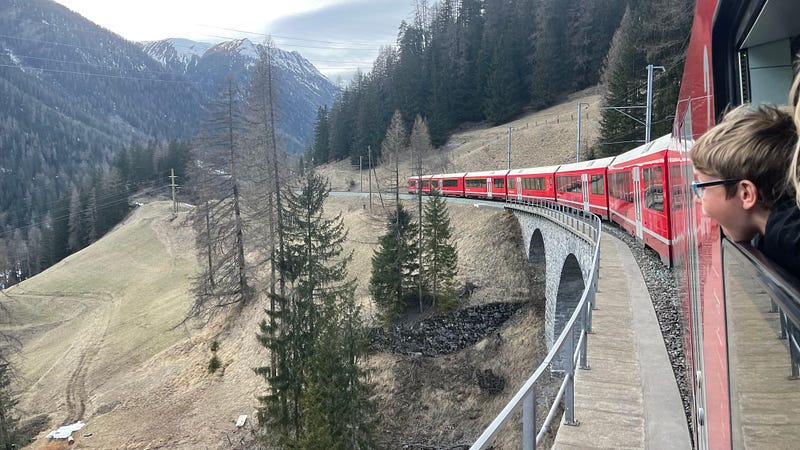 The journey from St Moritz to Chur had some equally impressive portions (although overall the first leg was a bit better) and eventually we landed in Chur where we checked into our hotel.
A dinner out to celebrate Karina's birthday and then today we'll explore Chur, Monday back on the train and off to Lake Como, then back to Montenegro on Wednesday.
Until next time,
Tim & Karina
PS Thanks to those who bought me a coffee! If you'd like to make sure I stay caffeinated, https://buymeacoffee.com/matildatheboat it's always appreciated.