We had visitors!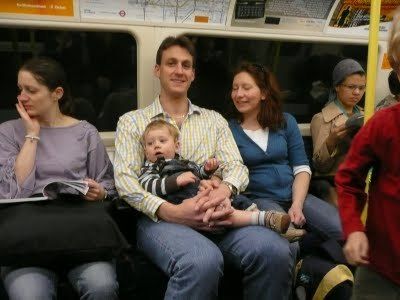 We enjoyed a lovely long weekend with visitors from Ireland; Sophie, Andrew and Alexandre.
On the tube going to Borough MarketsNice to have an excuse to eat out and do fun things, and get a babysitter for a night out without kids! Andrew likes to cook, and Sophie likes to eat nice food so we started with a visit to the Borough Markets in central London. We couldn't keep Sophie from buying everything she saw! It was very busy on a Saturday morning, but the produce was wonderful and enticing.
Ella consuming her edible cup from a smoothieWe then walked along the Thames heading for the London Eye.
Being entertained by the buskerThe weather was beautiful and warm, and we enjoyed a relaxing stroll along the river, stopping at various buskers and the merry-go-round. 
Gotta love a soft serve on a hot day!
When do you get too old for these rides?Sunday was spent in the common near our house, and the Mums went clothes shopping while the Dads stayed at home. Ella and Jasper loved spending time with Alexandre.
A very cute Alexandre