Week 139 - Island hopping in Croatia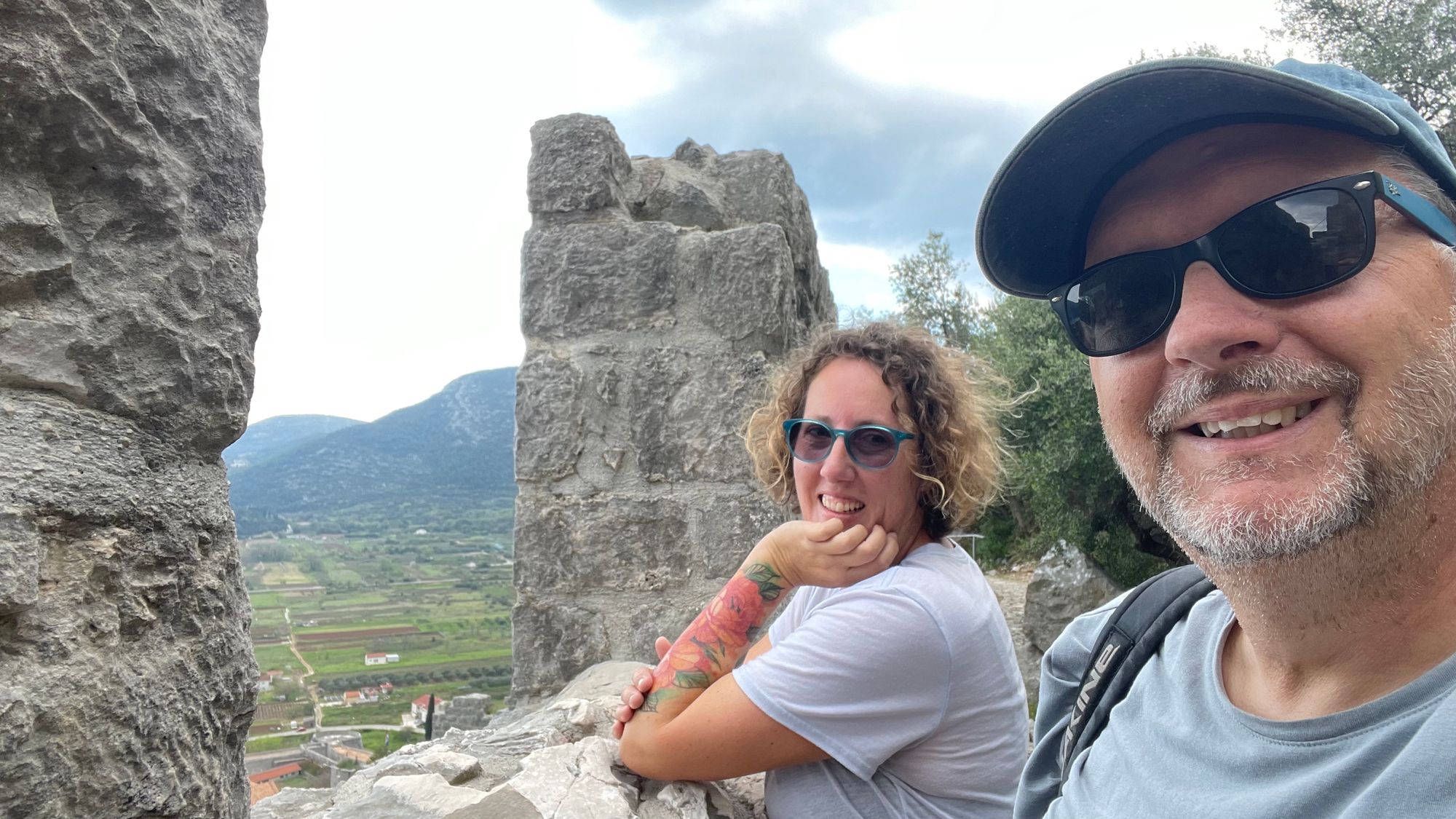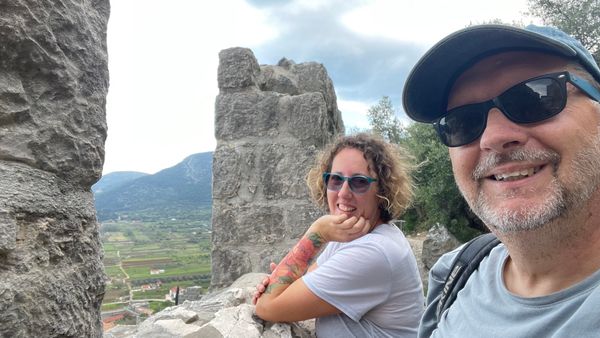 First up! Welcome to the new home for the blog. Things look a bit different and are hopefully better organised. I'll explain more at the end. Just know that the timbull.com domain is temporarily broken (see I can break non boat things too), but by next weekend it should all be back to normal. On with the update...
As promised we made our departure from Porto Montenegro bright and early on Monday morning, but not without a lot of socialising and final, final (temporary until we meet again) farewells on Sunday. Claire & Ollie had arrived back from the UK so we enjoyed dinner with them, Iain & Kate popped by for a final coffee and we had a round of ice creams with Sarah & Peter, Danni & Renan, Eric & Vandy, Ollie & Claire and also Marjolein & Daniel (who we met in Bulgaria a couple of weeks back).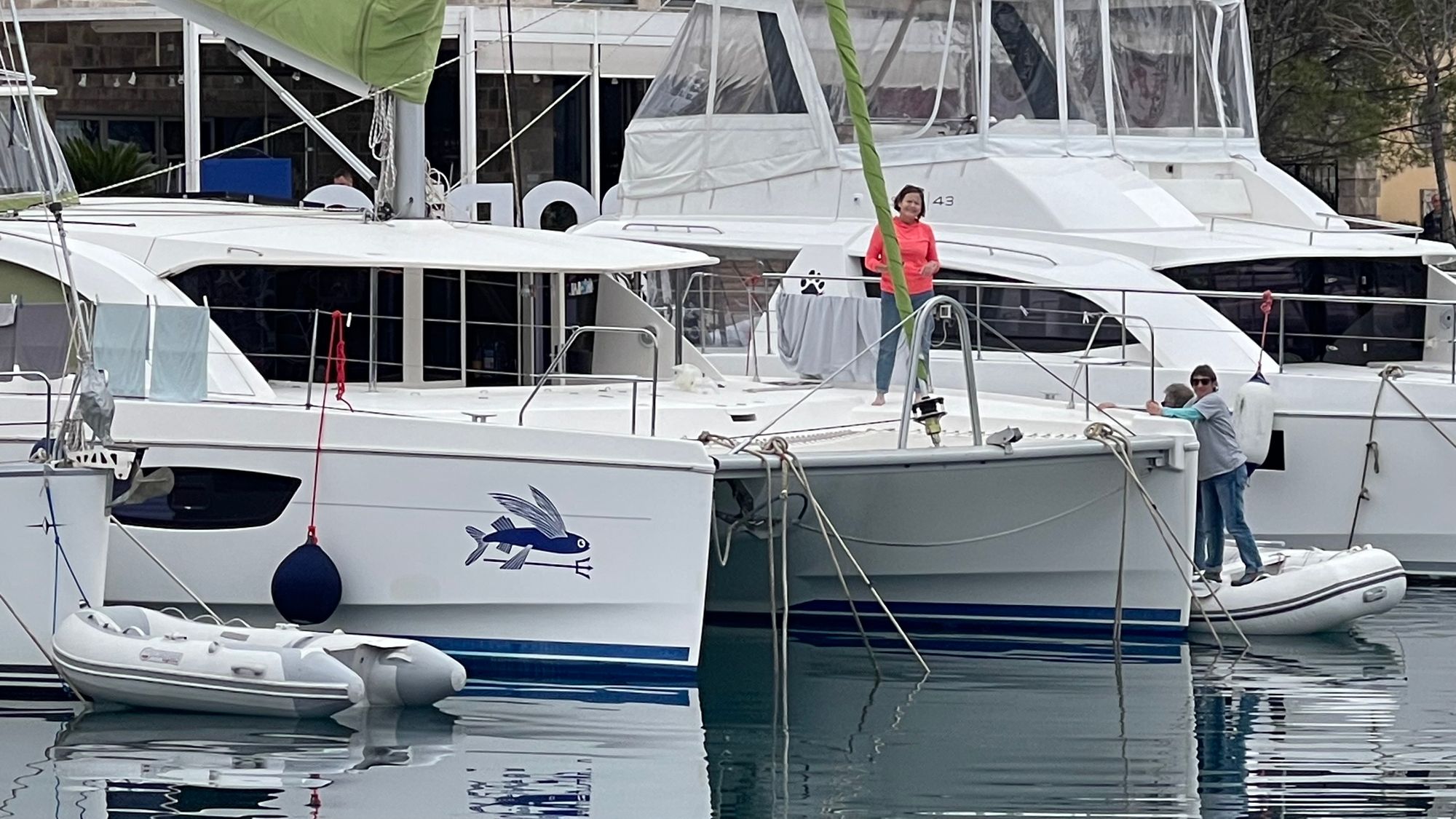 On Monday we woke early, did some last minute prep (mostly remembering where we used to store things - for example, what did we do with the fruit bowl?), and then we headed out from our slip.
Our boat neighbours were all there to wave us goodbye. Sarah & Peter came out on the deck of Flying Fish, Claire & Ollie on Aquila Constellation, Seb & Suzanne on Racoon 2, and Shawn and Lyn on Yaama all stood out on the bow to wave farewell and take some video and photos of us departing. You just know that something was going to go wrong with all these witnesses.
As I told this story to Mum this week, I don't think I've heard her laugh so hard at a boat story yet. As we enter our third season, I guess everyone (including ourselves) is feeling a lot more confident about the adventures we're under taking and Matilda is of course in excellent condition after a winter of maintenance.
So it definitely came as a surprise as we pulled out of the slip that the stern kept twisting to starboard.
"Straighten up!", said Karina, "you're about to hit Bo."
"I am going straight!" I called back.
A generous push with the stern thruster and we drifted out OK but something was definitely not right.
"Are we caught on a rope?" I asked? It definitely felt like one engine wasn't responding properly.
No, we kept moving forward so we weren't hooked on anything obvious.
In the meantime all our friends are standing up on the bows of their boats seeing us weave out of the slip like a drunken sailor. We drifted across the fairway and I tried to turn the boat with the engines. We twisted the wrong way. I tried going straight, we twisted the other way.
"Just go straight!" Karina exclaimed, frustrated and obviously concerned as we were getting close to another boat now.
"I am! Stop telling me to go straight, I'm trying, there's something wrong with the boat, it's not responding. It's like one of the engines is in reverse or something," I yelled back, equally frustrated.
"What if you try it backwards then?"
WTF. That actually worked. We have electric throttles (morse controls) and for the port engine, forward was actually putting it in reverse, while reverse was putting it forward.
Lightbulb moment. One of the last things I'd done was to recalibrate the throttles as they were not lining up properly. It's a simple enough procedure once you find the right manual, pushing a couple of buttons on the Engine Controller to put it into calibration mode, then setting the throttles to various positions and pushing another button to mark their position. Clearly something had gone wrong and the port engine was calibrated backwards.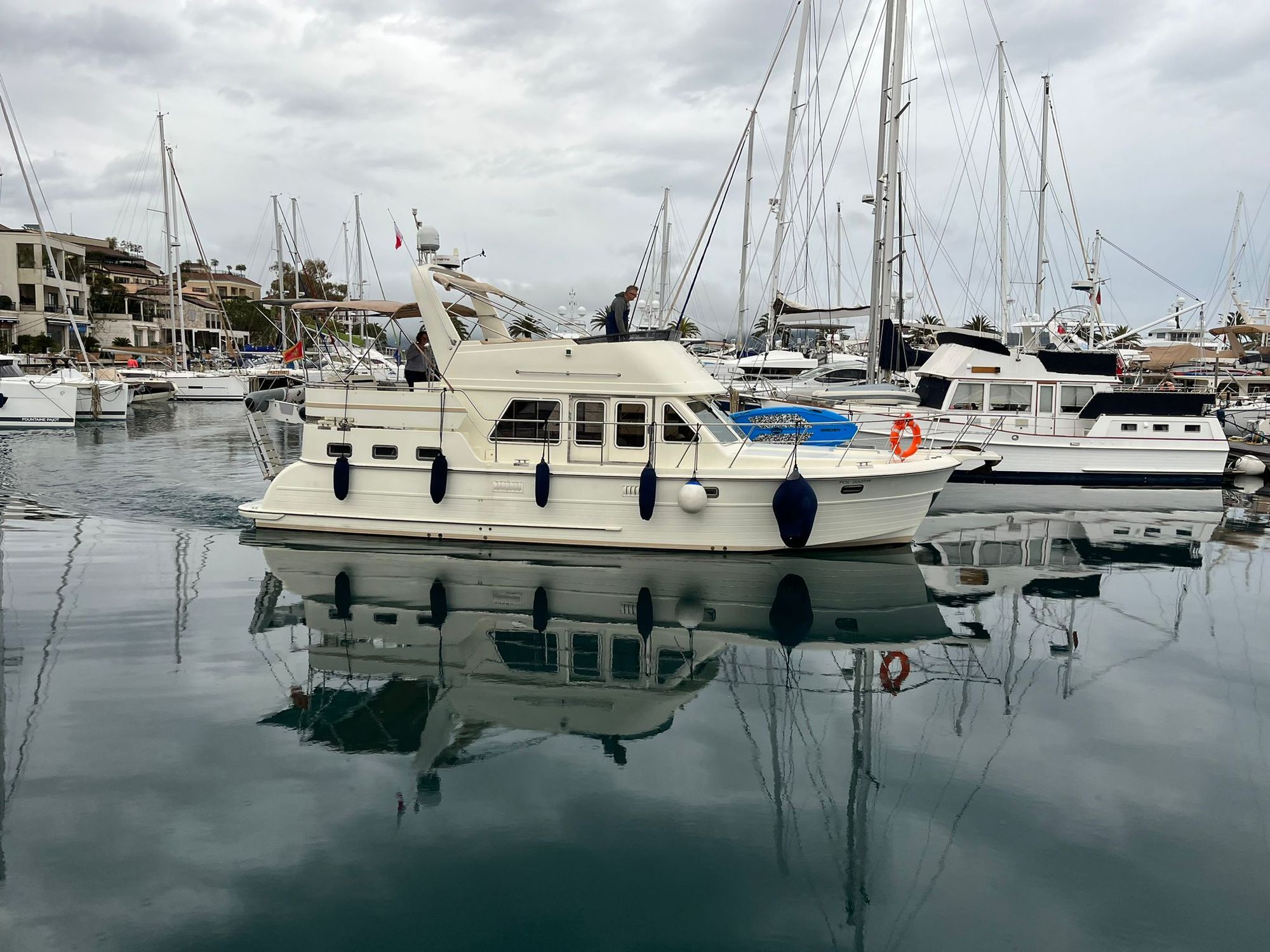 With a lot more concentration than I needed at 7.20AM, I was able to manoeuvre the boat out of the fairway and around to the customs dock then successfully tie us up. Well, not the most auspicious of beginnings.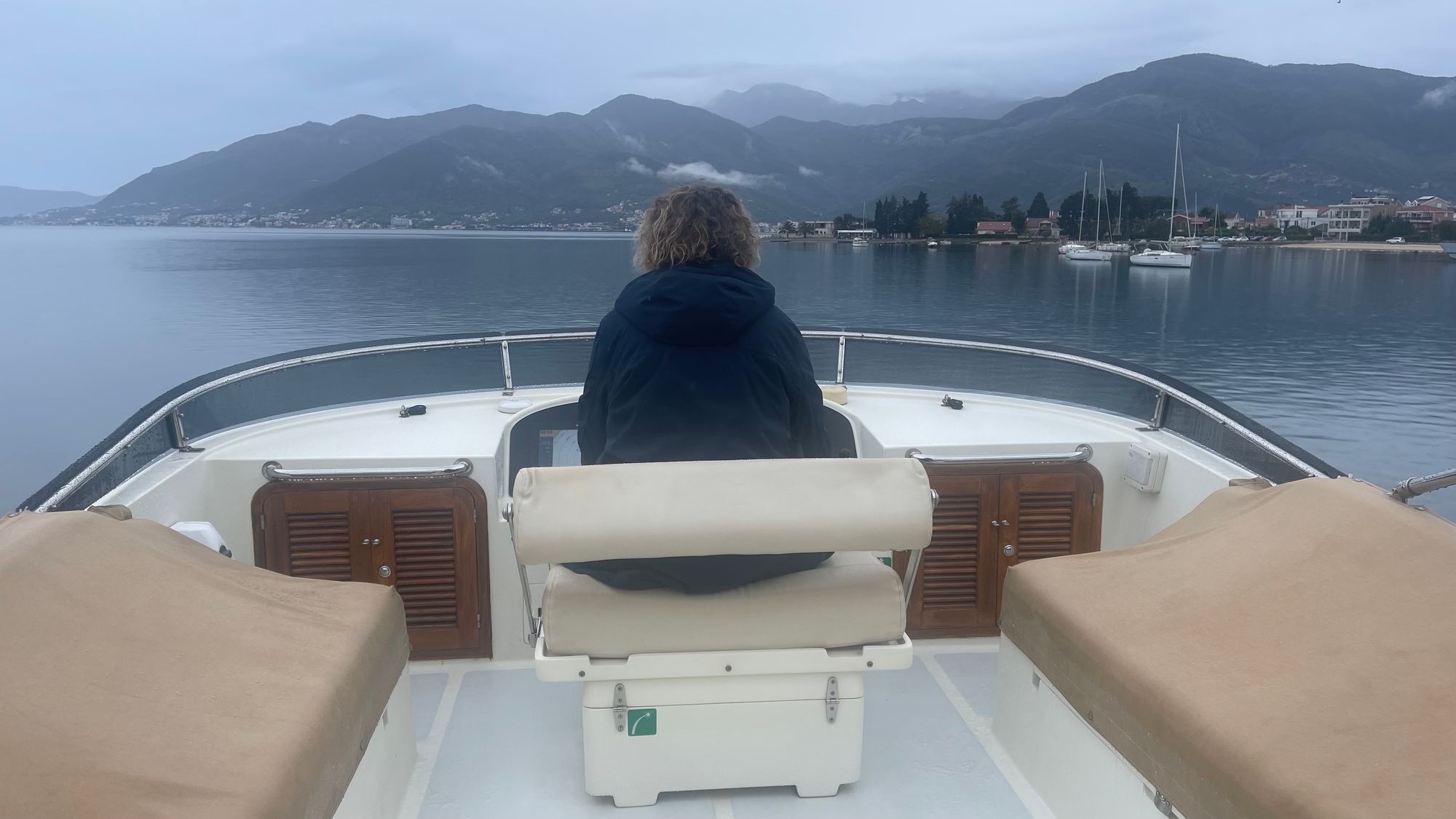 We checked out of Montenegro very easily and then I ran the recalibration again. No luck. Despite the fact I was clearly pushing the throttle in the right direction, every time the calibration completed, it was actually running in reverse. So instead of calibrating the throttles together (as you're supposed to), I calibrated them independently and calibrated the port control backwards.
Now it works. Forward is forward, reverse is reverse. And surprisingly, the throttle controls are better aligned than they were.
This all strangely makes a weird sort of sense. Our engines are supposed to "auto sync" - when the throttles are within a similar range of each other, they should automatically go to the same RPM. But this has NEVER worked. My suspicion is that the Port throttle has been wired up incorrectly and they previously calibrated it backwards which might break the auto-sync (because the controller doesn't think the throttles are in the same position when they are).  For now, all is good, Mum enjoyed a good laugh at the vision of us cork-screwing out of the slip and we have have another item added to the list to get checked out by a mechanic in the future.
Perhaps that was the share of bad luck we needed to get out of the way, because the rest of the week has been delightfully uneventful as we re-adjust to living aboard and exploring Croatia.
There's a lot to get used to again. From the constant motion of the boat, to the process of setting the anchor. How much wind is too much wind? How many anchor alarms are too many – is three enough? Where do things get stored.
It was just before we were leaving Karina commented that we seemed to fill a rubbish bag a day, yet at anchor, we only usually did one a week. How come? All these minutiae of day to day living on a boat, forgotten over the course of 6 months in a marina.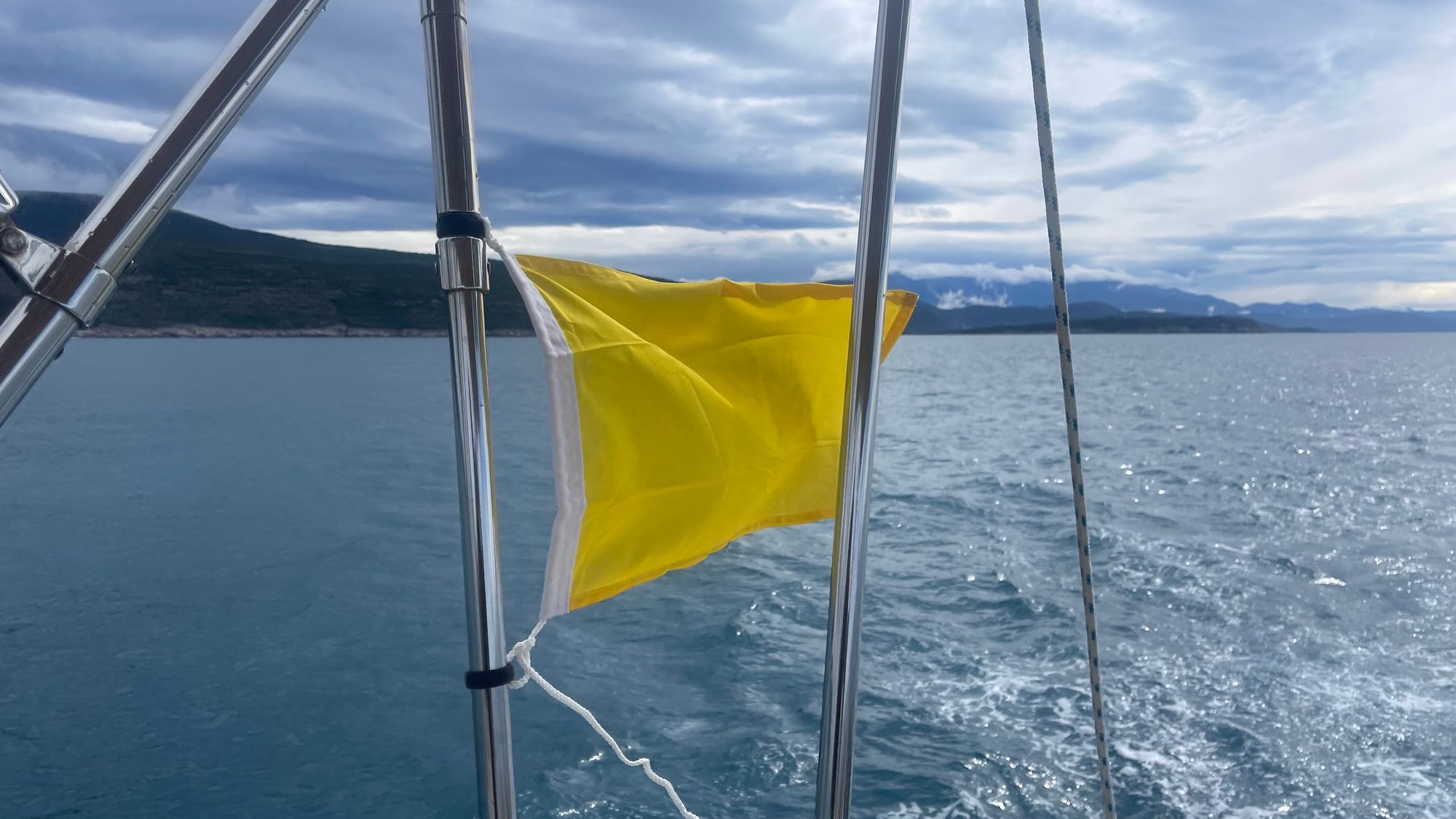 The cruise up to Dubrovnik for check in was straight forward enough, a little rougher than we'd like but not too bad. The check in was easy enough. One fear I've had about Croatia has been a lot of stories that it's very officious and charges for everything, yet apart from the man who (legitimately) charged us €20 for catching our dock lines at the customs wharf, none of this has proven to be the case.
Perhaps it's because it's early season still, but we've anchored in several places that apparently have fees, but are yet to actually be charged for most of it. Which is great!
From Dubrovnik we headed to the bay on the north side of the island of Lopud. It took several attempts to get the anchor set properly and we were tired and frustrated after a long day by the time it finally hooked properly. Thankfully it did and with little wind we were able to have a good first nights rest after a long cruising day up the coast from Montenegro. It was a reminder that not everything is straight forward on a boat.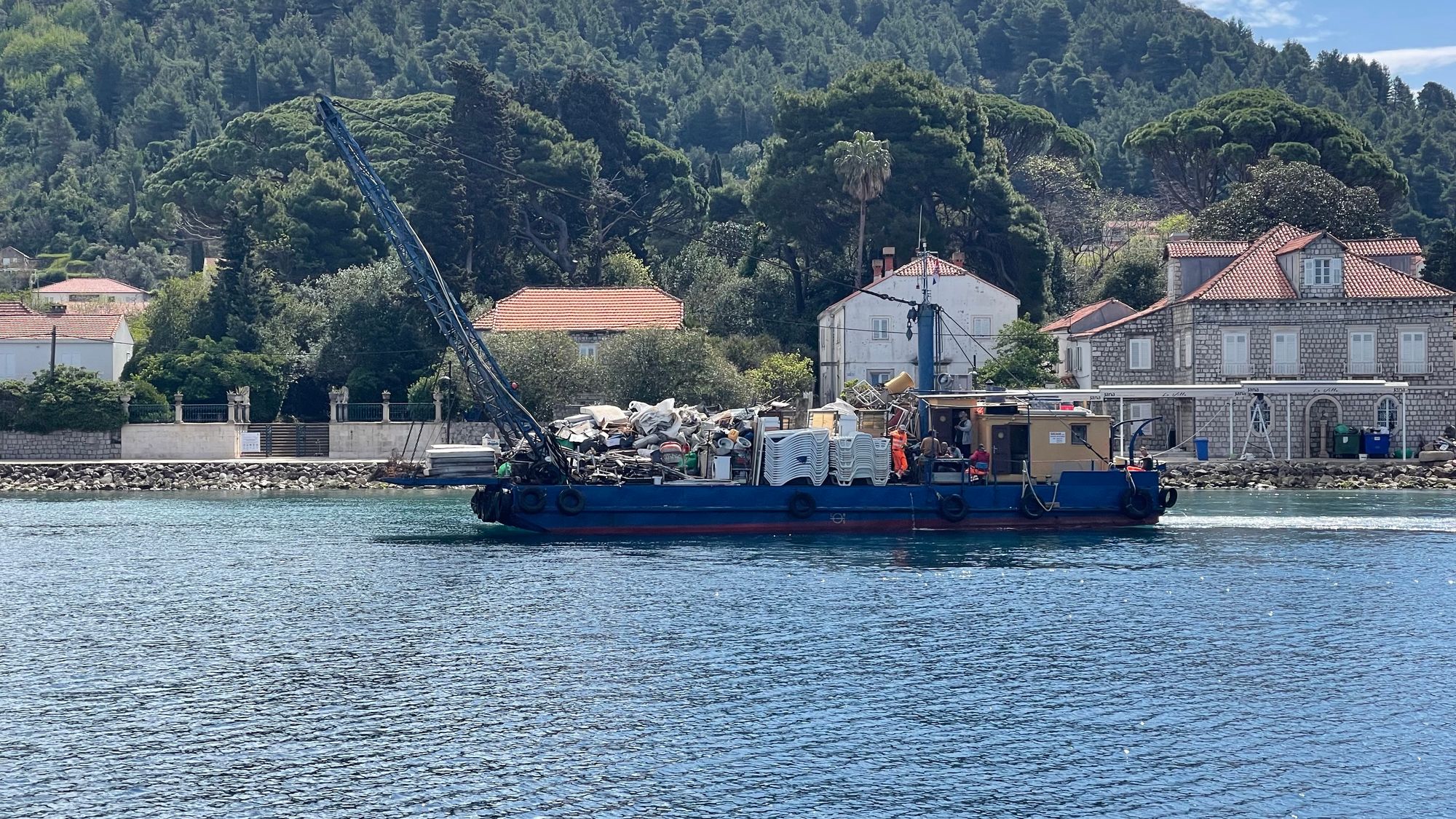 Lopud is a lovely tourist town, still very quiet at the moment, with a spectacular Franciscan Monastery. We enjoyed walking around, touring the gardens and stretching our legs. We rested up there all day Tuesday and decided to eat out on shore, only to find that everything was still closed!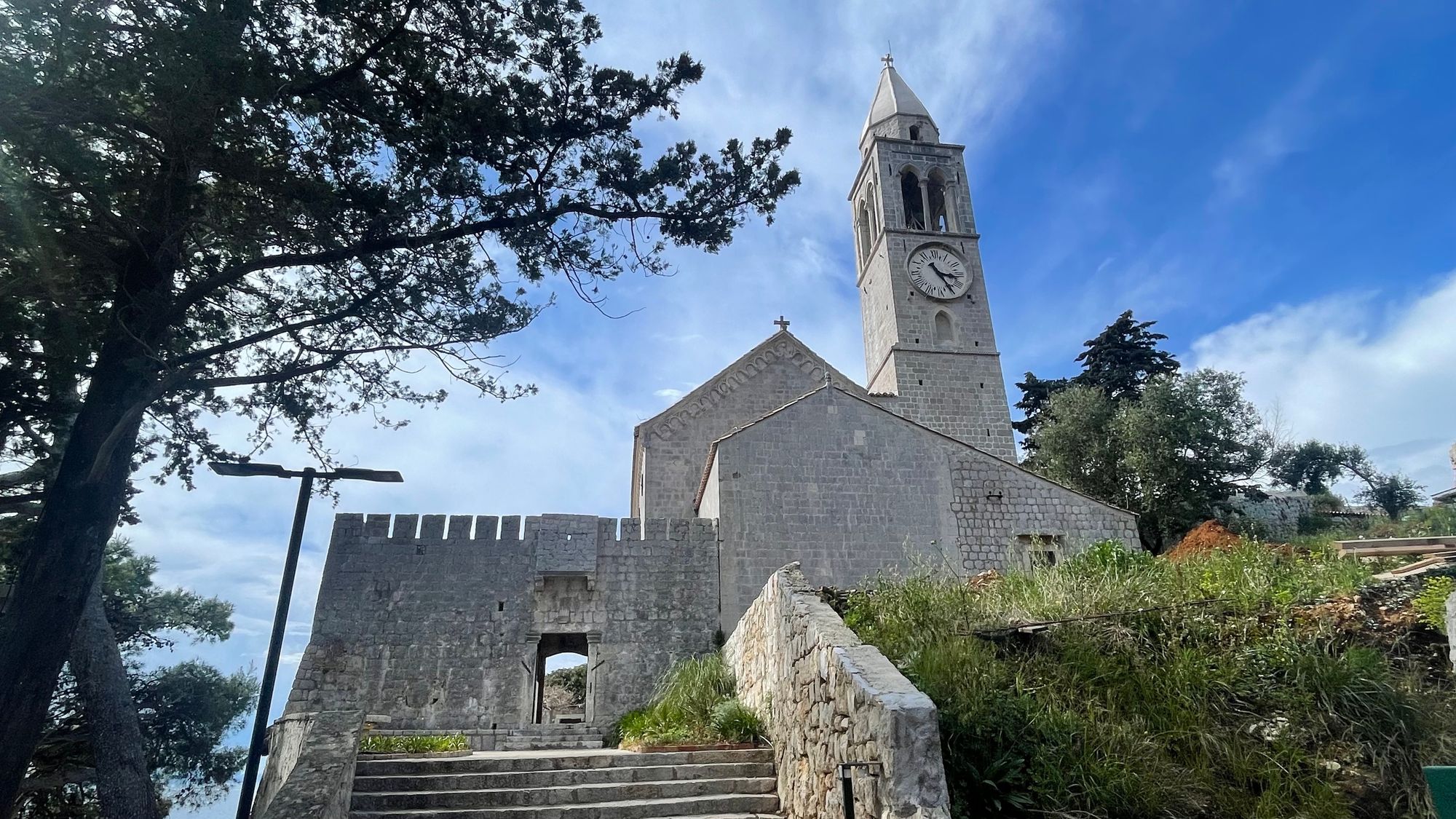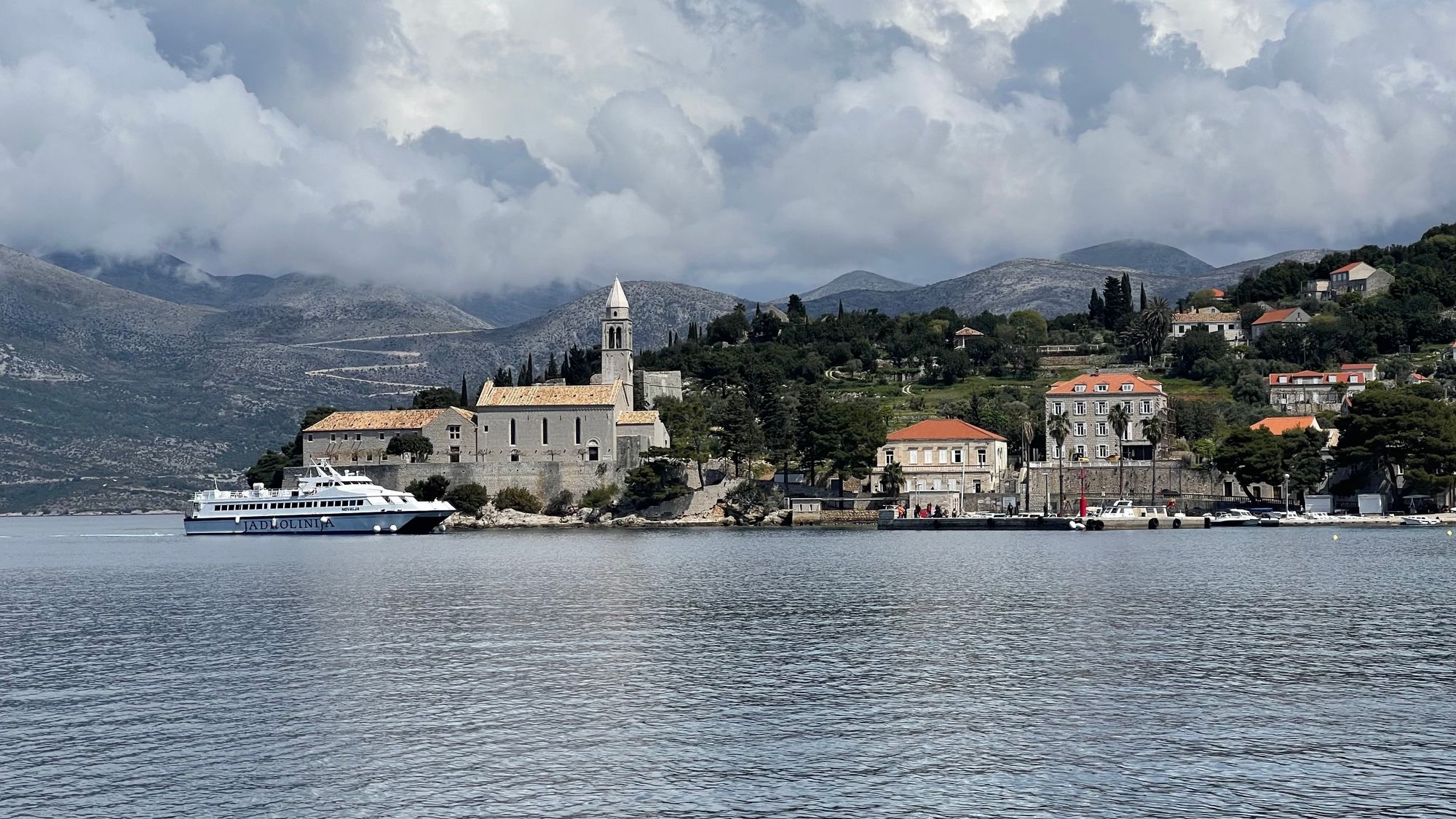 Wednesday, refreshed and ready to go, we headed up to Ston. This is a town we saw briefly when we were driving through a few weeks back and we felt it was worth paying the mooring fee to dock up and explore it further. We walked up and over the city walls (a challenging walk that Karina still hasn't forgiven me for) and enjoyed poking around the old city and exploring the salt pans.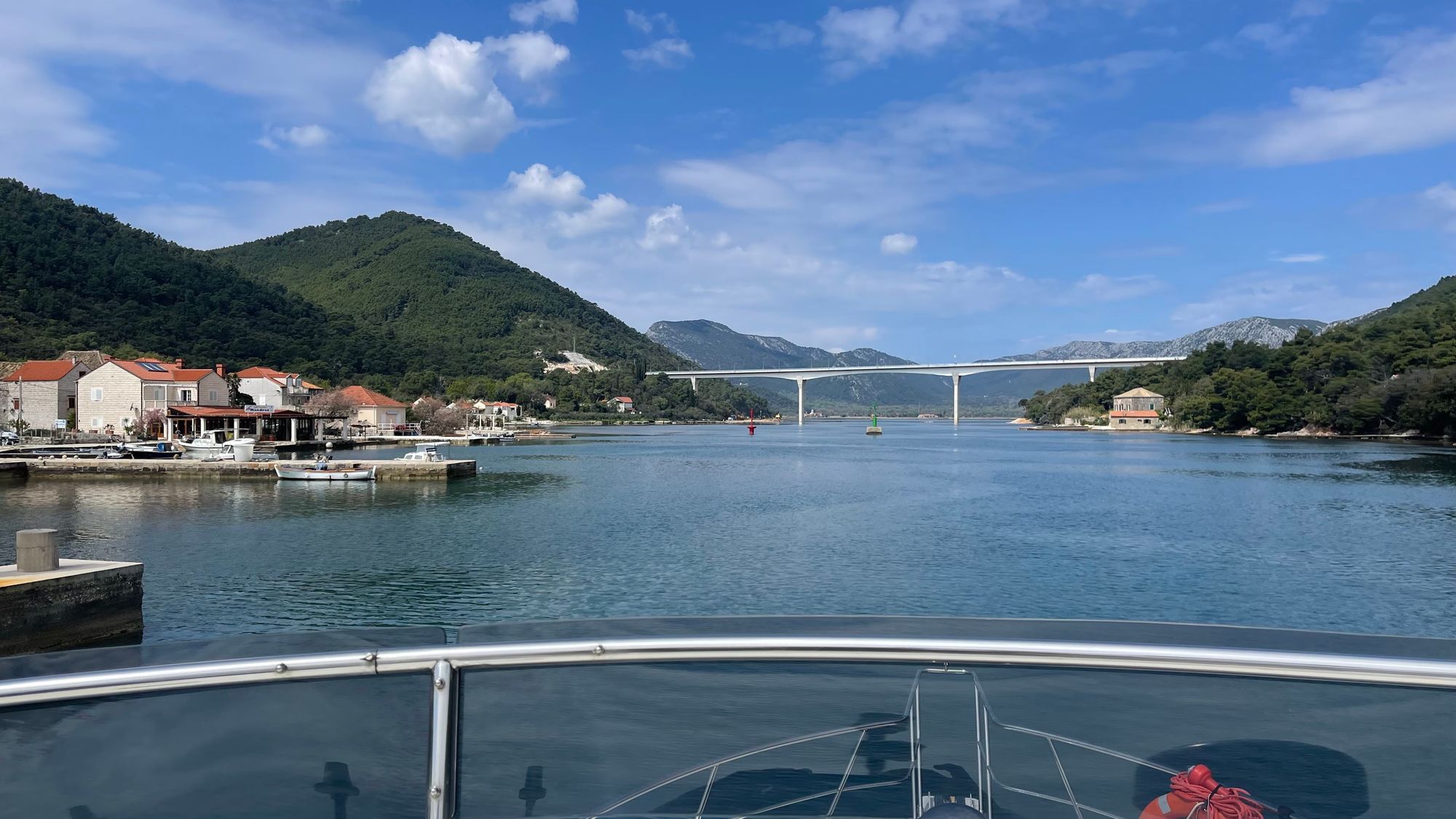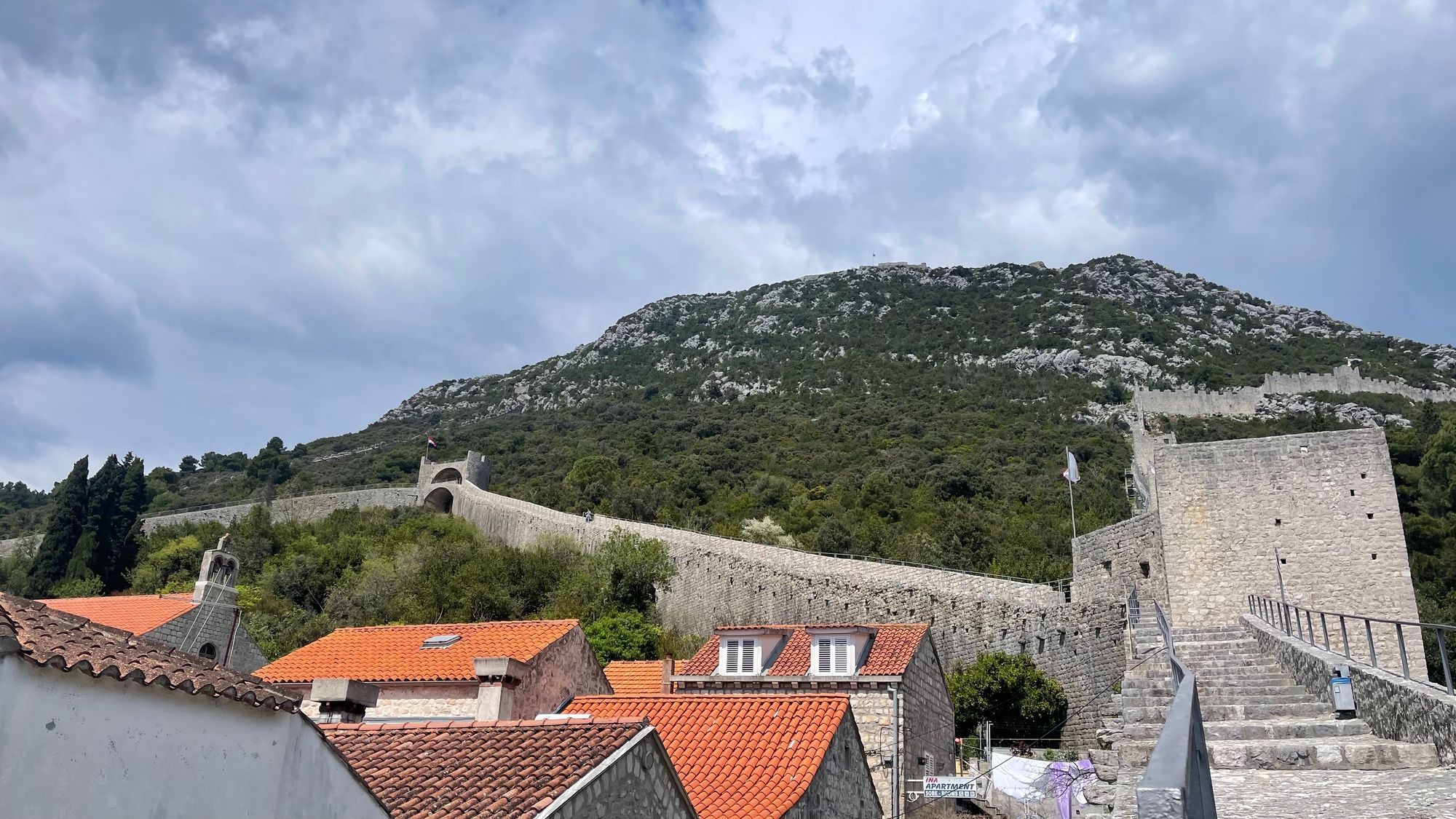 As you will know by now, boat life is of course fixing things in exotic locations, so we also took the opportunity while the boat was side tied in Ston to polish the starboard stern side (above the deck line).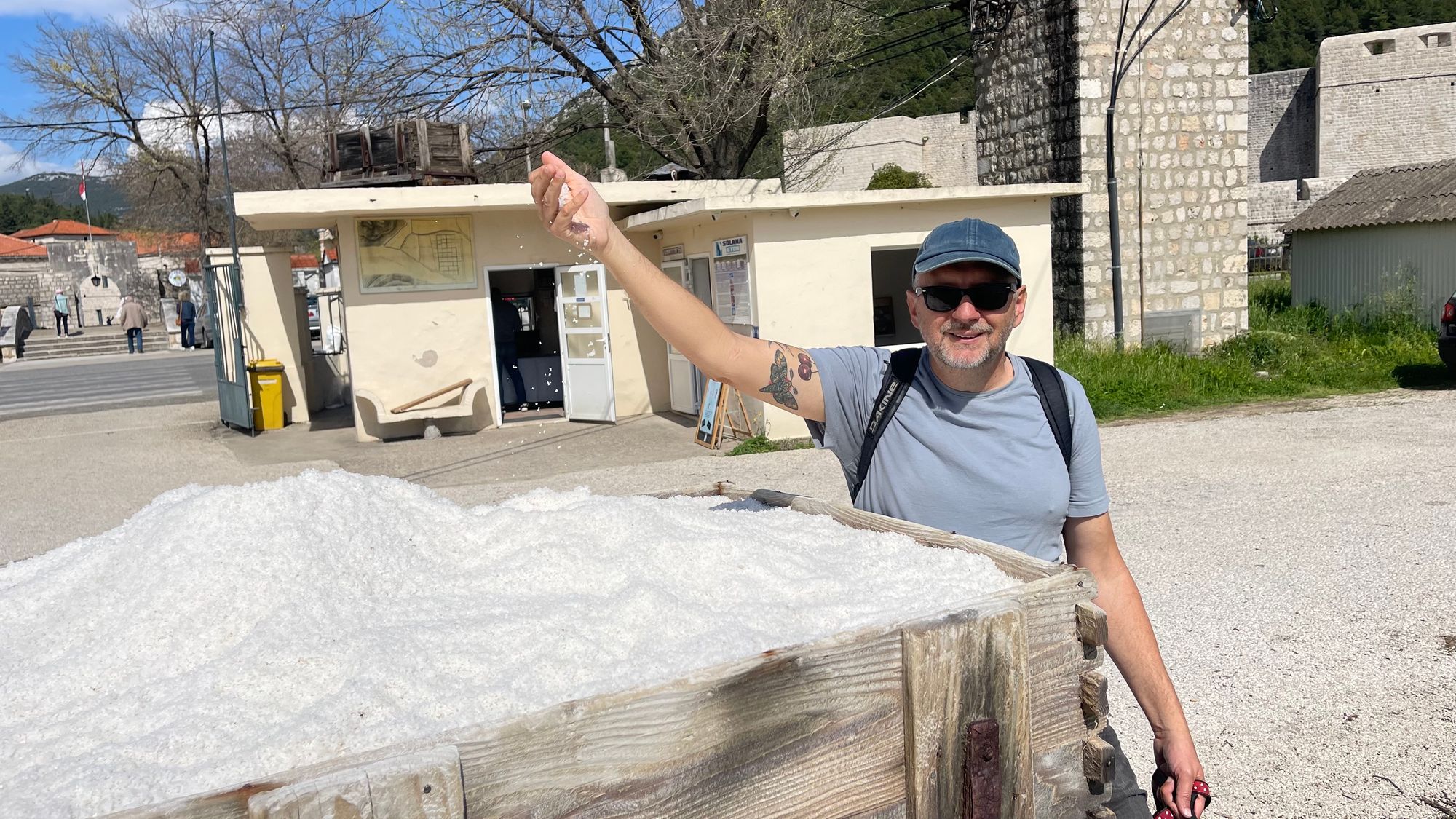 From Ston, it was a long haul back out the channel to turn around and head up beside the peninsula to Uvala Vucine a very pretty bay with crystal clear waters next to a small national park. We didn't leave the boat, but enjoyed the scenery, the sunset and just relaxing at anchor after the early mornings effort of polishing.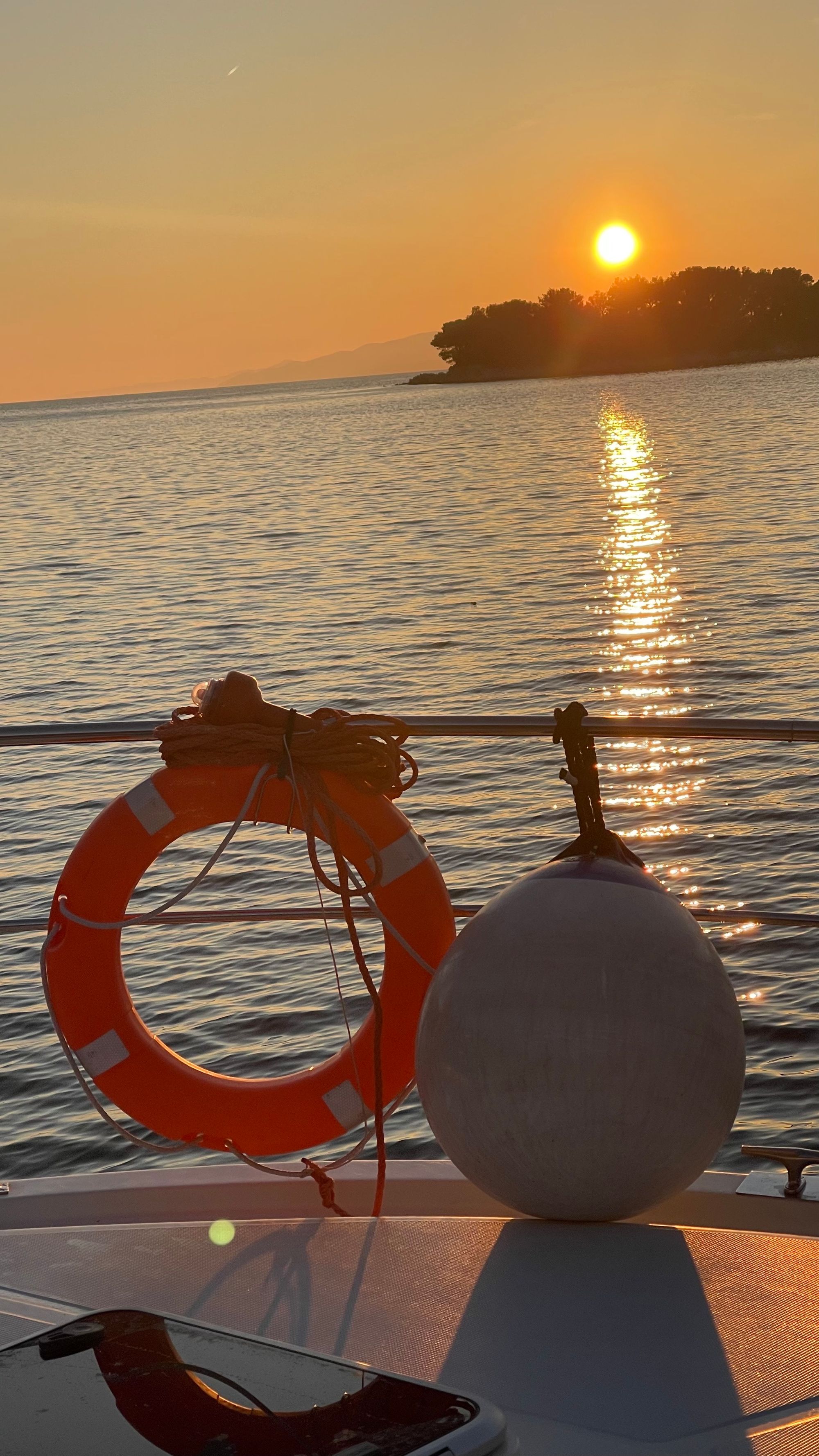 Then it was on up to Korčula, yet another medieval town with an interesting history. Similar in many ways (and contemporary) to Kotor, Budva, Monemvasia etc. this town has the distinction of being one of the few planned cities. It's very obvious with its herringbone street layout with a main backbone and streets fanning off like a fish skeleton.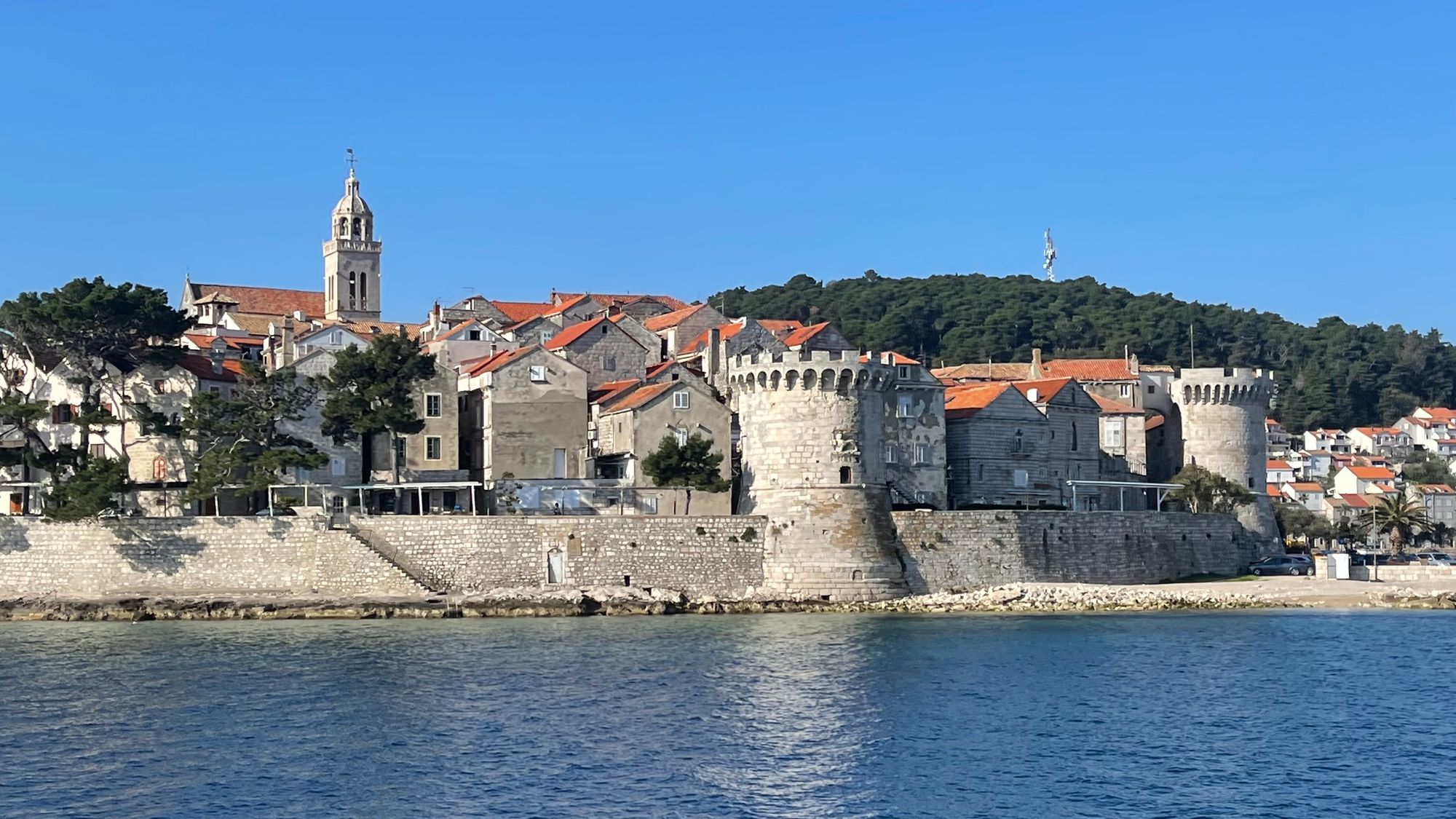 Like all the locations here at the moment you can tell just from the sheer number of cafes that this place gets busy. There are several smaller islands and lovely bays to explore, the town itself and the location between two major cruising regions make it highly desirable to visit. Come summer it must be heaving with people, but for now, it's very quiet and sleepy, the only visitors aside from ourselves were the people from The World cruise ship we saw in Kotor last week.
Another challenge of being back on board is the need to watch the weather. There's a decent south wind (Jugo) coming in tonight and what was looking like a very heavy north wind (Bura) coming on Tuesday (although that's easing up now), so we headed from Korčula up to the north end of the island (about 30 nm) to the small town of Vela Luka which is in a very protected bay. We've picked up a mooring ball here in the sheltered harbour and the plan is to wait out the south wind tonight and tomorrow, then on Tuesday re-evaluate. We might stay here for Wednesday as well, or perhaps start further North again if it has eased off.
Overall though, we'll be continuing to push North! We have a reservation in a marina in Venice from the 16th of May, we're meeting Ella & Inge a few days after that, so we have to make sure we're there. Which means averaging just under 2hrs a day cruising North to stay roughly on schedule.
Change is afoot
You might notice the URL is different from the usual timbull.com, also that the blog looks a bit different too. After some contemplation, we made the decision to move off of Medium to Ghost as our blog host. There's a few good reasons for making this choice:
Medium was great for writing, but not good for organising. It wasn't easy to tag and manage tags to organise content. As our record grows here, we've been wanting to refer people back to posts, but it wasn't easy to do so. We've been able to create more tags and collections now to point people in the right direction.
Medium wouldn't allow embeds. Which meant the No Foreign Land tracker was always a link, videos wouldn't show etc.
We wanted more information pages. About the boat, about us, about past content.
It was a good excuse to consolidate some of our old content from past blogs to one place, move it around and sort it all out. That process is ongoing, but now it all live here and will be more discoverable, without being in your face either.
Much better / clearer email subscriptions. If you want this delivered weekly via email, there's a simple email sign up now.
More room to grow - who knows what else we'll do, but Ghost makes it easier than Medium to do it.
As part of the process, the timbull.com domain hasn't properly cut over, but by next week all should be working fine again and old links will still be supported.
Until next time!
Tim & Karina
Where are we?