Week 144: Venice, Florence and things that go bump in the night...
A quick day trip to Florence, then Ella and Inge fly home and we set off south from Venice after a night at the most haunted place in the world!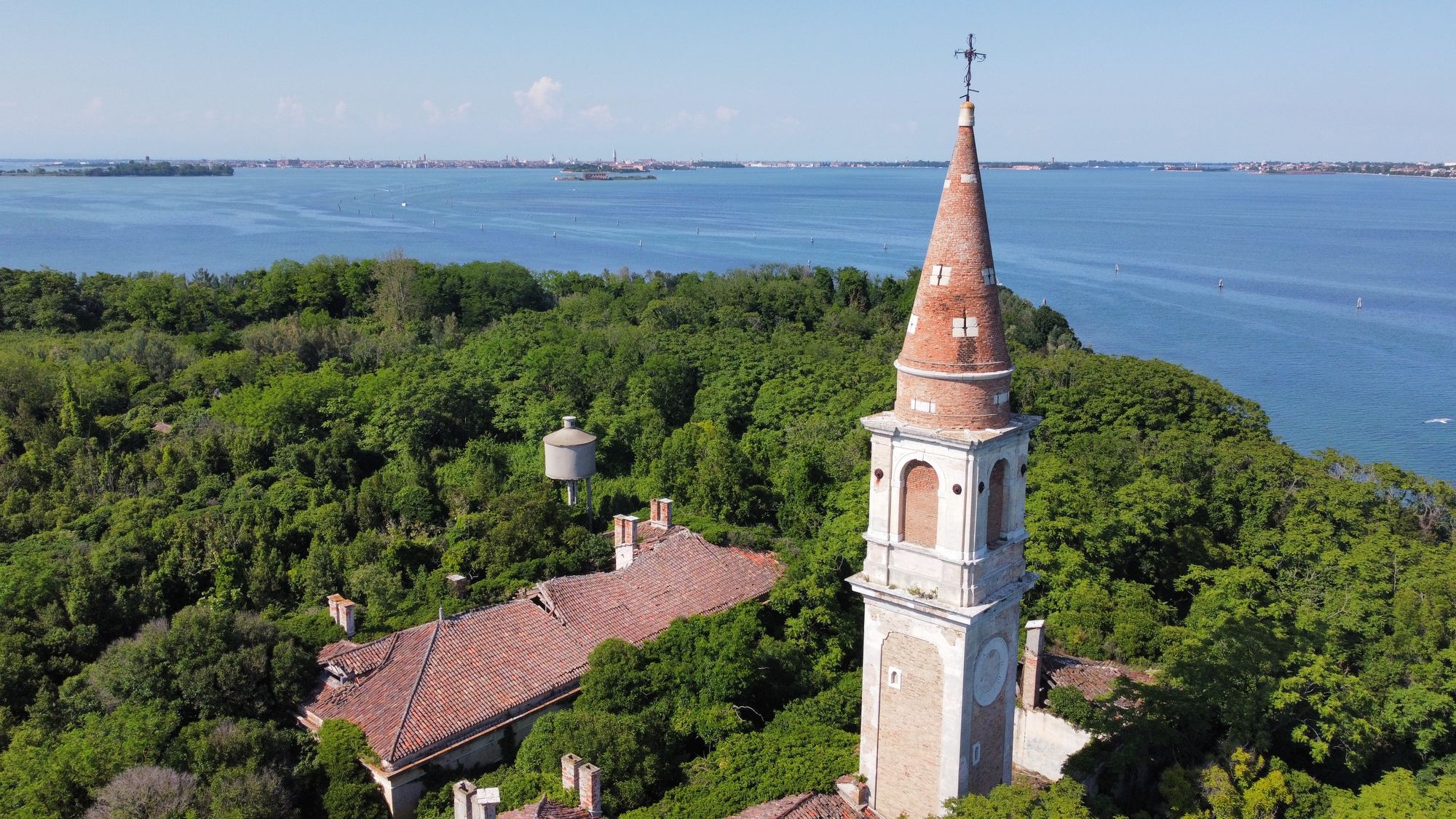 I am really starting to detest instagrammers.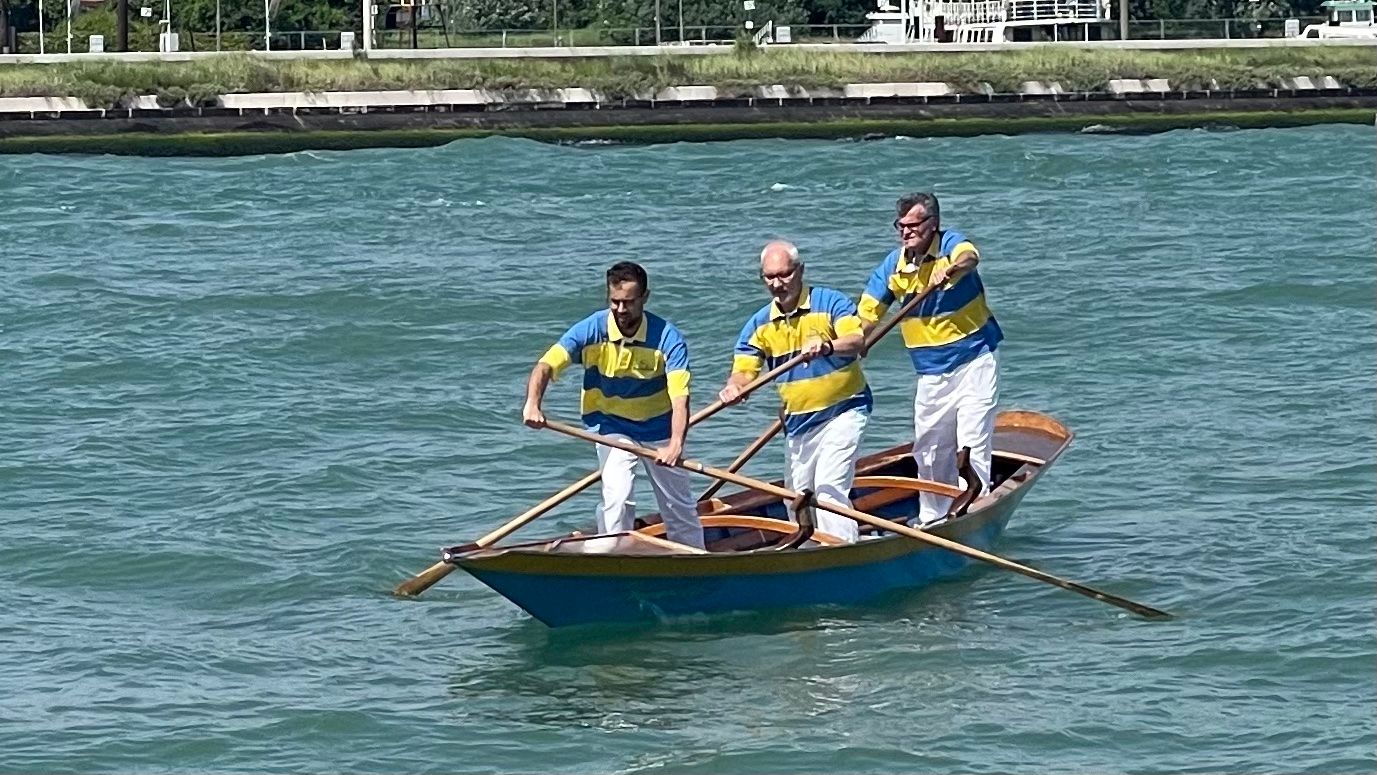 It's NOT the product itself. I don't care if you snap a few photos and share them with your friends online. I do it myself all the time. What I hate is the selfishness that photo taking has become.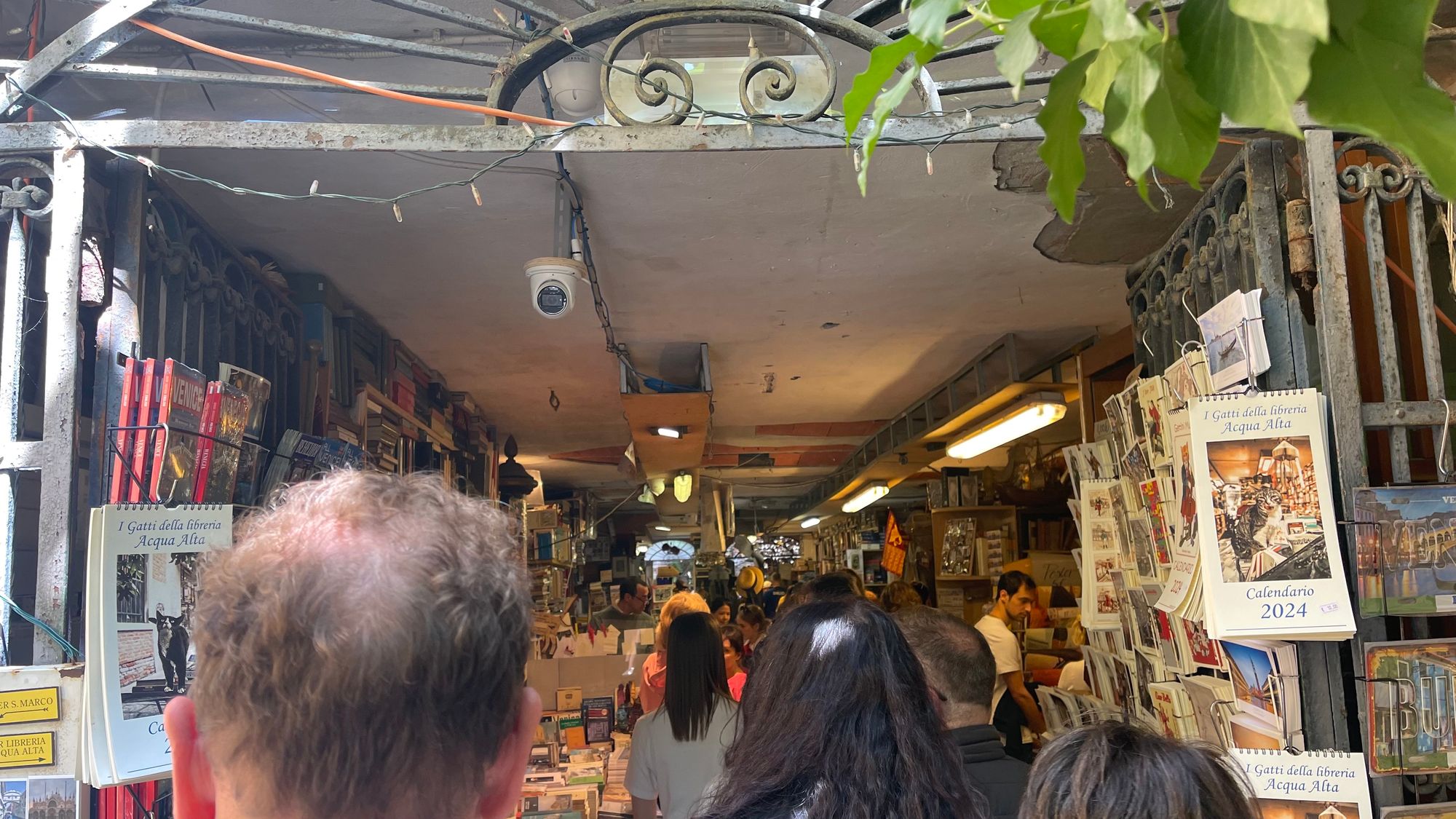 Everywhere in Venice, you can't move on the bridges because of people posing for photos, stopping to review them and then taking them again... and again... and again. We went to the "most beautiful bookstore in the world" which besides being a case of false advertising, was less bookstore and more an instagram worthy destination with books as a side product.
The bookstore is famous for storing some of its books in a gondola in the canal behind it. What was perhaps a genuine solution to expand in limited space has now become a photo worthy destination. It's impossible to even access the gondola to see it now because of the queue of people and the queue is stupidly long because once you get on to the gondola, a lot of people are taking five minutes or more just to get "the right" photo. We didn't bother.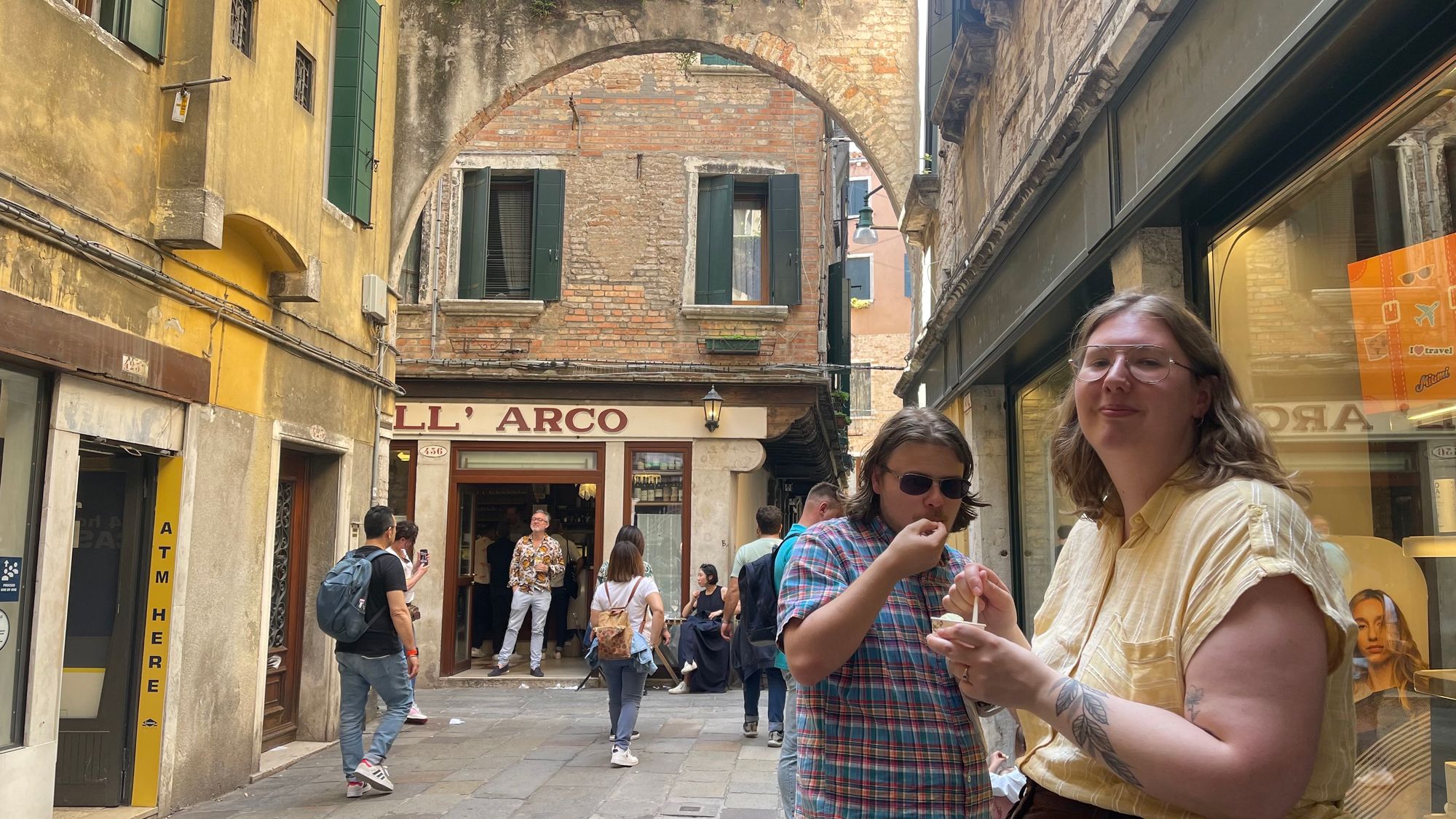 Instead the highlight was a peaceful morning wandering deserted backstreets with Ella and Inge, far away from the madding crowds. Not the most scenic part of Venice, but an interesting one regardless. We did eventually have to dive in to visit the Rialto bridge, then it was coffee, ice cream and a vaporetto along the Grand Canal back to the boat.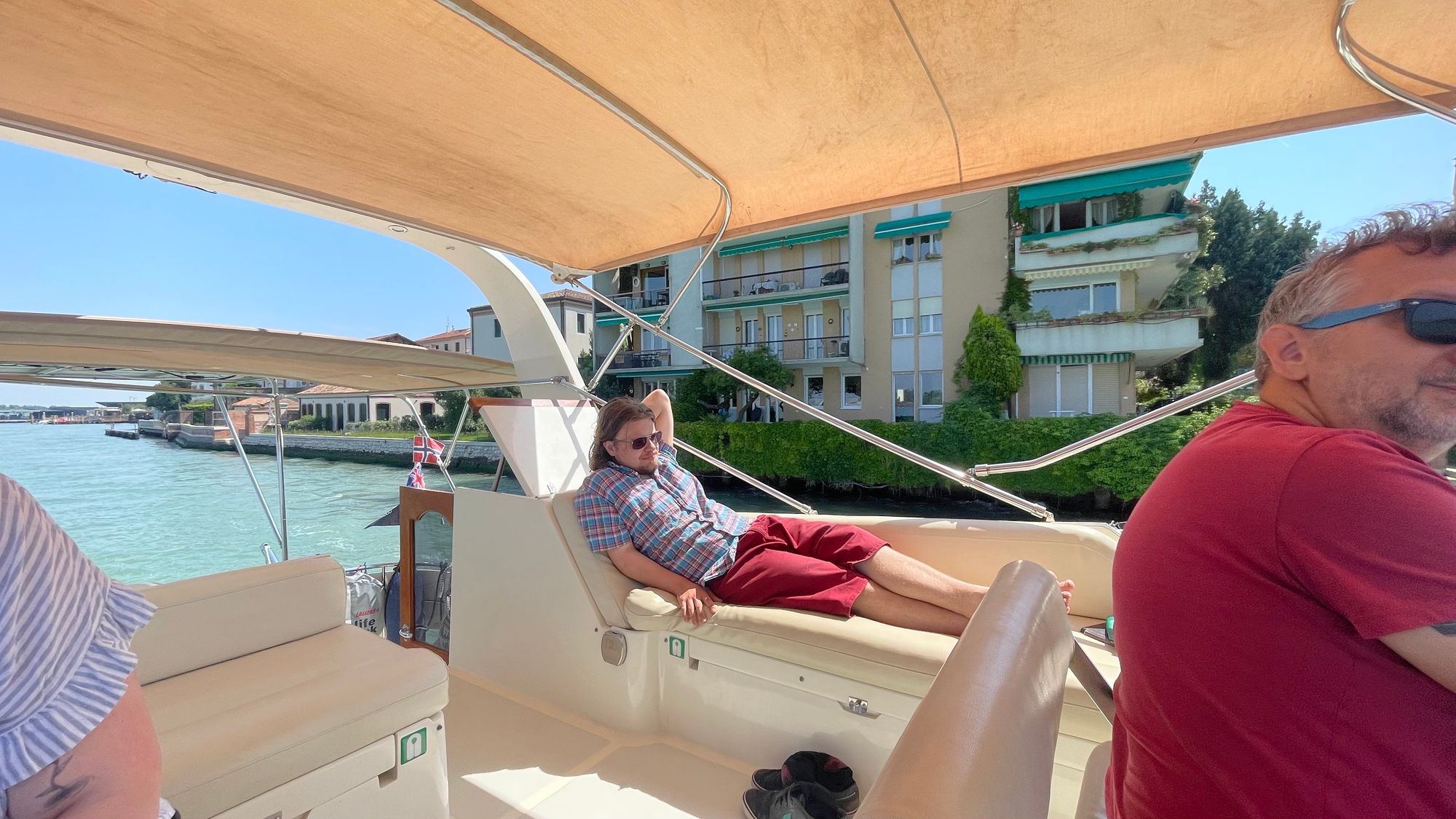 A highlight of the visit was taking Ella and Inge for a cruise on Matilda around a few of the islands in the Venetian Lagoon. It was a bit of a surprise as we just assumed Ella wasn't that interested in the boat, but she felt they should give it a go and we had a lovely time cruising in the sunshine. Inge also had a turn steering and managing the anchor and both of them helped with some of the basic tasks like putting up the fenders.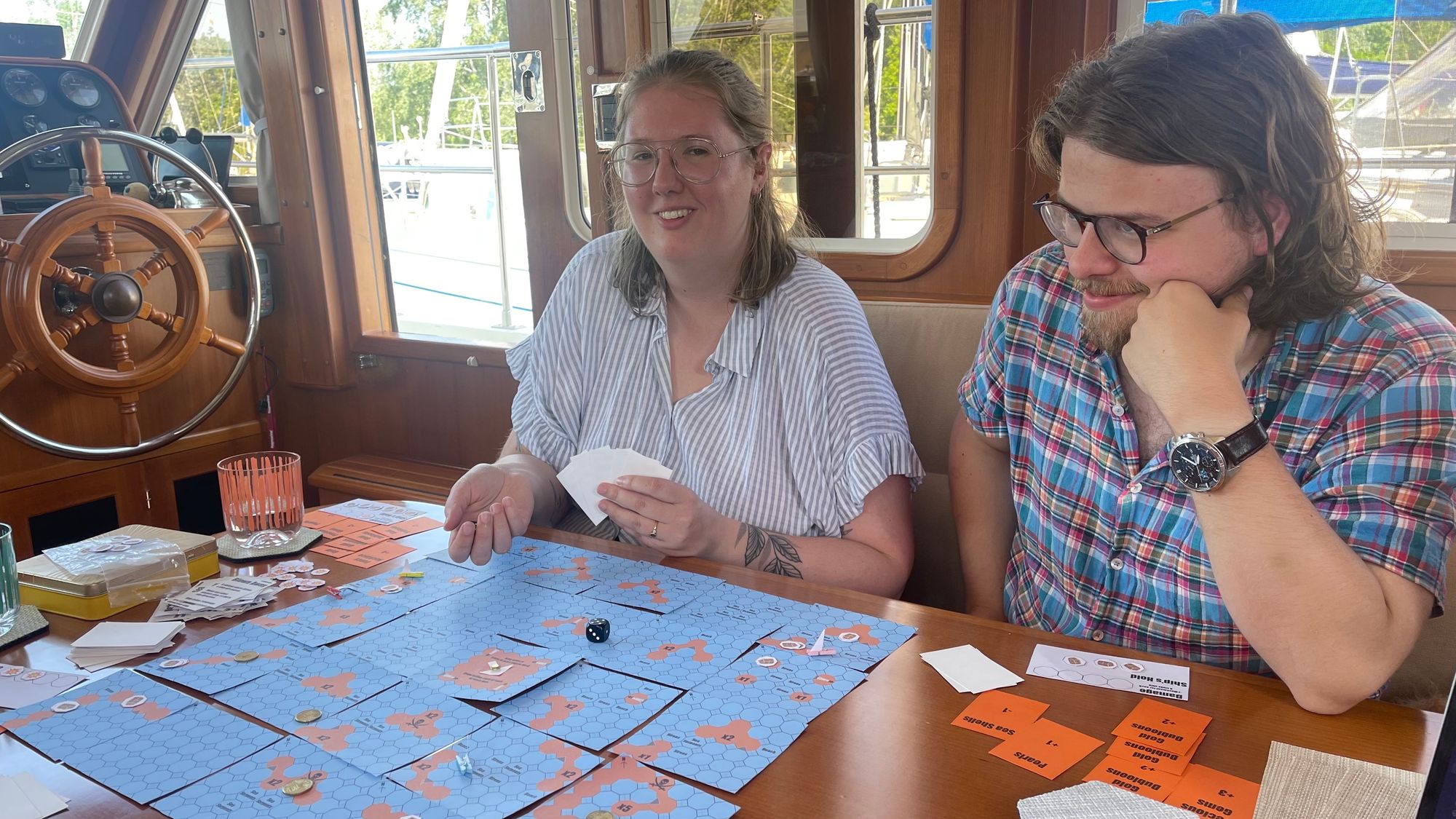 Overall, she still thinks the boat is a bit too close to camping, but I feel this is coloured by the fact that in the marina we were using the onshore toilet because we didn't have pump out facilities. Life is much simpler when you can just wake up and pee without having to trek along the jetty and over the grass to the bathrooms.
On Tuesday morning we were up bright and early to head to Florence for the day. We really wanted Ella and Inge to experience one other city outside of Venice while they were with us and with the fast trains, Florence is only 2hrs 15 minutes away.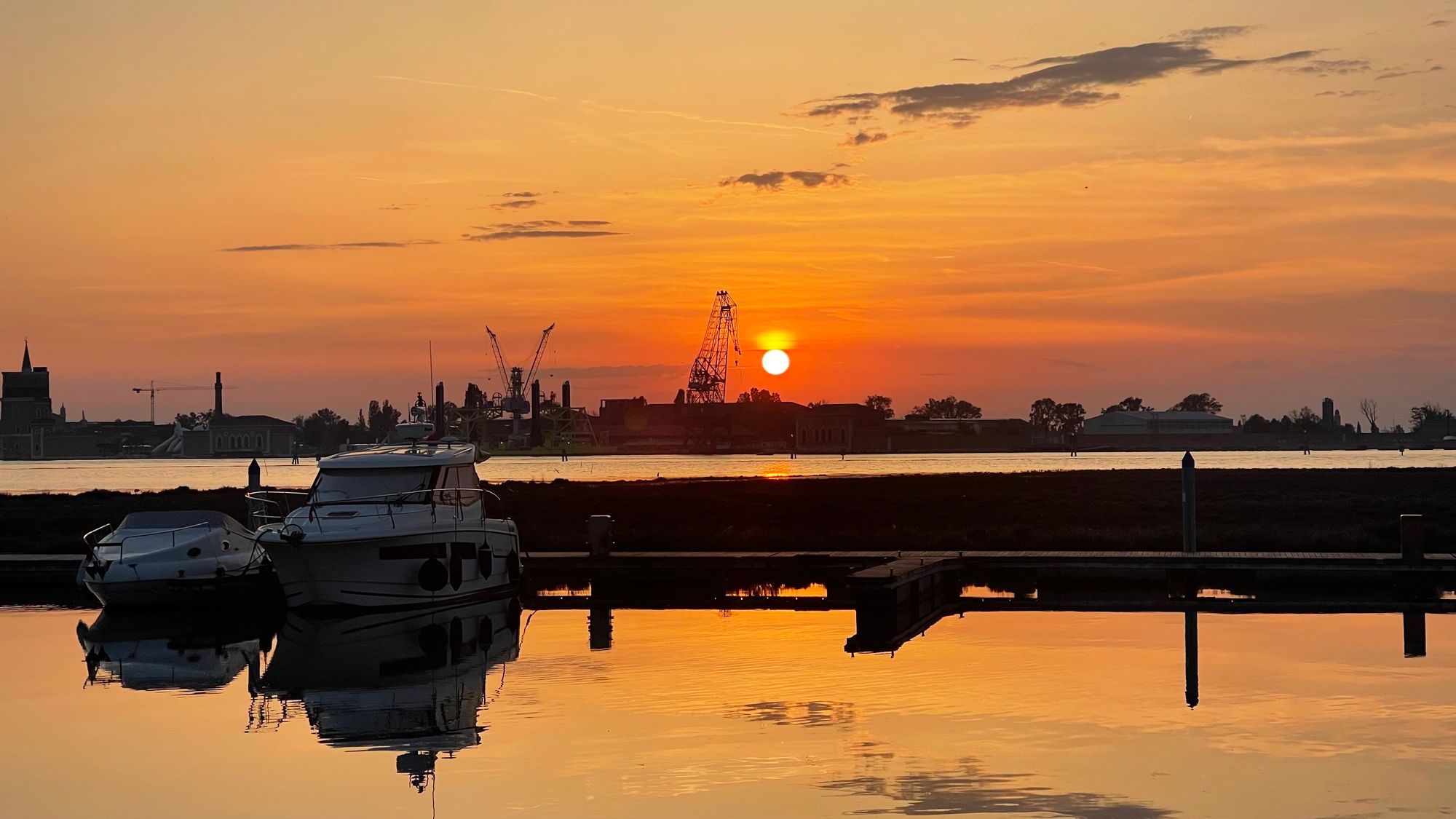 It was an action packed day with far more activity than we would normally try to do, but we made the most of our time. The city is so full with tourists even now in May that we were glad Karina had pre-booked a few things. We visited the statue of David at the Galleria Academia and then the Uffizi Gallery.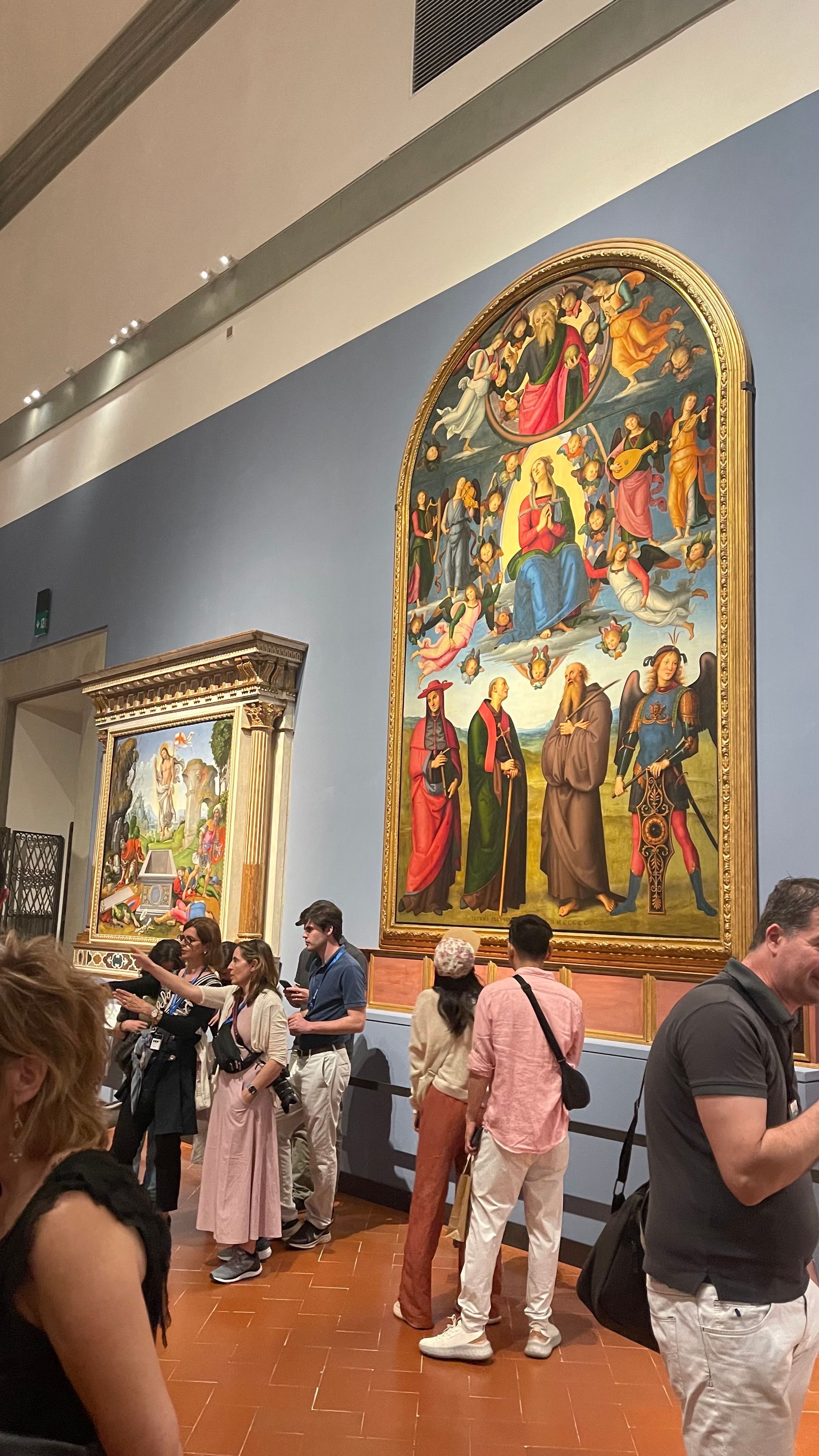 I'd love to rave about how these were life changing experiences and how much in awe of the old masters we were, but instead, we all felt overwhelmed by the sheer volume and repetitiveness of the art.
"Oh, look, it's another annunciation."
I've spoken before about how we're somewhat dysfunctional travellers these days. While the galleries were impressive and a "must do", I'm also glad that in general we don't bother too much now.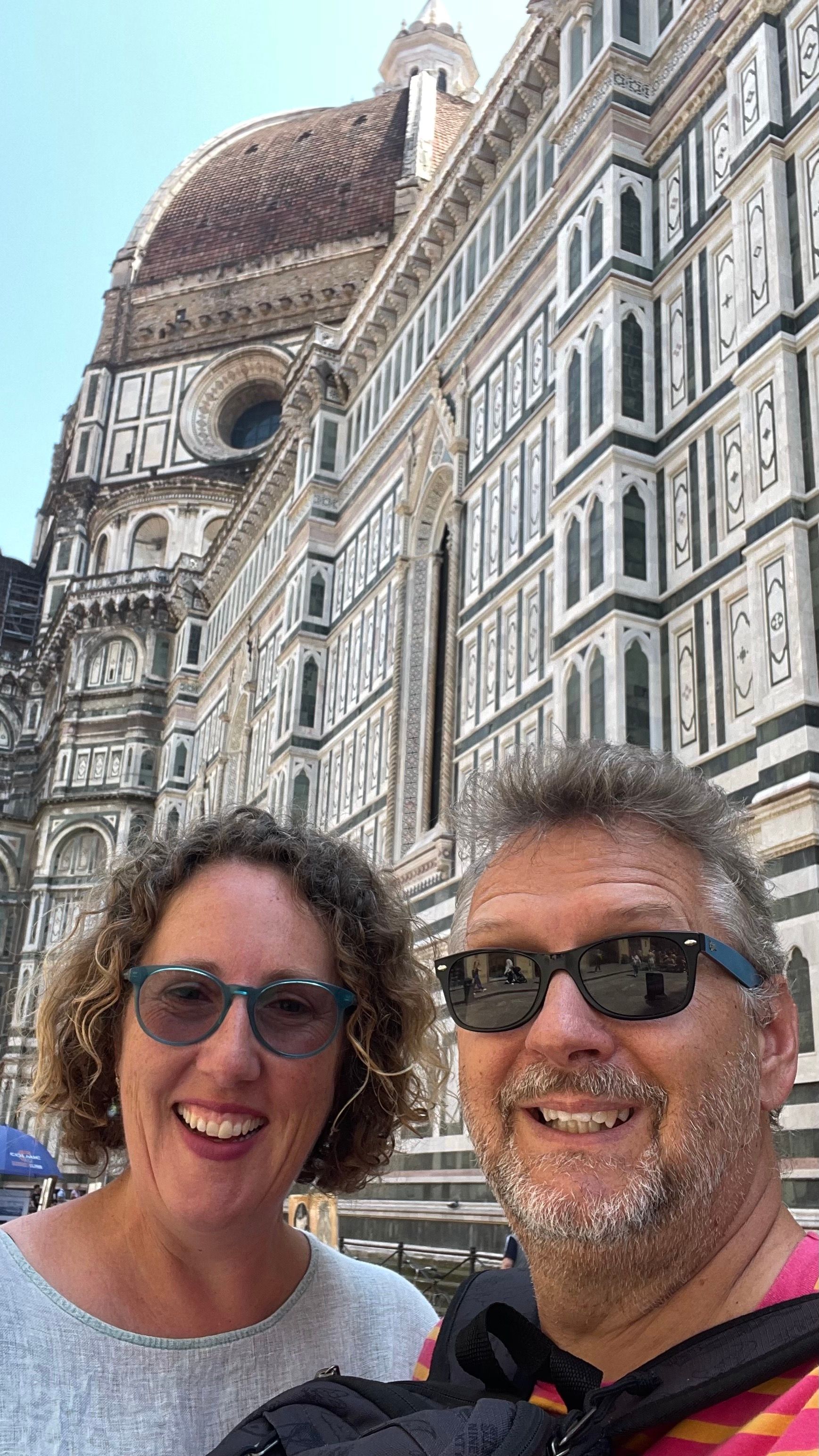 The highlights? It's a close tie between two common themes. We took far too much glee in some VERY ugly babies. Those old masters might be able to work magic with light in painting, but they have never seen a baby before. "Look at that one!" was a common refrain.
The other source of amusement, and I think our personal favourite was the roasting of the baby Jesus. Technically it was supposed to be an image of introducing Jesus at the temple, which always contains imagery of two doves being sacrificed in the flames. Let's just say that in this particular version given how they were holding the baby near the flame we'd be reading a lot more in the bible about the Miracle of the Roasting or the parable of the Visit to the A&E Department.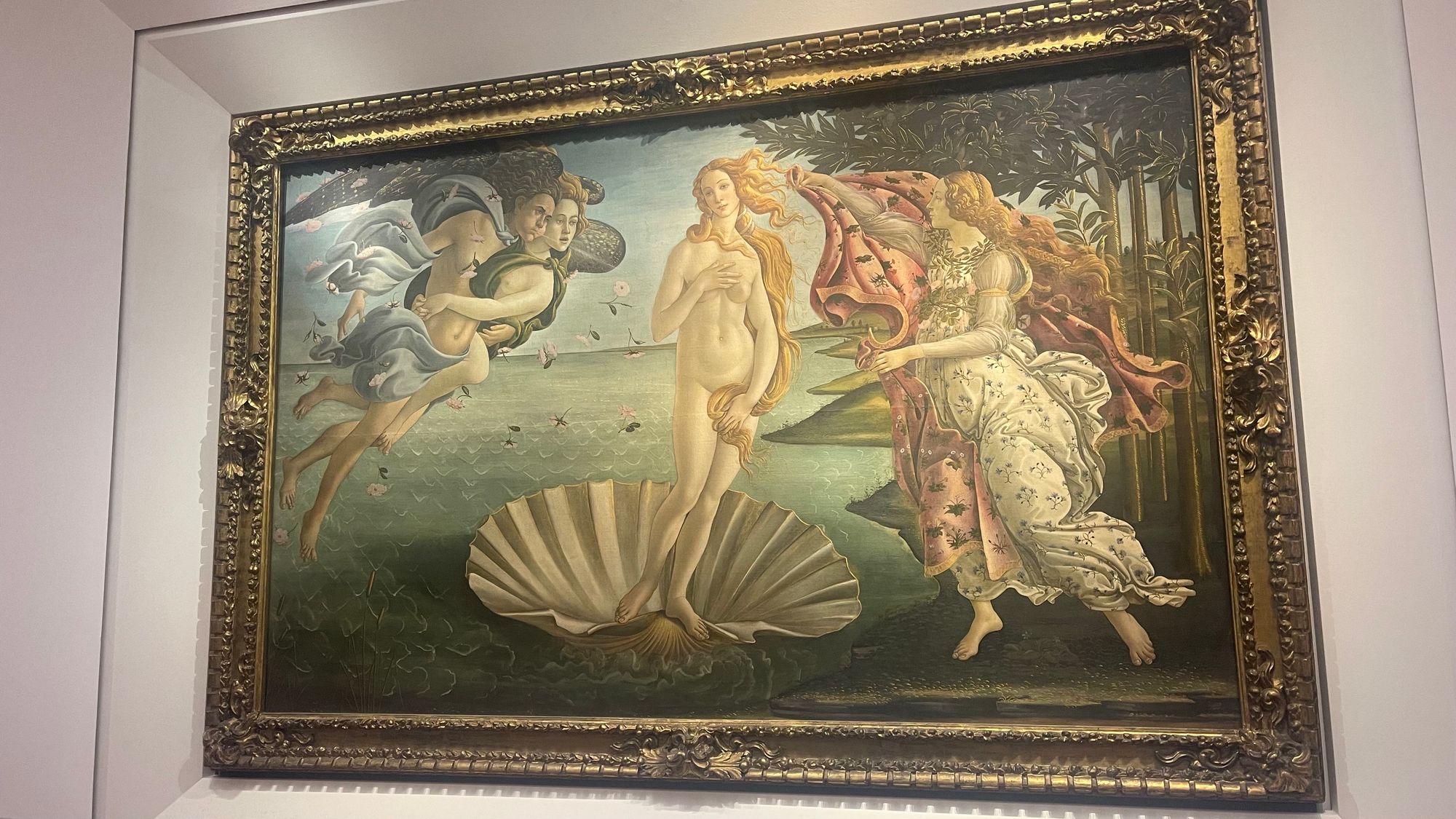 The statue of David was impressive (his hands are too big though - something to do with the fact that Michelangelo intended it to be viewed from a specific location which is NOT the context in which it's actually presented today) and we all enjoyed the Boticellis at the Uffizi.
An unexpected challenge in Italy is finding good Italian food. There's lots of crappy Italian food and often the price is generally far more in line with how touristy the location is and less to do with how good it is. The plan was to eat out before boarding the train back to Venice, so we were delighted we found a place that was both reasonably priced and served the best Italian meal we've actually had here.
After a long day, we arrived back in Venice and the boat at around midnight, then the next morning Ella & Inge were back off on the vaporetto and off back to Edinburgh. A whirlwind visit, but one we really appreciated. It was great to see them both.
That Wednesday afternoon we headed over to Burano Island. I'd read that it was famous for lace and photography. I couldn't quite wrap my head around the photography concept - I assumed maybe there would be lots of photography studios or something? Nope. It's famous for people TAKING photos.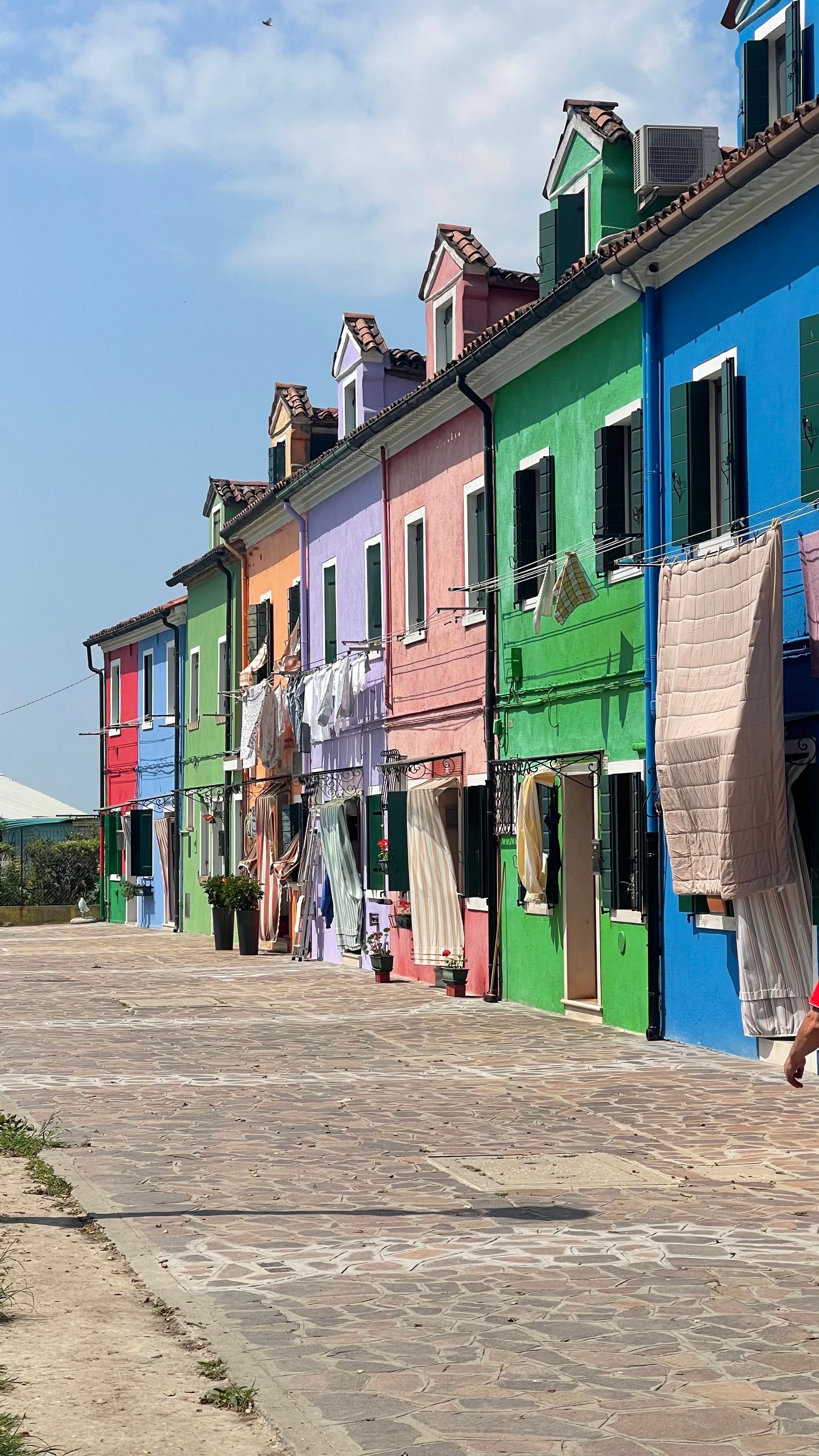 And why not? It's a very beautiful island with the buildings all brightly coloured. Of course, given my earlier rant, it's prime Instagrammer territory. Something I'm not a fan of. But we enjoyed seeing it and walking around. For the record, our photos take all of about 10 seconds and we move on.
Then it was back to the boat and prepping to get underway again. We'd been in Venice for about 10 days and it was time to start our journey South.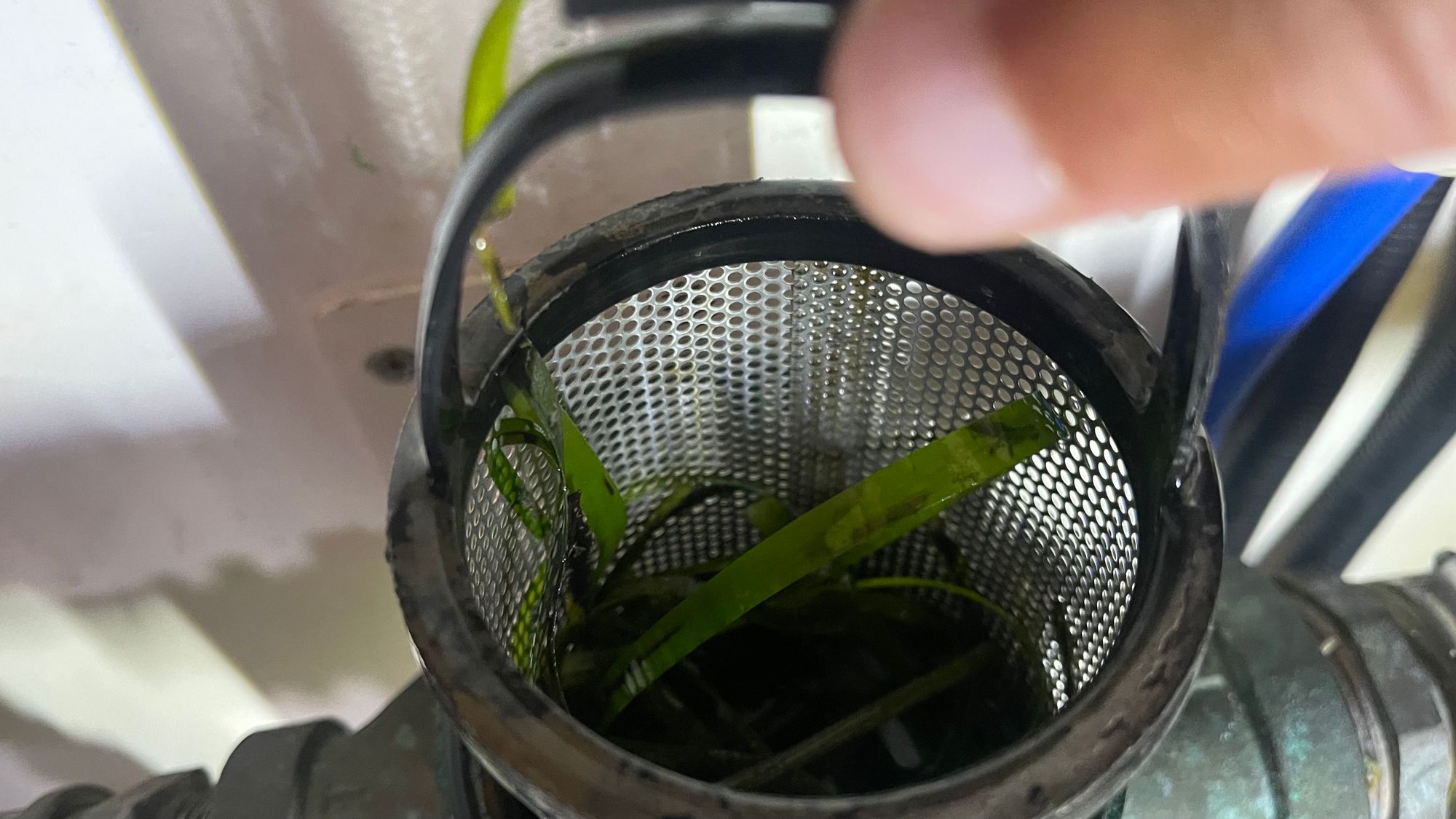 Up bright and early on Thursday, we headed out to Murano Island to squeeze in one more location. A practical visit for us not only to see it (fun enough, but overrun with tourists and LOTS of glass), but also because there was a large supermarket near the vaporetto. This is perfect as we can restock, walk a short distance to the vaporetto and then ride right back to Certosa!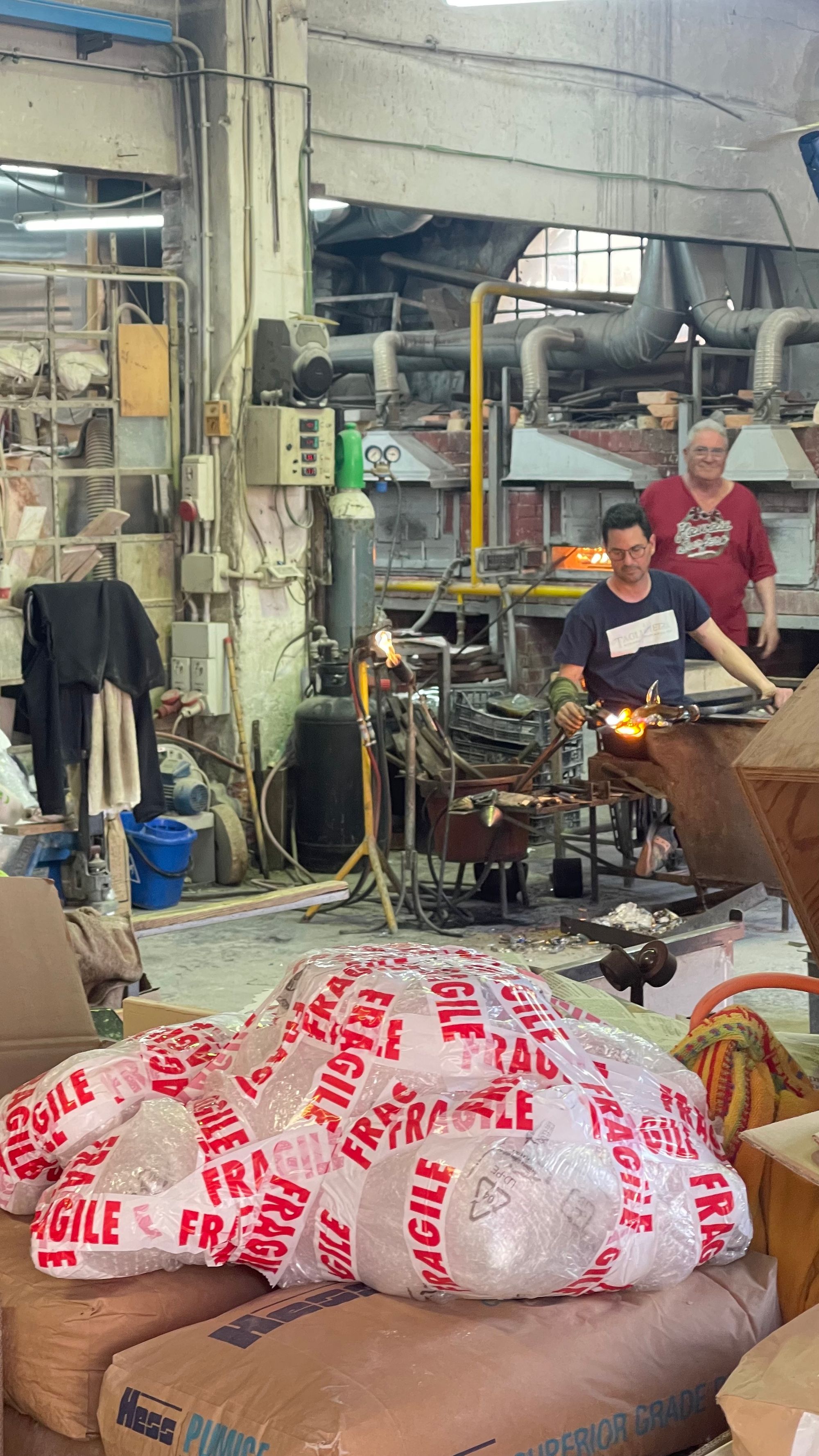 With the shopping done, it was heading off time. We went back along the Lido, the same way we went with Ella and Inge because it's fascinating cruising so close to the land for us and we headed for Poveglia Island.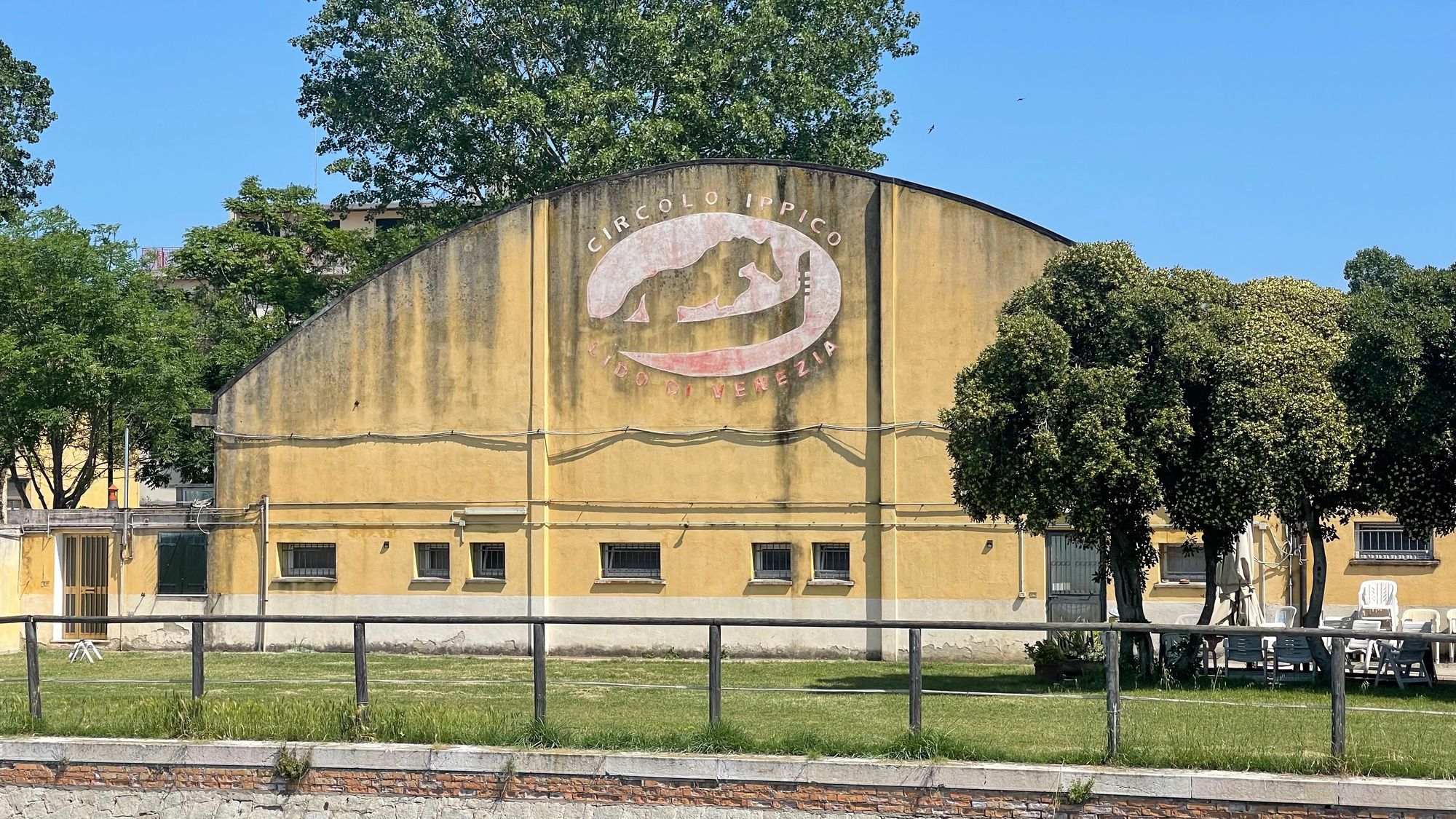 Now THIS is cool. It is one of my highlights of our time in the Venetian Lagoon. Poveglia is first mentioned in the historical record as having a settlement in 421 then eventually it was abandoned in 1379.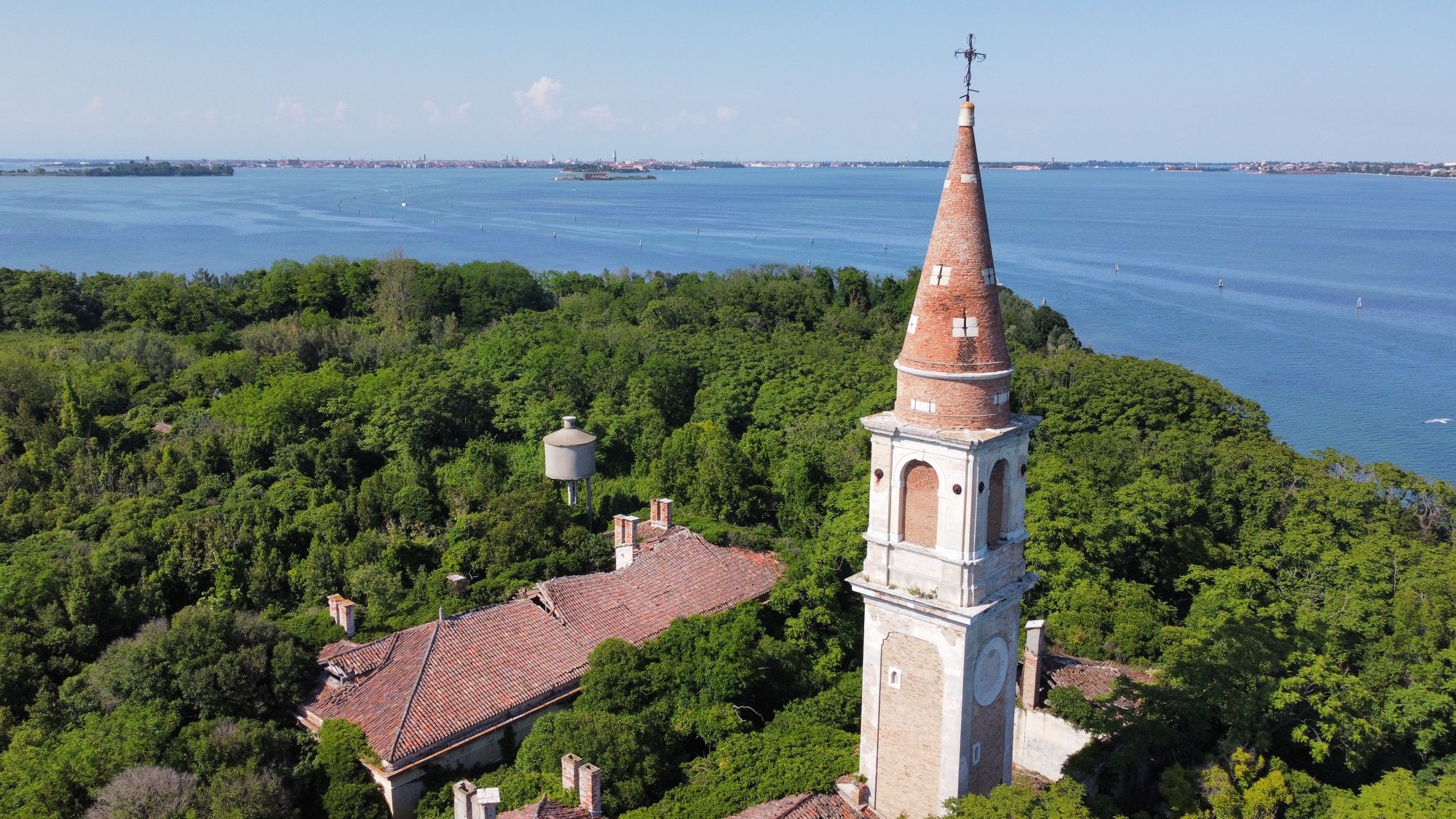 It was eventually used as a quarantine island and estimates put between 100,000 and 160,000 bodies buried in plague pits on the island due to the black plague. It was then a mental hospital from the late 1800's until 1968. It's reputed to be THE most haunted spot in the world and our anchorage for the night. Locals swear you will hear the bells ringing even though they were removed from the church tower years before.
The buildings on the island are in such poor repair that it's off limits to the public now, mostly because it's not without some danger due to collapse, but there were so many locals pulling up and exploring that I couldn't resist taking a look myself.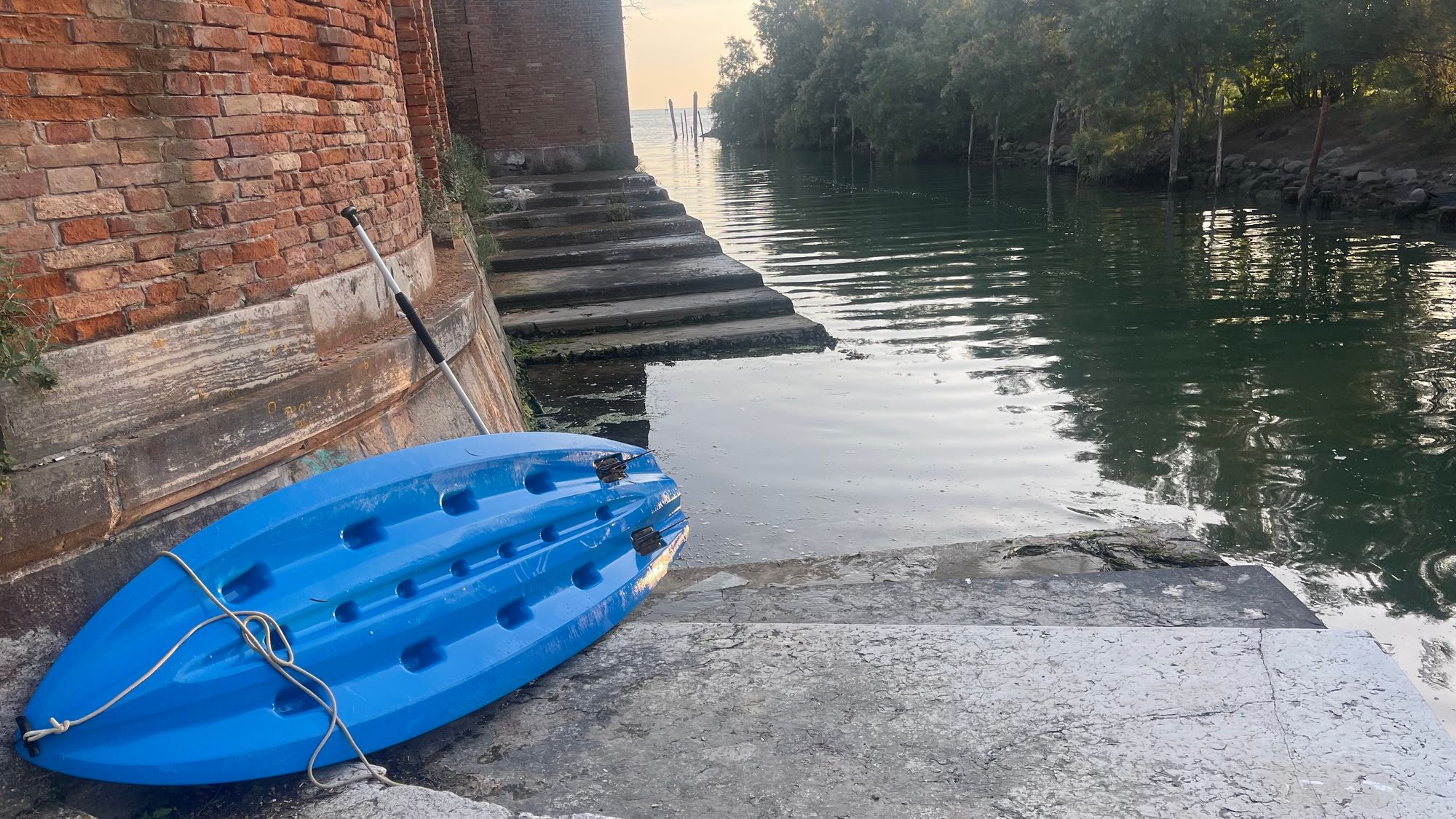 It was one of the creepiest, most surreal abandoned buildings I've explored. I never saw any ghosts, but the anchor alarm going off on my phone in my pocket (because I forgot to disable it when I left the boat) had me worried for a moment thinking I'd triggered some security system. Then during the night there was a clanking and banging of chains, but it was just the boat moving over the anchor.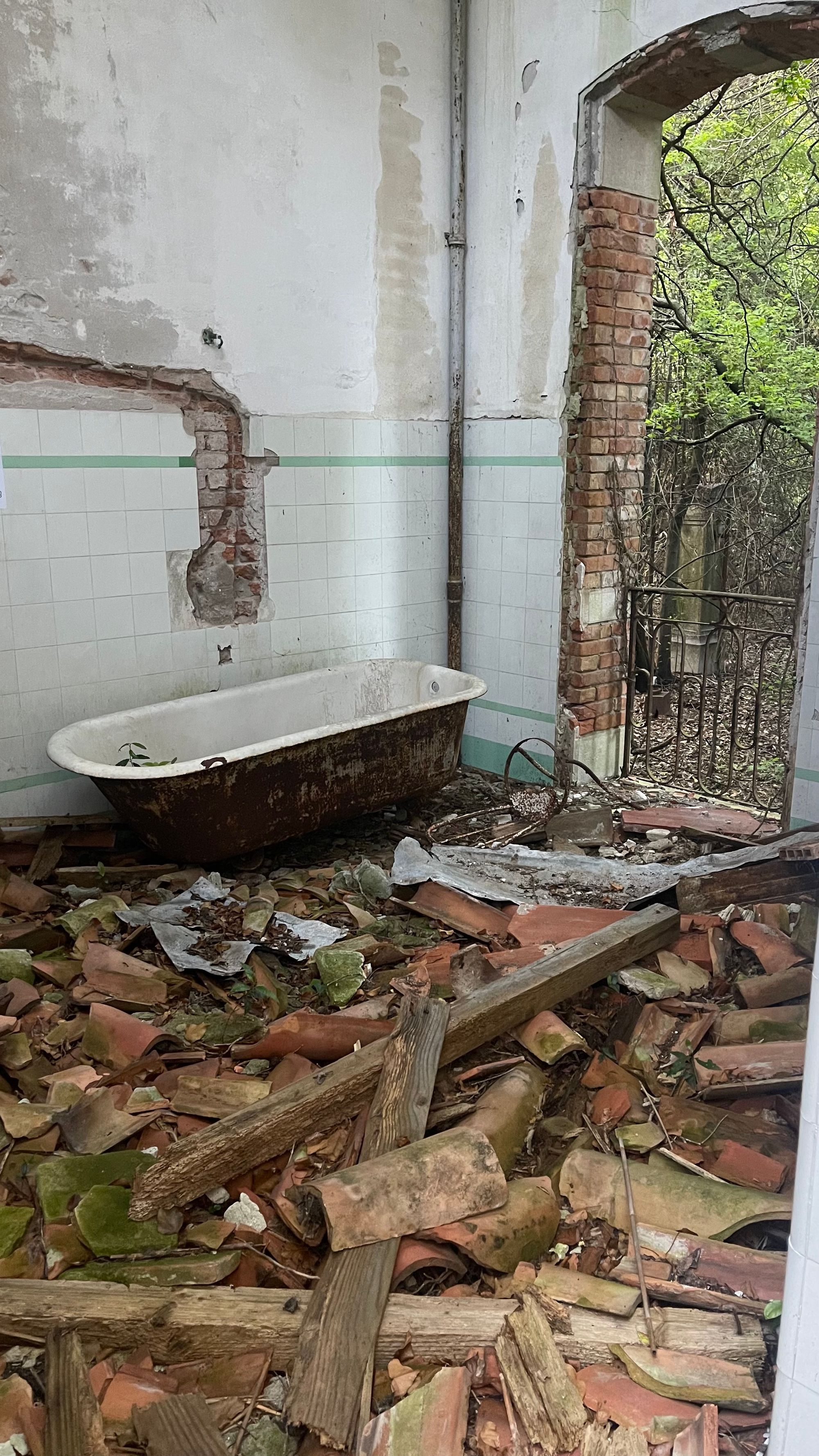 Friday we left the Venetian Lagoon for good, heading south to Porto Garibaldi, an Italian Resort town of no particular note other than it was the right distance (roughly 10 hours of cruising) away.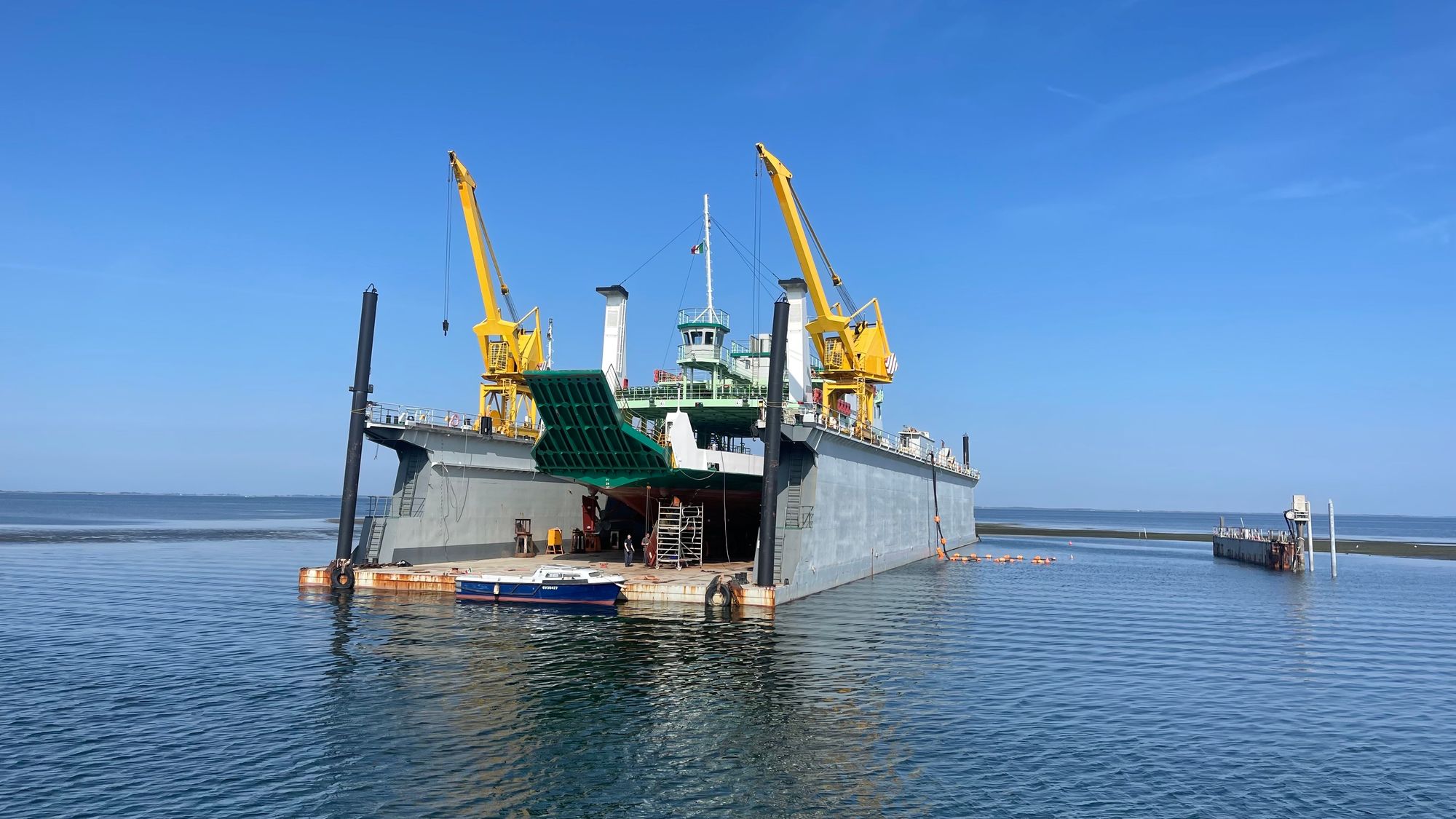 There's been huge floods in this part of Northern Italy which added some challenge to our journey south. As we passed the outlet to a big river the water became very muddy and filthy, and we constantly had to be alert to logs and branches in the water. We're so used to crystal clear water that this was a big shock.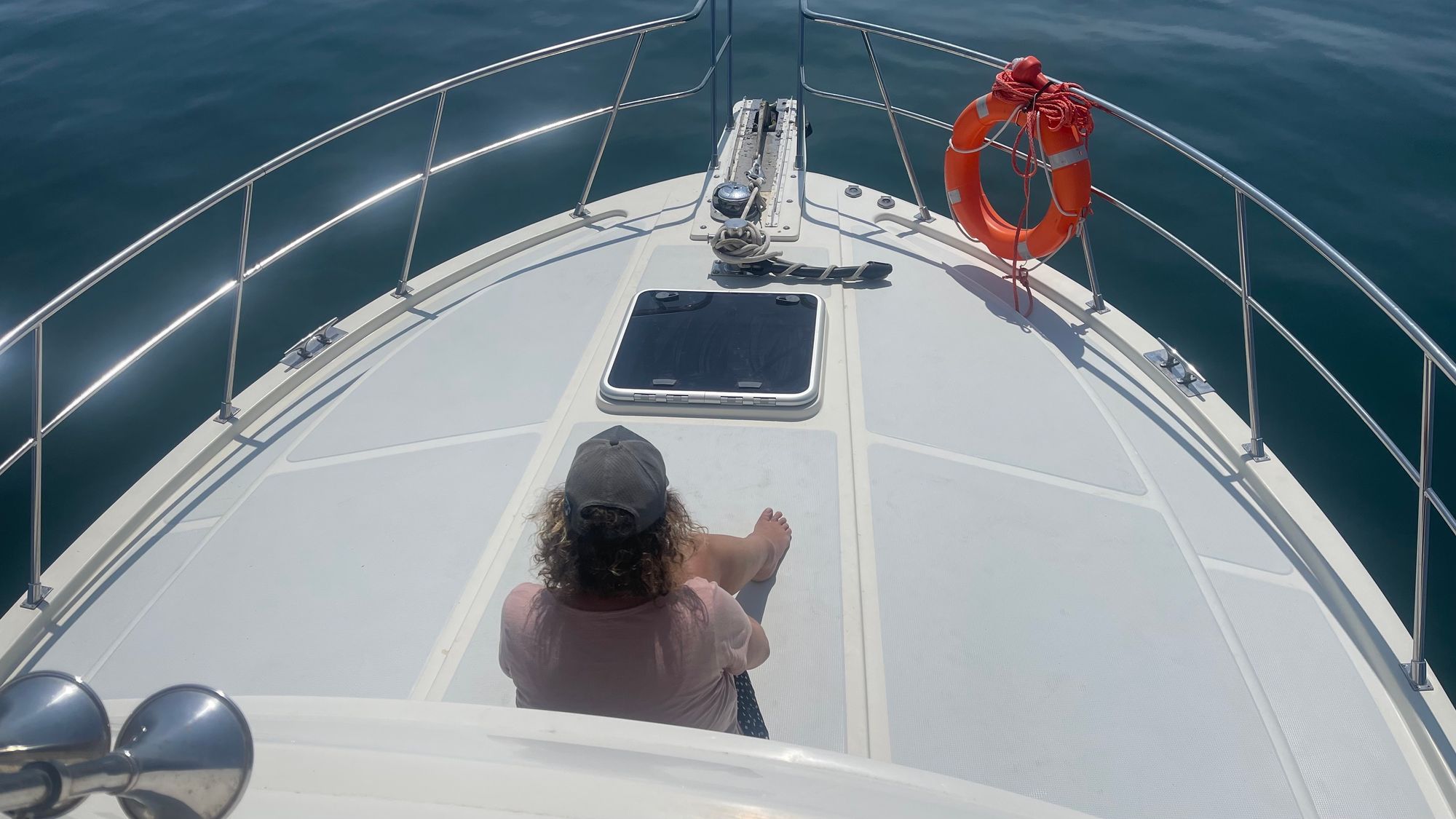 Porto Garibaldi has turned out to be more interesting than it has any right to be. It's not somewhere you'd say "go here". It's a very Italian resort town, full of Italian tourists in camper vans and endless condos. The beaches are flat and stretch for 100's of meters out to the sea, not that you can see it because they are covered in umbrellas and sun beds. Every inch of the foreshore is a "beach club" of some description.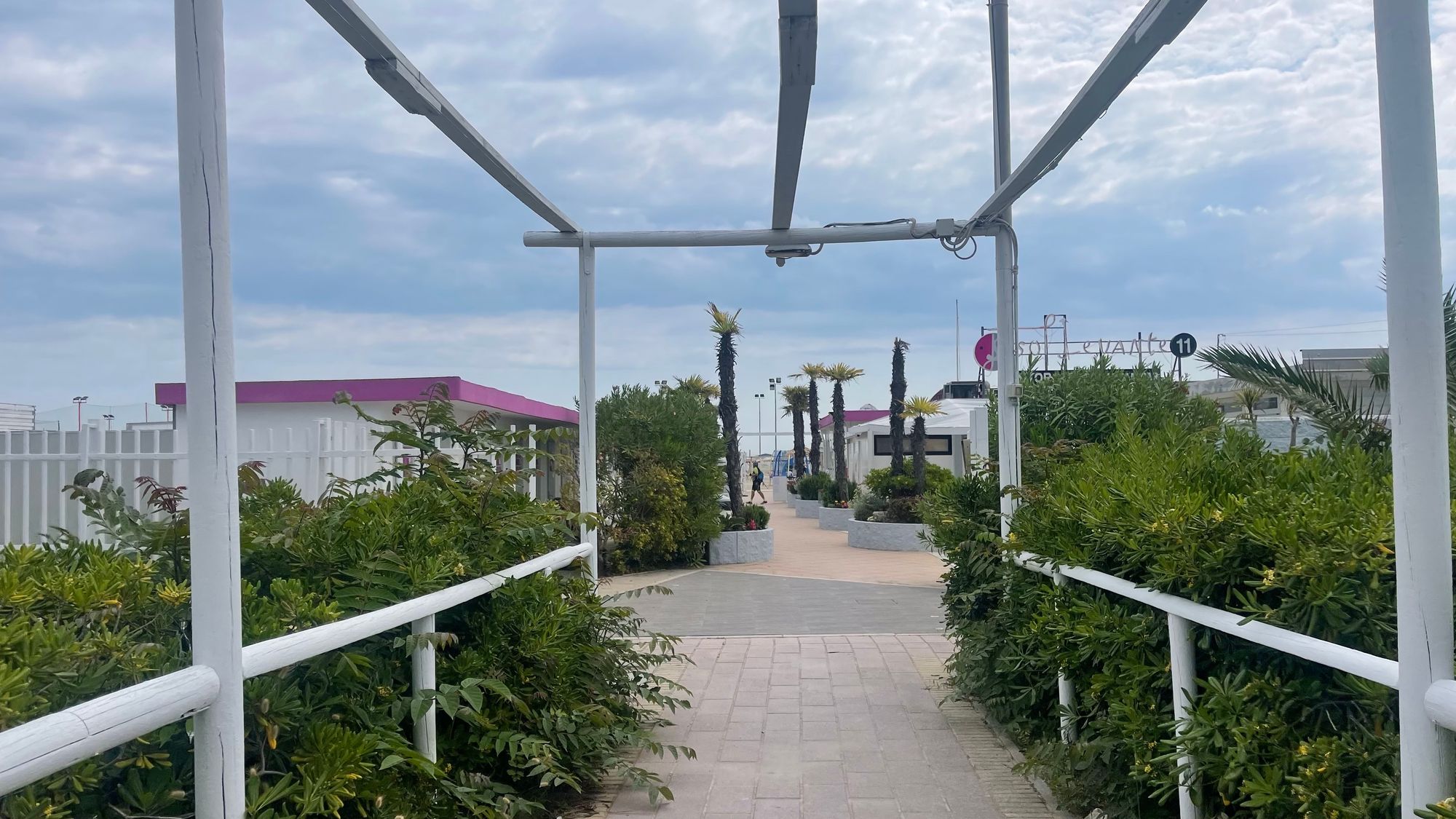 It's not "us", but it is fascinating and we've enjoyed exploring it for a day or so. You can tell that you're out of the more common foreign tourist areas because we now bump into shop keepers who don't actually speak any English at all.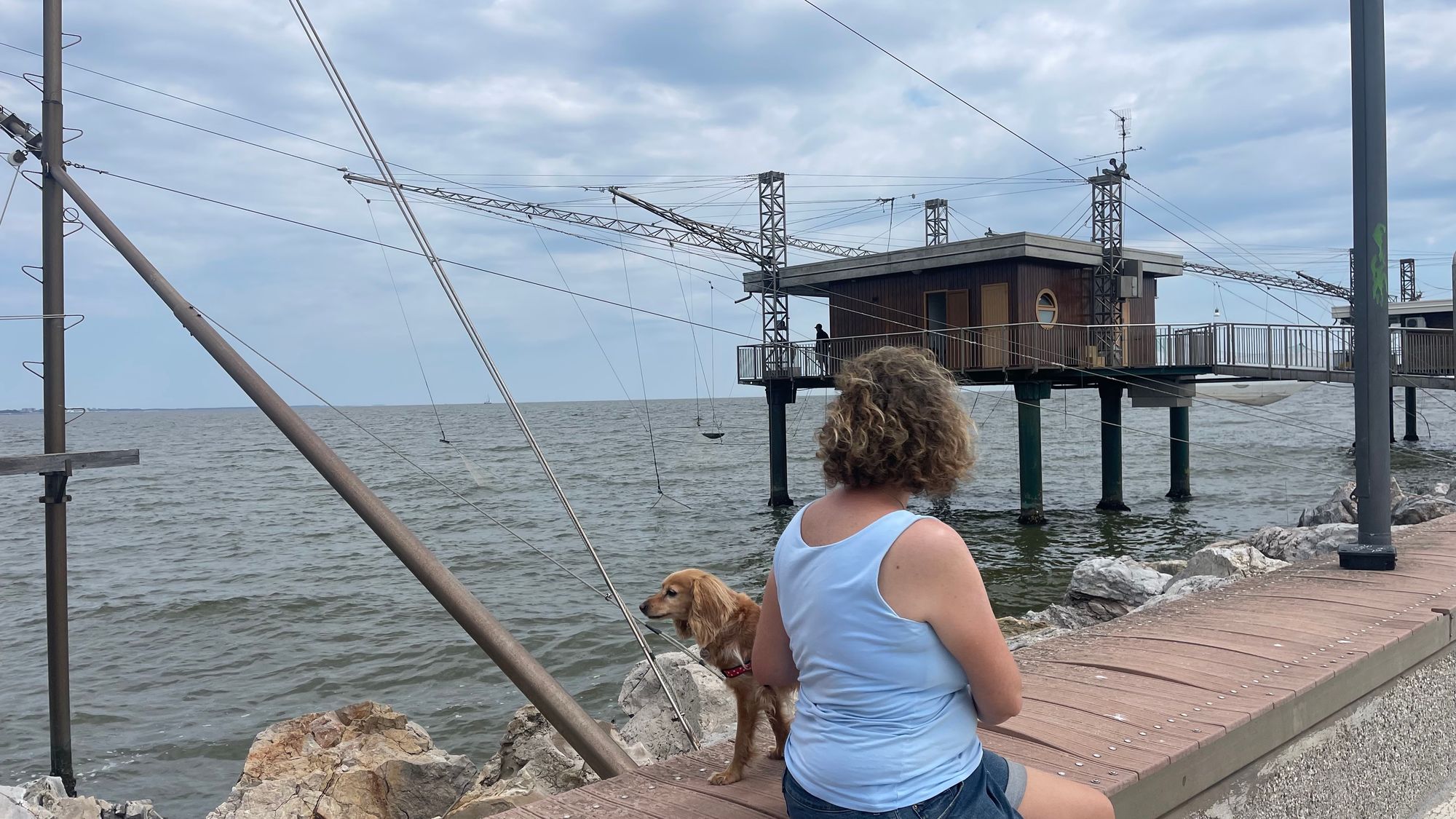 Italy continues to be a delight and we are loving our time here. There's so much that's different from what we are used to that it's all a bit of fun. One thing that's amused us both is that in fruit & vegetable shops, they are NOT "self-service". If you dare touch the produce to put it in a bag, you'll get told off. You have to wait for the shop keep to come around with you and you say what you want, then they will select it for you and bag it up. It doesn't matter if it's potatoes, bananas, apples or just an avocado - you're not allowed to touch!
The grand plan for now is to continue South and eventually, reach the end of the heel of Italy and cross back to Greece. Today, we're off to Rimini so that we can visit San Marino tomorrow.
Until next time,
Tim & Karina
Where are we now?