Week 145: Time travel and groundhog day
We head south and back in time through the coastal resorts of the Marche region of Italy.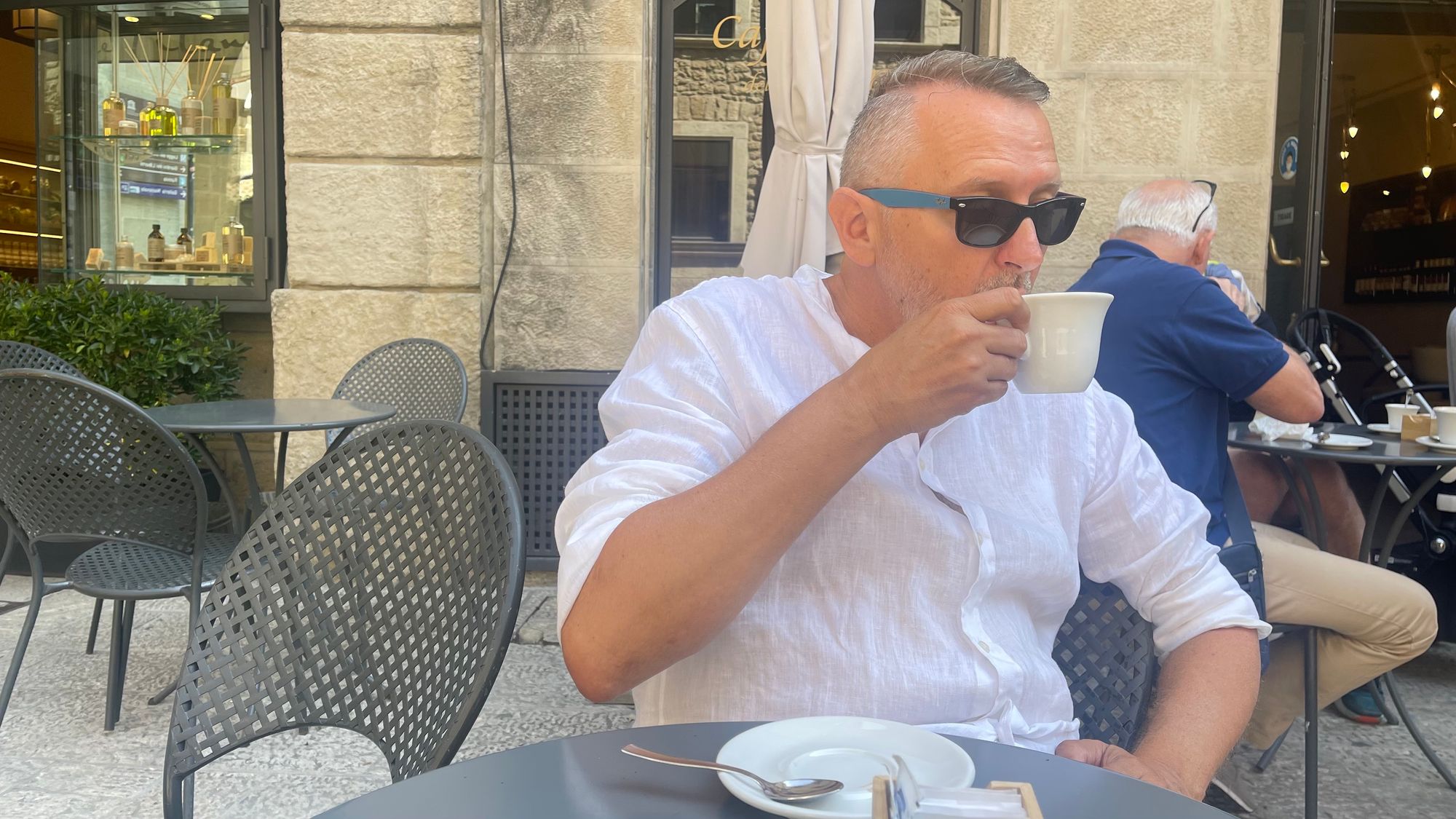 Travelling through this region of Italy by boat is a very different experience for us. There are endless marinas, appearing regularly every 20 nautical miles, so much so that we stopped booking ahead. Just call when you're outside and they always seem to have a berth for a "transito" or boat passing through.
As we left Venice, the coastline was very flat, but now we have long stretches of beaches with rolling green hills behind them. Occasionally even a small cliff as the geography slowly changes.
Of course, to enjoy that would require us to be able to sit back, relax and watch it, but for the first few days, the water was NOT cooperating. South of Porto Garibaldi was Ravenna, the center of the big floods the previous week and the debris was amazing. We did a long and exhausting day, dodging logs every few minutes the whole way down the coast. It's tiring when you have to remain on high alert the entire journey.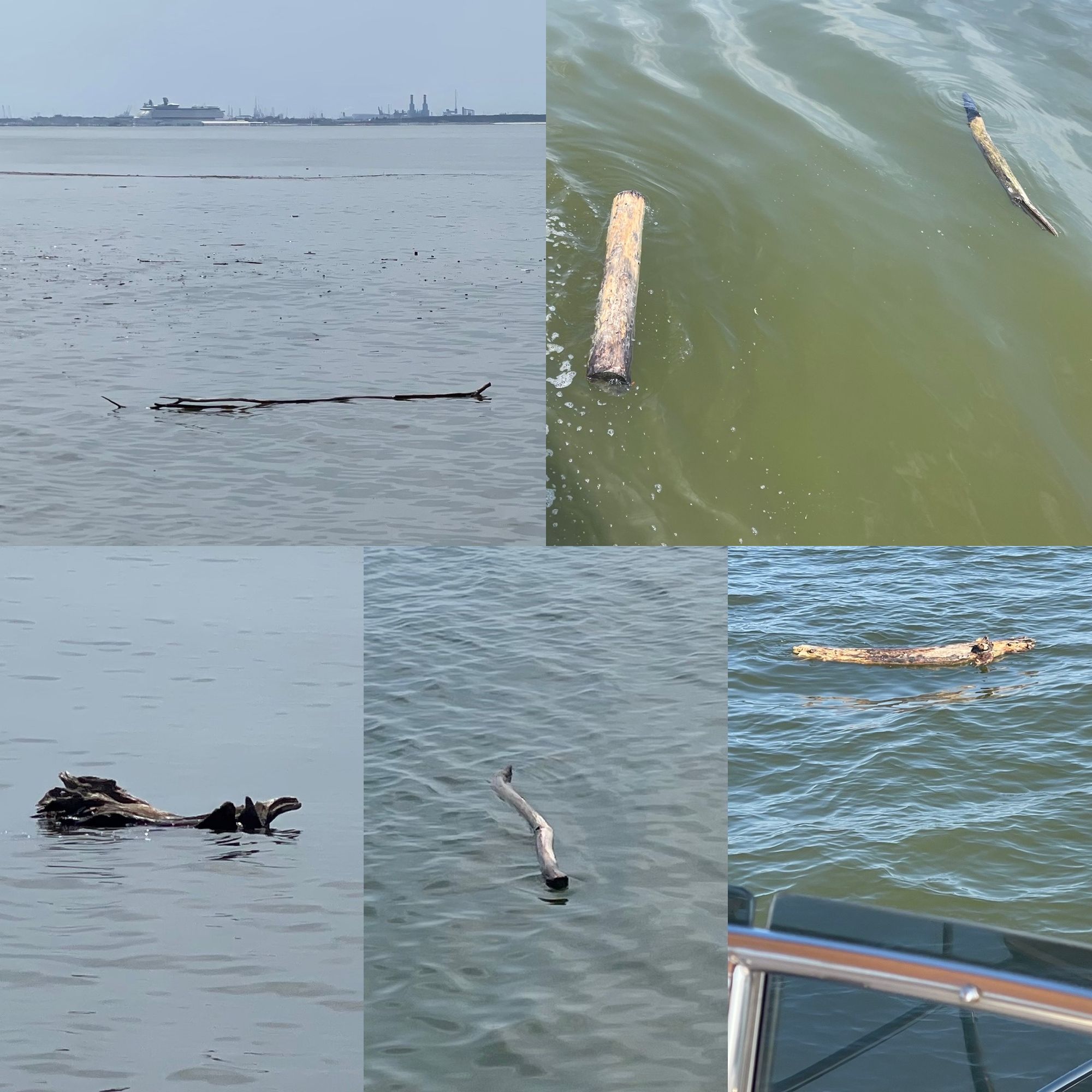 It helped make the decision to wait an extra day in Rimini. The longer we waited, the more time the water would have to clear up and the logs to go. Rimini is a lovely enough medieval town, with some interesting sites. Perhaps the most interesting is the Tiberian bridge, which was built in Roman times and still exists today.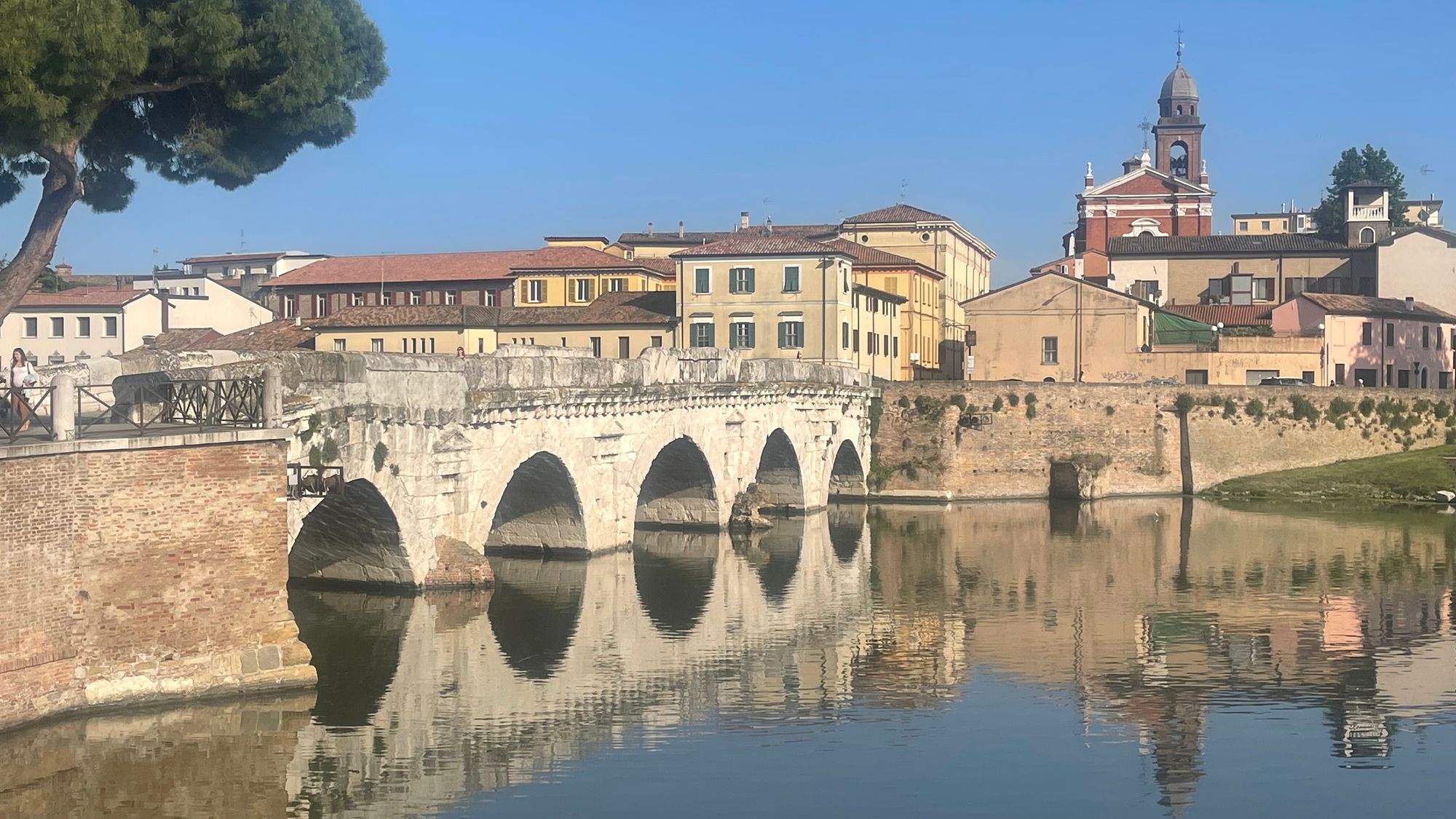 The story of this coast of Italy is heavily impacted by WWII – either there's little left because the Allies bombed it to the ground, or in many cases, the Germans destroyed things as they left. When the Germans retreated, they made one attempt to destroy the bridge, but the when that failed, the commander ordered it be left, thus saving it for future generations. For reasons unknown, they also ordered the destruction of every bell tower in Rimini, which strikes me as somewhat specific.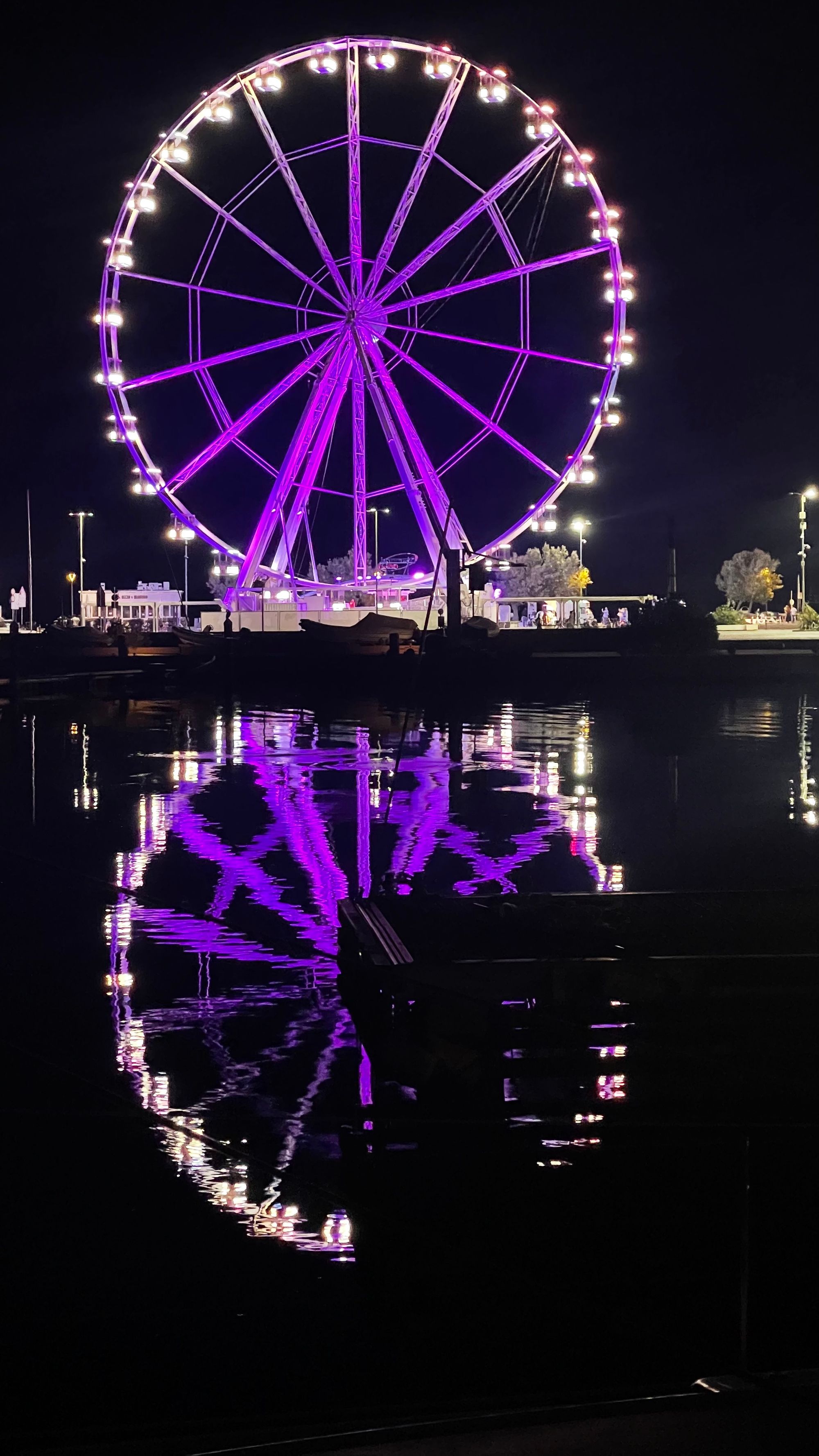 Another reason for stopping in Rimini was that it's close to San Marino, the 5th smallest country in the world! Founded in 301AD, it's considered the oldest continuing government in the world, its formal written constitution dating from 1600AD still continuing in effect today.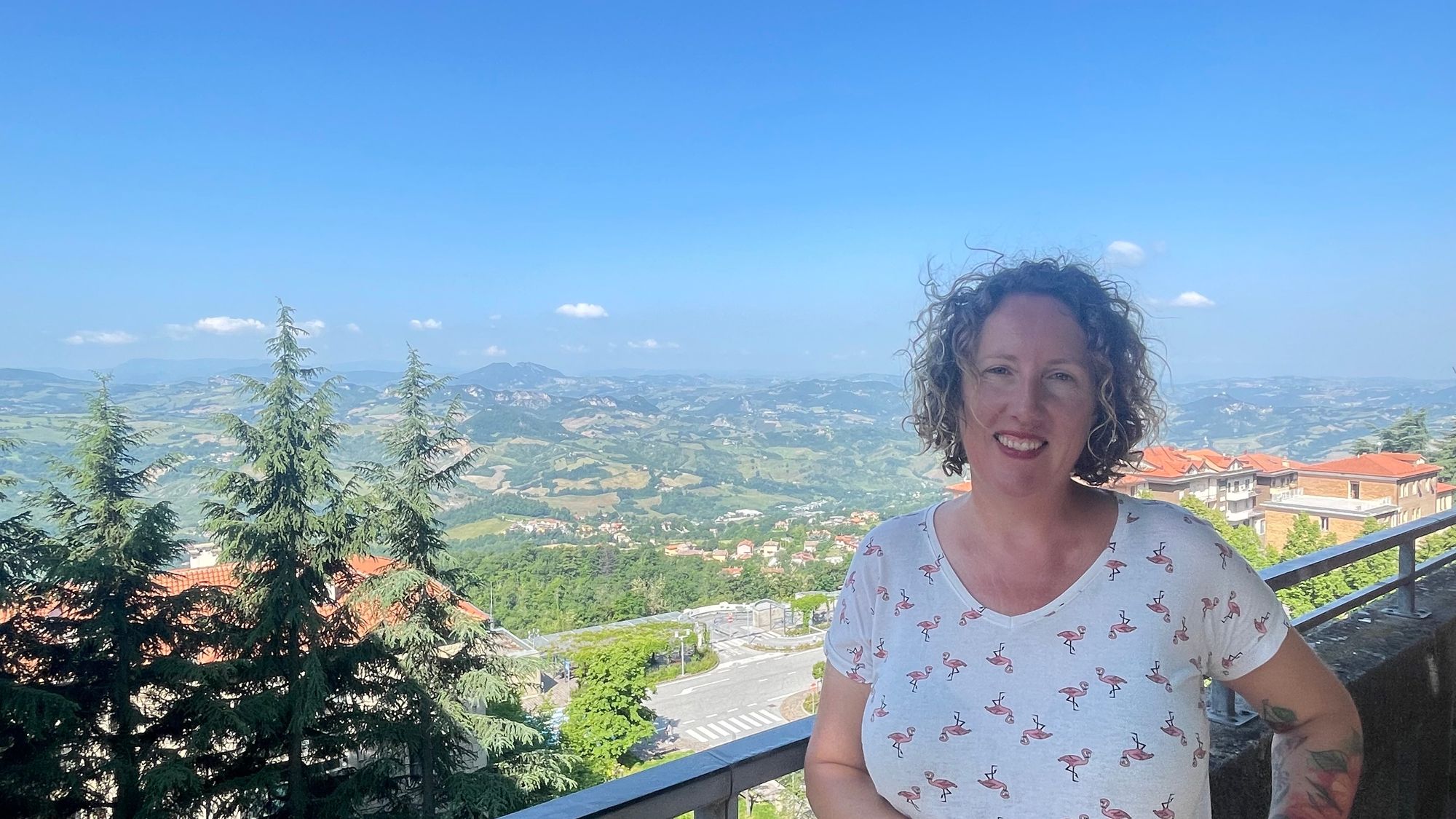 The medieval city of San Marino is UNESCO World Heritage listed, both for its government and for the fact it's considered one of the most intact medieval city cores that's continued in existence. Helped no doubt by the fact that it declared neutrality in WWI and WWII, sparing it from a lot of destruction.
So we were quite surprised when we first entered on the bus when all we could see was endless car yards, watch stores, fashion mall outlets and music shops. Much of the rest of San Marino has been turned over to tax free shopping! Fortunately once the bus was up the hill, we experienced something more like we had in mind.
A couple of hours wandering the old city, enjoying the view and poking through the tourist shops and we were ready to catch the bus back down the hill and go relax on the boat.
Still scarred by the earlier journey through the logs, and also with the weather a little rougher (mostly swell rolling in from big winds over near Croatia), we decided on a shorter 2 hour hop to the town of Cattolica. It was a good call. The ride was uncomfortable and the logs still an issue (although improving).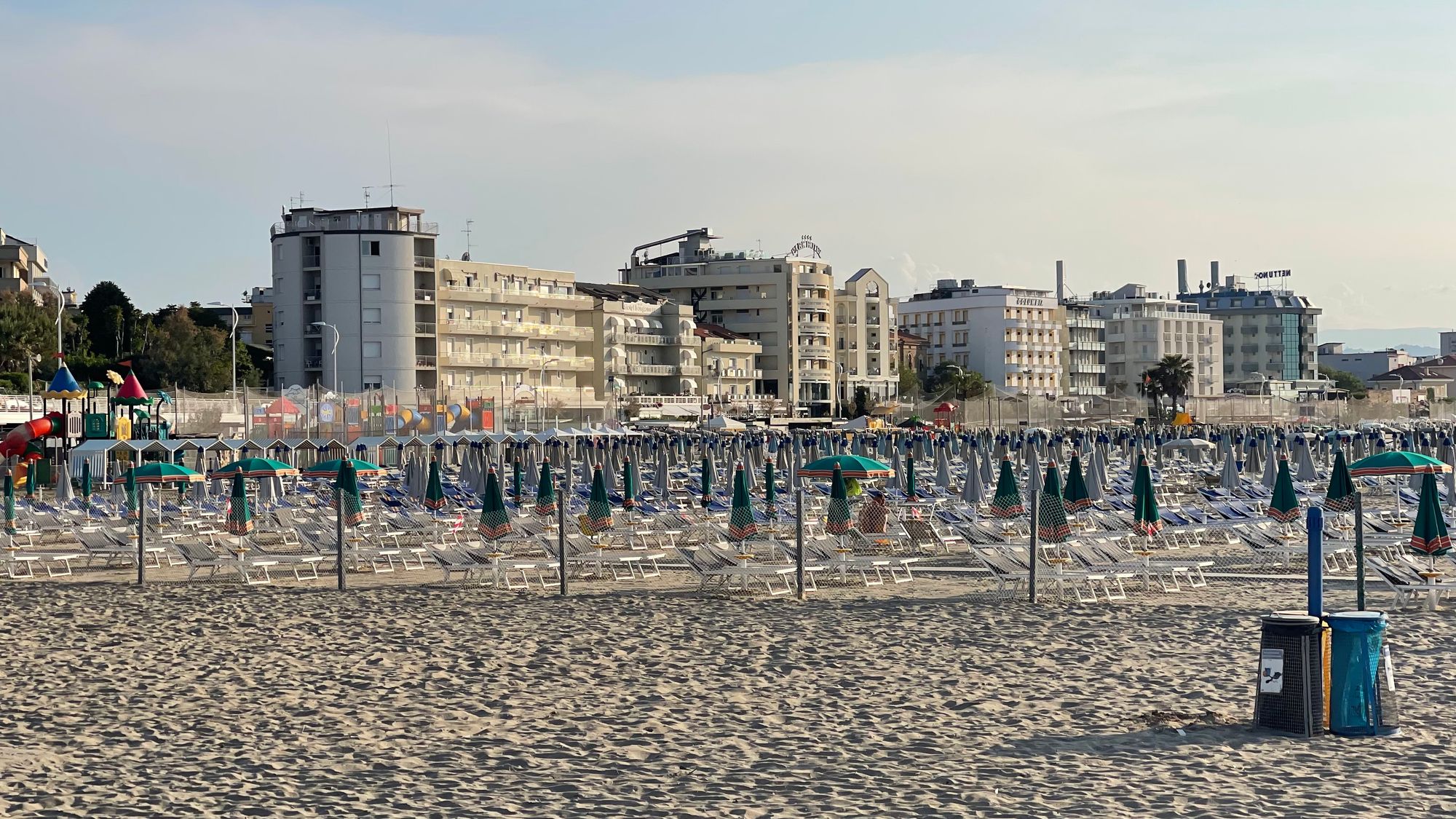 This whole coast is a step back in time. The beach clubs along the coast have been in existence for many years. It's not uncommon to see a sign saying "Same family since 1908". Generations of Italians have grown up, holidaying on the coast, returning to the same location year in and year out.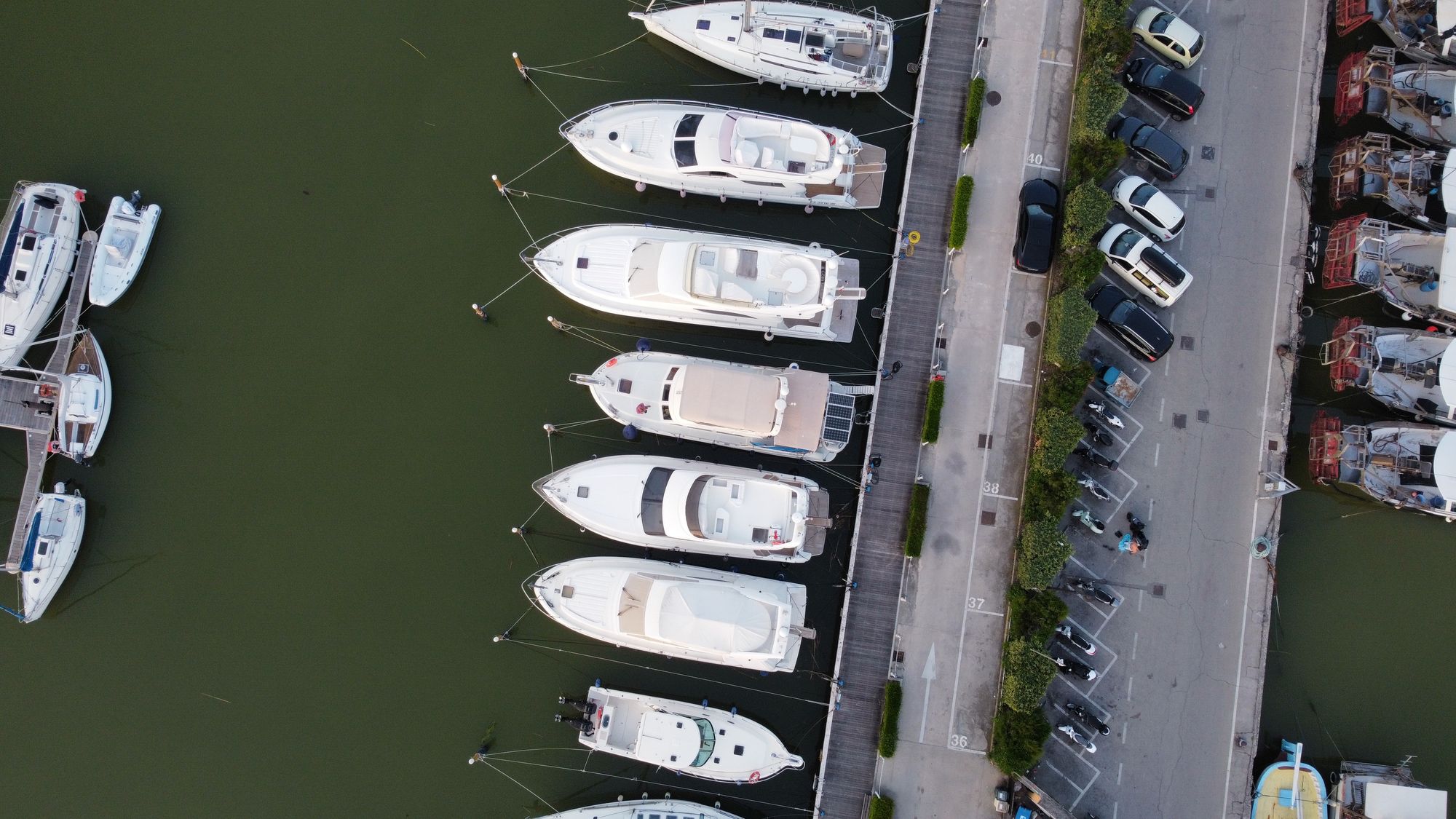 If you were to be transported suddenly from the 1950's, I doubt you'd find it much different today, the same shops (a little more modern most of the time), the cars have changed, but the clubs and the chairs have barely moved forward.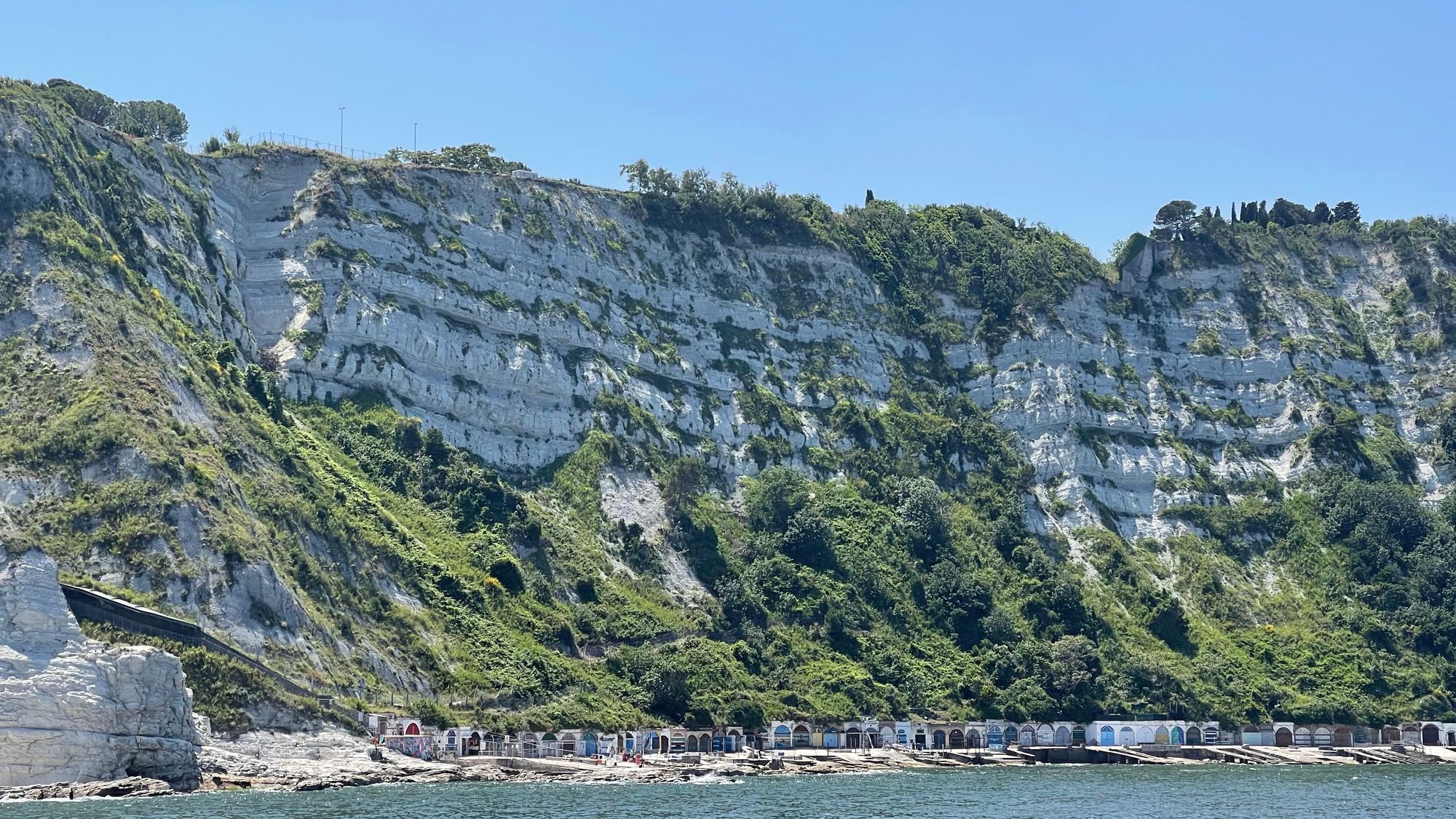 In fact our friend Viv asked us if we could check in on an old beach club his family used to visit north of Rimini. Something we really wanted to do, but unfortunately it was about 15kms north of our marina and we weren't able to get there. We looked into hiring a car (which we would combine with going to San Marino) but it was €170 a DAY, so we didn't...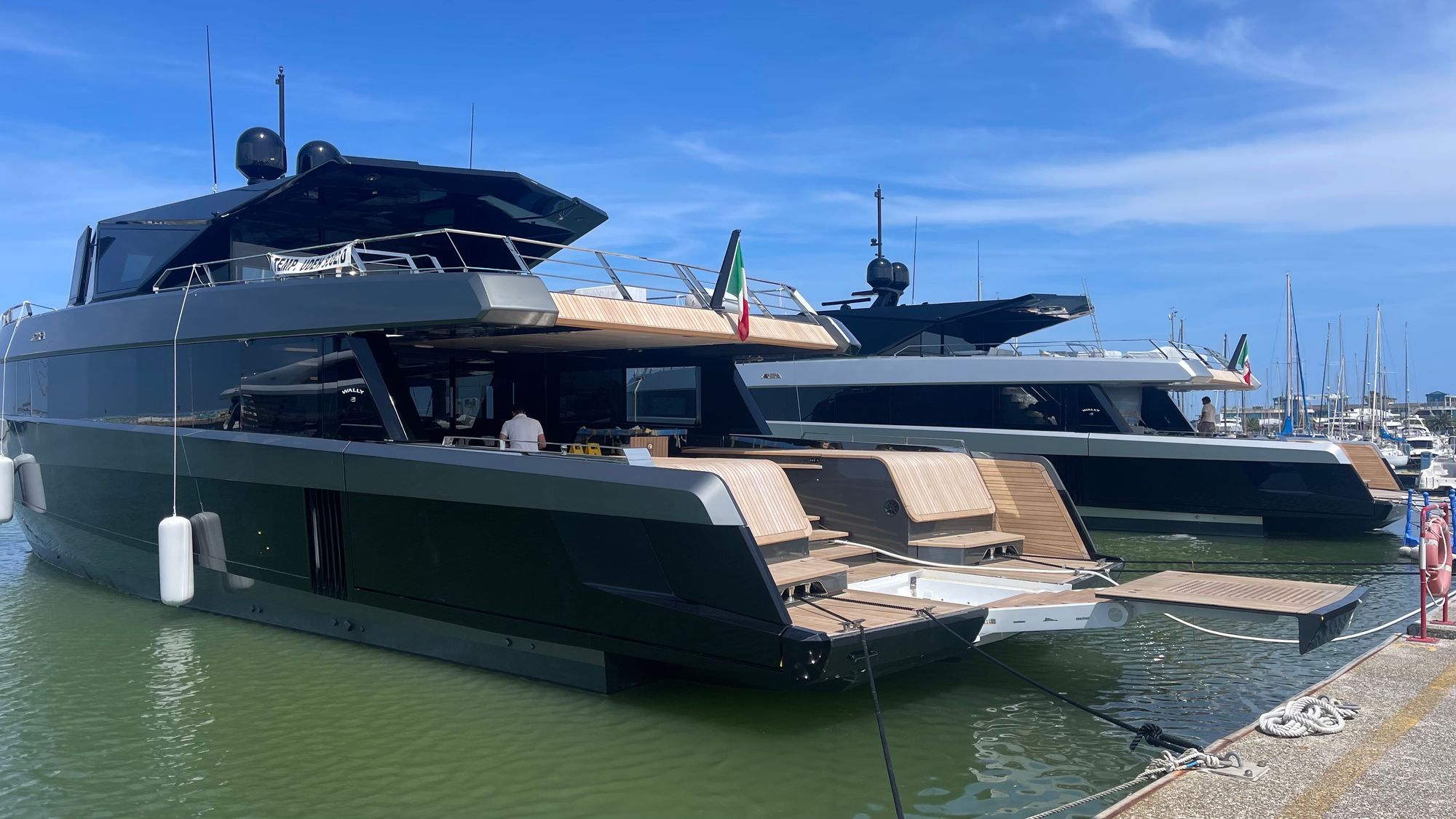 Cattolica was green and leafy with a real retro feel. There were several delightful plazas, some decent shops and good food. It's not where a foreign tourist would go at all.
Each town down the coast is both similar, but also slightly different from each other. It's a bit like going to Whyalla Vs. Victor Harbour, or Pismo Beach Vs. Santa Barbara. Each is a beach town, but they serve different demographics. Some suit more of an RV crowd, others feel a bit more like "summer homes".
The further South we've headed, the less English is spoken. In Civitanova Marche, we found a wonderful pasta shop making fresh pasta and they couldn't speak a word of English at all. In fact no one in the store spoke any.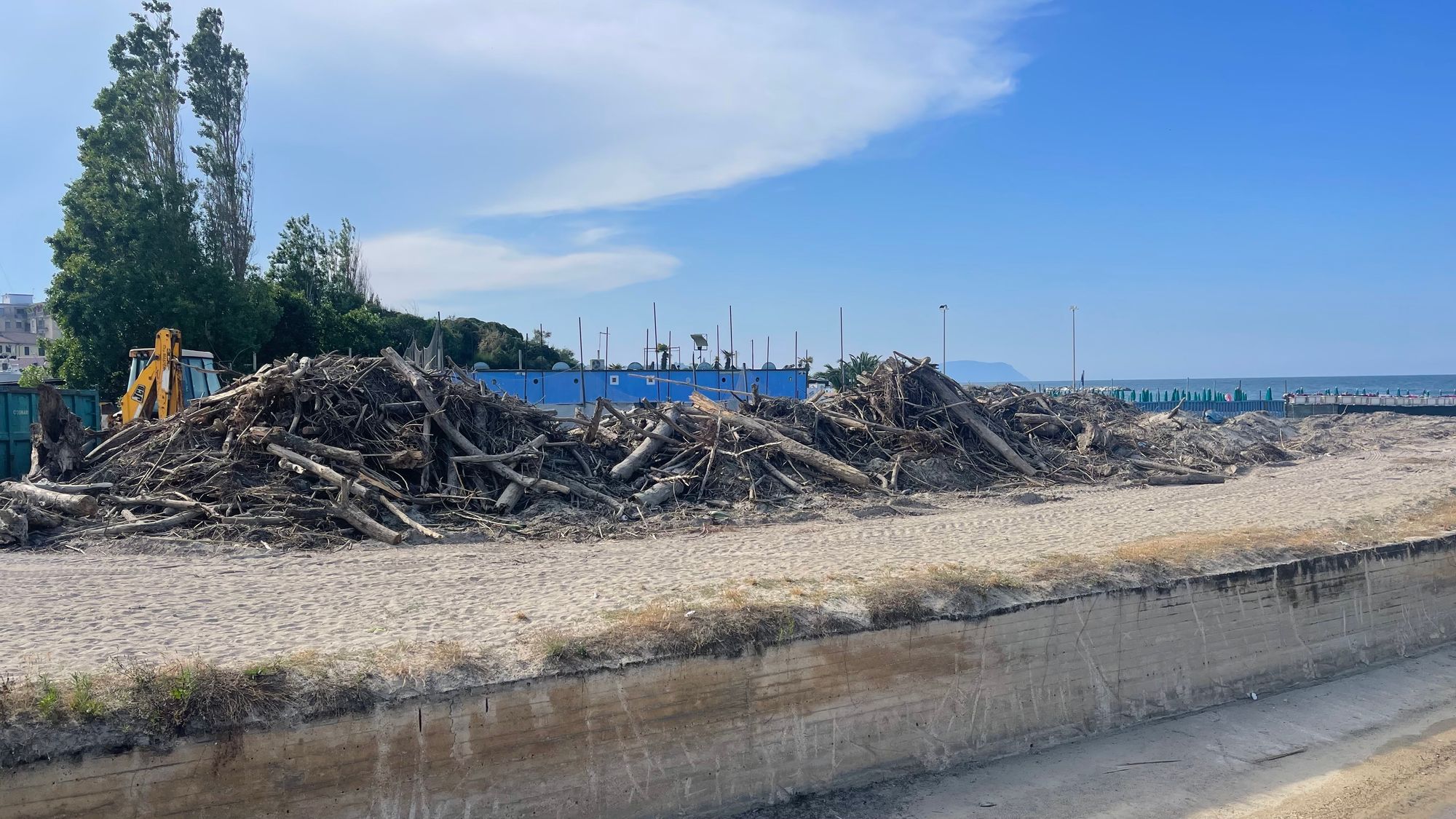 Our Italian and Spanish (picked up from Tacqueria's in California) is blurring. I tried to order a half-kilo of pasta, which the lady did not understand. Eventually, she just started measuring it out and when she got to about 350g, I felt that was enough.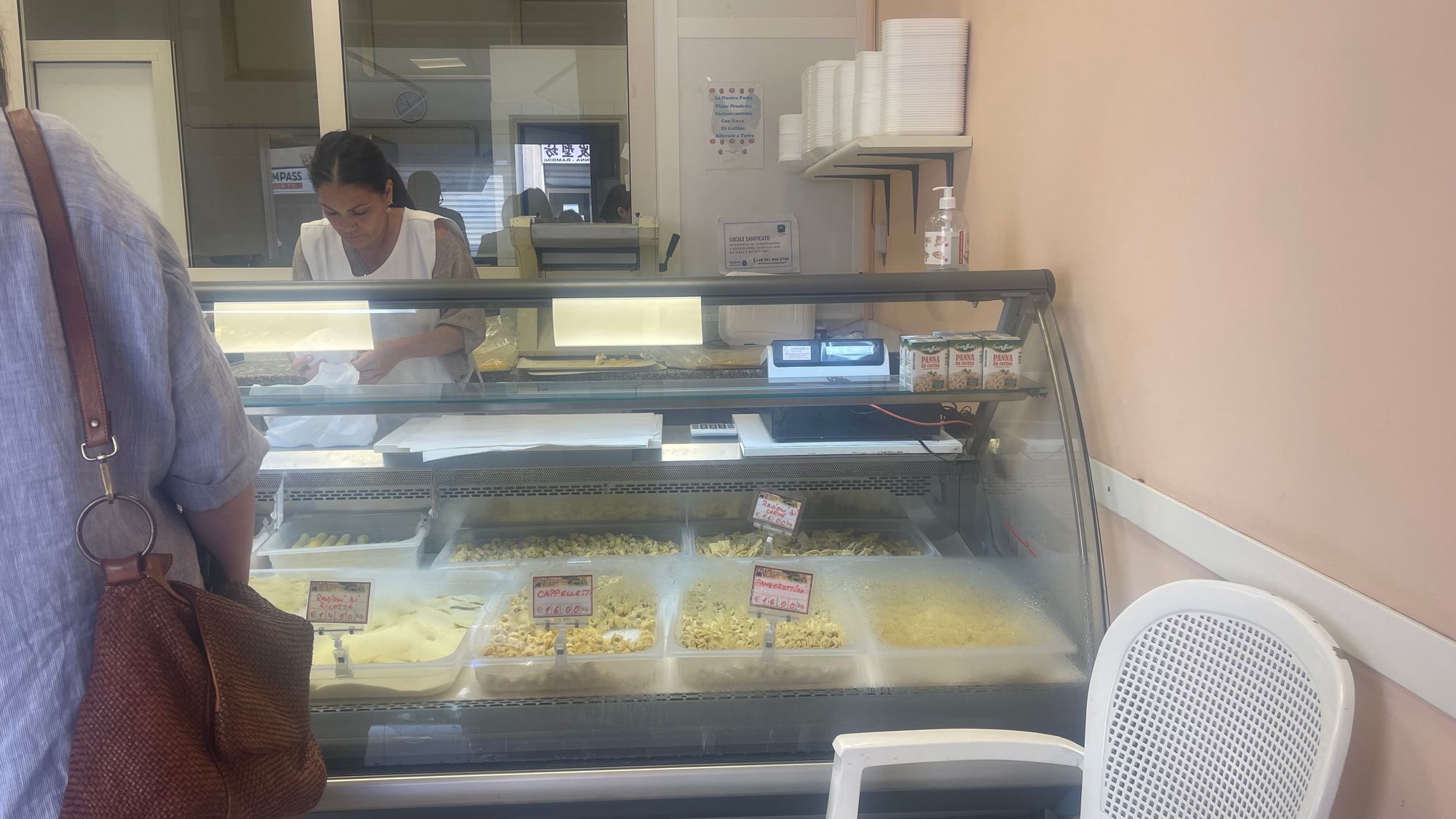 "Bueno!" I exclaimed.
"Ah! Parli spagnolo." She replied ("Ah, you speak Spanish").
No, I'm just really bad at Italian. "Bene" was the word I was looking for.
We stayed in Civitanova for an extra day as June 2nd was Italian national day. After World War II and the end of the fascists, Italy held a referendum on what type of government they wanted. Become a republic, or return to the monarchy? They chose a republic and the king was exiled to Portugal, his male heirs banned from ever returning to Italy (a law they apparently removed in 2002).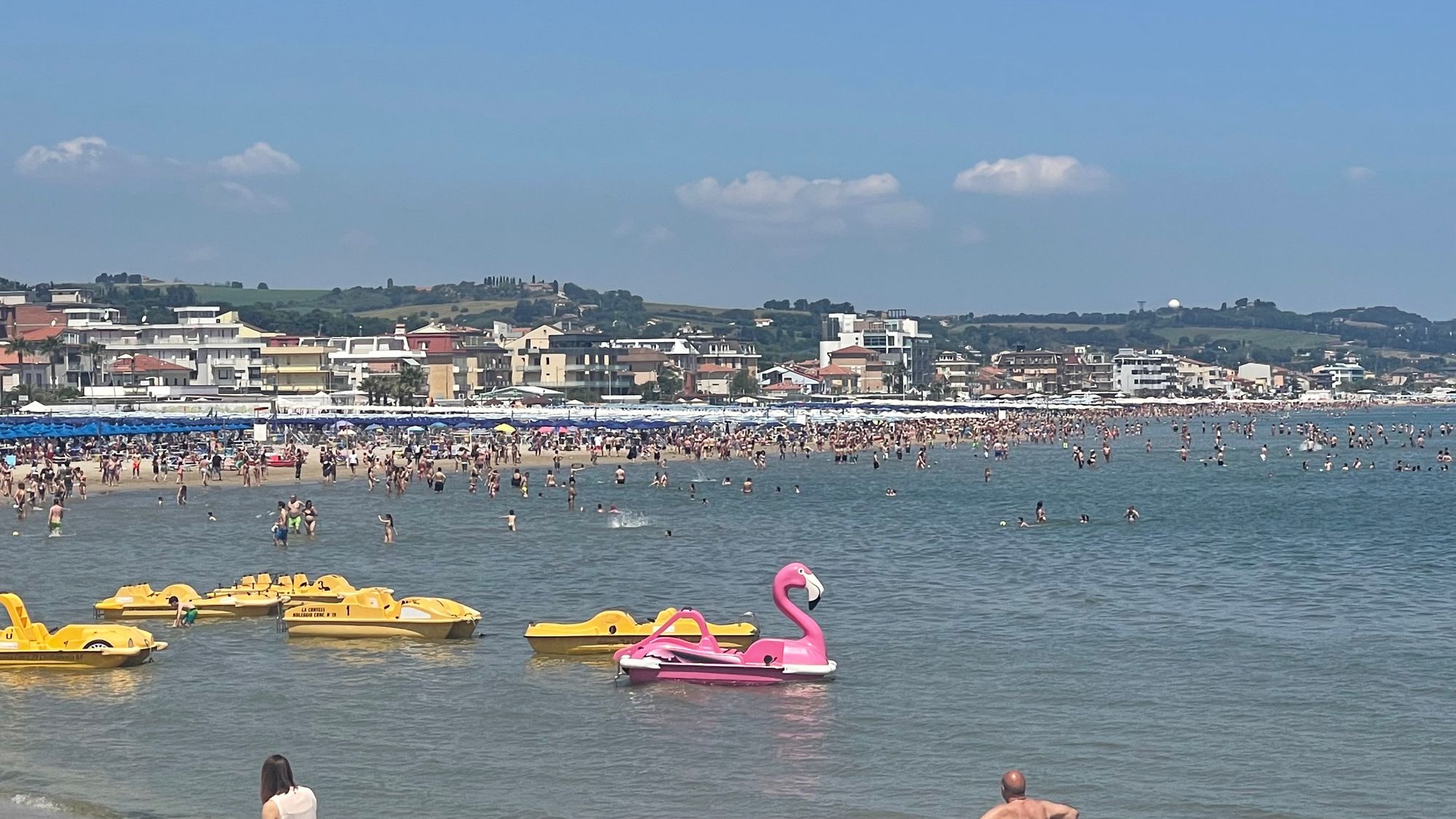 It proved to be a lovely relaxing time, but we didn't see any real symbols of the event. There was a civic square that on the morning of the 2nd they were still setting up a stage. We came by later in the afternoon and still nothing. About 9PM on the boat, we could hear music and some announcements in the distance, but by that stage we were exhausted and ready to relax. So we missed it.
Now we're in Pescara, a modern fishing town a bit over half way down the back of the "calf" of Italy.  With the weather settled and the logs finally cleared up, we decided to put in a bigger 10 hour day and jump further South again.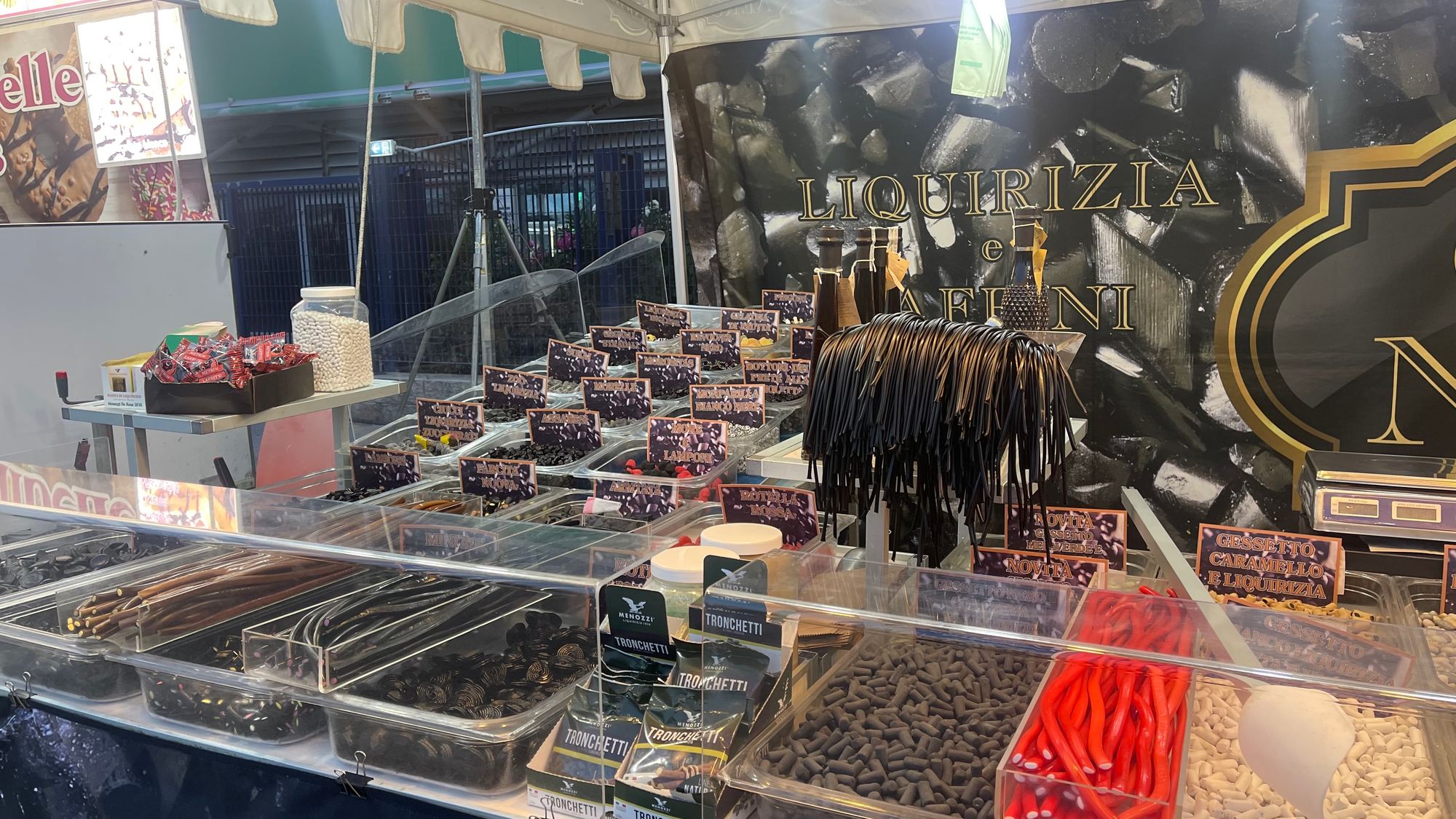 I'm glad we made the choice to come this direction. Karina and I were talking underway a bit about the "types" of cruising that people do. We're firmly in the camp of "cruising to go and explore the land." Others sail for the pure joy of it. We love being out on the water, but for us it's a method to get to somewhere to be. Perhaps that's also the nature of motor boats.
As a place to "be", objectively this coast of Italy is nowhere near as good as Croatia. Too long and boring, no anchorages (only marinas), so many fish farms, oil rigs and lobster pots to dodge, let alone the logs from the rivers after storms.
But as a place to explore, it's been delightful. While we don't love every small town we stop at, we're enjoying the contrasts between them. The feeling that we're somewhere different that most foreign tourists don't come and see. A sense that we're exploring what it means to be in Italy and a look at the how some Italians live and enjoy their country.
Of course we love a good anchorage too and crystal clear blue water too. We really miss those, but we also have no regrets about using Matilda to explore this coast and experience more of Italy. We'll make the most of the water and the swimming when we get back to Greece.
I imagine this next week will blur into this one, our only real plan is to continue to head South and once we find a secure (and cheaper) marina, hire a car for a few days to go on a bit of road trip and explore inland some more.
Until next time,
Tim and Karina.