Week 148: Farewell Italy, Hello Greece!
Tax Evasion, Pirates, Fog and WWII Mines as we leave Italy for Greece.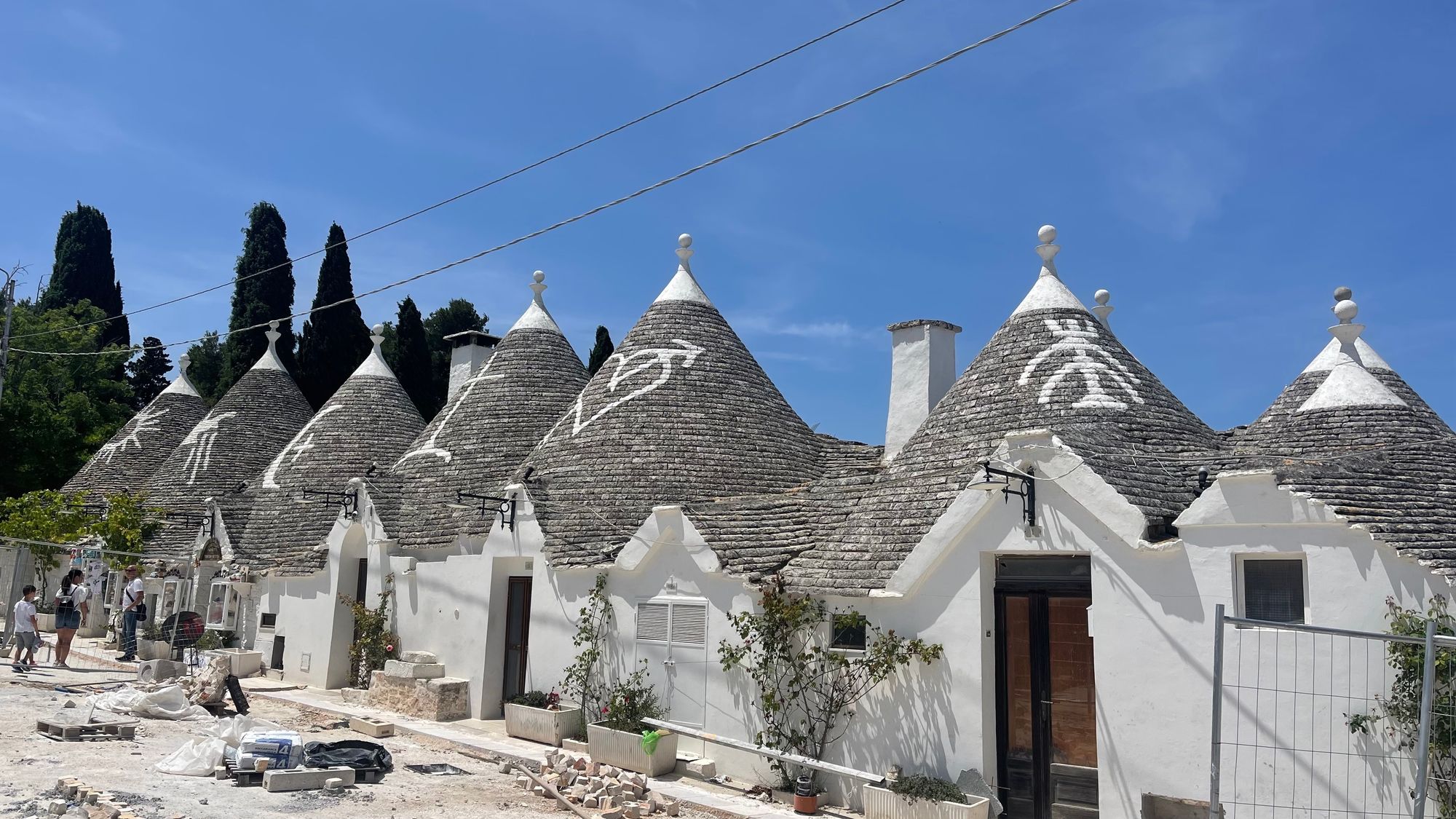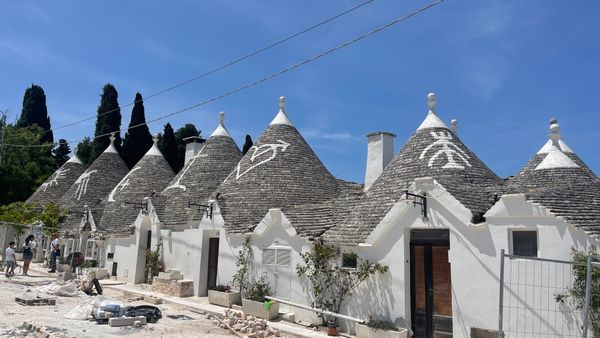 A recurring theme is just how much history there is in this part of the world and how interconnected it all is. It's all so close, you can breath it in and frequently touch it. Which isn't always a good thing.
One interesting topic this week on the Facebook sailing groups was a yacht that anchored in Pula, Croatia and got stuck, its chain wrapping around some underwater obstruction overnight. They called in a diver who gave them the somewhat concerning news that he "thinks" it was caught on a WWII underwater mine. They cut the chain to free the boat, leaving the wrapped chain and anchor behind. The navy was called in and eventually this week confirmed that yes, it's an unexploded WWII underwater mine. If you remember our visit to Pula, I mentioned it was an old shipyard and active in both wars. Anyway, turns out we anchored in Pula right over the top of where this mine was discovered (no exaggeration, I have exactly where we anchored marked and where the mine was discovered, we were within about 20-30 meters of it with around 45 meters of chain out, if the wind changed, it could have been us)! That wasn't the sort of hazard we expected to be unwittingly dodging as we cruised the Mediterranean.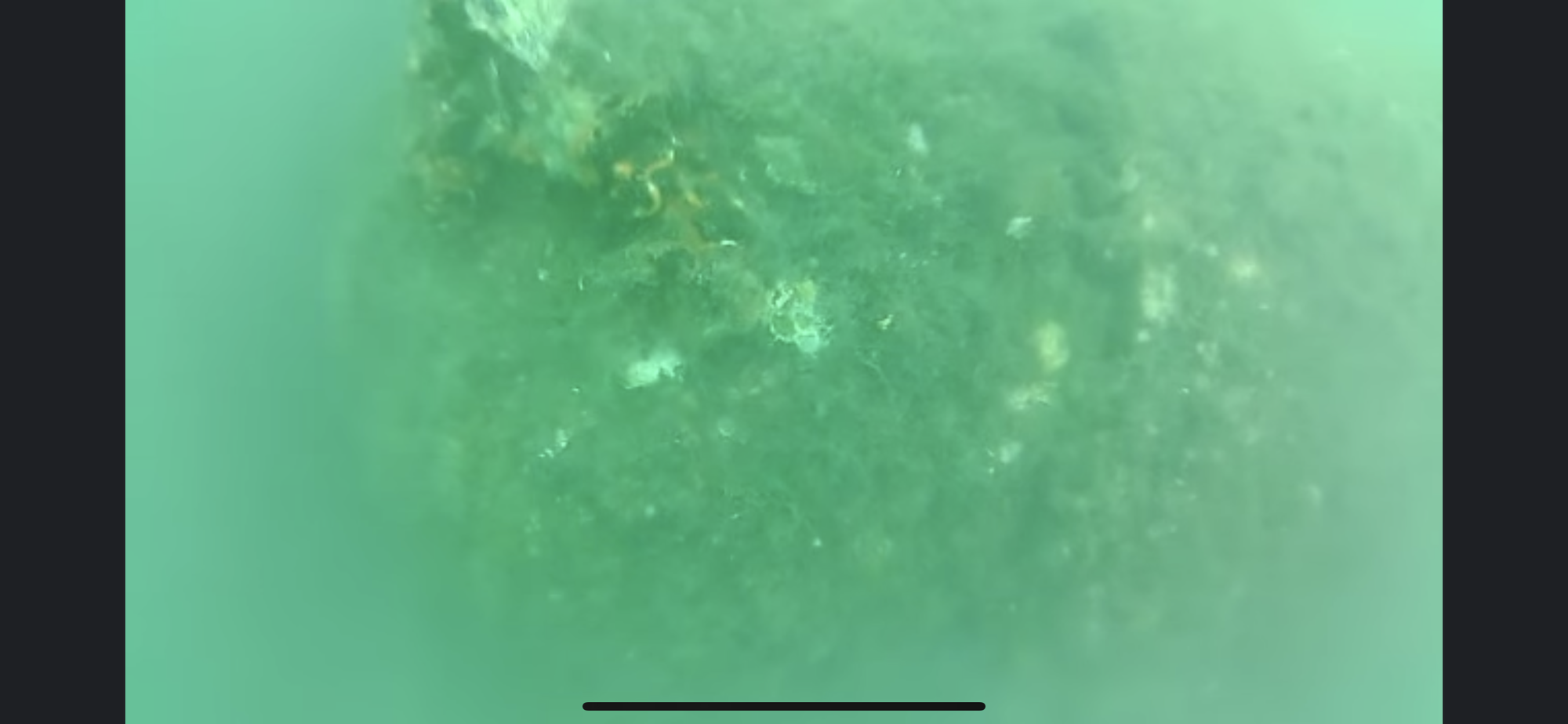 On Sunday in Bari we hired a car to drive and visit the towns of both Alberobello and Metara, both fascinating and interesting places to see.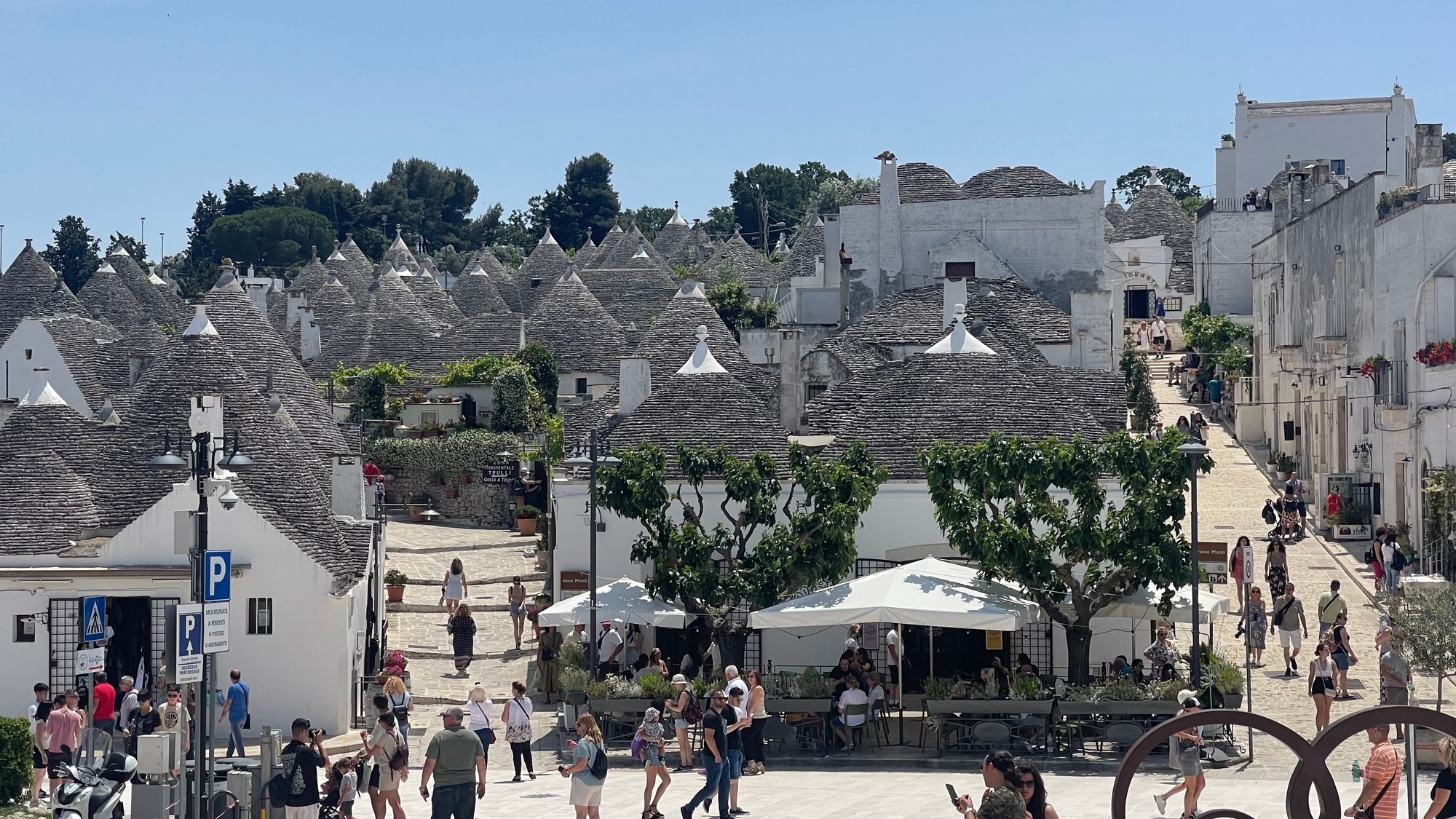 Alberobello is full of small houses called "Trulli" which are made with local stone and a conical roof, with the walls all painted white. It makes for a very "otherworldly" place to visit, with lots of spectacular scenery and of course, an equally spectacular number of people fighting for position for just the right photo. My favourite part of it was learning about WHY they built these. There's a few theories, but I think the most likely is that the local king instituted a tax on permanent buildings. The locals figured out they could build without mortar using stone and these conical structures - the building was therefore not permanent, tax avoided!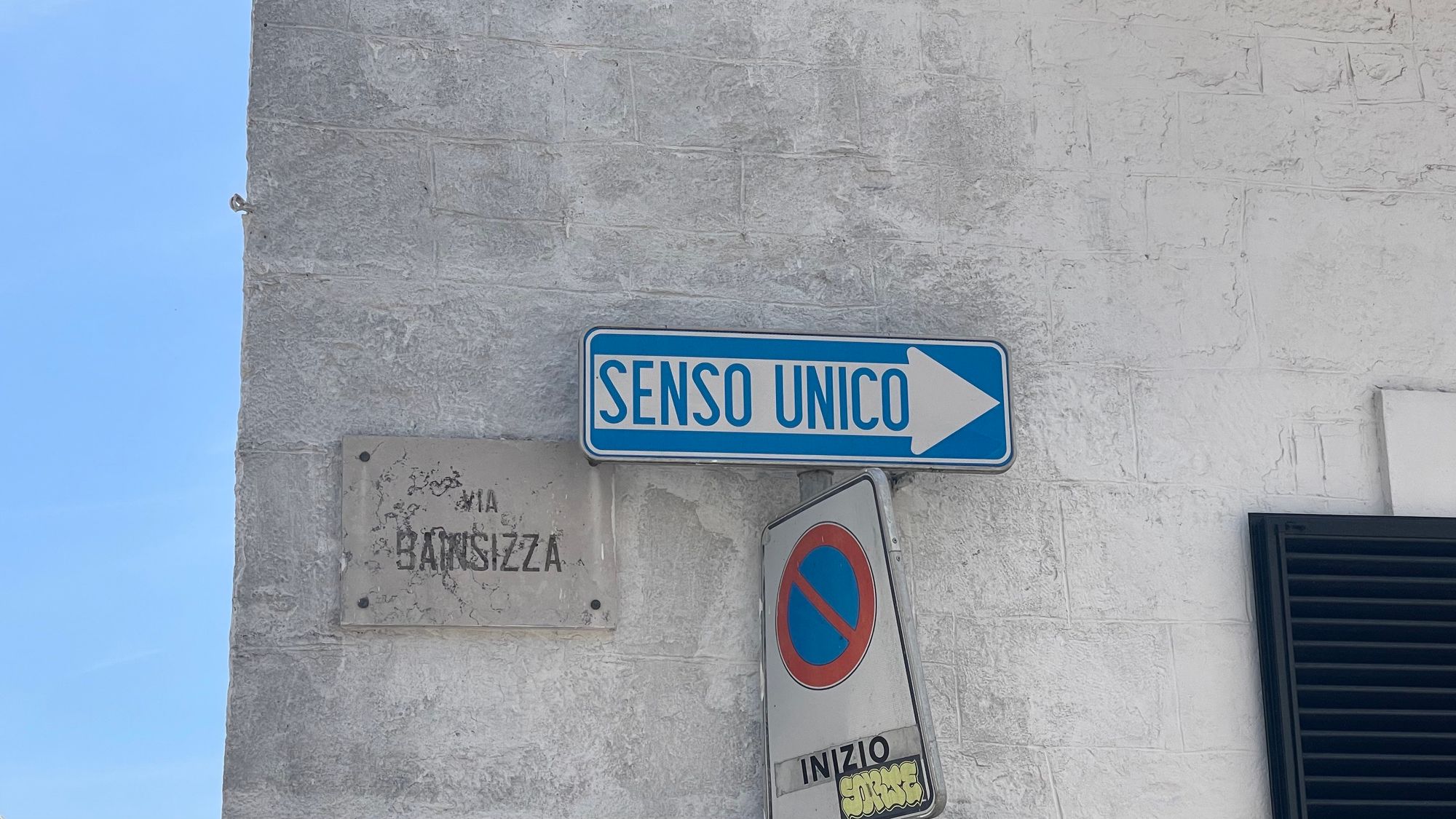 Why do I think this is the most likely approach? Because this form of tax evasion continues today - "The Den" in Bulgaria (the small farm we bought) is not allowed to have permanent structures on it without planning permission, but if we put down a portable/container home, we can have whatever we like - even if it's plumbed in, with power etc. because it's by definition not permanent.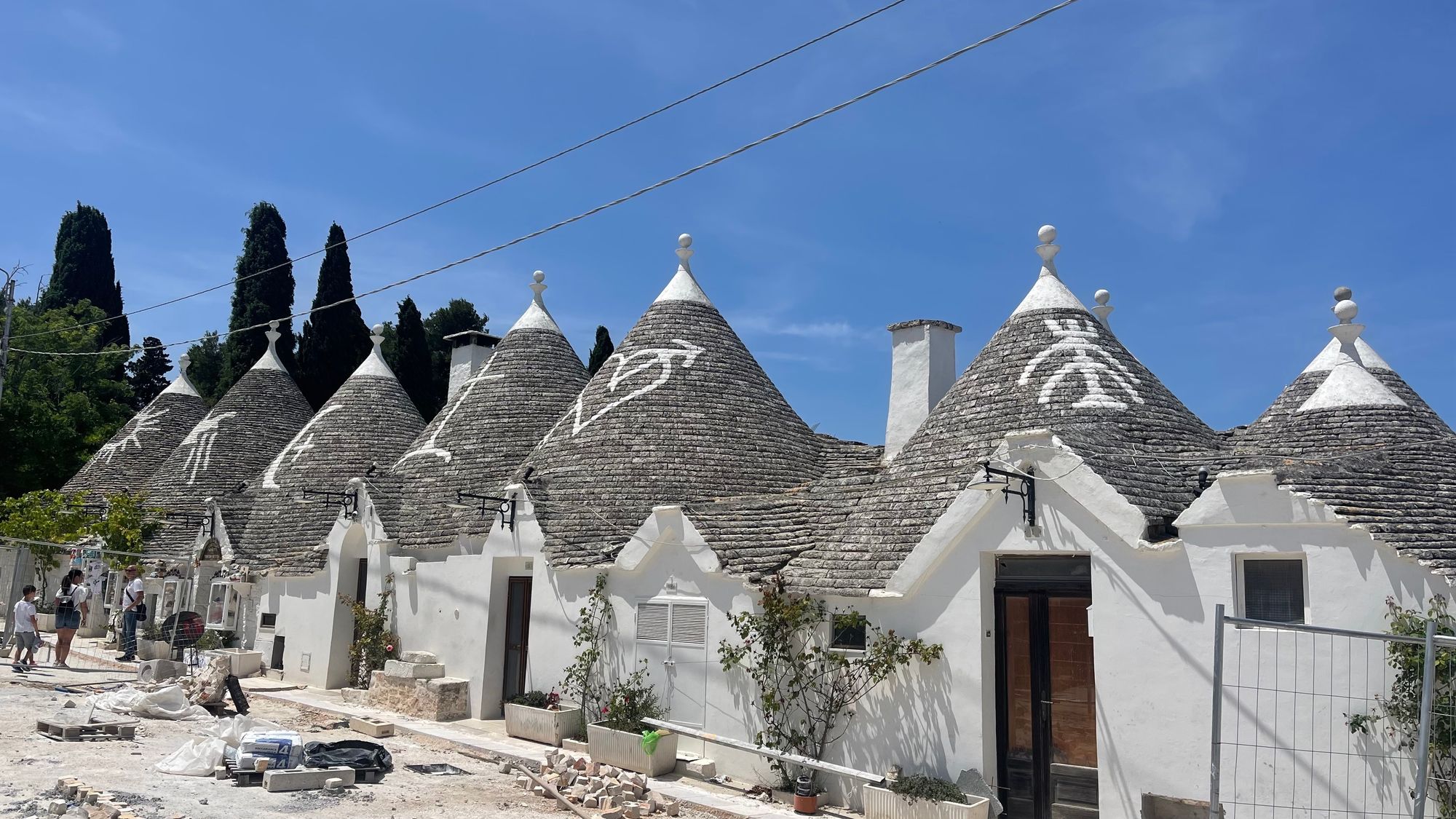 From Alberobello we drove to Matera, a place you're likely to have seen even if you haven't realised it as it's been featured in many movies, including Daniel Craig's last James Bond film No Time to Die. Matera is a city built into and over the rock, dramatic buildings hanging down the side of a valley and to me, much more authentic and interesting the Alberobello. It's a wonderful city and worth an overnight, although we could only stay for a few hours.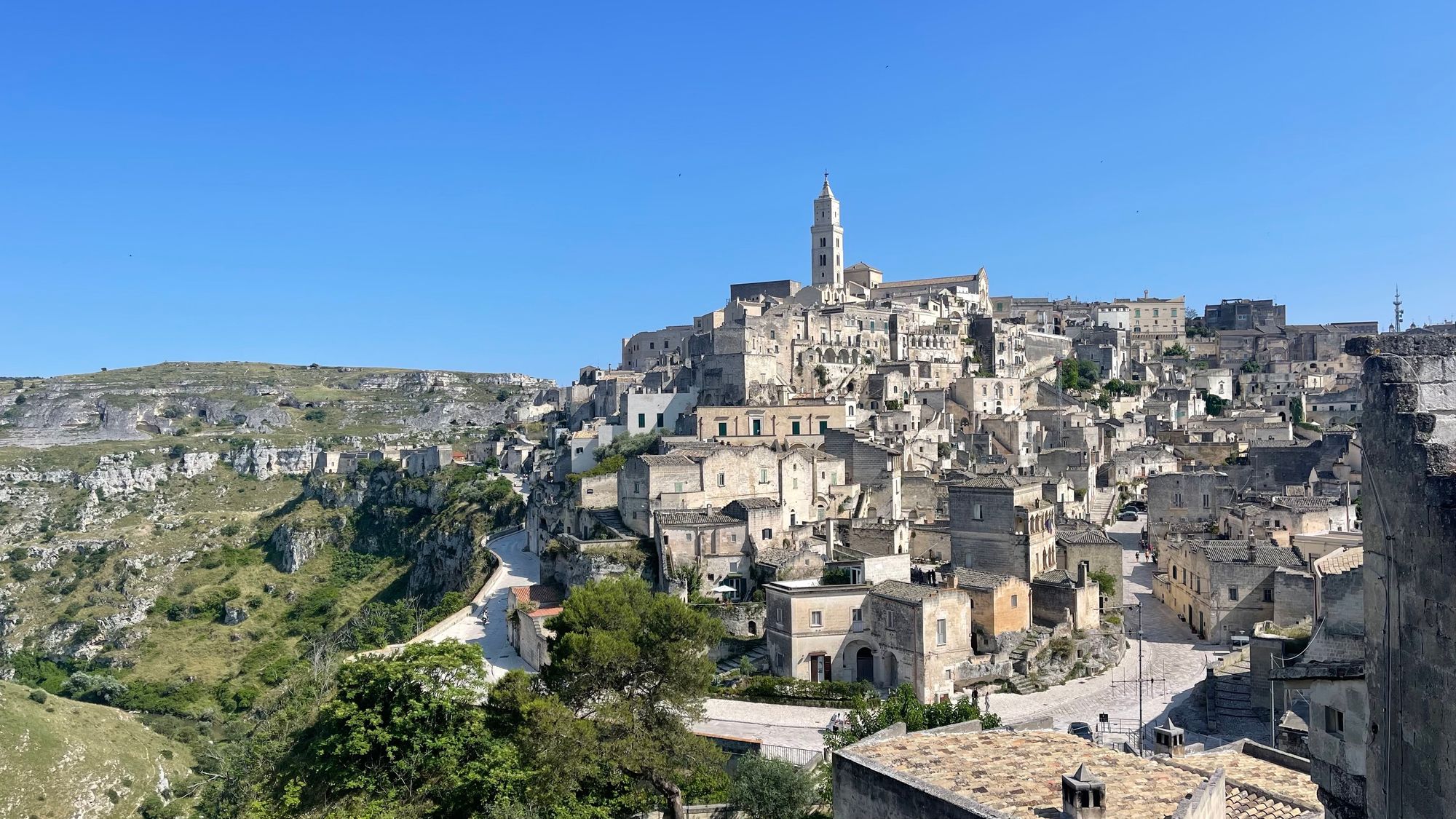 While it's impossible to know for sure, it's likely to be one of the longest continuously inhabited places on earth with evidence discovered of late-palaeolithic era use of the caves (10,000 BC). The cave houses were continually inhabited up until the 1950's when residents were forcibly evacuated and relocated up to the plateau because of poor living conditions. It's apparently a bit of a controversy because nowadays, the cave house location is very desirable for tourist businesses that make good money - it's become a middle-upper class area. We enjoyed wandering through and once again, it was great to hit the road and get to the interior of Italy.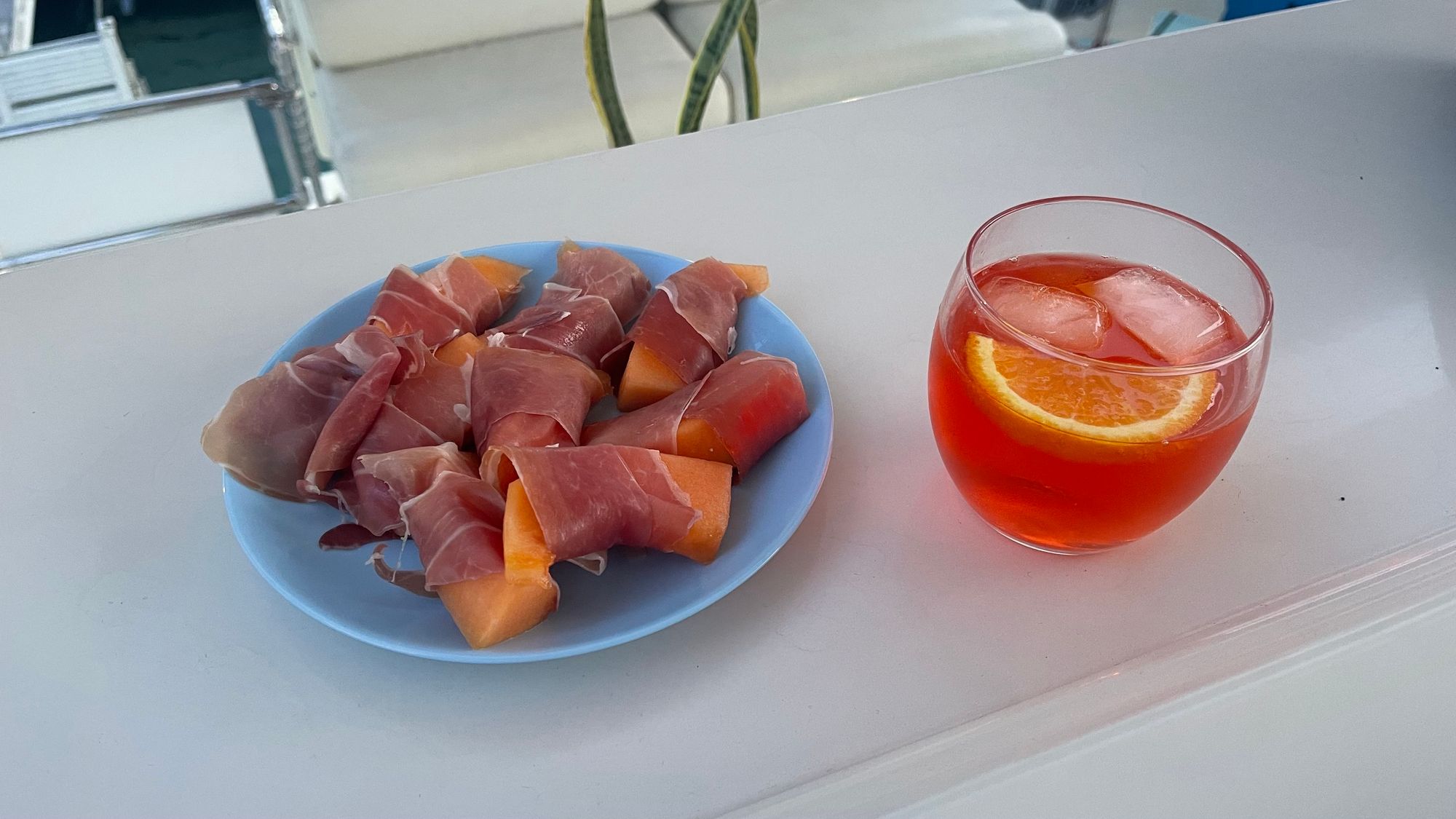 Monday was a fairly relaxed day, Rosie went to the vet and they did an ultrasound on her heart for us. She remains in good health despite the heart condition. From the scans the valve has deteriorated a little (100% to be expected, it's irreversible, just has to be managed), but not enough to move her "stage". Everything continues for now as per normal.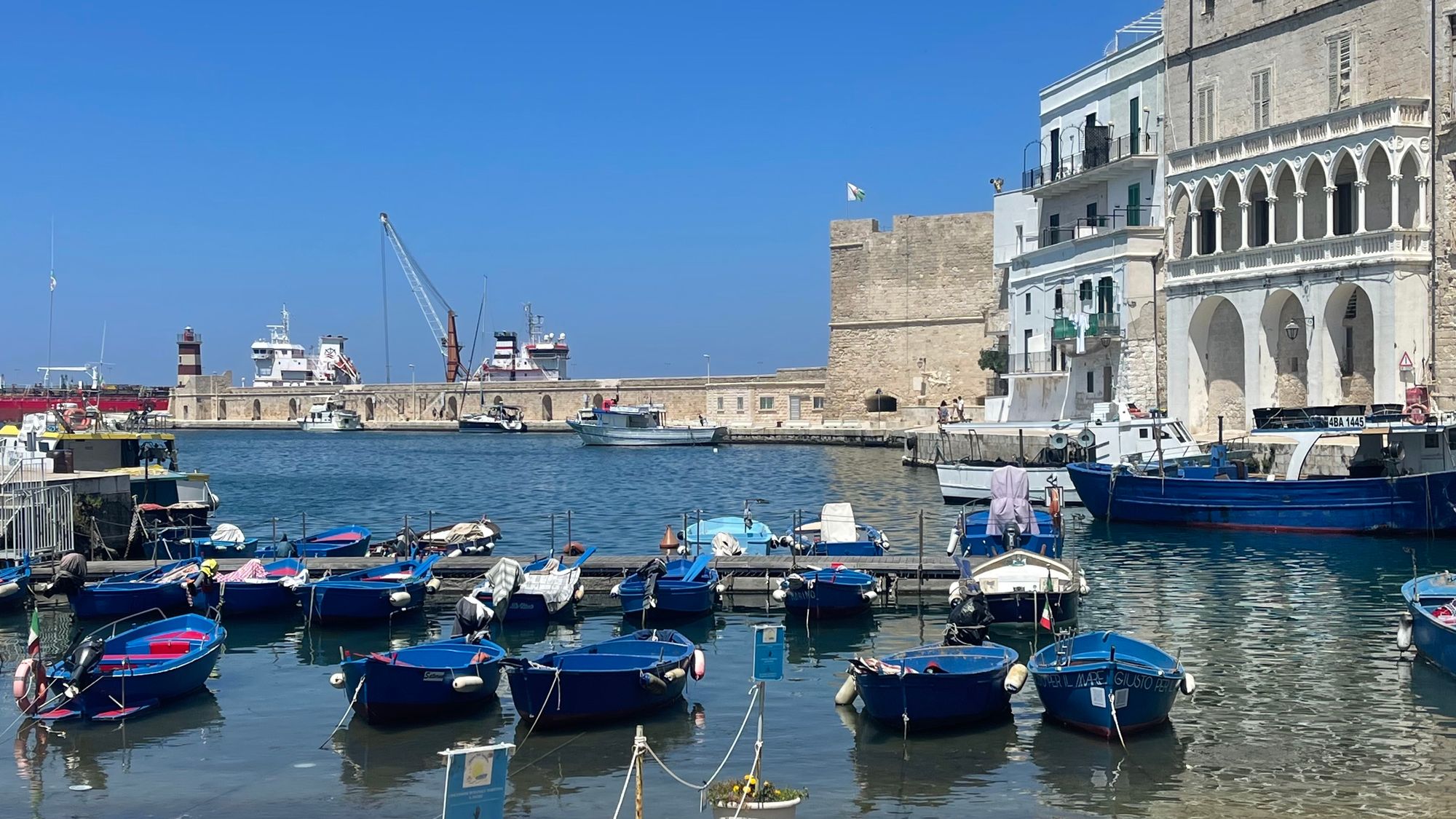 The further South we go, the more we're back into foreign tourist areas. The Puglia region of Italy is very heavily touristed (although not as much as the Western coast) and the sound of Americans (and Brits) is everywhere. From Bari, we headed south on Tuesday to Monopoli - an exciting destination because for a change, they have a free quay! It's a busy little tourist port with boats coming and going all day taking people on tours of the local coast line. It has a small medieval settlement and very good gelato. It was picturesque being anchored underneath the old fortress that was built to guard the entrance to the harbour.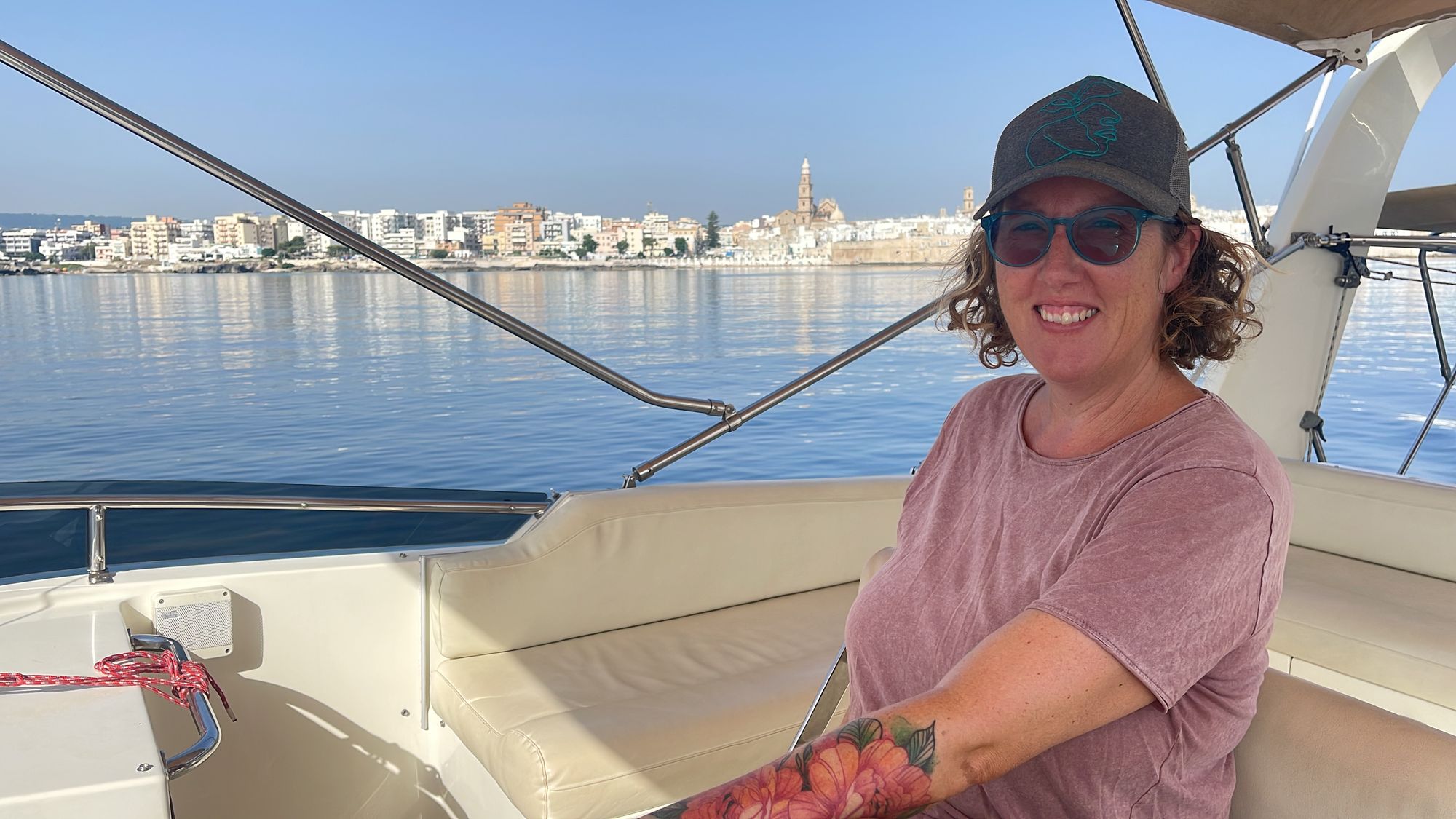 The next day it was Monopoli to Brindisi. This is another big port city like Bari, with a large outer harbour and lots of ferries coming and going. It also has a free quay, which we were excited to take advantage of. The challenge with it is that it has big rubber fenders that push the boat around 1M away from the dock. With the speed boats and fishing boats tearing out of the inner harbour until late at night, the wake would slam us into these knocking everything over and creating havoc on board.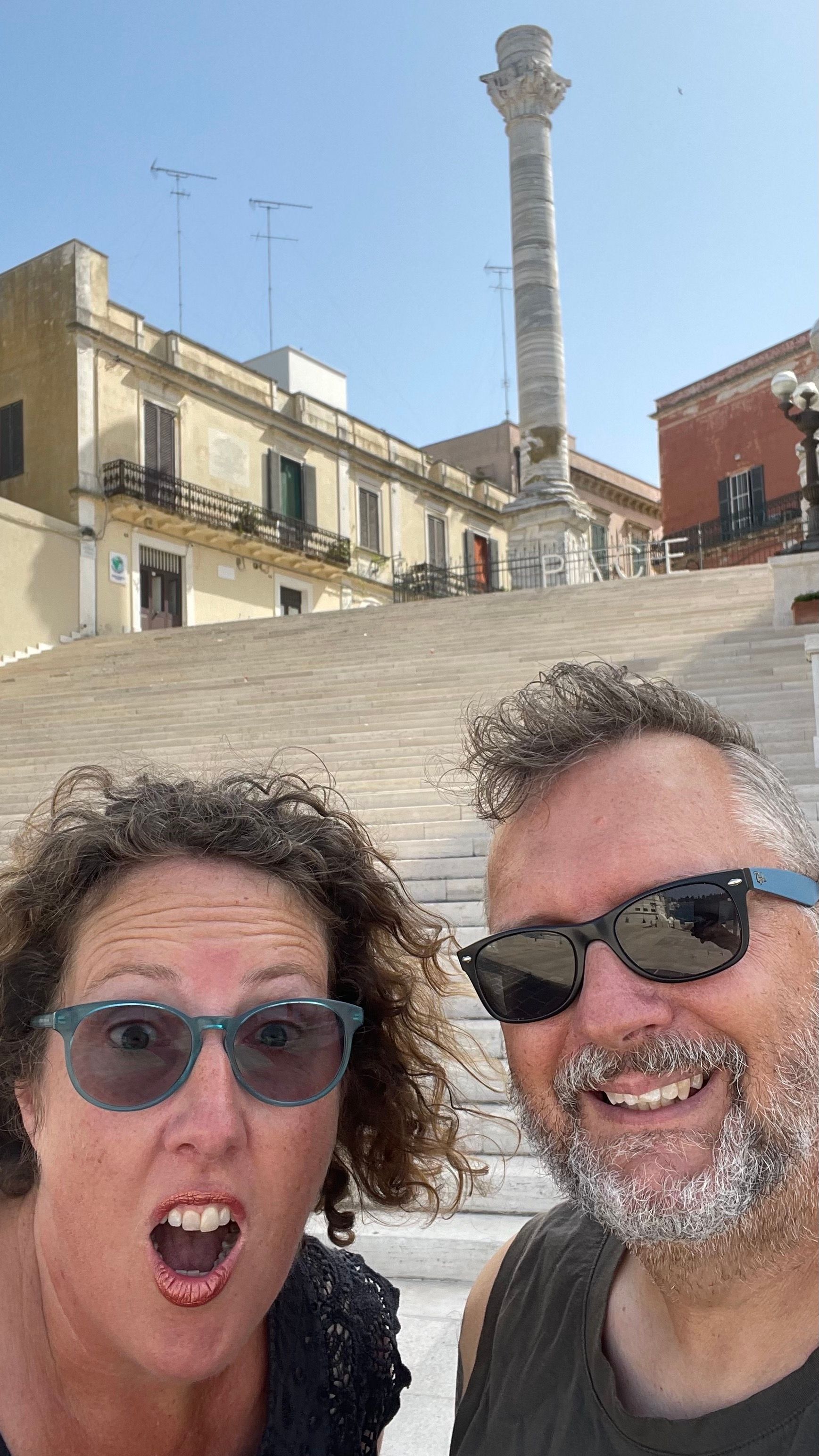 While Brindisi is OK, it doesn't feel as compact or coherent an old town as some of the others we have visited. What made this stop enjoyable was Wolfgang and Petra aboard their boat Gian who we shared a meal with. As we were heading South from Monopoli, I received a chat request on No Foreign Land. Wolfgang and Petra were interested in where we were heading and if it was Brindisi as well. They were in the middle of a two day crossing from further north in Croatia and we enjoyed a brief conversation as we both cruised South. When we mentioned the free quay, they decided to join us there and we caught their lines as they came in and we then shared a meal together aboard Gian. It's these little experiences that make living aboard such a social way to be!
We were up early on Thursday to continue south, the speed boats were starting up again and we'd had enough. It was off to Otranto, right down at the bottom of the heel of Italy and the place to cross to Greece.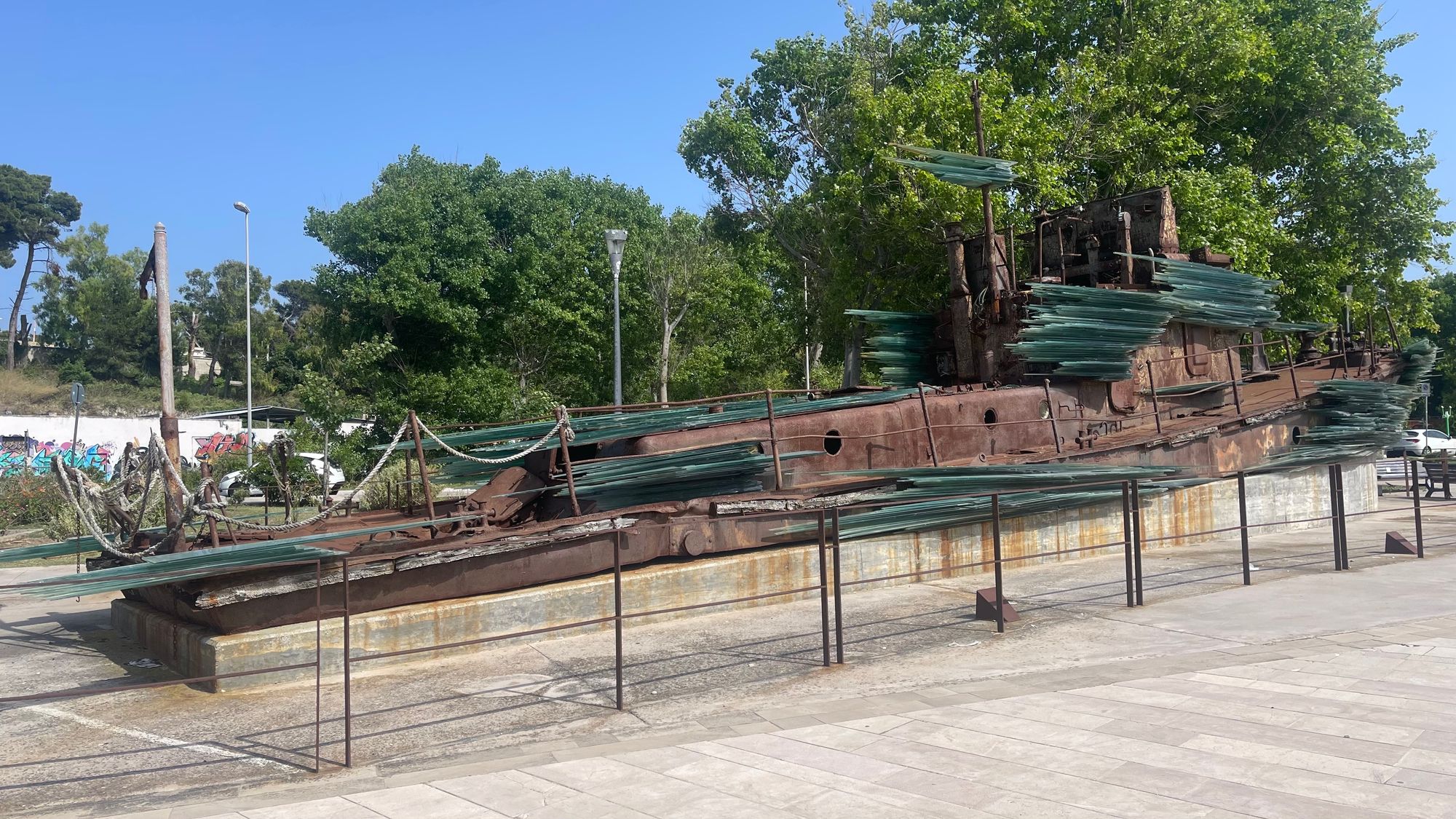 Otranto was a wonderful spot to end our time in Italy. We loved the old town, built into a medieval fortress and still fully surrounded by an intact moat (although no water in it). It was also the first time this season we've gone swimming! The weather was warm enough and FINALLY we're far enough south for the water to have cleared up and look inviting.
The claim to fame for Otranto is its martyrs and saints. This region really was the "frontier" to the crusades between the Ottoman Empire and Christianity, with cities regularly changing hands during the crusades, sometimes brutally. In 1480 an Ottoman fleet was sent to invade Rome, which made landfall here at Otranto. They captured the city and slaughtered around 12,000 of the 22,000 inhabitants with another 5,000 enslaved. 812 people were beheaded when they refused to convert to Islam and they were later canonised as Saint Antonio Primaldi and his companions. Primaldi was apparently a tailor who, when asked to convert, answered on behalf of his companions "Now it is time for us to fight to save our souls for the Lord. And since he died on the cross for us, it is fitting that we should die for him."
Apparently they cheered. Or maybe booed. Who knows. The story has little historical veracity (similar to Vieste, the actual number of people estimated to live in the region at this time was only around 6,000 for a start, so 12,000 being killed seems unlikely). Regardless, the indisputable fact is that it was the last time the Ottomans tried to invade and hold part of Italy (as opposed to just raiding it), which today is held to be due to the heroism of the martyrs of Otranto. Fun fact, their bones line the grotto inside the Cathedral and you can see them today, although we missed this as it was closing by the time we'd learnt about it.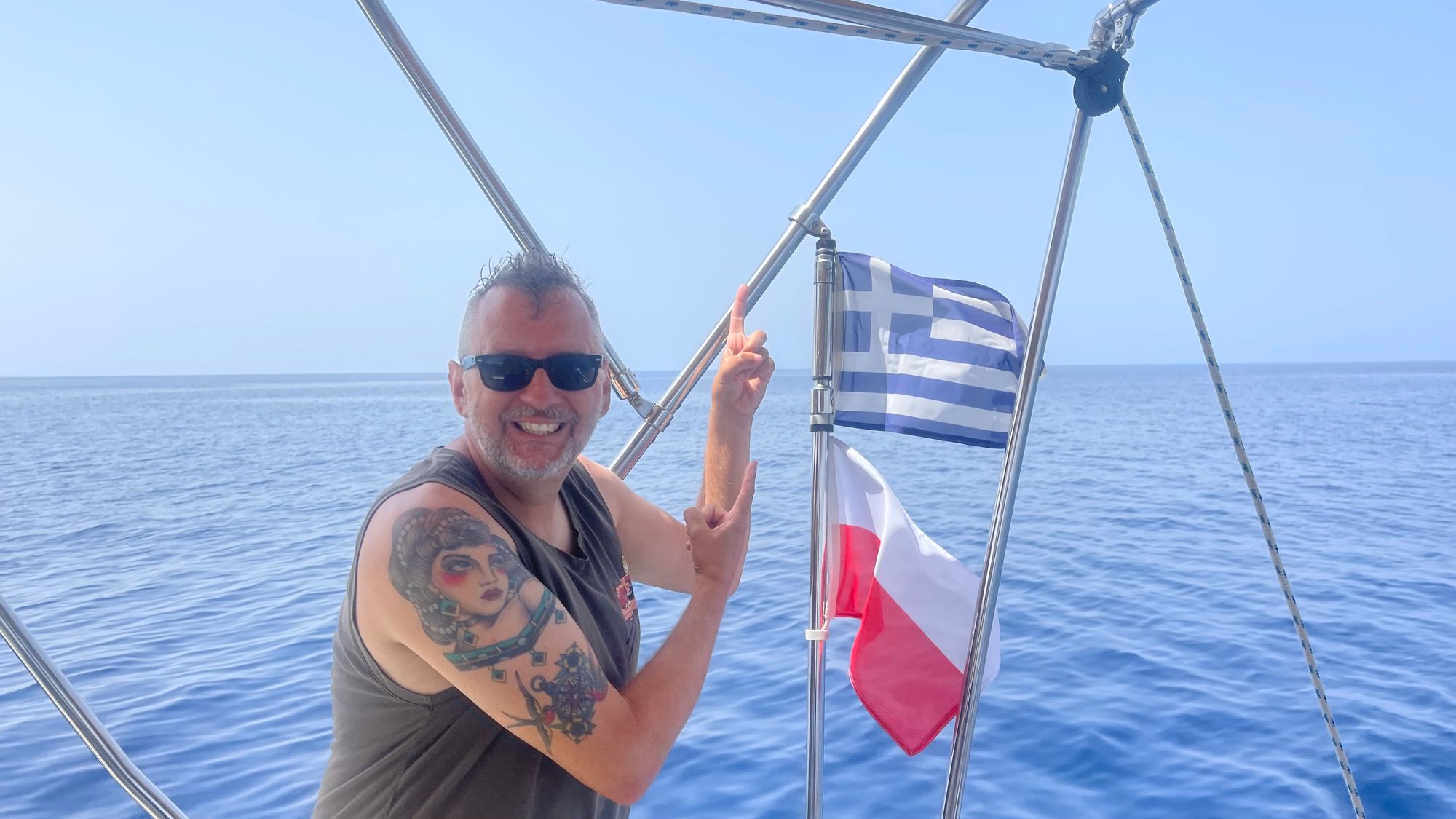 Early Friday morning we hopped out of bed and headed off for Greece. The sea state was sensational. Very little wind and it was largely like glass during the early part of the crossing. The thing we hadn't planned for was the fog! For the second time in 3 years around Greece we experienced thick sea fog which hampered our visibility.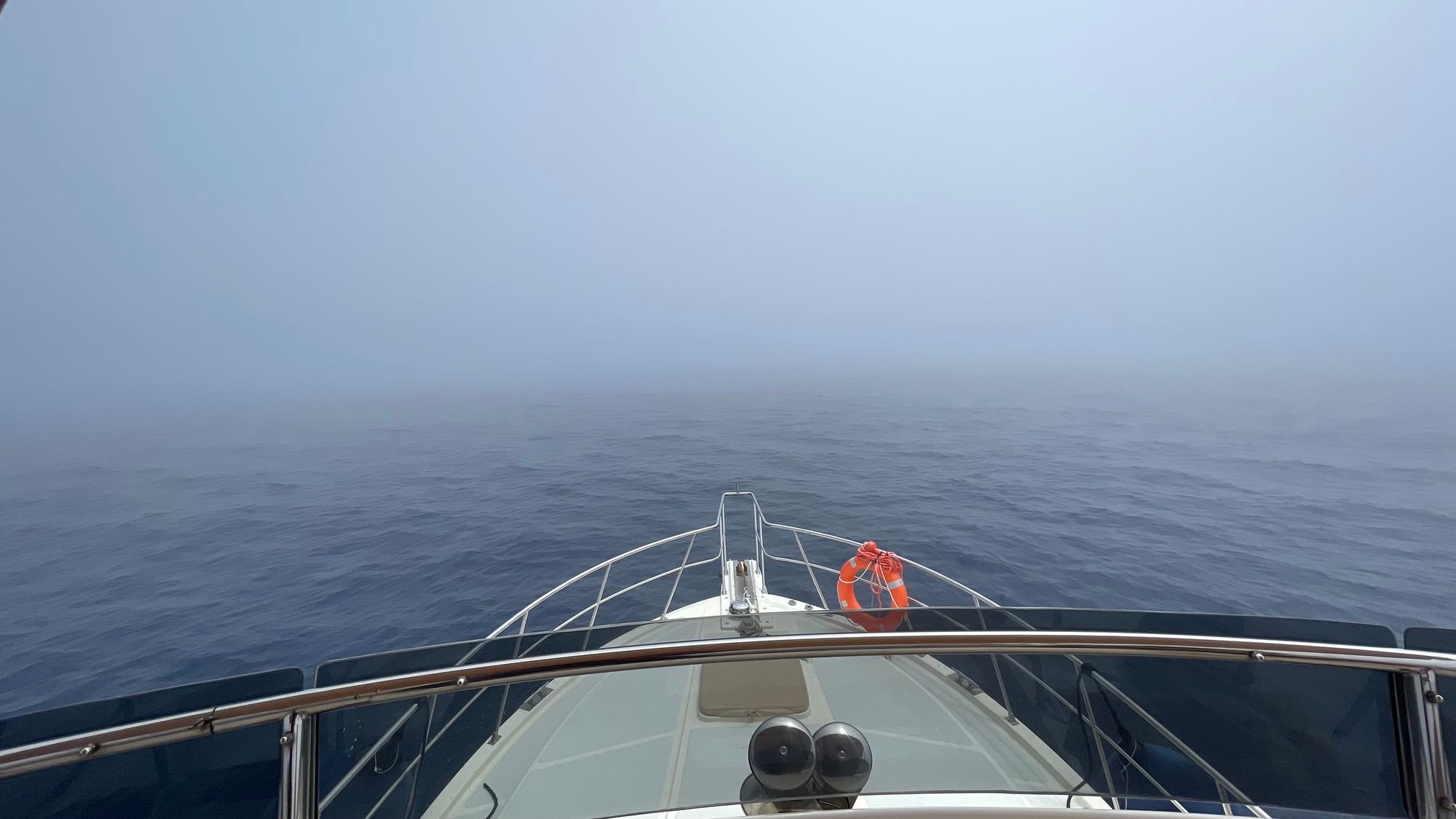 We could see boats around us on AIS (an electronic signalling device for boats) and on radar. Occasionally we could hear horns sounding but we never saw a soul in the roughly three - four hours we cruised through the fog. In fact as we approached the island of Othoni where we were headed for the night, we couldn't see it at all, even only 0.25 nm off shore. It wasn't until we were within 200 meters that it suddenly appeared, looming out of the mist.
Othoni is fantastic. It's the western most part of Greece, has only 450 inhabitants and is surrounded by crystal clear blue waters. We waded on the beach, threw the ball for the dog and enjoyed being back in a Greek taverna (yes we've been gone long enough we've missed Greek food!)
As you might expect, if Italy had some issues with Ottoman pirates, Greece would too. In 1537,  Hayreddin Rais, known as Barbarossa, sacked Othoni and killed all the inhabitants. He went on to lead the Ottomans to dominance in the Mediterannean and the capture of Algiers from Spain. Interestingly, it was his pupil Dragut Reis that sacked and killed the people in Vieste. It's all connected. In yet more intriguing, if unrelated connections, Barbarossa was born in Mytilini, Lesvos which is where we will be wintering this year!
On the shore we bumped into a British couple, Ruth and Dave who also completed their crossing from Italy (from further south than Otranto though) in the same fog and we joined them for dinner, sharing tales of our crossing and living aboard. They know one of the couples we wintered with in Porto Montenegro as well, so lots to talk about and share.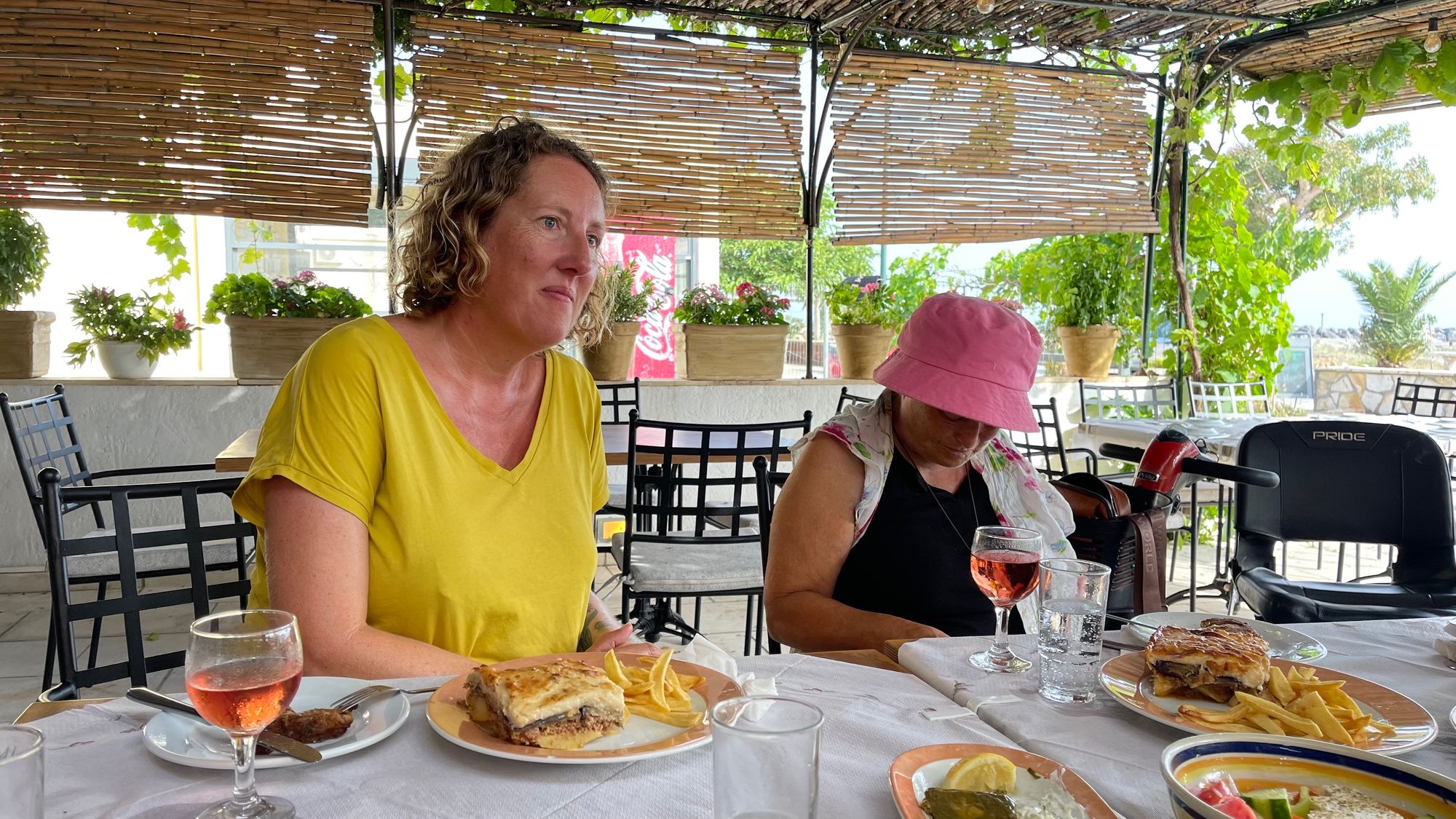 Saturday we shopped, swam and generally relaxed around Othoni and today we're heading off to Corfu and Kerkyra, the main city. We've got a couple of chores there and we're helping out Sarah and Peter on Flying Fish by picking up a package we'll deliver further south to them during the week.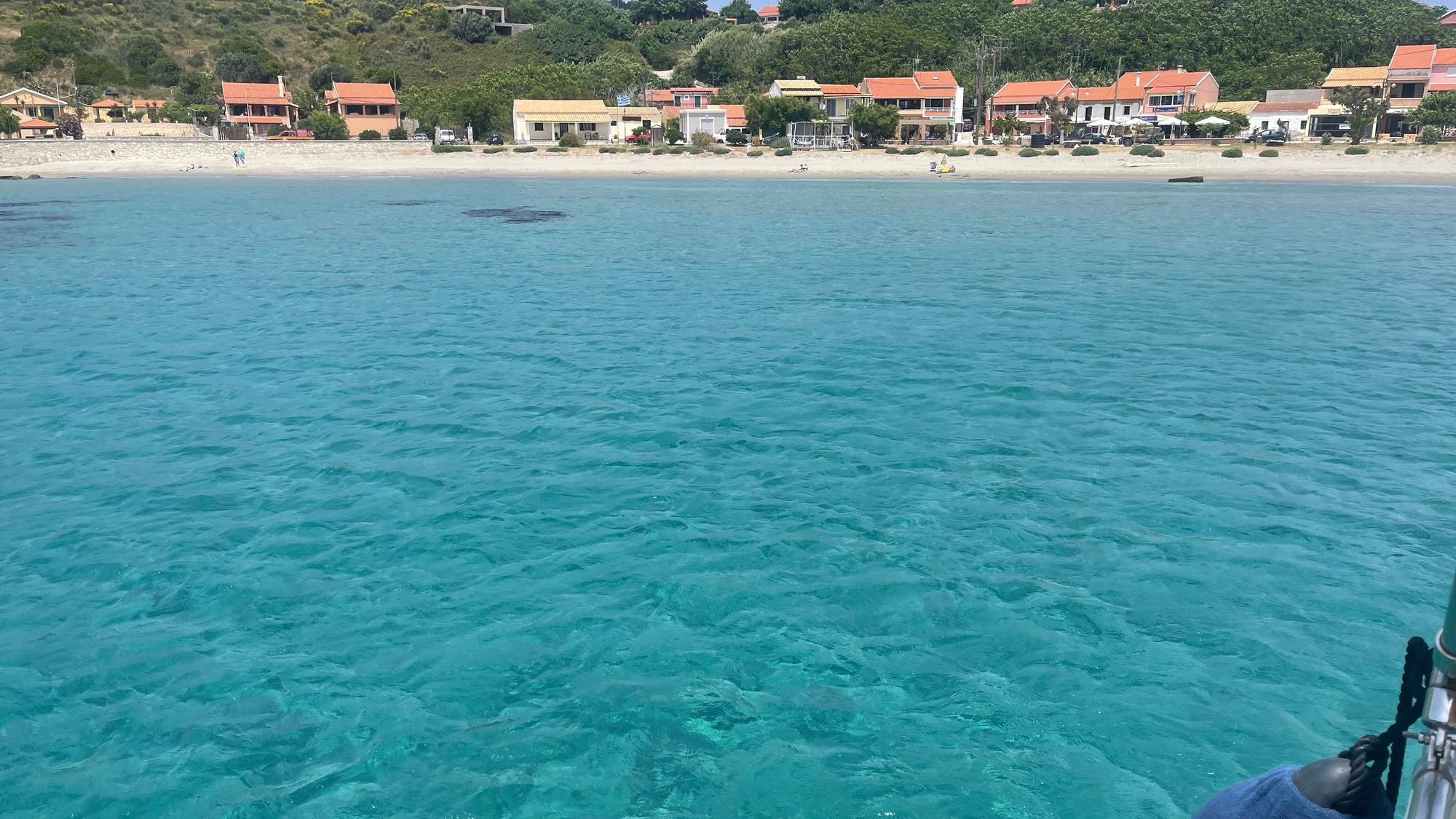 We're excited to be back here in Greece and looking forward to re-experiencing some of our favourite anchorages as we head south to Preveza where we hope to get a little work done – if things are open! We ran into one issue already trying to book a haircut for Rosie in Kerkyra only to find they shut down Monday until the middle of July for a Summer break.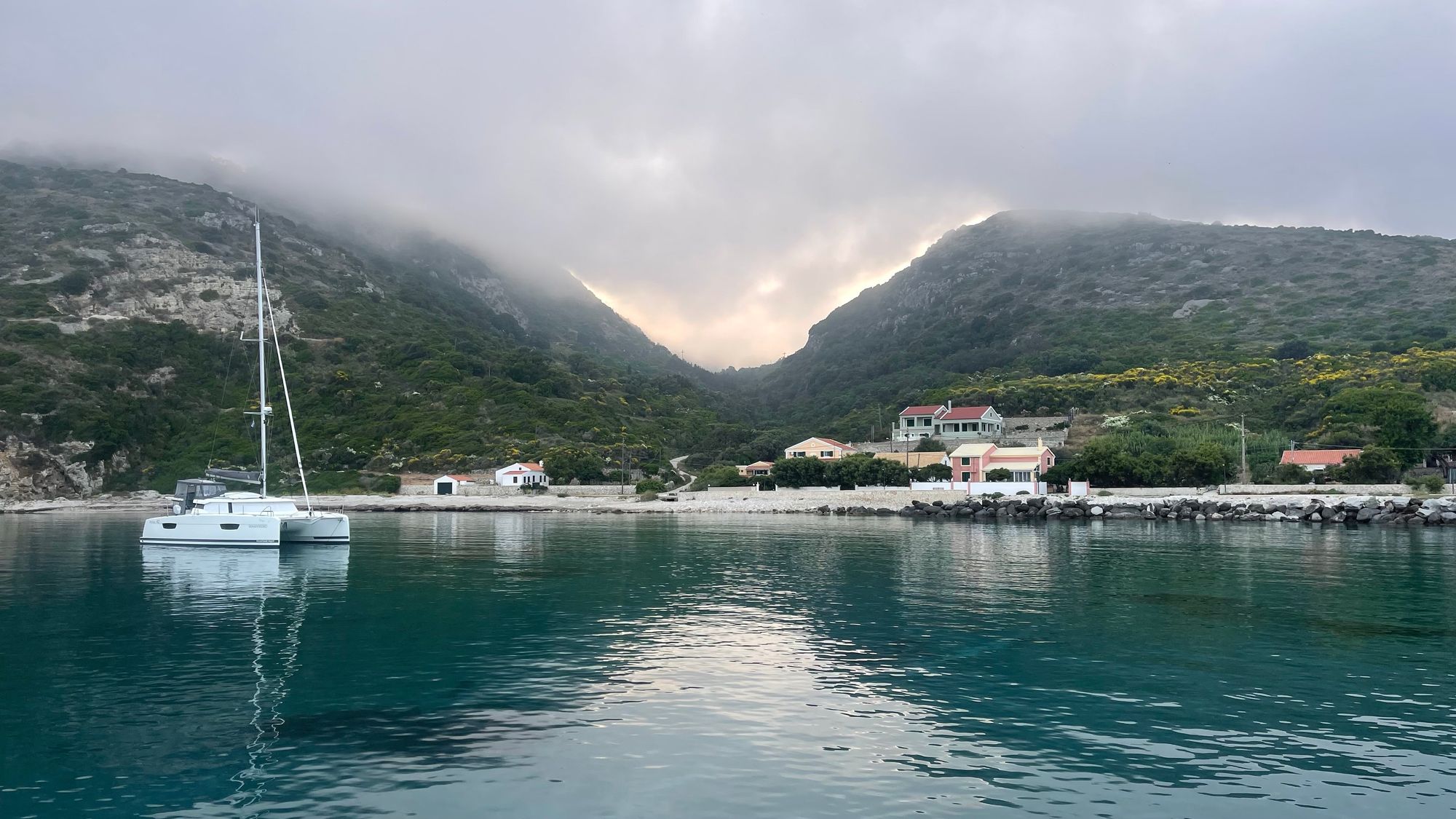 Until next time,
Tim & Karina