Week 150: Socialising on the go and spectacular shortcuts
We decide to head straight to the Saronic Gulf, so this week is all about making distance. We pass the Rion-Antiron bridge and tick off a big goal crossing the Corinth Canal. All in all it's 212 nautical miles, and still time to stop for a drink with friends on the way.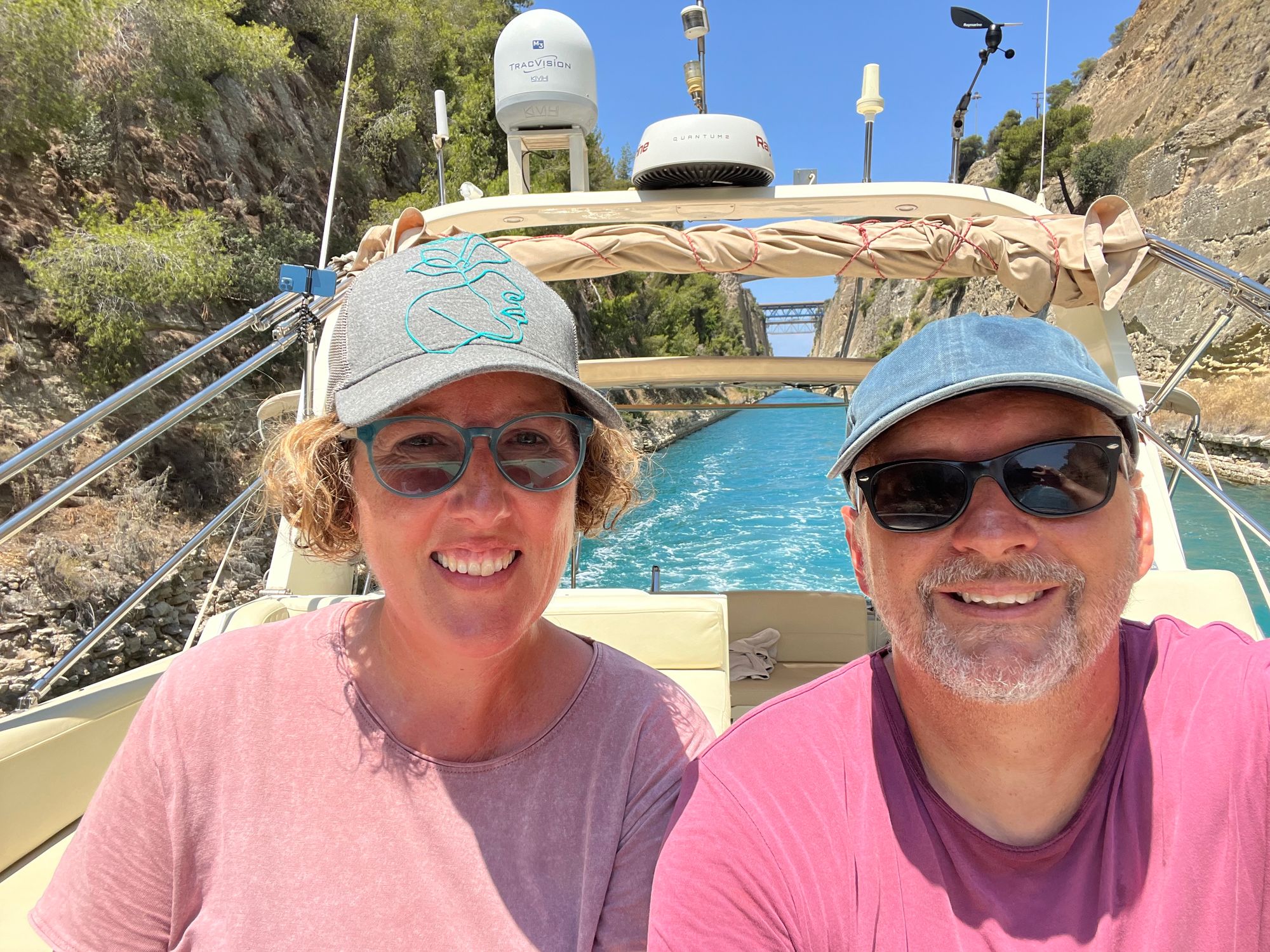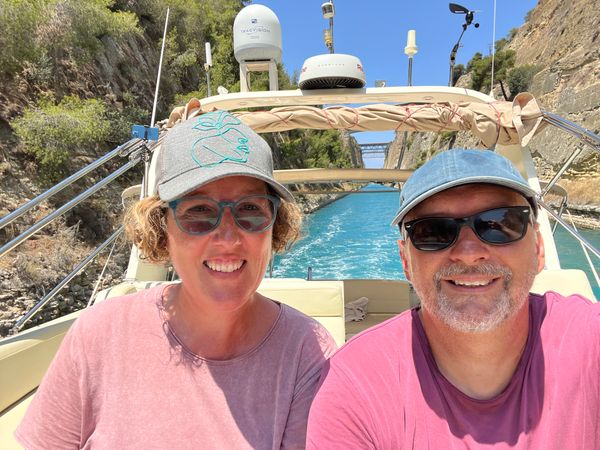 Karina's attempt to establish Mont-heads as a collective noun has failed. We now refer to our fellow Monty's. It's useful to have a word to describe this group as there's been only one night this week where we haven't anchored nearby to one!
As always when cruising, plans can change quickly. In this case it was a phone call with our daughter Ella where she asked "Are you going to come and see me?" Oh yeah, it's July now, August is rapidly approaching, so if we're going to go to visit the UK over Summer (which we've been talking about), we really need to get on with it and make it happen!
Plans were evaluated and of course the most logical spot to leave the boat is in a marina. In which case our berth in Mytilini, Lesvos starts from the beginning of August, so maybe we should high tail it there before then! But that might mean missing some things on the way and maybe it's rushing more than we want. More thought was needed...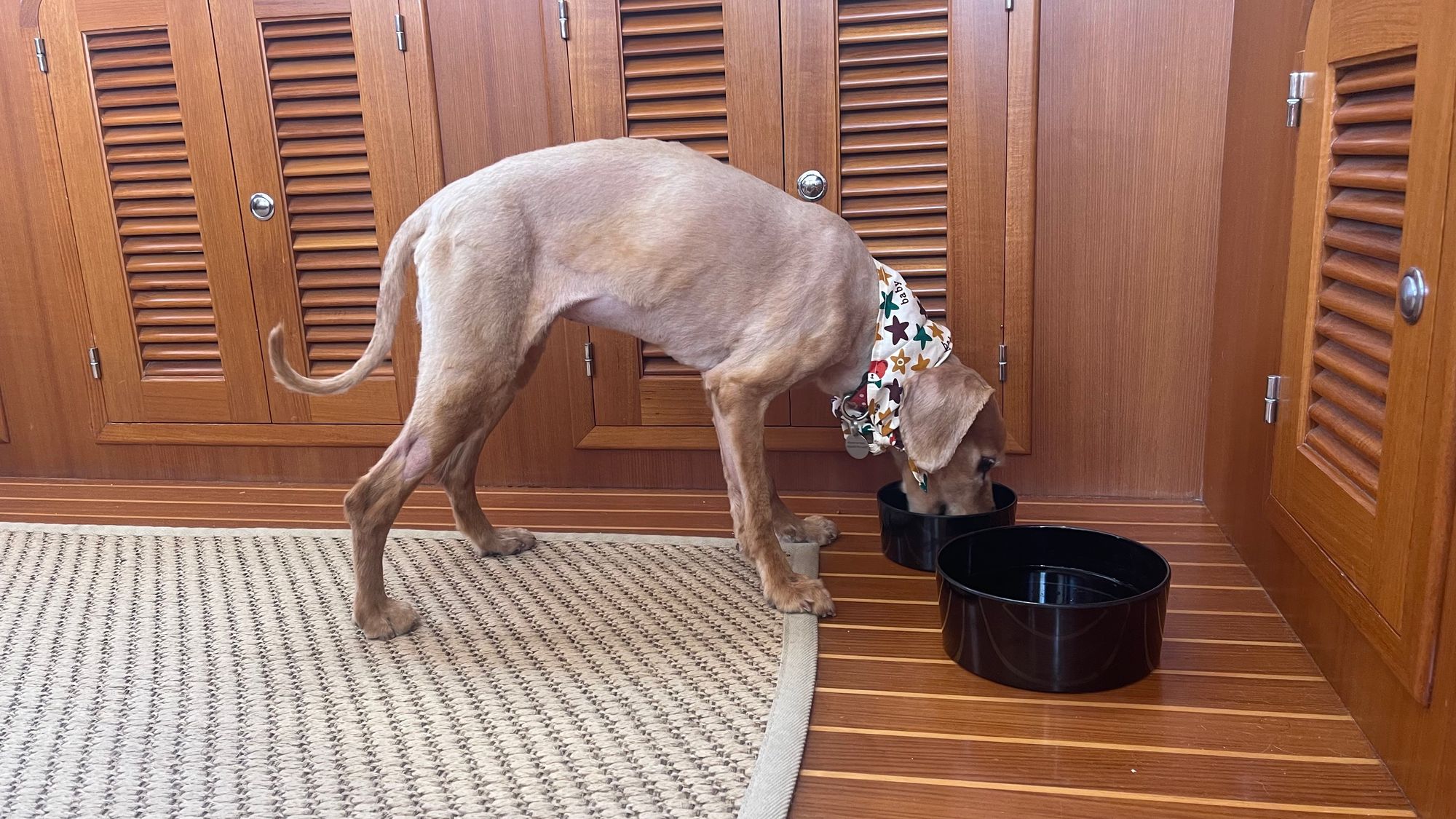 Monday both Rosie and Karina had haircuts, while Rosie had one last vaccination and then we left in the afternoon to head down to Nidri through the Lefkada channel, which separates Lefkada island from the mainland. It's one of the few islands connected to the mainland by a bridge. In this case a roll-on, roll-off barge which rotates hourly to allow boats through.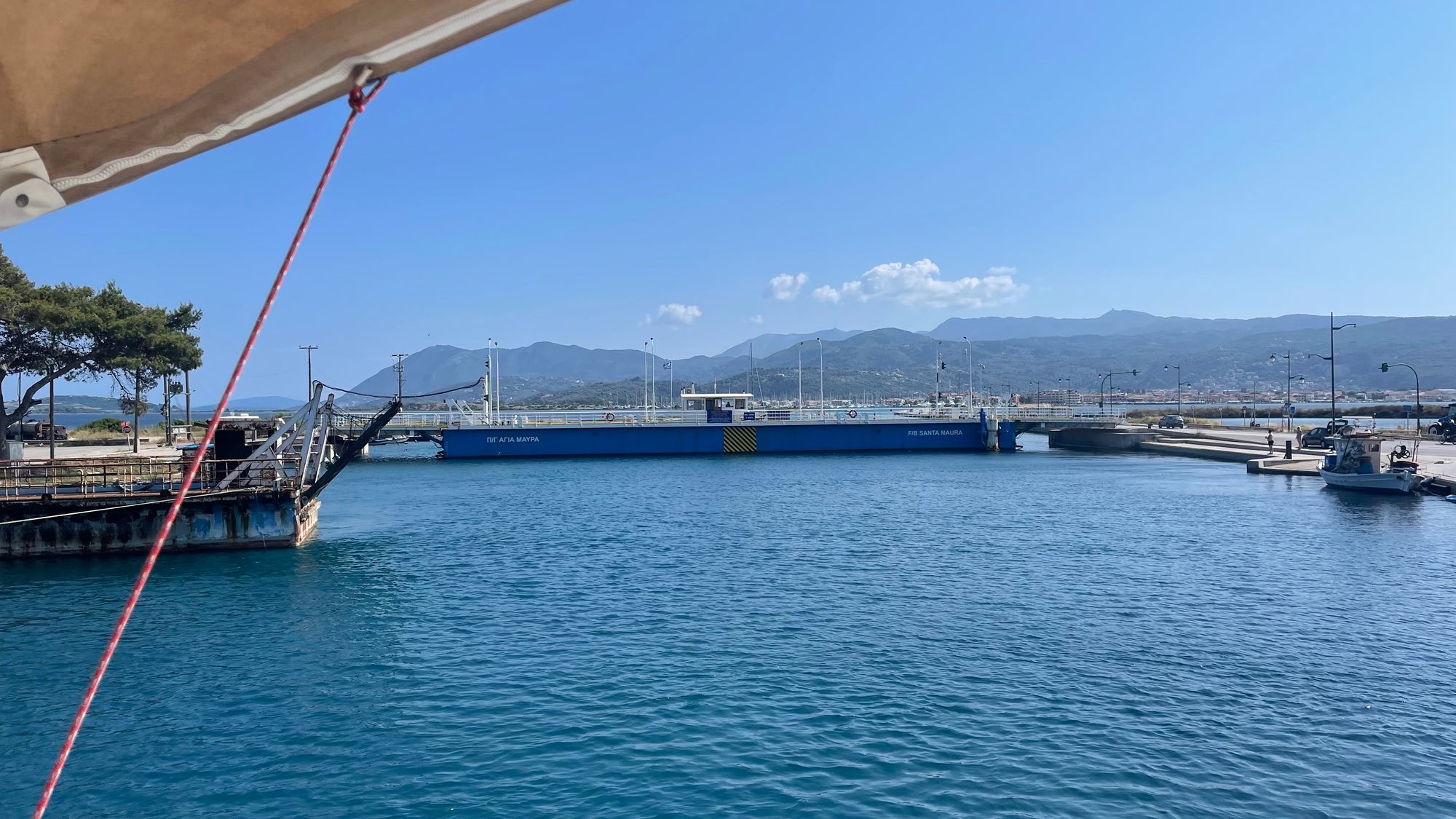 Once we arrived in Nidri, we found Peter and Sarah on Flying Fish once more. They skipped Preveza on their way South from Lakka, Paxos. Another wonderful dinner out, we love having friends everywhere we go at the moment.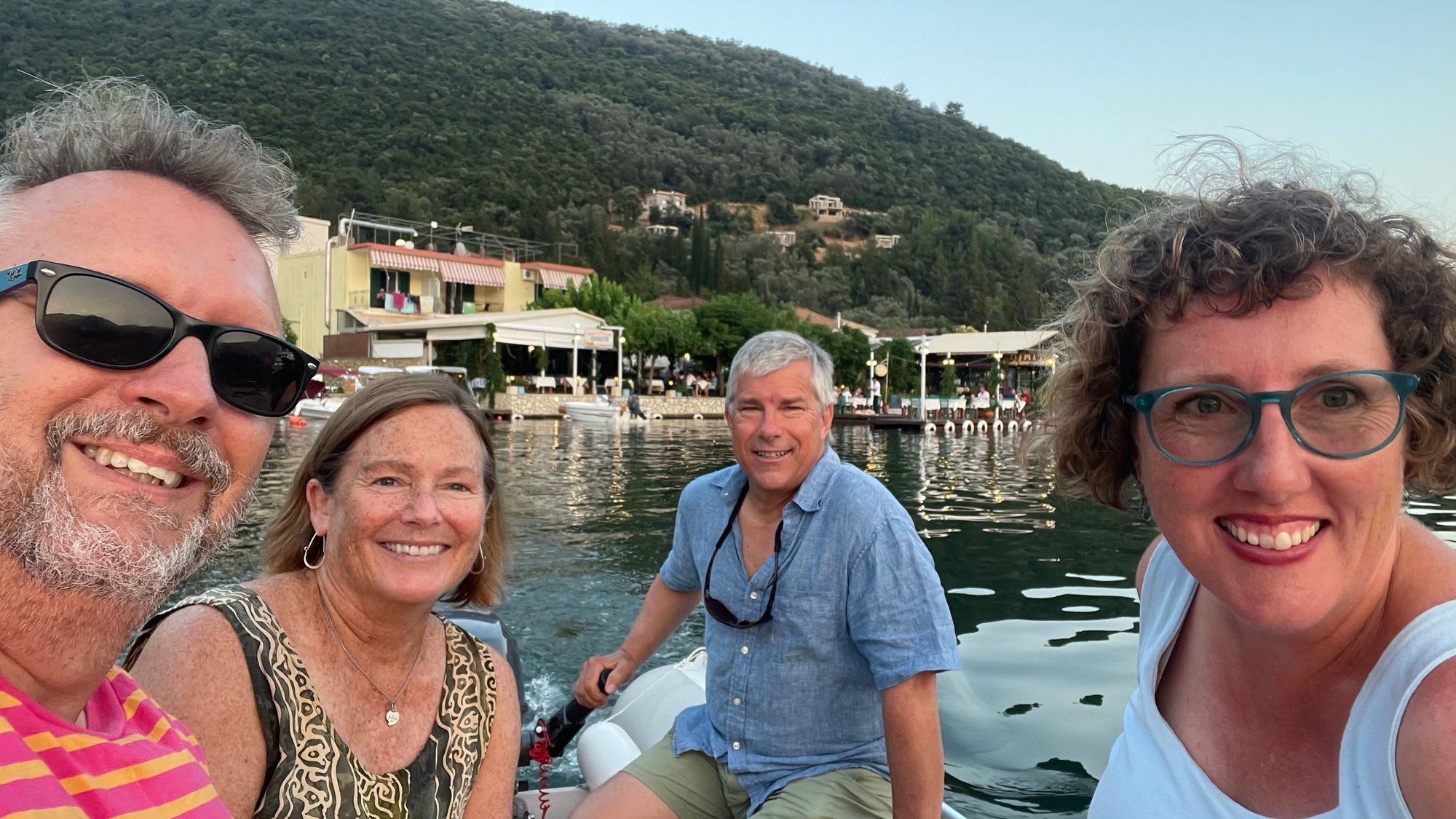 Karina and I were discussing the Summer plans in more detail and the decision was made Monday night that we'd "go for it". Just skip through the rest of the Ionian which we crawled all around last Summer and get through the Corinth. Then try take our time up to Lesvos. We made plans with Lucas (our diesel mechanic) at Aegina to have the engines serviced (250 hours so far this season!), and then we'll head over to Lesvos taking a month or so. We'll leave the boat there and head to the UK mid August.
It's interesting reflecting on this. I think last year we would have found this far too ambitious, yet this year, the distances somehow just seem smaller. I was chatting with Karina earlier about how close Milos seemed to us now - 65 nautical miles directly from Poros, a distance that we now wouldn't think too much about, yet in our first season, we spent almost three weeks getting there, hopping island to island. 150 nm from Aegina to get to Lesvos (weather allowing) in three days is exactly what we've just done this last week. Since leaving Prevaza we've covered 212 nautical miles in 4 days and we're still arriving at anchorage by 16:00 latest.
Tuesday morning, we woke up at about 6.45, pulled anchor and left by 7. It's actually something new for us, normally we'd do all the breakfast and morning routines before heading out, but the weather was so calm, it seemed best to make the most of it and just go. We discovered something new! We LOVE this, it's calm early on and just pottering around the boat, doing your usual routine is easy when it's flat. By the time we're "ready for the day" we've already got a few hours under our belt which makes the journey feel so much shorter.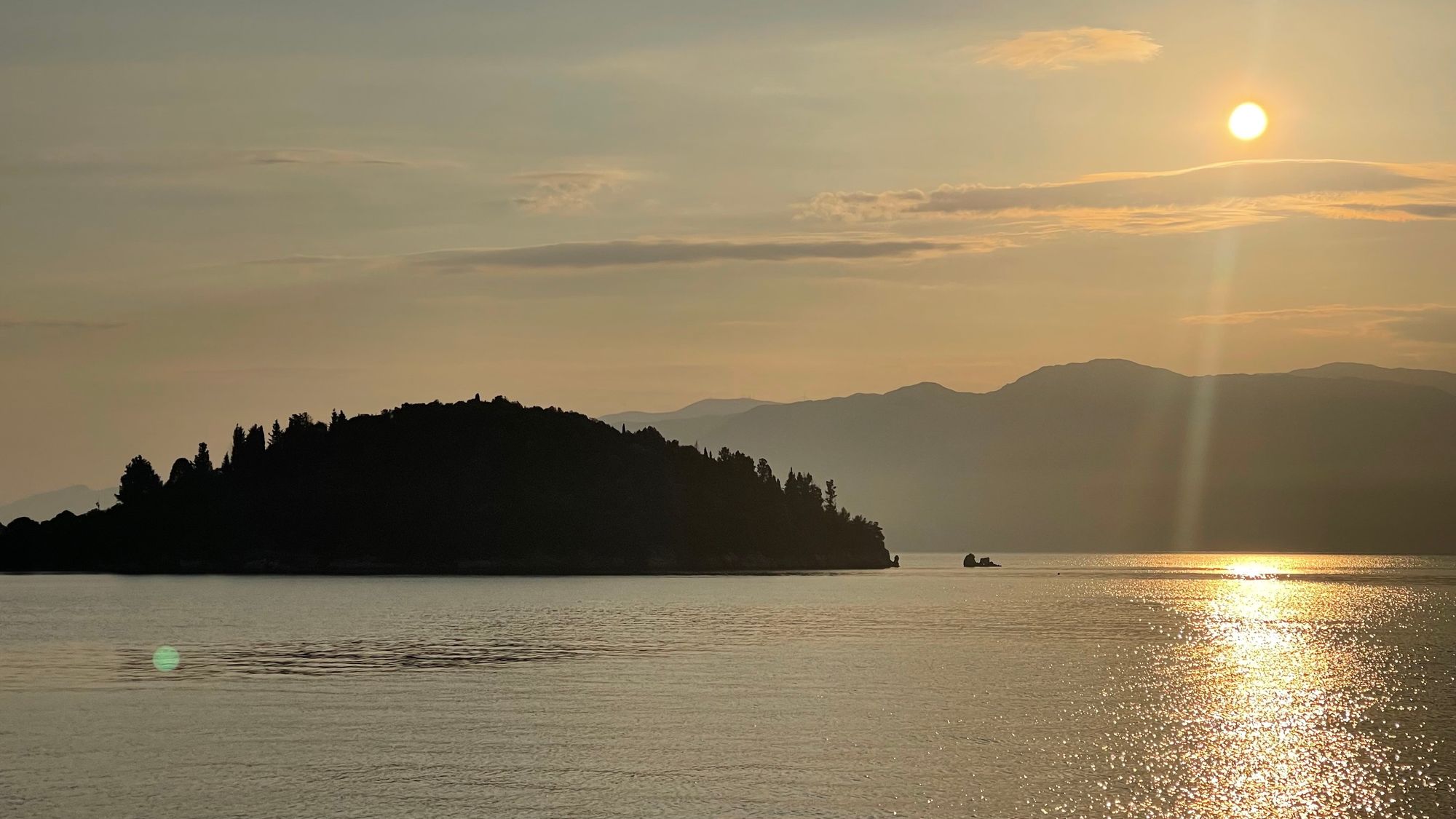 From Nidri, we hit Messolonghi, a sheltered anchorage at the end of a long 2 mile canal. It was hot, smelly and no good for swimming. After the beauty of the Ionian, it was a shock! However, it made up for it with a peaceful, if sticky night, and a surprise the next morning, flocks of pink flamingoes as we left.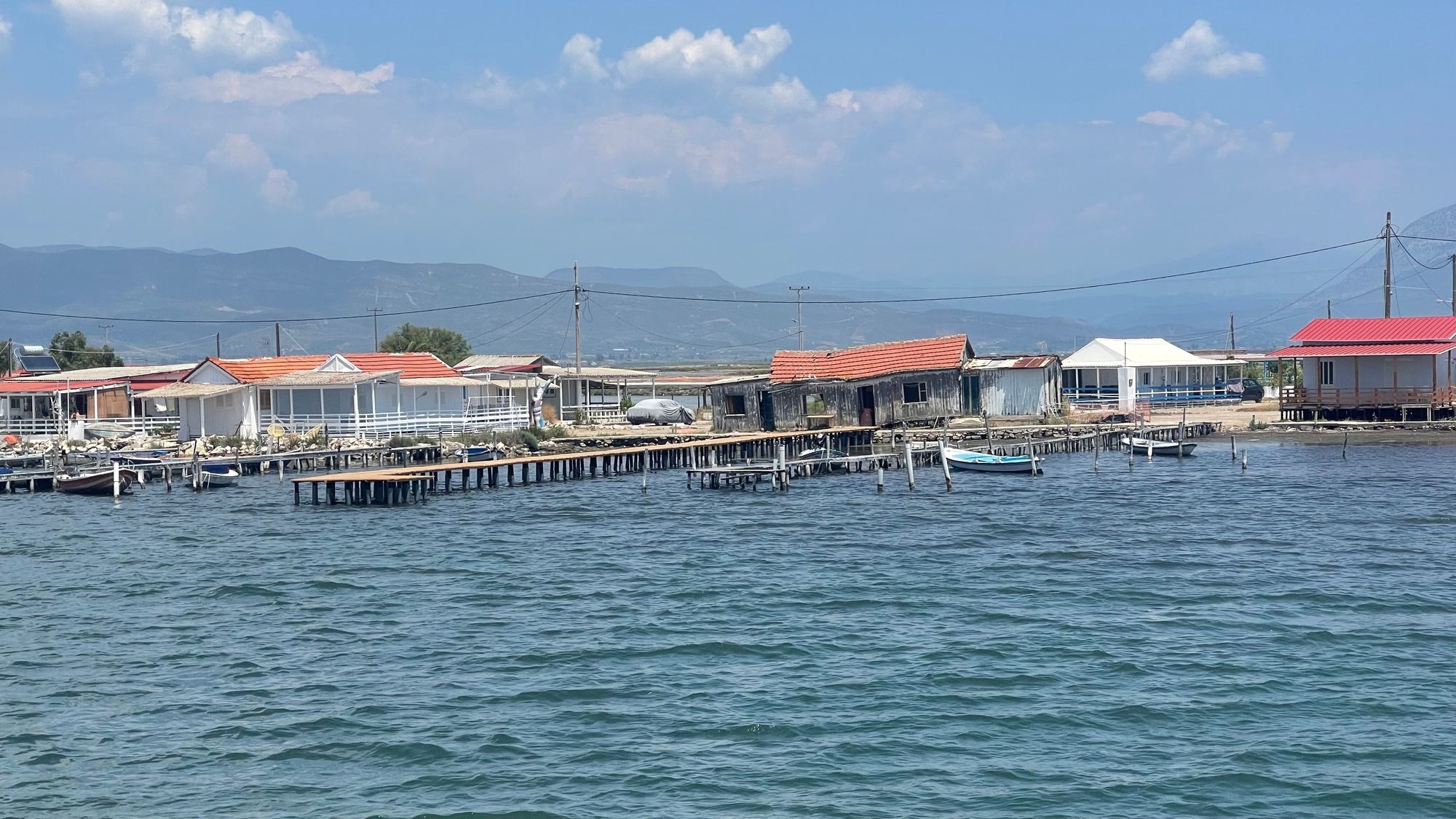 Then it was on and under the Rion-Antiron Bridge, a spectacular suspension bridge connecting the Peloponnese with the northern mainland of Greece. We've driven over it before, it was even more impressive going underneath. It has a traffic control system, so you have to call the bridge on VHF 13 at 5 nautical miles out and they direct you which span to use. Then you call again 1 nautical mile out and they give you permission to pass.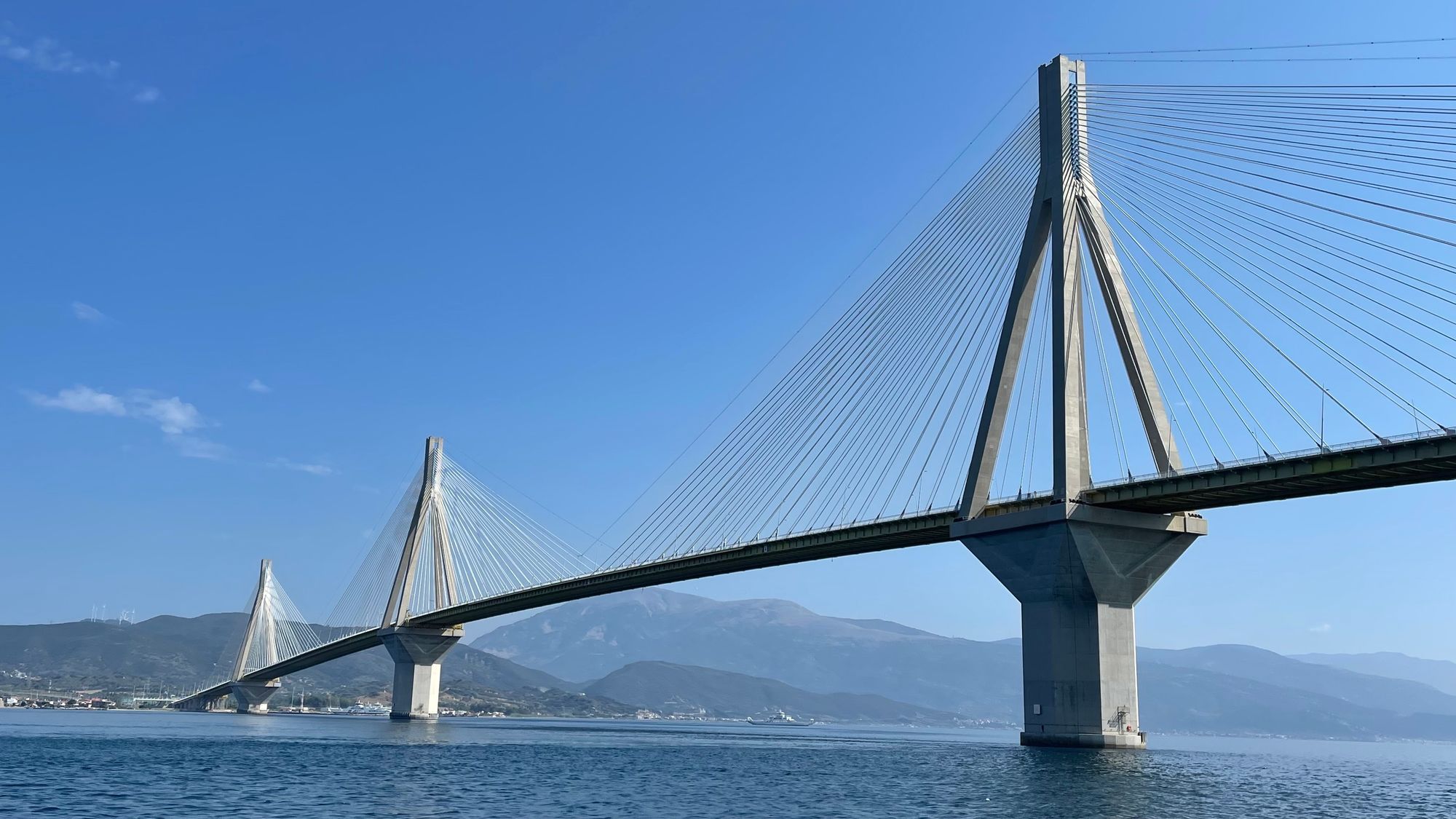 From there, we kept cruising on, the weather was great, the seas were flat and we saw dolphins cruising by and eventually, we arrived at Galaxidi. This is a lovely anchorage and convenient for ancient Delphi, although we chose to skip that as we've been twice before.
There were thunderstorms around and it's been so long since we've really experienced one that we let our guard down a bit. As the clouds were moving around, we could see lightning and hear lots of thunder and we were largely enjoying the show until one of the squalls hit us directly. The wind went from 5 knots to 35 knots in about 30 seconds, gusting very strongly. We rushed around, securing things that were flying about and in my case, generally being cross at myself for not preparing earlier. In the end, no harm done (we lost a piece from our anchor ball), but a good reminder on the importance of prepping when you think something might happen.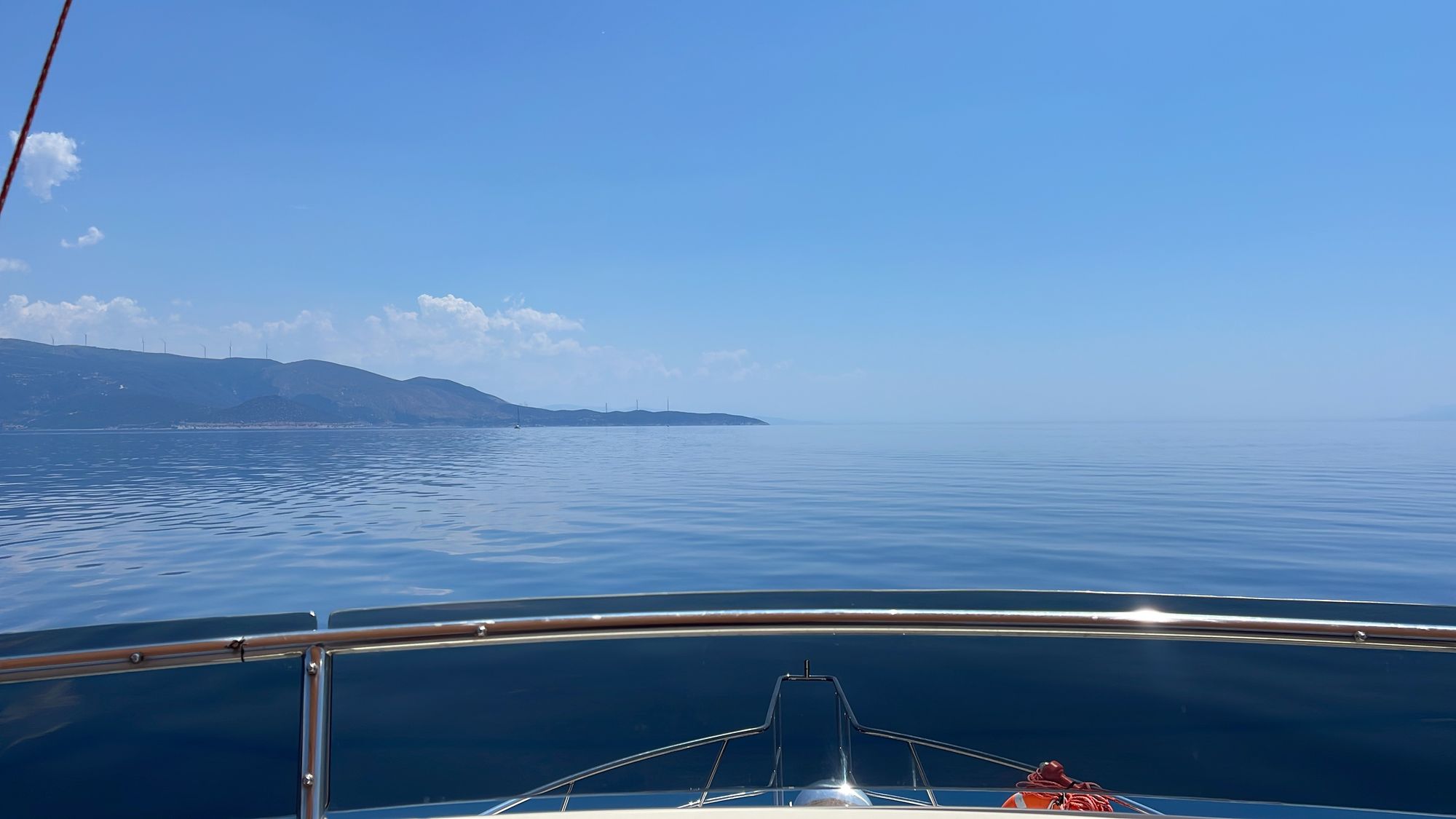 During the storm the boat next to us started waving and yelling to us. We couldn't make it out, but eventually we recognised a fellow Monty! Tim with his kids and wife aboard. They were swimming when the storm hit and all quickly bundled downstairs while Tim monitored the boat from above.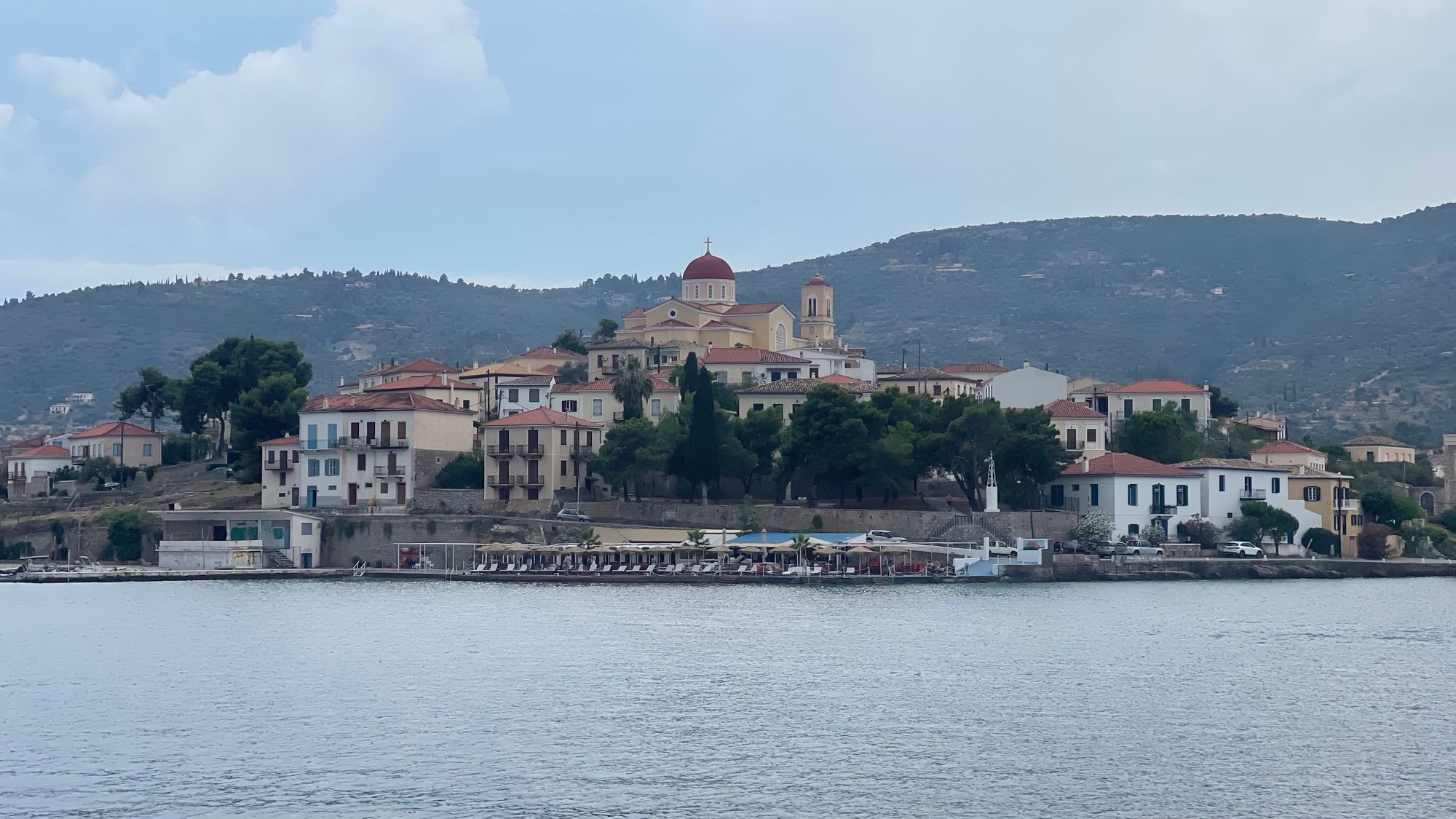 Our peaceful, calm anchorage was now a choppy mess - the wind so strong that waves were crashing on to the tavernas behind us, but fortunately after about 30 minutes the wind disappeared and then the waves gradually settled a few hours afterwards.
We were trying to decide if we'd cross through the Corinth the next day (Thursday) or if we'd head South, anchor there and then try in the morning, but the storm decided it for us. With the weather becoming unsettled, we wanted to get through and into the relative calm of the Saronic Gulf.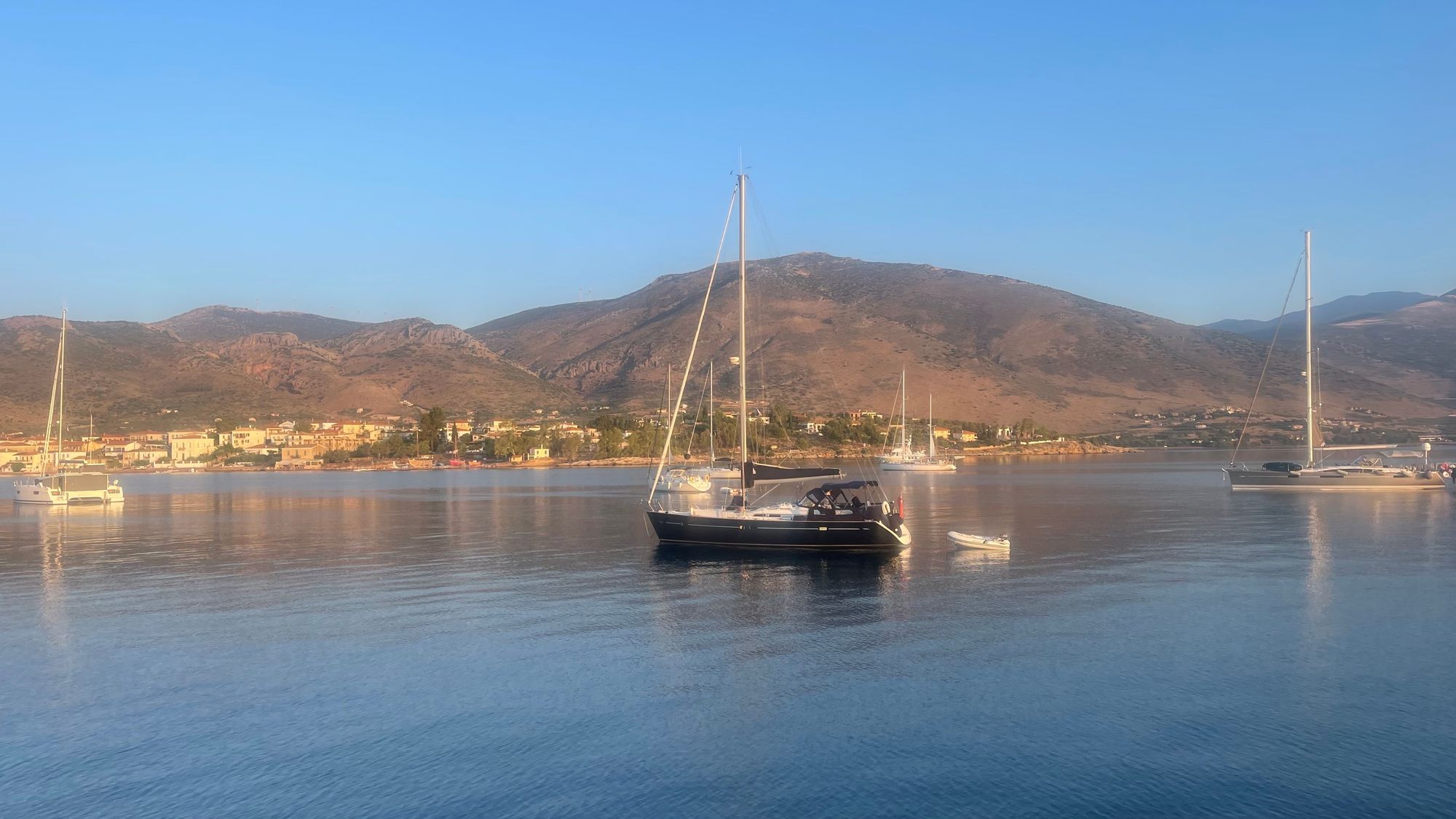 We got up early for the third day in a row and headed straight for the canal. This is another controlled crossing situation. We made a declaration online the night before (and paid the fee - €240 for our boat, which seems a lot, but saves more money than that in fuel and a week of time around the Peloponnese). As we approached 3 nautical miles out, we were an hour early than we had estimated, but we just called on VHF 11 as instructed, they verified our details and told us to call again at 1 nm. Then they asked us to wait, circling by the north entrance of the canal. There was some "traffic" coming through, once those boats exited, we were directed to enter in order, bigger boats first, and off we went!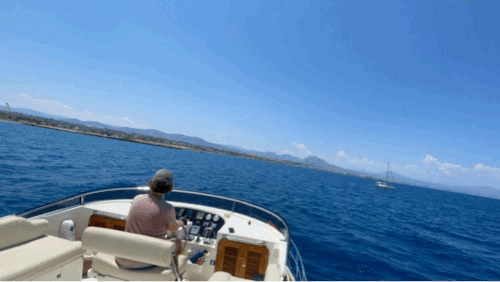 The Corinth was an amazing experience. It's something we've been wanting to do since we started cruising in Greece and finally, we made it happen! It's such a dramatic experience travelling through the narrow channel with the walls towering above you. The total journey is around 6.4 kms (4.0 miles). It's a little challenging - the current pushes through and moves the boat from side to side a bit, but overall, very enjoyable.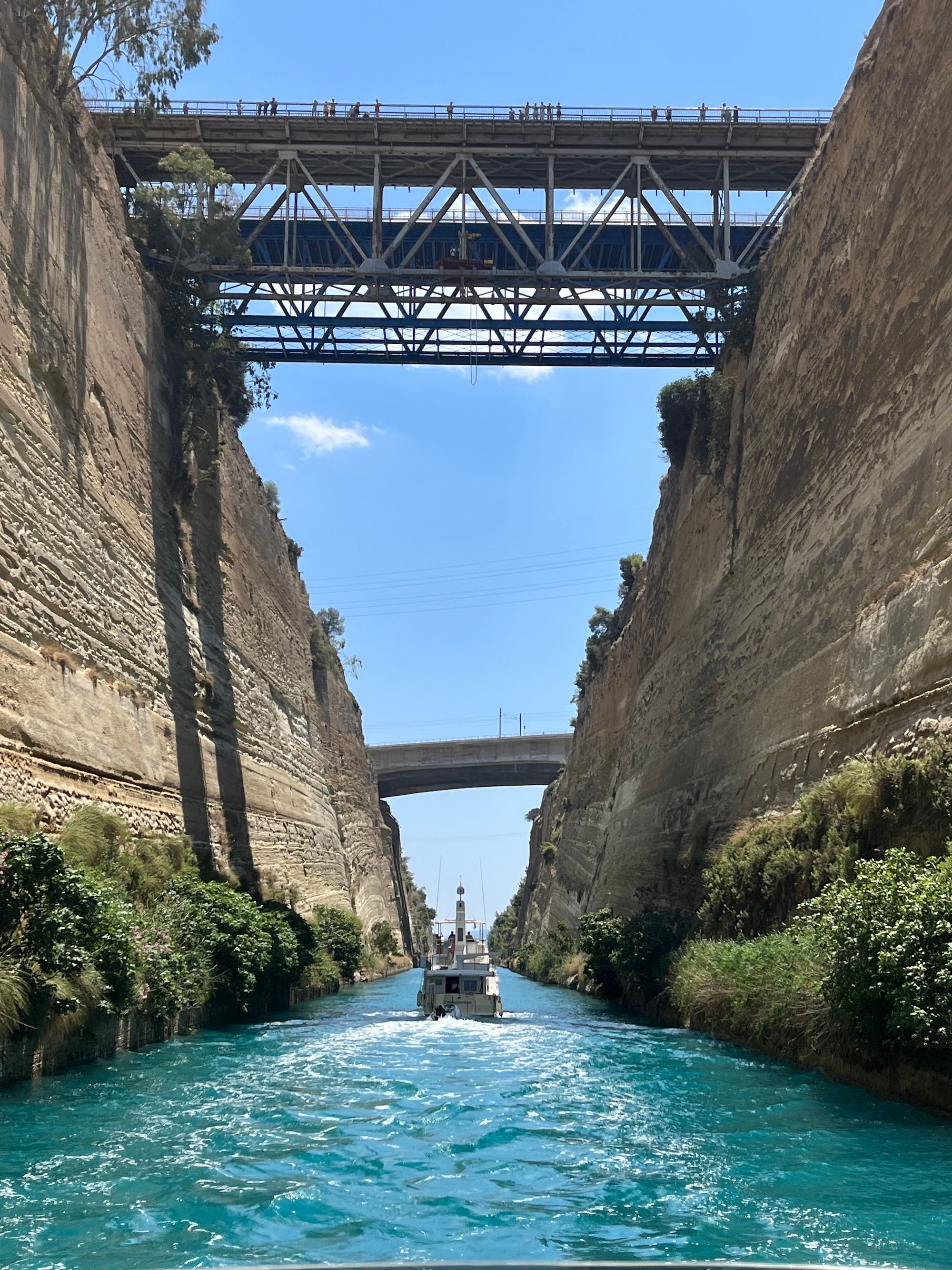 They first considered building the canal in 7th century BC, but it was abandoned in favour of the simpler portage approach - the remains of the ancient road they used are still on the sides of some parts of the canal. Many Roman emperors considered it, but it was abandoned either because they died, or because the surveyors had miscalculated the sea heights on either side of the peninsula and feared flooding. Emperor Nero was the first to actually break ground and almost 700 meters was excavated before he died and it was again abandoned.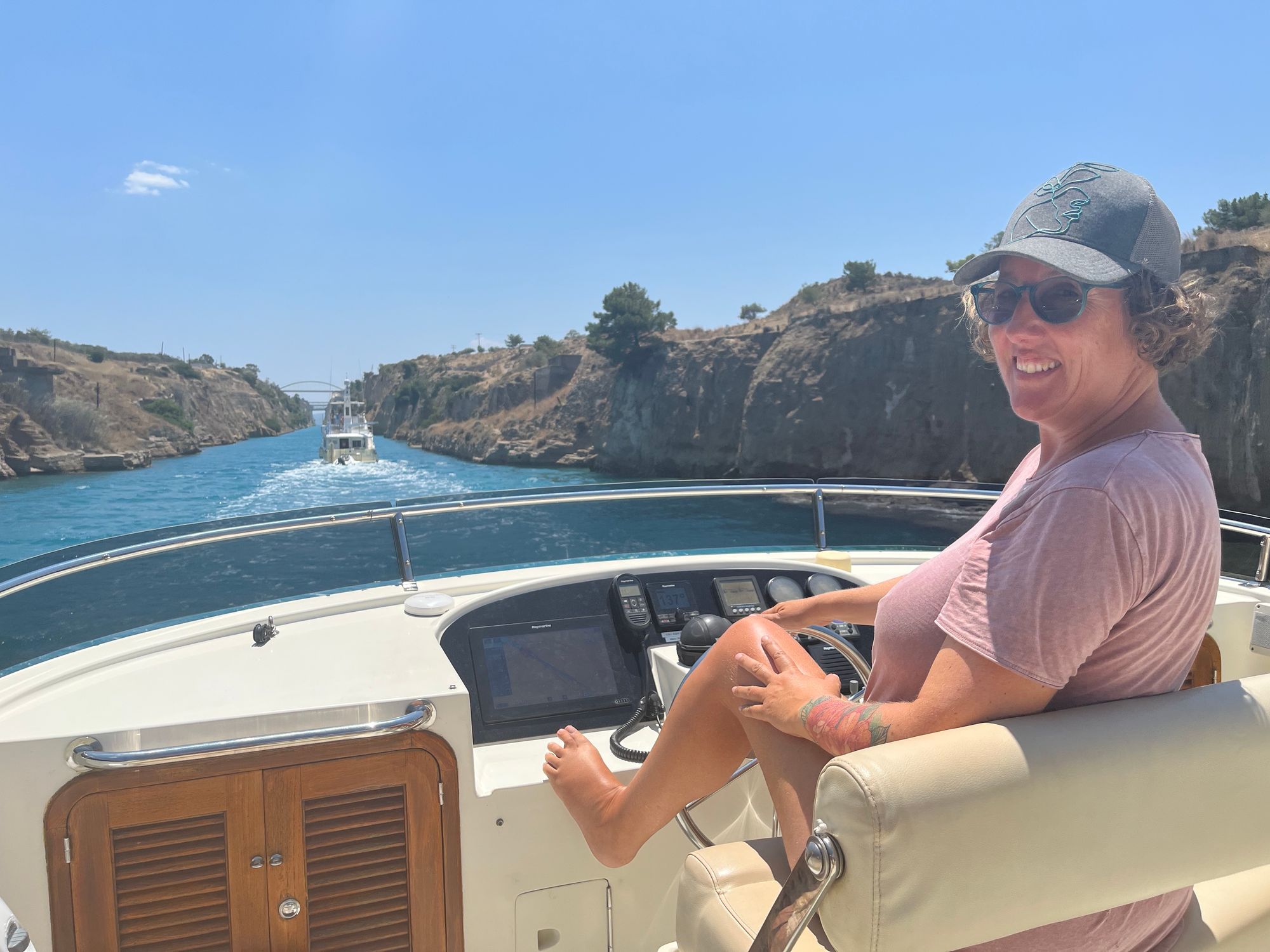 It wasn't until 1882 that construction would begin again, a difficult project fraught with bankruptcies, but eventually in 1893 it was completed after 11 years of work. Unfortunately its steep limestone cliffs are vulnerable to landslides and it's been frequently closed due to blockages from either collapsing walls or deliberate "scorched earth" policies by the Germans leaving during WWII, where they intentionally collapsed sections, bridges and dumped tanks into the canal to block the allies from using it.
Most recently it's been closed from January 2021 after a landslide and has been opening intermittently during summer for recreational use It will close again in October until February 2024 when they hope, finally, to have completed the works and it will reopen for 24 hours a day.
Having crossed the Corinth we're now back where we started last season! It was early June, just over 13 months ago where we finally left Aegina and headed off around the Peloponnese for the true start of our 2022 season. It's been an adventure since then, and one that shows no sign of slowing down.
After exiting the canal, we headed to Korfos where we met Eric & Vandy on Awildian as well as Stuart & Kim on Escape. We had drinks on Awildian then headed to shore for dinner - our first time off the boat in 3 days! Having made it through the canal, it was time to relax and slow down after the mad sprint.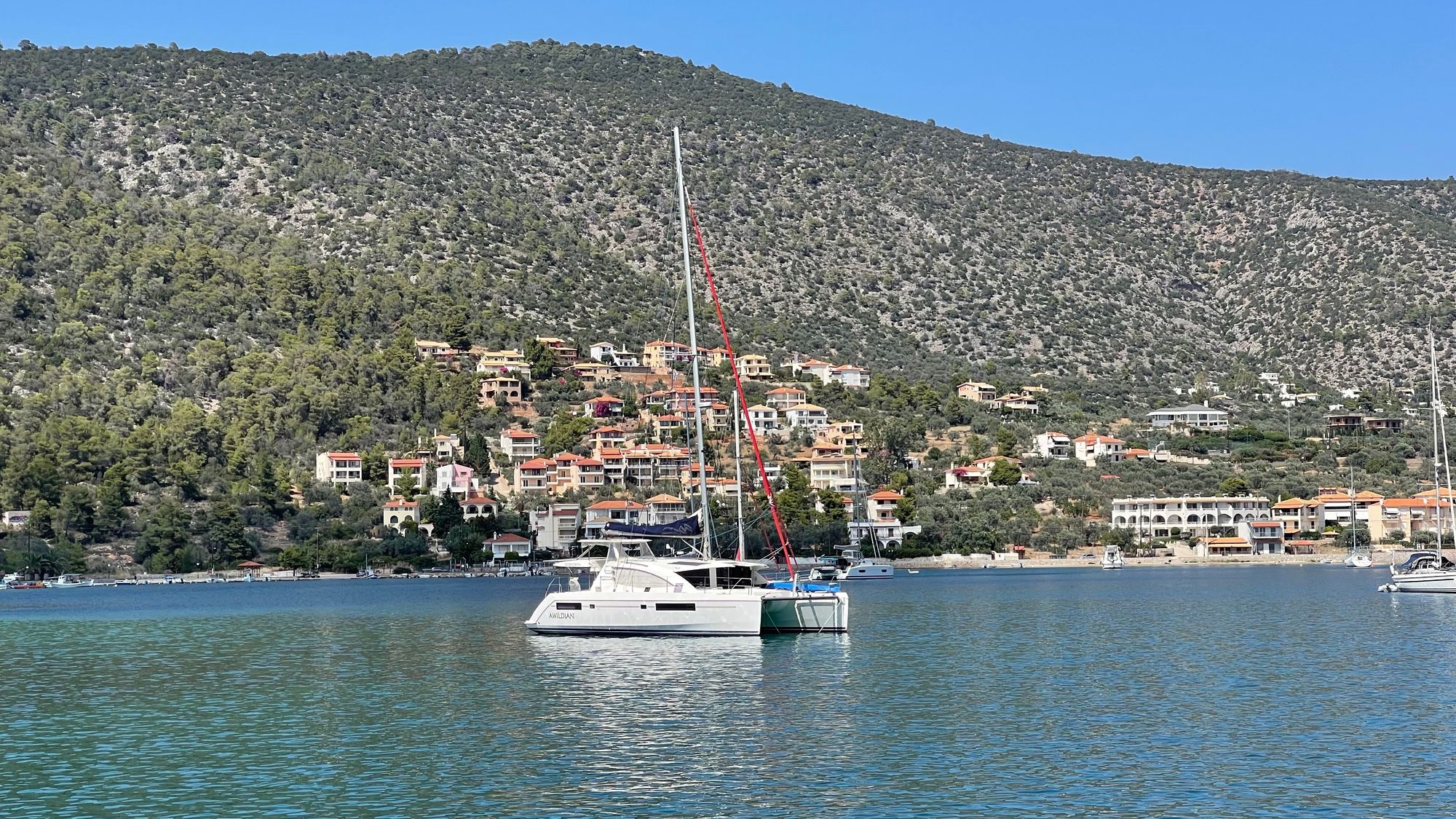 We slept in on Friday and then headed off to Poros. This is strategic for a couple of reasons. One, Catherine on Lickety is here for a few weeks, so we wanted to catch up, say hi and relax here for a bit. Eric & Vandy on Awildian arrived on Saturday too, so there are plenty of people to hang out with and say hi to. And of course, it's a lovely anchorage, we can swim, and it's sheltered more or less from the weather. The only downside is the passing boat traffic which sends everything rolling around for a moment or two every so often, but we'll live with that.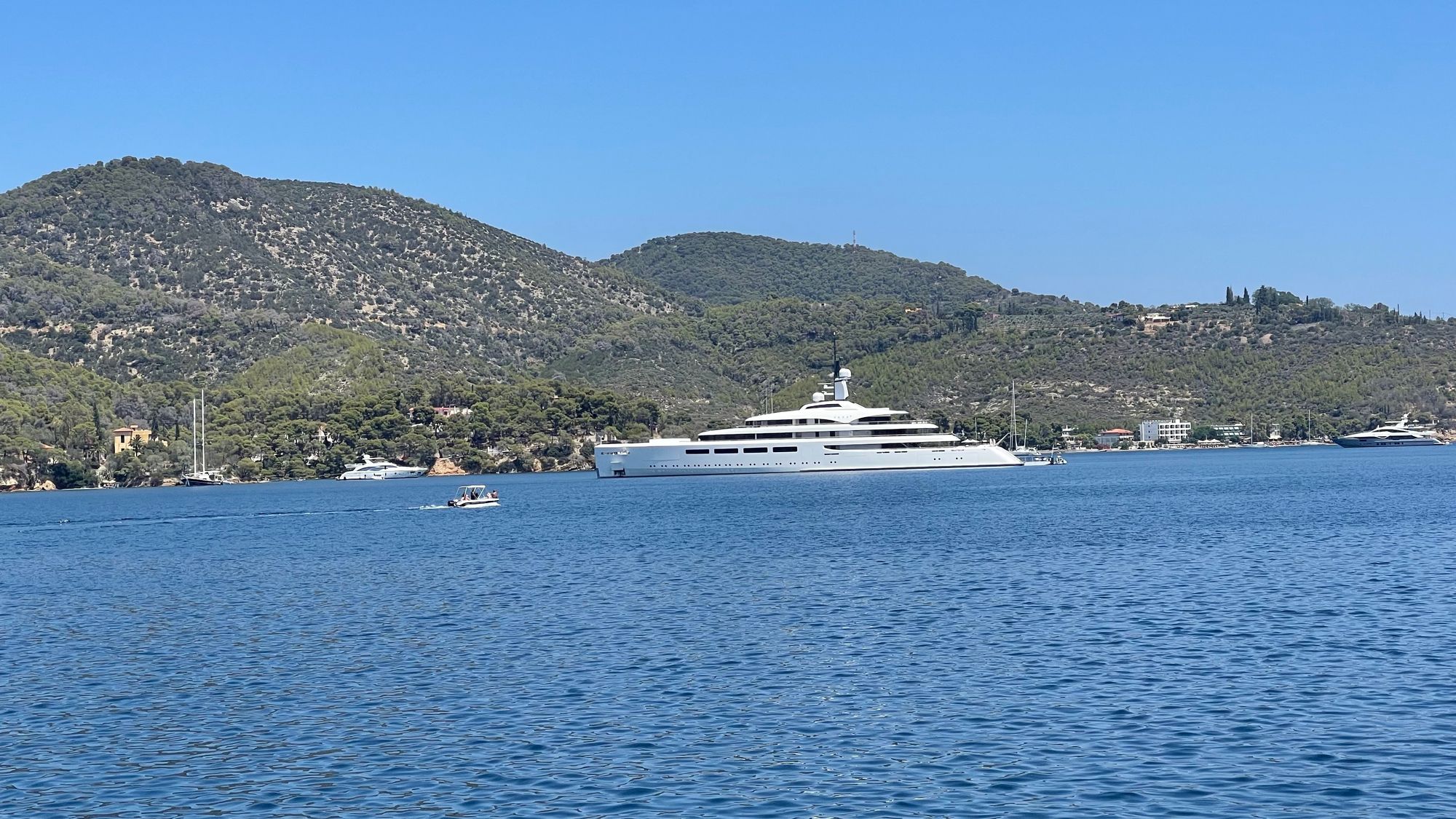 Most importantly it's a short hop from here back to Aegina. We're stopped here waiting for the weather to settle (Tuesday is looking good) so we can head for Kanonis Boatyard and Lucas to service the engines before continuing our season.
We enjoyed drinks with Catherine on Lickety on Friday evening and then coffee on shore while we visited the laiki (Greek farmers market). Saturday afternoon was a relaxed afternoon with swimming and relaxing and Sunday, it's breakfast aboard Matilda with the gang.
Until next time,
Tim