Week 151: Back to the beginning then on to new destinations
We're back past where it all started! Then crossing draw bridges at 2AM in the morning, followed by entertaining a toddler on board.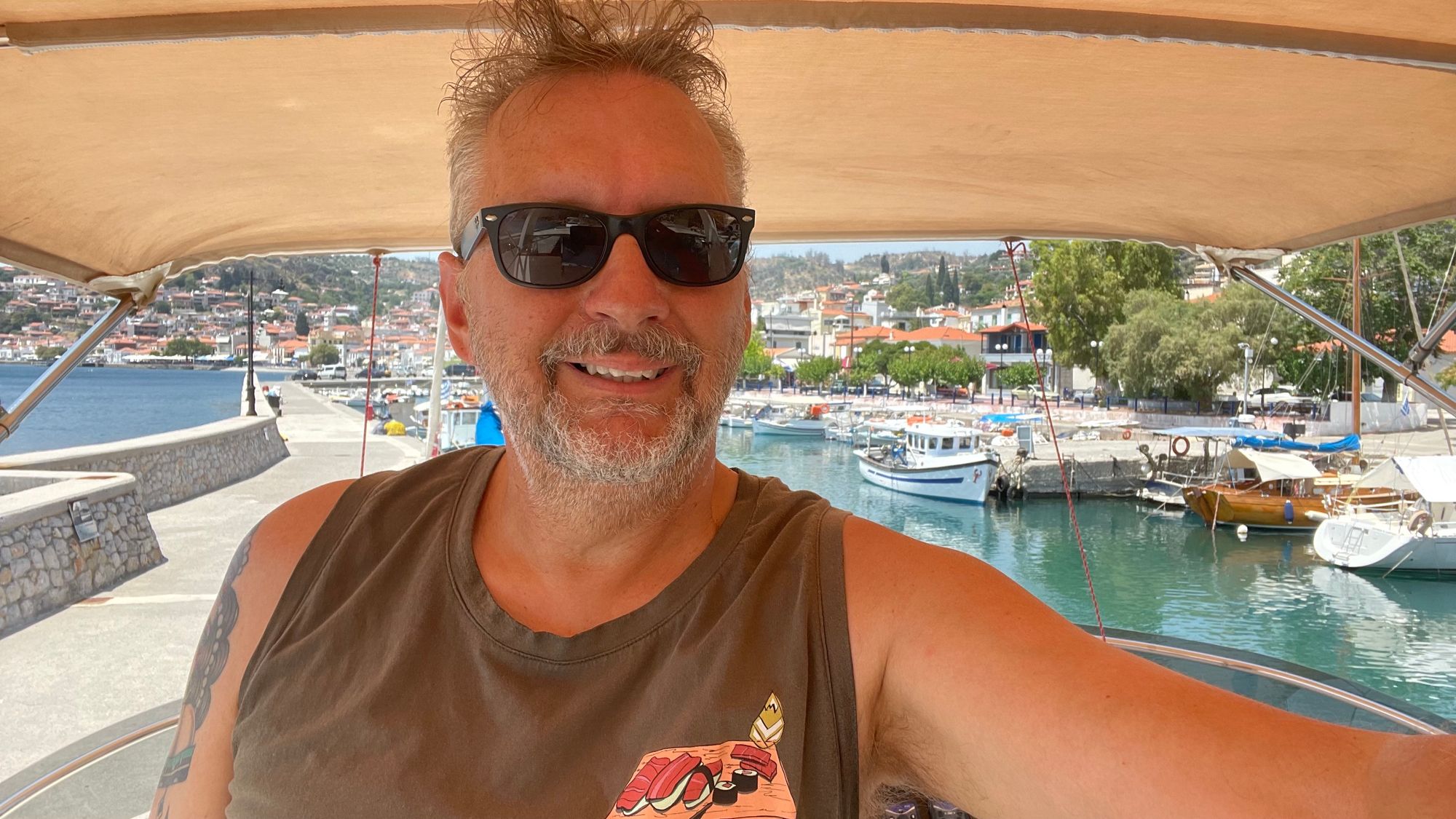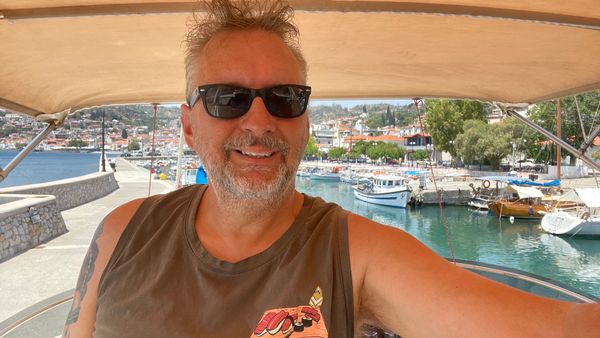 It must be hot in Europe at the moment as even people in far away places like Australia have commented on the heat wave. You'll be pleased to know that we're doing OK. Yes it's hot, and uncomfortably so on occasion, but we're also much better at coping with it now. The blinds and the cover for the front window have done wonders keeping the heat out of the boat, which is half the battle.
Generally during the day when we're underway, it's lovely on the water as the breeze is fairly cool blowing off the sea and we try as much as practical to get to an anchorage. That helps because the wind tends to blow through the boat as you spin to face it and we can go swimming which is the best way to cool off on a boat! Still, some decent AC every now and then would be nice!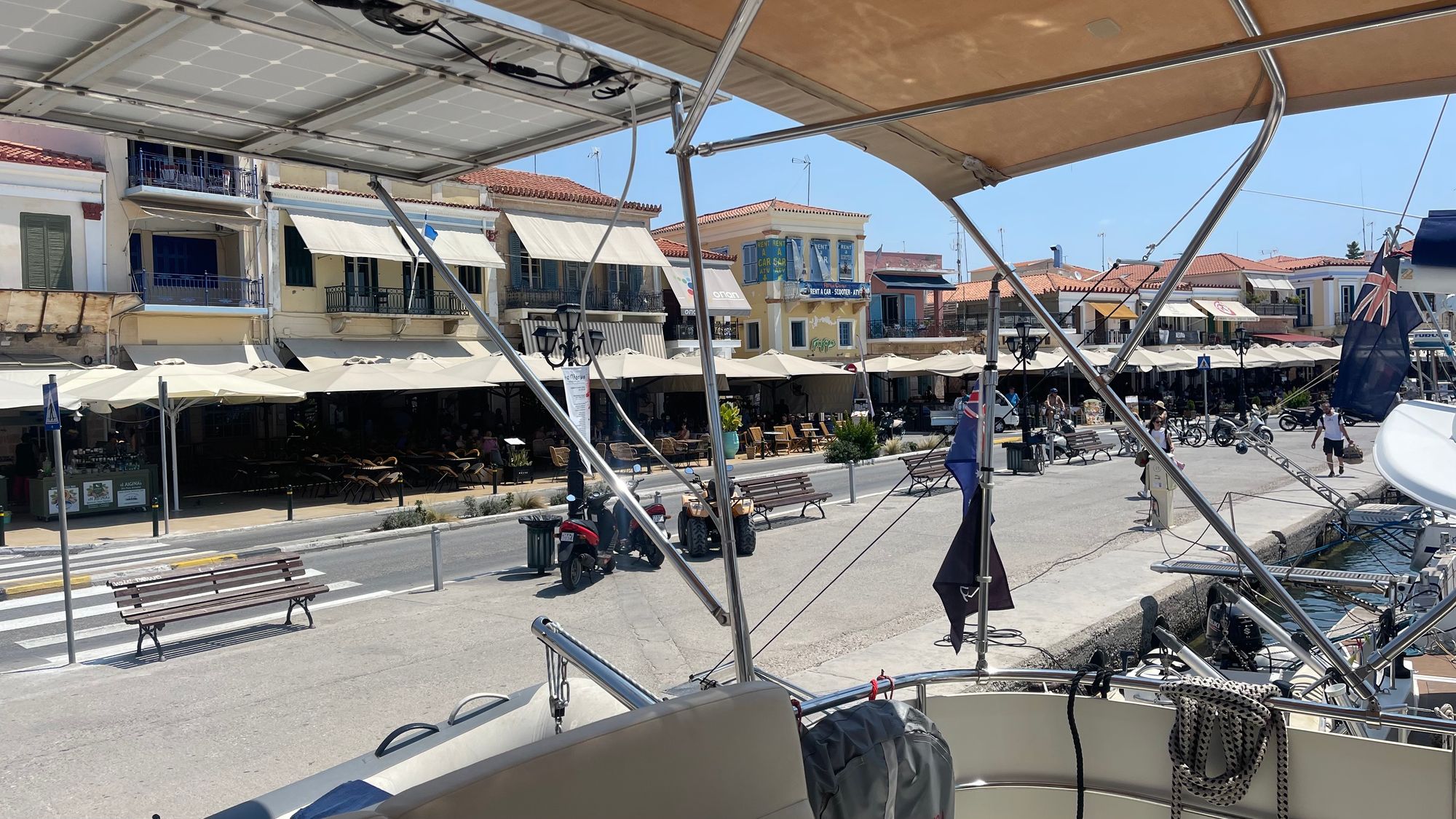 As is often the case with boat life, things haven't quite gone to plan this week. We were heading from Poros to Aegina where we hoped to get the engines serviced (having done enough hours this season they are due an oil change). The water maker also needs some maintenance as well. We'd spoken to Lucas, the mechanic we used last year and it all seemed OK, but at the last minute things fell apart. The port police at Aegina are cracking down on maintenance at the town quay, so we'd have to use the slip at the boatyard and for various reasons, that wasn't available.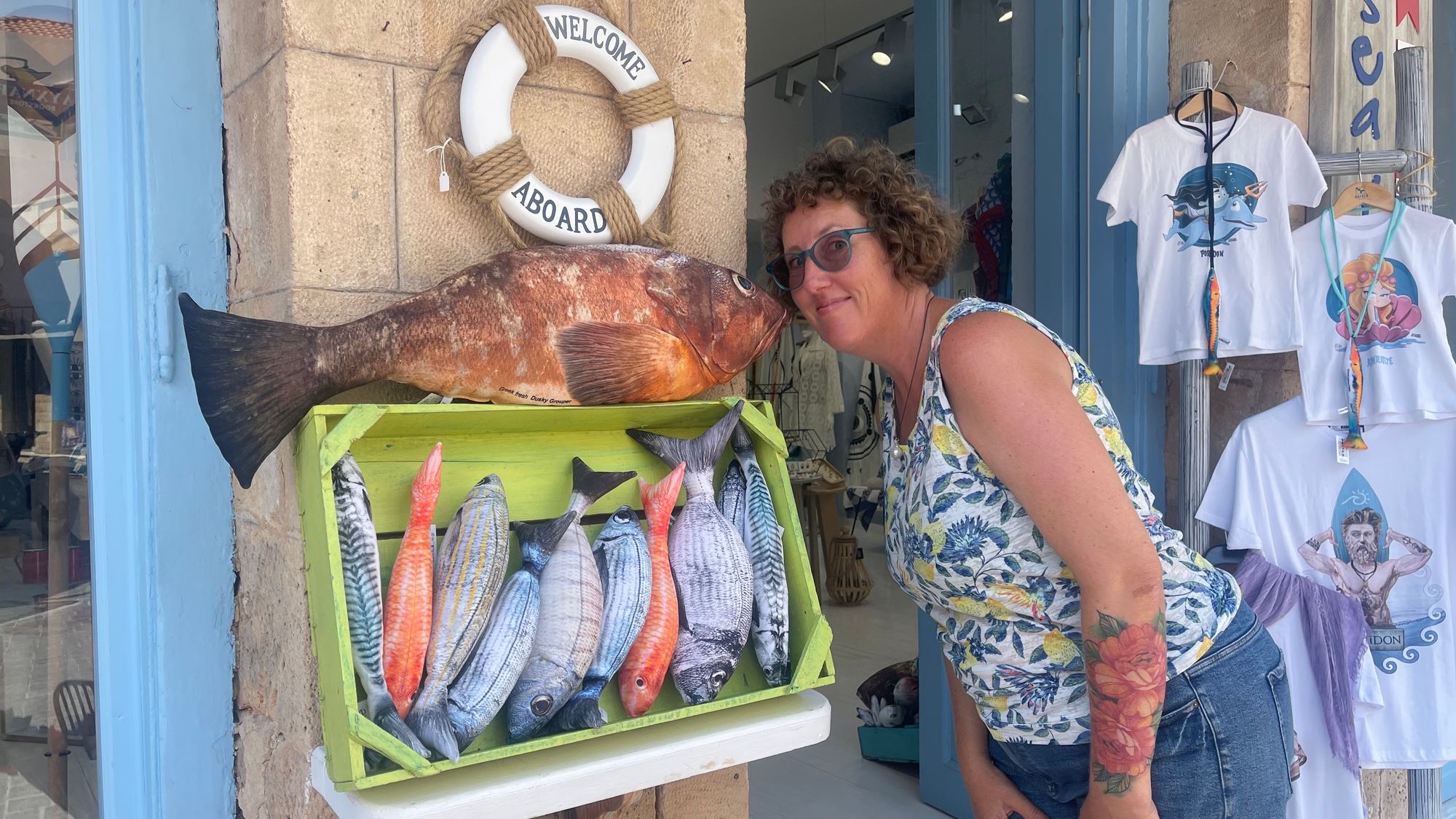 Oh well. As setbacks go, it's fairly typical. We decided to continue to push forward and after contacting the marina in Lesvos we have the details for a mechanic there, so we'll get the service done while we travel to the UK.
It was a lot of fun being back in Aegina again. In so far as anywhere feels like home to us in Greece, Aegina is one of those places we've spent a LOT of time. Pulling into the harbour was a very familiar experience, we even saw a boat trying to leave with it's anchor hooked on someone else. Ahhh, Aegina!
We were lucky to find a good spot which was away from the tavernas near the Alpha Bank, but still very central for the town. It's funny how much the "feeling" of how a boat moves in a harbour and the sounds are a big part of the experience – after a few hours in Aegina lots of memories were flooding back. The ferries coming and going, the shouting of the charter boats, the sounds of chains lifting and dropping at anchor, the church bells and the clop of the horse hooves on the road behind the boat. I think if you dropped us in there blindfolded, we'd recognise that harbour within an hour or two just by sound and feel even without seeing where we were.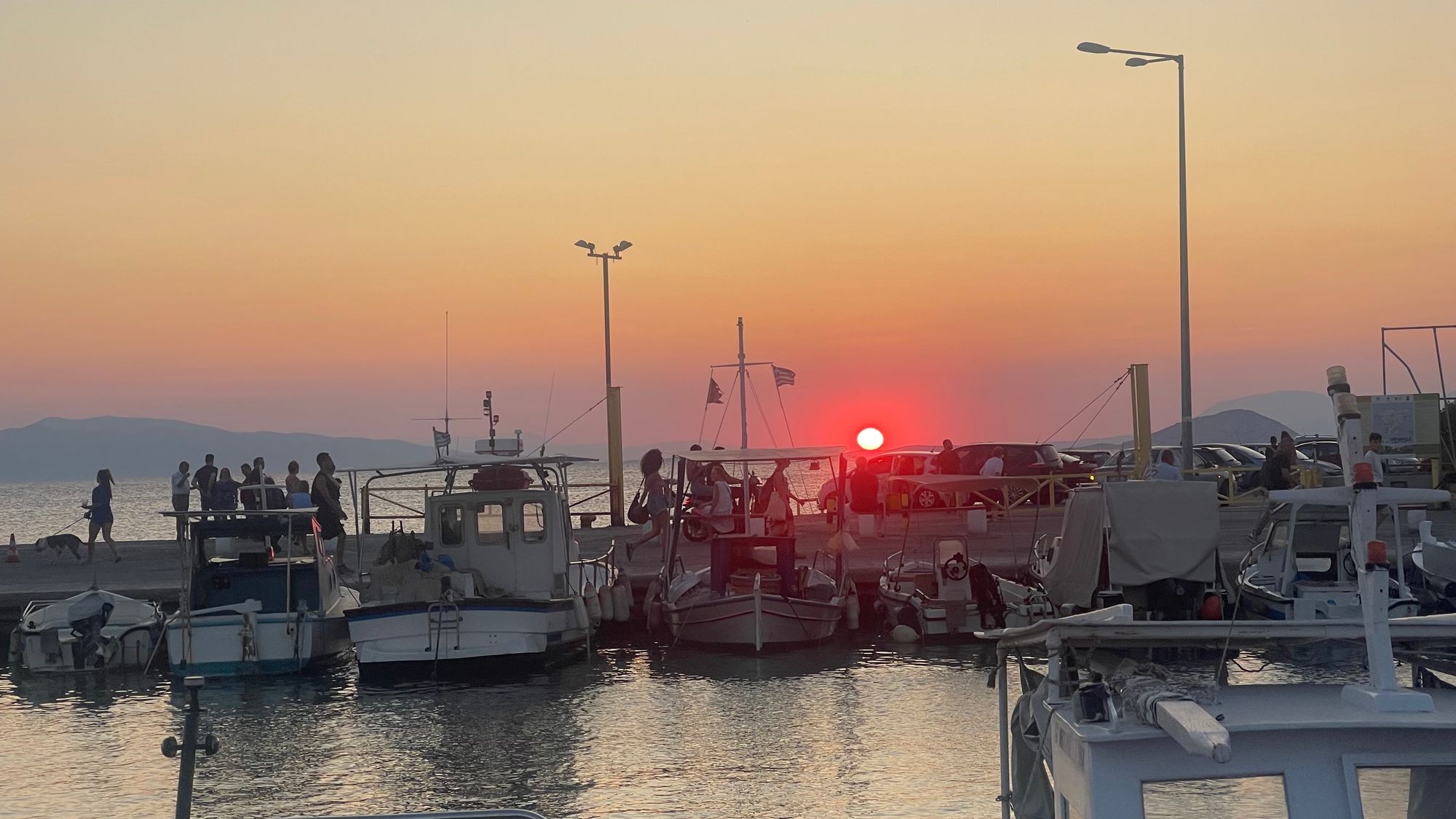 One of the first things we did was head to Cava Voinos, a small wine store on the back streets of Aegina. It's one of our favourites because not only do they have an excellent selection of wine, but the owner, a lovely French lady called Najoua also imports (brings back in her bag every time she goes to France) an exceptional selection of very high quality French cheeses. When we walked in the door, she immediately recognised us "Oh, you're on Instagram!". We had handed her one of our boat cards last year and she'd followed us (@matildatheboat). It was a brief moment of fame! We invited her to visit aboard and she came to tour Matilda later that evening.
The fruit lady who sells her wares from the dock also remembered us (or at least Rosie) and asked after us, how our kids were going and remembered that Ella lives in Edinburgh. It's a nice feeling to have some roots, no matter how shallow they really are. We also met a lovely English couple (Judy and Chris) and shared some of our cheese haul with our boat neighbours for the evening over a drink.
With the engine service on hold, we decided it was time to discover new cruising grounds and we headed off on Wednesday morning to Cape Sounion and the temple of Poseidon. We've been there a few times, both cruising past and by road, but this was the first time we've anchored underneath. It was a spectacular place to spend the evening and with the winds from the correct direction, very comfortable at anchorage. Somewhere between getting better at selecting the right anchoring location and being less concerned about a little bit of swell, we're finding life at anchor easier than ever.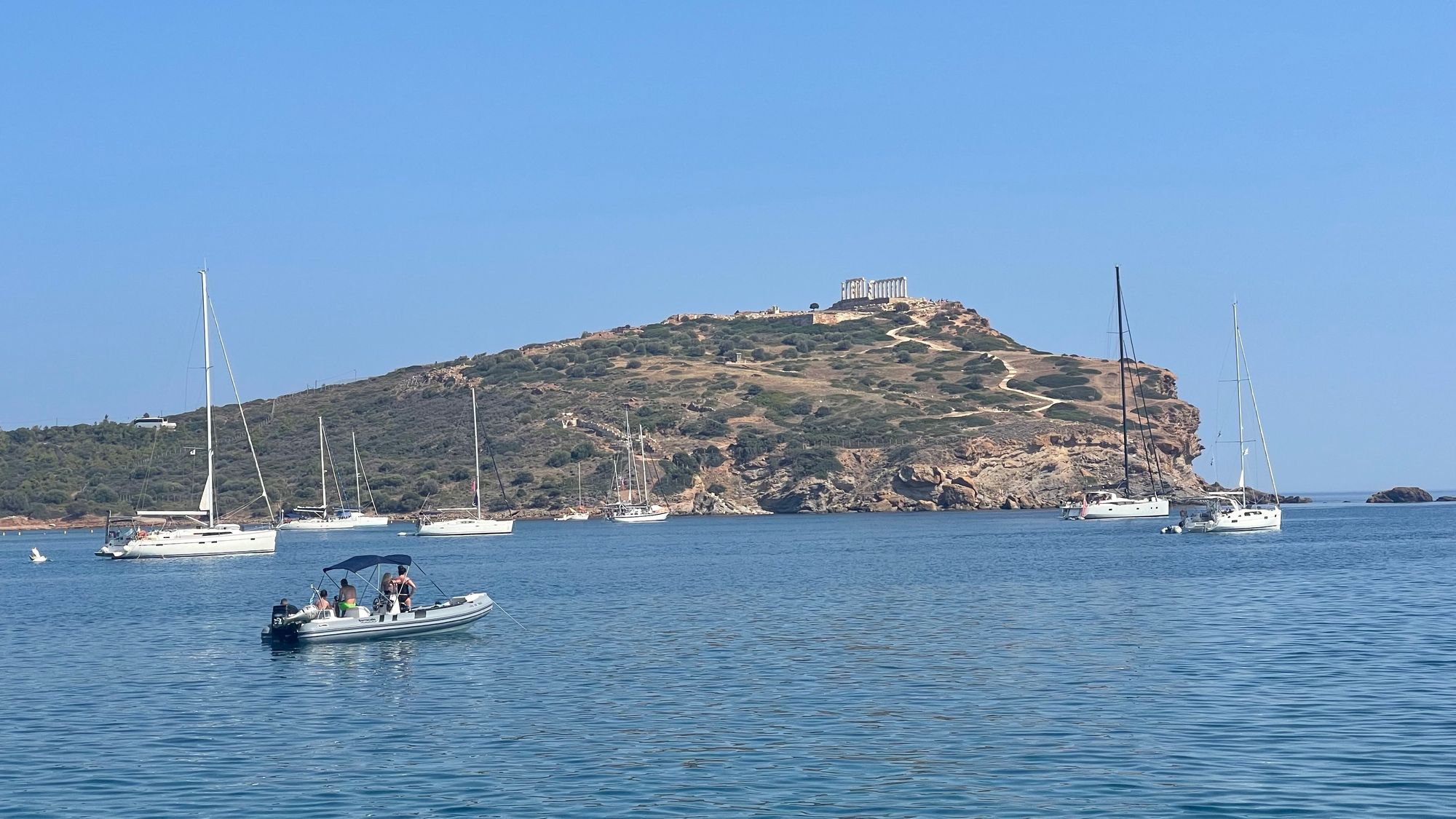 Then it was on around past Lavrion and up to the small island of Chersonisi. If the journey to Aegina represented a completion of the last season after we left there in May 2022, then cruising past Lavrion was actually crossing our wake from when we set off on our own for the first time back in August 2021. We've come a VERY long way since then (roughly 3,750 nautical miles - almost 7000 kms).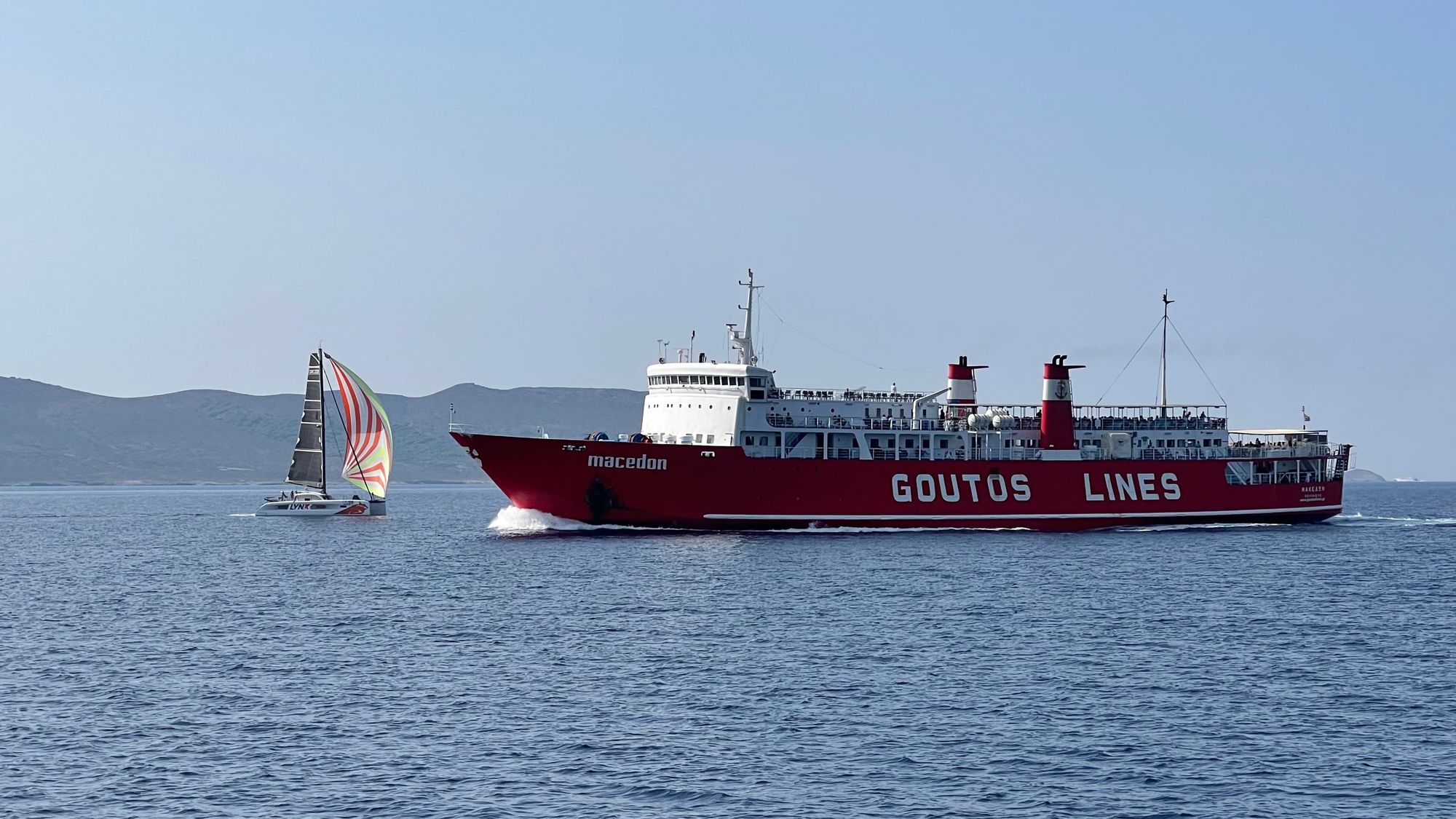 Chersonisi was exactly the sort of anchorage you seek out as a liveaboard. Beautiful clear waters, sandy bottom, well sheltered with a green island surrounding you. And of course, no charter boats! We loved it. The one downside was the midges which attacked whenever you were outside, but you can't have everything!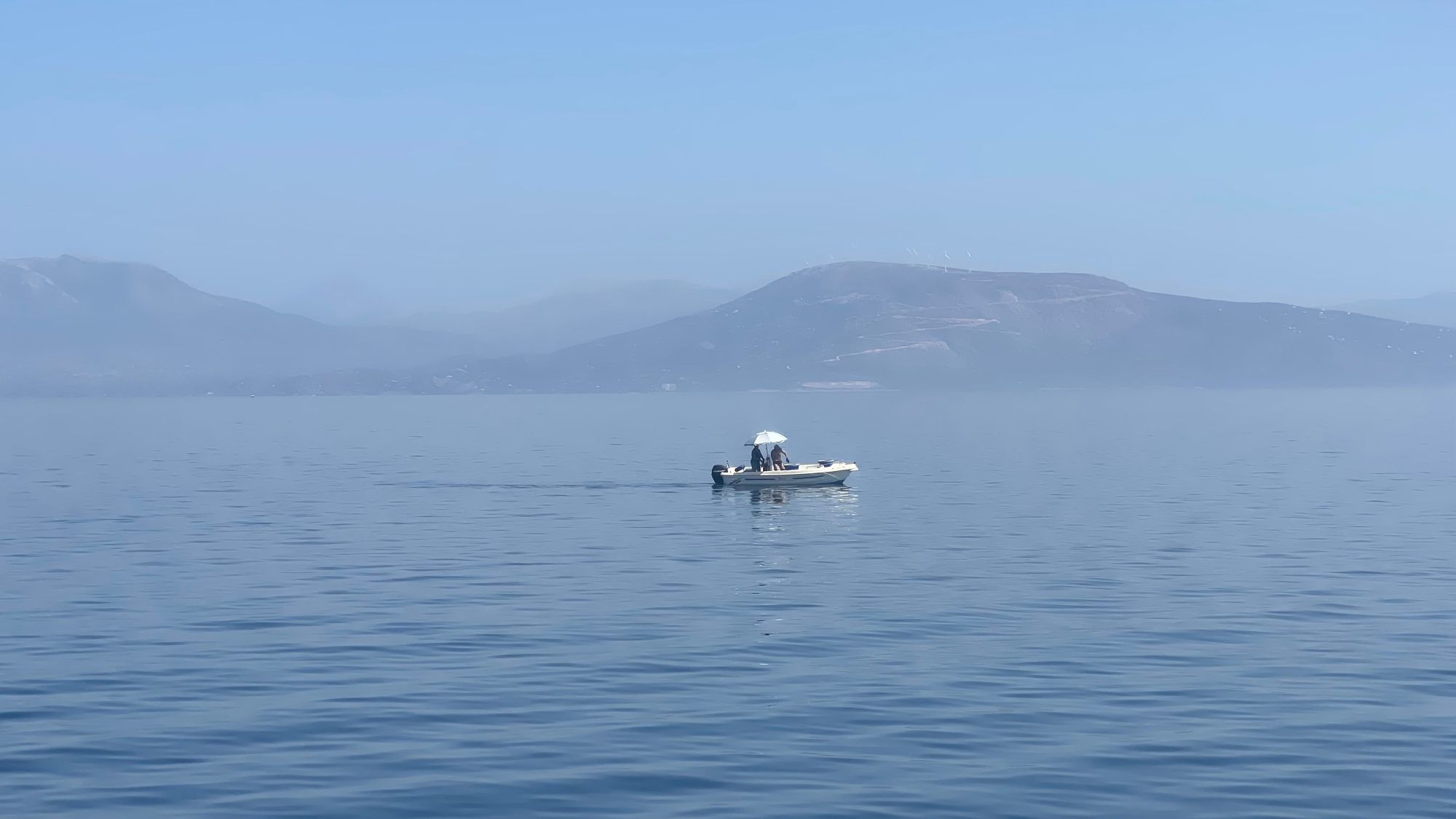 Of course, the weather is always an issue when you're on a boat and that's shaping up to be no exception at the moment. We've left behind the Ionian and the Saronic and now we're heading into the Meltemi (nasty winds) territory of the Aegean. Of course, with the heat wave, the wind has decided not to disappoint and there is a particularly strong Meltemi which started on Saturday and looks like it will hang around most of the week.
With this coming, we made the call to head up the "inside passage" between Evia Island and the mainland of Greece, which is generally more sheltered from these North Easterly winds. To do this, we had to make the Euripos Bridge at Chalkis which would open on Friday night, but not Saturday. If we missed it, we'd be "trapped", still in Meltemi territory and left without much option but to hide out from the winds for a bit.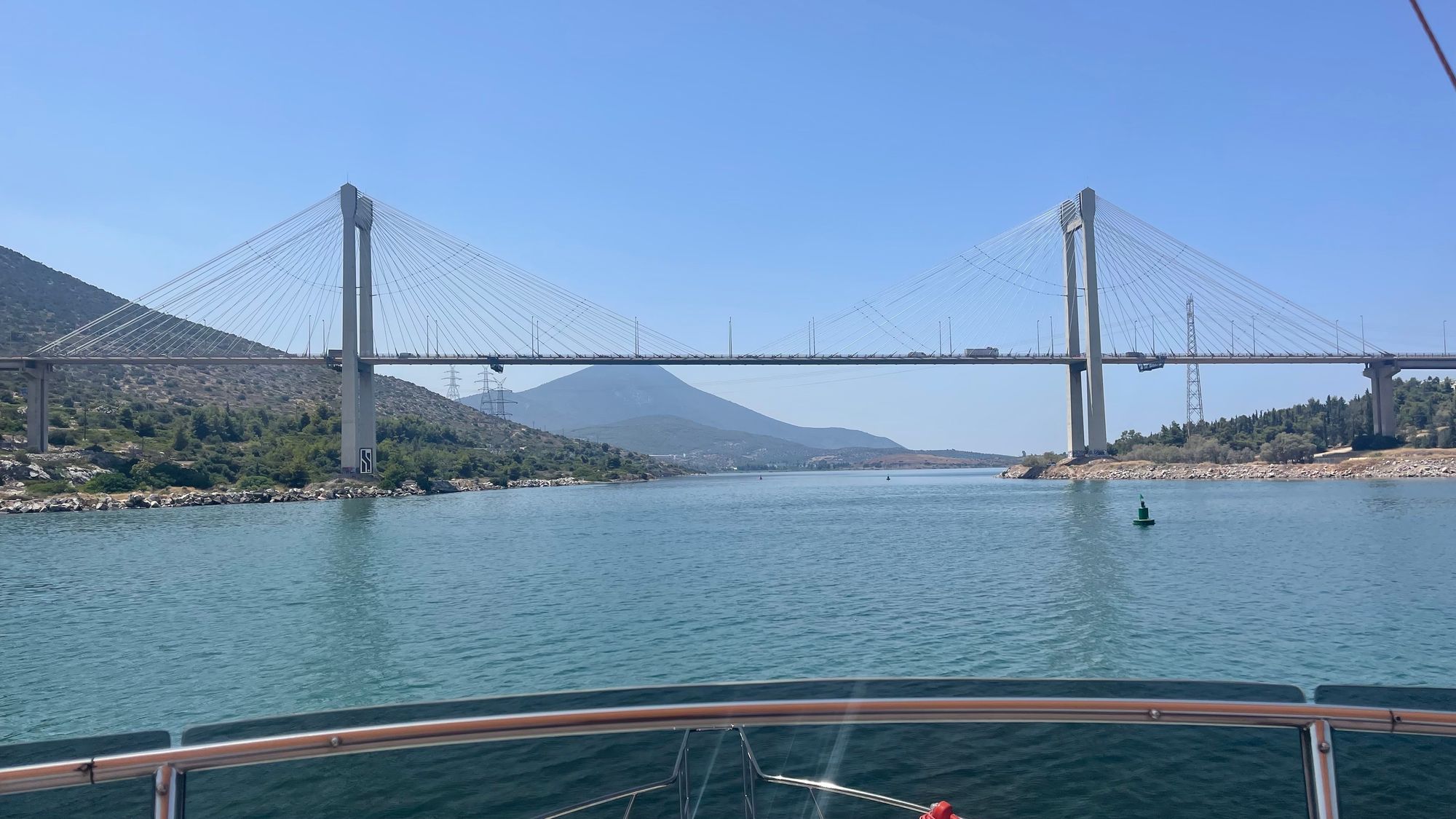 If we could get North of the bridge on time, then we'd be free to continue cruising towards the Sporades Island group (Skiathos, Skopelos, Anavissos) which are famous as the location that the Mamma Mia film was shot. Another big decision was made this week as well. I've decided to hop over to Berlin next weekend to visit our friend Hannah and also my friend Ches who is travelling Europe at the moment. Not being able to make the bridge would mean that this plan probably couldn't happen.
So, bright and early on Friday we headed out and North to Chalkis. We got to the bridge on time and pulled up to the dock to purchase our tickets (€38 to go through the bridge) and received instructions.
"Go anchor there, wait till 21:00, then listen on Channel 12 for further instructions" said the man in the office that took the money.
"What time do you think the bridge will open?" I asked. It only opens once a day and the timing varies for reasons I'll explain in a moment.
"Maybe between 23:00 and 01:00, but perhaps as late as 04:00."
This was not a reassuring answer! Ok, we'd just have to deal with it, we're certainly not the first that has been frustrated by this particular bridge and its idiosyncrasies.
"Can we go shopping while we're here on the quay?"
"Yes, yes, of course, no problem. One hour. Then you must go to anchor."
It's the hottest we've felt all week, going from the cool sea breezes we were experiencing in the morning to the windless heat of a major town was a shock. Maybe we weren't coping with the heat as well as I thought. Still, we got the shopping done and headed back to Matilda.
The water was ripping through the strait under the bridge as we went back and making a lot of whirlpools, so I decided to drop the shopping off, take some trash back to the nearby bins and shoot a quick video of it (it's here and worth a look if you haven't seen it). While I was off doing that, Rosie decided that she'd follow me off the boat and as I was walking back to the boat lots of people were yelling at me in Greek. I kind of shurgged it off as I didn't understand what they were saying, then one of the women from the office ran down to the boat.
I waved at her to say "It's OK, we're going now," assuming she was asking us to move on.
"Your dog is running away!" she cried.
Oh! So that's what everyone had been trying to tell me. I looked back up the street and caught a glimpse of Rosie running across the road, a couple of hundred meters away, much further up than I'd been. She was clearly searching for me, had missed me and seemed to be heading back towards the supermarket. Luckily she came running back when I called, but it was a bit of a fright. It's the first time she's really escaped from the boat. Generally she's not one to wander off, she'd rather be with us – we're sure the only reason she left was because I had left and neither of us had told her to "stay." I think in her little doggy brain she figured hopping off the boat was fair game in that case.
Anyway... while we were sitting on anchor waiting for the bridge to open, there was plenty of time to work out what all the fuss about the Euripos Strait and the old draw bridge was. It's famous in antiquity, originally Evia was connected to the mainland by a land bridge but an earthquake destroyed the connection in around 6,000 BCE, allowing the water to run through and turning the peninsula into an island.
In researching the straits and the bridge, my latest favourite piece of historical nonsense was that in 411BC the Euboens tried to fill in the channel by building a dike, to connect them to the mainland again. They did this to make themselves part of Boeotia again, technically no longer an island and therefore not subject to the Athens Hegemony which controlled all the surrounding islands. It's unclear how long this lasted, but it's one of the more amusing ways I've found that people have tried to work around rules and regulations.
"See that dike? Yeah, we're not an island anymore! Sorry. You can take your tax collectors and go home. I didn't write the treaty, I'm just following the rules."
The water current through the straits runs fast! At 6.5 knots – which is the speed we cruise at. Basically, unless you can go faster than that, you're not getting under the bridge at full flow... And of course, it also creates whirlpools and eddies that spin you around. As we left the dock, we had to cross that tidal stream and the boat literally span 45 degrees to the left, then back again to the right. A strange experience.
The current is so famous that Aristotle used to come to contemplate the mysteries of it and Plato even references it in his essays as a metaphor for something uncertain, switching first this way and then that.
It changes direction (most of the time) every 6 hours where there's 8 minutes of slack before it goes the other way. Hence why you have to wait until a weird hour of the night for them to open the bridge! They only open it once a day, at night, because it's very busy with road traffic back and forward, and they need to open it at the end of the 6 hour cycle, which of course marches forward "roughly" 8 minutes every turn. Of course nothing is even that simple! Mid lunar cycle there are a few days they call "the time of mess" where the current switches up to 12 times during the day at unpredictable times.
We snoozed away in the cool evening air on Matilda, not really able to sleep properly anyway because the bridge opening is a real event. Which means there's a nightclub on one side of it where they play loud music and party until the bridge retracts so they can line the sides of the strait and cheer the boats as they go through. Quite a party!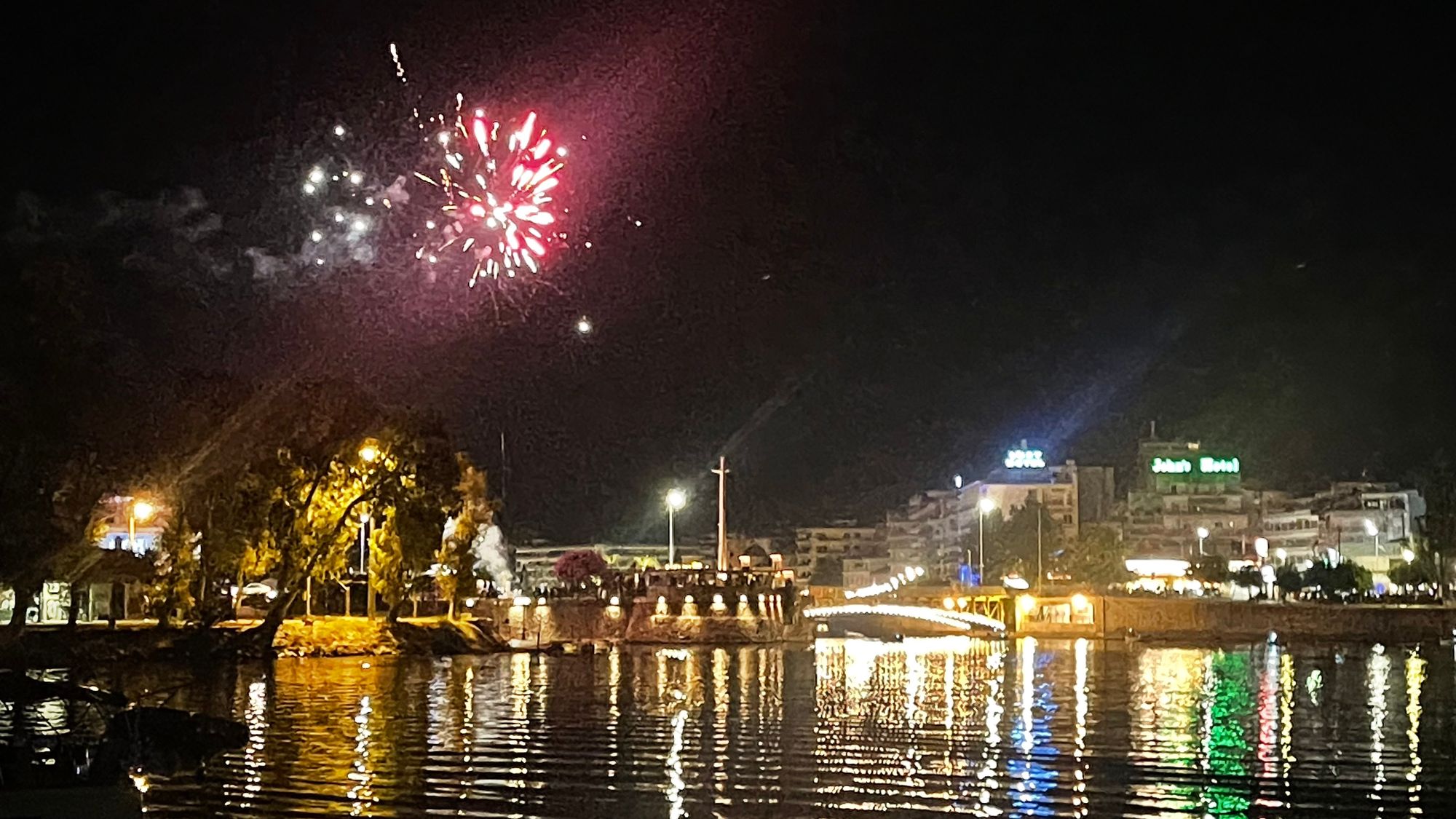 At about 2AM, they called us to get ready, we lifted anchor and circled in the dark with the other boats, and then off we went. It was quite impressive, although uneventful and very quick. Then we had to cruise about 20 minutes on the other side to reach an anchorage we'd selected. It's always a challenge anchoring in the dark, but fortunately it went well and finally about 3AM we could get to sleep. We definitely slept in on Saturday morning!
We'd done it, we were now through the straits and hopefully out of the worst of the impending winds. Or so we thought. Our goal Saturday was to get to Limni, a small village half way up the Northern part of Evia. My friend Vassilis, who works as a charter skipper was away, but his partner Katerina and their baby boy Dimitris were there for the weekend so we went to visit them.
The first part of the journey was relatively smooth heading up the Evia channel, when ahead I could see whitecaps on the water, which in this environment meant winds. The pressure of the strong winds was building on the Northern side of the island, and the geography ahead was such that they were now swooping down the side of the tall, steep mountains as katabatic winds. We went from 5 knots to 35 knots of wind in moments. I elected to turn around so we could pack up the bimini - sure enough, a few hundred meters back the way we came and the winds dropped away. So we tidied everything and then pushed on.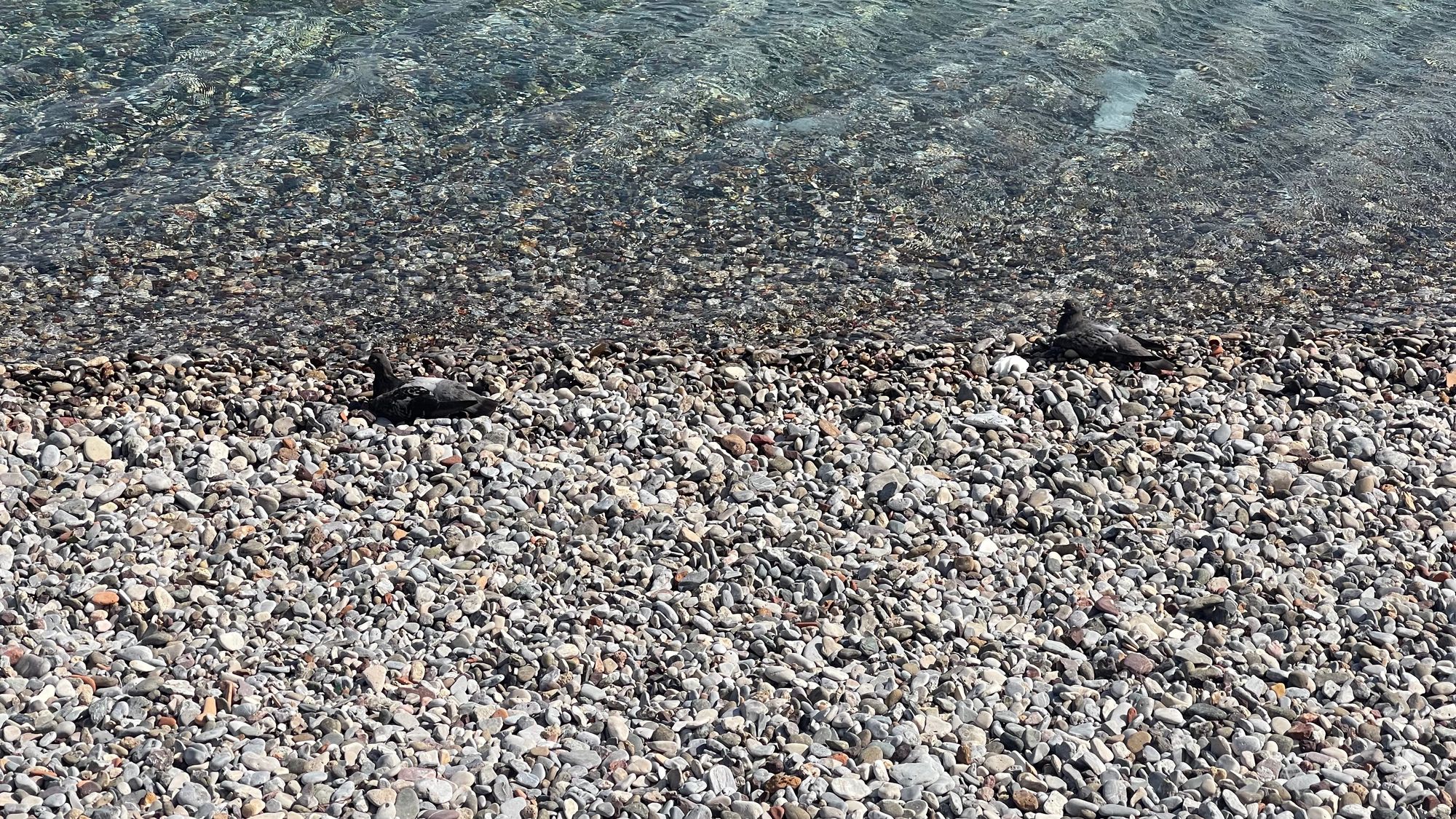 Matilda isn't great in swell, but is not bothered by a bit of wind. We trundled along through the gusts, with Karina and I hiding down in the rear cockpit for a respite from the gusts and the sun which was beating down. Fortunately when we arrived at Limni, the winds lessened as we got close into shore and we were able to dock OK, which had been a concern as we were bashing through the conditions earlier.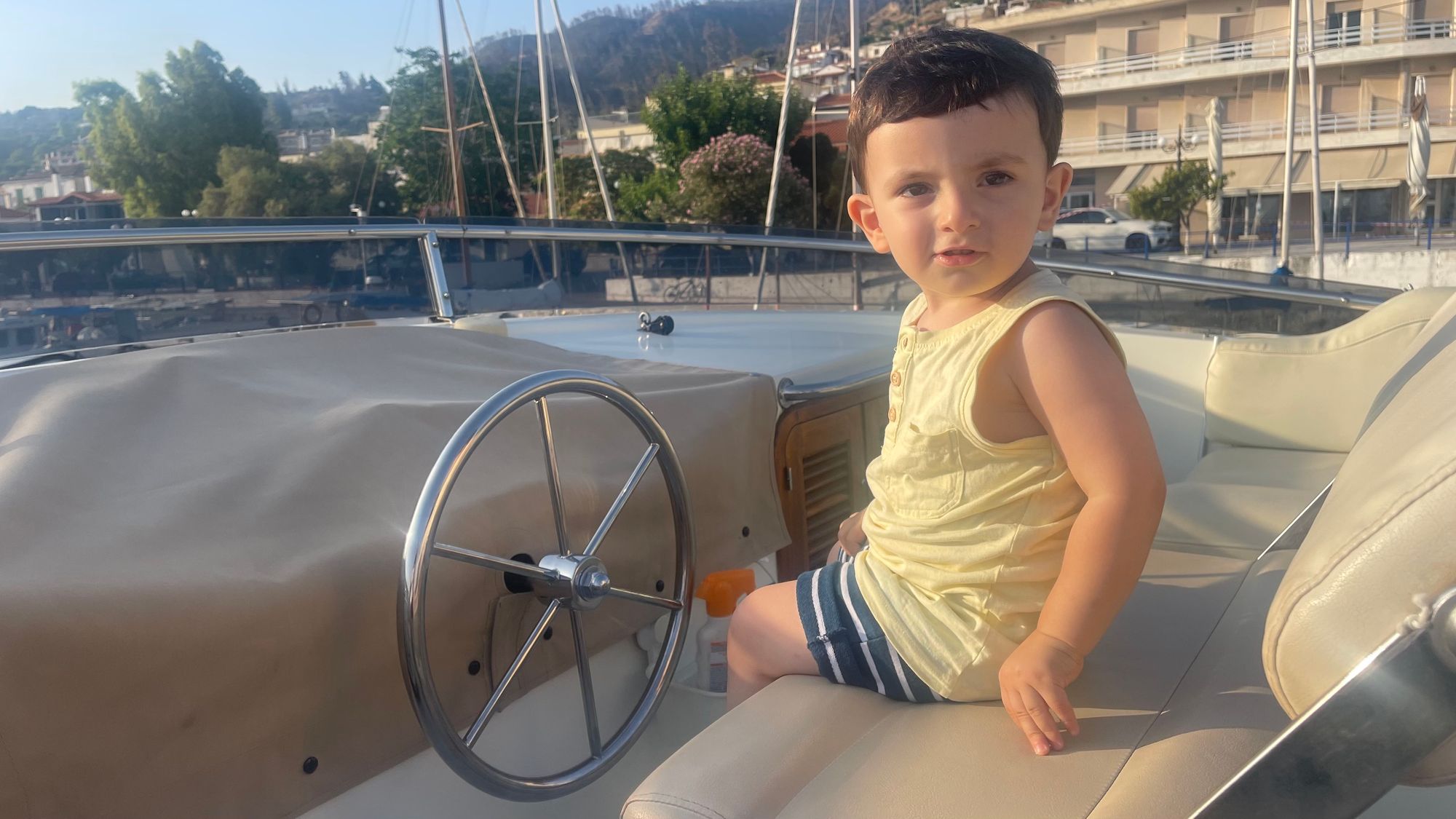 Saturday evening was an entertaining time with an 18 month old running around on the flybridge. Dimitris is lively, entertaining and VERY cute. I sat him down at the helm and he enjoyed playing with the wheel, then I took the cover off the controls and let him push all the buttons. Then we let him play in the sink with the tap. It doesn't take a lot to amuse a toddler. He really didn't want to leave the boat when it was time for dinner!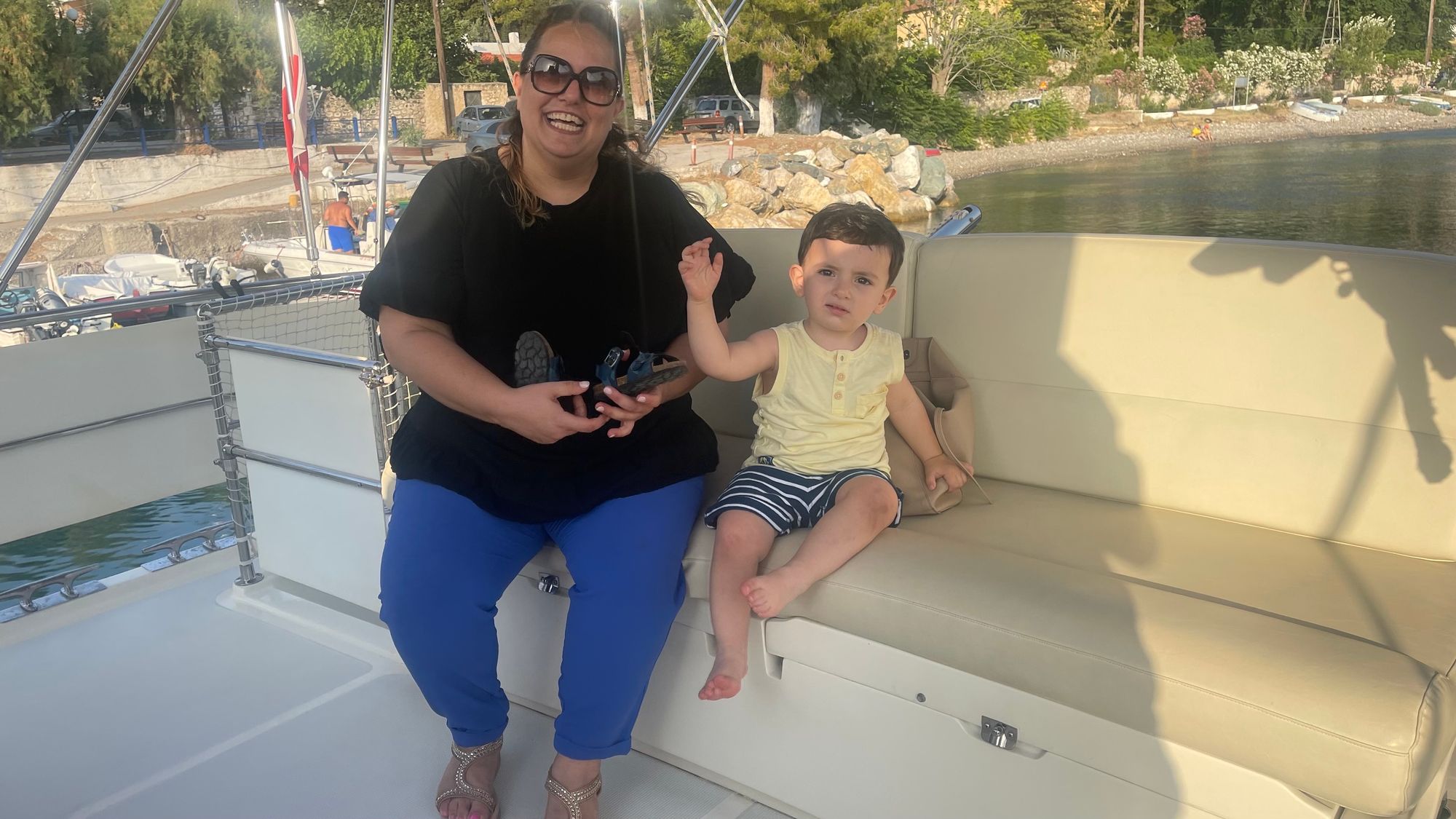 Then Katerina took us to enjoy a local restaurant with a good reputation and we ate a lot of souvlaki and watched in awe as little Dimitris demolished everything on the plate in front of him. Souvlaki, tomatoes, onion, lemons... he ate it all. Finally it was off down the street for ice cream and then back to Matilda for a relatively early nights sleep after our late night. We had a wonderful time with Katerina and Dimitris – you quickly forget just how much work toddlers are, we're definitely both ready for bed! It was also lovely spending some time getting to know Katerina a bit better too. Limni is a lovely, relaxing village and we hope to get back there to visit again soon.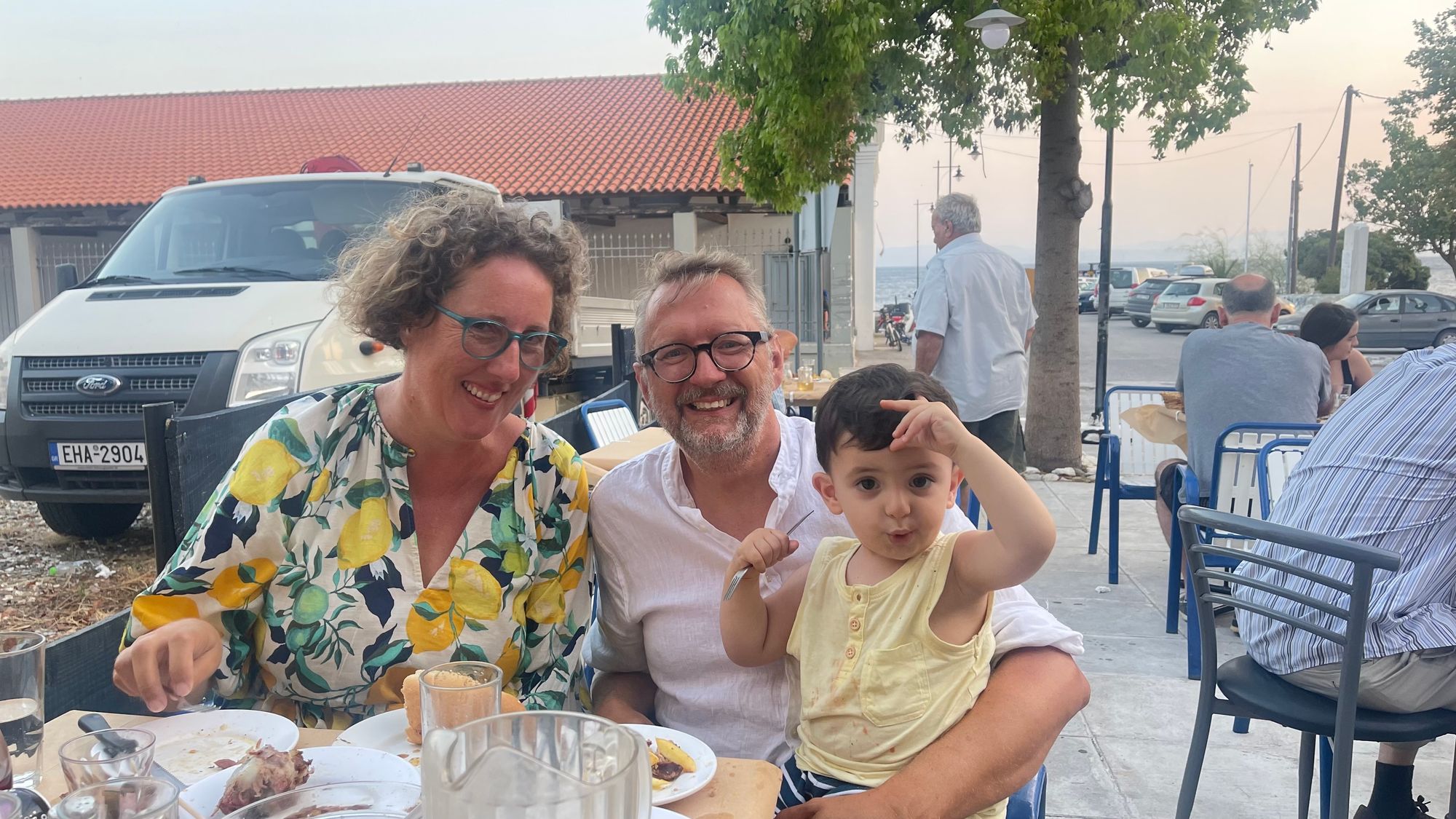 Instead of the usual pancakes on Sunday morning, we've decided we'll push those off a day. We're going to sneak out of port here early, before the winds pick up as there's literally only about 6 meters width at the entrance along the shore between another boat and a pile of rocks. It's snug! The winds are forecast to pick up in this region again tomorrow, but should ease off as we get further north.
Then the rest of this week is exploring and making our way to Skiathos (2 - 3 days), picking a good anchorage and then I'll be leaving Karina and Rosie alone on the boat while I head to Berlin.
Until next time,
Tim & Karina