Week 153: Here we go again...
I return from Berlin, we break our freshwater pump and I make a really horrible decision.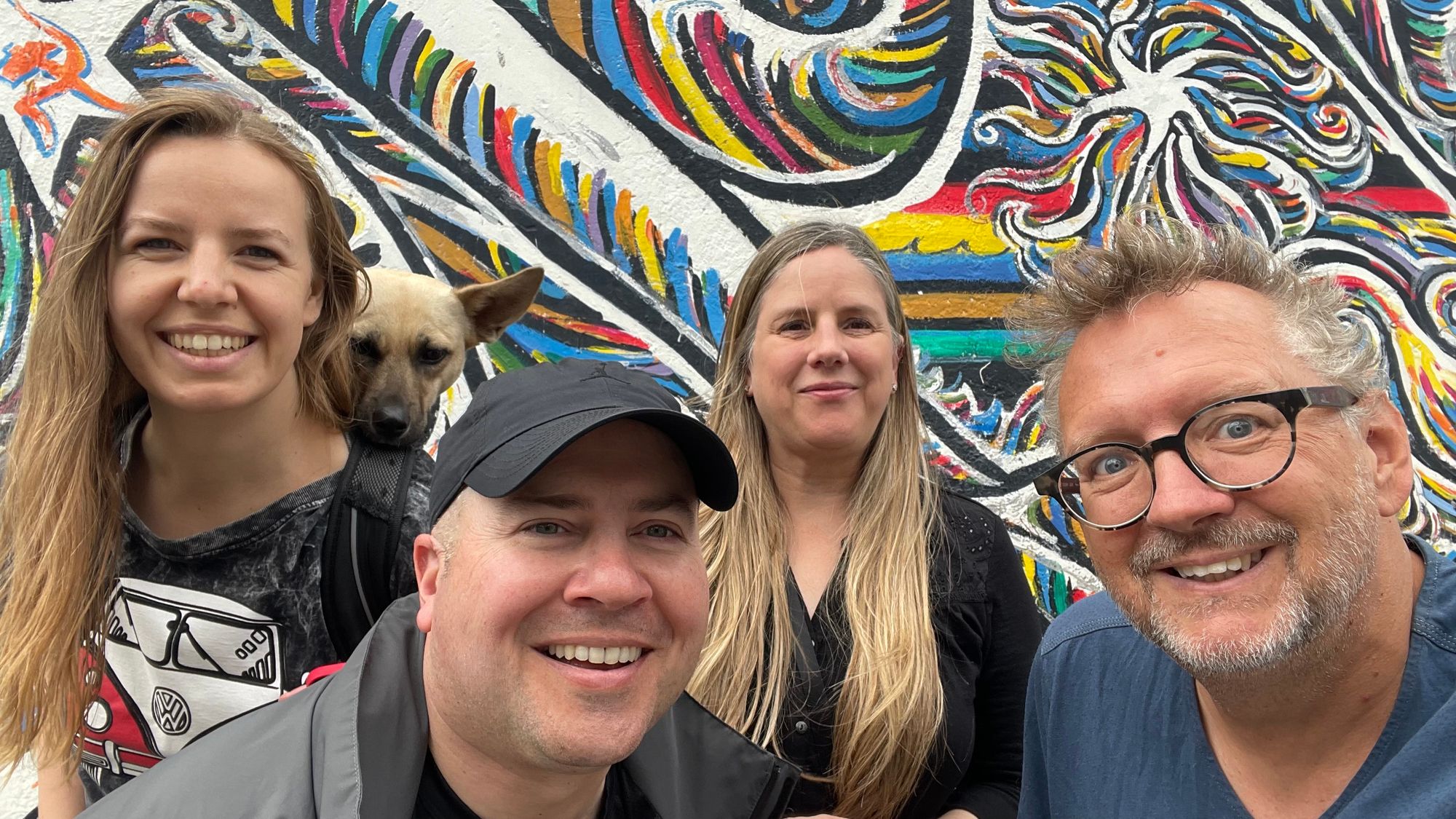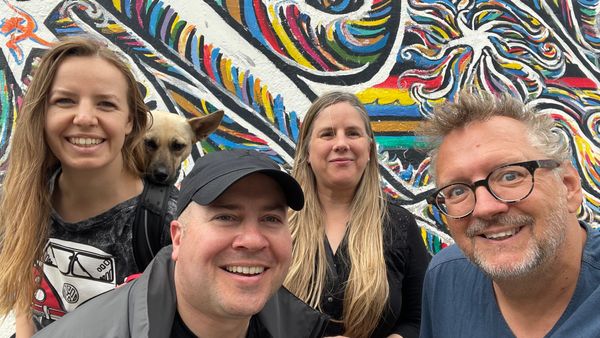 Some days what seems like a good decision ahead of time, turns into an absolute disaster. Fifteen minutes in, it was clear a horrible mistake had been made. There was absolutely NO WAY that I could continue to subject myself to Mamma Mia. Oh, it seemed rational at the time. We're here on Skopelos, let's watch the movie they keep fussing about...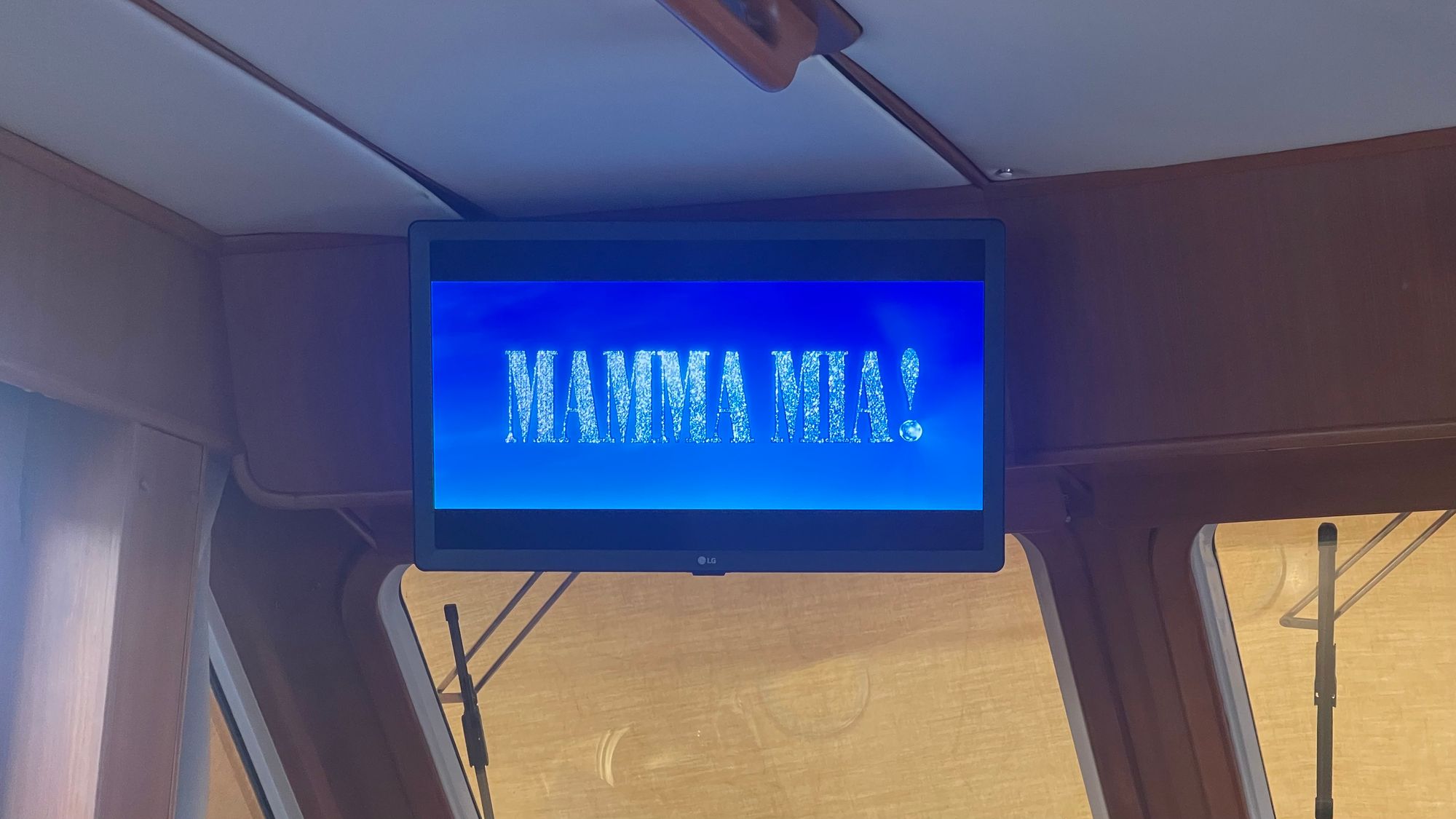 While it was interesting to see the scenery - it's unmistakably set on these islands, the overall experience (ignoring the fact it's a MUSICAL which is the absolute worst way to make a film in my opinion) is about as Greek as... well main-street Disney is to the US. It's a pastiche of what people think Greece is, but it's nothing like it. It's set in the year 2000 or thereabouts, yet everyone drives vehicles that look like they come from the 70's. Everyone is wearing traditional clothes (of a sort, they probably aren't even really traditional to any specific region) which of course, no one does - except maybe for national holidays. It's just all so wrong.
In my defence, I think it was the fact I was tired from my weekend in Berlin that caused me to succumb to thinking this was a good idea.
After catching up with Ches and Jen on Saturday at the Pride Parade, I spent Sunday morning with Hannah and we went to the local Vietnamese shopping center. This was an interesting experience and a neat exposure into some of the multi-cultural layers of Berlin. The fascinating part is that this area was settled during East Germany/the Cold War, not by Vietnamese refugees, but by workers from Communist Vietnam. Quite a different dynamic.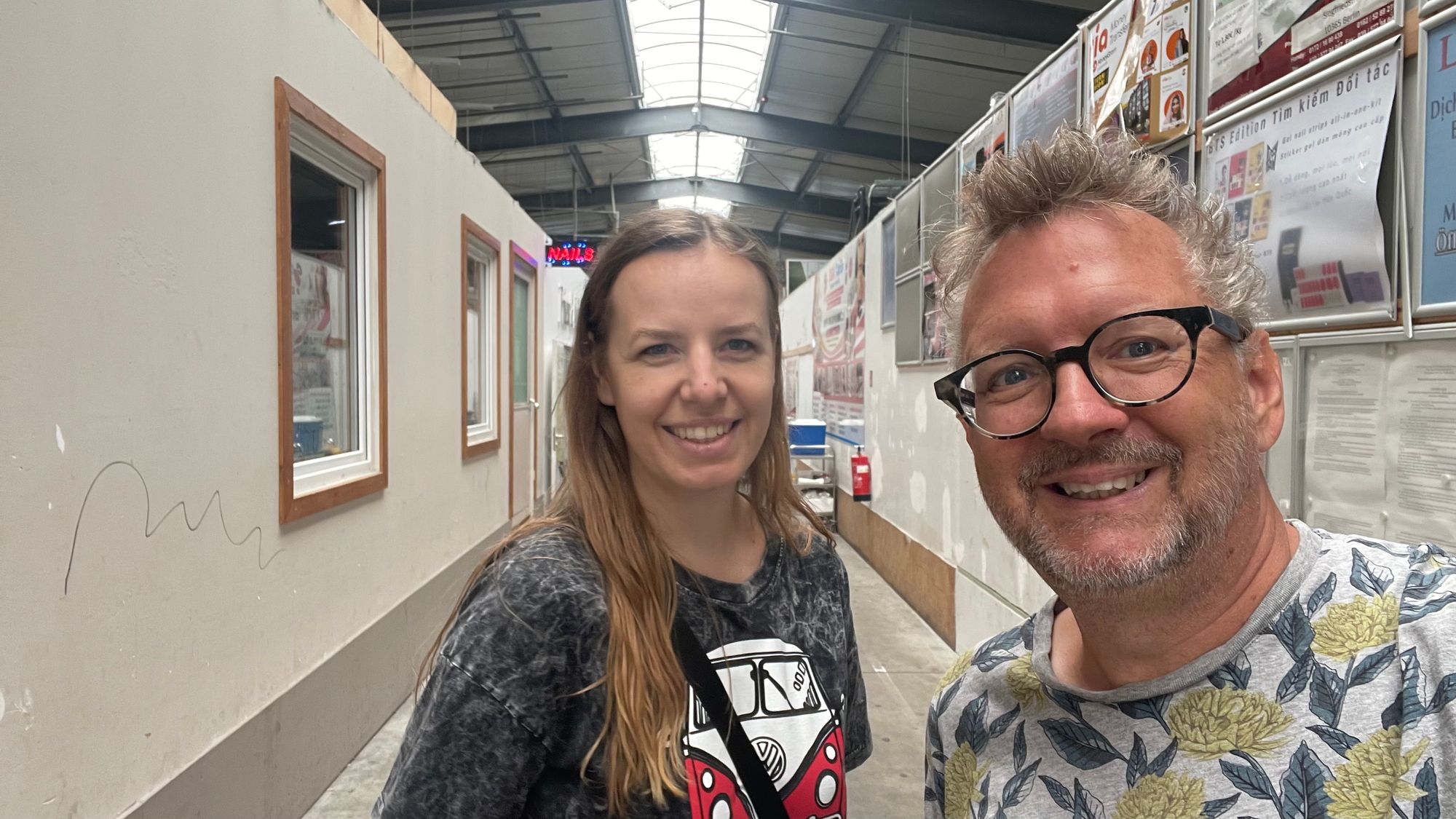 When the wall fell, they were all on working visas, but were allowed to stay if they found employment or started businesses. A wealthy businessman bought out the factory complex many of them were working in (which had collapsed economically with the fall of the wall) and the Dong Xuan center was born. Small store holders could start their own businesses in a subdivided section of the factory and were able to stay. It's not a particularly tourist thing to do, but a fascinating one.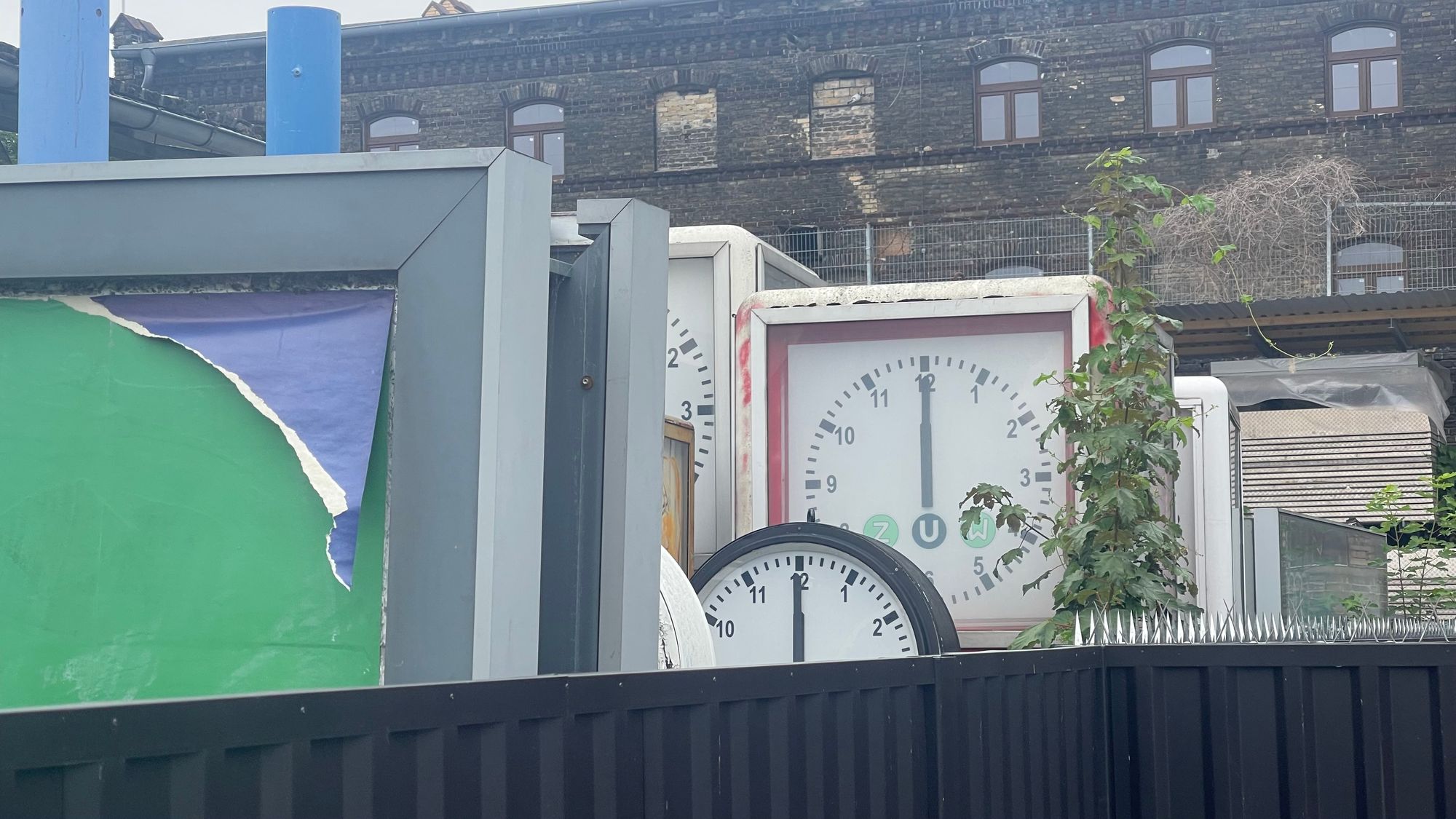 From here, I went to meet with Ches and Jen, this time to go to an exhibit called "Dark Matter" which is light and sound experience set over several rooms in a factory. It was very entertaining and something a bit different from what I've experienced before. Worth a visit!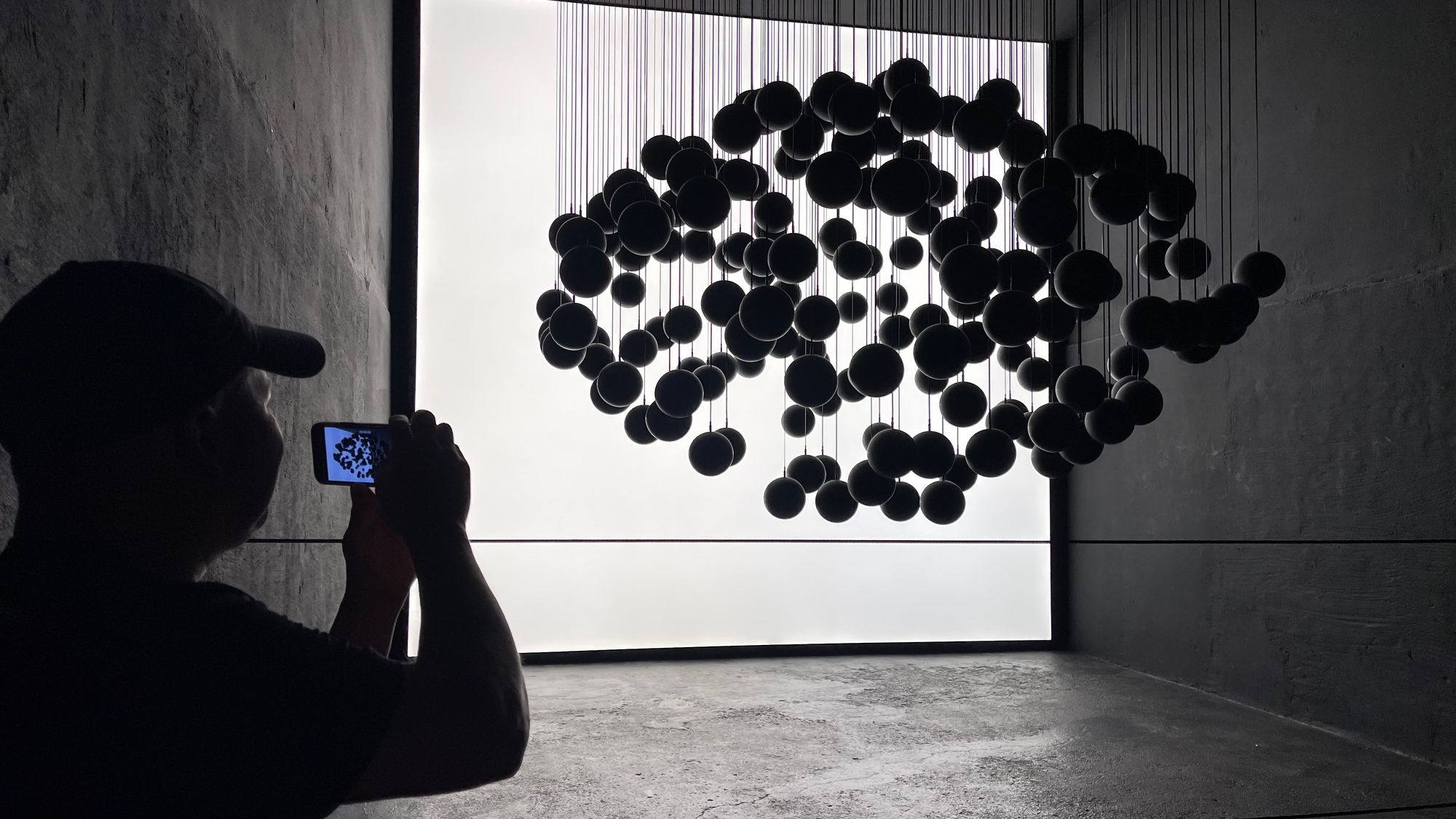 We then headed to the East Side Gallery to view the murals along a former section of the Berlin Wall and then it was time to say goodbye. I really enjoyed catching up with both Ches and Jen, we make so many new friends everywhere we go, it's fun to see those you've known a bit longer too!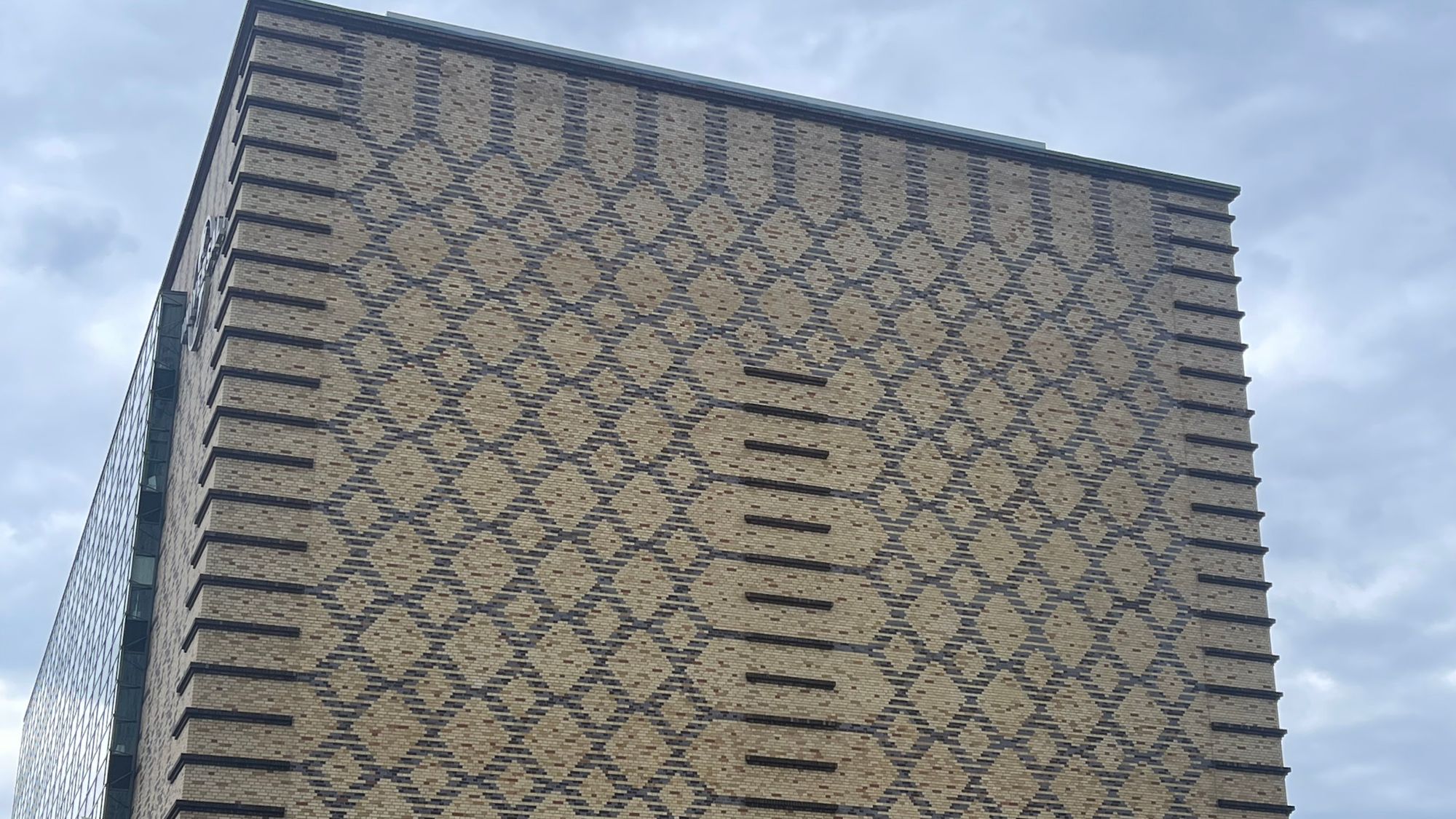 Dinner was with Minh (Hannah's friend) and Hannah at a Sushi restaurant and then Monday morning I went into the city to an Australian Cafe - yes, Australian style coffee shops are a real thing in the rest of the world now. When asked about the national food in Australia, I usually reply with breakfast - there's no where else I know that has the same culture of weekend breakfasts as we do.
Aside from visiting the cafe, I met with Ellen and Todd, a Dutch/American couple who have a lot of similarities to Karina and I. They are basically travelling and exploring Europe as that's where their kids are based and going to University. We had a fun conversation and I enjoyed getting to learn more about their story and background. I love these serendipitous meetups, if you're in the neighbourhood (or we're in yours), reach out, we love to say hi.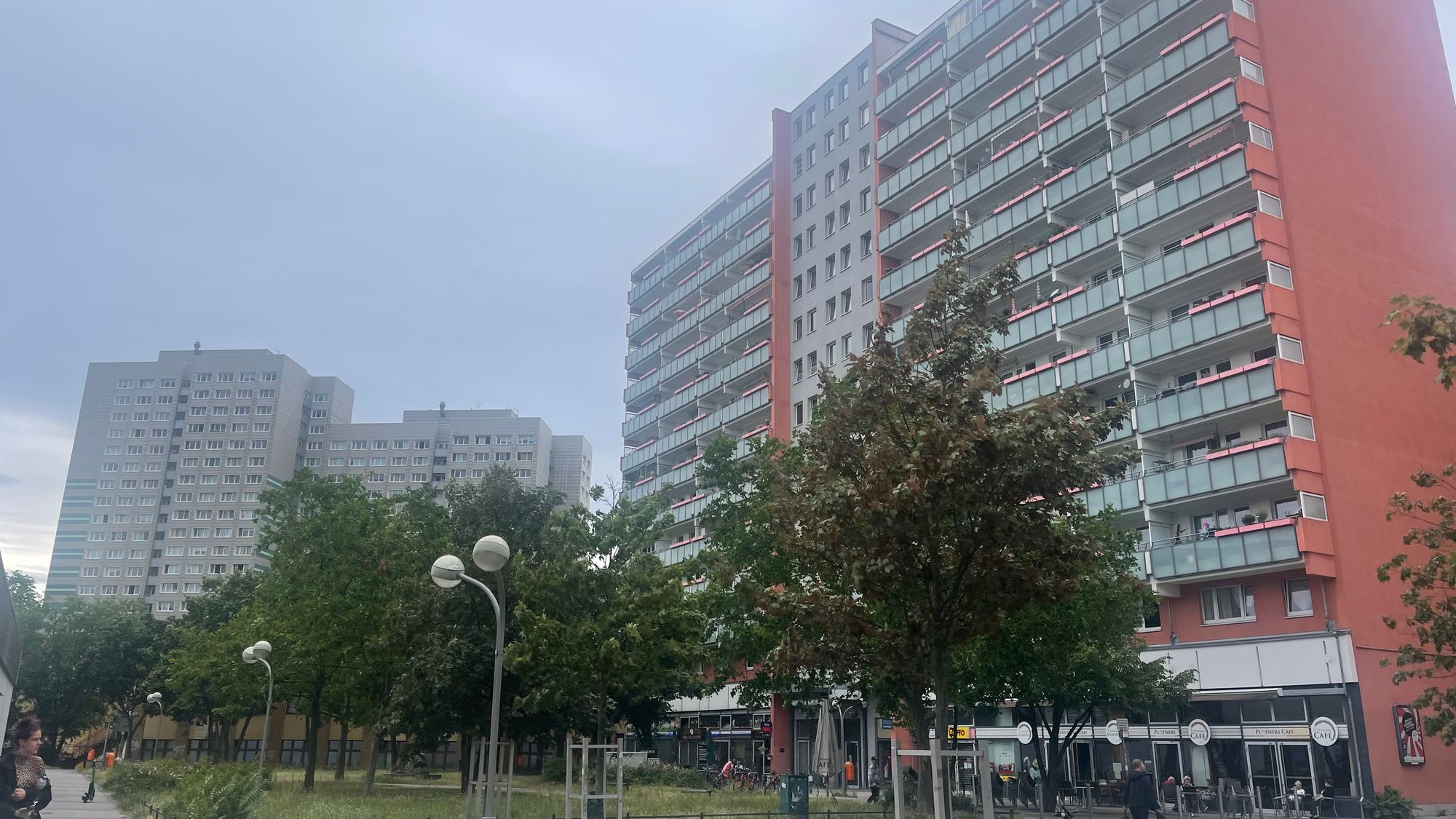 Lunch was with Hannah and Minh, then it was off to the airport. I had to fly via Frankfurt and because the next flight (direct to Skiathos) wasn't until Tuesday morning, I booked a hotel room at the airport. Overall, it was uneventful and I arrived back in Skiathos around lunch time, very happy to be met at the beach by Karina.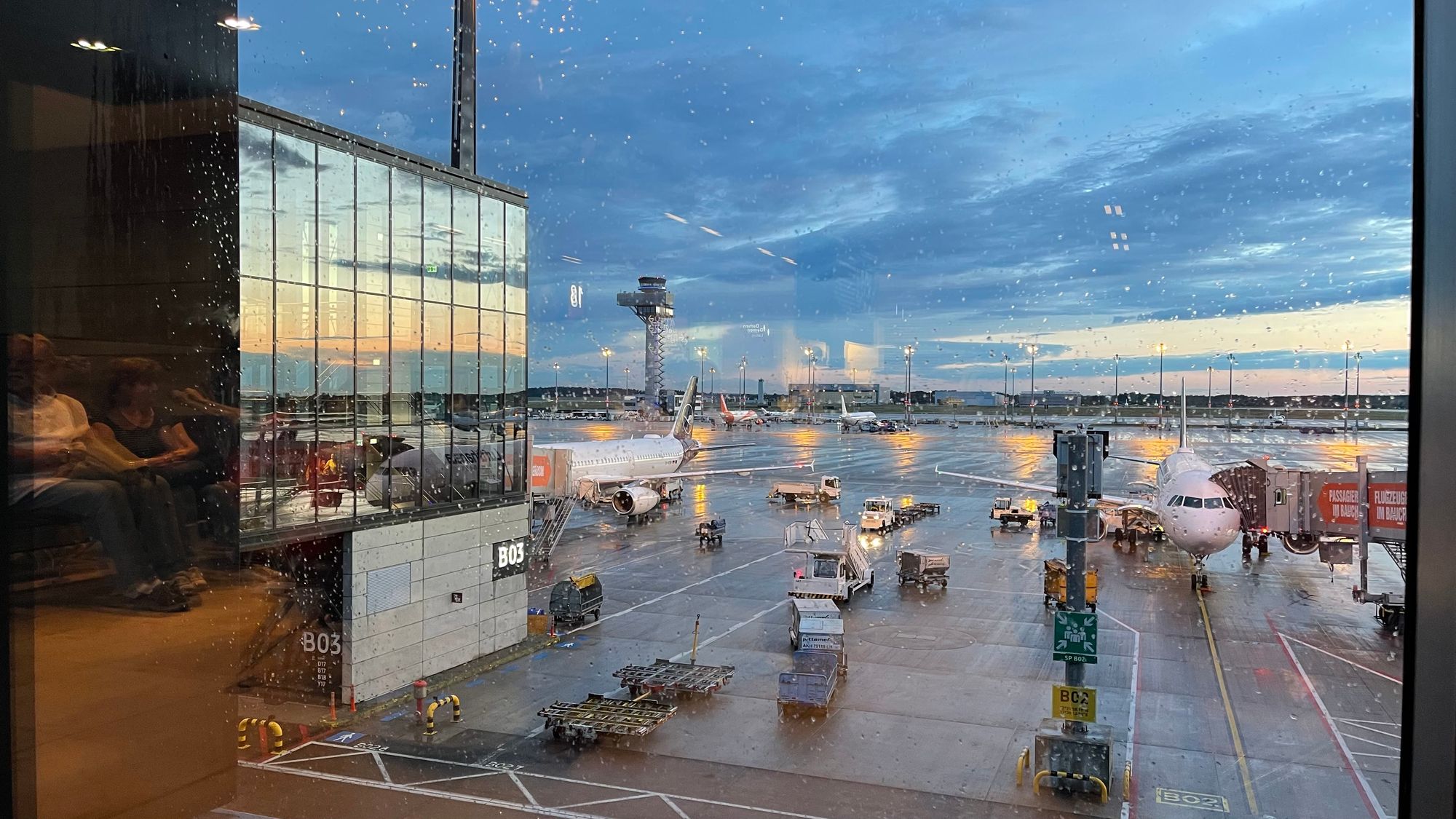 Karina and Rosie had a reasonable time without me, but got caught in some rougher weather on Monday which made the boat a miserable place to be. There was also a severe heatwave which made everything unpleasant too. We decided to immediately pull up anchor and head out, making our way to Skopelos and the bay of Panourmos.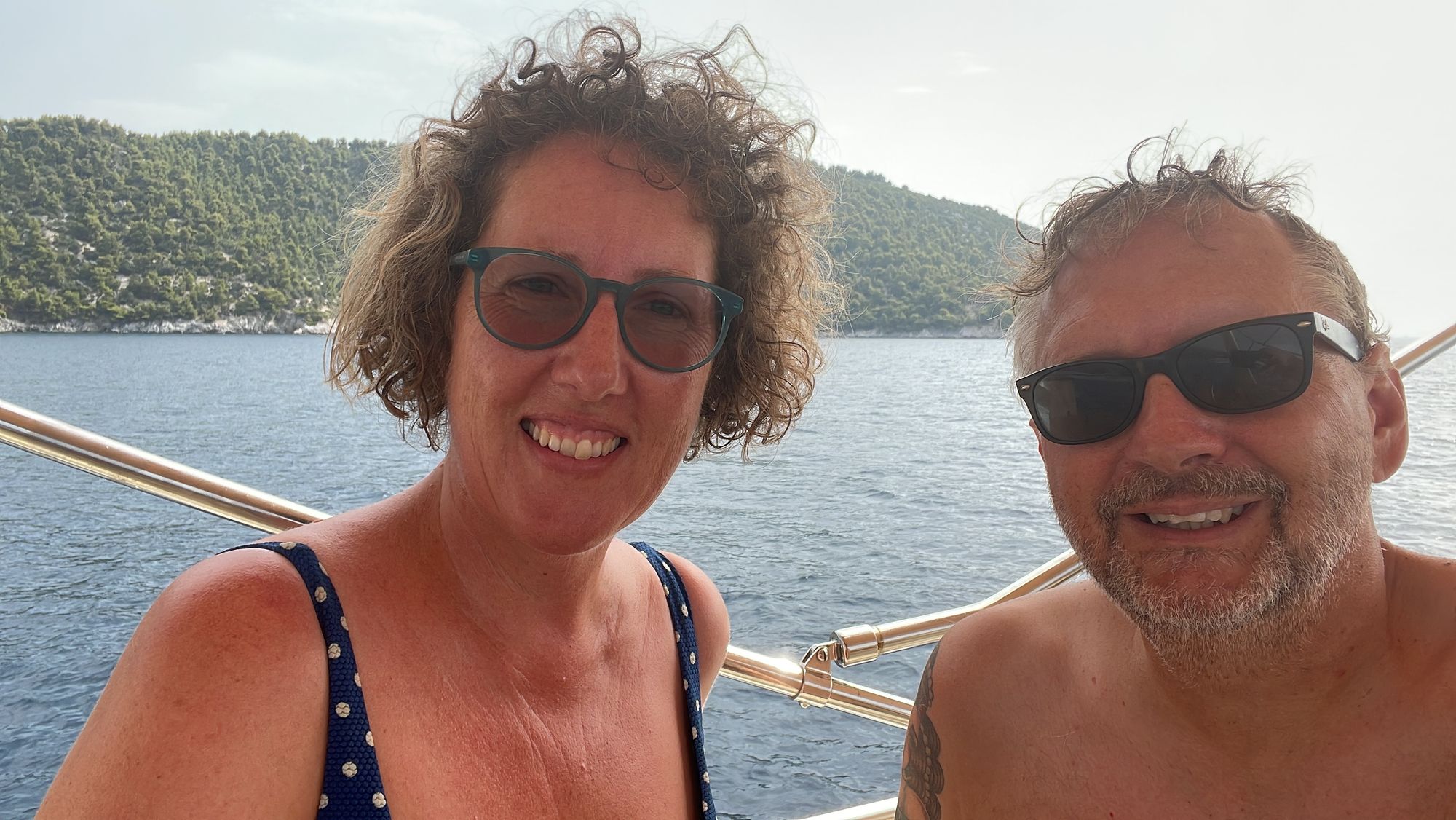 This proved to be a great decision. The bay there was very peaceful, sheltered and clear. It was also full of boats! But we found a spot and moored stern to amongst all the charterers. With the temperature a little cooler and the bay peaceful, we both slept very very well.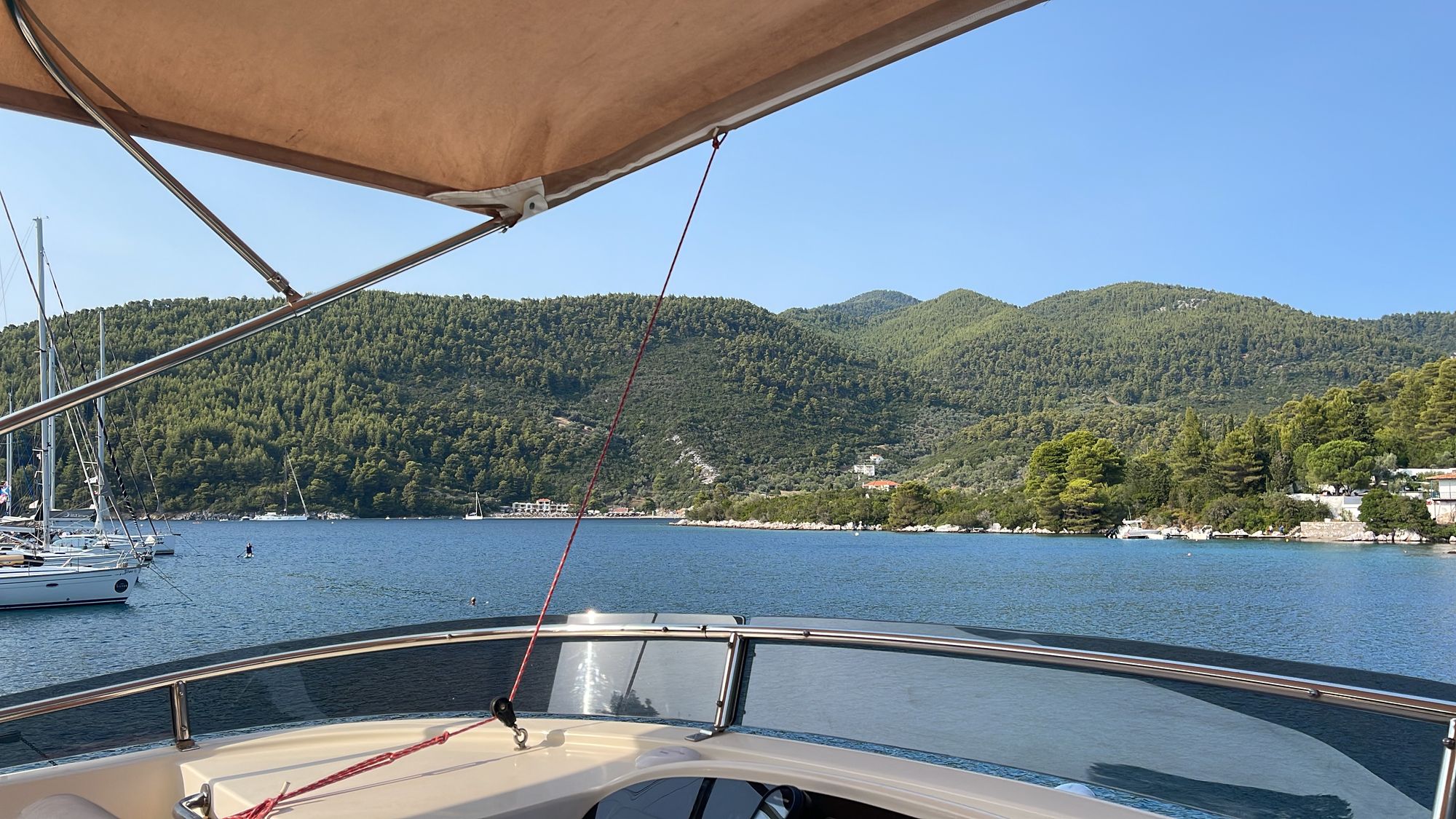 Which brings us to Wednesday. This was by far the hottest day of the week and we also needed to move on from the bay we were in because of bad weather coming Wednesday evening. After looking at the options, we decided to head to the main town on Skopelos. While it was on the Northern side, and therefore more exposed to the weather, the harbour was well protected with a big quay and it should be fine.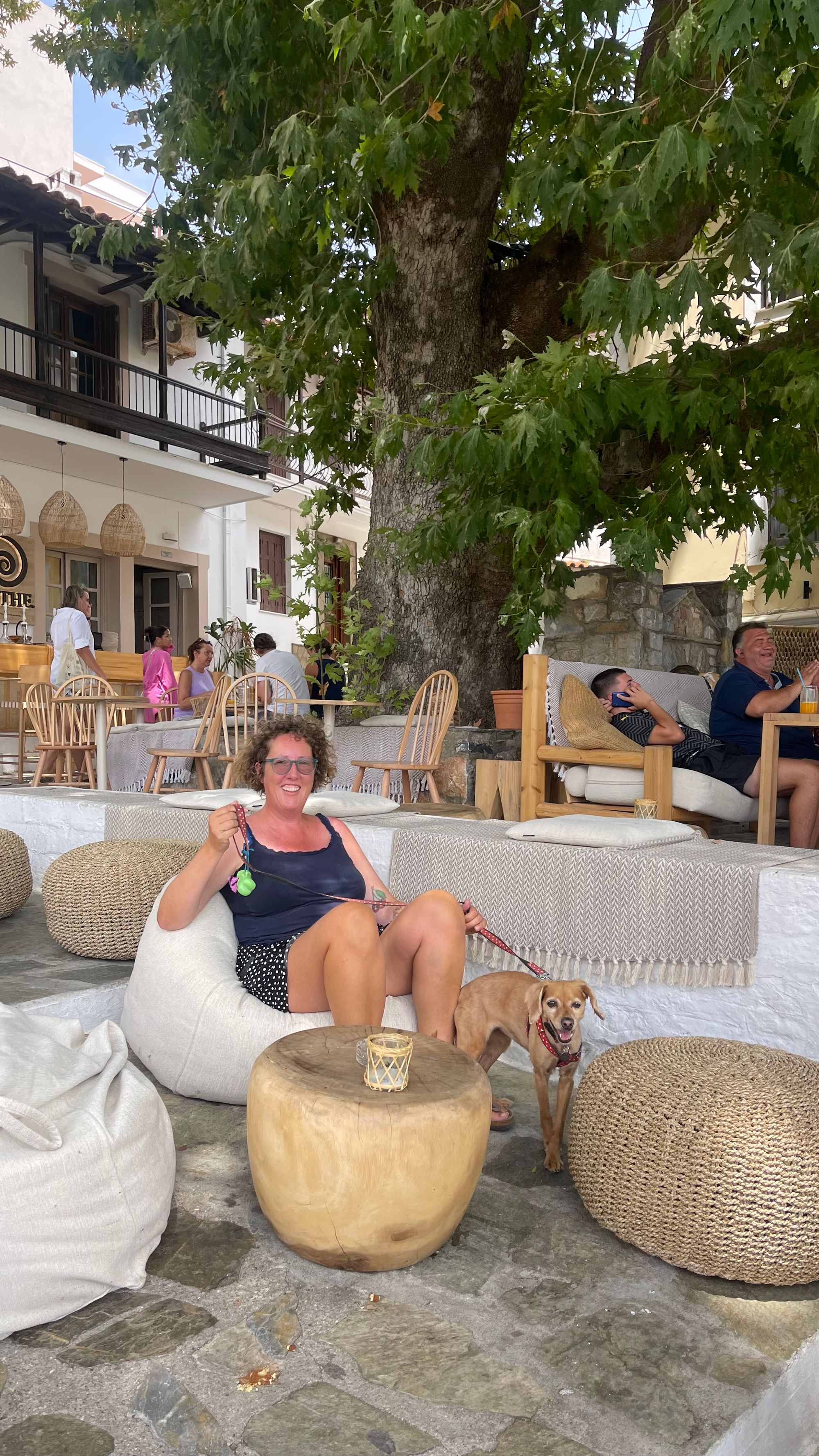 We pulled in early (around 11.30) which was good, because we got a great spot, but bad, because boats were leaving around us and one took our anchor with them for a walk, so we decided to reset. Finally by about 1PM we felt settled, the boats near us weren't going anywhere and we were free to explore the town.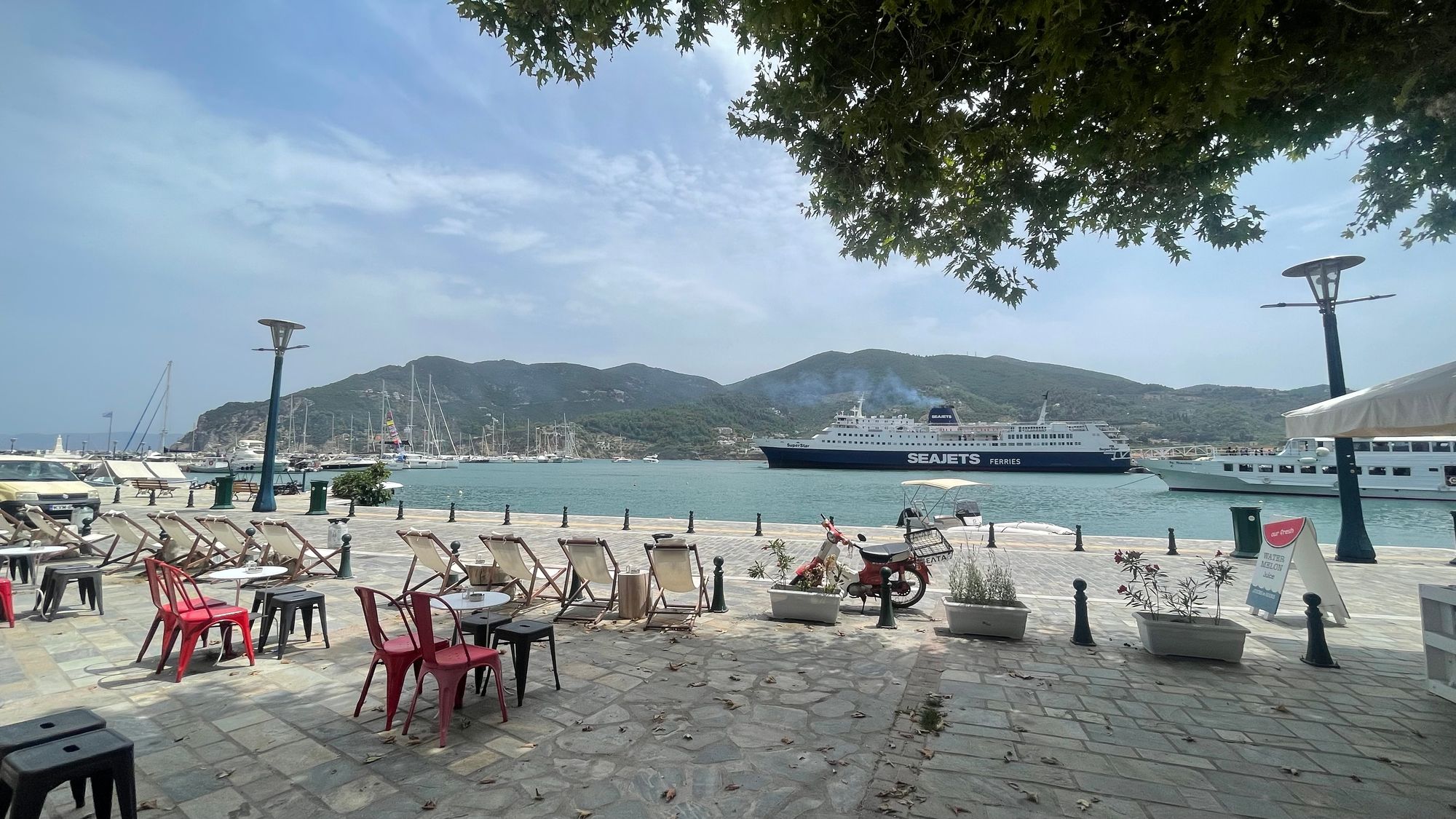 Skopelos is quite idyllic. It's very much a tourist spot, but it's also worthy of the title. A lovely town stepped back on the hill overlooking the harbour, with white walls and red roofs. I was positively inspired, and it was here that the tragic decision to attempt to watch Mamma Mia was born.  But enough on THAT disaster.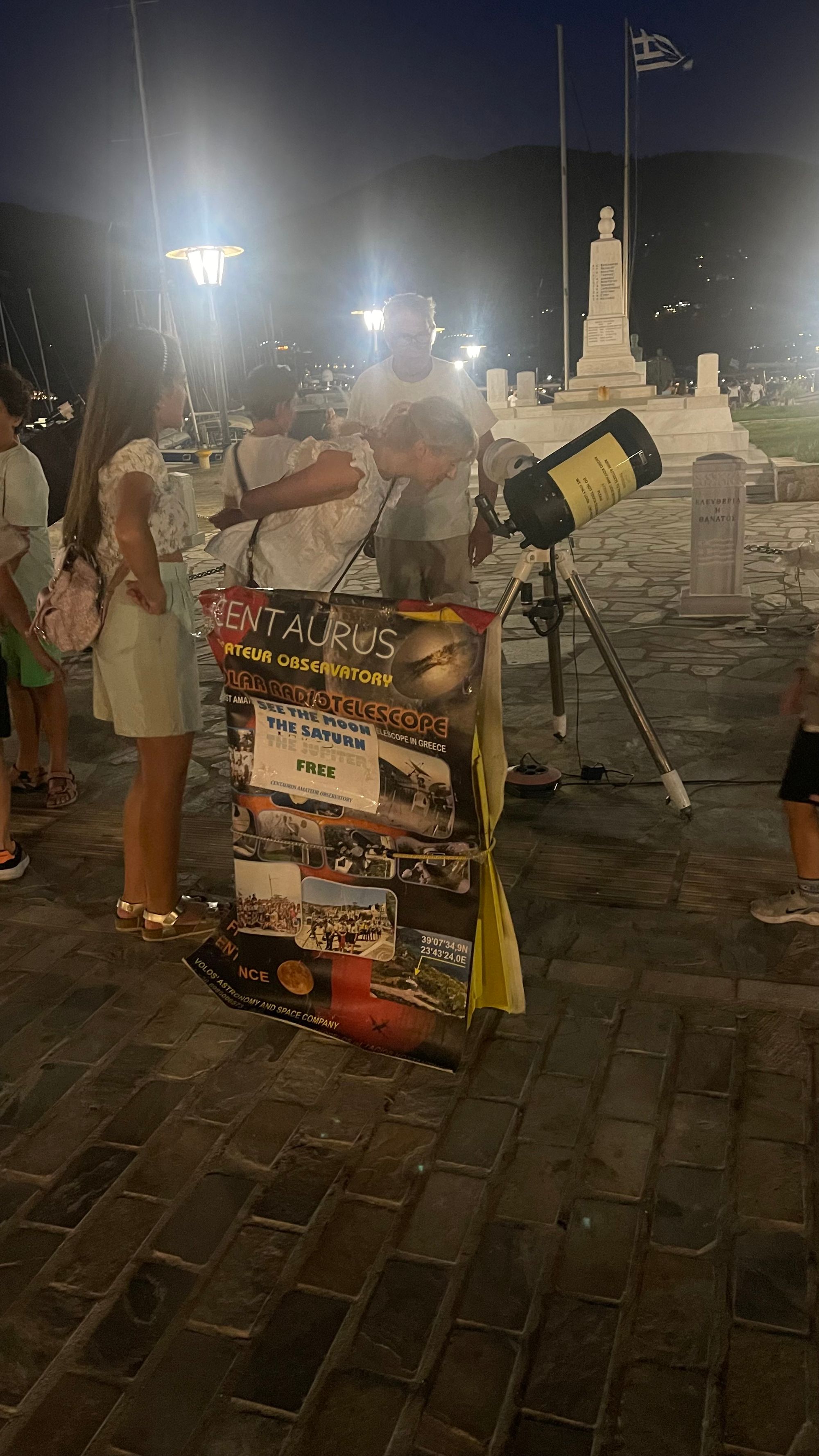 The winds, as promised, proved to be very strong. They were also HOT. We tried sleeping up on the flybridge as the cabin was over 40C but it was tough to sleep with the wind howling. It wasn't cool and relaxing, but vicious like the door to a furnace opened and the air blowing over you. Eventually we made it through the night and Thursday the temperature dropped off, although the wind stayed strong.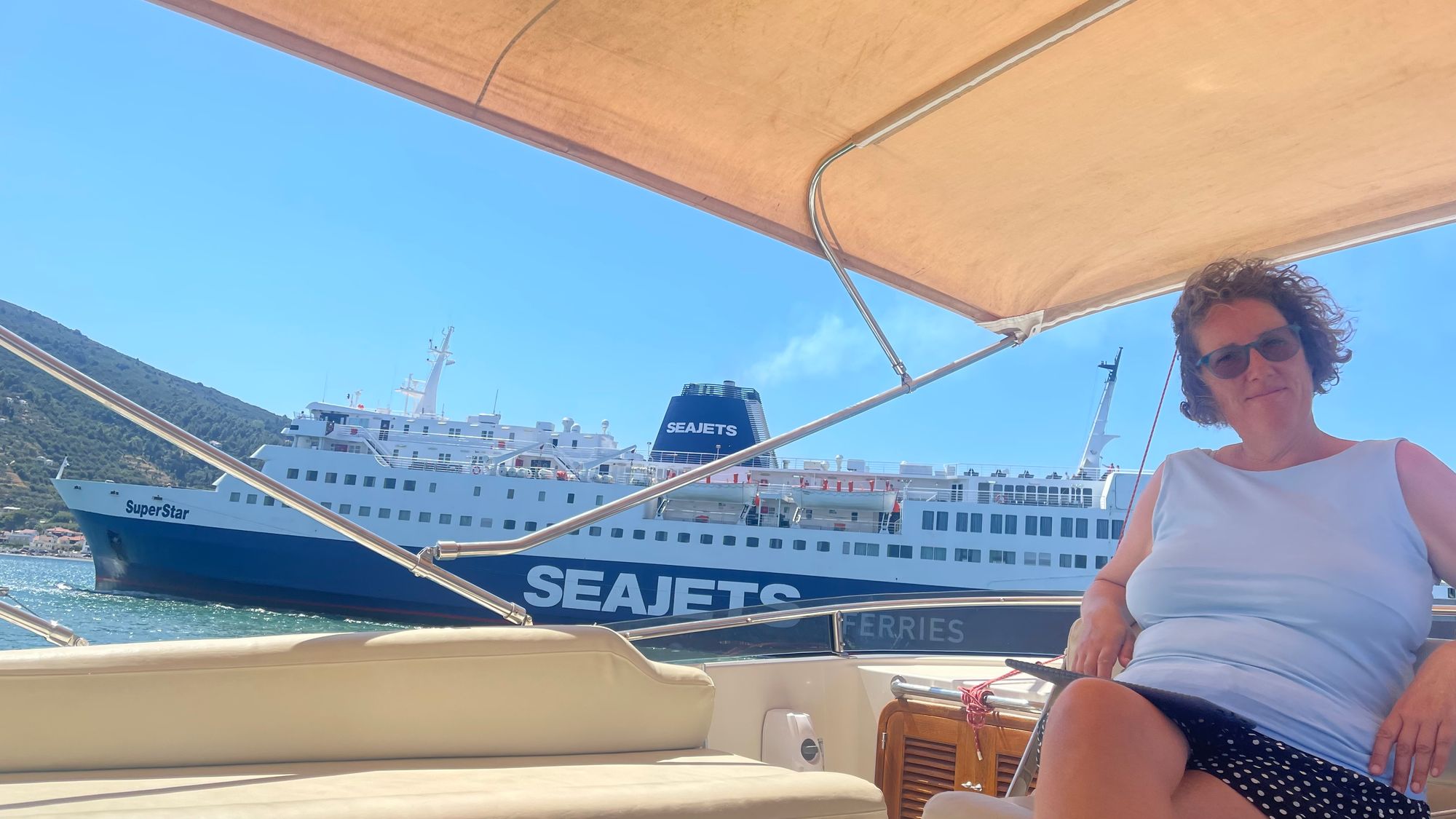 There was a lot less ferries on the Thursday due to the wind, but the ones that did come were very large and because of the conditions, entered the harbour very fast. One kicked up a huge 1.5 - 2 meter wave which rolled down the quay, knocking the boats together, clashing masts, damaging stanchions and generally creating havoc. We, and our neighbours, were fine fortunately, having prepared well and also being just around the corner out of the direct line of fire of the wake. I learnt a lot of new Greek swearwords in that half hour.
So what do you do when it's windy and you need to stay and monitor the boat? You do boat jobs! I achieved a few things this week, one of which was fitting an LED light I purchased in the Dong Xuan center. It's one of those fancy remote controlled ones that has multi-colours. Finally now we have an interior red light for when we are underway at night.
The other job was a bit more pressing (which of course means I tackled it second) and that was to replace the freshwater pump. It had been playing up for quite some time and eventually got to the point where it wouldn't cut off - it just kept running. Karina had managed while I was away by basically turning the power on to the pump when she needed water and turning it off when finished.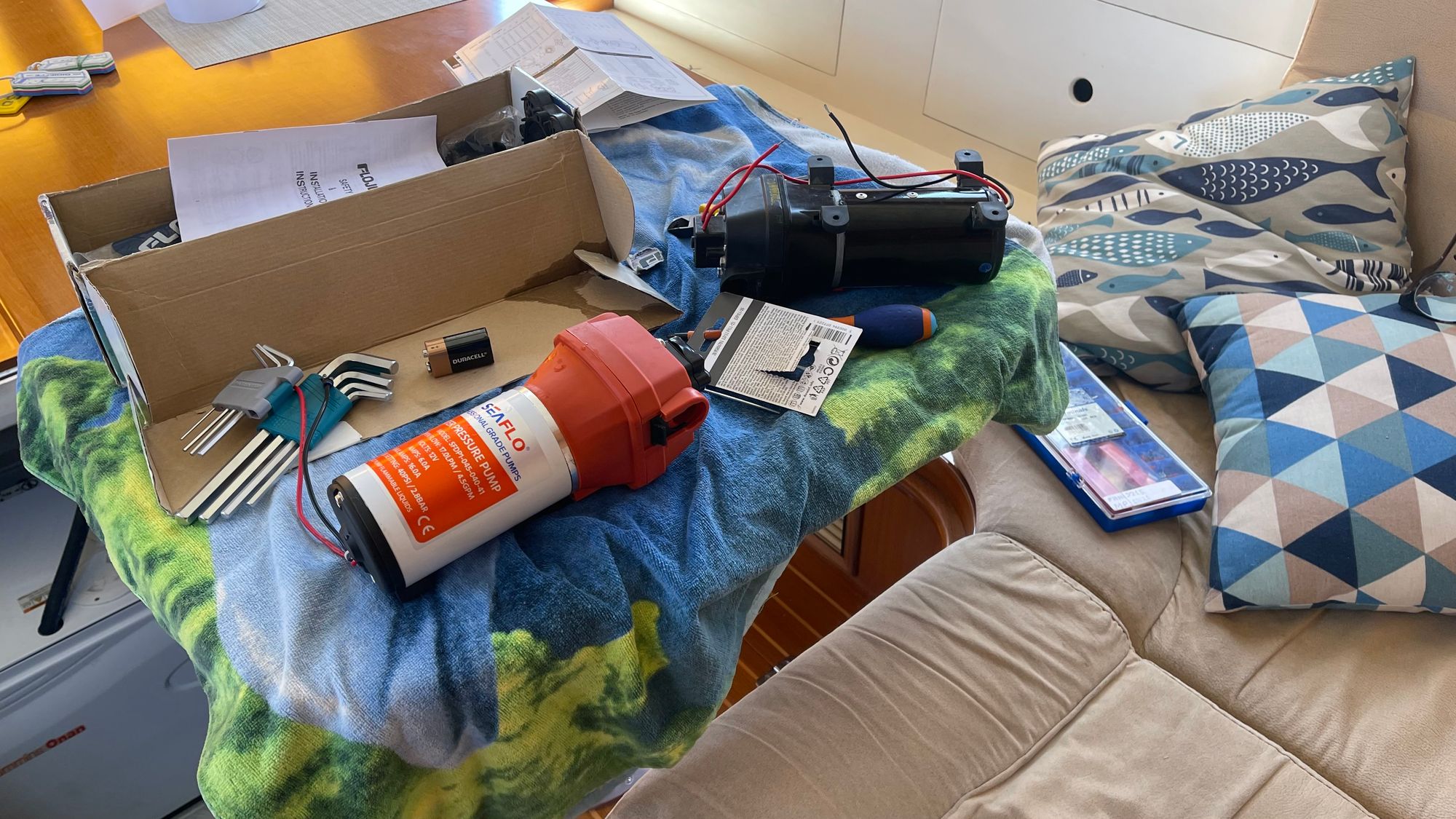 I grabbed the spare pump and as I investigated it, realised that it was in fact NOT a brand new pump like I thought, but an old one left behind by the previous owners. When I pulled out the pump and replaced it with the spare, it didn't work either. I swapped them back again, and now the original pump wouldn't even generate any pressure. I pulled it apart, put it back together again, swore at it and after about 6 hours, gave up in disgust. We were now waterless on the boat.
Funnily enough we had prepared for exactly this situation last year when the watermaker "broke". After some discussion at that time on "what if we ran out of water?" we decided to get a few buckets for an emergency. Well, they came in handy. We were able to fill two, one for each toilet and just use that for flushing and then keep a container of water by the sink for dishes. We couldn't drink water from the boat, but we had an emergency supply of bottled water for exactly this purpose.
It was reassuring that it all went to plan and we survived well enough. We even showered with a hose up on the bow of the boat before going out to meet some neighbours, fellow Australians Ara and Marios who have a Beneteau Swift Trawler. We'd actually met them very briefly once before, last year in Aegina while they were docking, but hadn't managed to connect. This time we enjoyed a very pleasant evening on their boat Alexandra, with some prosecco, tsipouro and lots of nibbles.
I walked to the local chandlers on Thursday evening in the hope of finding a new pump, only to discover that they closed last year. Bugger. Well, online ordering it is. It turned out to be a great experience - we ordered a pump Thursday night, it was picked and then despatched on Friday and on Saturday it arrived!
Nothing is ever truly straightforward on a boat - the new pump had slightly different fittings from the old one and the mounting holes were in a different spot, but I got it installed easily enough and we now have fresh running water again!
Apart from this frustration, we've really enjoyed our few days in Skopelos and think it's a lovely place to be. We knocked off a range of boat jobs today, Matilda got a full washdown, and three loads of clothes washing were done with the new pump in place, so we're ready to head off again to explore.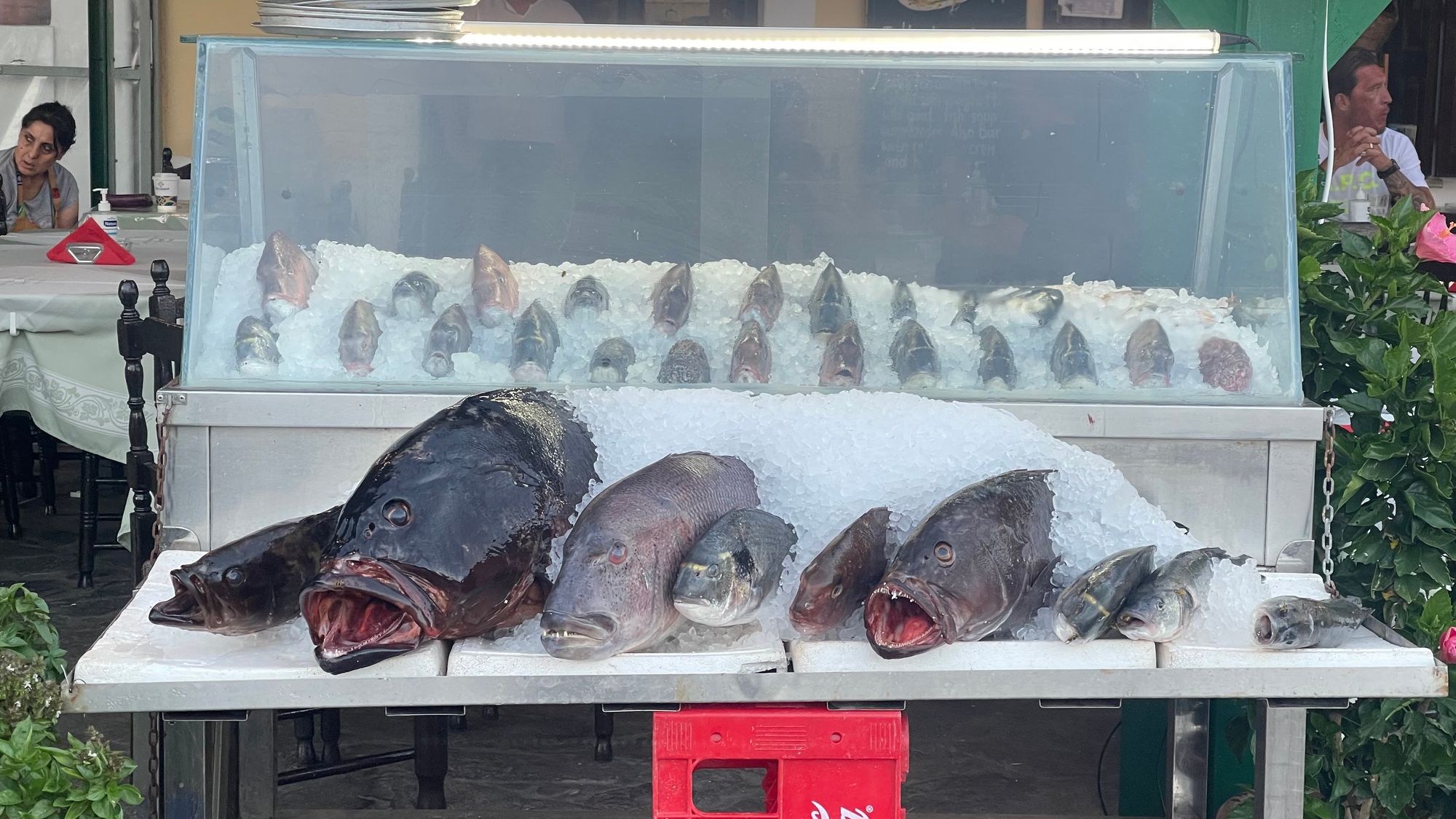 So today, we're off to Alonissos and across to the marine national park. We won't spend as long here as we'd like (3 or 4 days only) as the weather is shaping up for a good crossing to Lesvos on Wednesday and Thursday so we'll be trying to hit that window to get across to the far eastern edge of Greece and our new "home" for the next 12 months at Mytilini Marina.
Until next time,
Tim & Karina
Where are we now?