Week 157: Crunch!
From Scotland, to Greece to Türkiye, it's been a big week with lots of visits and the odd scratch along the way.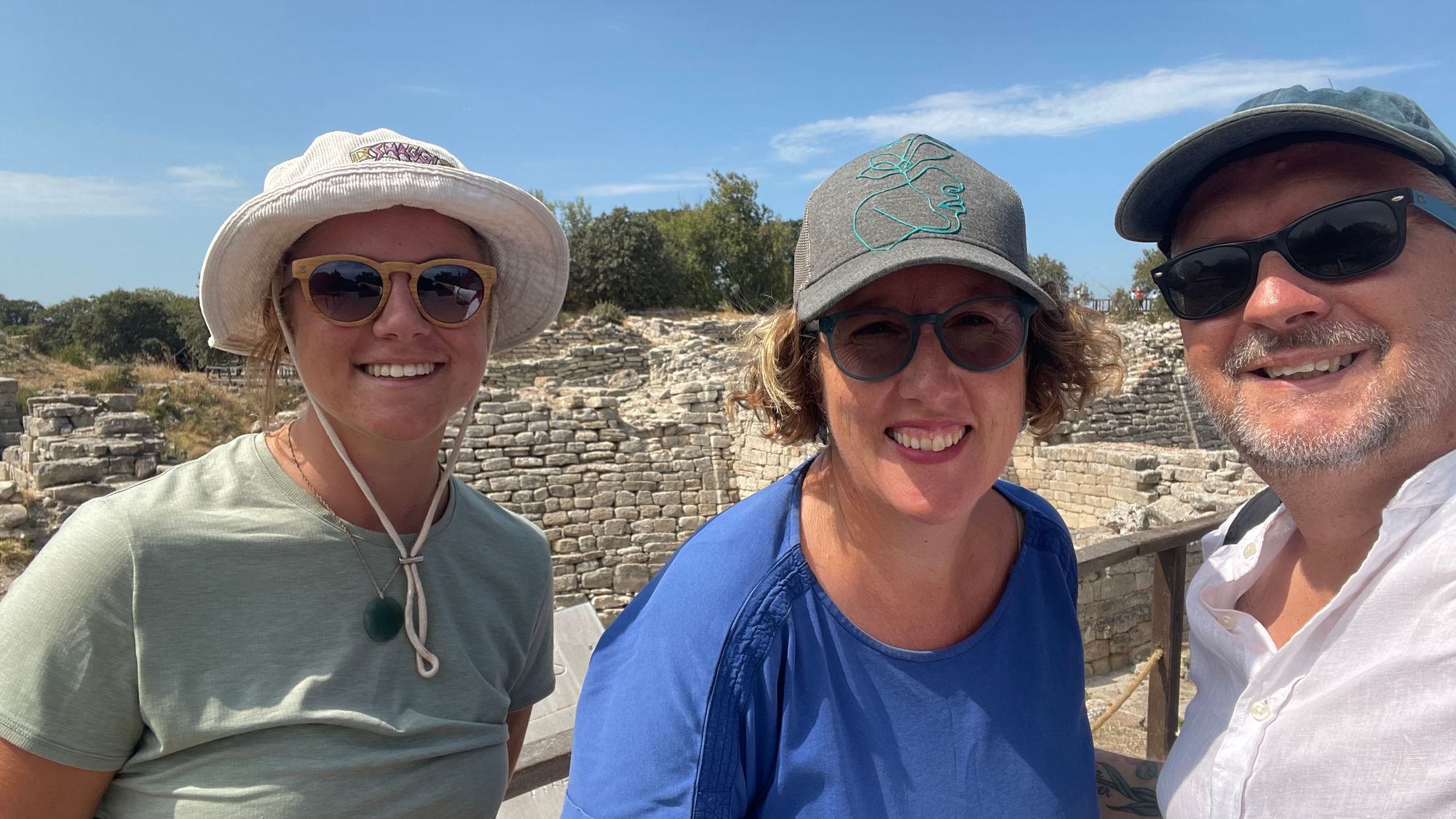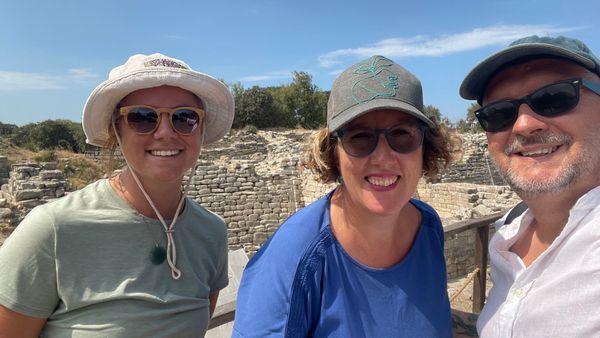 Hold on to your hats, it's a whirlwind of travel experiences this week as we finish up our time in Scotland, head back to Greece then travel to Türkiye. And of course, a smattering of boat drama as well.
Sunday was a delightful day! We had the car and then headed out for a drive with Ella and Inge to Lock Lomond National Park over past Glasgow. It was somewhere their friends have been but you really need a car to get to it easily so it was a good spot to head. We visited Luss, an interesting "model village" that's now a picturesque tourist attraction. The model villages were a fairly progressive concept during the industrial revolution where wealthy landowners would build a new town for their workers. Luss, over all, worked and has a certain charm to it which is worth seeing.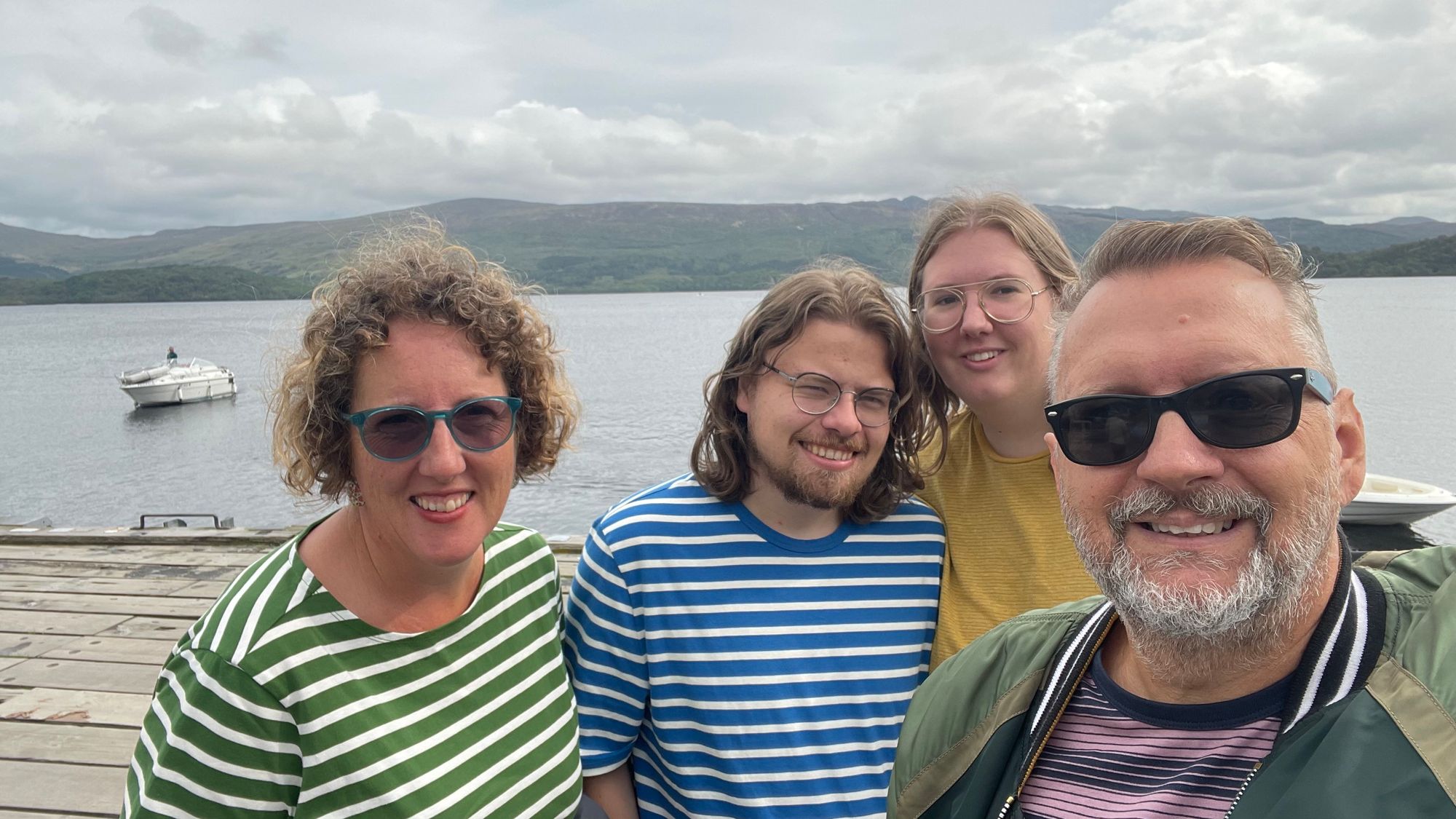 Then it was off around the lake to Balmaha where we enjoyed a pub lunch and I finally got my pie. Another item ticked off the food tour list of the UK. Heading back home to Edinburgh, we took the alternative route past Stirling and then down through Falkirk to see the Kelpies (giant horse statues) and in a continuation of our boating themed visits, the Falkirk wheel.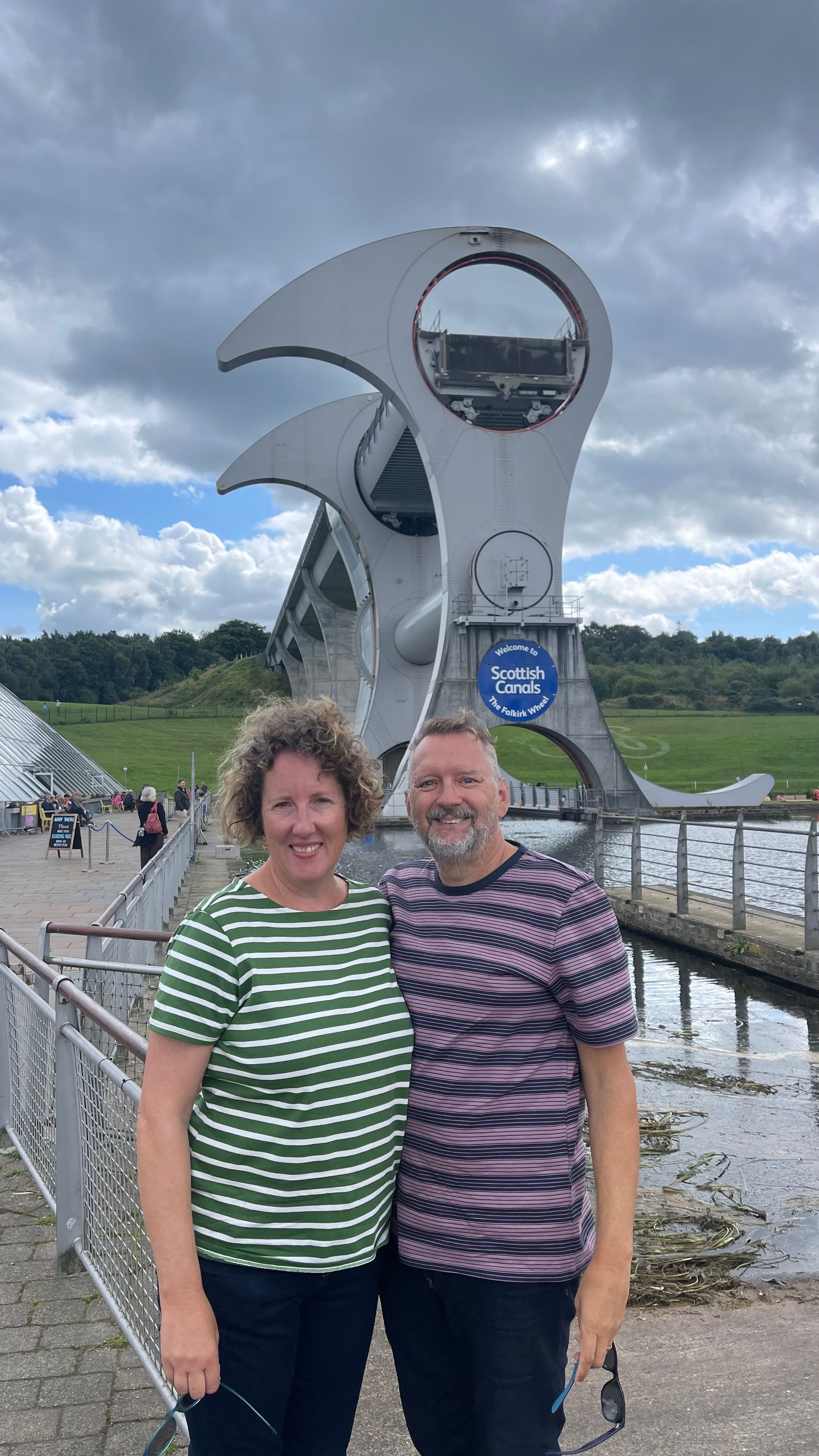 I'm not sure that the wheel is the most efficient way of solving the problem of moving a barge from one level to another, but there's no doubt it's certainly one of the most spectacular and it's an incredible piece of engineering. We were really happy that we got to see it operate, it's amazing the volume of water and boats it lifts from one level to the other.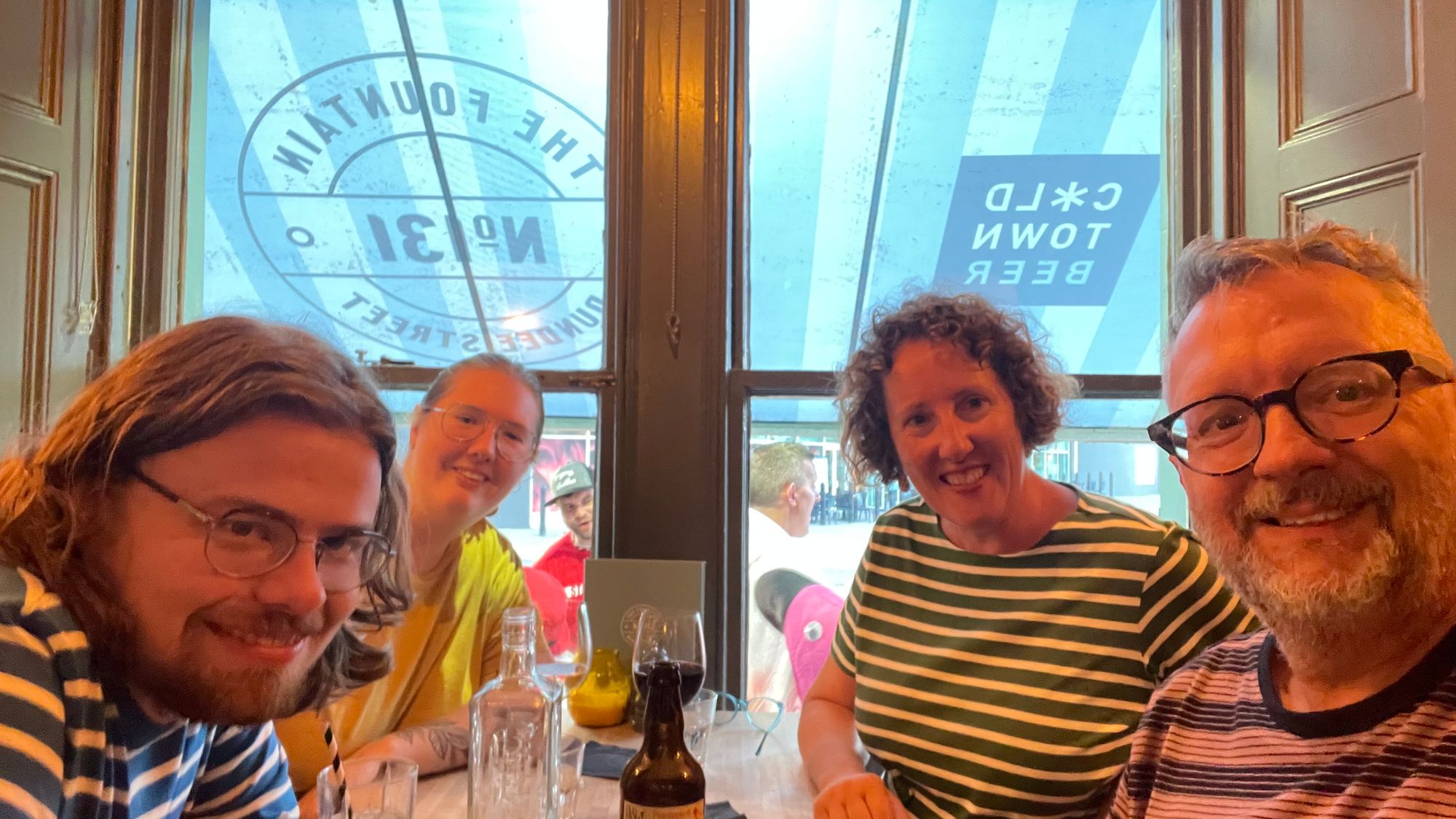 Home to Edinburgh and then it was off to the local for a quiz night! Karina and I enjoy a good quiz night and this one was well run without too many "local specific" knowledge questions which meant we were in with a good chance. We came 3rd out of 13 teams, a respectable result, and Ella and Inge got a £10 voucher as a reward. There was a lot of pressure at the end with a tie-breaker question which I was nominated for by the team. Fortunately, a lucky guess as to which year a Bruno Mars song was released saw us in the money.
Monday, Ella and Inge were both back at work, but Karina and I happily filled in our day by watching a movie (Mission Impossible 2 - mostly because Oppenheimer was too long) and then went to a tour of the "Underground City" in Edinburgh. Less underground city, more a bunch of arches under a bridge used by desperate people to live for a few hundred years, it was still interesting, although overall not really worth the money. Put like that, I now realise in retrospect that the whole tour could be summed up as "there was a homeless encampment here". What frustrated us was we chose the history tour over the ghost tour, but the history consisted of "there's no reason not to think that so and so visited here..." but no actual proof they did.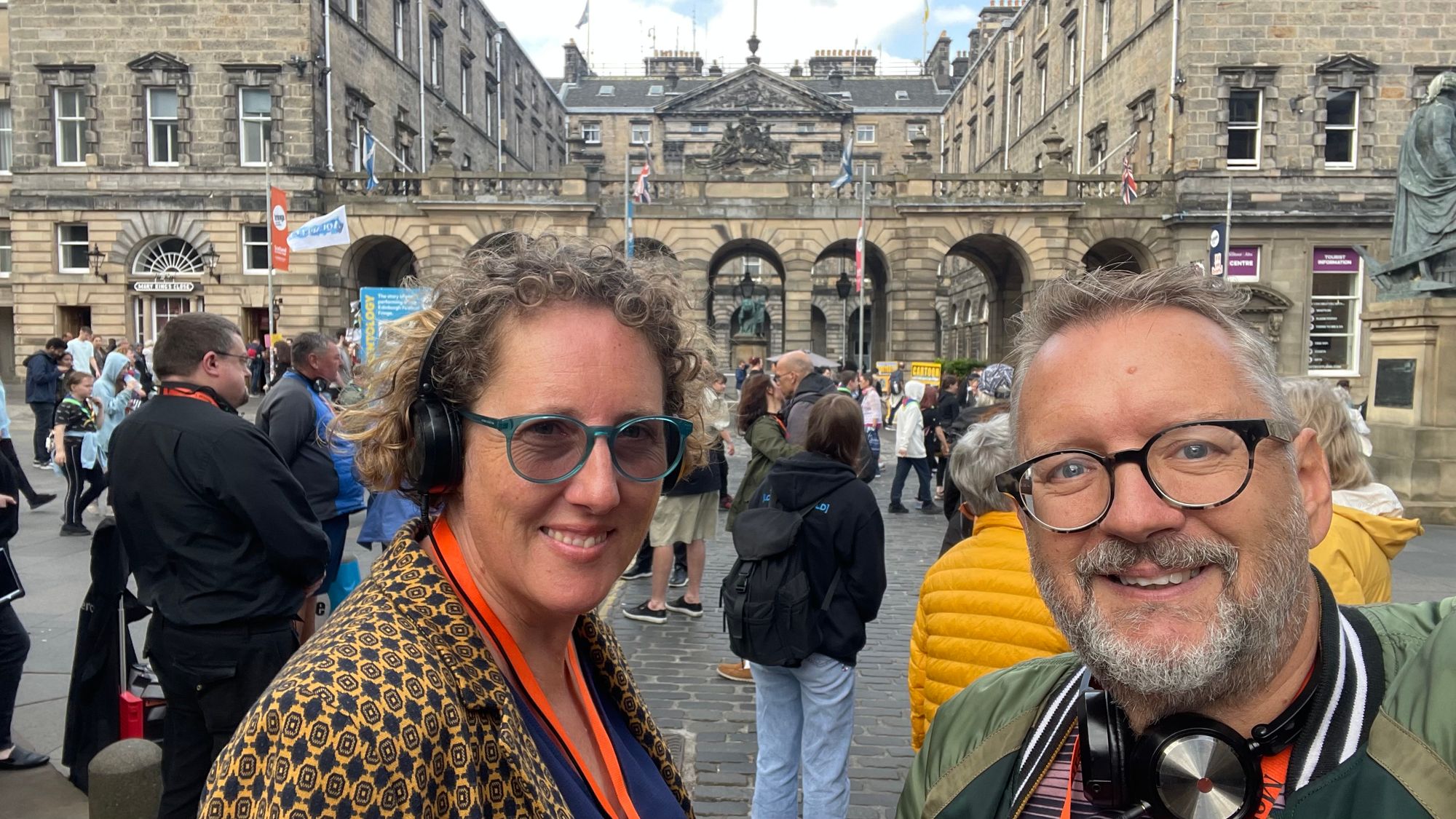 Tuesday was travel day, a long trek of almost 12 hours from Edinburgh back to Athens and then Lesvos and Matilda. It seems a bit ridiculous it all takes so long given everything went smoothly, but there was plenty of waiting at airports and a long connecting flight in Athens which dragged it all out. Still, no issues, which is a good thing.
While we were away, the bimini was repaired, and the engines got a quick oil change and a once over from a Volvo mechanic. Unsurprisingly there's a small list of things that need to be addressed in the future, but for now, nothing too major. The biggest is that one of the the alternators is playing up again and the mechanic said we need to send it off for repair. It should see out the season OK though.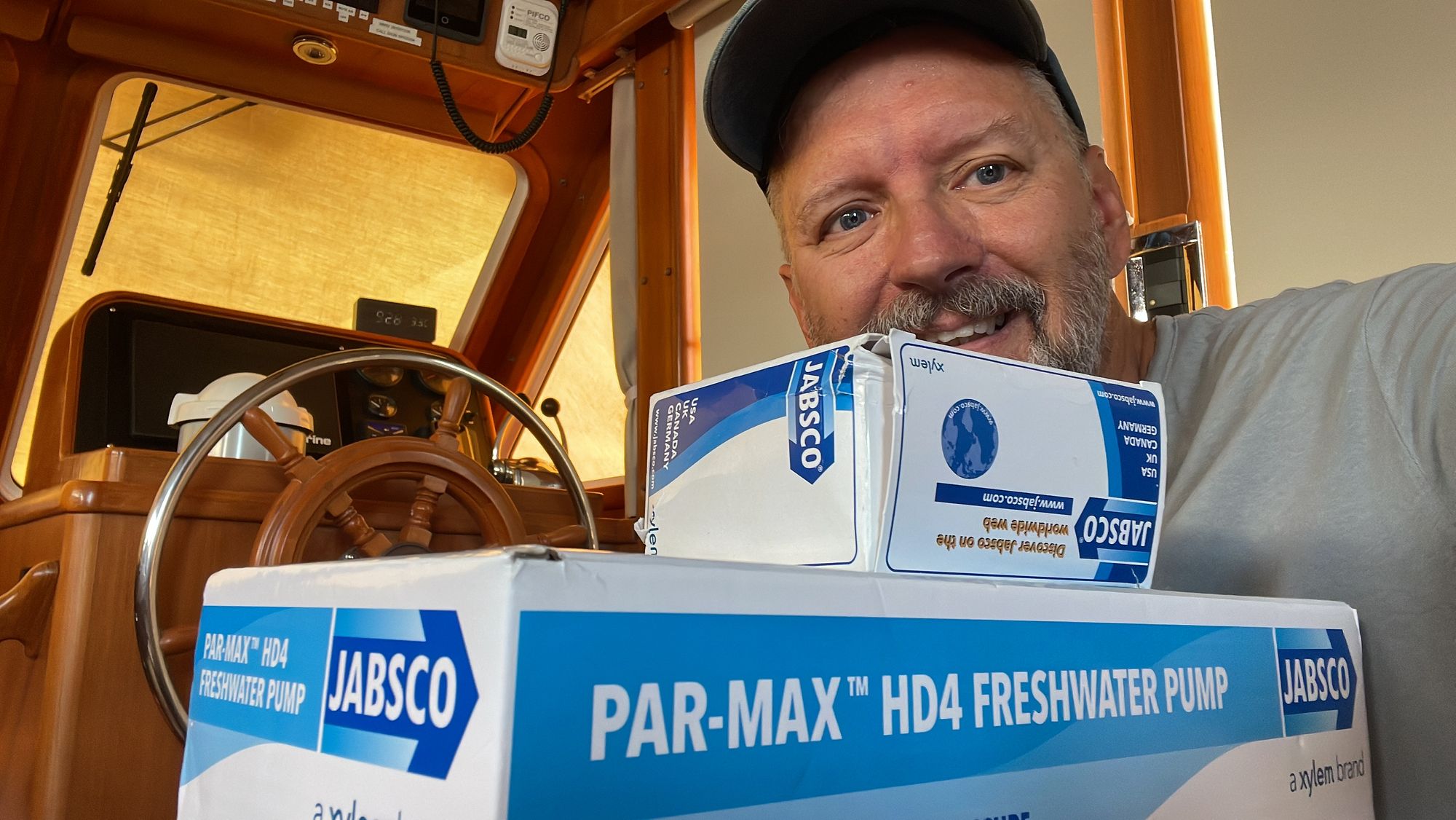 Whenever we leave the boat for a week or so, there's a long list of things to do on return, including re-provisioning, unpacking things that have been stored away and washing the boat which was filthy with black dust after two weeks in the strong winds. We collected Rosie who was happy to see us and even had time for a siesta in the afternoon.
Seamus and Sandy on Cooinda have arrived in Mytilene as well after their travels - we wintered with them in Montenegro, met them in Croatia and again in Preveza. So it was lovely to catch up with them and we enjoyed a wonderful dinner and several great Greek craft beers aboard Cooinda for the evening.
Finally, Thursday, the big day! We were departing Greece for Türkiye, ready to explore another new country aboard Matilda.  We've checked out of Greece a couple of times in Corfu, so felt we knew how it should go and for the most part, we did, but a couple of processes were different which seems to be the general complaint about these things in Greece! Here we had to go to Passport Control to prepare the crew list and get stamped out, in Corfu the Port Police did the Crew List and sent us to Passport Control... It all went fine and everyone as very helpful. It just meant a couple of false starts where we went to building A to be told to go to building B, who told us we couldn't do this step without our boat, so we had to go fetch Matilda and move her to the Q dock...
The crossing to Türkiye and the port of Ayvalik was very smooth. I expected there might be some questions as we crossed the border at sea, but obviously all the paperwork was filled properly and no one worried about it! We did see our friends Eric and Vandy on Awildian cruising in the area and swung by to wave hello as they anchored. Unfortunately this time we won't get to meet up in person again as we have slightly different schedules. It was still nice to see a friendly face and be welcomed to port by Eric blowing a conch shell.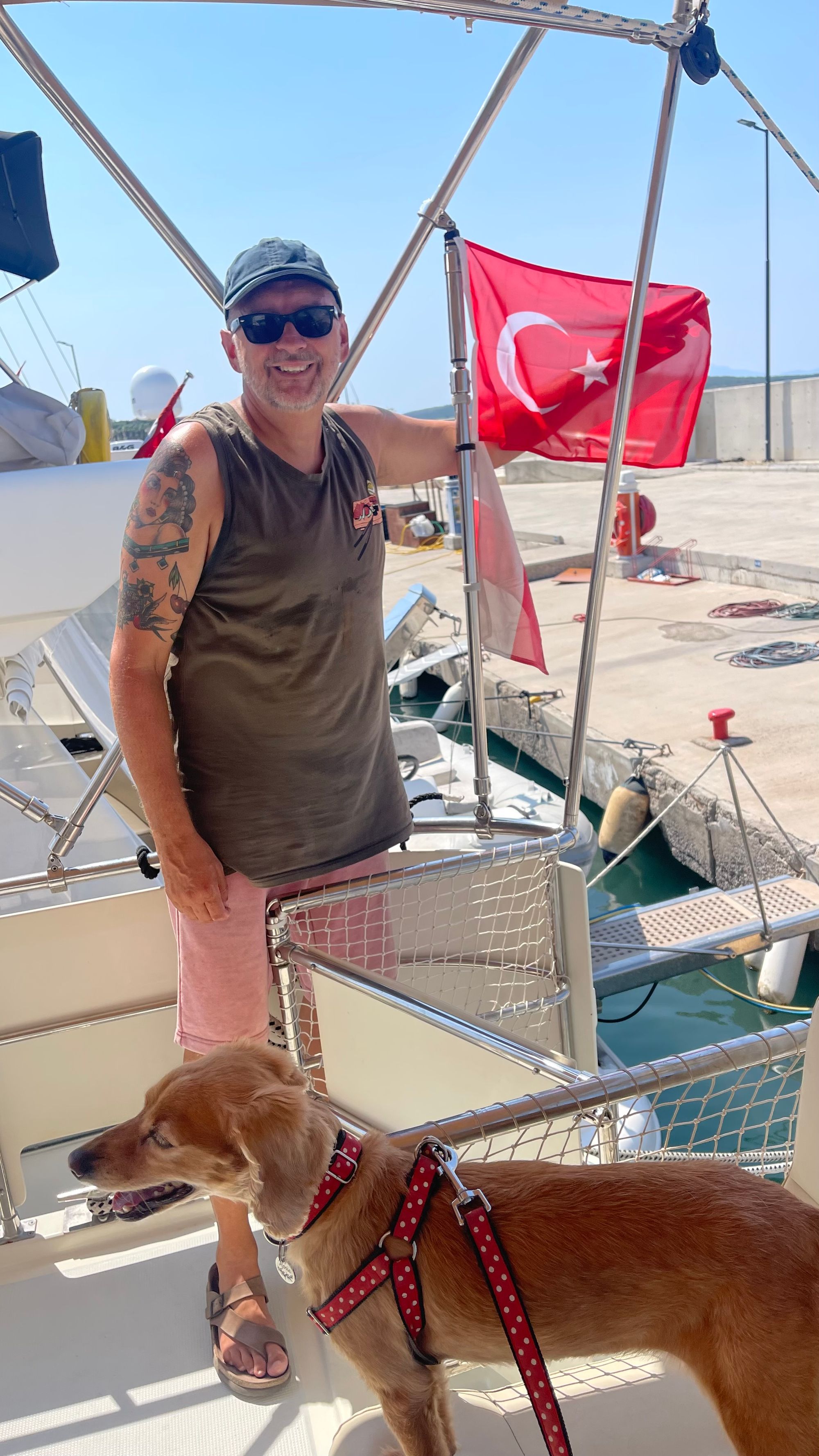 At Ayvalik we had an agent assist us with the check in, something which helped the process go more smoothly, although we still needed to be on the ball and chase a few things. We hadn't realised that I needed a visa for Türkiye and the agent hadn't mentioned it when we sent the copies of our passports forward so I was surprised when the border guard pulled me up on it. No matter, €50 fee and it was issued on the spot.
Türkiye has a few more processes and procedures than Greece. They are much stricter on the crew logs, you have to keep an official record of black water pump outs but once we had that set up in the system we were good to go.
Ayvalik is a very busy port town. It has a large market street, apparently the biggest outside of Istanbul and the capital Ankara. In part this is because of its proximity to Greece. The streets are full of Greeks who have crossed to Türkiye for the day to do some cheap shopping, as well enjoy the local hospitality too.
Türkiye thus far has been amazing. We've found everyone to be very friendly and helpful, although unlike in Greece, where most people speak a smattering of English, we've found most people around this part of Türkiye do not. It's a good sign we're out and experiencing some more local focussed culture, but it's also been a shock to have to adjust and communicate without the crutch of English to lean on. Google translate is our new best friend!
In Ayvalik, tucked up safe in the marina for the evening, we then met with Emma who is joining us for a few days aboard Matilda. I met her online through a sailing group where she was looking for boating experiences in the Med, after chatting it felt like a good match and our itineraries worked in nicely. We started the visit with a great meal at a local restaurant and then after a day of travel for both us and Emma to get to Ayvalik, we all headed back to Matilda and went to bed early! Our first impressions of Türkiye have been very positive and we're looking forward to exploring and learning a lot more.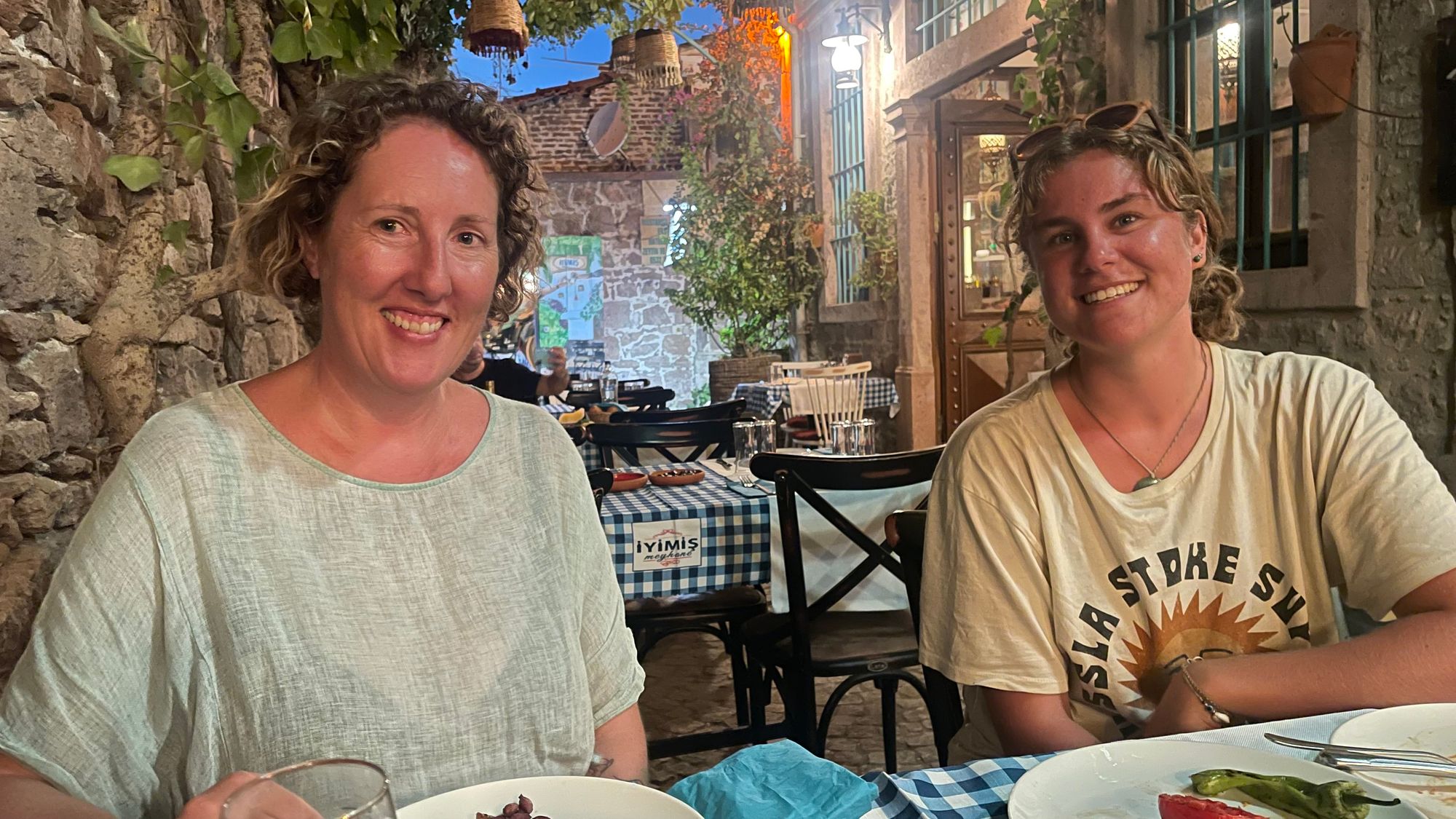 Friday morning the Meltemi (strong NE winds) were still blowing, which meant that our planned itinerary needed some adjustment. We decided to head over to the nearby islands to swim and chill out for the day before heading north while we waited on the weather.
Before that however, we needed to do our first official black water pump out. The dock for this in the marina is tucked into one end and the wind was blowing on to it fairly briskly at 15 knots or so. Docking was easy... get the boat parallel, wait a few seconds and we were blown onto it without an issue. But after the pump-out, getting off was always going to be a challenge.
It's here that the lack of English and communication problems lead to a small disaster. Normally in a breeze like this, I'd "spring" off the front of the boat - keep the bow attached with our big fenders, drive forwards INTO the dock, which along with our powerful stern thrusters pushes the stern out, then stern pointing away, I reverse off and away we go. The marinaros came by in their tender to assist and I indicated this is what I wanted to do, they waved OK and off we went.
As I was trying to drive forwards, they started pushing the bow of the boat in the opposite direction. They had a completely different plan in mind - they wanted me to drive forwards while they jammed the tender between us and the dock. But this was all lost in translation.
The end result was that the stern of Matilda ended up remaining parallel, we didn't spring at all and then as the stern slipped back past the end of the dock, we pivoted, hit an outboard on the rear of a boat parked at the end of the dock and the side of Matilda ground into the concrete corner of the dock.
There was a horrible scraping sound. It's a very uncomfortable feeling in this situation. You know there's nothing you can do, you're taking damage, now it's just minimising it. With the bow of the boat now pointing forward, it seemed the best approach was to just go forwards, away from the boats behind us, we scraped past the wall and now we were actually coordinating with the marinaros, we were free and under way.
They quickly checked the boat behind us, no damage to it, so we were lucky there and cleared to leave. When we got to anchor and I was able to look at the side properly, we got off a lot lighter than I expected. There's a nice deep gouge on the side, through the gel coat to the fibreglass underneath where we hit the concrete dock, BUT it's only about 50 cm long and maybe 1 cm wide. It could have been a lot worse. There's a small 5 - 10 cm scratch where the propellor from the outboard hit the boat. We've been fortunate so far to not have too many issues, this is our first incident this season and all in all, easily reparable later. Add it to the list and chalk it up to the importance of making sure that there's very clear communication between us and others who are trying to help us manoeuvre the boat.
After that adventure the rest of Friday was at a remote, windy anchorage with spotty internet. Little of interest other than to note that the water here is dramatically colder than it's been in Greece! Where we've been having 29C, around here, it's only 23C. Which is OK, but it's not as warm as what we're used to!
As we were researching things to do, one place that caught our interest is the Ancient City of Troy. Yes, that Troy, the one with the Trojan Horse, Achilles, Hector, Helen of Troy and all that lot. It seemed a great place to plan a visit.
We headed to a fishing village called Küçükkuyu on the coast north of Avylik and found a free spot to moor. It's quite clear the berth belongs to someone else, but they weren't there and I figured that we'd take it, ask around and see what they said. The locals were very helpful and within a couple of inquiries we were connected by phone to the owner of the berth who was out on his boat and spoke good English.
"Hello! You want to use the berth for one night? You leave in the morning?"
"Yes, we can go early."
"Ok, no problem my friend, enjoy."
And that was it, we have a free berth for the night. Very friendly and helpful people here.
I then asked about a taxi to Troy and within about 30 minutes, one arrived on an agreed rate who drove us the hour north to Troy, waited while we toured the site and the museum then drove us back to Küçükkuyu again.
Troy was really interesting. It's quite ancient, with evidence of inhabitants dating back to 8000BC. Like a lot of places, it used to be a lot closer to a bay and river, but silting has meant it now sits back from the shore above fertile plains. I found it quite amazing to stand up on the old city walls and look out to the Dardanelles strait and the Gallipoli peninsula, a place that's a big part of Australian history too.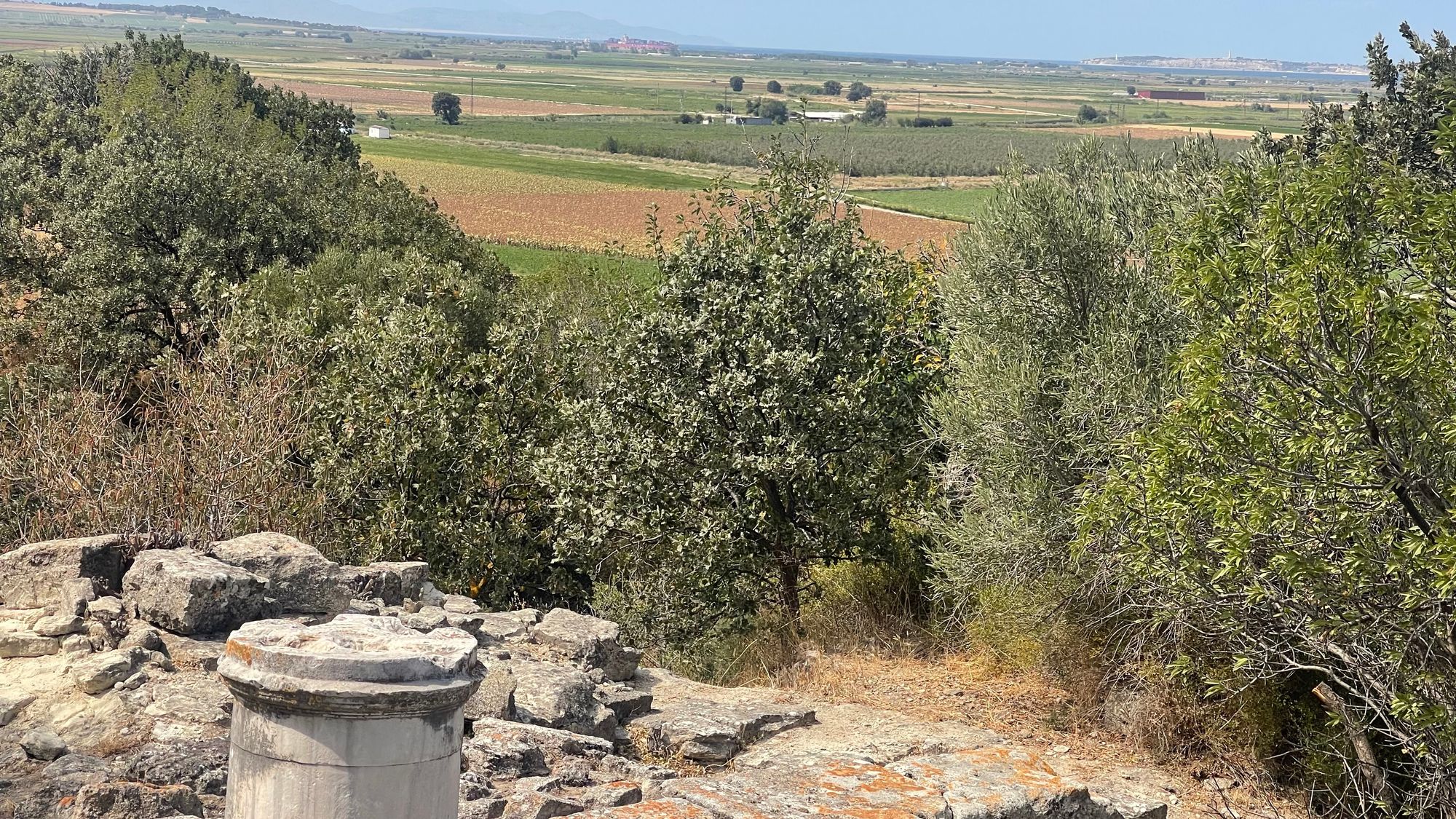 What's interesting about Troy is that although there's no direct historical evidence for the tale told in the Illiad by Homer, as we learn more and more, there's a lot of circumstantial evidence that ties things together. Troy was a "big deal" in Ancient Greece regardless and it connects to all sorts of places we've been visiting. It somehow makes it that much more interesting knowing that we've been to Ancient Mycanae where the king, Agememnon definitely did exist, who is credited in the Iliad as the leader of the combined forces against Troy. There's no proof that Agememnon beseiged Troy, but he is certainly supposed to be a real figure.
The Romans and others also believed the tales too. The layers of Troy are fascinating in that you can see the city gradually evolving from a primitive bronze settlement, to a powerful trading city, to the hub of a cult venerating the heroes of the Trojan wars. We do know that Alexander the Great visited the city and paid honour to memorials for the heroes like Achilles. Xerxes, the Persian Prince who fought the Sparten "300" also slaughtered Oxen here in honour of the heroes on his way west towards Athens.
While many aspects of the Illiad are pure fantasy (Gods intervening on behalf of mortals), it seems likely to me at least that something of note happened. Certainly lots of people over a very long period of time have believed that they did.
Even in more modern times, during the Gallipolli campaign (Cannakalë in Turkish), the allies were known to reference the battles of Troy, viewing themselves as the Greeks, while the Turks often referenced Hector and the defence of the homeland of Troy. The British even named one of their warships that tried to invade the Dardanelles after Agememnon.
From the Ancient City it was off to the museum, a wonderful new building that collects findings from all around this part of Türkiye and puts them together in an interesting series of displays that show the evolution of Troy into the eventual cult centre it became.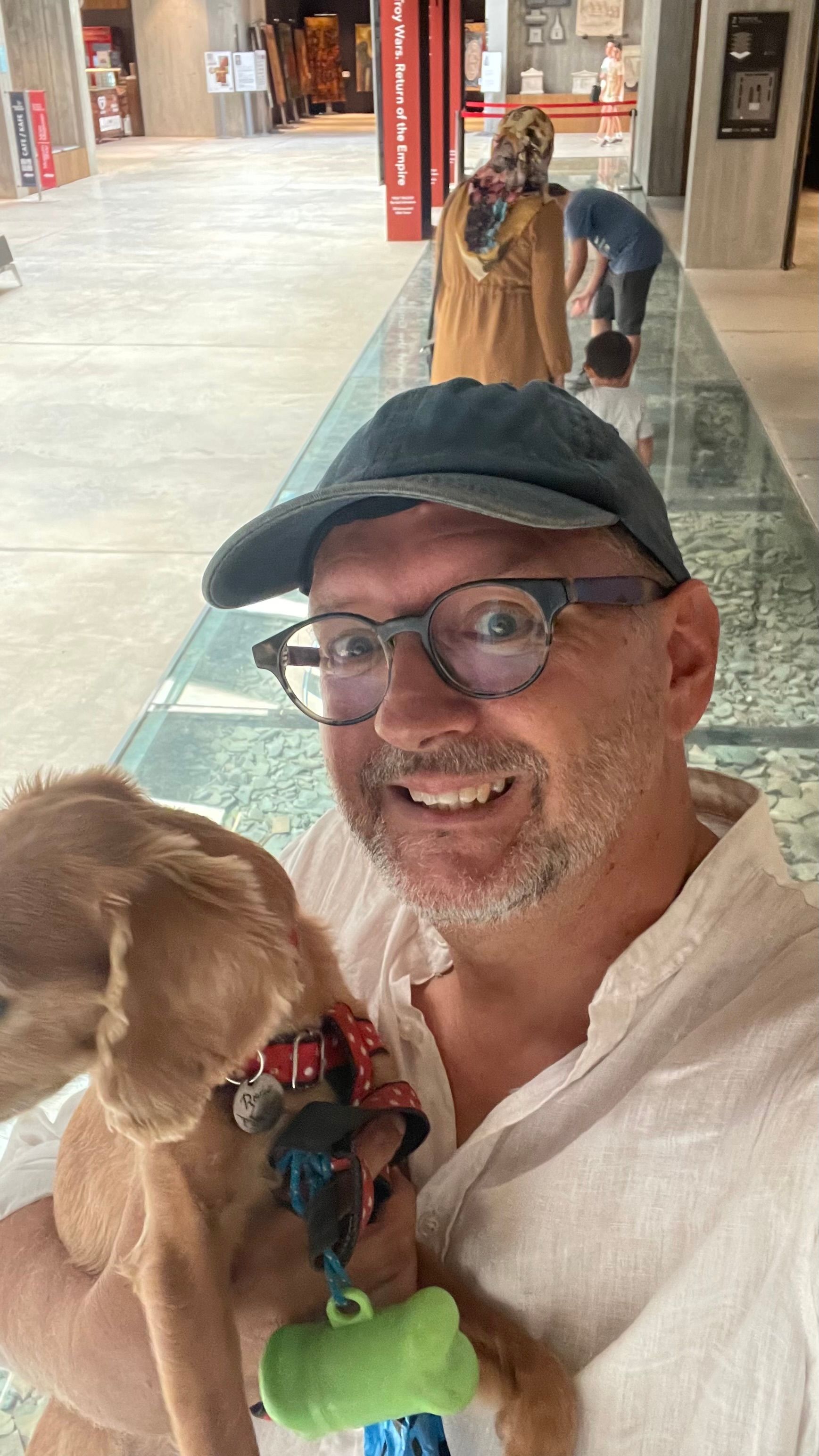 Then we were back to the boat, a snack and some drinks, a quick swim and early off to bed again! Today we head out and we'll see what the weather brings. We'd like to do a bigger day and get to the island of Bozcaada (the Mykonos of Turkey), but it will depend on what conditions are like. If it's still a bit rough we'll anchor up in a bay half way and head there tomorrow. The rest of the week will see us dropping Emma off in a day or two, possibly at Cannakalle and we'll make our way up through the Dardanelles and into the sea of Marmaris.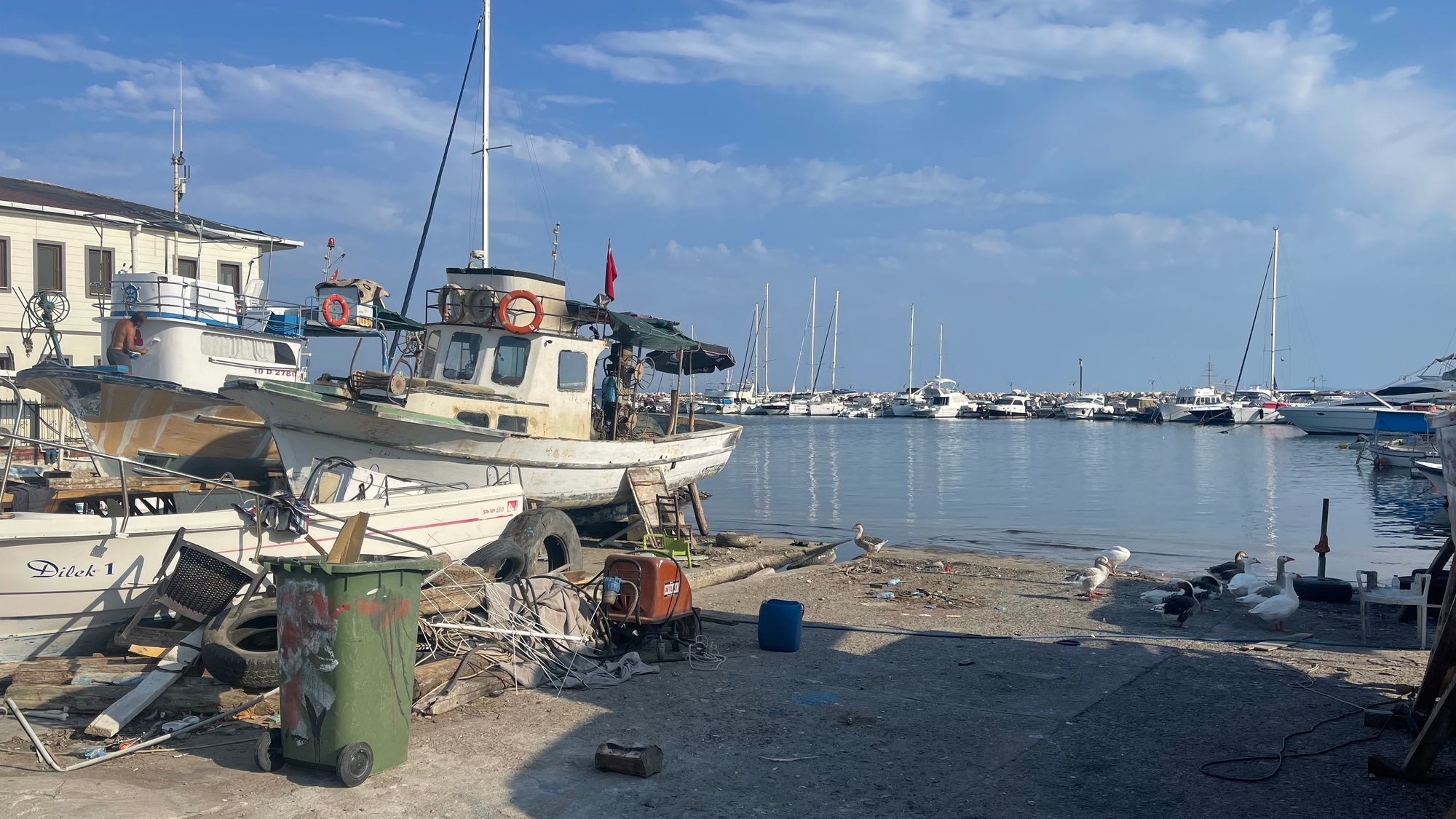 Until next time,
Tim & Karina.
Where are we now?