Week 158: Can someone turn off the wind?
The wind continues to be relentless while we work our way north to Bozcaada Island, The Dardanelles and Gallipoli then on to Marmara Island.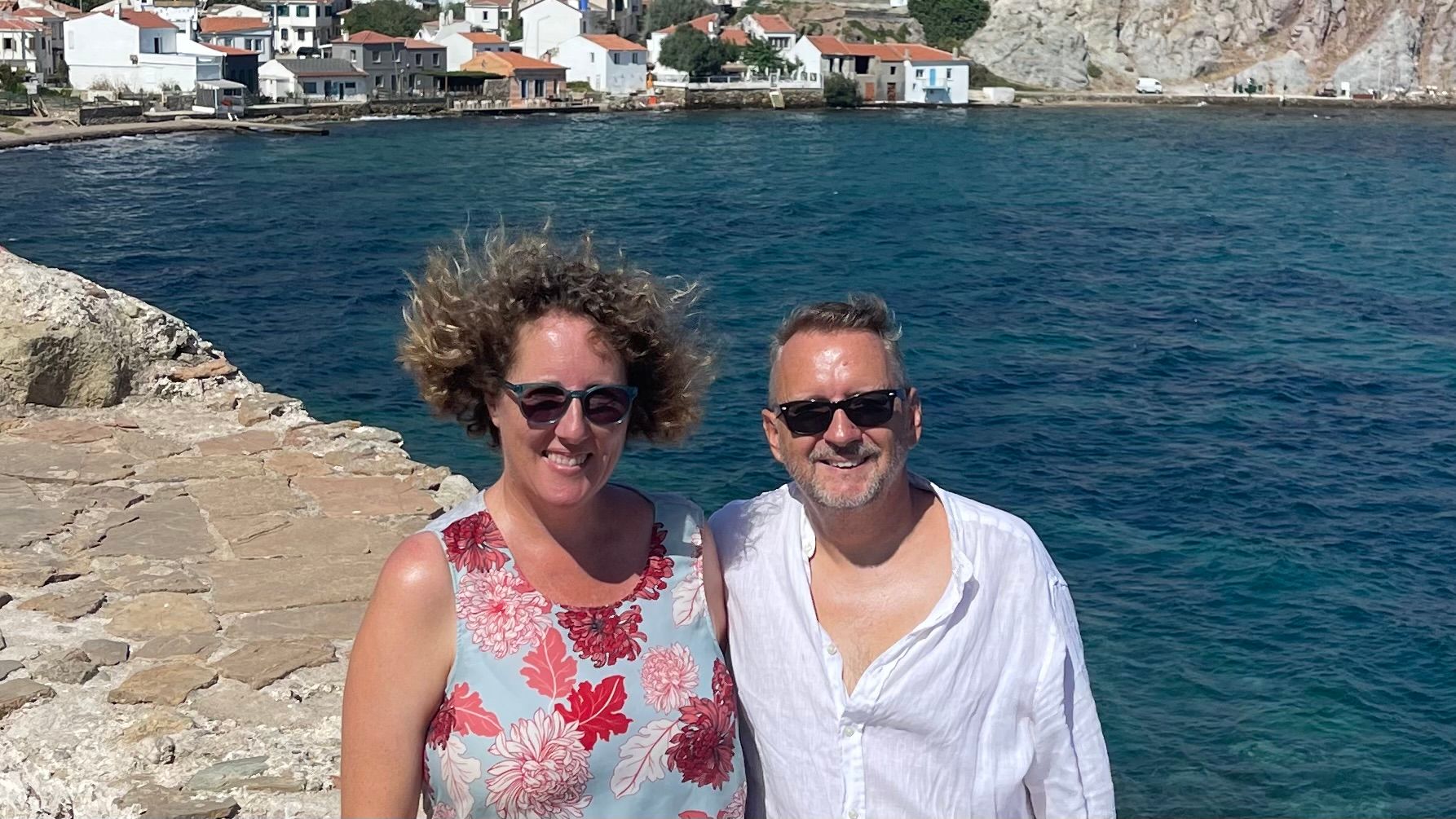 Earlier today I was definitely having a moment. I've yet to be really sick on Matilda, but boy was I coming close.
As Karina said "It's one of those bad times that makes the good times worth it."
We've been pushed around by the weather so much this week that it's becoming a drag. That need to plan, check and constantly adjust. After continuing on from Küçükkuyu we've experienced nothing but wind and the associated problems that brings, even for a motor boat.
And yet despite that, we've also had plenty of moments of joy too. We loved Bozcaada Island so much we stopped for an extra day. Çannakale and Gallipoli were equal parts sobering and fascinating and now, we're in the small town of Saraylar which has delighted, no doubt in part due to the relief we felt in arriving here and finding a spot.
When you put it like that, it becomes quite clear. It's been one of those weeks where the time ON the boat has generally sucked, while the time OFF the boat has been fantastic.
After leaving Küçükkuyu we pushed forward, rounded the coast and headed north for Bozcaada. It was a trip that Karina and I would do if pressed on our own, but we'd try avoid bringing guests on. Emma however is a very capable sailor with plenty of experience and it wasn't an issue. So we bashed into the waves heading north for several hours to experience relief entering Bozcaada that the wind dropped right off and we were able to come in stern to without issue.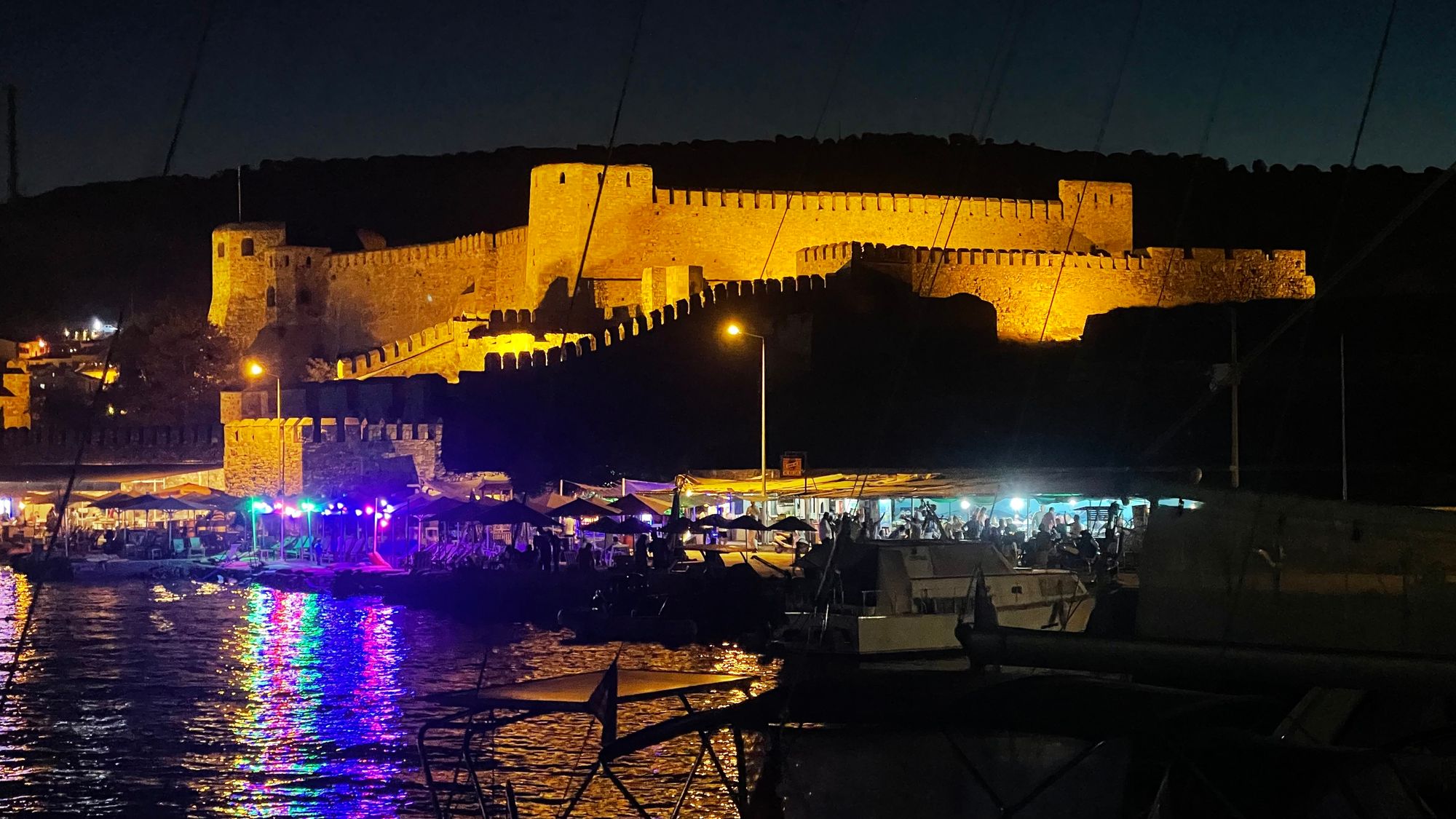 They call Bozcaada "the Mykonos" of Türkiye and I think this is a reasonable description. It's cute, with lovely windmills on the hills and is almost entirely made up of restaurants and places to stay. We immediately decided we'd spend an extra night there and Emma decided to stay with us as well which was fun.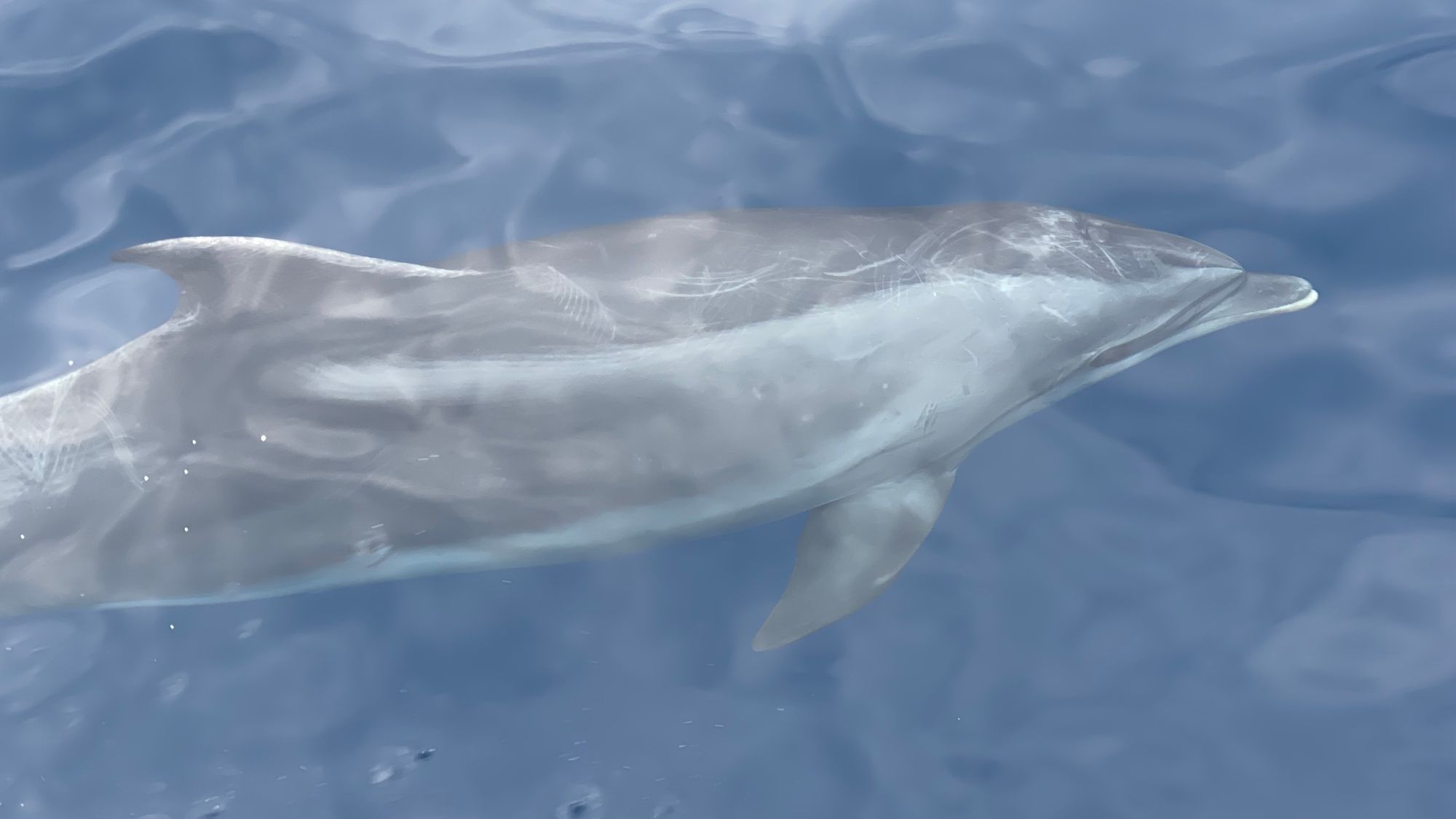 Those who know Karina will know that a wine tasting is one of her favourite experiences and so when we read about the wineries on the island, we decided to walk to one the next day. We spent a delightful couple of hours at Amadeus Winery trying lots of different wines while the owner, Oliver, an Austrian man, regaled us with facts and details about what we were experiencing. Of course we also chatted about living aboard and many other things too.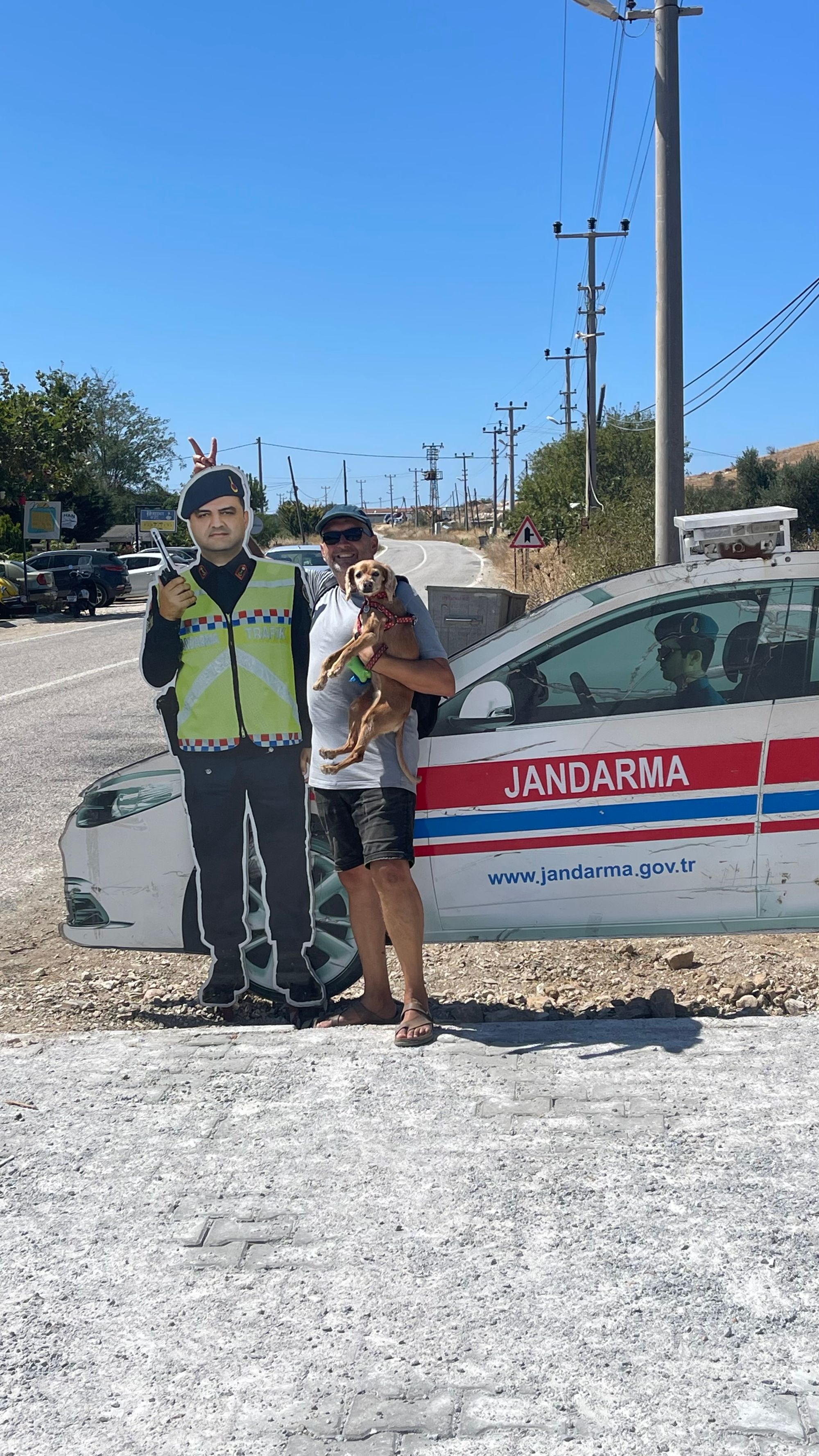 We had our first Turkish breakfast, explored the castle and then enjoyed a final meal with Emma before crashing in bed early ready to head to Çannakale the next day.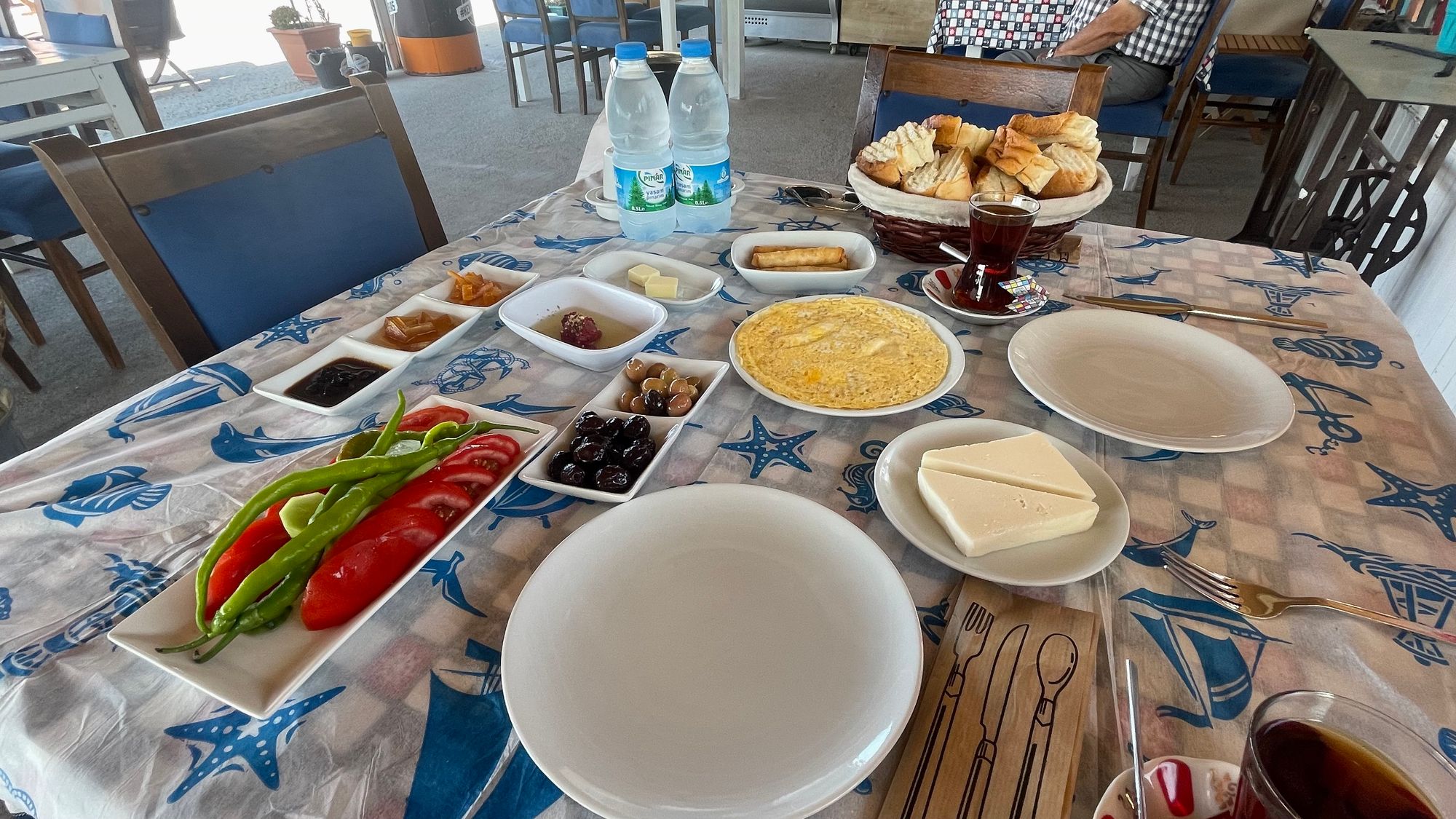 The journey up the Dardanelles towards Çannakale was exciting, if windy. It felt like such a cool way to approach this part of the world, sailing in the wake of so much history.  It was here that the Ancient Greeks sailed to invade Troy, that the British and French tried to breach the defences of the straits before failing and deciding to invade the peninsula. There is an aura of history everywhere you go.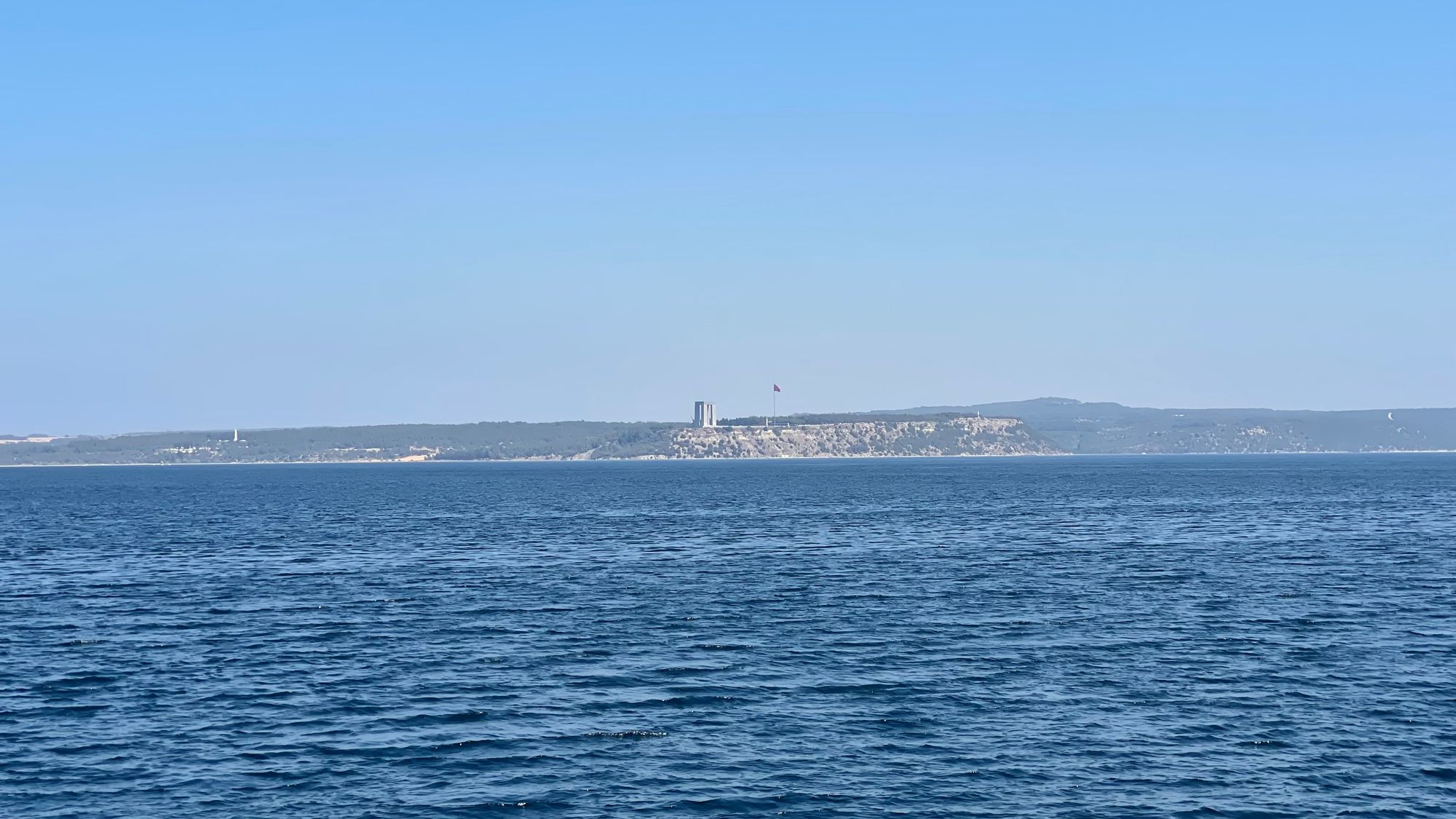 For those not familiar with it, the Dardanelles is the strait (narrow passage) that runs between the Gallipoli Peninsula and Anatolya on the Turkish mainland up to the sea of Marmaris, south of Istanbul. It's an international waterway and the only way to reach the Black Sea (by then crossing Marmaris and the Bophurus Straits through Istanbul). Its narrowest point is about 1.6 km wide at Çannakale, roughly 1/3 of the way up the straits.
Geography lesson aside, it has some wicked currents running through it as well. We were surprised to find ourselves doing roughly 4 knots instead of our usual 6.5, all due to the current impeding our passage. It took longer than we expected to make it to Çannakale.
When we did arrive we were frankly tired, worn out and faced with strong winds gusting 20 - 25 knots. Typically when you enter a harbour, the winds usually die down but at Çannakale this was not really the case. The winds were still very strong across the bow and as we reversed in to the slip, the bow of Matilda started to turn downwind across the boat next to us.
Our bow thruster is not working well at the moment (I'm not sure if it used to work well and it's stopped, or if it never really worked that well), but it feels very underpowered for Matilda. As we tested later, even in calm conditions, it barely moves the bow in the direction you want.
With the bow thruster unable to move the bow into the wind, I tried a couple of other tricks (using the stern thruster in the opposite direction, opposing the engines), but the wind was so strong we were continuing to drift downwind across the boat next to us and I worried we would hit them. I made the call to abort and come around to try again.
Moving forward, we were now over the lazy lines of the boat next to us. It's a problem in Turkey we've noticed - instead of having lots of different length lines for different sized boats, there is a tendency to have very long lines and use them for everyone.
Why does this matter? Well if you have lazy lines set to the correct length of the boat, they will run "down" from the bow to the chain at the bottom of the sea where they are fixed very quickly. In Çannakale with very long lines (which could be used for big boats), it meant that for the short boat next to us, the lines went out very shallow for a long way.
"Stop the motor" yelled the guy on the shore.
I dropped back to neutral then next thing, there is a thud and the boat stops dead. We just wrapped the lazy line of the boat next to us around our prop.
With the stern of Matilda now fixed to the line at the bow of the boat next to us, our bow continued to push sideways and hit the bow of the second boat - fortunately Karina was up there with a fender in time, so no harm down. We're sitting across the bow of two boats.
It's a moment where you have to collect yourself, breathe deep and go "oh well, it can't get worse and at least we're stopped now." The marina staff were excellent and knew exactly how to help. They found a second lazy line for the boat we were stuck on and tied them off to that, then were able to use a diver to free the lazy line from our prop so we were able to move again.
A line was thrown from our bow to the bow of the boat next to us, then another from our stern to the dock and they manually pulled us until we slid backwards and slipped into position. A relief! Apart from some damage to our wallet in the form of generous tips to the dock hand who jumped on Matilda to assist and to the diver for clearing the prop and checking everything was OK. There was no damage to Matilda or any other boats.
Both Karina and Emma were amazing help in this stressful situation. Actually I didn't have anything to do but sit up at the helm and look commanding while everyone else rushed around with fenders and lines to shore. So I took some photos instead!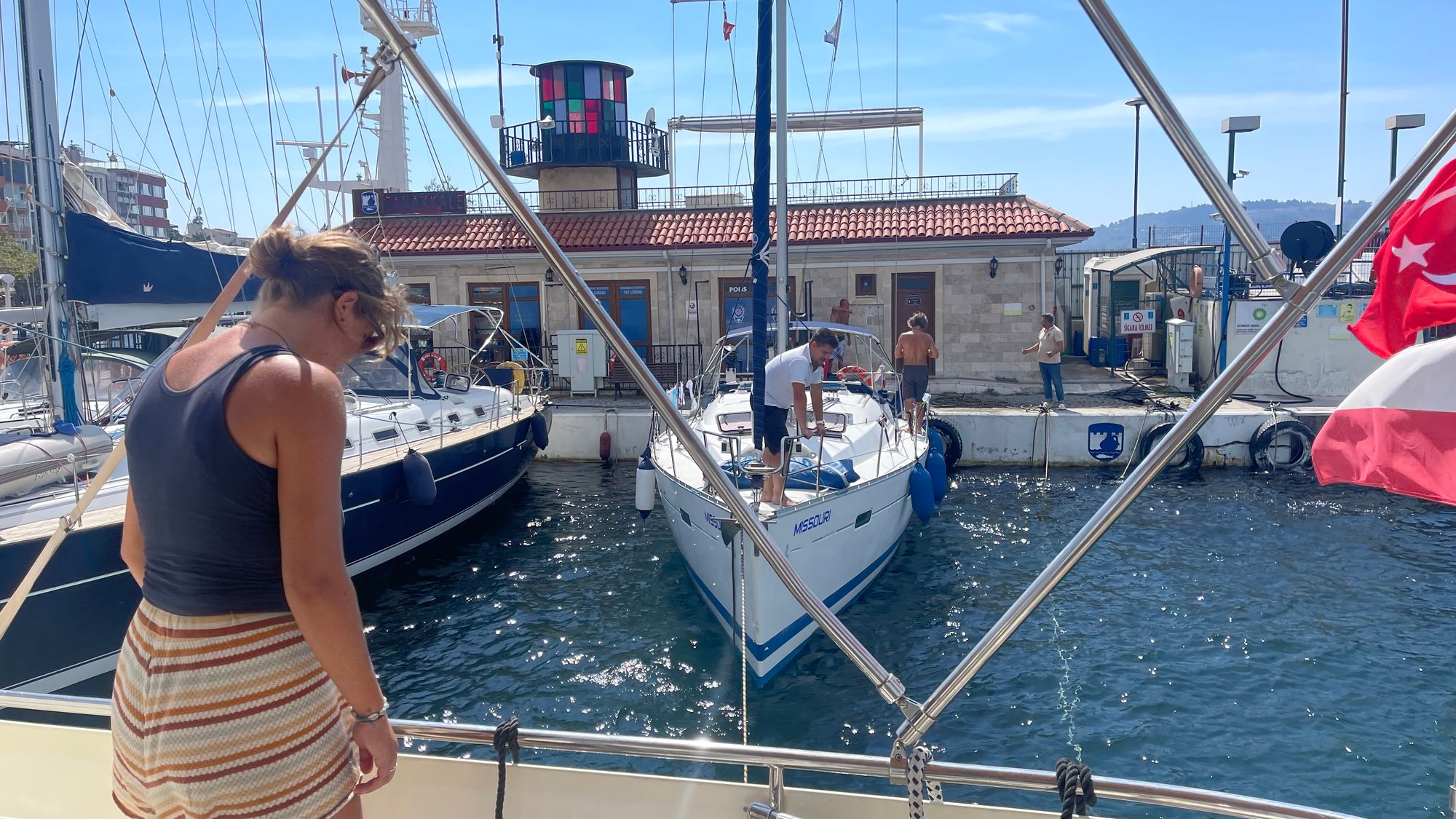 Finally docked up, Emma left to catch the bus for Istanbul. It was great having her aboard for a few days and we really appreciated the very thoughtful note she left us. We hope to meet again one day!
Çannakale is a lovely holiday town and the base for exploring Anatalya and the Gallipoli peninsula. On the foreshore next to the marina is the Trojan Horse built for the movie Troy and Troy is one of the big attractions nearby.  The other, is Gallipoli.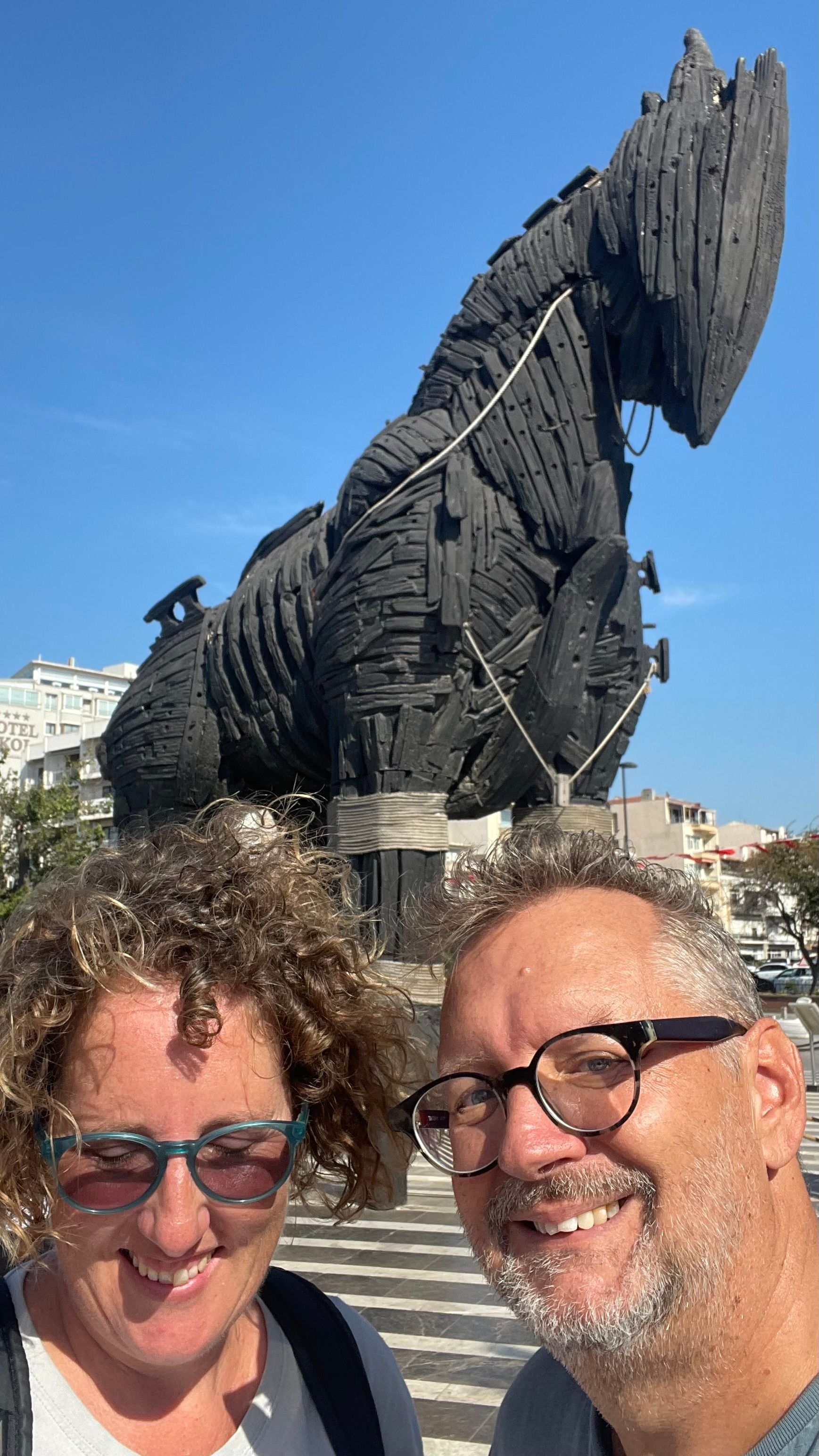 There's a lot of myth and legend in Australia and New Zealand surrounding the Gallipoli campaign. It's the first time both countries fought independently (prior to WWI, Australian soldiers enlisting in campaigns like the Böer War fought as part of the British Army) and jointly, we formed the ANZACs (Australia and New Zealand Army Corps).
While we do acknowledge remembrance day in Australia (11th of November - the end of WWI), it's ANZAC day, on the 25th of April which is a public holiday and the moment where we hold our dawn service to recall fallen service men and women. Why the 25th of April? Because that's the date the ANZACs landed at ANZAC Cove on Gallipoli Peninsula to try capture the Dardanelles.
It's hard to explain, but a lot of Australian identity is tied up in the "ANZAC spirit", to do your best in the face of difficult odds. Most Australians are familiar with the ANZAC Cove commemorative site (which is actually just north of the actual landing site at ANZAC Cover on the peninsula), as the dawn service here is carried on the major new channels so if you've ever watched a news report or read a paper around the 25th of April, you'll see imagery of this place. Gallipoli is the first place in the world Australian and New Zealanders died fighting as Australians and New Zealanders, so it holds a special significance.
All of which very conveniently ignores the who and the why of who we were fighting against. I suspect I'm not the only Australian who's approached Gallipoli with a rather major blind spot, which is that this place is ALSO incredibly significant to the Turkish people too.
One of the first things you notice entering Çannakale is a big sign on a hill, "18th March 1915." Not a date I was familiar with. It's the date of a significant naval victory to the Turks - basically 18 French and English battleships tried to force their way through the straits and were stopped by Turkish mines and artillery fire. This is the moment that the allies decided to instead try to capture the Dardanelles by land via the Gallipoli peninsula.
But why did the allies want to capture the Dardanelles at all? In Australia and New Zealand the campaign is generally considered pointless and I believe there's a lot of merit in this. It seems it was probably avoidable. Despite the massive loss of life, it achieved none of its aims and had no real impact in shortening WWI. The more I dig into history, the harder it is to know where to start (or stop) digging. I LOVED this sign in the museum of Gallipoli which states:
"World War I Causes. Industrial Revolution and Colonization. In the 15th Century, the colonization process which began with..."
It turns out understanding WHY something happened is a very long, complex and involved affair. I can't wrap my head around it. A short summary and one theory however is that the Ottoman Empire had discovered oil on their lands and that England and France wanted it. That their ally Russia asked for assistance to clear the straits to allow their fleet to reach the Mediterranean was a convenient rationale for attacking, but not really the main cause. A major error on the part of the allies was they considered Turkey very weak (after all, it had lost a lot of wars in the lead up), so while they saw merit in helping their ally Russia, they also saw some valuable resources for dividing up later.
According to the Turkish museum, Turkey was in favour of allying with England and had ordered (and paid for) two battleships from them prior to WWI commencing. With war imminent, England refused to deliver and so the Turks turned to Germany for assistance (who to be fair, were already providing a lot of military aid to Turkey). Germany sent two battleships which formed the core of the new Turkish Navy. Perhaps if the English ships were delivered, Turkey would have come in on the side of the allies instead.
Circling back to the 18th of March 1915 then, this is a very significant date for Turks who celebrate it as the date where, after a long period of generally losing wars and the Ottoman Empire contracting, they were able to defend their home soil from the invaders who had failed to deliver on their pre-war promises.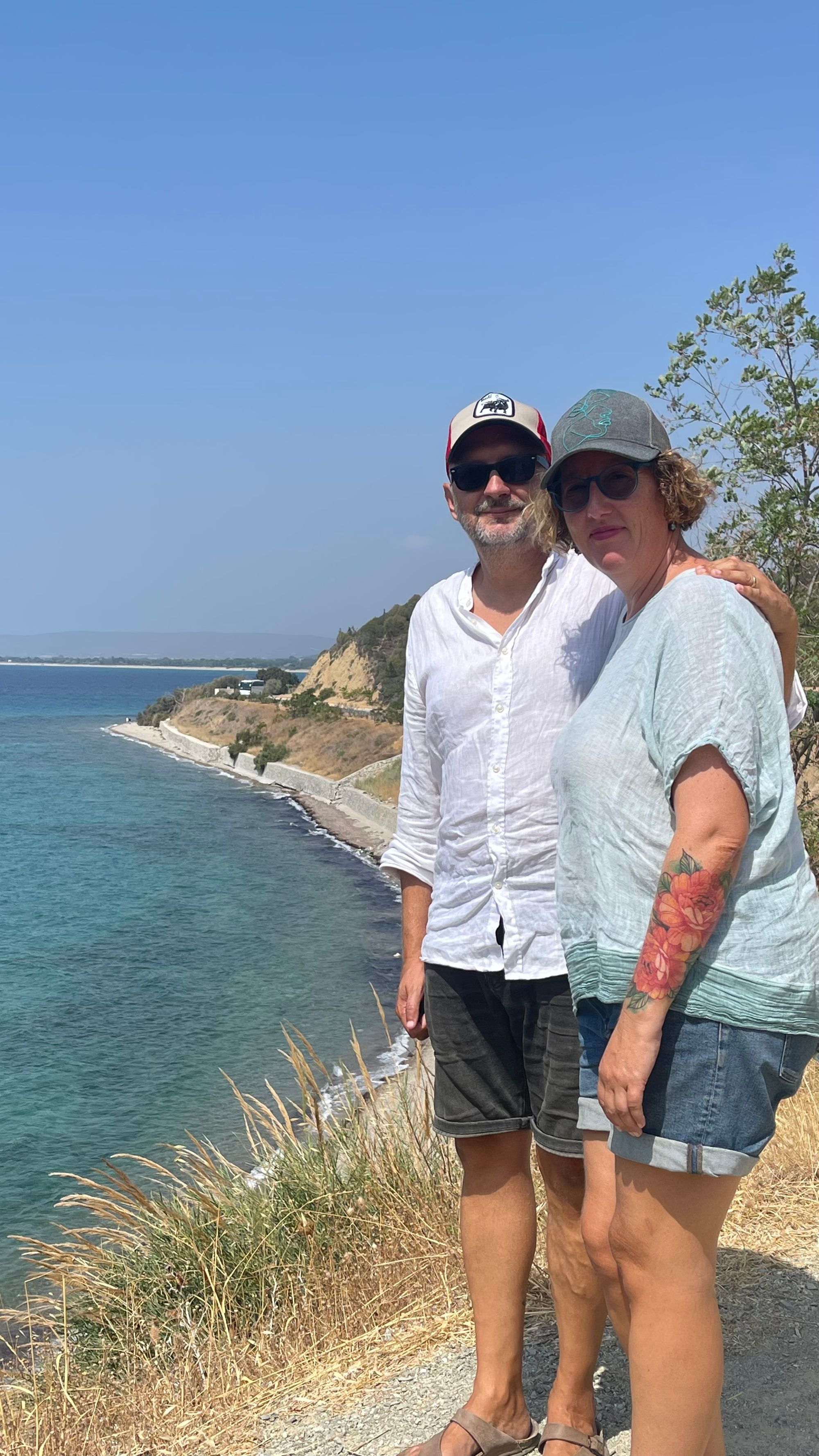 This theme continued throughout our visits to museums. Gallipoli is sacred ground to the Turks as it's here that they defended the invasion of their homeland against what they see as unwarranted aggression and Kemal Ataturk (the founder of modern Turkey) proved his military prowess in fighting back several attacks.
Which makes you think that Turks might be a bit "put out" about all the Australians and New Zealanders coming to visit. Not at all. We've felt incredibly welcome everywhere we've been here and Gallipoli was no exception.
My family has a small family connection to Gallipoli. Two Great-Grand Uncles (my Great Grandmother's Brothers) were wounded on the 25th of April 1915. Albert Stanley Abraham and William Strong Abraham. It added a small poignancy to think on that and reflect on what it was like for them there.
Myth and misconception abounds! We booked a tour of ANZAC sites and along with Tegan, a fellow Australian we had a very comprehensive tour. Standing on ANZAC cove, now somewhat destroyed due to landslides which necessitated reinforcing works to try preserve it and a road that runs through it, it's still an imposing sight looking up the steep hills.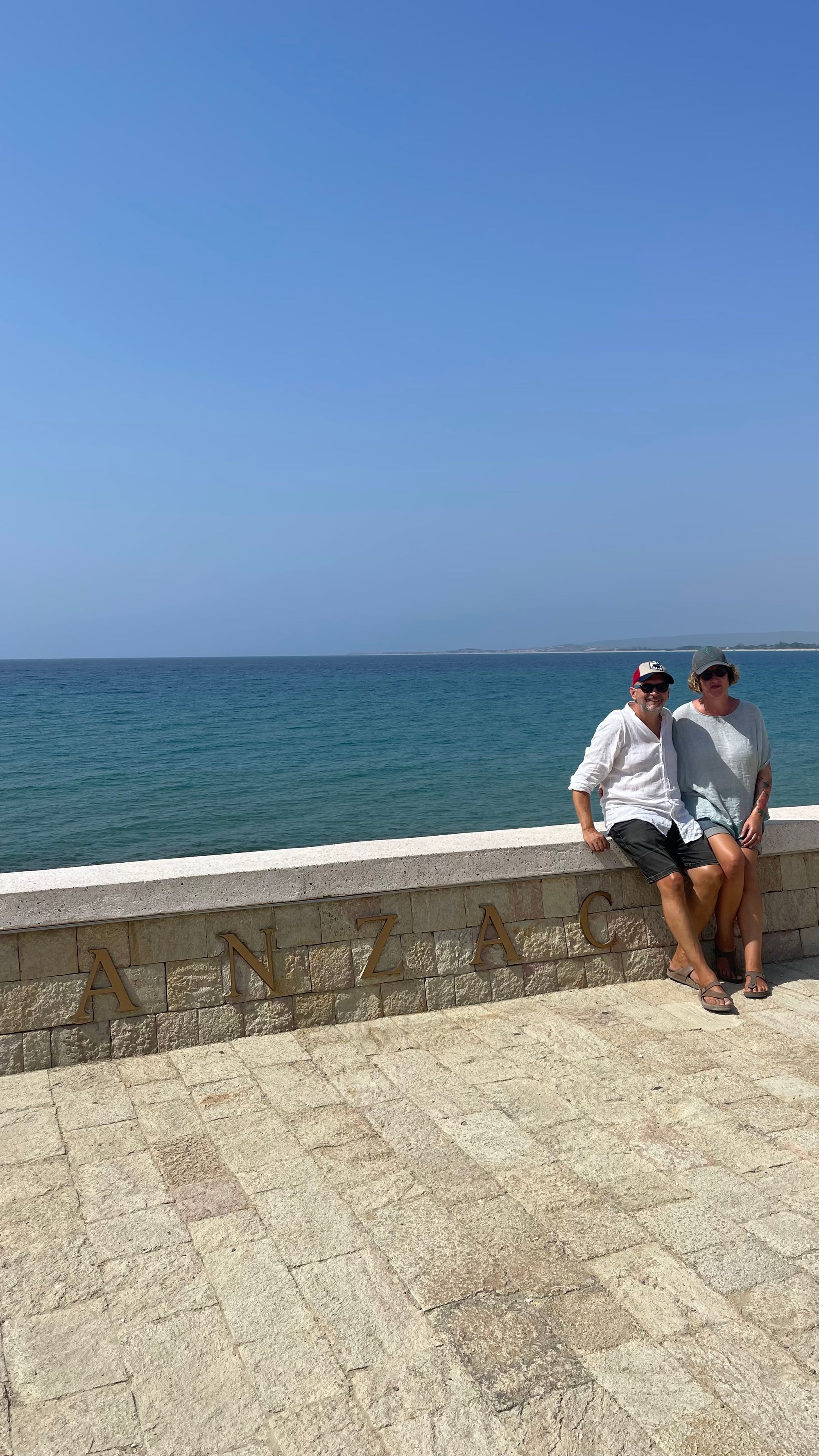 The myth is that the ANZACs, as depicted in film, landed under fire, when in reality, while they were observed, there were so few Turkish troops in the sector that they landed without casualty and were able to immediately dig in. Mistakes abound in the Gallipoli campaign – the first was that they landed in the wrong spot. The second might be that they stopped to reinforce it.
While they were digging in, the Turkish, under the command of Ataturk in this sector, were able to move men to the top of the ridge line to defend the ground. The ANZACs were allowed to wear themselves out digging, then climb the hill, then the Turks opened fire. While a few small objectives were captured, and the ANZACs weren't driven back to the sea, largely this is as far as they got.
It's most likely that both Albert and William were wounded in this assault on the ridge. According to records, Albert was wounded in the thigh, William the buttock, and they were both evacuated where they recovered and returned again to Gallipoli.
Albert must have been either fairly bright, or perhaps surrounded by very unlucky people, as he continued to get quickly promoted approximately once every month until he made Temporary Sergeant. He then got sick with Enteric Fever (Typhoid), was evacuated again by hospital ship and on arrival at the military hospital in Alexandria in Egypt was declared dead. His grave is in a military cemetery in Cairo.
William was wounded again in Gallipoli, returned to continue to fight, was evacuated and then eventually deployed to the Somme where he died in the battle of Pozières. One of many who's bodies have never been recovered. He was never promoted. The Australian official historian Charles Bean wrote that Pozières ridge "is more densely sown with Australian sacrifice than any other place on earth".
After a fruitless series of months where the battle at Gallipoli descended into stalemate, with soldiers on both sides starving, freezing and dying of disease, the allies decided to call it quits and some 9 months after they landed, pulled out..
What's interesting in all this, and perhaps why a strong friendship continues today between Australians and Turks, is that there appeared to be a mutual respect for each other. The trenches at times were mere metres apart and tales abound of soldiers crossing the trenches at night to exchange food and cigarettes. Of Turkish soldiers who carried wounded Australians back to their trenches during cease fires or Ataturk's famous words afterwards which are prominently on display at the Beach Cemetery close to ANZAC cove.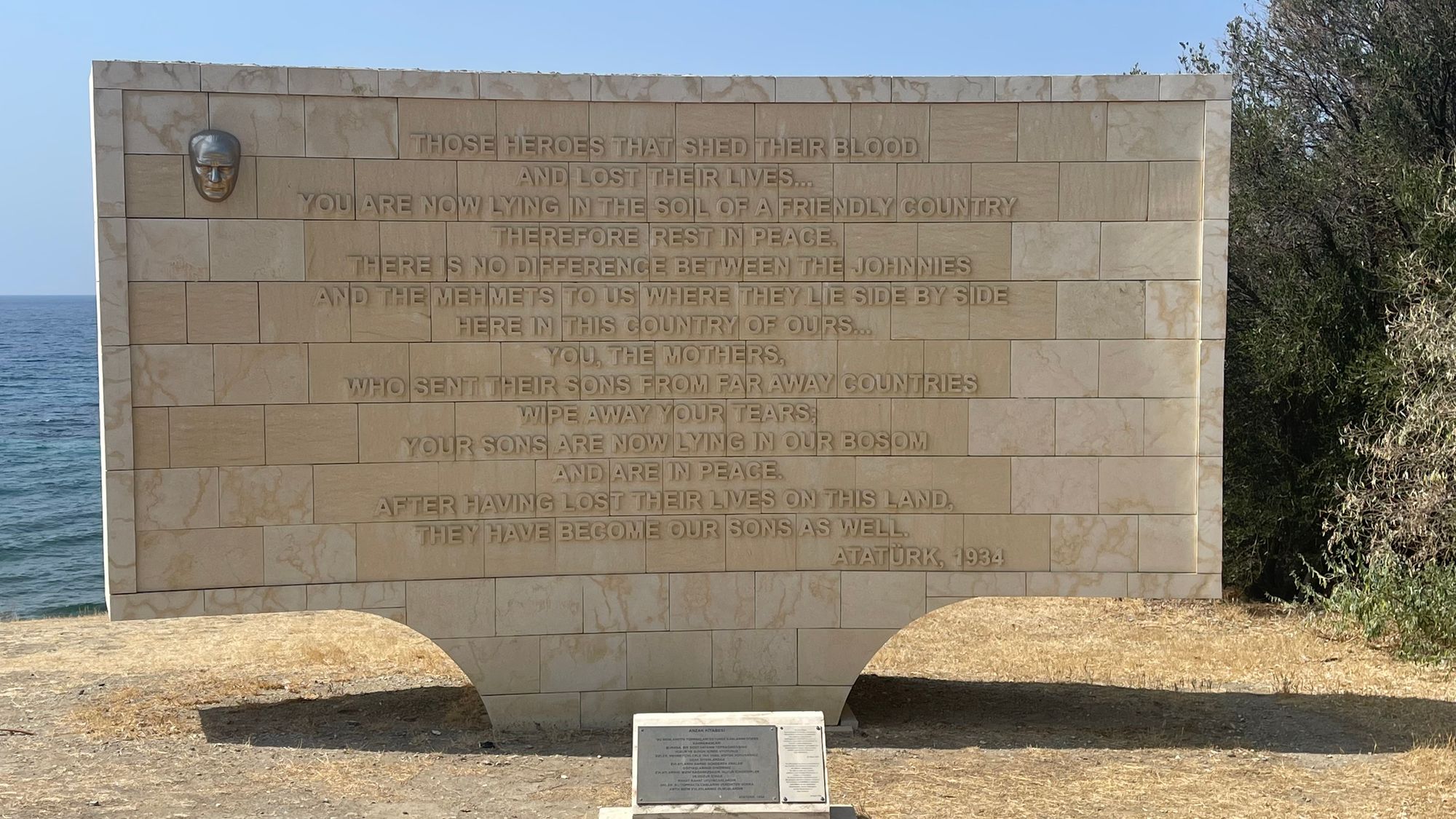 Those heroes that shed their blood and lost their lives... you are now lying in the soil of a friendly country and therefore rest in peace. There is no difference between the Johnnies and the Mehmets to us where they lie side by side in this country of ours... You, the mothers, who sent their sons from far away countries, wipe away your tears; your sons are now lying in our bosom and are in peace. After having lost their lives on this land, they have become our sons as well. Attaturk, 1934.
There's one thing for sure. The Gallipoli peninsula is in good hands with the Turkish people. They consider it holy ground too and it's well cared for and on "Victory Day" when we were there, it was full of Turkish people visiting and paying their respects to their dead as well at the cemetery of the martyrs. One of these, the most revered, was the Turkish 57th Infantry Regiment.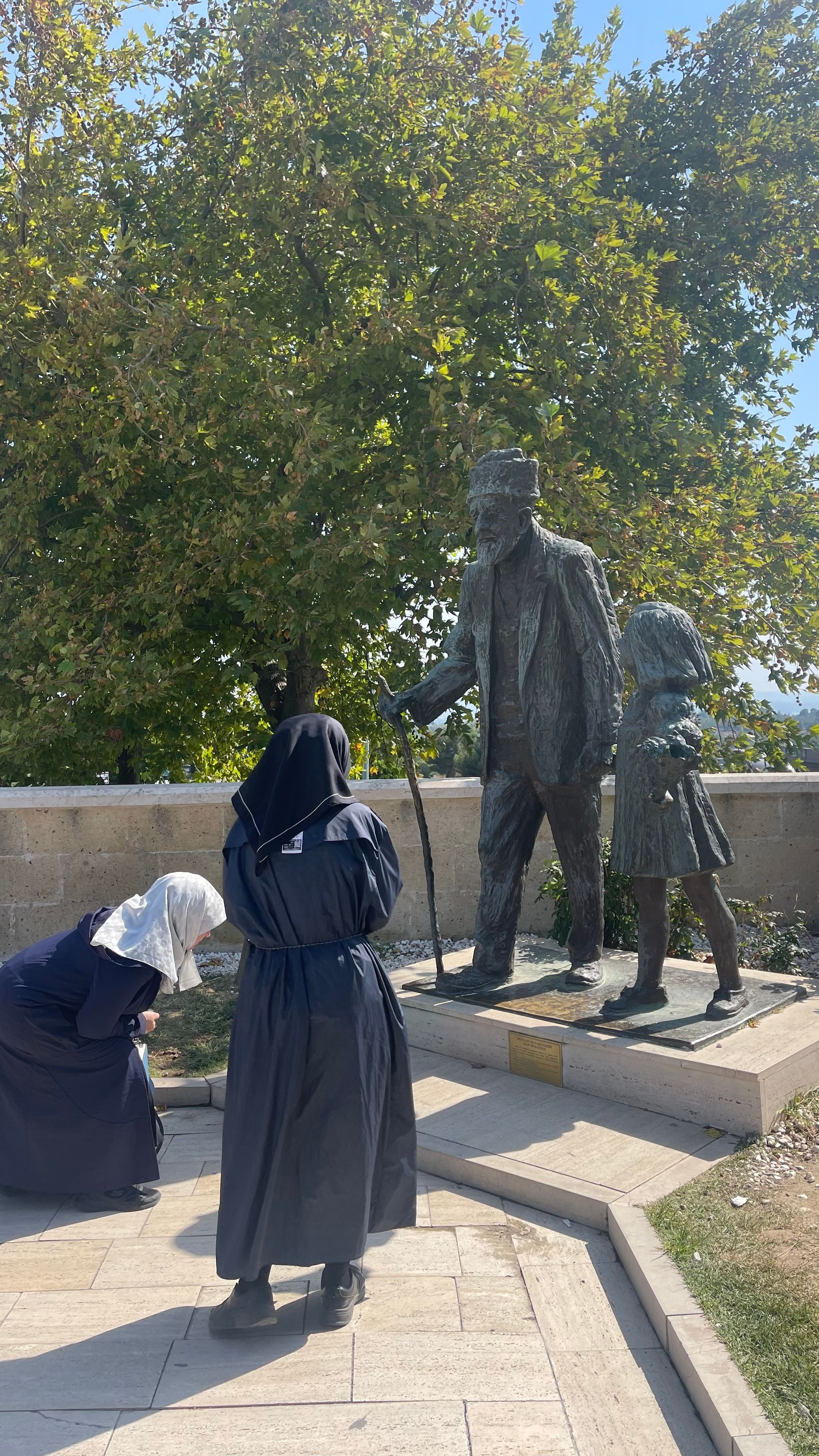 Lead by Ataturk, they held back the ANZACs when they landed at Gallipoli and stormed the ridge.
"I don't order you to attack," he said. "I order you to die. By the time we are dead, other units and commanders will have come up to take our place."
While he clearly had a flair for the dramatic, he was correct in his estimation that they needed to hold at all cost. The 57th suffered such losses they never recovered and are honoured in Turkey today, with the regimental unit designation being retired.
Overall, that day was a lot to take in and we returned back to Matilda with much to mull over, including some revised views on our own history and a respect for how well the whole peninsula is treated, including its designation as a National Park.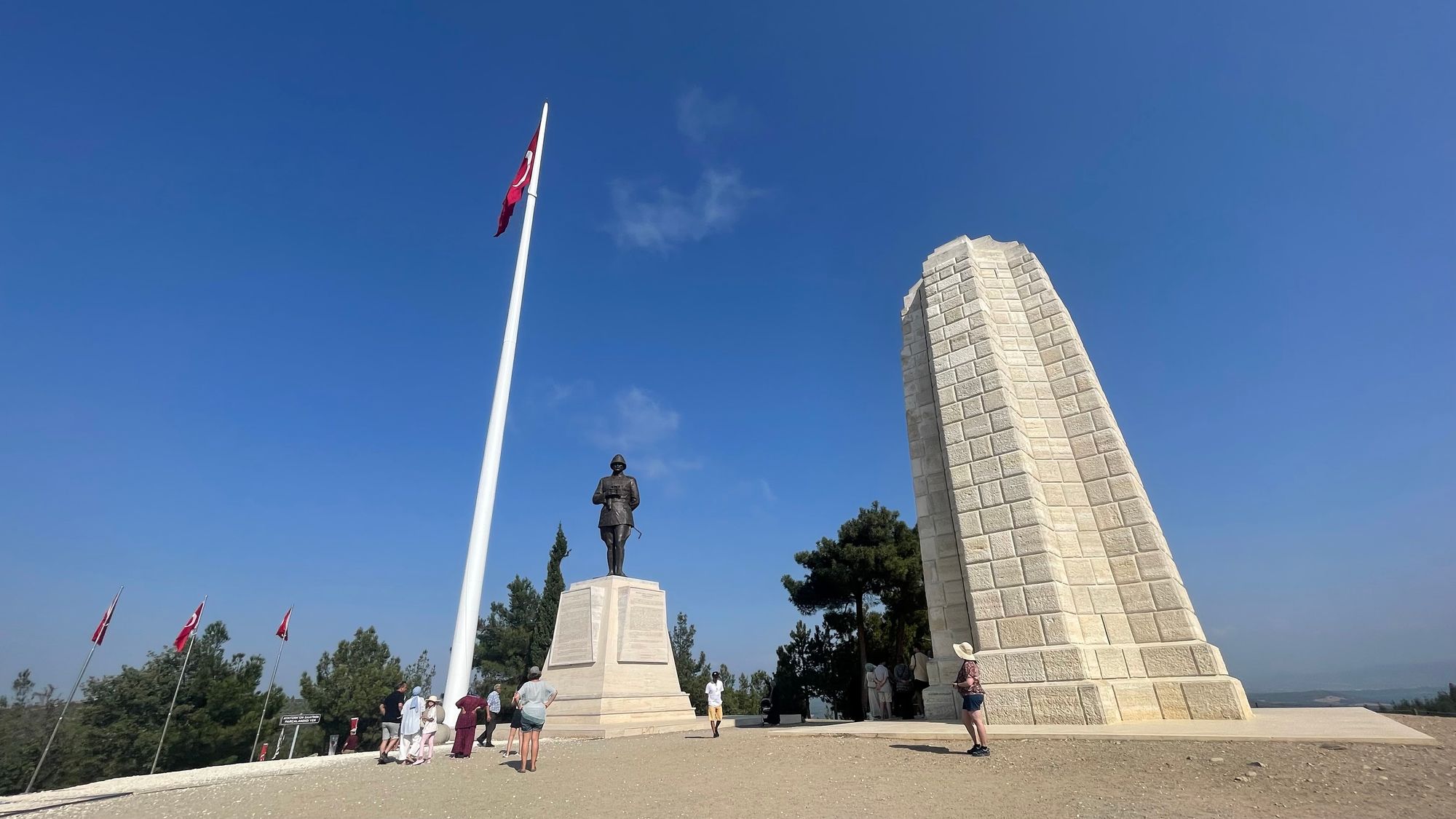 For Stanley and William, I was proud to be there and to learn more about your sacrifice as well as that of the Turkish people defending their own lands. War is a continuation of politics by other means, and we all know politicians can be pretty bloody stupid.
They shall grow not old, as we that are left grow old; Age shall not weary them, nor the years condemn. We will remember them.
From there, Thursday offered a brief respite from the constant wind so pushed on through the straits to the Sea of Marmaris. It was a long haul, but there's not a lot of option either - the Dardanelles are otherwise a very barren and uninspiring place to visit by boat with endless commercial traffic and no sheltered coves.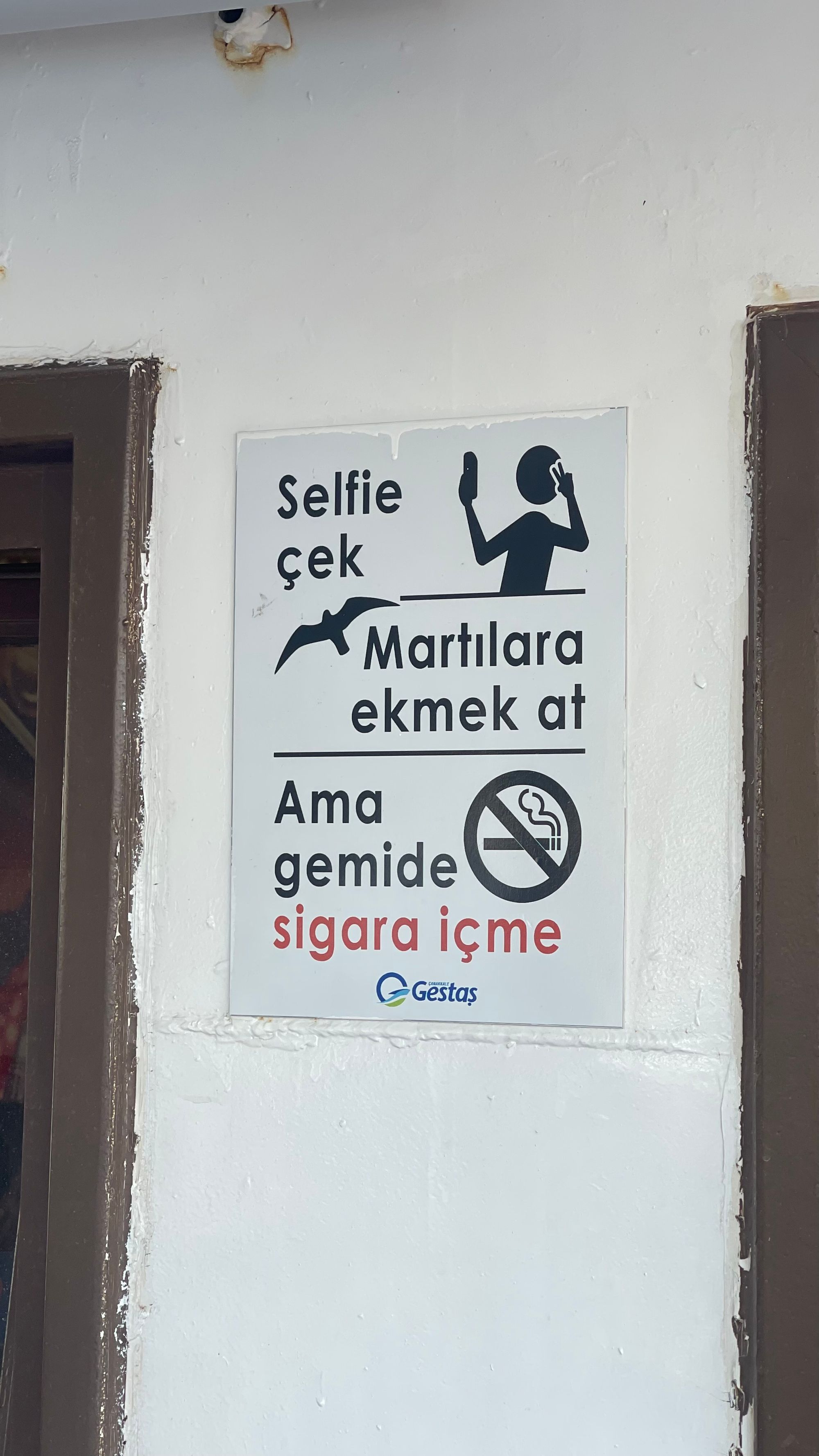 We pushed through and made the call to head to the south side of the sea, a mistake in retrospect. Anchoring under another ancient Greek city called Parios we had a peaceful enough night and then decided to head for the Marmara islands.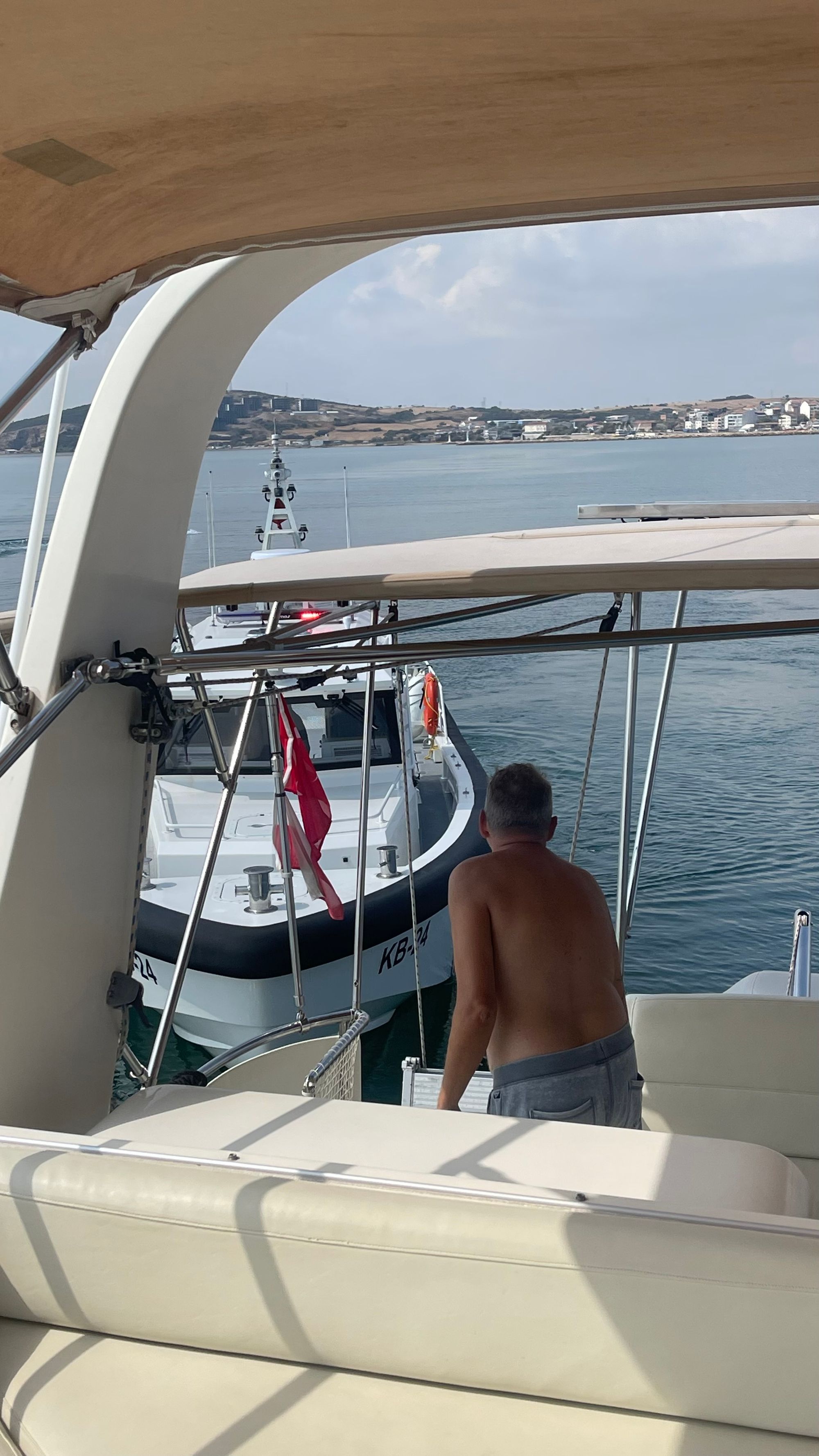 As we hauled anchor the coast guard stopped us, so we waited 1hr 30 minutes while they satisfied themselves our documents were all correct which meant we couldn't go as far as we intended that day. Instead we headed for a sheltered looking cove that turned out to be anything but. After a rocking and rolling night with not a great deal of sleep, we evaluated our options checking the weather over the next week, and frankly, didn't love what we could see.
The winds are back and not letting up, so we need to head for shelter, but of course with northerly winds, there's no where really sheltered on the south side of the Marmaris. We decided to head through the islands and get on to the north coast of the sea, a roughly 6 hour journey, where we'd be in a better position to handle the winds.
At this point, as we're bashing into strong winds, waves crashing over the bow, heading up the east side of Marmara island, I suddenly get a bad feeling about how much fuel we have.
Now our fuel gauge is notoriously bad. But I track our consumption in great detail, so I generally have a good feel for where we are at. However it's also been a few days since I updated it. I meant to check the tanks physically this morning, but after the rocking and rolling last night I didn't remember. As I said to Karina at the time:
"Definitely not feeling great and making stupid decisions because of it."
I ran some quick back of the envelope calculations. We'd probably have enough fuel to get where we were heading. But I couldn't shake that feeling something wasn't right. If we've learnt one thing about cruising, it's that those feelings shouldn't be ignored. We decided to call it quits on the passage and head for the small port of Saraylar which was about an hour away and had a fuel station.
Which proved to be a delight! Saraylar is an industrial little town surrounded by huge marble mines. There's three free yacht berths - we grabbed the last one and then also found a fuel truck at the end of the dock filling another boat. We've got fuel arriving tomorrow.
Someone has been spending a lot of money upgrading Saraylar in the last few years. It's not clear if it's the marble company or the government, but whoever it is, they've clearly decided that marble is the way to go. There are marble statues in the boardwalk every 10 meters the whole way around the port. Every building is being upgraded (clad in marble) and every piece of outdoor furniture is made of... you guessed it... marble! Even the breakwater is huge pieces of marble. It's quite the sight to see.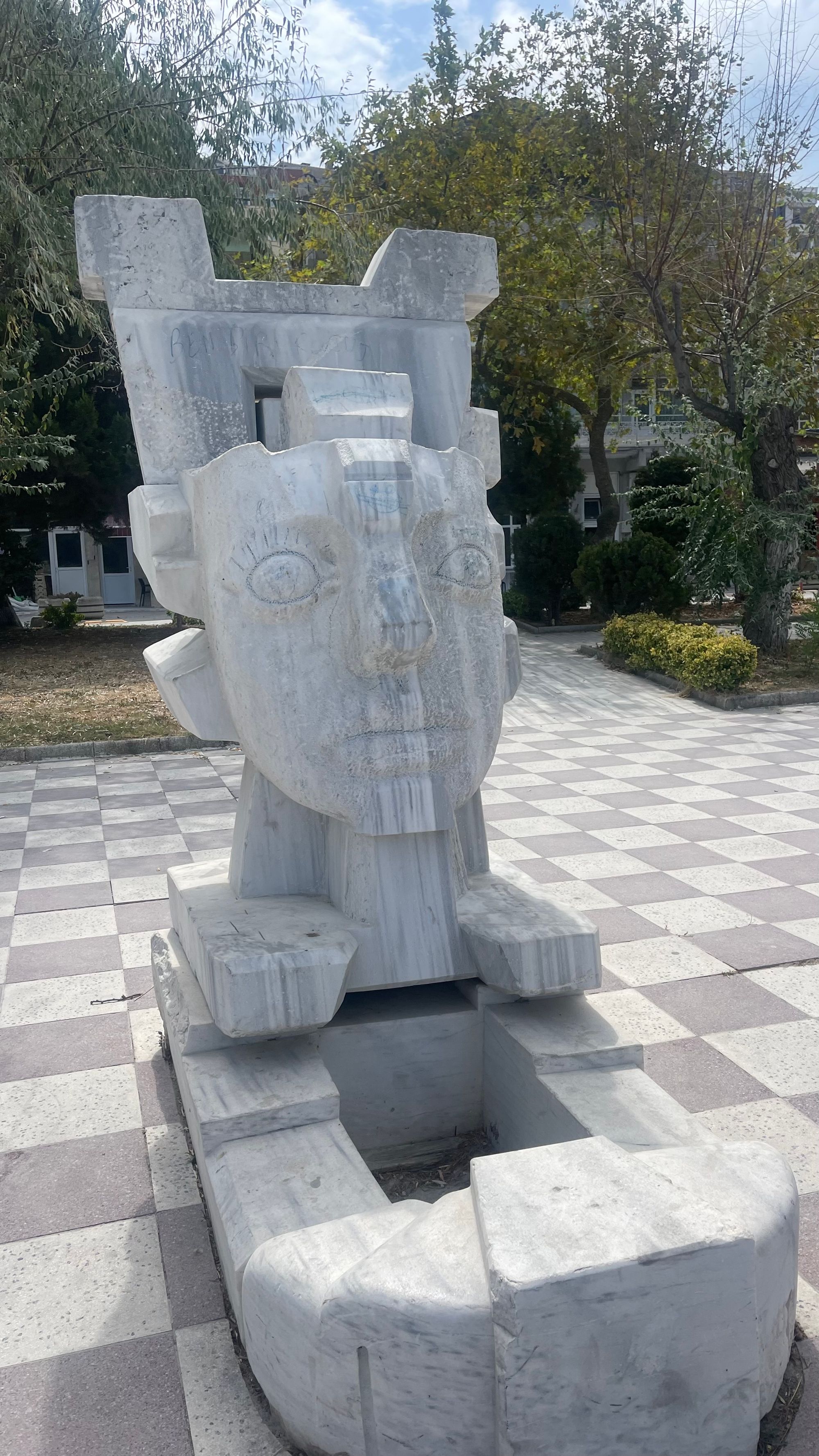 The people here don't get many foreigners, they've been exceptionally friendly to us so far and it's been nice to buy food and drink and have it costs a couple of euros instead of the more Mykonos like prices on Bozcaada!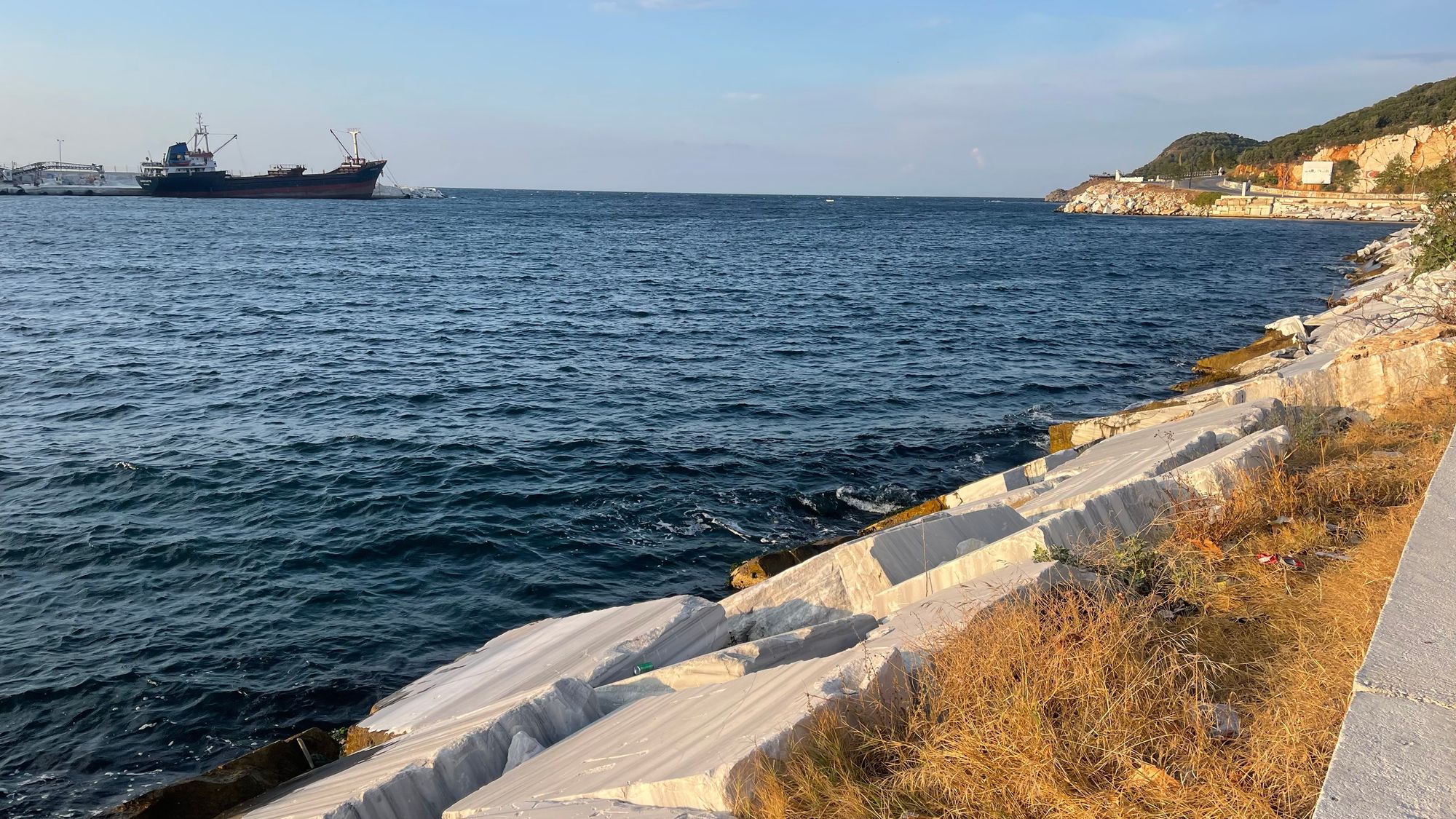 I still don't know if my sudden panic on fuel was warranted, we were (probably) fine, but when the weather is bad "probably" just isn't good enough. No regrets about the decision to change course, Saraylar is delightful and the harbour sheltered, It's nice to be able to walk off the boat again and to be tucked in safe with the wind out there.
Today we wait for the fuel truck, explore the town and we'll see how things are looking. If it's calm enough, we might head up north over the shipping lanes and on towards Istanbul where we'll meet Esther on Friday. If the weather is bad, we'll stay another day here and try again tomorrow.
Until next time!
Tim & Karina
Where are we now?