Week 162: Rookie travel mistakes
Rookie travel mistakes, stunning castles, cute villages, quiet anchorages and a free pool. A solid week.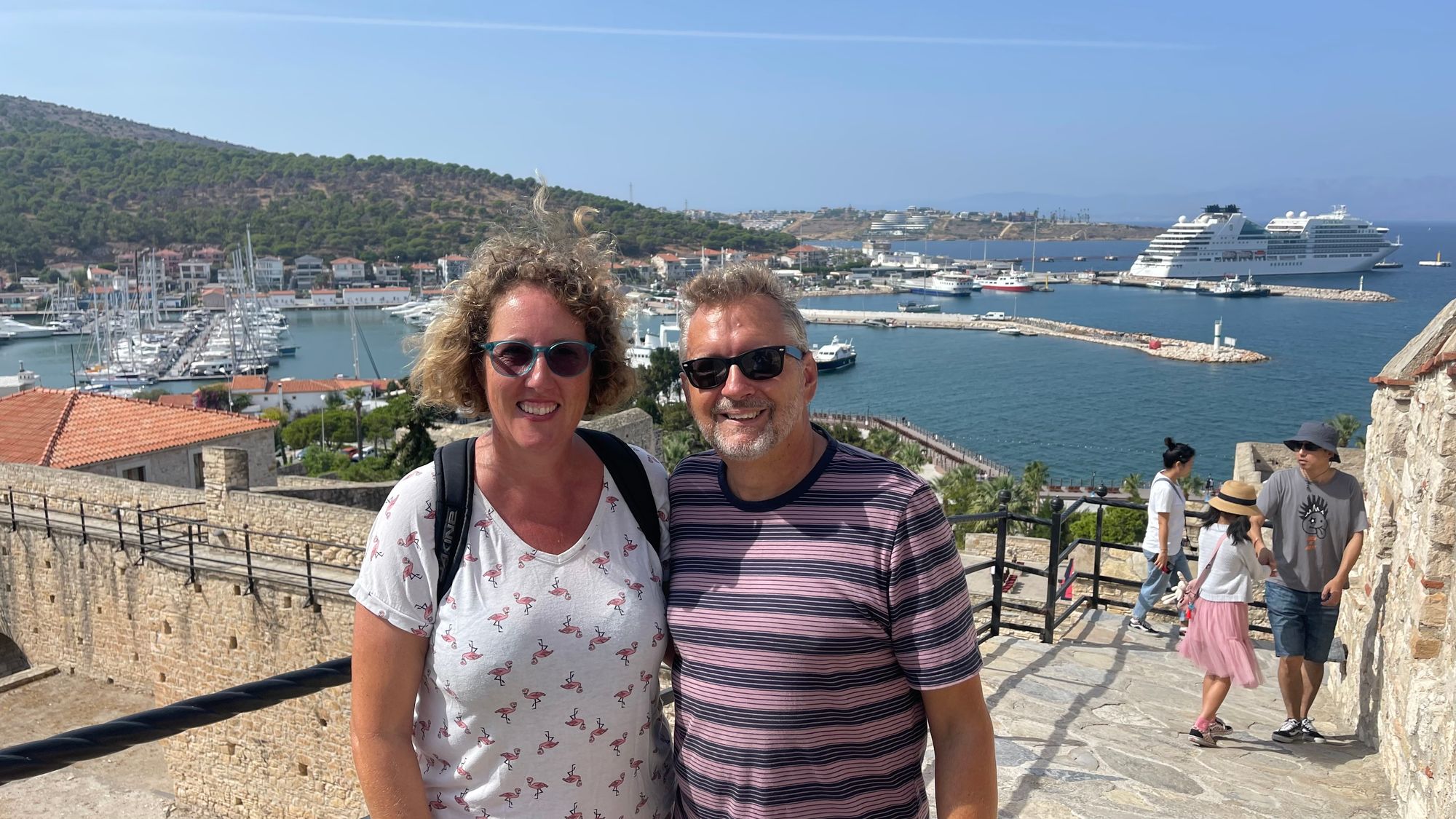 I admit that Karina and I tend to feel a bit like professionals at travelling now. Maybe talented amateurs? After all, no one is paying us to be here. Still, we've seen a thing or two and been a place or three now. We have our way of doing things and approaching visits, which is largely to not plan anything on the theory that if it's really actually worth seeing, you'll be unable to avoid it. I like to think of it as "accidental travel".
On more than one occasion I've been chastised by Karina for being a bit "judgy" towards novice travellers and cruise ships in particular. It's a hill I'm prepared to die on. Why take some amazing location and subject yourself to visiting it in a rush with 5,000 other people? All sharing diseases in close quarters? With no control over your destinations? Driving up prices for the rest of us! I can't think of a worse way to travel. Perhaps I am a bit "judgy" about cruise ships.
So it was extra embarrassing this week when we got slugged with two rookie travel mistakes. The first is to do with our cell phones. We have a Greek phone provider and we get roaming throughout the EU. When we arrived in Turkey, our data was working, so we just assumed that it was part of the same roaming package deal. Which was fine, right up until we received a notice of an outstanding €440 phone bill for the month. It was costing us quite a lot per day to pay for a 'travel pass' something that happened automatically in the background. To be fair to our provider had been sending us texts, but, as the saying goes "they were all Greek to me." They send us a lot of texts in Greek that we ignore (usually spam, trying to sell insurance). An expensive lesson learnt there.
The second mistake was after we arrived in Kuşudasi. It was late in afternoon, we'd been travelling for a couple of days and we just wanted to sit down, have a drink and enjoy the view. Alcohol (especially imported alcohol) is very expensive in Türkiye, and the restaurant we chose to sit at, with the nice view, was no exception. I went for a beer, which was not cheap, but at a bit over €5 not outrageous either. Karina looked at the cocktail menu, which were all around €10 each, but wanted a glass of prosecco, which wasn't on the menu. I asked the waiter if they'd do prosecco by the glass, they said yes, so we ordered one. It was delicious and disappeared quickly, so Karina ordered a second. When we went to pay, it was over €50! Each glass of prosecco was around €20 each! We'd assumed it would be the same as the cocktail price (I mean, come on, an Aperol Spritz, which is largely prosseco was roughly €10!).
I guess the lesson here is always check the prices and watch out for your data plan. Rookie mistakes, but lesson learnt. Sometimes we're not as smart as we like to think we are.
Sazlica bay was an amazing place to spend our Sunday last week. We loved just slowing down, soaking up some sun and swimming when we liked. One thing we noticed is a lot of people swimming far beyond their abilities. They seem to enjoy getting out into the entrance of the bay, or challenging themselves to swim from one side to the other. Yet frequently they aren't great swimmers.
We were sitting inside and I heard someone climbing on to the back of the boat up our swim ladder. I rush down, all righteous (it's considered very rude to board a boat without asking), but I also notice this man is looking pretty shattered. It turns out he was having an asthma attack and was exhausted. It's not an exaggeration to say I think it was climb up and rest, or drown. We gave him some water and after about 10 minutes, he jumped back in the water and continued on his way.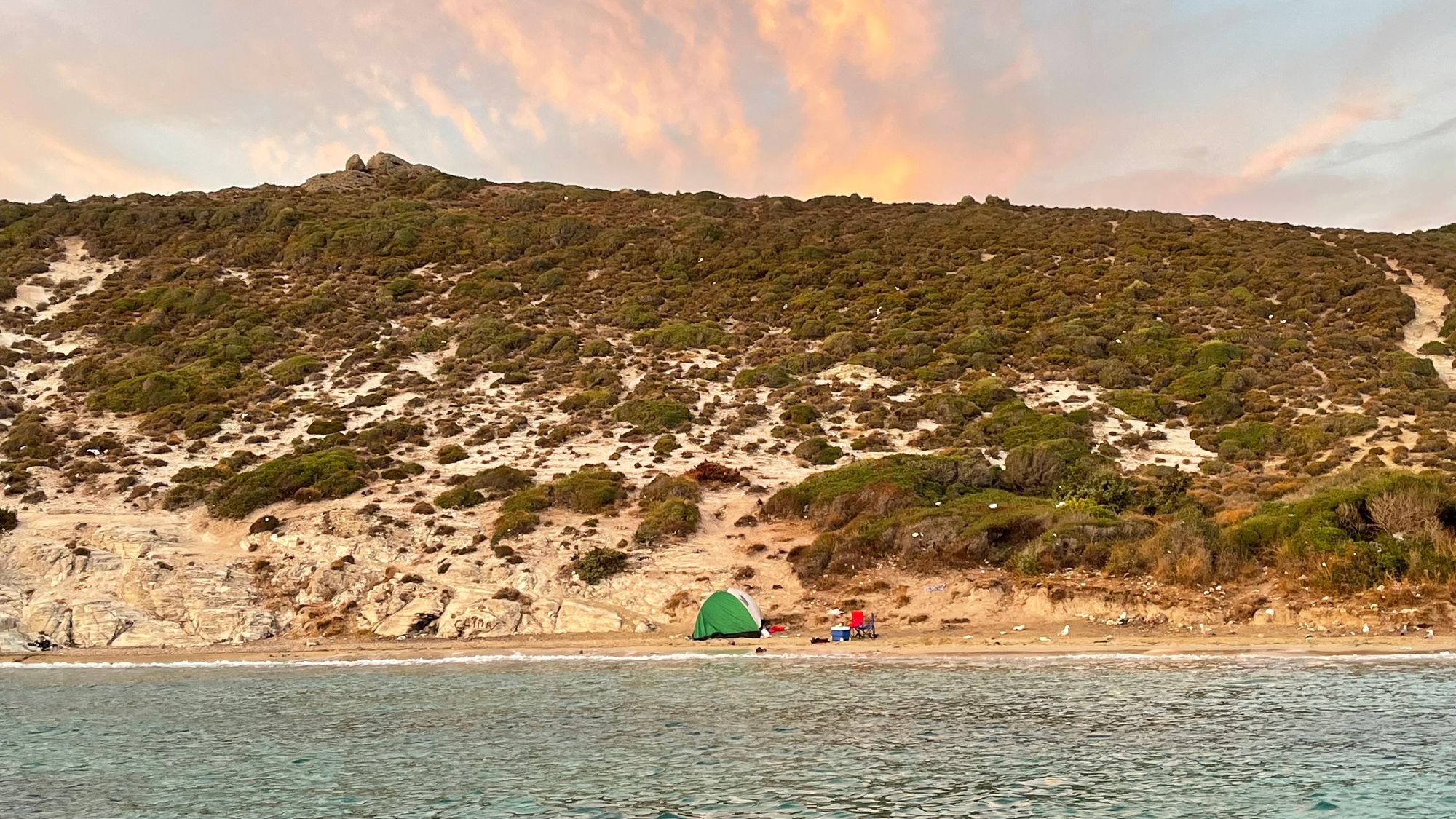 He refused my offer to take him to shore, but as he was swimming away, I noticed he'd turned on to his back and was just floating. It was clear he was still struggling. I grabbed the paddle board and jumped in to help him out. Even though he barely noticed me arriving, he refused assistance and just floated, occasionally flapping his arms like a beached whale. Fortunately there's no swell or current, so I left him and we watched from the boat while he took another 10 minutes to make the 100 meters or so back to shore.
Our last night at Sazlica was rough. We moved after all the other boats left, but still couldn't find great shelter from the prevailing wind, which wasn't strong enough to worry us, but was pushing swell into the bay. As we exited the next morning, the sea state caught us by surprise, it was much rougher than the wind would predict and we had a couple of huge waves catch us on the beam which made things a little sporty for a while.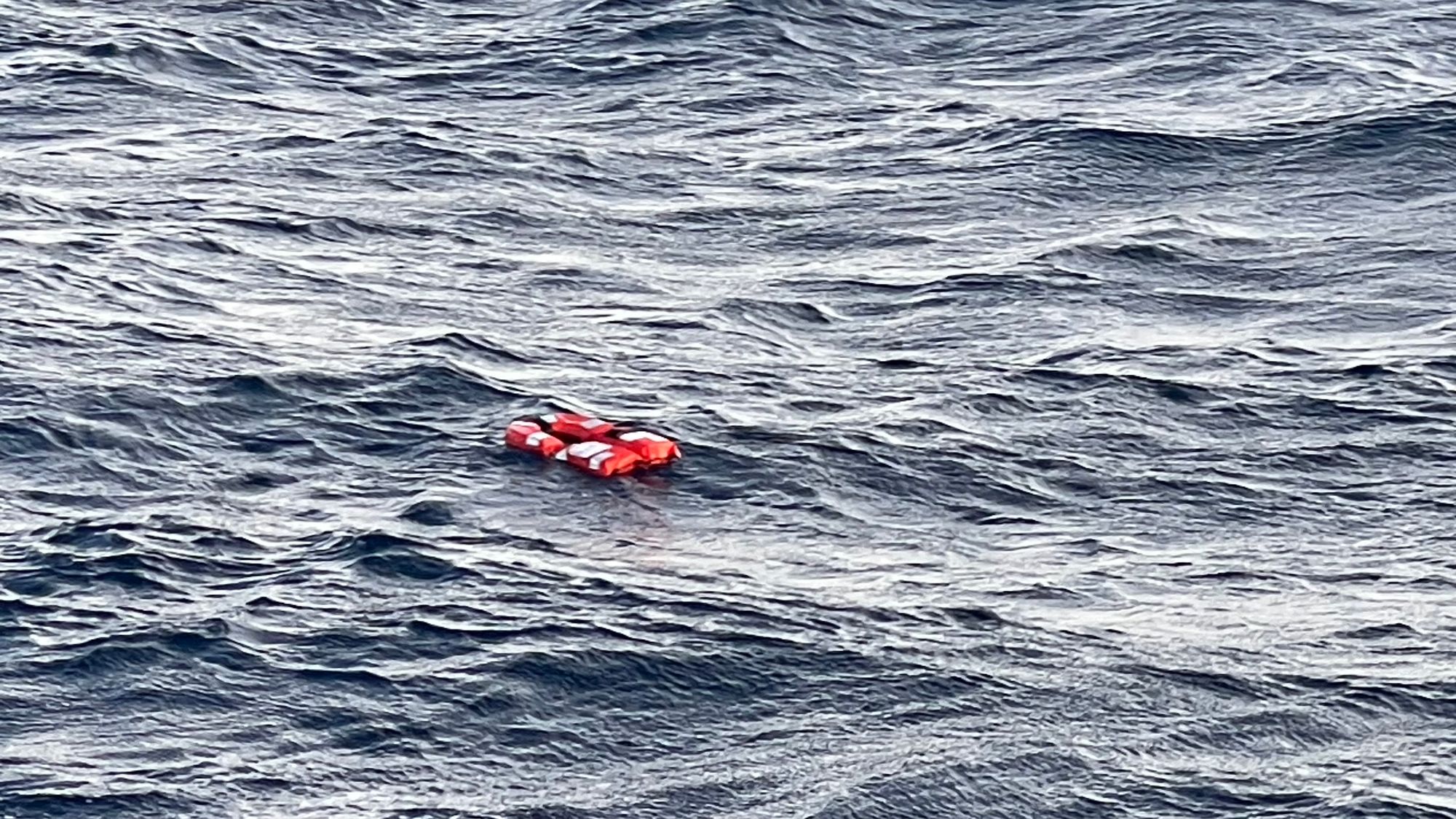 Over the 6 hours we headed South however, things quickly improved. We had a fantastic experience coming past an area of fish farms where we saw maybe 20 - 30 dolphins over the course of an hour cruising along. Eventually we made our way to the town of Çeşme, a beautiful Turkish resort town. The marina was part of a hotel complex and we were able to enjoy the swimming pool, quite a luxury! Swimming in the sea is fun, but it's also great to laze by a pool for an afternoon with a beer and a book too.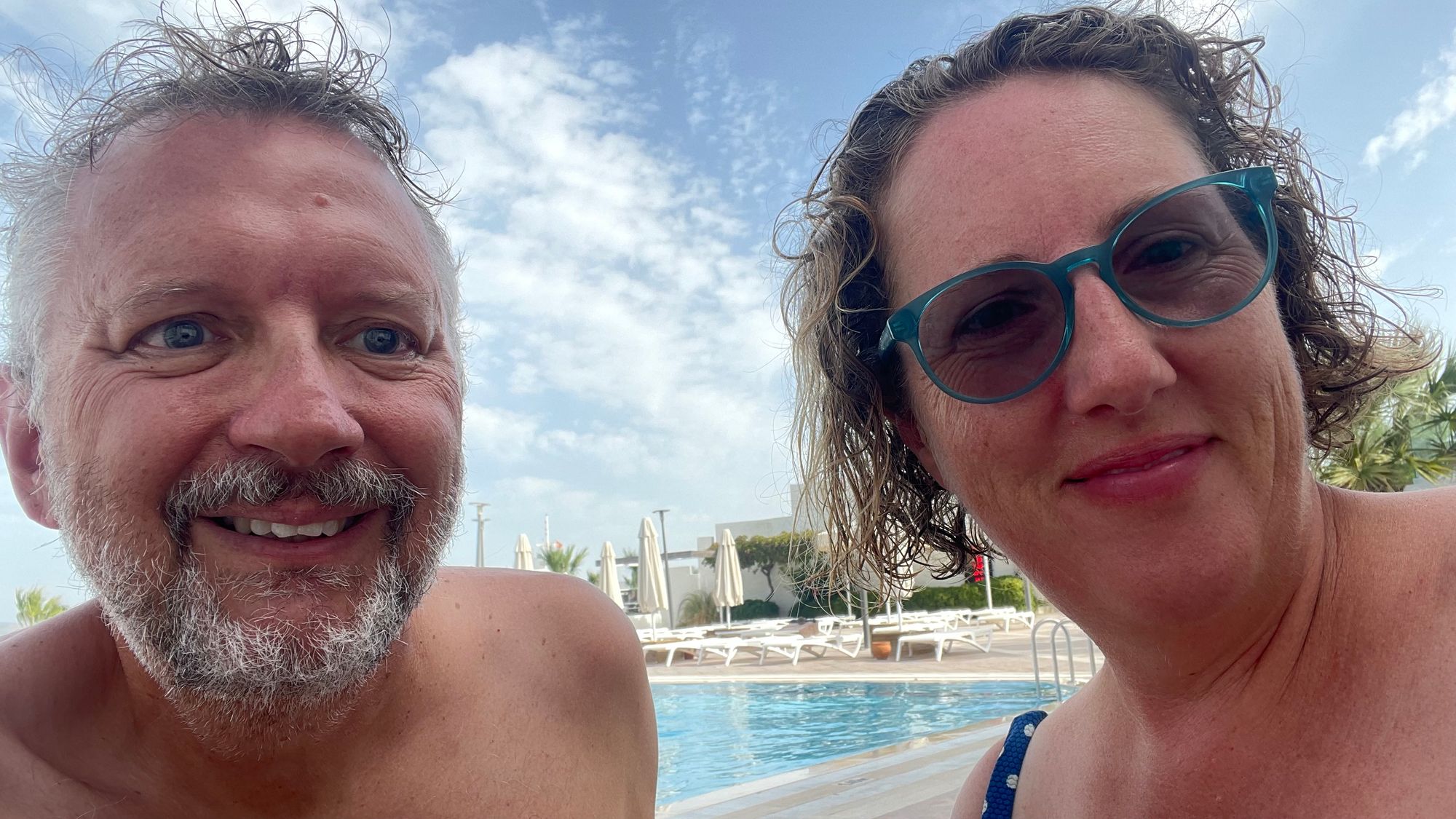 There is a restored castle in Çeşme which is Ottoman and built in 1508 to defend against the Venetians. It was originally on the sea, but now sits about 100 metres inland due to silting and developments along the waterfront. We met a lovely Canadian couple (from a cruise ship, I appreciate the irony) who we enjoyed chatting with and they took a few photos for us which is a nice treat.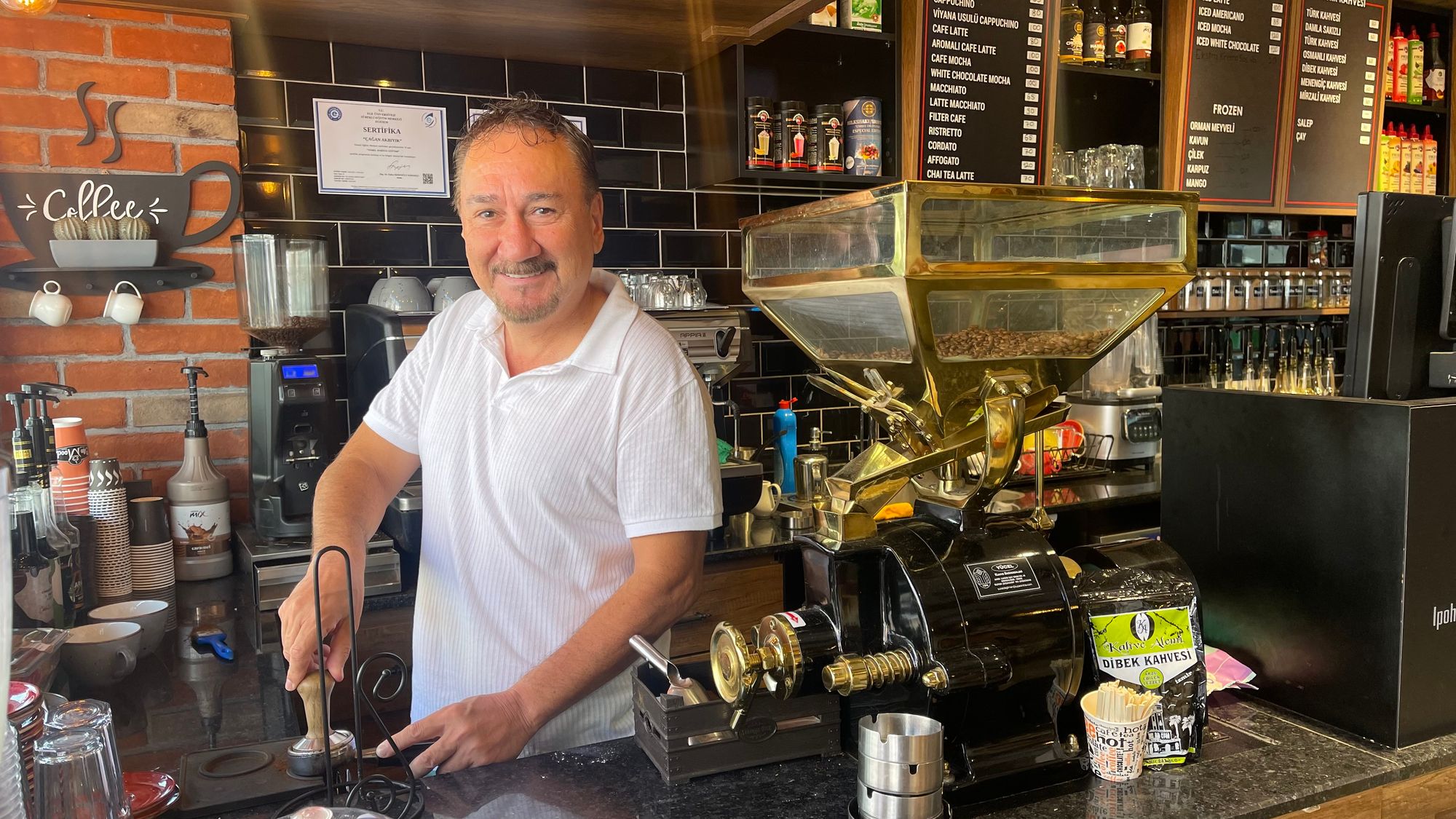 Another thing we always do when we travel is hunt down the best coffee place. In Çesme, it's clearly a small place on the main street called Coffee Mood. We enjoyed chatting with the owner and when I was talking about the boat, he mentioned he liked following boat owners. So I promised if he let me take a photo, I'd make sure he gets a mention! It was a great spot and worth a visit if you come here.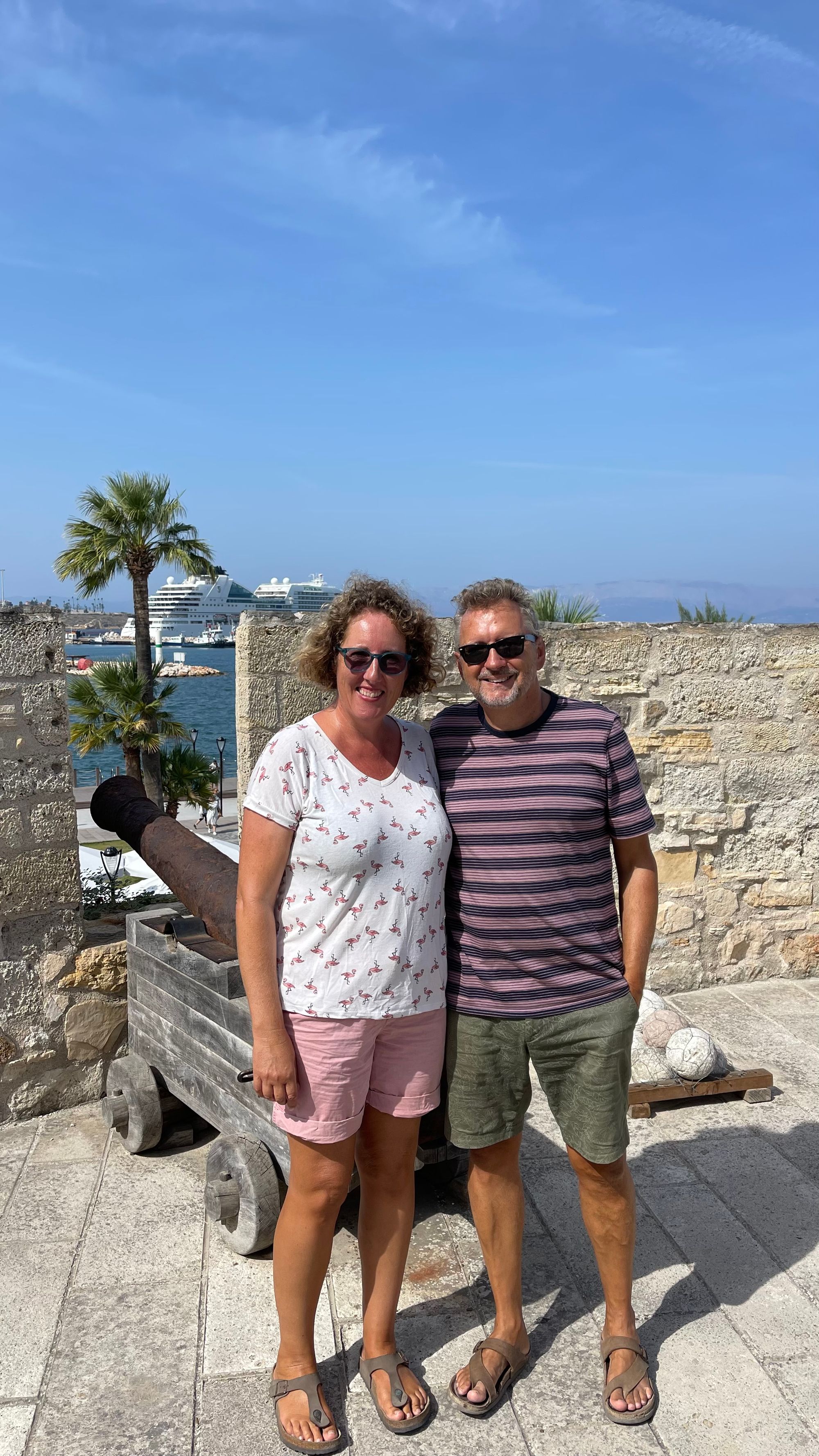 That evening we headed out to the town of Alaçati which is renowned for it's restaurants, stone houses and cobbled streets. It's a very touristy spot, but beautiful all the same and we had a really good Italian meal with wood fired pizza and real prosciutto.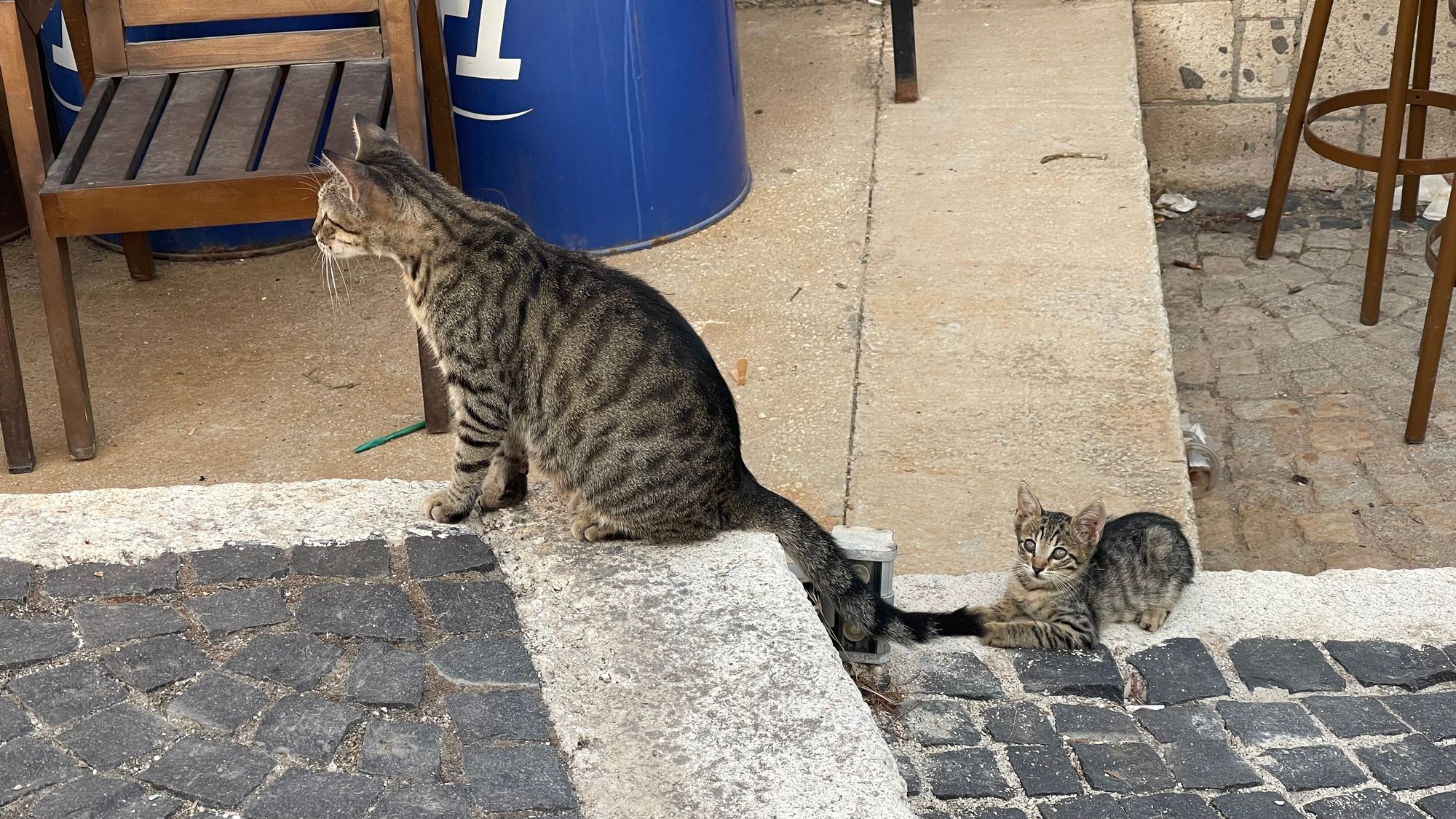 From Çeşme after two nights, we continued South. There were storms about and we decided we'd head for Kuşadasi where we can use some more of our free marina nights and wait out the weather, while also exploring inland and visiting Ephesus and Pammukale by car. We took two days to get there, overnighting in a secluded bay on the way.
If Çeşme has a resort feel, Kuşadasi is cruise ship central - it's got a very "cheap" tourist trap feel and it's a popular cruise ship destination because of its proximity to Ephesus, one of the more famous Greek City ruins in Turkey.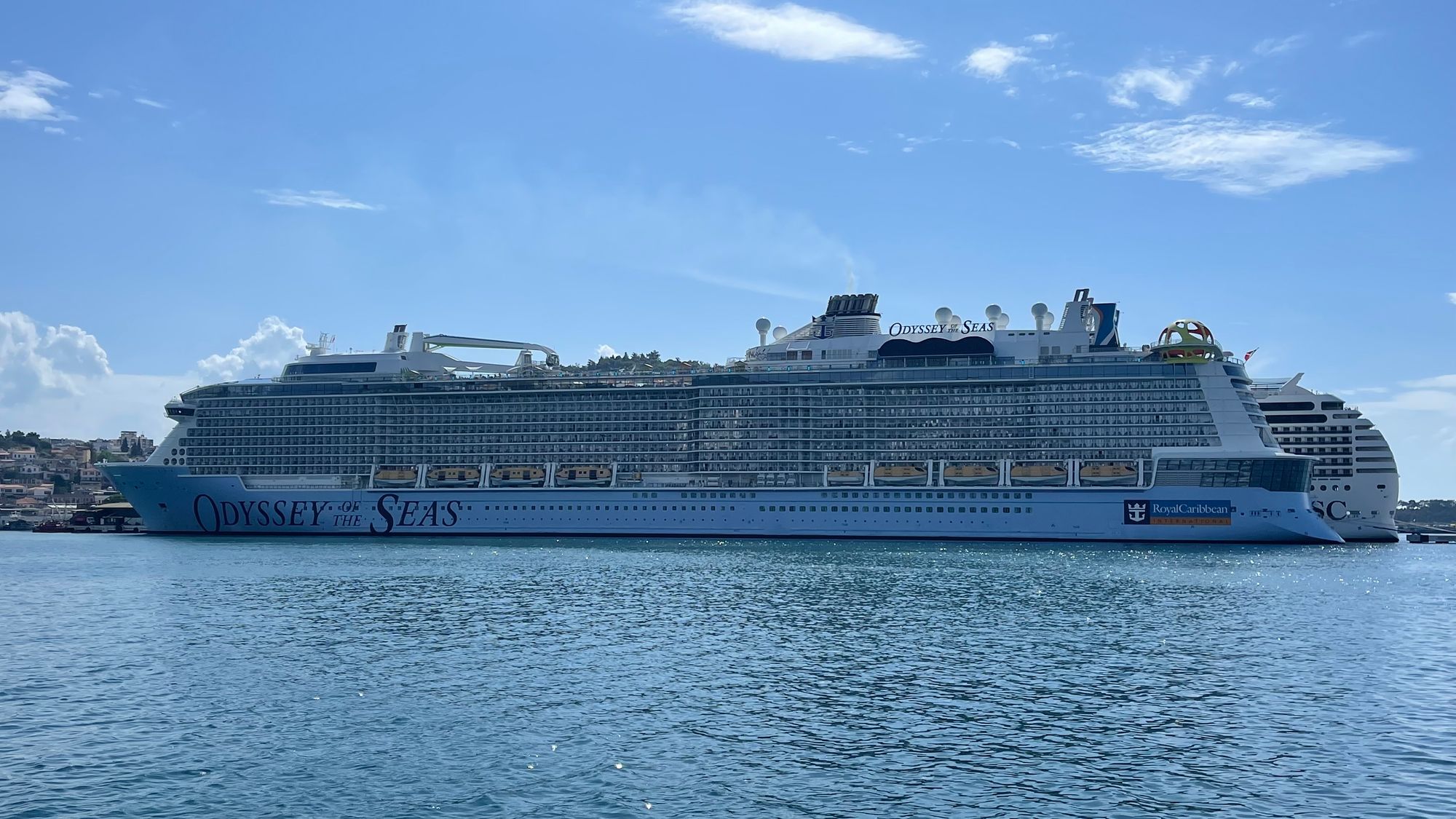 As we were entering the bay to go into the marina, we saw another Australian boat, Rex 1 at anchor, so we cruised by, yelled G'day and passed over one of our boat cards. Jane and Michael contacted us later that day and we arranged to have dinner on Friday night together.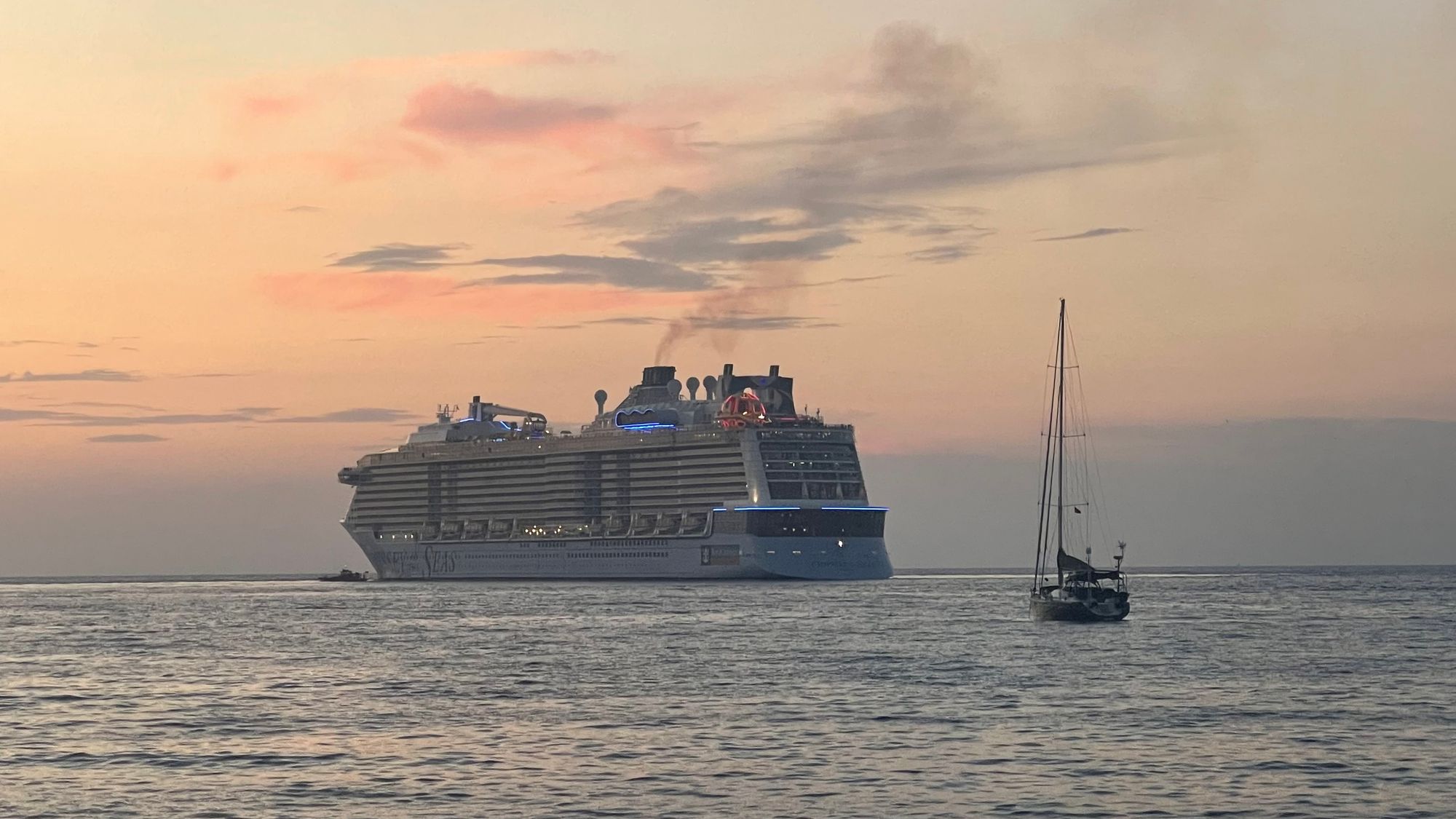 It's actually been a few weeks now since we've hung out with fellow cruisers, so it was great to spend some time and learn their story. I've commented before that there's often a lot of similarities between cruisers, similar demographics, ages and backgrounds, but with Michael and Jane it was almost uncanny at times! We're both from Melbourne, both in tech, both now retired early, both bought Ladas, both with daughters getting married next year. Michael and I are the same age, we both decided to get into sailing/boating around 7 years ago at age 45...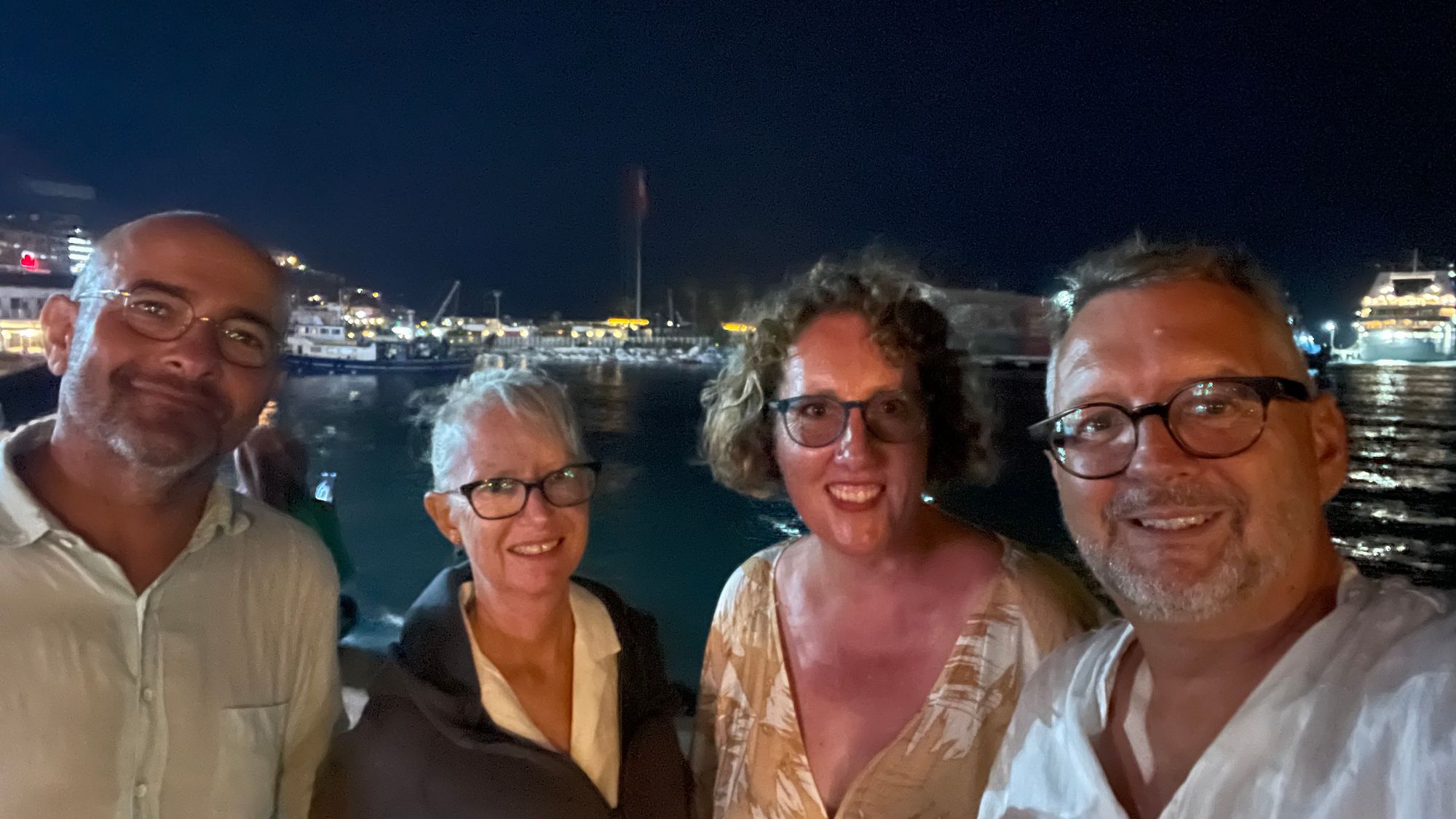 One major item underway on Friday was a visit from a bimini manufacturer. We've repaired our canvas several times this season and it's clear that it's at end of life. It broke again last week and so it's time to get it replaced instead of continually trying to repair it. Of course with a boat, nothing is ever straightforward! With 3 seasons under our belt, we know a lot more about what we like and don't like, so we're also investigating some modifications to the stainless steel work as well. A major thing we'd like to achieve, to set us up for the next few years, is to be able to lower the arch again. This currently has steel work attached to it, but being able to lower it allows us to reduce our airdraft so we can navigate some of the canals in France.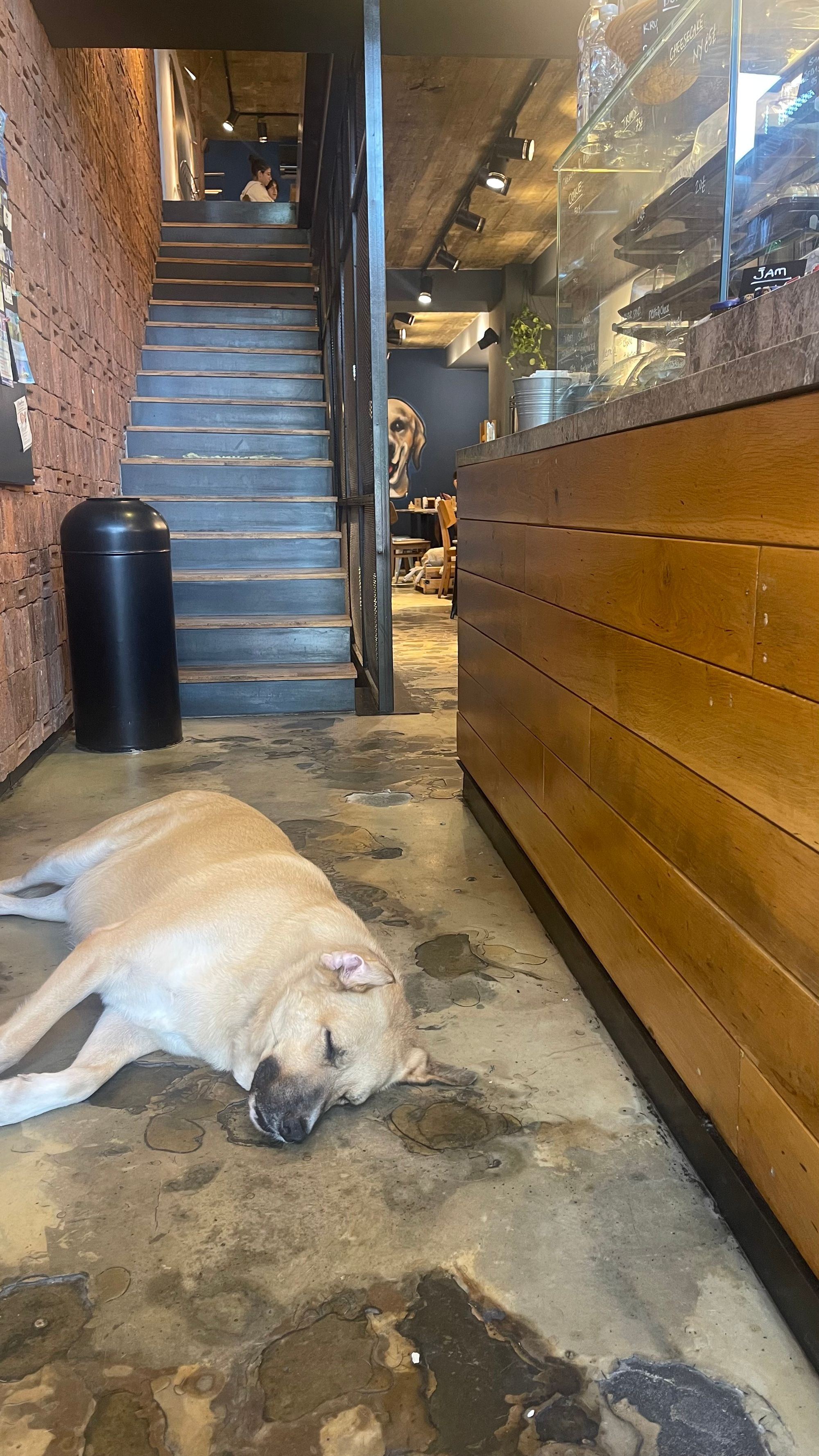 Saturday it was a very relaxed day, a few chores, topping up mobile data and visiting the castle here at Kuşadasi. We've also booked a car for the next few days so that we can drive to Ephesus and Pammakule when it gets a little more stormy again on Monday.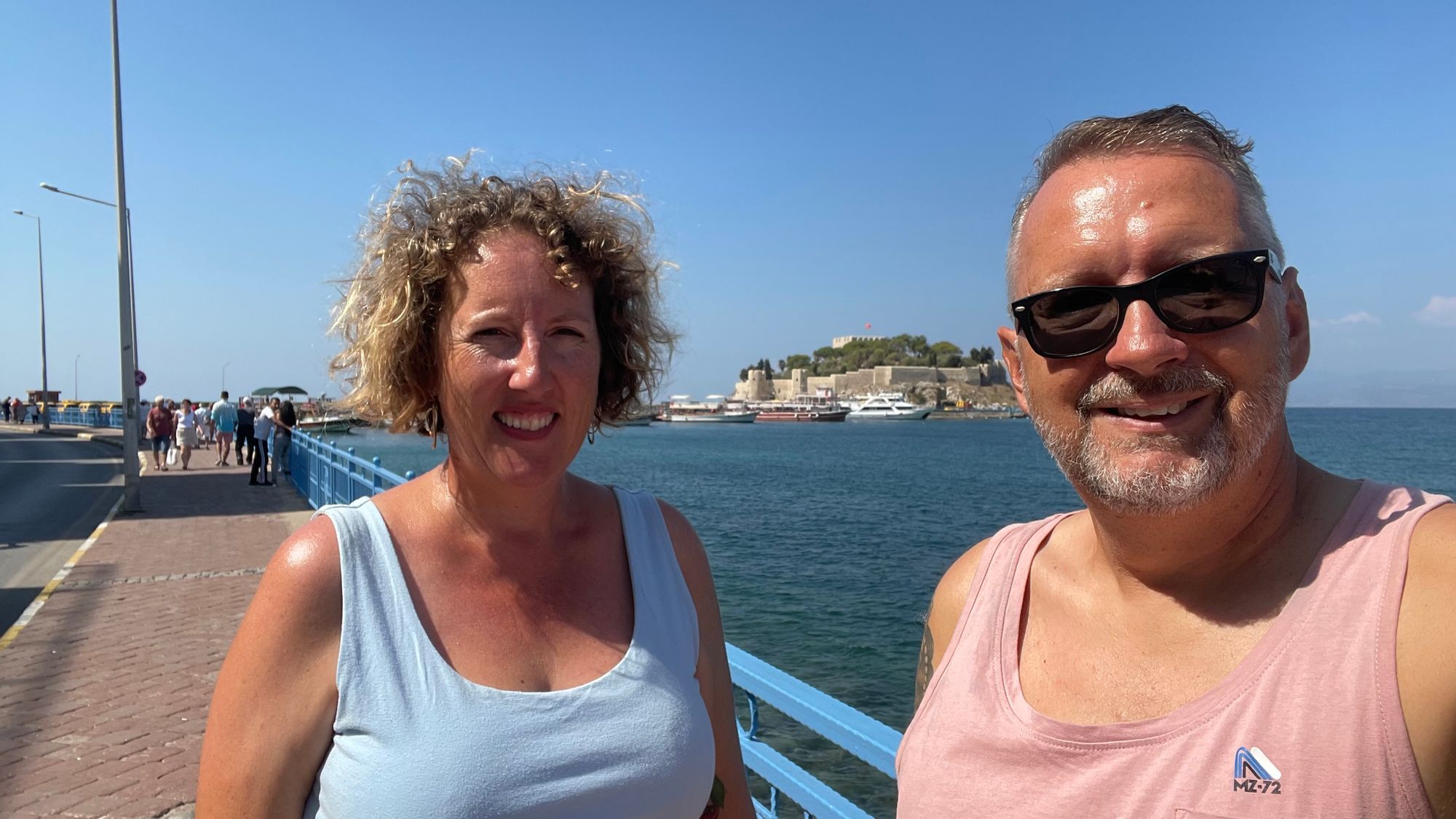 Until next time,
Tim and Karina
Where are we now?