Week 166: Happy 29th wedding anniversary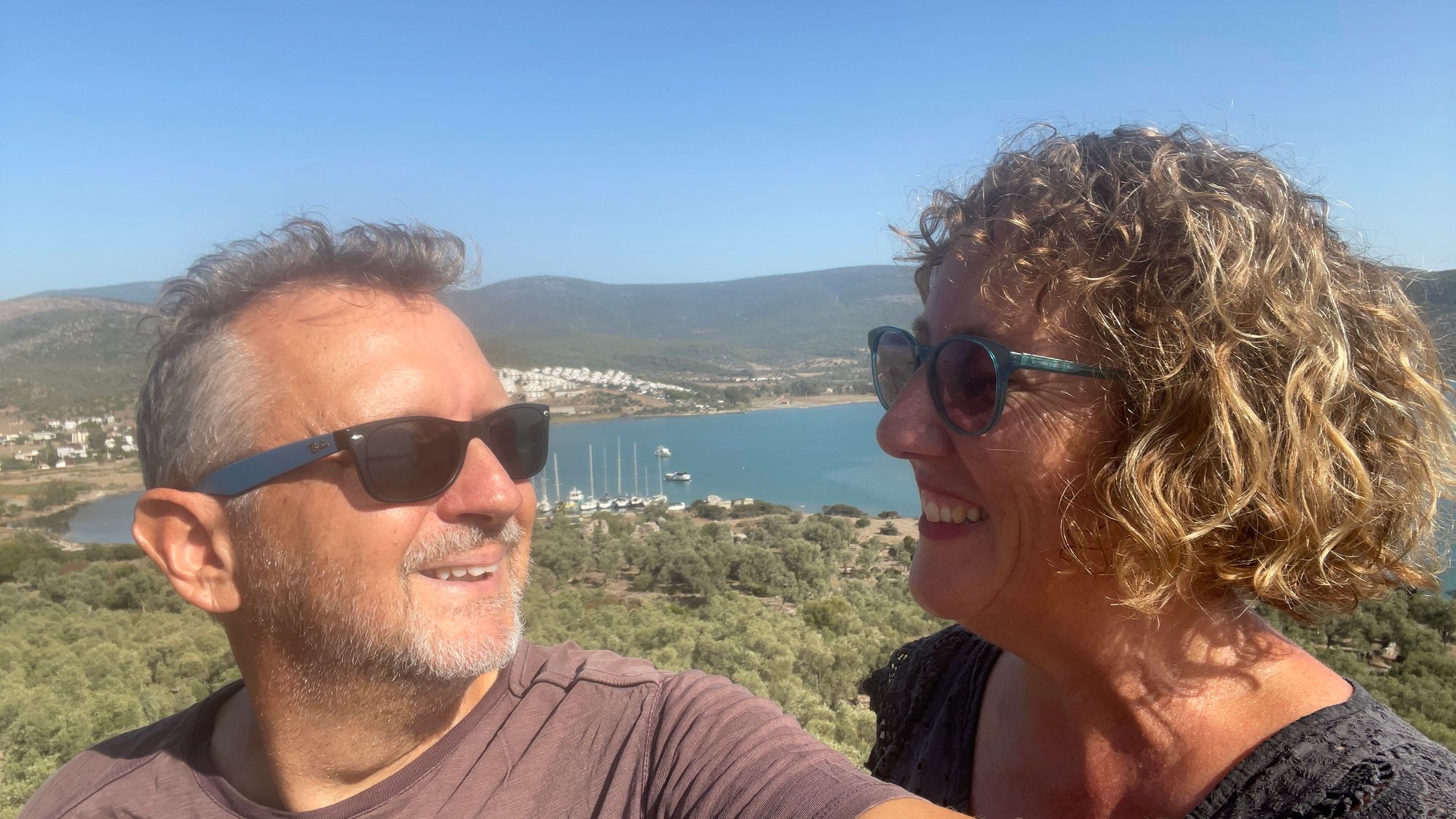 On October 29th, 29 years ago today, Karina and I were married on my parent's Cherry Farm in South Australia. It feels like many lifetimes ago. While I don't think either of us ever thought we'd end up almost 30 years later living on a boat in the Mediterranean, I think we'd both be very pleased with how things have turned out! So Happy Anniversary, Karina; here's to many more adventures to come (hopefully with fewer breakages on the boat).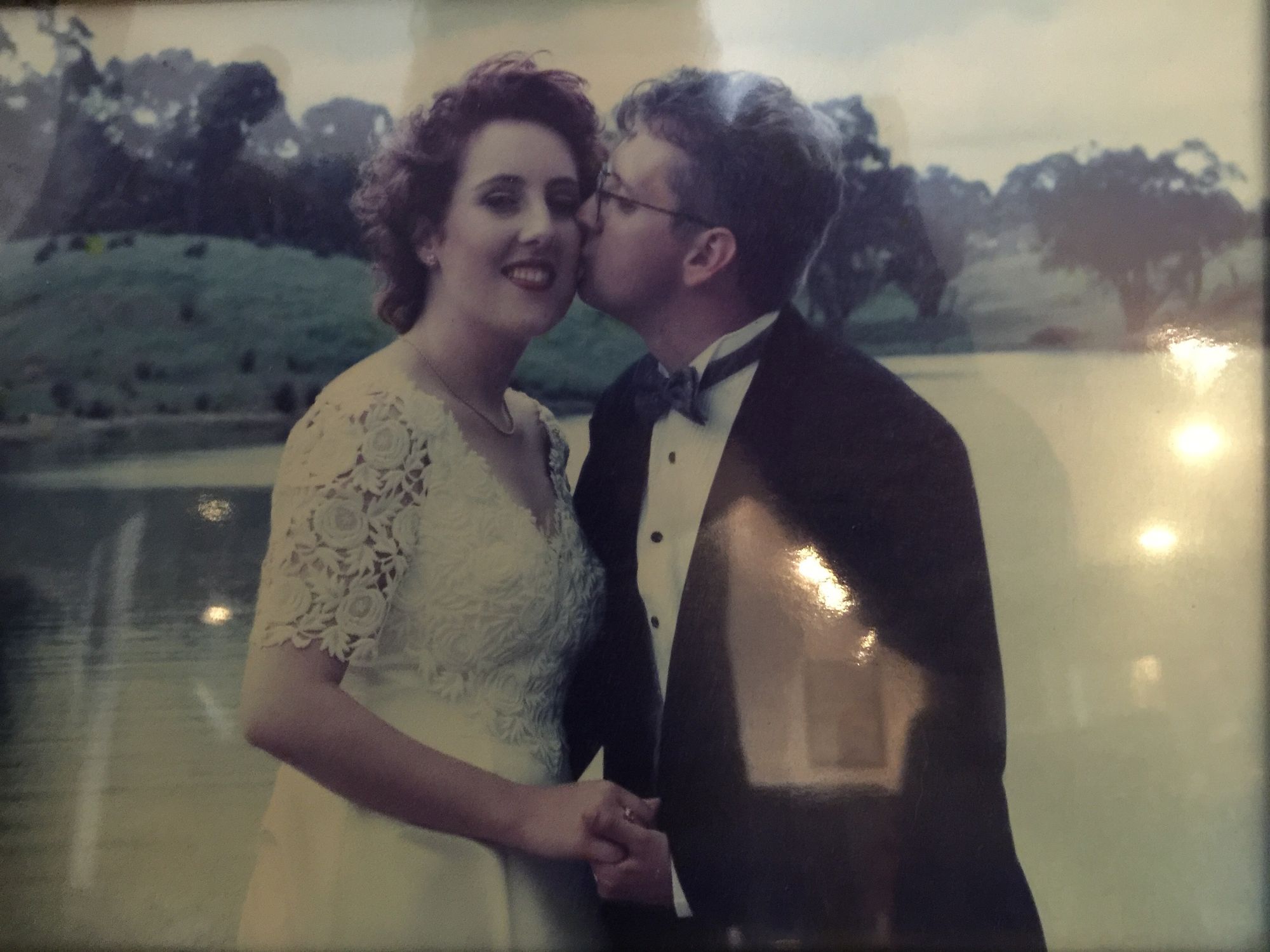 Aside from the wedding anniversary (which, if I'm completely honest, we often only remember because a) we put it in the calendar with a week's notice and b) because I wake up to read messages from people wishing us Happy Anniversary), it's been a week to remember.
One of the things I love about this blog, which is perhaps not obvious to those reading it, is that people reach out in unexpected ways. I had a message during the week from Brenton, one of my oldest friends I'm still in touch with (although far too infrequently). I hadn't even realised he was reading the blog, but he was compelled to message me because I'd made him feel old! It turns out all the bits and pieces we ripped off Matilda that had gone obsolete were the sort of equipment he used to install on ships back when he was a young electrical engineer. Sorry about that. But it was great to chat, and yes, let's make plans to meet up next season!
The other highlight was, of course, the book finally going live on Amazon. It's been a journey, but I'm thrilled with how it's been going. It's hard to wrap my head around the fact it's only been live for 6 days now! At the last moment, I decided to also produce a paperback copy (Amazon handles all the printing and distribution; you "just" have to prepare the files properly), and to my great surprise, that's done well, too - it's roughly 75% eBook, 25% paperback at the moment. I made it available as part of Kindle Unlimited as well, but that's only 3% of the readership currently. In terms of countries reading it, at the moment, it's about 30% UK, 30% US, 25% Australia and 15% Other (Germany makes up most of the other - which is probably reflective of the fact that amazon.de serves most Europe, although I do know at least one German who has ordered it).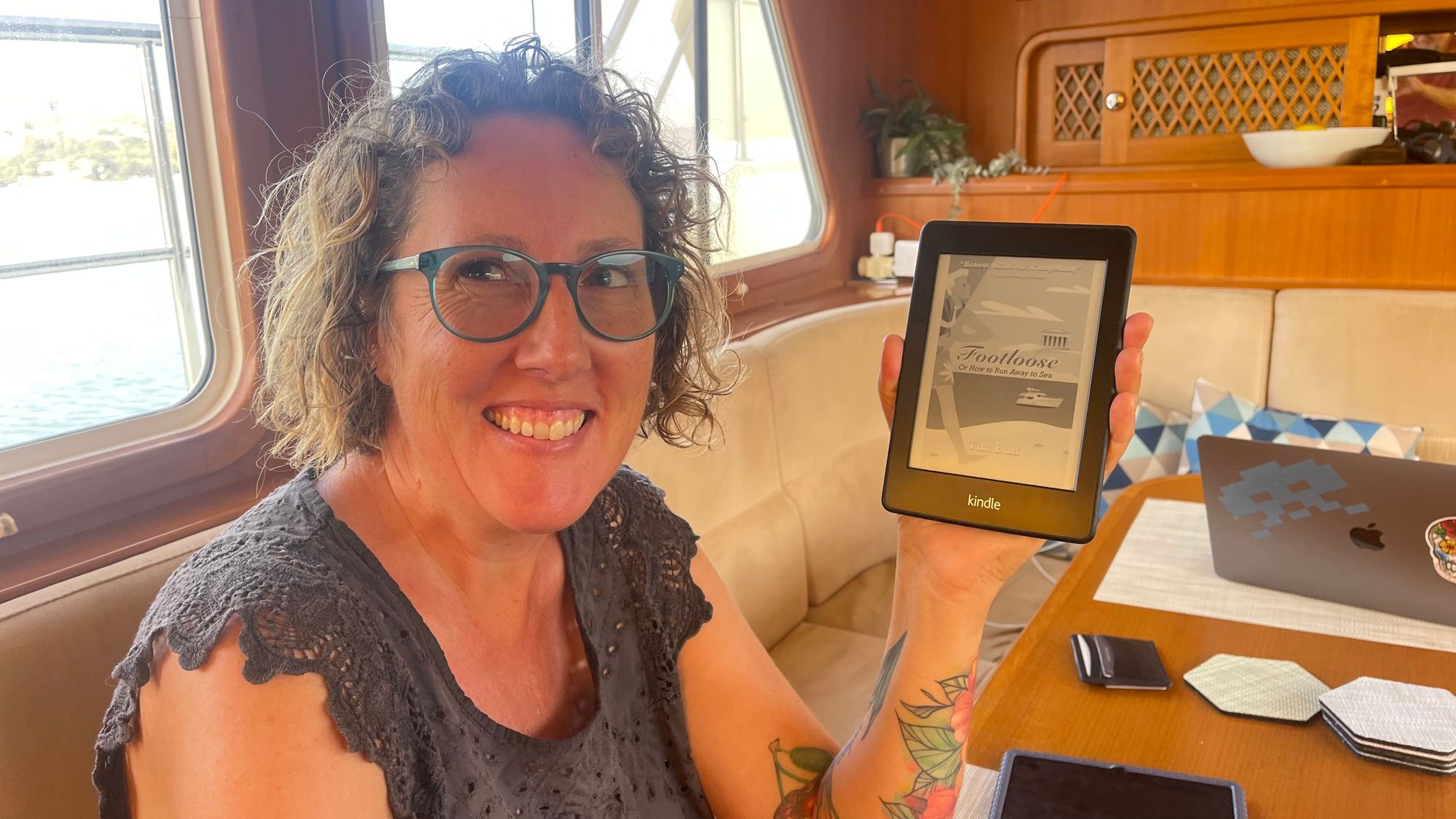 Thank you to everyone who has purchased a copy, sent pictures of the paperback, reshared or posted about it, and written reviews. If you have read it and enjoyed it, please take a moment to give it some stars on Amazon and if you can, write a review! It's also available on Goodreads if you use that; a rating there or adding it to a list or shelf are all little things that really help with visibility. I don't want to turn the blog into a "here's how Tim's book is going", so I'll dial it back to just major highlights in the future.
If you haven't found it yet, here you go!
Aside from the celebrations surrounding the book launch and then turning from a writer into a marketer, we did get off the boat and explore some more of Türkiye. We started in Iasos, which is an ancient Greek city ruin that's still only partially excavated. I loved this as a site, not because it's that spectacular compared to, say, Ephesus, but because you could really get a sense of what these ruins might have looked like through the ages.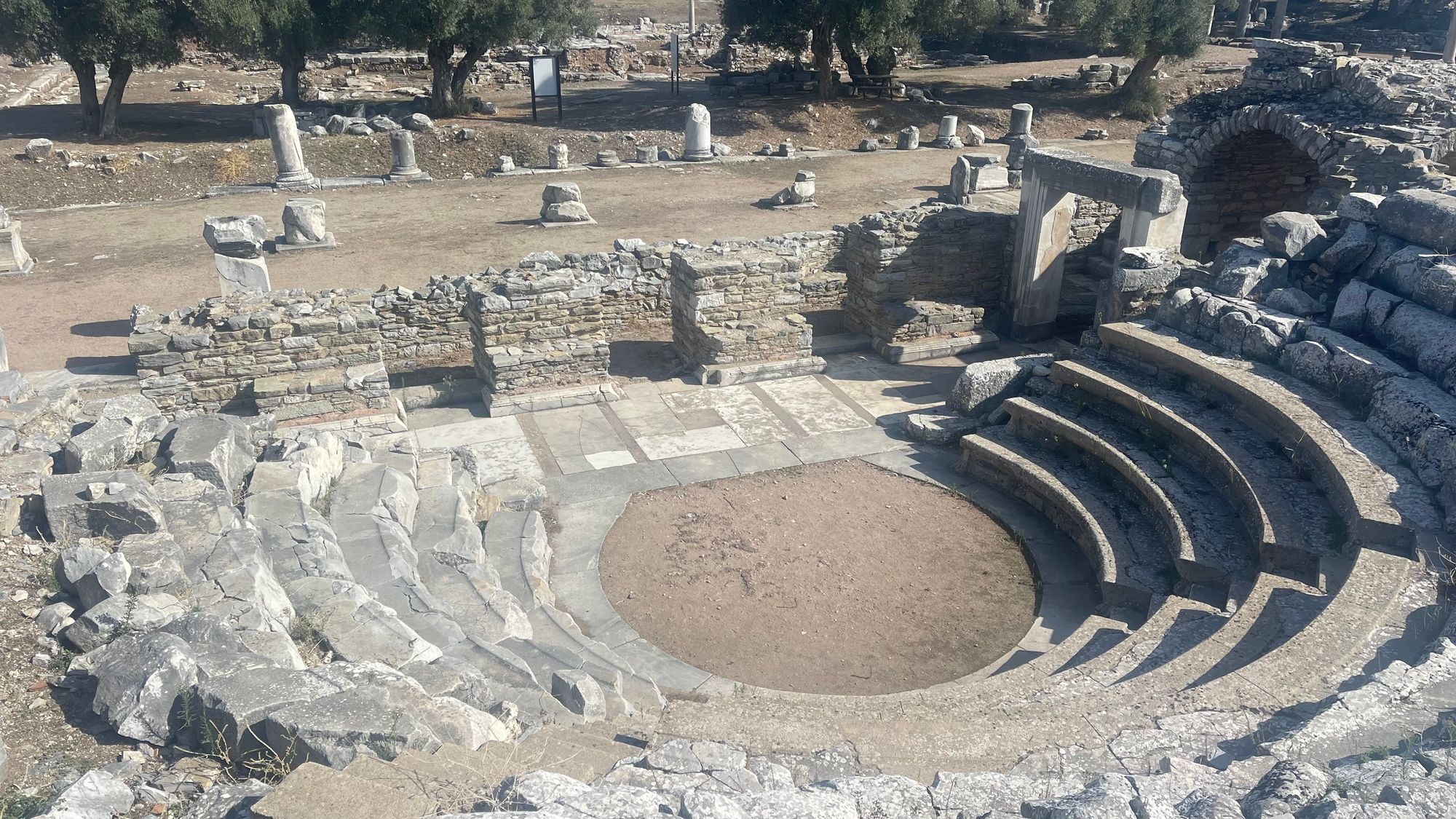 Parts are clearly still being excavated, and you can see how things are uncovered. It's also interesting to me because the site tells the tale of what, in general, really happened to these ruins. In the vast majority of cases, they were abandoned due to earthquakes or raiders, re-inhabited, rebuilt, restored, raided for stone, abandoned again, etc.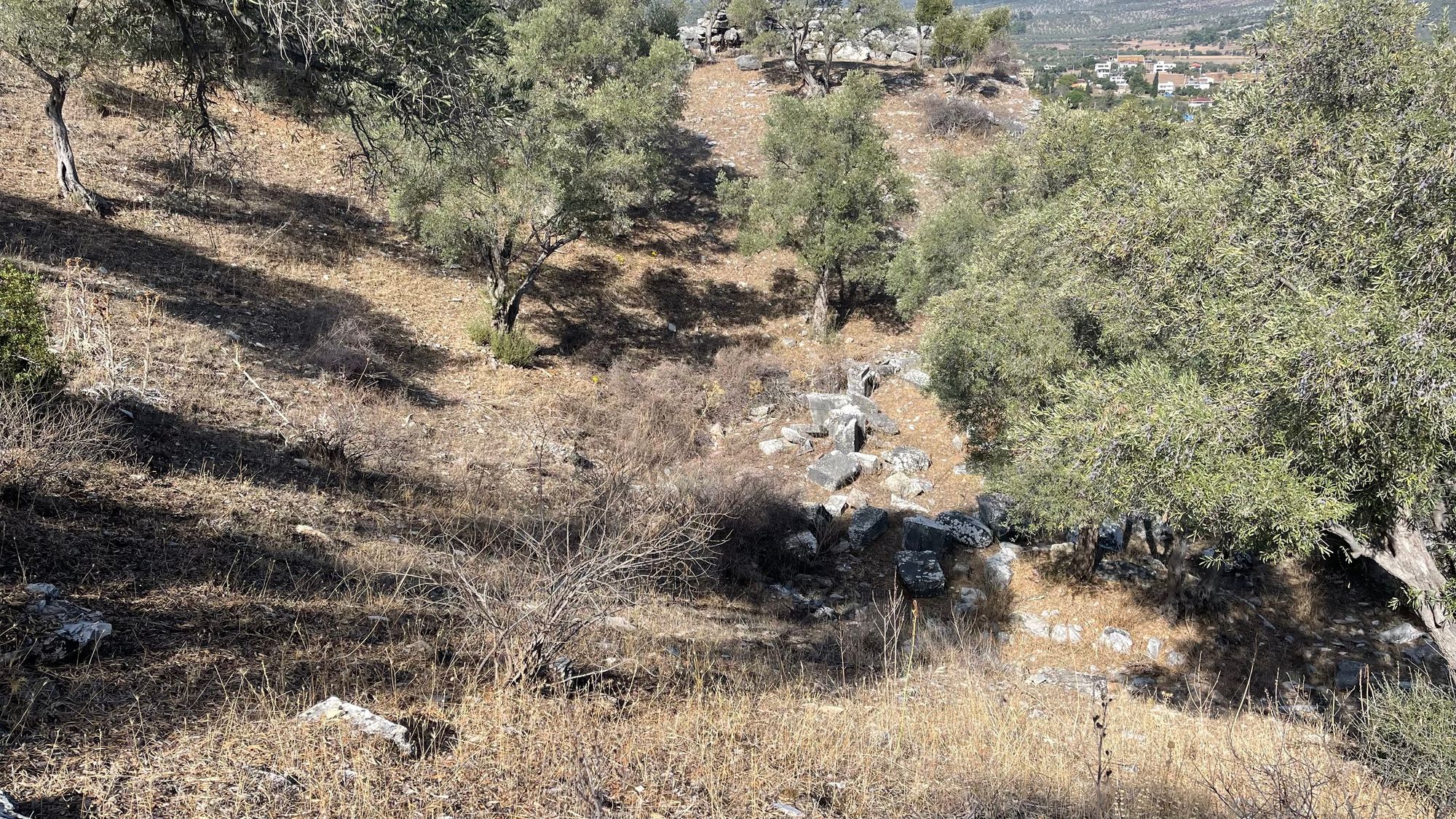 There are sections of Iasos in the Agora which were turned into dwellings by reusing the collapsed stone. The amphitheatre which dated to the 4C BC, was still largely intact in 1849 when it was sketched in detail. By 1887, it had been stripped of marble, which was used to line a new quay in Constantinople (now Istanbul). It's crazy to me that something so ancient existed up until just over 130 years ago but was destroyed in the name of progress.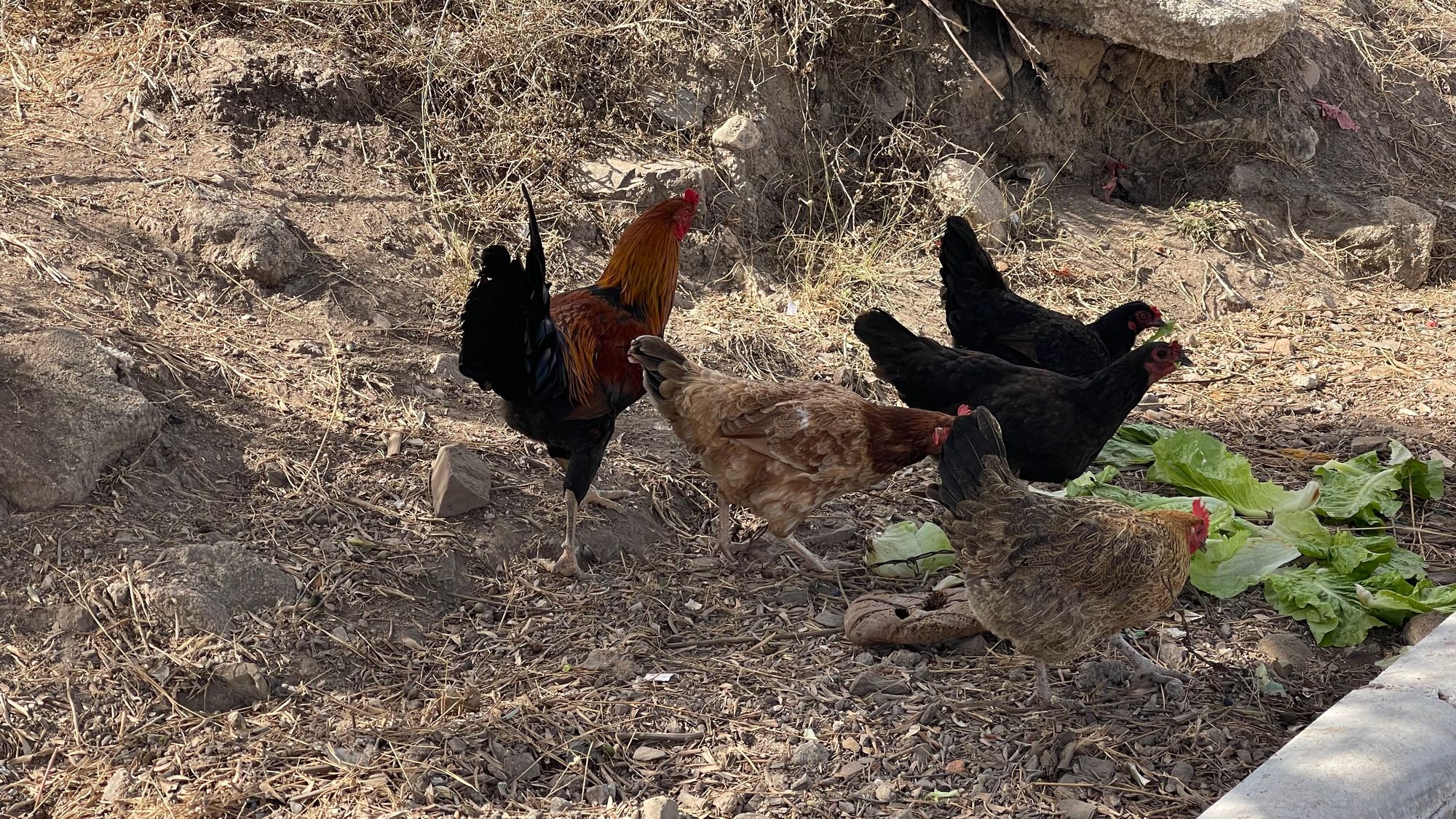 While we enjoyed Iasos and the bay we were in, we didn't enjoy the very "rural" nature of the surroundings, with a strong smell of cow manure drifting over the anchorage at night. So we decided to move on.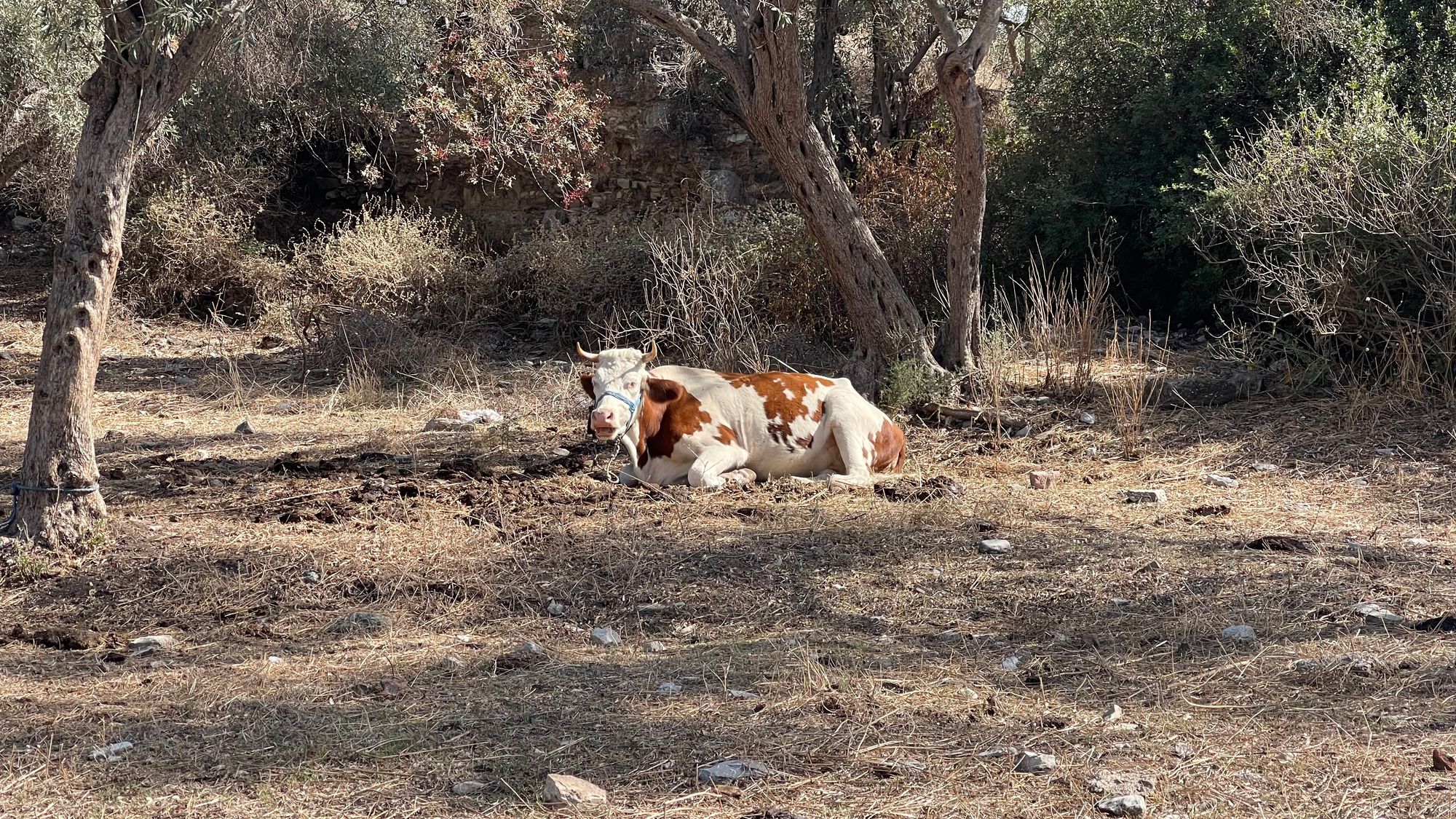 Next, it was south to the inlet of Bogazci, which was very sheltered, and we enjoyed a couple of nights there. While we were there, we solved a mystery which has been bugging us in several bays. At seemingly random times throughout the day, strange "muzak" would play. The Nutcracker suite. If I were a rich man from Fiddler on the Roof. On one occasion, it happened at 3 AM in the morning. We couldn't figure it out. Was it fishing vessels returning? Was it just a local with an aggressive car horn? Well, one day, as we walked on shore, we solved it! It's the local school bell (although why they left it on overnight one time is a mystery). All throughout this part of Türkiye, they use elevator muzak to ring the bells. Between the mosques with the call to prayer, the school bells, and the construction of apartments on every hill, it can be noisy around here!
Unfortunately, while the bays and surroundings in this area were all very peaceful, the water continued to be filthy, mostly because of the huge fish farms everywhere throughout the gulf south of Didim. We've enjoyed Türkiye, but I confess, we were starting to question just what all the fuss is about as a place for travelling by boat. On paper, the gulf south of Didim looks great, with lots of sheltered bays, but the water frequently stank, it was green everywhere, and we never wanted to go swimming.
The watermaker stopped working while we were here, which probably had less to do with the water quality and more to do with the way we've abused and misused it over the last two years. As I've been told on more than one occasion, everyone blows out the membranes on their first watermaker until they learn what to do. Some of it was our fault, and some of it's been a lack of handover and training when it was installed. Regardless, it no longer holds pressure, and we can't make water underway anymore! Just as we get power independence with the solar panels (which are working well), we lose our water independence. We switched back to buckets for flushing the toilets, bottled water for drinking and skipped showers for a few days.
During the week, we spoke with the contractor in Kusadasi, who is working on the bimini. He set a date for Saturday next week to do the canvas installation, so with a full 10 days up our sleeve (at the time we spoke to him) and some southerlies coming, we decided to head out of the gulf and head a bit further south to Yalikavak. We are so glad we did!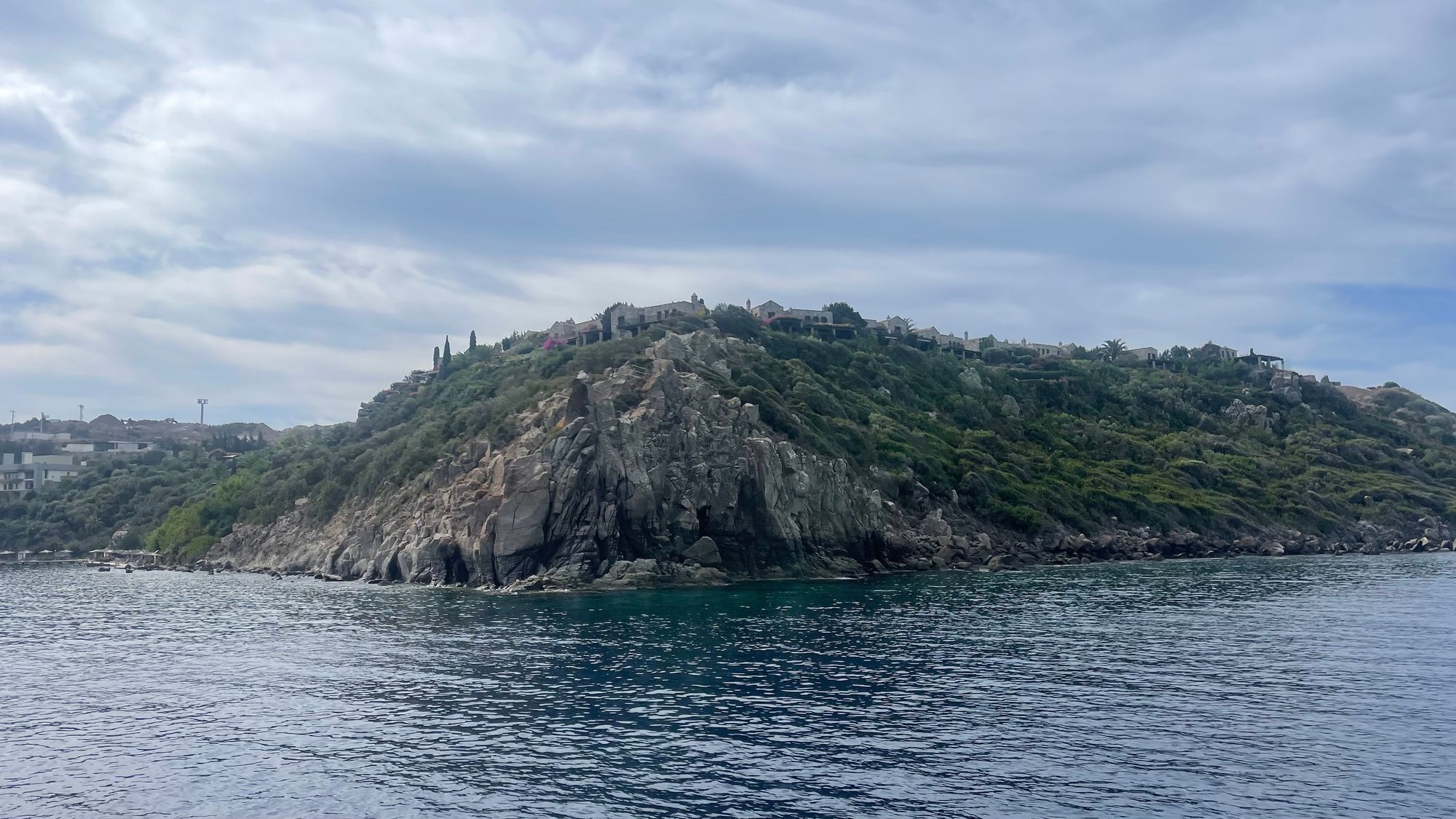 As soon as we were out of the gulf, the water cleared and shifted back to a crystal clear blue again, and we spent a delightful three days and four nights exploring Yalikavak and the beautiful marina there. We thought we were spoilt wintering in Porto Montenegro, but Yalikavak has won "Super Yacht Marina" of the year the last couple of years straight, and it's easy to see why.
As Karina said, "We fit in nicely here."
Which she meant more as an attitude than a statement on the quality of our clothes or handbags. There's just something about the way liveaboards and boat owners carry themselves - where others were stopped and questioned; we were just allowed through!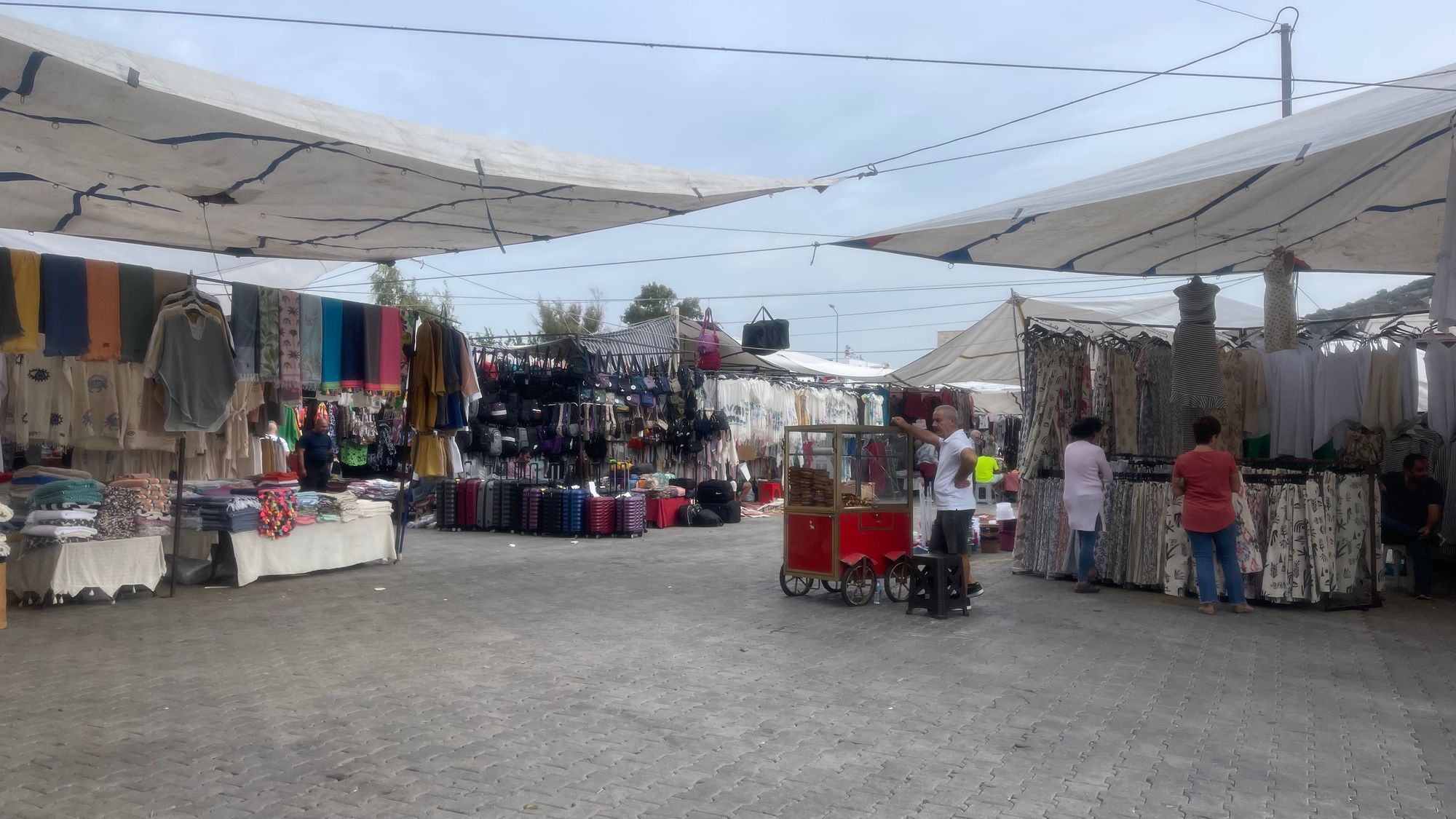 Overall, it's been a real delight. It's so nice to be somewhere that the water is inviting and makes you want to swim; it's less fun on a boat when you can't jump into the sea!
On Saturday, we headed further south, and we're now very close to Bodrum and loving the quiet, clear bay we've found ourselves in. Despite being almost November, we're still swimming and enjoying the water. It's about 25C in the sea and this week, about 28C outside. Swimming is still very enjoyable.
Today, as well as being our anniversary, is also republic day in Türkiye, an important national holiday. Last night around midnight there was a lot of noise and celebration, including gunshots being fired into (hopefully) the air! Perhaps the anchorage isn't as quiet as I thought.
As to the week ahead? We'll explore Bodrum and Bodrum Castle today, then move to a quieter anchorage nearby. If the weather stays nice, we'll spend another couple of days swimming, and then it's going to be time to start making tracks for Kusadasi. By Friday night, we want to be in close proximity to Kusadasi Marina so that first thing Saturday, we can complete the bimini installation.
Until next time,
Tim & Karina
Where are we now?